GET EMAIL UPDATES FROM POWERTOFLY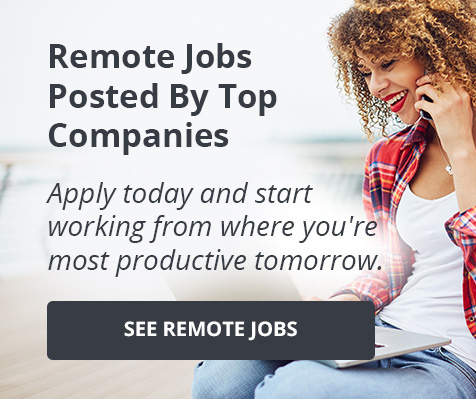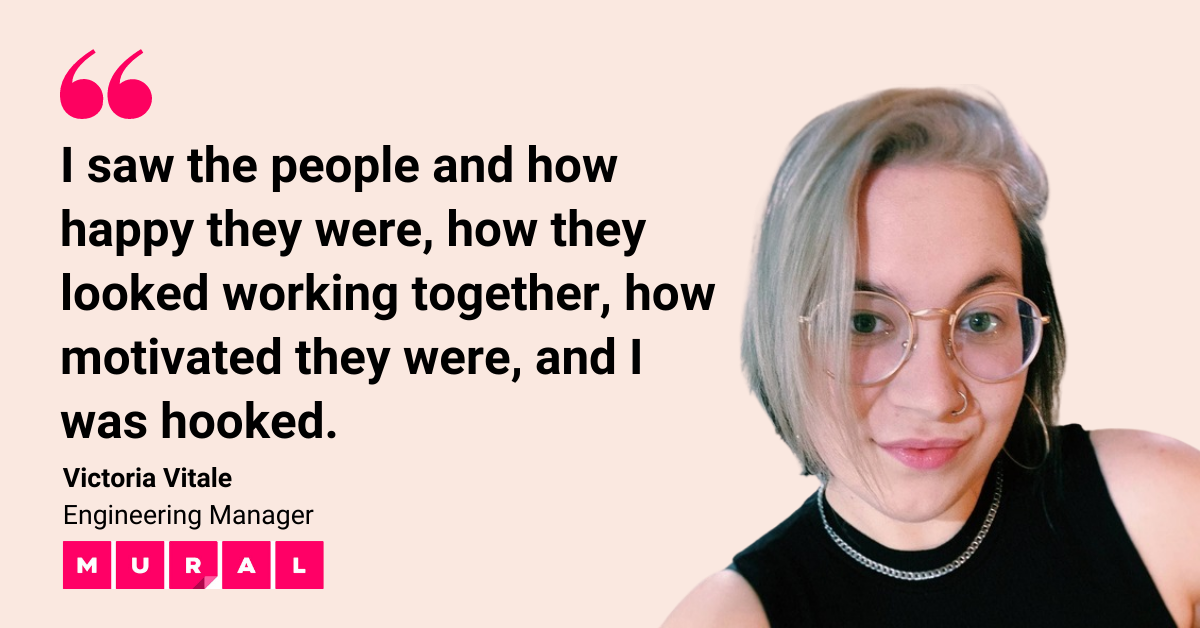 MURAL
Victoria Vitale has always had a passion for computers, but that passion isn't what drove her to become a software developer.
It was practicality.
"I needed a job that could pay rent!" explains Victoria with a wry smile. A friend suggested she apply for a data analyst role, telling her that she could learn any necessary skills on the job. A few months into the role, Victoria realized that friend was right—and that she wanted to grow her skillset even more and become a developer.
We sat down with Victoria to hear more about how she consciously built the career that she wanted—including her current role as an engineering manager at remote design tool company MURAL, and what advice she has for other people looking to do the same.
Putting Her Hand Up
Victoria, who hails from and lives in Buenos Aires, got her first engineering job because she spoke English. She learned everything else she needed, from how to structure databases to use SQL, once she got there. When she was working her second database job, she realized she could apply the same technique in the software space.
She just had to ask for the opportunity to do so.
"I was very curious about how things worked, so I started collaborating with the [software development] team whenever I could," says Victoria. She offered to QA for them—and then had to teach herself basic programming in a week's time when they took her up on it.
"That's when I knew I wanted to focus on that," says Victoria, who adds that she absorbed all the knowledge she could from that team before eventually switching into a developer role.
She faced a little imposter syndrome about the fact that she hadn't studied programming formally (though she was doing a second degree in multimedia design and web development). "There were a lot of pieces I had to put together as I went," says Victoria. "But I stayed very curious and motivated, and I trusted my team to help me."
Scaling with MURAL
Victoria was getting coffee with a friend who just happened to work at MURAL when she met some of his coworkers. "I saw the people and how happy they were, how they looked working together, how motivated they were, and I was hooked," she says. There wasn't an opening at the time, but she deployed her characteristic patience and applied as soon as there was one.
The job she ended up getting at MURAL was as an individual contributor—a step down from what she'd been doing at her previous company, where she was a lead software developer. Victoria didn't think twice about taking it. "It was an opportunity to work on a project where, even as an IC, I would have a lot of [opportunities to give] feedback on what was happening. At the time, there were 30 of us across just two teams, and I had a chance to build the product from scratch," she says. As excited as she was to develop hands-on product knowledge, she also knew that one day she'd like to return to a leadership role: "It was always in my mind that I wanted to come back to [management.]"
While she soaked up all of the product knowledge she could, MURAL grew. First it tripled, hitting nearly 100 employees. Victoria's mentor gave her a stretch project, and when she crushed it, he asked her to be a team lead of the newly-formed enterprise pillar.
"It was a mixture of me being passionate and curious, and him teaching me, seeing that potential, and wanting to help me grow," she reflects. "That's definitely key. Even if you're super motivated and enthusiastic about growing, if someone doesn't give you the space to do it, it's very hard."
Then MURAL hit another milestone that freed up a lot of space: it grew to 700 employees. Leadership realized that the team lead role needed to be split into technical leadership and people management responsibilities, and Victoria's manager asked her which role she was more interested in. As the only woman tech lead in a group of 11, she decided to stay on the technical side to deepen her skills there.
But a few months later, when she realized that the team really needed help scaling its strategy and hiring to keep up with growth, she decided to pursue the engineering management path.
"It wasn't a hard conversation," says Victoria. "My manager said, 'Hey, you're doing this already—why don't you step up to it [in a new role]?'"
Victoria says she had lots of company support as she grew into a bigger management role. MURAL provided resources for hiring and focused on creating a truly global and remote culture where everyone could thrive.
"My growth at MURAL has been very organic. At the time I joined, I knew that one day I wanted to have another leadership role, but I couldn't know yet if MURAL would be the place for me to do it… As it turned out, as the company grew, so did I," says Victoria.
3 Tips for Engineers Wanting to Grow Their Careers
Victoria's combination of open-mindedness and determination has led her through an impressive career in engineering. Now that part of her role requires her to manage the career paths of others, she hopes she can pay that forward, starting with her advice for developers:
Be curious! "Keep your eyes open and don't put yourself in a box," she says. "Get to know the product, the people. Doing that not only enriches you and makes you a better professional, it also empowers you."
Be humble. When coaching her team, Victoria is careful to tell them what they're doing well along with what they need to work on. "Know your strengths, but also know what you still have to learn and what areas you can grow in. That leaves you open to learning from others," she says.
Always teach others. Management might not be for everyone, says Victoria. She'll sometimes tell people that she thinks they'll be great tech leads and hear that they are uninterested in management. She doesn't force them, because that makes everyone involved miserable, she explains—instead, Victoria encourages them to share what they know with others, even if in a more informal mentorship or training capacity versus a full-out management role. "Pay back as much as you get from your surroundings and the people you work with," she says.
MURAL is hiring—if it sounds like a place you want to grow your career, check out their 90+ open roles!
READ MORE AND DISCUSS
Show less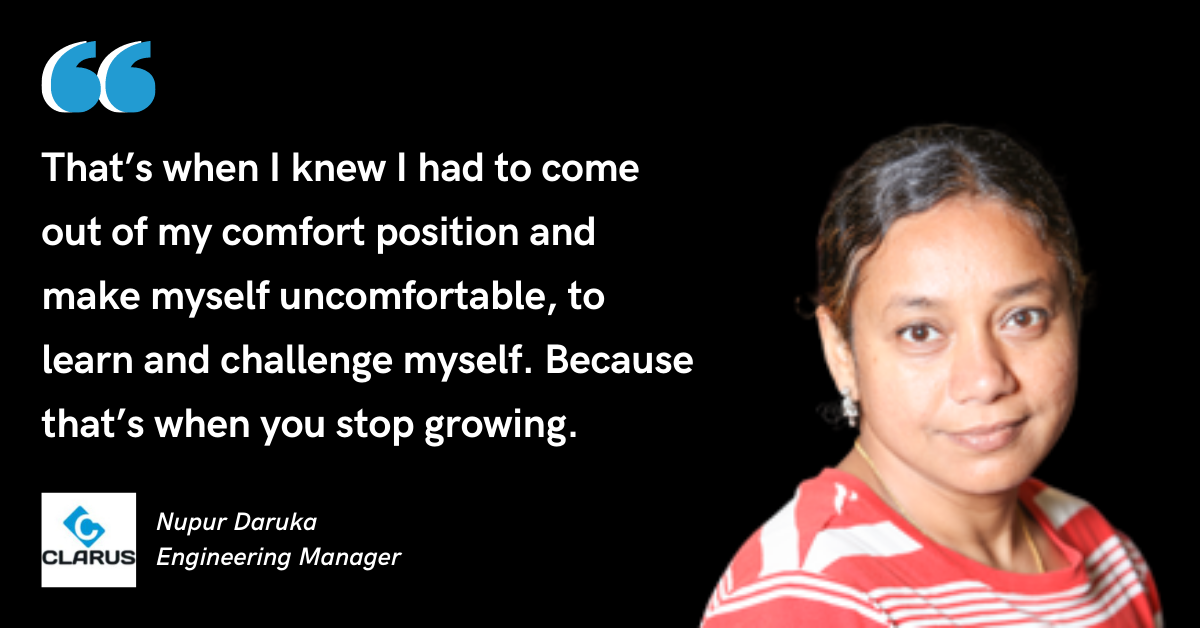 Clarus Commerce
Clarus Commerce's Nupur Daruka on Finding Your Next Growth Opportunity
Nupur Daruka is someone who loves learning new things. That's true when it comes to remodeling her house—she's just finished her kitchen, having mastered tiling backsplashes, and is moving on to her basement, where she's focused on flooring—and to how she approaches her work.
As an Engineering Manager at loyalty and subscription software company Clarus Commerce, Nupur is responsible for helping other people lean into opportunities to learn new things, too.
From helping engineers find the right growth projects to coaching people who aren't sure where they'd like to end up, Nupur enjoys guiding others to create the paths that are right for them and their own goals.
We sat down with her to hear how her growth-focused approach landed her at Clarus and what advice she has for engineers wondering where to go next.
Identifying strengths: how Nupur's own journey taught her how to help others
Nupur got into software engineering because she enjoyed logical thinking and math. She stayed because technology, by nature of its constant evolution, provides plenty of opportunities for continual learning.
"That's what excites me," explains Nupur. "Whether it's a new technology or working on a problem in a new way, you're constantly working to understand the business side of things, figuring out how to implement solutions, and problem solving. That's what gets me out of bed every day."
But she knew that purely putting her head down and cranking out code wasn't where she wanted her career to go, so she pursued an opportunity to become a manager at her then-employer.
"I'm a people person," she says. "I like to engage with people, talk to them, get to know them. That's why I wanted to continue onto a leadership role—I knew I could help people. When I look at a leader, I think of a teacher, a mentor, a coach, and sometimes a friend as well. I don't see myself as a person who is on top."
As she grew into a great line manager, Nupur realized that she didn't want to stop there, either. "I have a natural knack for understanding business requirements and higher-level things and helping to implement them through development," she says. That led to her looking for opportunities to grow into more strategic leadership, which led to her becoming a director, first at SSI and then at Dynata.
Owning a comprehensive set of business and people goals was a big job, but Nupur embraced the challenge. "Some people get burned out, but for me it was fun, because I was learning, trying out new things, being creative, and figuring out ideas," she says. There was one extra-helpful guiding principle she learned to apply, and still applies today: "I never think of what I don't have that is crippling me. I always think of what I do have and how I can make the best use of the tools to solve the problem. That's always kept me going."
But sometimes growth peters out, and that's what Nupur realized several years into being a director. She knew the business inside and out and felt comfortable—too comfortable.
"That's when I knew I had to come out of my comfort position and make myself uncomfortable, to learn and challenge myself. Because that's when you stop growing, and I wanted to continue on my path to learn and grow," she says.
So she started looking for a new opportunity and found Clarus.
"I wanted to be around people who are open to ideas, communication, and feedback," she says. "And when I mentioned to recruiters that I knew that I was talking to Clarus, they all said, 'Oh, they're a great company, with great people.' And that made me feel comfortable."
An extra bonus? The high number of women employed at Clarus (they make up 59% of the company's employees!). "That really makes us stand out," adds Nupur.
4 principles for finding your path as an engineer
Now, as an Engineering Manager at Clarus, one of the biggest parts of Nupur's job is helping engineers to find their own paths to professional fulfillment. The company's open and communicative culture (and growth!) helps make that possible, as does Nupur's own experience. Above all, she recognizes that not everyone will have the same growth path that she does. Here's how she breaks it down:
Understand yourself. "What excites you the most? What is it that gets you out of bed in the morning and keeps you going?" asks Nupur. "Identifying that will get you a better idea of what the next move will look like." She gives examples:

Do you like working with people, and are you a good listener? Maybe it's time to pursue a management path.
Do you enjoy solving complicated problems above all? Consider taking on a role as a solutions architect.
Do you want to stay involved in technical problems but also get reps mentoring others? Consider a project or team lead role.
"And just being a software developer is also okay!" says Nupur. "If you love to code, if you really enjoy being a nerd at that, then just be that! There's nothing wrong with that."

Find an opportunity to test out your understanding. If you've identified a path you'd like to pursue, it's a good idea to explore it while you're still in your current role. Nupur suggests talking to your manager to find the right kind of stretch opportunity, whether it's mentoring new hires, leading an internal project, or taking a more active role in hiring and performance reviews.
Learn something everyday. Even as you're finding yourself successfully transitioning into newer, more demanding roles that line up with your interests, learning is a continuous process, so stay open-minded to it, says Nupur. She herself prioritizes learning by making time each day to listen to podcasts. Even if she's busy—as a single mom and self-proclaimed workaholic, she doesn't have a lot of extra time—she'll listen to one while she prepares dinner or cleans up. Her personal favorites include The Official AWS Podcast, The Clark Howard Podcast, and Motley Fool Money, among others. "A lot of them are about tech or personal finance, but they also talk about other things. For example, I've learned about how to build high-performing teams, which is something that I can apply on a daily basis," says Nupur. "Podcasts are key."
Be open-minded to different cultures along the way. If you're going to grow in your career, says Nupur, you'll need to be able to work with lots of different people. That's true for a director and for a senior software developer. She credits her own experience managing offshore teams with teaching her this lesson: "Learning about different cultures brings a different perspective and understanding. It's important to have empathy for them because it builds trust and loyalty," she says.
Interested in growing your career at Clarus Commerce? Check out their open roles!
READ MORE AND DISCUSS
Show less
Loading...