GET EMAIL UPDATES FROM POWERTOFLY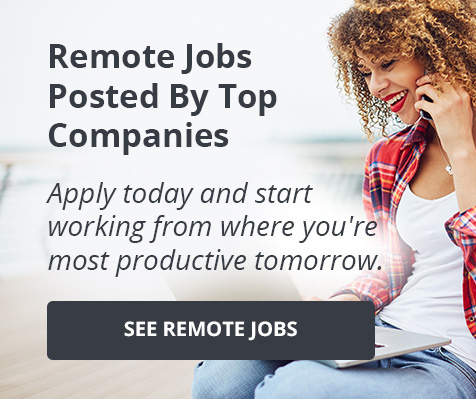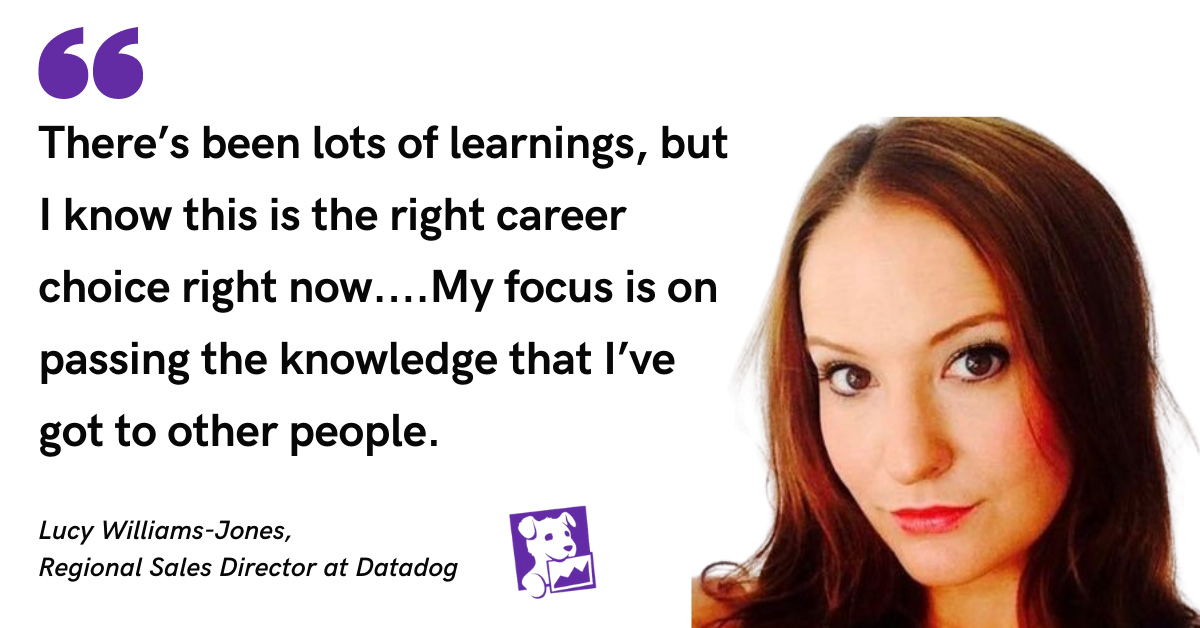 Datadog
Datadog's Lucy Williams-Jones' Unconventional Path through Enterprise Sales and Why She Wants You to Join Her Team
Like many of us, Lucy Williams-Jones' life has been deeply impacted by COVID-19.
Unlike many of us, that impact took the form of a four-day period of time where Lucy was so sick with COVID that she was sure she'd never recover—and a permanent career change when she somehow did.
Now healthy and resettled into a completely new role, the Regional Sales Director for cloud application monitoring platform Datadog chatted with PowerToFly from her home office in England's Cotswolds—"Where Cameron Diaz and Kate Winslet were in The Holiday," offers Lucy, gesturing to the idyllic countryside outside her window—to share more of her story.
The individual contributor comfort zone
When Lucy got started in sales, she was 18 and figured she'd be in the field for the length of her gap year. She then planned to go to university and pursue her goal of becoming a sports therapist for a rugby team.
"Then I found out in that first year that I could make a lot of money!" says Lucy, who ended up staying at that company, Quest, for over a decade.
During that time, Lucy was almost always an individual contributor. She liked the feeling of being in charge of her own destiny, and in pushing herself to consistently beat her goals and keep pushing for more and more success. "I was really happy smashing my number every quarter and enjoying the kind of benefits that come from that from a monetary standpoint," she explains.
Ten years in, she did transition into a leadership role and found some success there—but two things got in her way.
First, her lack of experience. "I didn't have all the tools necessary to equip my team members with," she says. "That's why I did everything rather than teach other people. I'd basically just take on their workload and change everything so that it was fit to go out."
And second, her lack of desire to keep living in Cork, Ireland.
"I wanted to come back to London and the only way to do that and earn a lot of money, which is what drives me, was to go back to an IC role," explains Lucy. She did that, and worked at a few different companies before Datadog reached out and she took an enterprise sales role with them.
"The struggle I've had with other technologies previously is that you can't demonstrate them real-time," says Lucy. "If you have an awesome platform like we have [at Datadog], when you show it to someone, you can see their eyes light up, they can see the value right away."
She was excited by the product, by the market opportunity—"it's a product everyone needs, especially as they migrate from on-prem into the cloud," she says—and by the real-life implications for clients. "When I get an Uber and the app doesn't work, I know that if they've got our software, they're going to figure out exactly where it is and it's going to mend soon, so I'm not going to get my hair wet whilst waiting for a cab—English weather, you know—while I'm waiting for the app to reboot!" she says.
Taking advantage of her second chance
When Lucy got sick with COVID in early 2021, she immediately knew it was serious. Her blood oxygen was down at 82%—the NYC health department suggests immediately going to the hospital for an oxygen level of less than 90%—but she wanted to stick it out at home. "I decided not to go to hospital because I didn't want to not come out," she says.
Lucy says that she was lying in bed, wondering what her legacy would be if she died the next day, when it hit her: she wanted a chance to pass on all she'd learned from her 22 years in enterprise sales to the next generation.
"I've learned a lot of skills that have enabled me to be successful, to have the cash to buy a forever home, go on nice holidays, explore, and travel. And when I was lying there, I realized, 'I really want to transfer these skills to young women in tech, because I think that we're an underrepresented group, and I could actually get those young women living their best lives and earning the cash that they deserve," she says.
So she reached out to her manager and told him she was ready for a leadership position. He'd been asking her to consider taking on a leadership role for a while. It wasn't until she hit her annual number at the end of the first quarter, right after recovering from COVID, and told him she was still serious about leaving behind the responsibilities she knew so well for the more complicated and less immediately gratifying world of management that he knew she was serious.
Now, three months into that transition, Lucy is sure she made the right move. "So many people have been touched by COVID this year in negative ways," she says. "For me, I feel I'm super lucky every morning when I wake up; I've taken a positive from it."
"There's been lots of learnings, but I know this is the right career choice right now. I know Datadog will support me and that I'll earn my stripes as a true enterprise leader," she says. "My focus is on passing the knowledge that I've got to other people."
To do that, Lucy has to first shore up her own knowledge. She spent her first month on the job looking closely at the business and her team and implementing changes to help everything run better, and the second month focused on measuring the impact of those changes. Additionally, she's had to get comfortable giving up control of her own accounts—"my little family," as she calls them—and managing outcomes through others.
To help her on this journey, Lucy is also brushing up on sales leadership techniques with a few favorite books, including:
3 ways she's building a positive culture
As an enterprise sales leader, Lucy has both the power and the responsibility to create a positive environment for her growing team. To do that, she's focusing on:
Being thoughtful about why she's engaging. Lucy doesn't respond to emails immediately anymore. Instead, she thoughtfully considers a three-part framework before crafting her response: "I'm analyzing, reviewing, and then offering advice."
Not saying "I need." Communication from Lucy to her team has absolutely no unnecessary urgency, she says, which is why she expressly doesn't use the word "need." "I try to make it really about, 'This is the reason why I'm asking for it, this is the benefit it's going to bring, let's work together to get something that's going to be amazing,'" she says.
Mentoring ICs. When a SDR in Datadog's Dublin office reached out to Lucy for career advice, Lucy jumped on the chance to help her. "She's at that roundabout of, 'Do I want to go into leadership? Do I want to be an enterprise seller?' Coaching her to be the best she can be has been really, really lovely...she's successful now, but she could be exceptional."
The 3 things she's hiring for
Lucy is doubling her team size and is looking for the next generation of sales leaders to bring onboard. If that sounds like you, make sure you've got these three traits she's looking for:
Coachability. "That's the number-one trait I look for in someone," explains Lucy. "It's the ability to take on advice and feedback and adapt. It's not saying that my way is always the right way, but it's making sure that you understand that there are different approaches. [One] of the toughest but most important parts of life is receiving feedback."
High EQ. Lucy is looking for people who are self-aware. "You need to understand how people are perceiving you, to understand what kinds of playbooks work for you."
Affinity for pipeline generation. "You've got to do cold outreach to new logos, but you've also got to do it in a creative manner. I've seen people doing videos and stuff, which I think is really cool; you've got to stick with the cadence and actually do it. If you don't like PG, enterprise sales at Datadog may not be the job for you," says Lucy.
Lucy has a simple motto that she has internalized throughout her career thanks to her first MD, Simon Perce: "Leave no stone unturned."
If you'd like to give 100% in pursuit of your goals alongside Lucy, check out Datadog's open roles! "I would love to build a team of strong, capable, amazing, female enterprise sales execs," says Lucy.
READ MORE AND DISCUSS
Show less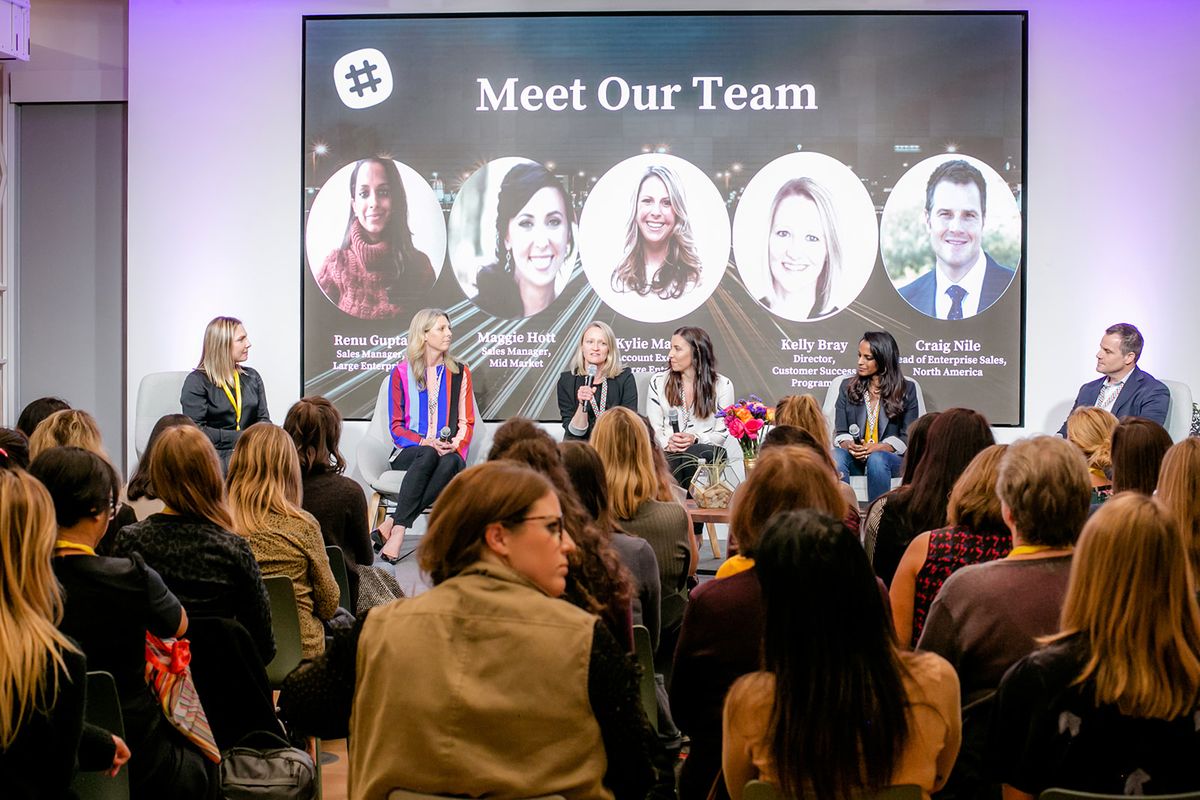 Slack Technologies Inc
As a completely remote company, PowerToFly relies on Slack everyday to make our work possible. More than any other platform, including email, our global team communicates via Slack. The PowerToFly team is global, stretching from India to Russia to Argentina to the United States. It's amazing to think that we can utilize one tool to not only chat but to send documents, brainstorm and even share wedding photos.
That is why PowerToFly was beyond thrilled to partner with Slack for our second networking event for women in sales. After giving New York some love in September, we relocated to Slack's San Francisco office to host an evening of panel discussions and networking featuring some of Slack's women sales leaders and male allies.
One thing that made this even especially meaningful is that one of our panelists was Kylie Maddex. While Kylie currently works as Large Enterprise Account Executive, she previously served as PowerToFly's first ever Head of Sales. Kylie is amazing and we at PowerToFly love to see our alumni go off and push their careers to the next level.
Joining Kylie on the panel were Maggie Hott, Manager, Mid-Market Sales; Renu Gupta, Large Enterprise Sales Leader; Kelly Bray, Director, Customer Success Programs & Retention Strategy; and Craig Nile, Head of Enterprise Sales, North America. Moderated by PowerToFly's Director of Customer Success Cristina Duke, our panelists discussed their own career journeys, what drew them to Slack, the lessons they learned working for large enterprises and other startups and how they maintain work-life integration.
Our capacity crowd of over 120 attendees also had a chance to ask our accomplished panel questions of their own. After an enlightening audience Q&A, we moved back into networking so that our guests had plenty of time to ask follow-up questions on their own time. Slack even gifted our attendees face masks which were a big hit (and went quickly).
We love getting to meet the people that make a product that we love and we can't wait to continue our partnership with Slack. Visit Slack's page on PowerToFly to learn more about their open roles.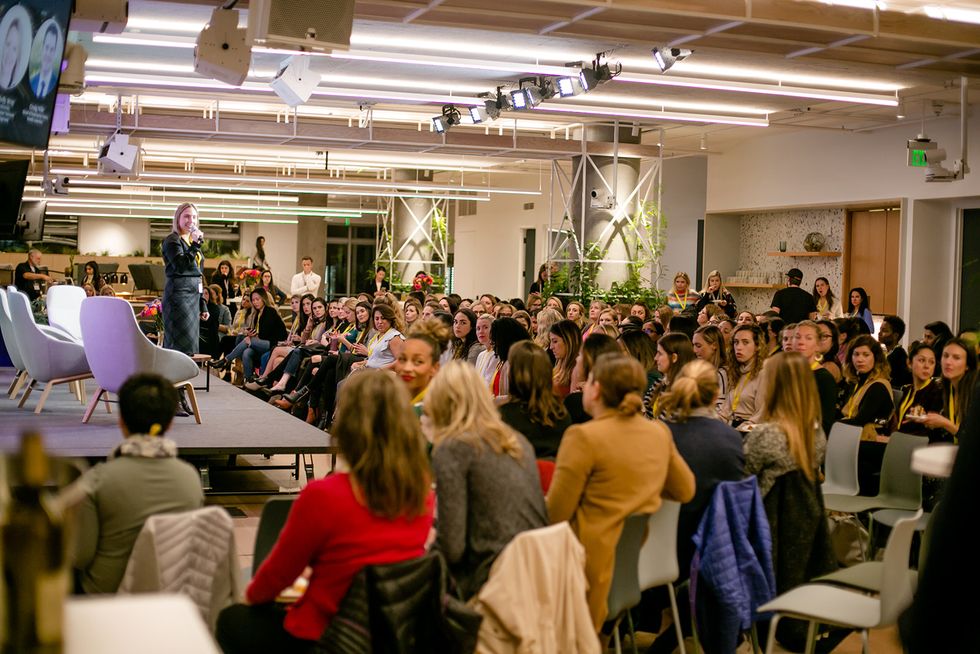 PowerToFly's Cristina Duke greets our capacity crowd.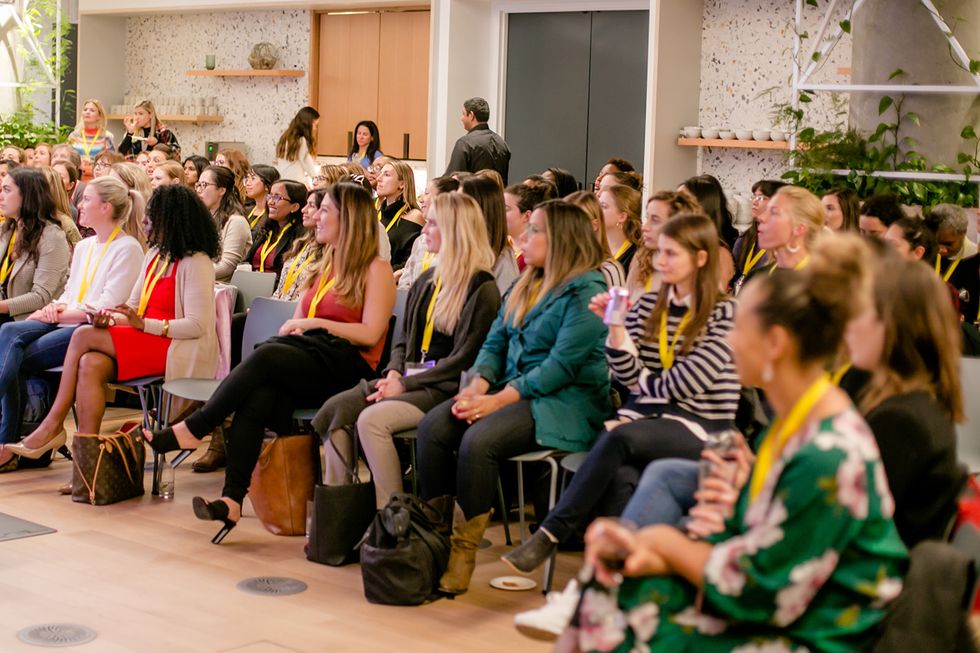 A packed house!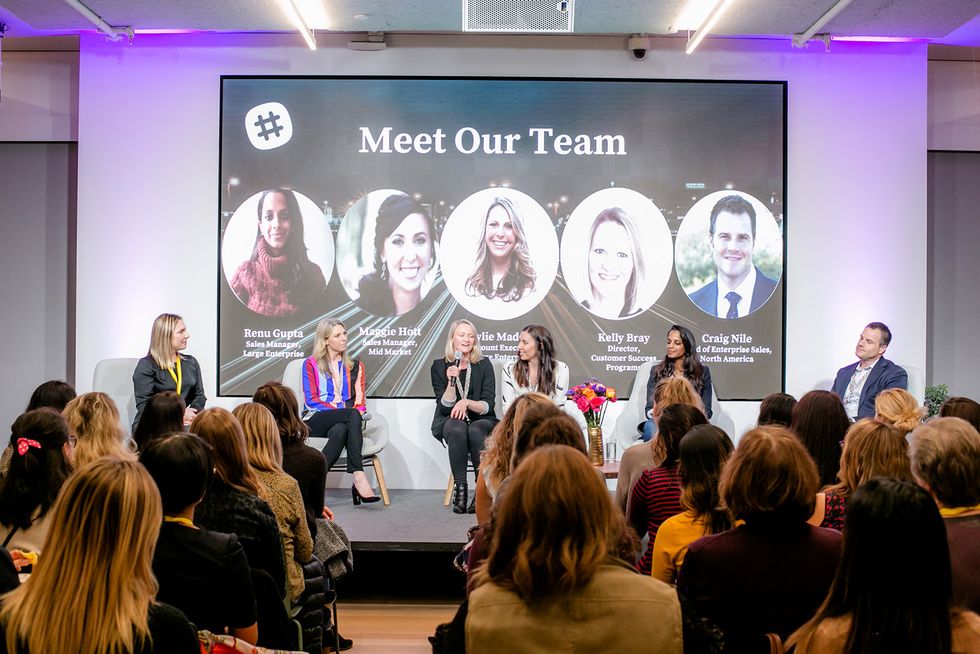 Our amazing panel.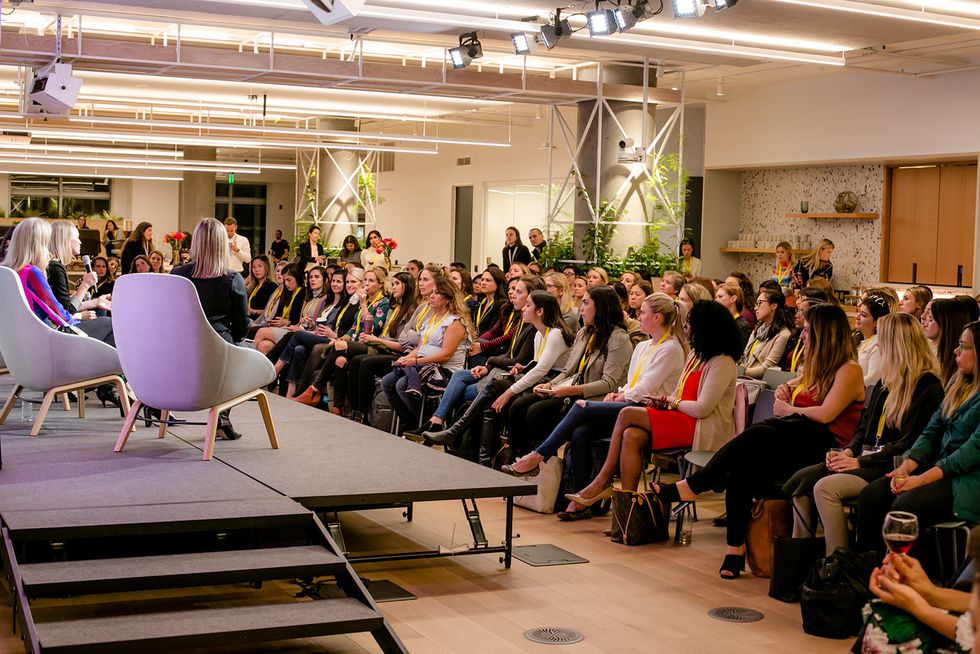 Our panel took questions from the audience.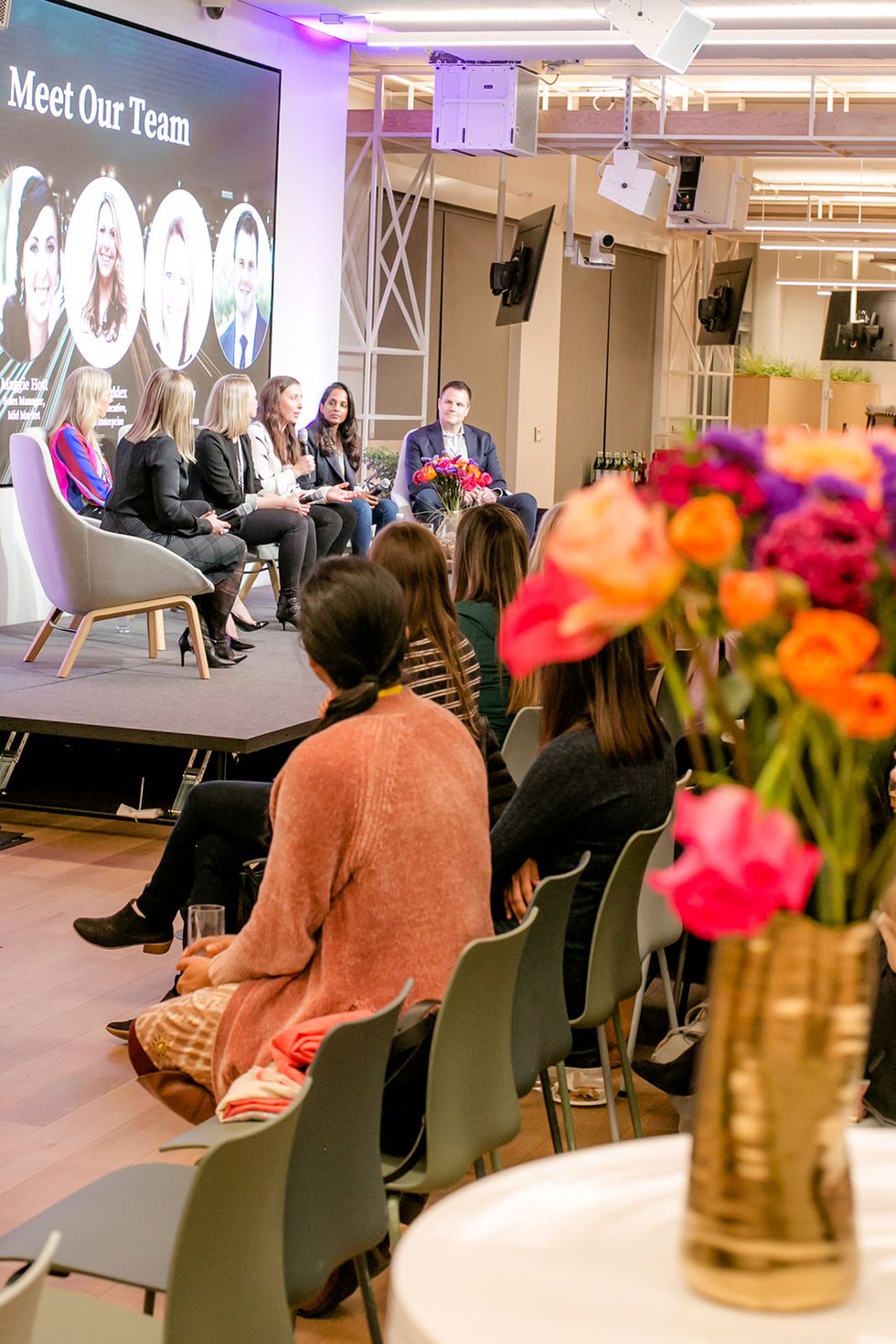 Another look at our excellent panel.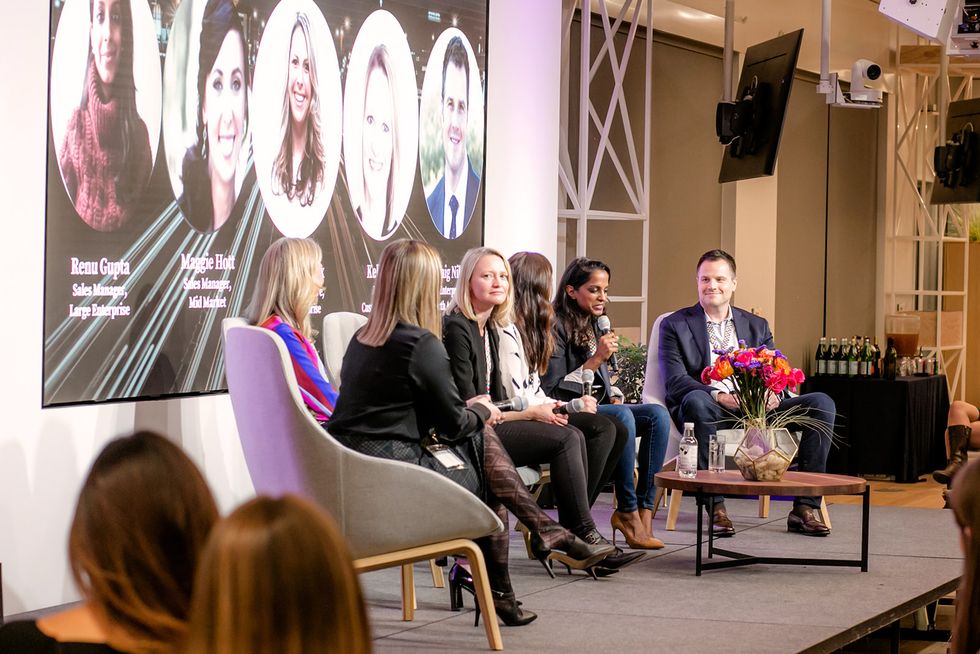 Our panel shared their own career journeys.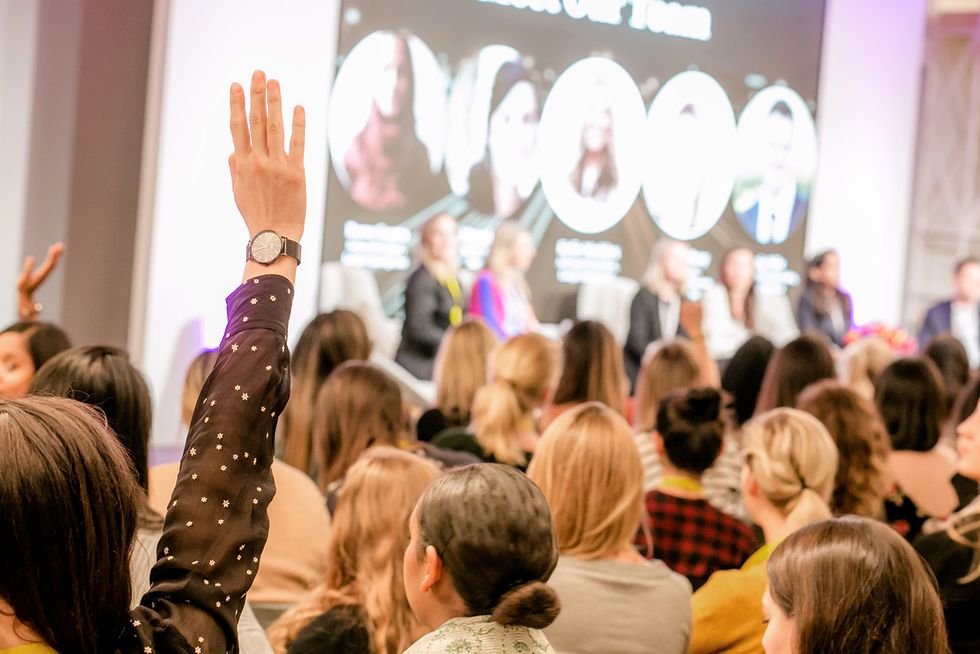 An amazing audience Q&A.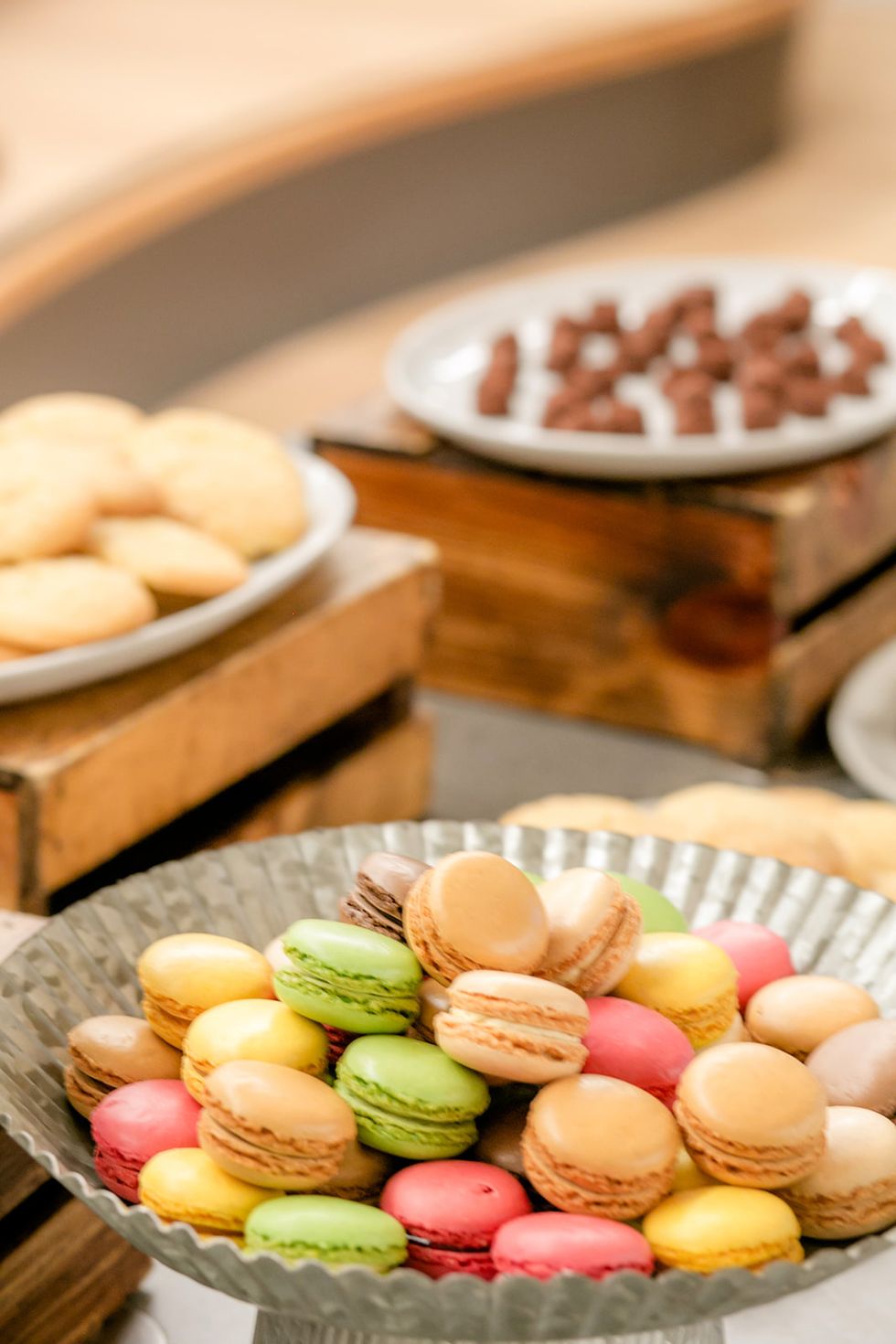 Delicious desserts.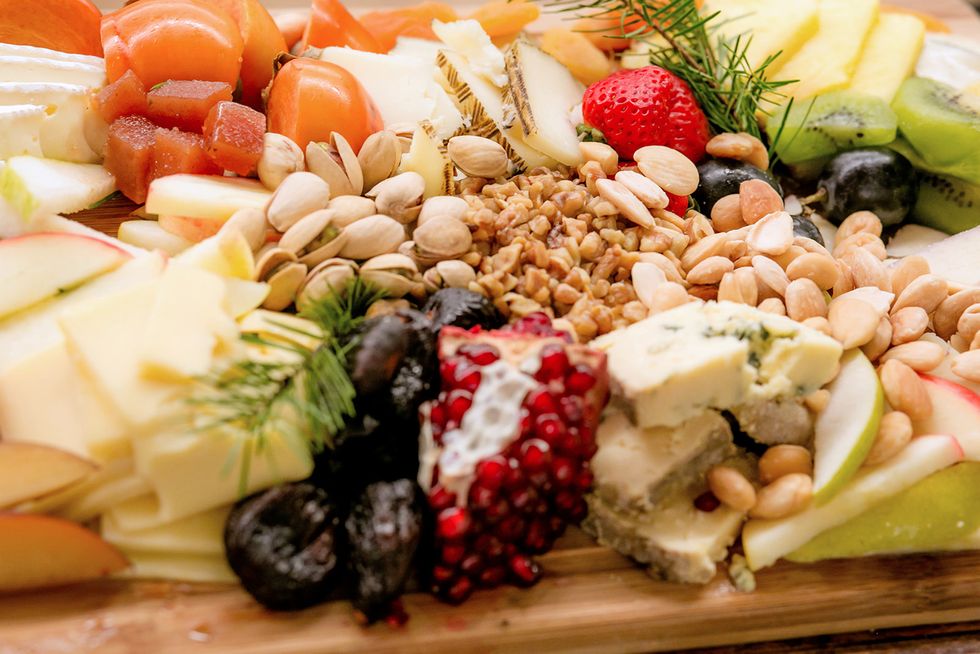 Savory treats.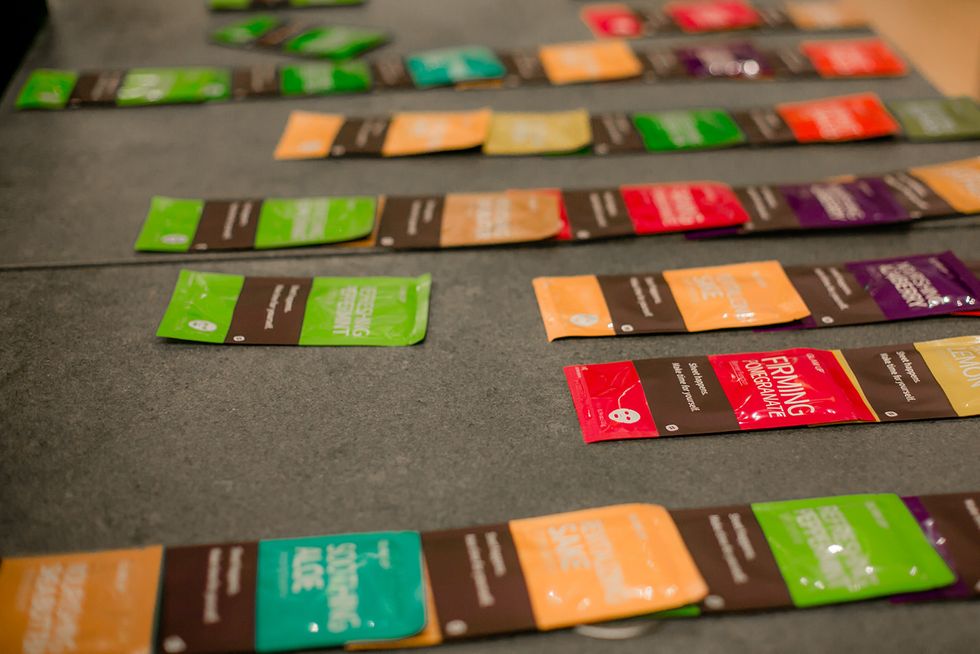 Free face masks for our attendees.
.
READ MORE AND DISCUSS
Show less
Loading...