GET EMAIL UPDATES FROM POWERTOFLY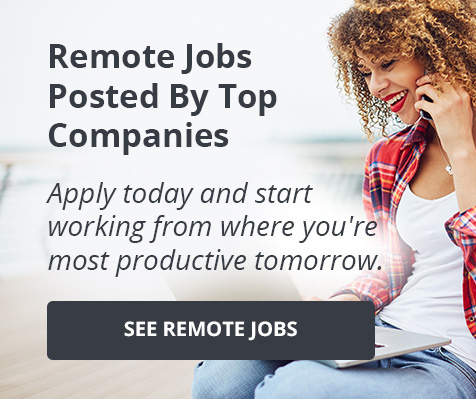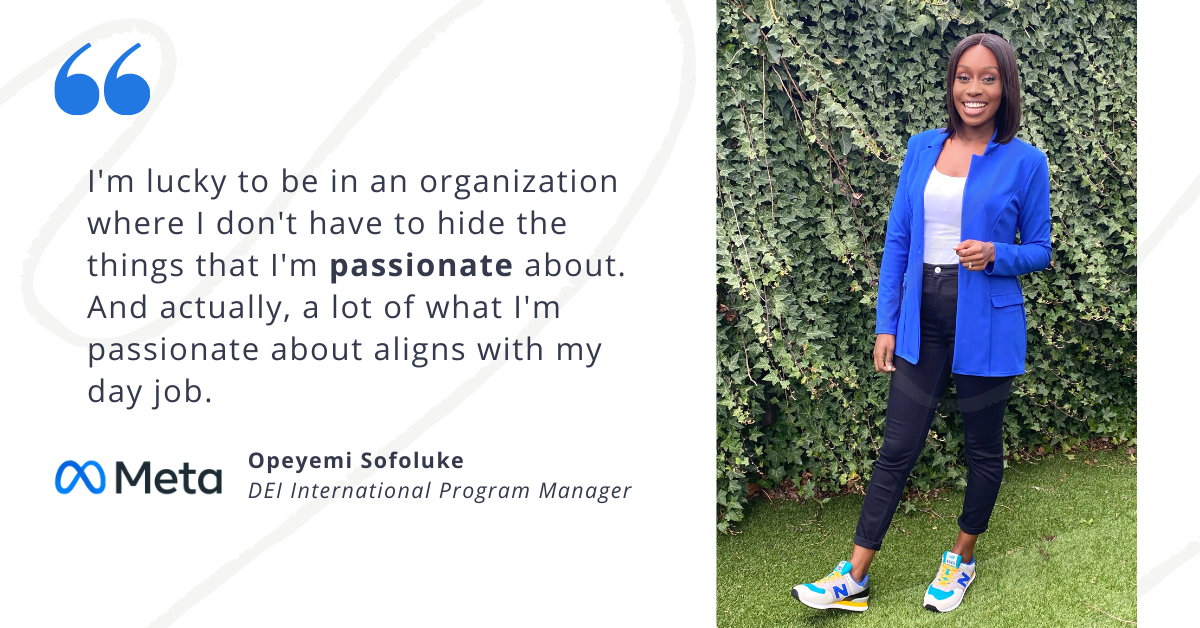 Meta
Opeyemi Sofoluke knows there's not one single word or aspect of her life that defines her.
Not being a mother, or the DEI International Program Manager at Meta, or the co-author of the book Twice as Hard.
"Black is not a monolith, or being a woman is not a monolith. There are so many dimensions to who we are as people," says Opeyemi.
In her own life, she has embraced those dimensions, combining career growth and personal growth by pursuing her interests at work and beyond.
That's what led to the book that she co-authored with her husband—and in which she explores how to create space for Black talent to thrive by tracing the stories of 40 entrepreneurs and professionals.
Twice as Hard was written in four months during the pandemic, while Opeyemi was working and also raising her two young children along with her husband. But she didn't see the project as something that took time away from her roles at work and at home, but rather that added to both.
"I'm lucky to be in an organization where I don't have to hide the things that I'm passionate about. And actually, a lot of what I'm passionate about aligns with my day job," she says.
We sat down with Opeyemi to ask how she balances her impactful work at Meta with her personal passions beyond tech—and what advice she has for other people looking to do the same.
A passion to create change
Opeyemi isn't new to the whole juggling-two-or-more-interests thing. She was interested in both business and politics while at university, so did a combined honors degree in both subjects.
"It comes from a passion and desire to create positive change in spaces where I find myself," says Opeyemi of what drives her to take on more.
The first space she found herself in after university was banking, because she wanted to build her career in a strong industry with lots of learning opportunities. But she had trouble feeling like she was making an impact.
"Being a change agent, creating spaces for people to be themselves—I wasn't doing that in my day-to-day," she says.
So Opeyemi started volunteering and joining employee resource groups, which is how she found an opportunity with her firm's social responsibility arm using the company's technologists to support NGOs and charity organizations.
Working with the mostly-white, mostly-male tech world inspired Opeyemi to pursue DEI work. She's particularly excited about the challenges of her field compared to others: "There is still so much opportunity to change the face and technology, and make it more diverse and representative of the world and the actual global majority that we see today."
She was ready for her next challenge when she heard about the job at Meta. Now, as their DEI International Program Manager, Opeyemi's days are spent working with Meta's nine employee resource groups across the three regions—Asia Pacific, Europe / Middle East / Africa, and Latin America—that she supports.
That can include things like supporting the Meta employee resource groups in building out their strategy, determining key priorities to activate against and amplifying community concerns to senior leadership, or supporting the planning and programming of community Heritage Months across the regions such as International Women's Day or Black History Month in all its forms: in October in the UK, in November in Brazil, in May in other parts of Europe, and in February in the U.S and Germany.
Opeyemi is cognizant of her own various identities, passions, and interests, and knows that the Meta community as a whole has the same diversity of experiences.
"We want to make sure that the programming is truly intersectional," she says. "So for Black History Month, for example, we want to make sure you're seeing programming that is relevant to someone who may be Black and disabled, or Black and a mother."
Making time for growth outside of work
Opeyemi didn't set out to write a book. But in 2019, her husband, who is the founder of the UK Black Business Show and UK Black Business Week, had an idea about writing a book that would be relevant for Black professionals and entrepreneurs.
"We were really intentional about addressing topics that would've been helpful for us when we started our career. What are some key areas that would've been important to address?" she says. They came up with a chapter list featuring everything from building a personal brand, to how to network and relationships to how to navigate white spaces, and got to writing. They also came up with a list of professional sources to interview.
"When people think about successful Black people, they often think about sports or entertainment. But the reality is we can be successful wherever we find ourselves, and we should not put ourselves in a box," she says. That's why Twice as Hard includes stories from people such as Matthew Knowles, who managed his daughters' careers, and Pamela Hutchinson, Global Head of D&I at Bloomberg.
Opeyemi sees her book as having two messages.
The first is for the Black community, and it's one of hope and inspiration.
"It was important to demonstrate that the struggle has been around for a long time, and even though it still exists, people are doing excellent things," she says. "We idolize people that have made it, and we don't see their journey. Imagine a portrait in a gallery. You don't see the nights where the artist sat there saying, 'How should I paint this picture?' We just see the end result. But it's important to highlight the work that people have put into their careers, the challenges that people have faced, because those challenges are not necessarily unique. They're all things we can identify with."
The second message is for people outside of the Black community, including allies.
"We're giving you that insight into our world," says Opeyemi. "Hopefully, then you're more informed on our experiences and can therefore be a better, a more active, a more intentional ally, because you know what to look out for."
4 tips for balancing passions
The process of writing, publishing, and promoting the book is something that Opeyemi has balanced with her day job, though her passion to support her community and her work to do the same are clearly aligned.
For others looking to do the same, whether with complementary interests or not, Opeyemi suggests:
Figure out what balance looks like to you. Opeyemi considers herself an "intrapreneur"—someone who is able to deliver on new ideas in a working environment, but doesn't have to set out on their own to do it. "If someone else wants to go off and be an entrepreneur, that's great. You just have to set yourself up to actually get there, so you can make sure that financially you are secure," she says. But it's also entirely possible to follow her path and keep a full-time job while pursuing extracurricular growth, she says.
Remind yourself that you deserve the investment. Working on a passion project often requires an investment of money, time and effort. "Whether that's on your weekends or in the evenings, it's about finding ways to make the time for you to deliver on that passion," she says. Stay disciplined and motivated by reminding yourself that the investment will be worth it in the end and you deserve to work on and invest in projects that bring you joy.
Share your work with your team. Support is a major factor when creating a product or project on your own. Don't be afraid to showcase what you're working on to others. You might get that extra support you need, or even gain a connection to someone who can help. "Imagine if I kept it quiet that I've got this book coming," she says. "You don't want to hide away a gift or a talent."
Recognize the impact that your work will have on your broader communities. "Often when you are passionate about something or when you're creating something, it's not just for yourself," says Opeyemi. "When you think about a creator, they're creating for a community."
To hear more from Opeyemi and other women at Meta about balancing their impact at work and in their communities, check out this Beyond Women's History Month event video!
READ MORE AND DISCUSS
Show less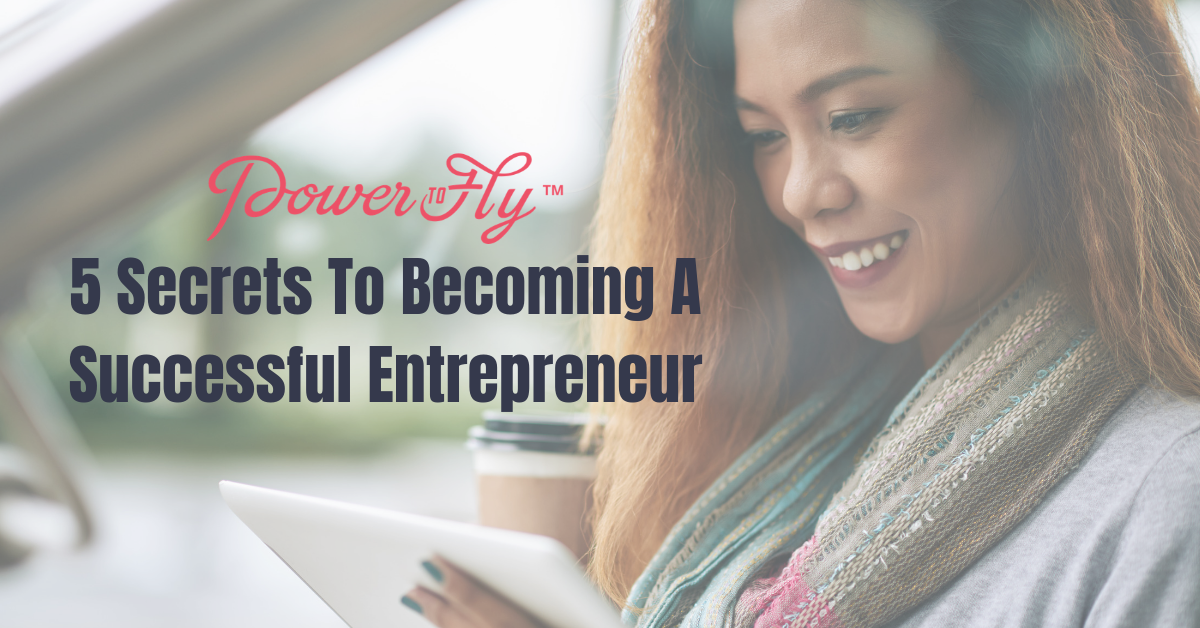 Women at Work
Even If You're Not Rich Or Well-Connected
Sure "the early bird gets the worm" but there's something to be said about "the rich bird getting the best worm", and the same can be said about entrepreneurs. It's no surprise that people with family money, cultural capital, or other connections are at an advantage in their entrepreneurial endeavors. These circumstances can be used to their benefit, especially when met with unexpected setbacks as their businesses are brought to fruition.
But what does one do without those kinds of resources or connections - is it possible to become a successful entrepreneur when facing various hurdles?
We sat down with Nathalie Molina Niño, CEO and Founder of BRAVA Investments. Nathalie is a technologist and coder by trade, and consummate entrepreneur and a storyteller at heart. Impressively, Nathalie launched her first tech startup at the age of 20!
More recently, Nathalie just released her first book Leapfrog, prompting this discussion about how to become a successful entrepreneur. Leapfrog is a startup bible with 50 proven hacks from self-made women who turned the status quo on its head (spoiler alert - our own President and Co-Founder is one of those women)!
Are you looking for a space where you can chat with other female entrepreneurs, or women who've been in your shoes? Click here to become a PowerToFly VIP and gain access to all of our virtual chats just like this one. Grab your seat at our table—we're waiting for you! :)

What's the biggest challenge you've overcome on your journey to becoming an entrepreneur?

Nathalie Molina Niño: Finances are always a thing, which is kind of why I started my company, and why there's a whole section in my book dedicated to funding, including the "F**** the Friends and Family Round" hack. We're in a world that assumes you have friends and family to write you hundreds of thousands of dollars worth of checks, and if you do, that's great! By all means, use that leverage. But the reality is, if you look at the shrinking middle class and the reality of how many people have savings accounts, some would argue that more than 90% of Americans do not have those resources or access to these funds, and I find it really insulting when people just assume that's how everyone gets started.
To overcome this challenge, you have to look at alternative ways to raise funds. Women are more successful at launching crowdfunding campaigns, and now, there are multiple ways to do that. It's not about selling your product in advance or giving away t-shirts, now we have equity crowdfunding or debt equity crowdfunding. There are tons of resources via the Small Business Association (SBA), contests, and other mechanisms to help launch your business. And that's the challenge for women—finances, and it's the reason I started BRAVA. What's really holding women back is the lack of access to capital.


Do you have any tips for fundraising?
NMN: Unless you are willing to possibly be fired from your own company, please don't take venture capital funding - and this is coming from someone who's been there. You should seek out venture capital if you want to build something amazing, grow it really fast, and are ok with not being in the picture three years from now should it be acquired, or whatever else may happen. My point here is to not romanticize venture capital—instead I'd like us to be really clear about the pros, the cons, and what it potentially means to give up that much of your company. Also, what VCs don't tell you is that there are people out there who own their own companies with billion dollar revenue who have not received a penny of venture capital. Long gone are the days where in order to launch a successful business, you must live in frat house, bro-culture VC incubators, and it's why I've packed my book with stories of people who've taken different paths - we have to shift the narrative.
And then, let's educate ourselves about the alternatives, such as equity crowdfunding and equity debt crowdfunding as well as loans and lines of credit that people like the Small Business Administration in your city, or even in your state or nationally, have available that most of us don't even realize exist. It's there, and it's either cheap money, or in some cases, it's even free money because it's obtainable as grants.
My concern is that we're pushing for women and people of color to get more venture capital, which is a good thing because not enough of us are getting it, but nobody's talking about debt. Nobody's telling us about how you shouldn't be using your Series A funds to make payroll that month—that's what loans and lines of credit are for. We're not talking about the pieces of debt and funding that are important to launching businesses. We now have a bunch of entrepreneurs with really unbalanced capital stack, meaning that they have too much VC, not enough debt, and not enough of these other types of capital that are really important - if you have an unbalanced capital stack, your company will fail.


Do I need a co-founder to get started?
NMN: It really depends - let's say you're interested in buying a well known baked good franchise. You're looking at spending $80,000-$100,000 for a moderately priced franchise. In this case you're in business for yourself, but not by yourself, because there's an organization whose job it is to make sure you're successful. They train you, train your employees, and give you the exact instructions of what you need to do to be successful. It's a proven model—they've done it dozens, if not hundreds, of times before. In this case, if you have the resources, maybe you don't need a co-founder.
However, if you're looking for traditional investments, most of the investors that I know recommend that you have a co-founder. Many won't start a conversation without one. It's not just about splitting up work between two people, but also splitting the anxieties, sleepless nights, not to mention anxieties that come with starting a business. In addition, you should be going outside your circle to find your co-founder. Find someone who is radically different from you—not just personality-wise, but someone who brings a different skill set to the table. If the plan is to scale and grow your business the way I would love for all women to, then yes, you need a wingwoman or a wingman to help you along the way.
What would you have done differently when starting off?
NMN: When starting any of my endeavors, two things come to mind that I could have done differently. First, I should have spent more time building strong alliances and interacting in this community of strong women - PowerToFly has done this really well. I sort of suffered in silence, and I felt like it was me, and maybe my co-founders, against the world. When I think about #MeToo and all of the stories that have come out, all I can think is that many of us thought that this was only happening to me, when clearly that wasn't the case. I'm so proud of this next generation of women entrepreneurs who came out, who have been brave, who have been speaking out, and who have been naming names. There is strength in numbers, and alliances are forming because of that, too.
Second, when I started out I felt like I could either be an activist or an entrepreneur, but I couldn't be both. I felt like I had to choose, when in reality you can absolutely be both. So many companies and are transparent about what they believe in and what they stand for, and that was really important to me.
Do you have any tips for someone who is running a business while also employed?
NMN: It is super hard, but I also go back to this idea that there are many different ways to be an entrepreneur. Angela Lee is somebody whom I mention in the book—she started something called 37 Angels. And I think 37 Angels was her third or fourth company. She had a job at, I believe, one of the Big 5 consulting firms, and she tried her first three startups by testing her ideas and seeing if there was any traction in the market. Her first three ideas didn't go anywhere, but her fourth one, 37 Angels, got traction. People started to really follow, and people were getting excited and coming on board. 37 Angels is all about training high-net-worth women to become angel investors. There was clearly interest in the space, and the next thing you know, she had a business on her hands. It took her awhile to figure that out, and it took the revenue to get to a certain level before she realized that it was time to quit her job. I guess I'm not so much worried about women being able to run a business while employed because I've seen women do far crazier stuff than that.
READ MORE AND DISCUSS
Show less
Loading...