GET EMAIL UPDATES FROM POWERTOFLY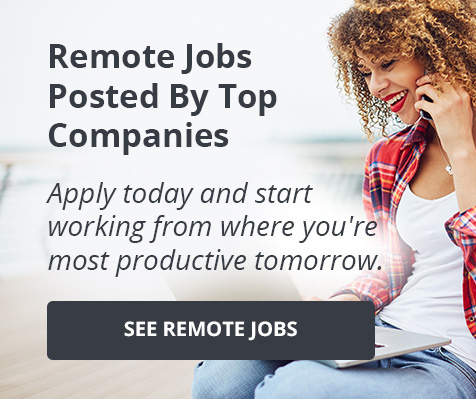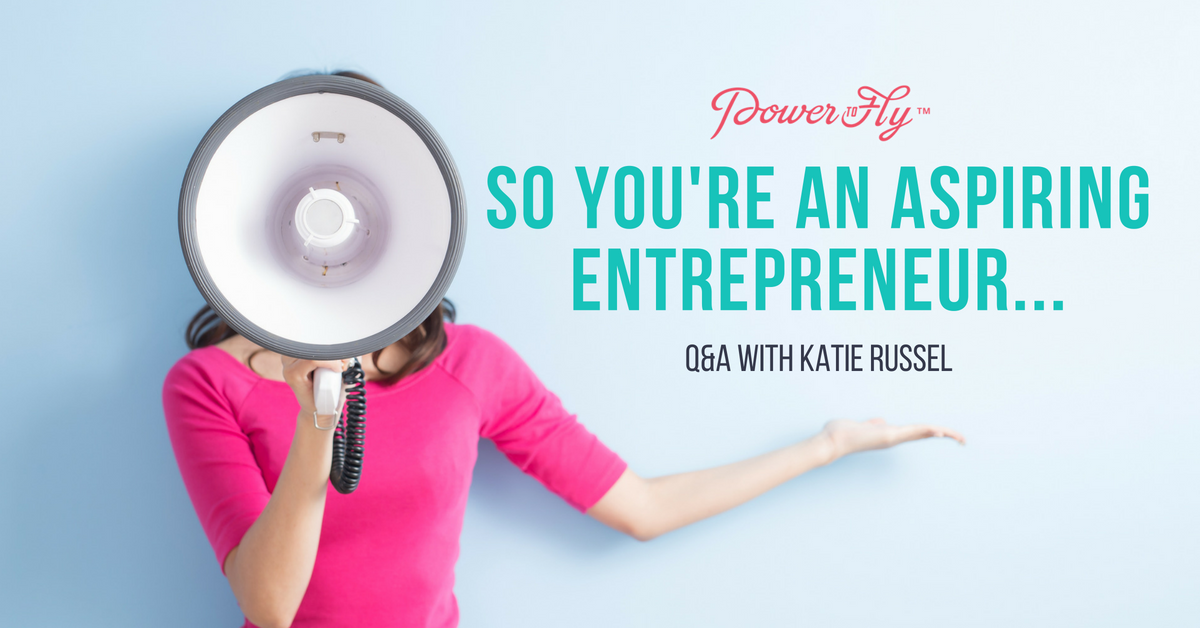 Women at Work
It's starts with an idea…
Then comes research, growth, development, and before you know it you're holding a microphone in a room of VC's hoping one will bite at the pitch you've spent months preparing for. We all can dream, right?!
Well, this "dream" is all in a day's work for Katie Russel, Head of Business Development and Partnerships at Draper University, who's seen hundreds of pitches from aspiring entrepreneurs and helped mentor many of them into successful business owners.
Katie sat down with a small group of PowerToFly VIP's, and answered their questions about pitching themselves, their businesses, and their ideas - who knew we had so many aspiring entrepreneurs in our community?!
Read on for a synopsis of our conversation, or sign up to become a PowerToFly VIP and receive access to this recording as well as exclusive invitations to more intimate chats with women just like Katie!
Question: When you're watching a pitch, are there things that immediately stand out?
Katie Russel: Learning to hold a microphone properly is huge. Holding it too close or too far can be extremely distracting for the audience, and takes away from the value of what you're saying. The same can be said when speaking without a microphone - speaking too loudly or softly takes the focus away from your pitch. Pacing and fidgeting can also be extremely distracting - try putting a piece of paper under your shoe and keep that foot planted while you're talking. This will help keep you in one general area and limit you to only forward and backward steps. Lastly, overusing filler words such as "like", "um", "so" (etc.) not only come off as unprofessional, but stick in the listeners mind (and get annoying!). Practicing your pitch over and over will drastically improve all of these things!
If someone is extremely passionate about their idea and is charismatic, they instantly stick out in my mind. Not everyone is charismatic, so if you can fill that charismatic void with passion, you will not only draw the audience's attention, but leave them wanting more.
Oh! And wearing something that makes you stand out, like a bold necklace or fun earrings, something that will easily make you stand out, can help too!
Q: What's the best way to get feedback on your pitch?
KR: We do this thing that's called "pitch to a 16 year old" and "pitch to your grandma" that we've found to be super effective. Essentially, the teenager is going to be able to tell you if your idea is cool and exciting, while your Grandma is going to tell you if your idea makes any sense. Some people divulge so many details during their pitch, many that don't even matter, that they leave the listener with more questions, or thinking about something else completely. Grandma is going to ask those random questions, and the teenager will display boredom if you've completely lost them. Feedback is crucial for everyone, the key is not being afraid to ask for it!
Q: What tips do you have for aspiring entrepreneurs?
KR: Gosh I could say so many things here, but one of the biggest things I've noticed when we are talking to entrepreneurs is that a lot of them do still think it's a glorified role. The number of entrepreneurs that actually become huge successes is actually extremely low - 98% of companies fail in the first two years. With that being said, my biggest piece of advice for aspiring entrepreneurs is to make sure what you're building is something you are extremely passionate about or else you won't have the motivation to continue when you hit the lows that almost every entrepreneur faces.
Q: Is there a specific process entrepreneurs should be going through?
KR: There's a really well known process known as the "build, learn measure loop" that I believe is key to entrepreneurial success. You want to make sure that not only are you constantly building things, but adjusting and adapting to the feedback of actual product users and measuring your results. Are people actually using your product as they should? Are they happy? You should know everything about your customer - where they hang out, what they do, why they are using your product, so that you can essentially set "SMART" goals for the future.
READ MORE AND DISCUSS
Show less
S&P Global Inc
Building a cupcake business in Brooklyn
At S&P Global, they believe empowering women entrepreneurs makes economies thrive. On April 28th, Brooklyn Cupcake filled an order of over 3,200 cupcakes to celebrate S&P Global's 1 year re-branding anniversary. At S&P Global, they tackle the challenges women face in launching and developing their businesses—from gender bias to systemic lack of access to capital—with the same skills and insights that make them effective in delivering essential intelligence to their clients. They promote the flow of resources and capital to enterprises owned and managed by women in three ways:- Leveraging their own unique business capabilities—data, technology, and insights.- Supporting partners that provide the women-owned small business sector with financial tools that meet the distinct needs of women.- Sharing their collective knowledge and experience with women entrepreneurs through employee-led mentorships.
Want to join the team advocating for female entrepreneurs? Click here to follow S&P Global and be the first to receive job updates, event invitations, and more!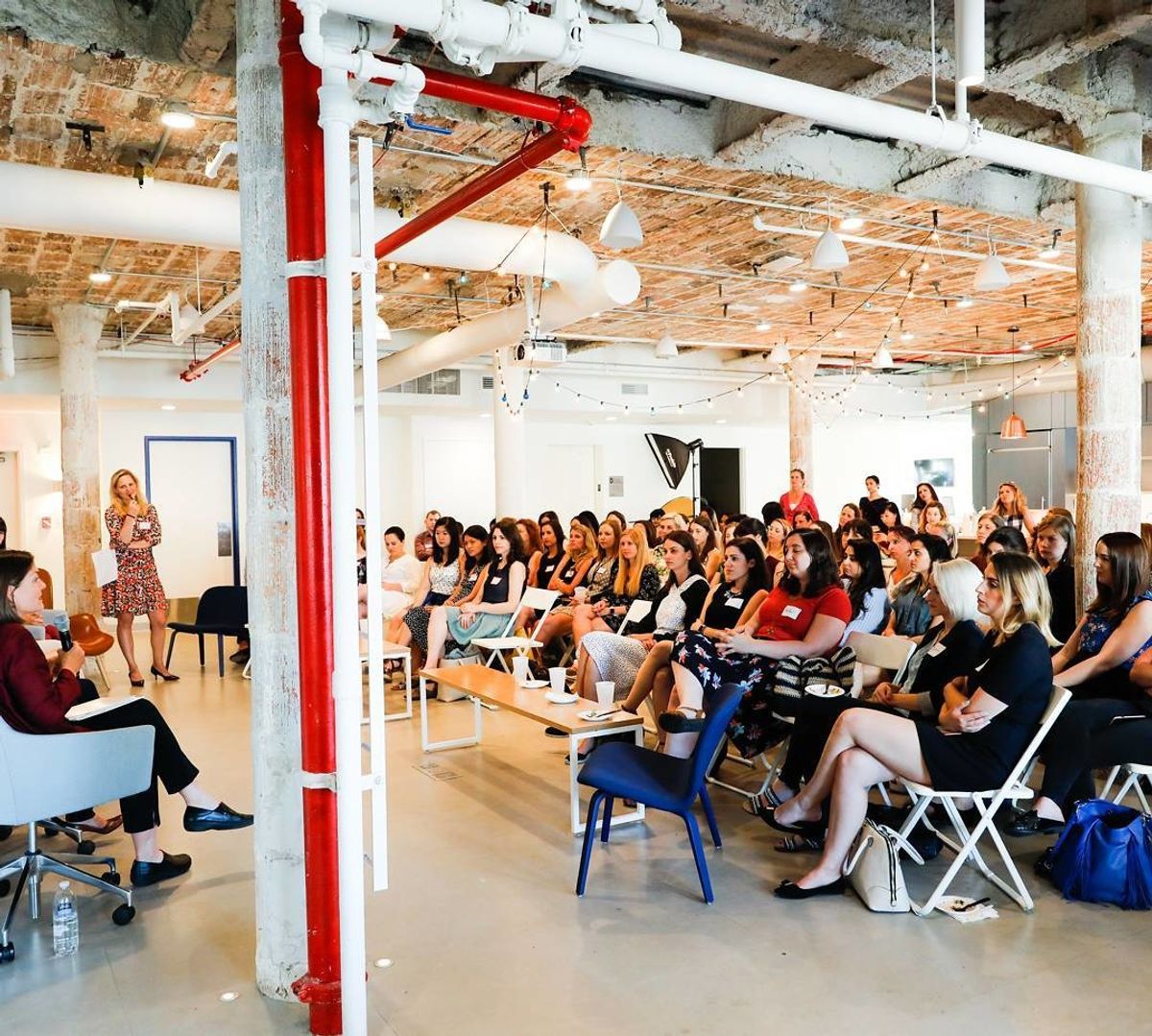 In Person Events
What's coming in 2018 and how to do it right.
Last May PowerToFly started throwing in-person events for women in tech and across digital. We were already doing virtual events and webinars, but it only seemed natural to ramp up live meetups for our community that reaches over 12 million women.
We've now held over thirty events, and needless to say, learned a ton about what works for a women in tech event and what doesn't. I'll summarize a few key points here so that employers can know how to throw events, and women in tech can know what they should expect from an event.
If you're looking for a list of free women in tech events then bookmark PowerToFly's Women in Tech Events list that's constantly updated (most of these events are password protected, so please email talentgrowth@powertofly.com if you want to be included). We do have events in there that aren't tech focused - sales meetups, webinars for employers and a lot more.
Another great resource for women in tech events is MeetUp. You can search for events in your area or globally. Not all the events are free like PowerToFly's are. So dig through and see what you can get. The same goes for Eventbrite's list of women in tech events. Some are free, many are not. So if you're looking for free women in tech events then I can't stress how much you'll want to save our PowerToFly list.
Dos for Throwing a Women in Tech Event
Do - Be transparent about how your company is creating a more inclusive environment.
Companies have a long way to go on this front. Don't pretend you're perfect. No one is - yet. I love this example of an interview I conducted around an event for Dow Jones with one of their Senior Engineers who they hired at nine months pregnant.


Do cut the sales-y talk. Use real examples.

Women want to see what you're building - they want to look at code or hear the stories around a product. They don't want to be pitched on why your company is so great. A good example of this is from an event we recently did with Amazon where we got an inside look into the challenges of building Amazon food. The presenter was a woman, with two children, who fielded questions Amazon food's code-base along with whether she takes her kid to his doctor's appointments every time. You'll have to come to an event to learn about Amazon's code base because that conversation was off the record, but when it comes to taking kids to the doctor in the middle of a workday, yes, the developer told the room that she does it frequently. (Obviously she picks up her unfinished work later in the day, post appointment).
PowerToFly is running a series of women in tech events with Amazon in the Seattle area this winter. If any Seattle women in tech want to join us then follow Amazon for updates here.
Do Feature women and their stories
Not every company needs to feature a panel that has stories like Mona's (scroll up to the video if you want a refresher on who I'm referring to). Panels with women - and men - on them that can articulate what it means to thrive at a company without having to sacrifice one's personal life are key. We did an Austin women in tech event for Homeaway with a line up that included men, women and even the CEO of Expedia. The panel was all women, but as you can see from our write up about this Austin women in tech event there was a strong mix of stories. Another one of my favorite panels was with Dow Jones. We had a mix of women on there who could speak to feeling they belonged despite disabilities, sexual orientation, parenting duties and more. I've pasted a photo in of that women in tech event from this past summer.
Do Include hiring managers (no matter their gender)
Don't throw a women in tech event that only has women. Men make most of the hiring decisions - we need them included at these events. Our Phoenix women in tech event with American Express was a perfect example of how important it is to have hiring managers mix with women in tech. If you don't get hiring managers at these events, then they're not meeting women in tech, and women in tech are not meeting them. The event will feel like another - check the box - recruiting gig.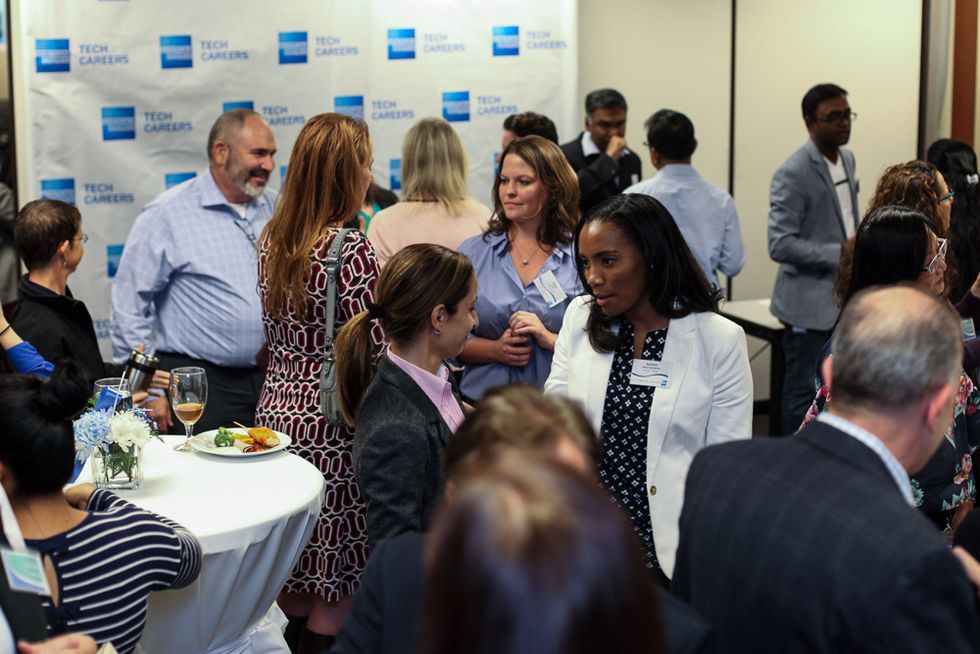 American Express Tech VP's mingling with Phoenix women in tech
Do Follow up

If you're looking to make hires then don't wait to contact women in tech you've brought to your event. Women in tech are in demand. Just look at all the companies trying to hire more women in tech in 2018. And if you want more stats on how diversity is a priority for top companies, then check out LinkedIn's 2018 hiring trends report.
Need more inspiration of what a good women in tech event looks like? I've pasted in some photos from our PowerToFly Instagram account. Keep scrolling.
Are you looking for women in Tech Events in 2018?
Here's PowerToFly's entire line up through March 2018.
I'll be building out a list for specific women in tech events for -
Women in Tech Events Bay Area
Women in Tech Events NYC
Women in Tech Events Seattle
Women in Tech Austin Events
READ MORE AND DISCUSS
Show less
Loading...