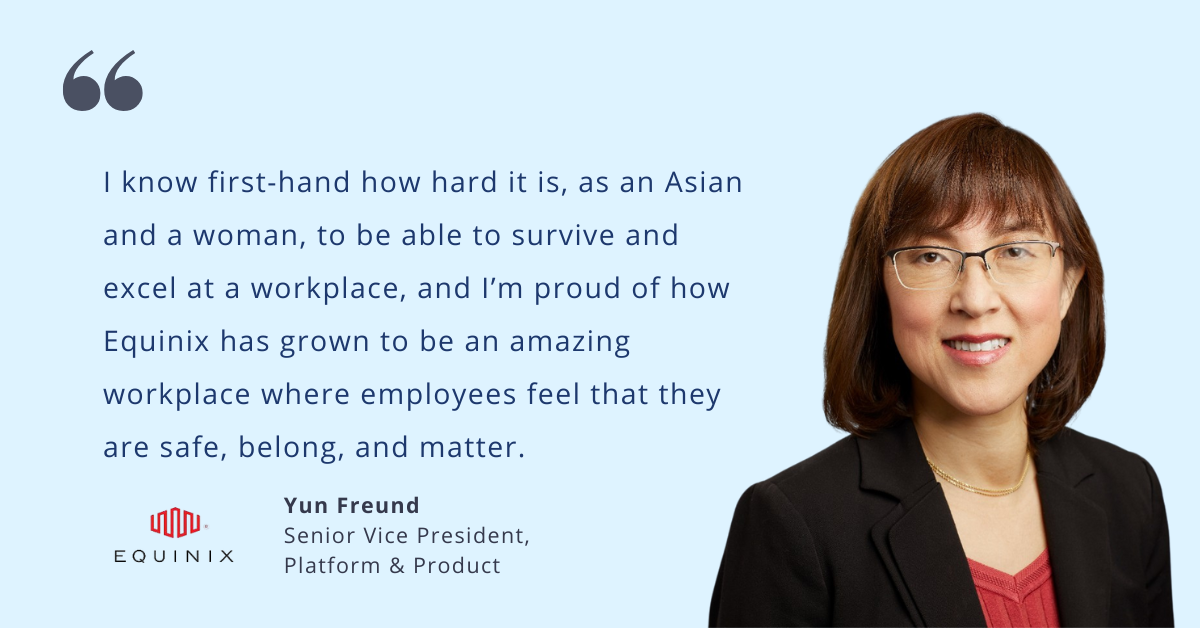 Equinix
Yun Freund considers her background to form the "typical immigrant story" — but sitting down with the SVP of Platform and Product at Equinix, it's clear she's made it her own.
"I came to the United States about 30 years ago with $80 in my pocket. I earned a CS degree from a Beijing university when computer science was new. I was good at math, so that's what I studied," explains Yun.
Fast forward a few decades, and Yun is now running one of the largest organizations at Equinix, a Fortune 500 digital infrastructure company focused on providing an interconnected platform to its global 10k customers. While focusing on external growth — the business has grown nearly 40% since her arrival — Yun has also invested in internal progress, especially when it comes to Equinix's Diversity, Inclusion, and Belonging (DIB) goals.
"I know first-hand how hard it is, as an Asian and a woman, to be able to survive and excel at a workplace, and I'm proud of how Equinix has grown to be an amazing workplace where employees feel that they are safe, belong, and matter," says Yun.
That's not just her opinion. Glassdoor confirms this, having given the company a "best place to work" distinction in 2021, and a special award for best places to work for LGBTQ+ equality list by the Human Rights Campaign Foundation.
We were excited to learn more about Yun's strategies for empowering her team — including her belief that making room for failure is just as important as celebrating success.
The Intersection of Technological Innovation and People Management
Yun first heard about Equinix through a recruiter. Decades into her career in tech leadership, she was looking for a role where she could drive innovation in both technology and people management.
"After many rounds of discussion with our executives, I realized Equinix is a company that's full of potential. It was doing a lot of innovation on interconnected SaaS products and networking products, and I thought I could really help drive, from a culture and process perspective, the company's digital transformation journey," reflects Yun.
Her first order of business? Building a strategy for scaling product development. Yun had long worked at the intersection of engineering and people management, and she embraced the challenge to scale a talent strategy as well as changing the culture.
That resulted in clear growth — not just for Yun's career, as in promotions and new responsibilities, but also in what the company was able to do.
"Helping to cultivate a DevOps culture, move products to the Cloud for high reliability and availability, and build operational excellence for our customers is contributing to us fulfilling our purpose, which is to be the platform where the world comes together, enabling the innovations that enrich our work, life and planet," says Yun.
Diverse Ways of Measuring Impact
Yun doesn't manage her team by the balance sheet alone.
"Improving the bottom line, or operating more efficiently, is just as important as improving the top line, or driving more revenue and more customer adoption," she says. "Sometimes it's not about how we get new products and services out the door, but how we run things more efficiently."
For Equinix, says Yun, that includes committing to becoming carbon-neutral by 2030.
"We're a company that really touches life every day, from online shopping, to sending emails and streaming movies, to smart cars," says Yun. "We want to be doing that sustainably. For example, by using AI and machine learning to lower our power consumption and using green sources of energy."
Yun knows that to drive the most impact, Equinix needs a diverse team. She has partnered with other senior leaders and employee connection groups and started driving a more coherent DIB strategy across the company. She is excited to see the progress and wants to continue the effort in building a diverse and safe workplace for everyone — including by leading through her own example.
3 Key Ways to Empower Your Team
When Yun says that it's important to empower your team, she doesn't mean that you simply transfer the responsibility to your team and call it done. Here's what she does mean:
Embrace failure. "It's easy to say, 'Ah, empowerment. Here's the purpose, go drive impact.' But sometimes it's not all rosy," she says. "The road to empowerment can sometimes be a failure. How do you support your employees along the way? When they fail, you should not blame them. You should be there, on their side, to help them do a retrospective and learn from it."
Show trust via delegation. "Giving your team the opportunity to make their own decisions helps give them a purpose. It shows them they can make a difference. Accountability and ownership will help drive your team to have deeper engagement and commitments, and ultimately deliver results."
Tie individual responsibilities to company OKRs (Objectives, Key Results). "I always communicate to my team that every engineer and individual contributor's work will have an impact on the business, no matter how small that is," says Yun. For example, if an engineer is working on a new digital experience component for the customers, their work will contribute to some kind of business outcome such as, hours saved from many customer support calls or customer satisfaction score improvement, and that in turn drives operational efficiency and customer experience improvement for the whole business. "When employees realize their impact on the business, it elevates their motivation as well as their state of mind."
Looking to join an empowerment-first culture? Check out Equinix's open roles!
READ MORE AND DISCUSS
Show less
Equinix
💎Prepare for your interview at Equinix with some great tips from the company's recruiters. Watch the video till the end to learn about Equinix's application process and how you can stand out!
📼 Get ready for an interview at Equinix with the insights shared by their recruiters: Tori Smith, Global Talent Acquisition Recruiter, and Kelly Mackey, Talent Recruiter for the Operations Team. Together, they'll reveal tips and tricks about Equinix's interview process and give you some insights into how to prepare.
📼 When preparing for an interview with Equinix, what is the importance of cross-functional skills? First and foremost, Tori will be looking at your attitude, aptitude, and potential. No matter the technical skills they seek, their interest is to see how you work as a teammate and member of a larger organization. (That's your attitude.) For your aptitude, they'll focus on the previous skills you attained, plus your ability to learn new skills. Lastly, they'll evaluate your potential. What does your unique background bring to the team that's new and different? And how can you apply that to make an impact within the bounds of what Equinix is already doing?

📼 At the interview with Equinix, every candidate should come prepared with what Kelly calls an "elevator speech" to answer the question: "Tell me about yourself!" The best way to respond to that is, "Where do you want me to start?" When assessing candidates, Tori will be asking a lot of different questions. What happens if you don't have the answer to a question? In Tori's view, that's totally okay! If that happens, take a minute to walk the recruiter through how you might approach the question. Next, if it's a technical interview, share your expertise. They'd like to see how you use your knowledge in play. Remember: when you're interviewing, it's your time to shine. Share how you made an impact in previous roles by using numbers, statistics, and any other information that'll help. Provide data on how you've made a positive difference at your last job.
Interview With Equinix - Resume and Research Tips
Key tip: Tailor your resume to the specific requirements and responsibilities listed in the job description. You should craft your resume with keywords from the job description so that it screams, "Good fit!" Before the interview, do some research on Equinix and their business model. Learn about the Equinix Data Center, and review anything else you can find on the web. Showing the recruiter your investment in learning about the company will prove your investment in the overall hiring process! Additionally, check out what candidates are saying about their interview experiences on Glassdoor, where you can also check out Equinix's CEO's ratings.
🧑💼 Are you interested in joining Equinix? They have open positions! To learn more, click here.
Get to Know Tori and Kelly
Tori's pronouns are she/they, and they're a Talent Acquisition Recruiter and Global Program Lead at Equinix. The programs they lead focus on inclusion and belonging in the hiring process and the workspace, and the positions they're recruiting for focus on the new-to-career and internship space. Do you want to work for a Fortune 500 company that makes sure every employee feels safe, that they belong, and they matter? If so, send them a DM on LinkedIn to connect!
Kelly is a Seasoned full-cycle Recruiter with a history of success combined with building solid industry relationships. She has comprehensive experience in recruiting, onboarding, and aftercare. Her goals are to provide a positive & consultative experience for prospects and clients.
If you are interested in a career at Equinix, you can connect with Tori and Kelly on LinkedIn!
More About Equinix
Equinix is the world's digital infrastructure company. Leading companies depend on Equinix's trusted platform to offer their services seamlessly and enable migration to hybrid cloud models quickly. Also, interconnect with partners, customers and employees easily, and at the same time innovating to deliver world-class experiences. With 220+ data centers in offices around the globe, Equinix has enjoyed 70+ consecutive quarters of growth while powering the world's digital leaders.
READ MORE AND DISCUSS
Show less
Loading...