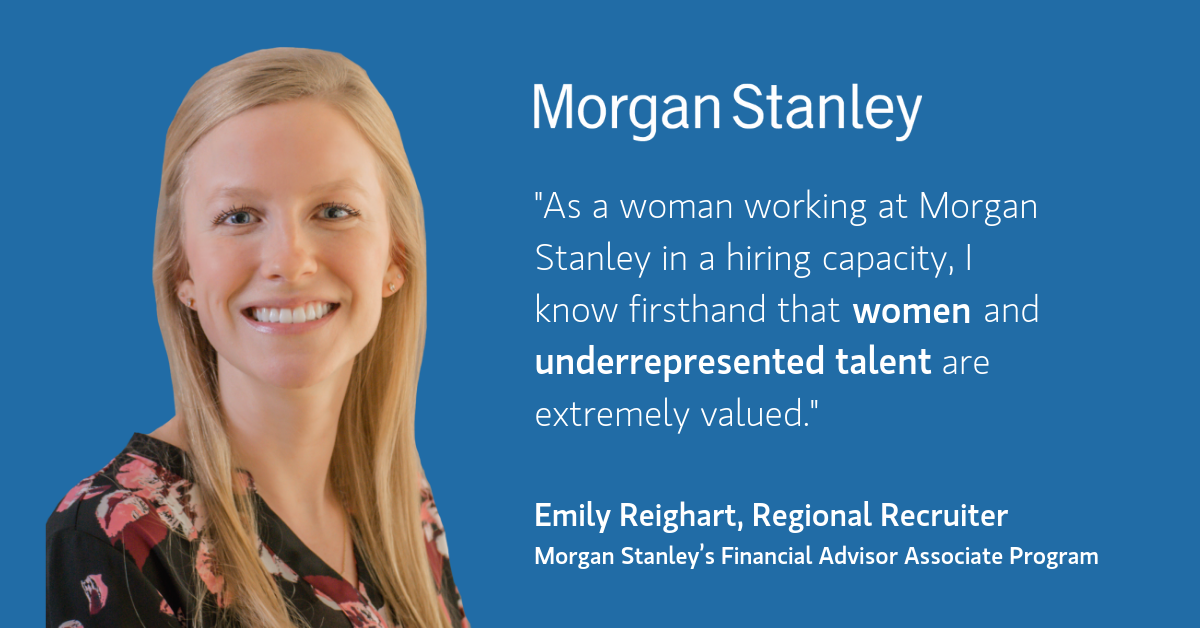 Morgan Stanley Technology
Meet Emily Reighart, Regional Recruiter for Morgan Stanley's Financial Advisor Associate Program
Morgan Stanley is hiring for their Financial Advisor Associate Program. We sat down with Emily Reighart, Regional Recruiter, to learn more about what kind of person makes a good fit for the program and to get her tips for acing the interview. Read on to learn more!
What traits are you looking for in your next team member?
Emily Reighart: Camaraderie, respect, professionalism… someone who is willing and able to speak up and share their opinion and ideas.
Why do women and underrepresented talent feel they can thrive at Morgan Stanley?
ER: As a woman working at Morgan Stanley in a hiring capacity, I know firsthand that women and underrepresented talent are extremely valued. Morgan Stanley frequently shares firm-wide stories and celebrates female employees who have seen success and made an impact in their roles. The firm is supportive and encouraging to women who desire to pursue leadership positions within the industry.
What does the interview process look like at Morgan Stanley and how long does it usually take?
ER: Once a prospective candidate completes and passes assessments as part of our online application, they are moved forward to speak with a recruiter. From here, the candidate will complete an online video interview. If selected to progress, he or she may meet in person with a hiring manager and complete a business plan; the business plan outlines their game plan for success as they build up their book of business as a financial advisor.
What's a hot tip about your interview process that you can share with the PowerToFly community?
ER: While there are multiple steps to the process, taking the initiative to get them done allows you to control the hiring timeline and shows your initiative. Also, if ever your application is not moved forward during a certain point in the interview process, you're always encouraged to try again in 3 months' time!
Can you relay an encouraging anecdote about someone who was hired by your company who may have thought it was a long shot, or they applied multiple times?
ER: This happens more often than you might think! Many candidates have reattempted the online application assessments more than once and have still joined the firm.
What do you love most about working at Morgan Stanley?
ER: I love working for a large firm, as the opportunities here are many. Morgan Stanley offers a collaborative culture, and my colleagues - direct and indirect - have always been respectful and friendly.
Morgan Stanley is an equal opportunity employer committed to diversifying its workforce (M/F/Disability/Vet).
READ MORE AND DISCUSS
Show less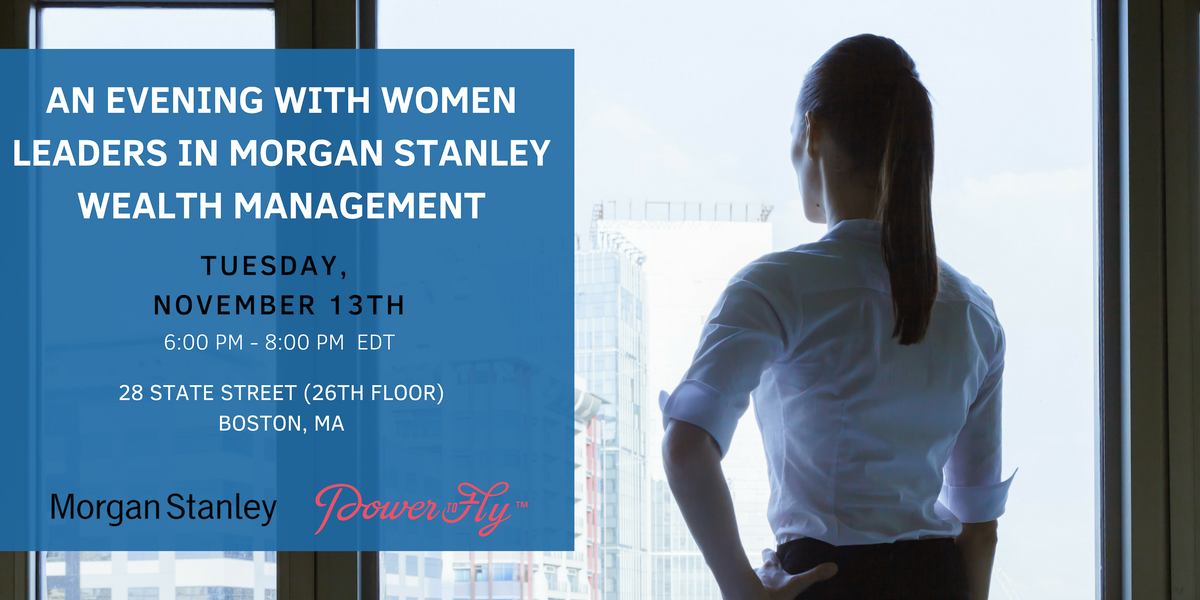 Morgan Stanley Technology
If you live in the Boston area and are interested in attending the event, please email hi@powertofly.com to be considered for an invitation.
PowerToFly has partnered with Morgan Stanley to present an invite-only networking event for Boston-based financial advisors and women in finance.
The evening will include a panel, featuring female Financial Advisors from Morgan Stanley and male allies. It will conclude with time to network with your peers over light food and drinks!
Join us on Tuesday, November 13th from 6:00pm to 8:00pm at Morgan Stanley, 28 State Street, 26th Floor, Boston, MA.
The evening will include discussions on the entrepreneurial spirit, starting your own business and Morgan Stanley's development program and of course, there will be plenty of time to connect with your fellow women in finance.
Agenda (Subject to Change)
6:00pm - Check-In & Networking over Light Bites & Drinks
6:20pm - Kick-Off from PowerToFly's Head of Enterprise Customer Success Cristina Duke
6:25pm - Keynote Address by Elizabeth Baker, VP Associate Complex Manager at Morgan Stanley
6:35pm - Information Presentation with Michael Ferguson, VP Associate Complex Manager; Annie Diamond, VP, Associate Complex Manager
6:45pm - Panel Discussion featuring female Financial Advisors from Morgan Stanley
7:00pm - Audience Q&A
7:15pm - Networking Continues with Light Bites & Drinks
About our Events: All RSVP'd attendees are welcome. If you require assistance to fully participate in this event, please email hi@powertofly.com, and we will contact you to discuss your specific needs.
The Morgan Stanley Wealth Management Financial Advisor Associate Program is a 36-month training and development program. At the end of the three-phase program, Financial Advisor Associates are prepared to take their place among our elite Financial Advisor workforce.
Unfortunately, PowerToFly cannot admit outside recruiters to this event. Please email hi@powertofly.com if you have any questions.
About Morgan Stanley: Morgan Stanley mobilizes capital to help governments, corporations, institutions and individuals around the world achieve their financial goals. For over 75 years, the firm's reputation for using innovative thinking to solve complex problems has been well earned and rarely matched. Morgan Stanley is committed to maintaining the first-class service and high standard of excellence that have always defined the firm. At its foundation are four core values — putting clients first, doing the right thing, leading with exceptional ideas and giving back — that guide its more than 57,000 employees in 1,200 offices across 42 countries1. Visit Morgan Stanley's page on PowerToFly to learn more.
"At Morgan Stanley, diversity is an opportunity – for clients, employees and the Firm. By valuing diverse perspectives, we can better serve our clients while we help employees achieve their professional objectives. A corporate culture that is open and inclusive is fundamental to our role as a global leader constantly striving for excellence in all that we do." — James P. Gorman, Chairman and Chief Executive Officer
1 Morgan Stanley Annual Report, December 2017.
Morgan Stanley is an equal opportunity employer committed to workforce diversity. (M/F/D/V)
© 2018 Morgan Stanley Wealth Management is a business of Morgan Stanley Smith Barney LLC. Member SIPC.
CRC# 2254171 10/18
READ MORE AND DISCUSS
Show less
Loading...