GET EMAIL UPDATES FROM POWERTOFLY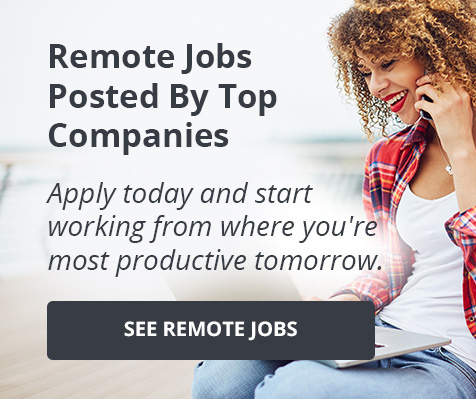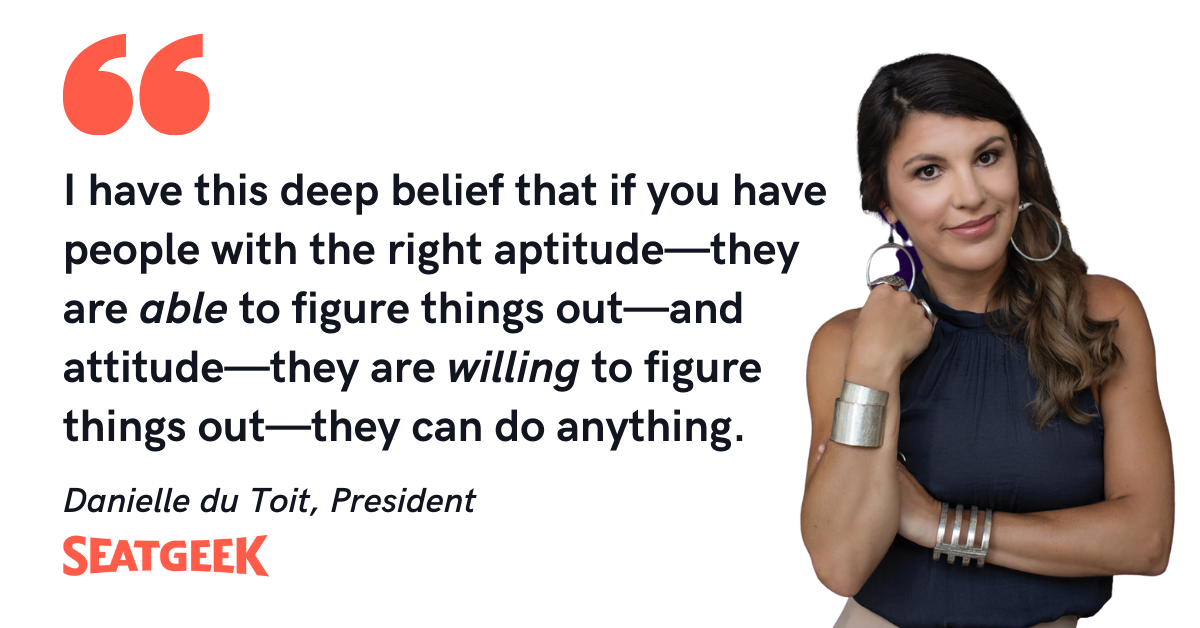 SeatGeek
Something happened to Danielle du Toit when she was 23 that changed the way she worked forever.
She was interviewing for a role as an IT director at a private school. They were looking for someone with 15 years of experience. Danielle had two, but she knew she could do the role.
"I went to see the recruitment agency and when reviewing my resume they remarked that I had 'exactly zero of the things [on the list] needed for the role'. They proceeded to explain that they needed someone who understood how to run a network, and I recall thinking the conversation was ridiculous," remembers Danielle.
"It created a mindset that has been pivotal in my life since then. It's how I hire. I have a deep belief that if you have people with the right aptitude—they are able to figure things out—and attitude—they are willing to figure things out—they can do anything," she explains.
If you had the chance to sit down with Danielle and experience her focused energy and her calm confidence, like we did, it wouldn't surprise you to know that she ended up getting that job.
(She found the head of the school and invited them for coffee; soon after, she was the school's new IT director, managing a team of seven people, some of them in their 50s.)
But since you didn't get a chance to meet Danielle face-to-face—or Zoom-to-Zoom, that is—we've gathered her story and her insight, organized around five of her other deeply-held beliefs that shape the culture she's building at SeatGeek.
Belief 1: The brain is a muscle
Danielle grew up in Zimbabwe and went to university in South Africa. From primary school lessons to college seminars, she had a contrarian attitude to traditional memorization-based learning.
For instance, she once got in trouble for her opinion about long division. She didn't believe in doing it by hand to more than two decimal points.
"What adult is going to sit and try to do long division in their head, versus just getting out their calculator? It made no sense to me," she says. "I also refused to learn anything by heart, and didn't believe in studying. I had this idea that my brain was not a storage device. It was a muscle."
Danielle saw university as another opportunity to be forced to memorize facts, and almost didn't go. "'I don't want to learn things, I want to do things,'" she remembers.
But she got a scholarship (so long as she'd agree to return back to Zimbabwe and teach after—more on that in a minute), so she went to university and studied computer science and physics.
Danielle did end up teaching for two years, though not in her home country, which was suffering from an inflationary crisis. It was the teaching job that prepared her for the IT director role she ended up talking her way into. And that same practice of putting herself up for jobs she wasn't 100% qualified for eventually took her from IT to marketing to sales, and from Cape Town to New York.
Now, Danielle is the Enterprise President of ticketing and live-events experience platform SeatGeek.
But she couldn't have predicted that.
Belief 2: Career ladders are "the worst idea ever"—it's all about "career adventures"
When career advisors asked a teenaged Danielle what she wanted to do for work, she says she'd answer with, "'I have no idea what I want to be when I grow up!'"
An aptitude test didn't help—it told her she was bright enough to do whatever she wanted.
But it did contribute to another one of her career beliefs: there's no such thing as a straightforward career ladder.
"There isn't even a career jungle gym," she explains. "Careers are an adventure: the process of getting closer and closer to what is most valuable to you, then using the clarity of that experience to make your next decision."
Danielle wouldn't have imagined that she'd be living in New York, working in the "high-paced, things-need-to-be-fixed environment" she loves, and constantly learning more about the ticketing industry as she seeks to lead the company out of COVID and into the new market share they gained by being customer-first during the last two years of uncertainty.
Belief 3: No one has all the answers
Danielle had no experience in ticketing before she joined SeatGeek, but that knowledge gap has proved to be an advantage. "Generally, I spend about two years at a company because I start to feel like I'm running out of things I can get excited about from a learning perspective," she says. "I'm three years in at SeatGeek and I'm nowhere close to that feeling."
Embracing a learner's mindset goes beyond making sure your job challenges you, notes Danielle. It's a vital way to stay confident, and it also leads to better problem-solving.
"We have imposter syndrome when we believe we have to have all of the answers and when we believe our value is attached to what we know. That's a problematic belief, because we will never have all of the answers," she says. "There will always be people who have more experience than us. What we do is bring our brains and our perspective, and that is 100% completely unique to you."
As a leader who manages multiple departments, teams, and people, Danielle is building a culture that deeply believes no one person has all the answers, including herself.
"It doesn't bother me if I don't know something. In fact, it can be a delightful place to be. I don't care if people challenge me—I joke with people that I'll fire them if they don't challenge me. I just can't relate to the mindset 'I'm a leader so I have all the answers,'" she says.
Belief 4: Truly honest feedback is a gift
Danielle's favorite part of her job is the opportunity to watch others grow and to help them along the way. She knows that it takes different people with different perspectives to find success.
But that being said, she also knows that she can help people along by giving them the feedback they need to reach the next level. Even if it's not fun to hear.
"I joke with my team that the real secret reason I go to work has nothing to do with work at all—it's because I'm passionate (perhaps a little obsessed) with advancing and supporting people's careers," she says. "The most beautiful things happen when you provide truly honest feedback."
Danielle thinks it's extra important that she, as a woman leader, makes sure her voice is heard in these ways. "A really important aspect of a leader is to have empathy. If you haven't experienced certain biases, how do you have empathy? It's possible, but more difficult," she notes.
Belief 5: Leadership isn't about control
Anyone looking to find their own path to leadership, says Danielle, should be starting today.
"Don't wait for a leadership title to think of yourself as a leader," she says. "The idea that a leader is somebody that gets to control things is not a healthy view. In my mind, a leader is someone who's able to paint a vision, to influence, inspire, and motivate someone. You don't have to wait for a leadership position to do any of those things."
If you're interested in doing that at SeatGeek, check out their open roles!
READ MORE AND DISCUSS
Show less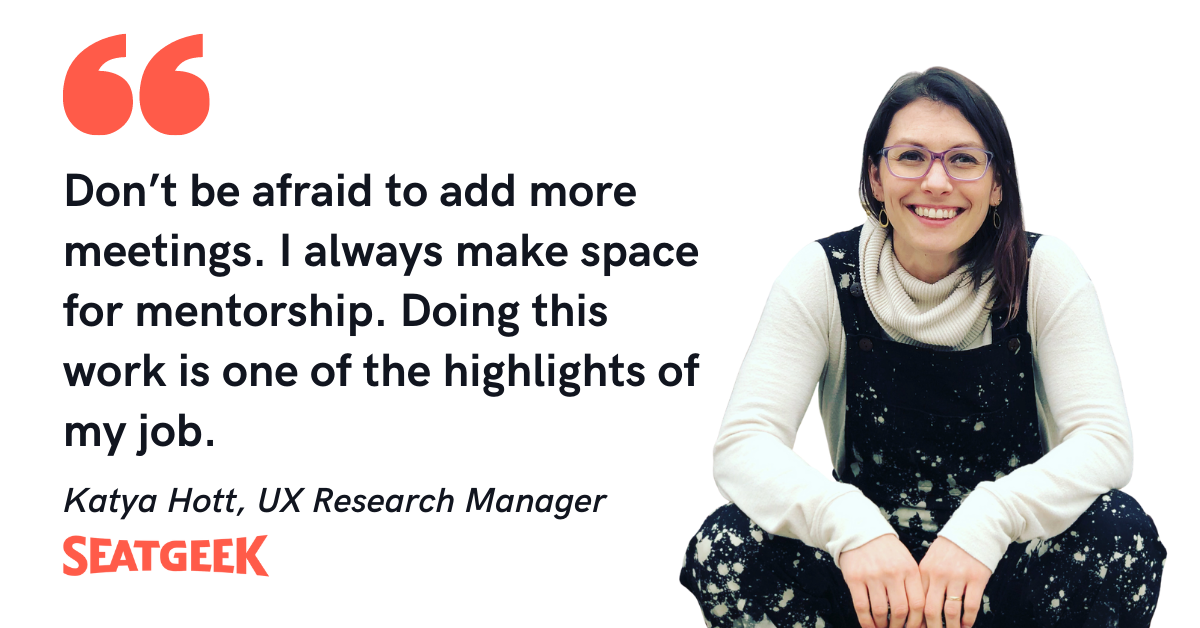 SeatGeek
Katya Hott, currently the UX Research Manager at SeatGeek, was a committed researcher long before she officially moved into the world of UX.
That set her up for success in the field in more ways than one, including to learn more about UX itself: when she was first starting out, she combed LinkedIn to find people who were working on the same things that she was. She cold emailed a few—and ended up with her first-ever mentor.
It wasn't a traditional mentor-mentee relationship: it wasn't arranged by a program or company, and both Katya and her "mentor" were at about the same places in their career.
"We didn't treat it as this formal mentor partnership, but we started meeting regularly," says Katya. "We were growing our teams at the same time, and we'd share advice over email or coffee."
Experiencing great mentorship from an industry peer made Katya wonder if she could pay it forward by mentoring someone else. Even if she was just a few years into her career, she had insight to share, right?
Thus kicked off Katya's homegrown intern mentorship program—and a long history of learning by helping others.
We sat down with Katya to talk more about her experience, from how she got into UX research in the first place and how mentorship has influenced her approach to management.
Language and Learning, Together
Katya has a thing for languages. That includes learning them, making them up, and studying them.
"I knew from when I was little that I wanted to be a teacher," says Katya. "I was just very interested in words and how language shapes reality, or the other way around."
That led to studying linguistics, which introduced her to technology. "A lot of what we can do with language study is totally enhanced by technology," she says.
Katya got hands-on experience working at the intersection of language and technology when she worked as a teacher in Boston and New York. "I was always the youngest teacher, the techie teacher," she says, referencing the apps she built into her lesson plans. When her principal told her about a grad program at NYU that combined learning and digital media design, she looked into it—and ended up enrolling.
"I was researching what makes a good learning game and how people learn through game play," she says. "So much of that tied back to what I had learned about how people learn through language and communication."
She got an internship writing content for an educational games start-up. When she realized no one on the team was doing formal user testing, she offered to bring the game to her teacher friends to get their feedback.
"They were like, 'Sure, we're a 10 person startup, do whatever you want,'" remembers Katya, smiling. She went out into the field to get feedback, then developed a simple framework to convey the different types of feedback she was getting. The design team was immediately impressed, and Katya realized she'd found her next career pivot. "I loved being the bridge between people who use technology and people who design it," she says.
Katya then spent a year in edtech doing "playtesting," the games word for user research, along with some project management.
Along the way, she realized that all the learning she'd done throughout her career, from being in the classroom to writing game content to researching how users used it, was something she could pay forward.
Embracing Mentorship: 3 Key Lessons
When Katya joined that edtech startup full-time after her internship, she knew she had limited experience. "I had training from grad school, and that was about it," she says. Thus the LinkedIn research and the informal mentorship.
When the next class of interns joined her company, Katya realized she could be a really helpful resource to them.
"I knew exactly what classes they were in. I knew who their professors were. I knew what things they were studying. It became very clear that for each intern that came after me, that I should be involved," she says.
So she set up weekly meetings to coach them. She did the same thing when she moved to a different company, this time helping to set up their internship pipeline to her grad program and again making the space to help them. Along the way, she was continuing to build her own pool of mentors.
"I was reaching out to people who are more junior than me and to people who are more experienced than me, and realized they must be doing the same thing. There's this whole chain of people who are just learning from each other without being direct managers or teammates," she reflects.
In mentoring others, Katya learned a few key lessons:
How to give feedback. As a mentor, Katya found herself in a great environment in which to practice giving feedback. Since she wasn't the person making the final decisions on whether the interns would get offers back or not, giving them feedback was lower stakes. "It can be a little rattling to give feedback to a direct report, because it feels like it's so tied to eventual performance reviews. With a mentee, there's no agenda behind it," she says.
How to break complicated ideas down. "I found myself explaining things that I knew inside and out in a way that I didn't have to do on a regular basis with [my peers]," she says.
How to maximize productivity as a player-coach. "One-on-ones can be extremely productive," explains Katya. "I just had a meeting with a more junior team member on our design team who was interested in helping out on a project I'm leading, and instead of giving them homework, I said, 'We have 20 minutes left in our meeting—let's do some work.' If I had said that I didn't have time for that kind of check in with someone who's not even on my team, that would've never happened."
All of that experience set Katya up to be a great manager of people when it came time for her to do that. "Everything I needed to do to be a good manager, I'd been practicing for years," she says. "Becoming a new manager became less scary immediately once I realized I could draw upon my years of experience mentoring."
A New Challenge at SeatGeek
During the pandemic, Katya's feelings about working in edtech changed. "The blurred lines of what it meant to be a parent and a teacher were fuzzier than ever," she says. "It all felt too close to home. I saw the world was pivoting, and thought it was a good time for me to pivot as well."
She started looking for a role where she could build out a research team (because she'd loved doing that in her past position) in a new, challenging setting. When she saw a UX research role at SeatGeek, she was immediately curious.
"I thought, 'This is a live event ticketing company in the midst of the coronavirus pandemic—how is this job even posted?' It piqued my interest," she says. She reached out, and in her conversations with the SeatGeek team, Katya found herself impressed.
"They were so smart, so resilient, and so creative, steering a company through what could have easily been the end of the organization and figuring out ways to come out much stronger," she says.
Katya was intrigued by working in a brand-new industry with a brand-new set of challenges, and when they offered her the role, she took it. She spent her first year embedding herself within the organization, learning about what she calls the "research appetite" on different teams, and showing the value that user research and data could add to different parts of the process.
This second year, she's ready to start setting up her team. Katya is currently hiring for several roles—meaning she will have plenty of opportunities to apply the management approach she's honed through mentorship.
Go Pay it Forward
Katya has found her mentees naturally, including via people who reach out to express interest in her work. If you're looking for people to mentor, she recommends leveraging:
Employee resource groups
Internship programs
MeetUp and Slack communities
If you think that you might have something to offer as a mentor, even if you're earlier on in your career, Katya has one message for you: make the time and do it.
"Don't be afraid to add more meetings," she says. "I always make space for mentorship. Doing this work is one of the highlights of my job. Being that open door is so incredibly gratifying, and makes me feel like I'm still learning and growing soft skills. Make the time for it."
If working at SeatGeek—including on Katya's team!—interests you, check out their open roles!
READ MORE AND DISCUSS
Show less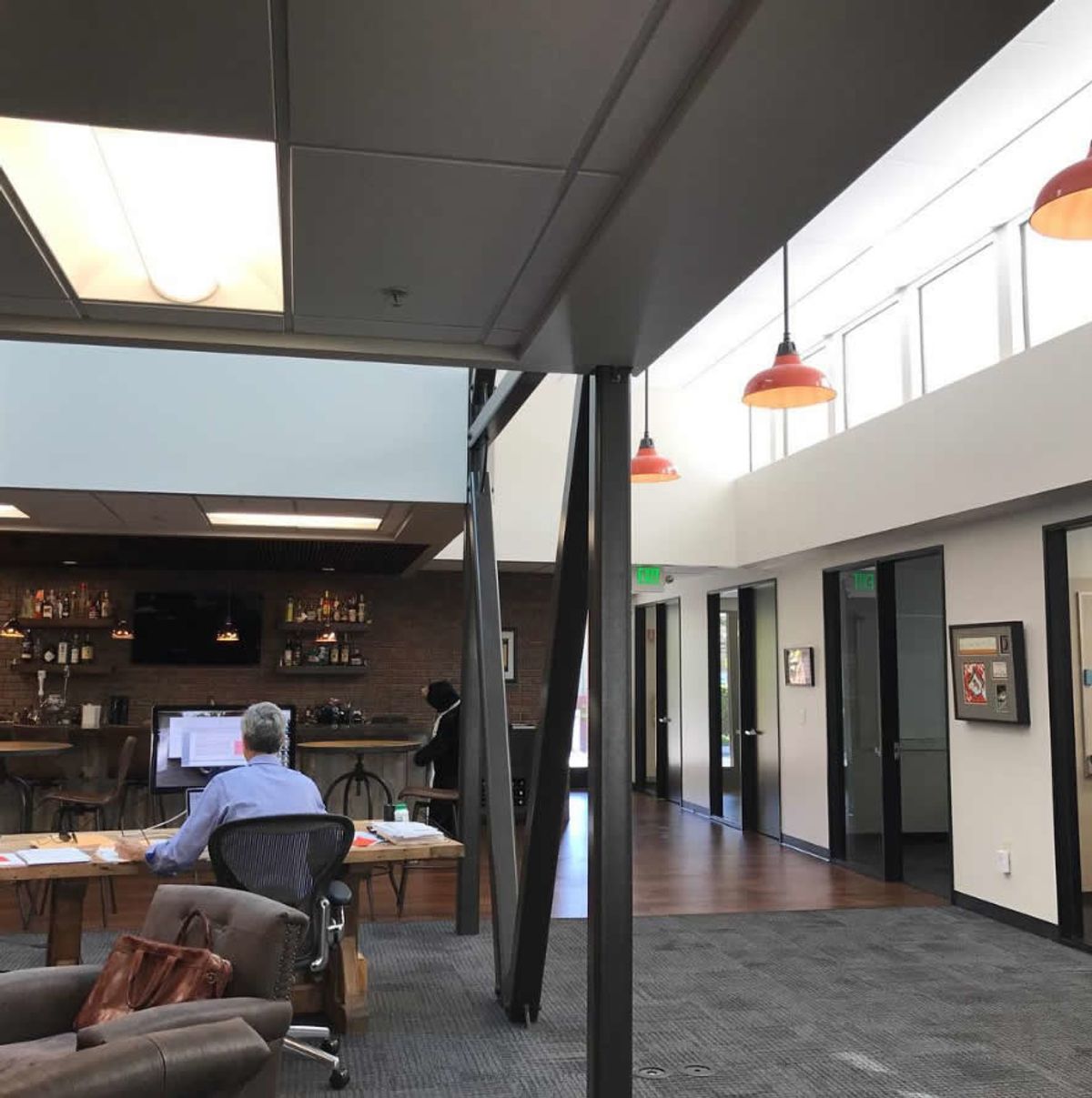 Plex
Below is an article originally written by Schuyler Ullman, Engineering Director at PowerToFly Partner Plex, and published on March 12, 2018. Go to Plex's page on PowerToFly to see their open positions and learn more.
At Plex, we believe in the value of feedback and we try to foster a kind and open culture where people are encouraged to give each other a well-rounded mix of kudos, constructive criticism, and virtual high fives. One of the core pillars of this feedback culture is a biannual 360º review process where everyone gets a chance to provide feedback for people throughout the organization, both highlighting strengths and offering constructive commentary on areas for improvement. And these aren't the kind of reviews that get distilled down to a number in some spreadsheet—these are dialogues. My favorite comment, from a recent hire after their first review cycle, summed it up:

We also love getting feedback on our feedback process, and two comments came up often:
Six months between feedback is sometimes a long time.
It can be really hard to stare at a blank document and think about good feedback, even for someone you work with often. Not to mention remembering a project from four months ago.
We started brainstorming how we might make things better. We didn't want to overreact; we had a process that for the most part was working well for our culture. It'd be great to have feedback more often, but nobody wanted to have a formal process more often than twice a year. Everyone agreed that you could make the whole exercise easier and better by keeping ongoing notes, but most of us weren't organized or disciplined enough to actually stick with it.
As a fully distributed team with people in 17 countries and 12 time zones, we've been living in Slack for more than four years. Focusing on how we work as a company, an idea was born. What if we encouraged people to use Slack to capture feedback on one person each week? It would be lightweight and get us much closer to that elusive "continuous feedback" without a formal cycle or deadline. Anything that integrates nicely with Slack is much more likely to stick in our culture. But would people actually do it? Could we help encourage participation or do more to make it happen and actually be successful?
We have a cadre of people who love to tinker and hack and try new things, turning ideas into reality. Slack has a good API with great docs. So we decided to play around with building a Slack bot that would send a regular reminder asking everyone for quick feedback about someone. Cue the tinkering and hacking, and within a couple days, it was feeling real.


Encouraged by a proof of concept, we started to socialize the idea and get some additional thoughts on what would make this successful. Some key requirements emerged:
Light reminders are critical. If everyone could remember to take notes on their own, we never would have started down this path. A simple prompt that arrives once a week, at a time appropriate to the individual, is most likely to get the highest engagement.
Weekly reminders are great, but don't make me wait! If you have feedback during the week, it should be easy to provide at any time.
The simpler the better. A lot of our developers are used to keyboard shortcuts and textual interfaces, so complicated slash commands would be nothing new. But simple, interactive messages are best.
Feedback shared should be easy to access. The author should always get a copy of the feedback, thereby creating that diary that most of us weren't diligent about keeping on our own. When the formal review cycle does roll around, you can easily scroll back in your chat history with the Feedback app and see what you wrote.
It should understand the org structure. We don't mandate anything in particular on whom gets sent feedback; after all, we can always send each other regular slack messages or hop on a video call! But for these lightweight messages, it's nice for the default behavior to be sending feedback to the other person's manager.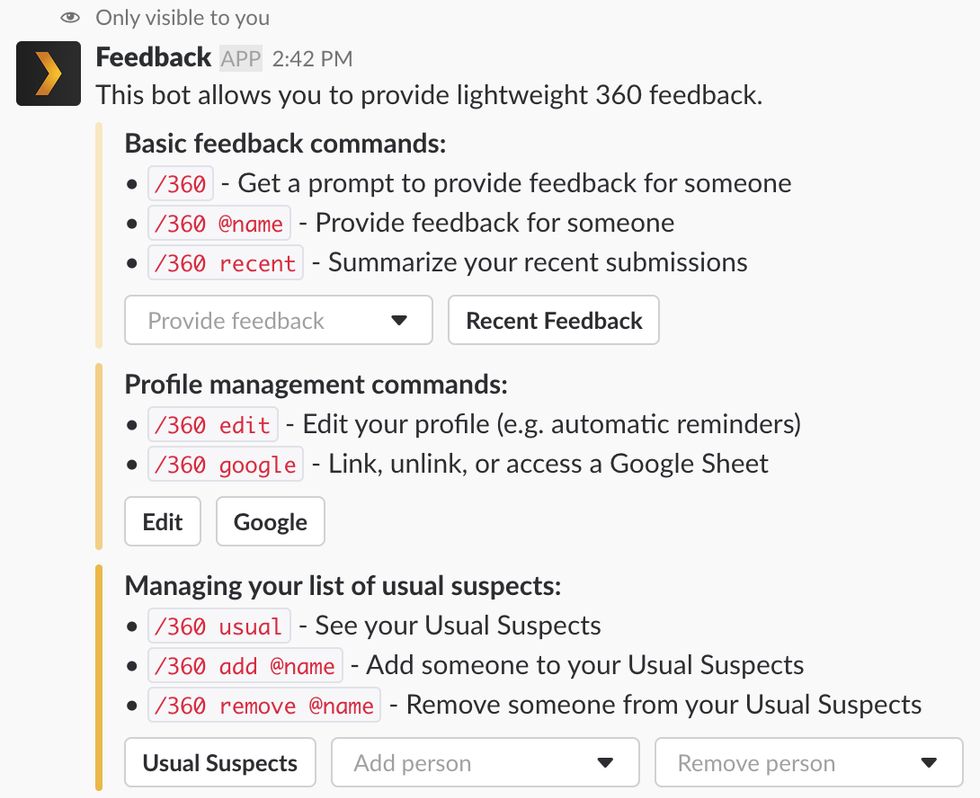 We officially rolled the tool out last month, and we're incredibly excited to see how it evolves. It took less than 24 hours to get my favorite piece of feedback:

Using the feedback tool to provide feedback about the feedback tool? Good idea!
We hope this becomes an integral tool in our quest to foster a culture of openness and feedback. We'd love to share more in the future on what else we've learned and improved along the way.

READ MORE AND DISCUSS
Show less
Loading...