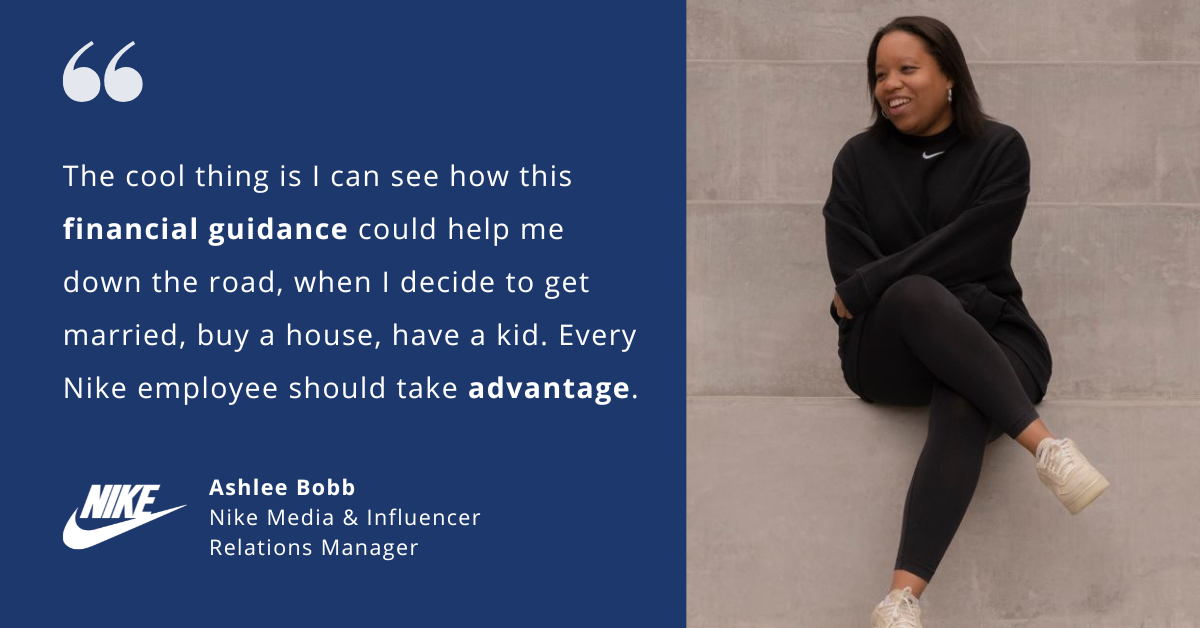 Nike Inc
Below is an article originally published in April 2022 on Nike's LinkedIn. Visit Nike's company page on PowerToFly to see their open positions and learn more.
"In my early twenties, I wasn't the best at saving money. So, when I got the job at Nike and found out a financial coach was offered to me — for free! — I thought, 'It's time to be an adult. I should use this service to help me learn how to buy stock, tell me what I'm doing right with my money and where I can improve.'"
That's Ashlee Bobb, Nike Media and Influencer Relations Manager, on the free, unlimited access to financial coaching offered to every U.S. Nike employee through EY Navigate™. EY coaches are trained on Nike's benefits and programs, so Ashlee was able to work with her coach on a budget and savings plan utilizing Nike's 401k match and Employee Stock Purchase Plan – all in one 45-minute session. She left the meeting feeling confident about what her next paycheck would look like and how her money would work for her.
"The EY coaches are really willing to come on the journey with you," Bobb says, adding that hers was willing to work with the fact that, hey, she's not going to give up take out, but still wants to save for the future. "The cool thing is I can see how this financial guidance could help me down the road when I decide to get married, buy a house, have a kid. Every Nike employee should take advantage."
Sound like the kind of company you want to be a part of? Check out our open roles on
jobs.nike.com
READ MORE AND DISCUSS
Show less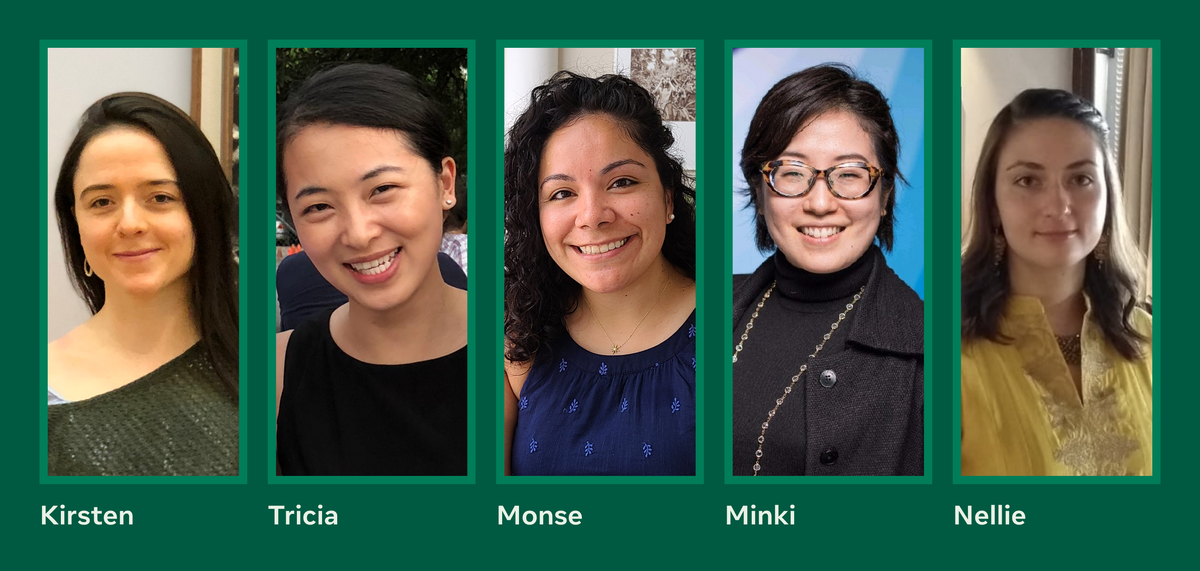 Meta
During a time period that has changed how we work and caused many of us to refocus what we value, women have continued to find ways to connect and support one another. Financial health and literacy became increasingly important. Inspired by the 2019 Women, Money, and Power Study, commissioned by Allianz Life Insurance Company, which indicated that over half (57%) say they wish they were more confident in their financial decision making, a group of women were inspired to act.
Supported by the Women@ employee resource group and Life@ benefits team, a team of five women joined together to empower their fellow community members and peers to become confident in their finances.
Setting the goal to help women at work: Minki J., Program Manager Product Testing
Leading the effort, Minki J. began with a passion for personal finance and the desire to support the Women@ employee resource group community.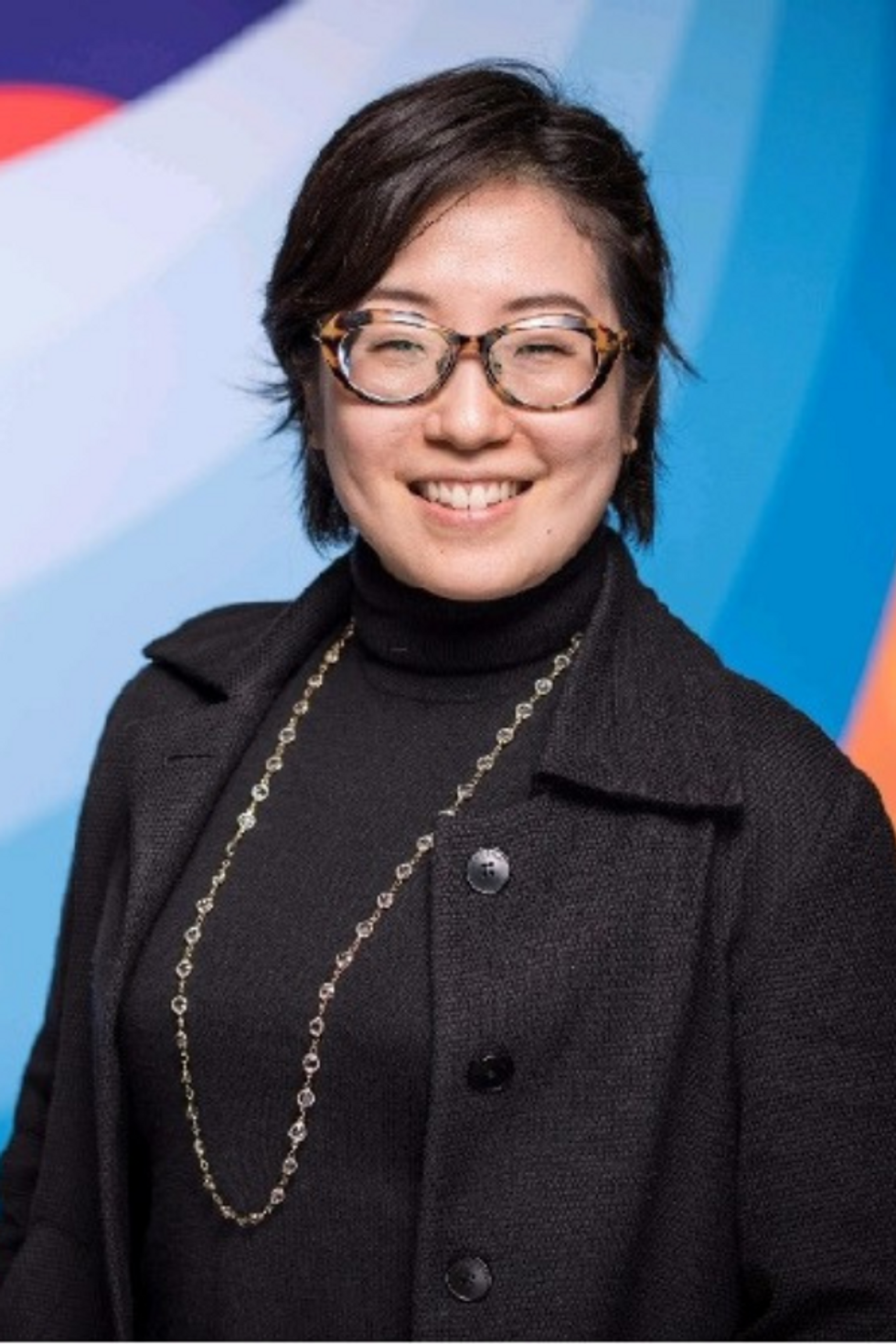 Minki J. is Program Manager Product Testing (New York), brought together a group of five women to create the educational materials for a financial literacy program.
"It is my strong belief that a good financial foundation and the confidence to improve and better manage your money is one of the fiercest forms of female empowerment." Minki shared. "Bring your authentic self to work is one of our core tenets at work - and that's how the program started. Financial empowerment for women is a life mission of mine. I brought the lessons learned and templates from my previous experiences, and was able to congregate a group of superwomen who were willing to volunteer their time and expertise so that more of our female colleagues could lift up and feel confident in their money journeys as well"
Together with Nellie H., Optimization Program Manager, (Dublin), Tricia W., Business Integrity (New York City), Kirsten N., Government, Politics & Non-Profits Partner Manager (Berlin), and Monse M., Global Diversity Brand Strategy Manager (Chicago), they created a six-week Financial Literacy Learning Sprint covering education on topics like fundamental financial wealth, budgeting, debt, investing, and retirement planning (401K, pension). This small team of five volunteers created educational materials, used Workplace groups and other virtual workplace tools to connect participants for the pilot program.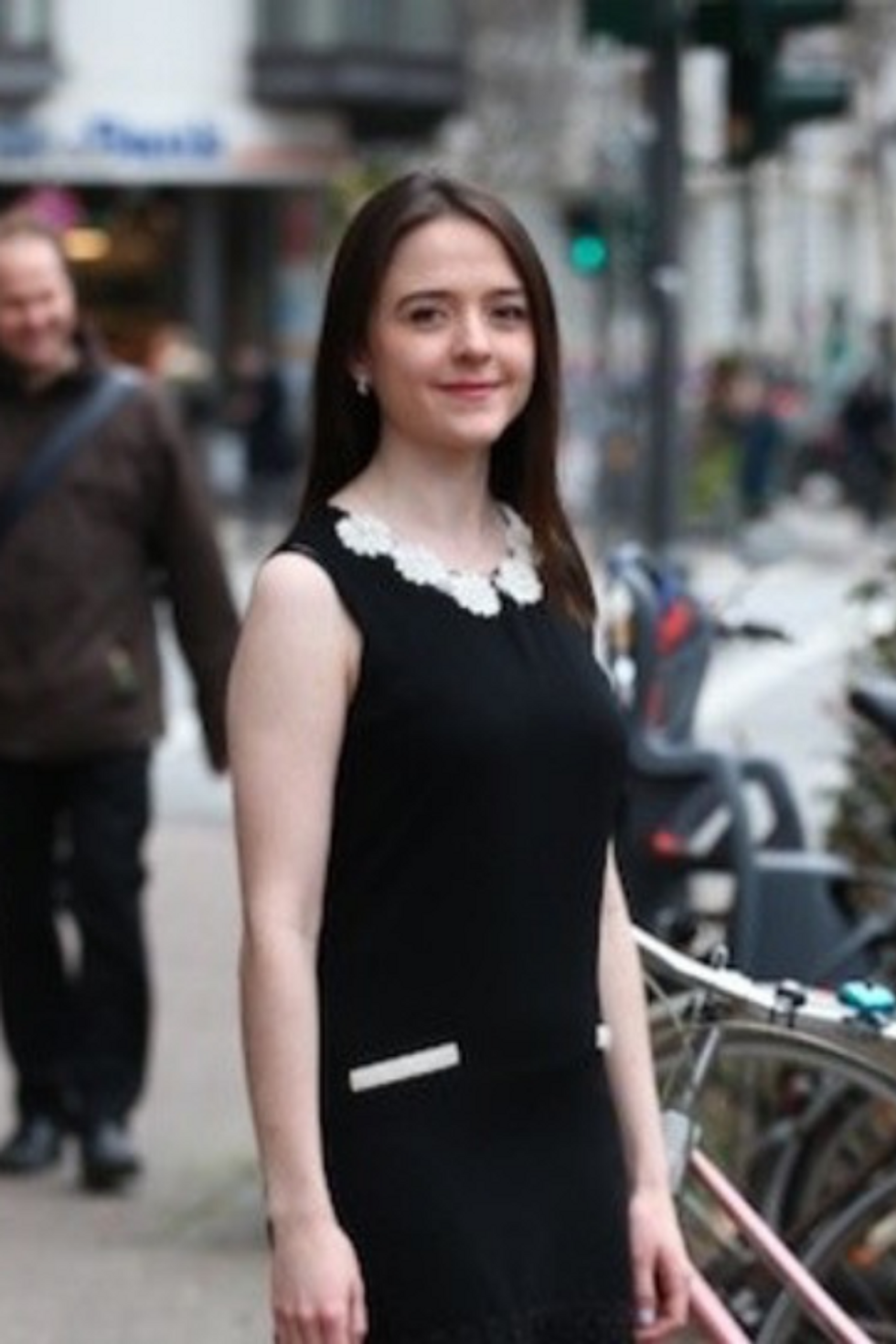 Kirsten N. Government, Politics & Non-Profits Partner Manager (Berlin) gives an overview of the financial literacy program materials.
"The financial literacy program was designed to be a safe space for women to talk about their financial well-being, money matters, and to educate themselves and create more structure when it comes to these financial issues. We put together all of these wonderful materials and shared them with tons of incredible women."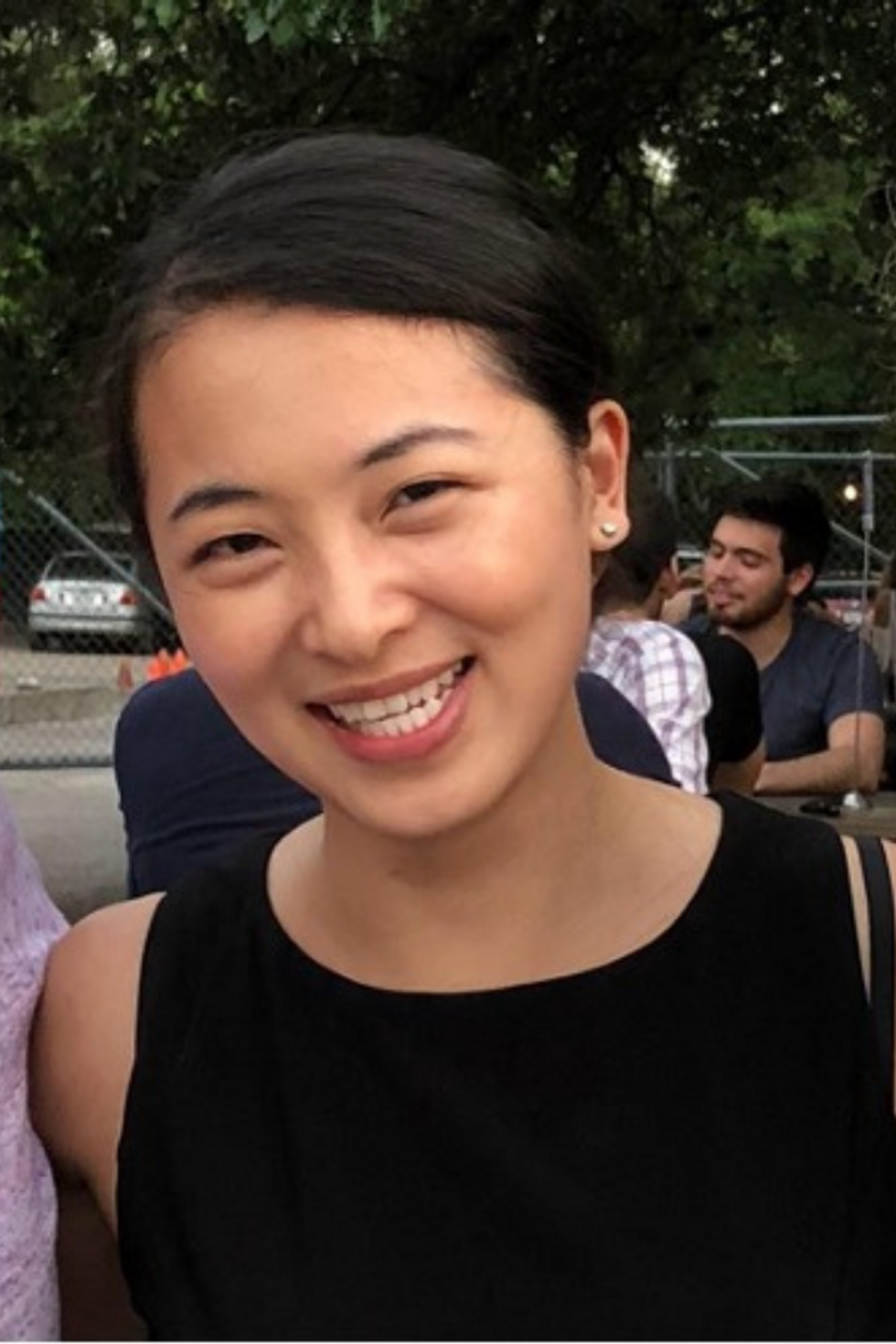 Tricia W. Manager, Business Integrity (New York) speaks to the inspiration of the collective group.
Tricia spoke to the inspiration and collective aspiration of the group, "From wage gaps to pink tax to longer life expectancy, there are many financial challenges that hit women differently. We hoped to build a community of support around these challenges as much as empowering and improving confidence in managing finances."
Creating Connections and Empowering Women Globally
The pilot kicked off virtually in 2020, with 22 Women@ community members. The second cohort grew to 230 women, the third to 756 women and the fourth is set to go live reaching women across the US, Singapore, UK, Ireland, Mexico, Brazil, Canada, Norway, Sweden, Denmark, and Switzerland.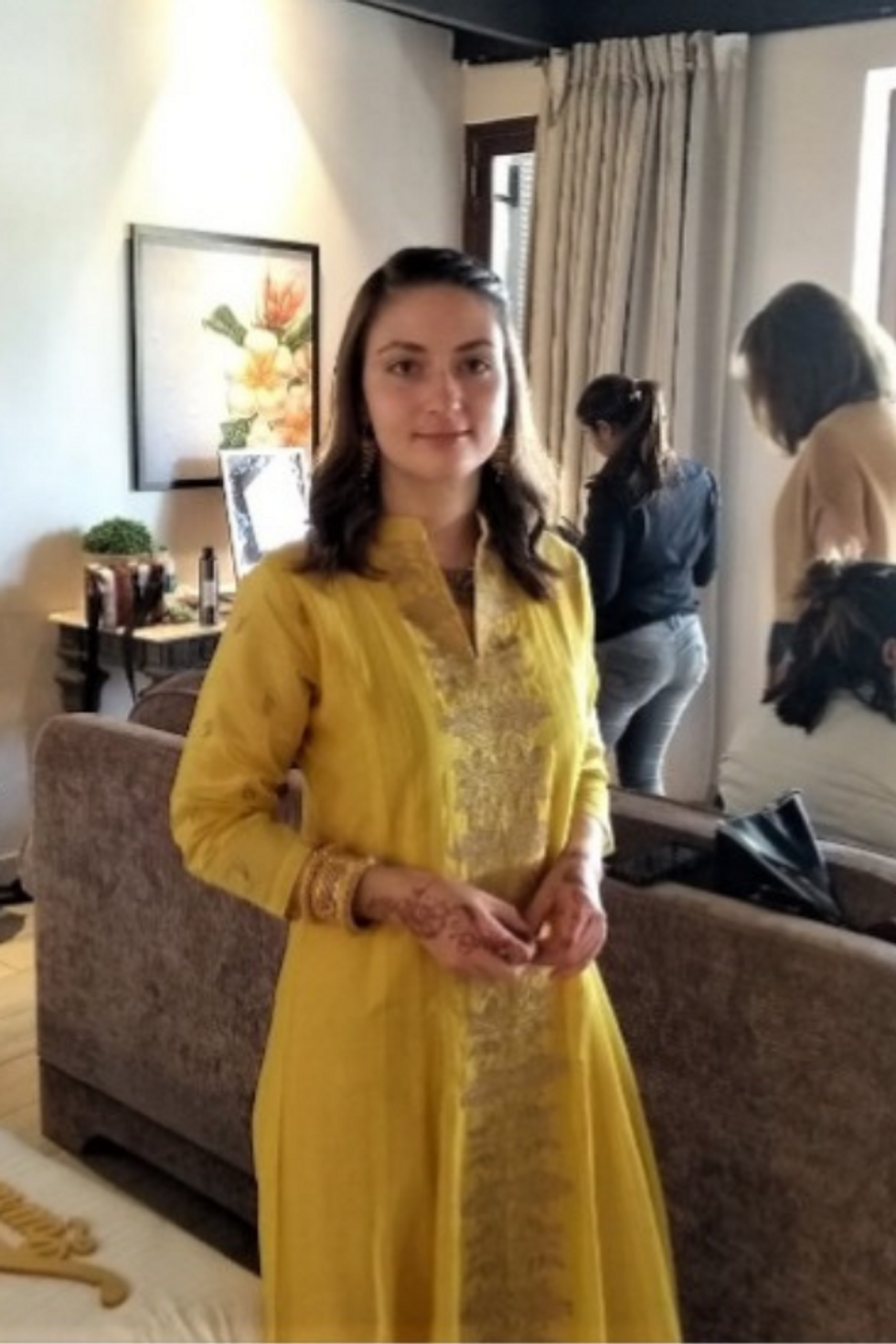 Nellie H., Optimization Program Manager (Dublin) speaks to the growth and global expansion of the program.
Nellie explained, "We've been able to scale FinLit to serve a group of more than a thousand women. There are many opportunities to serve our internal and external communities. I'm proud that through the Financial Literacy program I was able to support my colleagues in empowering them to build their financial expertise."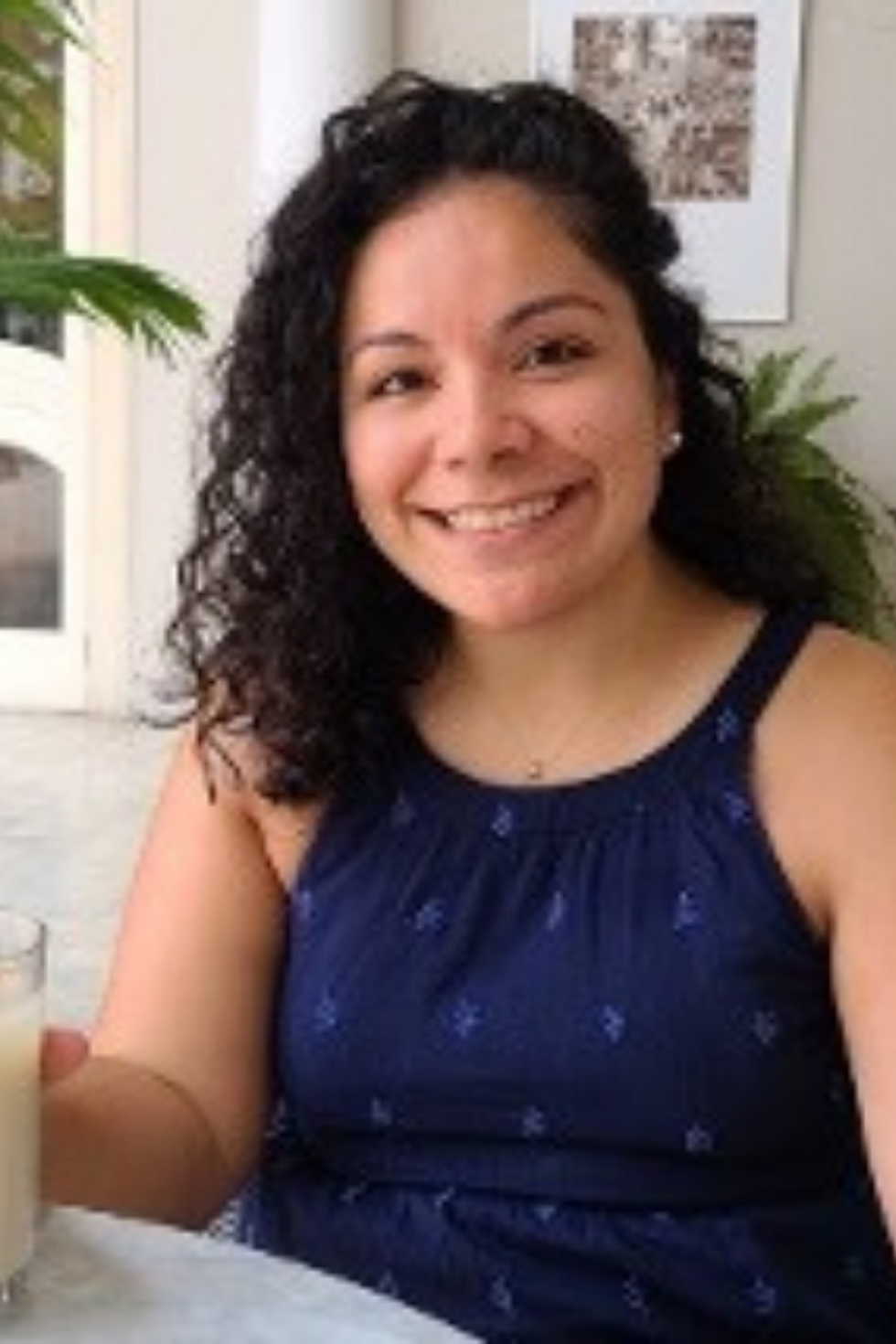 Monse M., Global Diversity Employment Brand Strategy Lead speaks to the program impact on the founders.
"I've never worked at a company where a group of women have come together to create something that could help so many other women at work." Monse M. explains. "I was amazed by the feedback we received from our peers who participated in the program. I love that Meta is the kind of place where women come together to create ideas, have support and access to resources, and can then bring those ideas to life and impact so many; this is true in creating community at work and through our products and services we build for the world everyday."
More about Women@
We are committed to connecting and building a community of women who feel open and connected to each other. We empower women through professional development opportunities and engage with men as equal partners in advancing gender diversity and inclusion. We celebrate the unique contributions of women to Meta.
When women are empowered, there's no limit to what they can do. Join us on our mission to bring the world closer together.
■Learn about life at Meta on Instagram (@MetaCareers).
■Like our Meta Careers Talent Community Page for the latest updates.
READ MORE AND DISCUSS
Show less
Loading...