GET EMAIL UPDATES FROM POWERTOFLY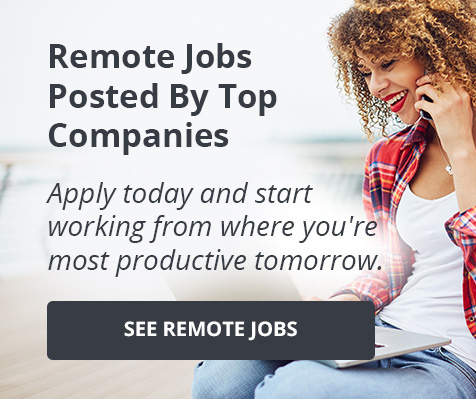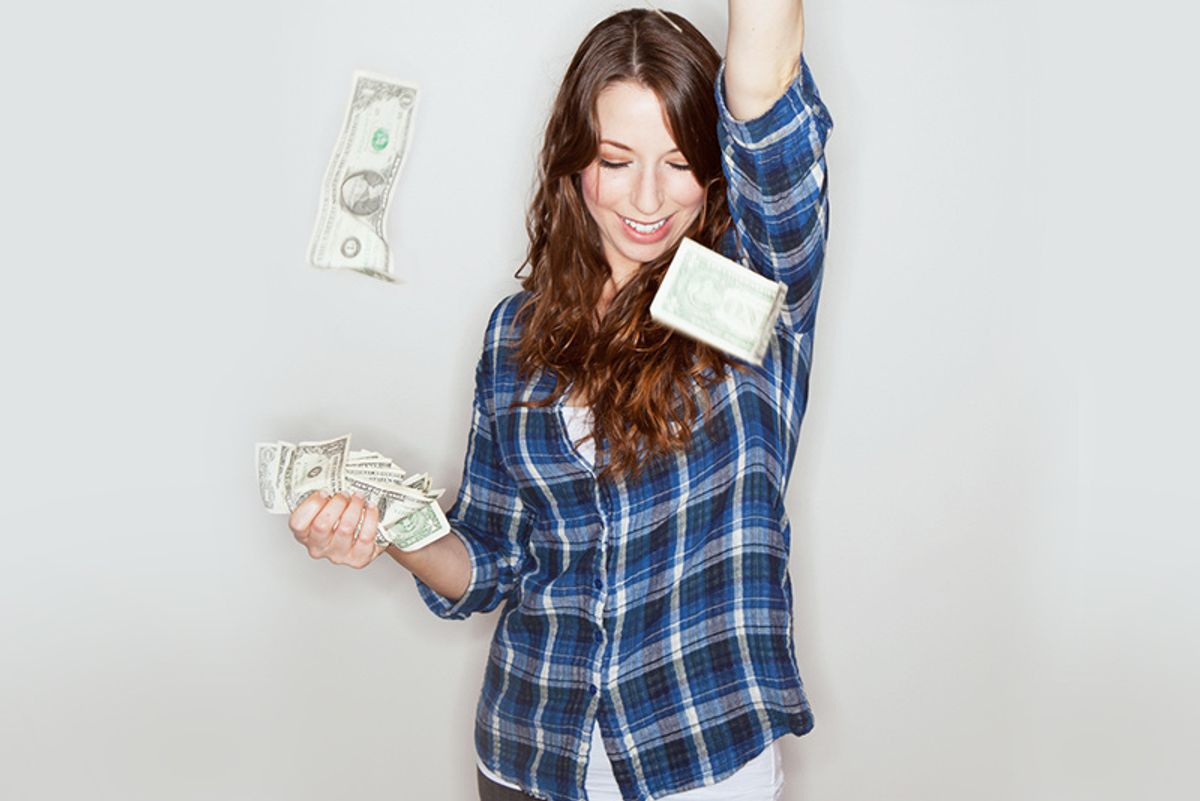 Career and Interview Tips
A version of this article previously appeared on Skillcrush, an online education program for creatives, thinkers, and makers that gives total tech newbies the tools to make major career changes.
Ryan Robinson, Skillcrush
Since I began freelancing just over a year ago, I've had the opportunity to work with nearly a dozen high-growth startups and world-class experts. What's more is that I've never had to negotiate for the premium prices I charge for my content marketing services.
Because I've done such an effective job of defining my value propositions, branding myself as an expert within my field, and getting my content in front of new target audiences, I now have a 3–6 month waiting list for new freelance clients.
However, that certainly didn't happen overnight. My rapid success in the world of freelancing is the result of a LOT of strategic positioning, hours of hard work, and good timing.
If you're ready to get serious about freelancing and multiplying your self-employed income, here are my top twelve tips for earning more during your first year.
And don't forget to download Skillcrush's free book, The Ultimate Guide to Going Freelance. You'll find tips for learning the tech skills you need to get started, strategies for adopting "the freelance mindset," plus tricks for building a "career safety net" before quitting your day job. Get the guide here.
1. Choose a Niche.
If you're new to freelancing, you might feel ready to take ANY paid work you can get your hands on. But as you get deeper into your freelancing career, you'll need to start being more strategic about the types of work you do and the clients you take on.
You might be thinking: How can getting picky about the freelance work I do help me make MORE money?
Because when you specialize, you become an expert in a specific field, and experts can charge more for their specialized services.
In my opinion, the age-old debate of whether you should be a specialist or a generalist when starting your freelance career isn't even worth thinking twice about. If you were your client and you needed someone to fix your email marketing so people actually sign up, write ads that convince people to buy, or just update your outdated website, would you rather hire someone who's a jack of all trades, or a person who's a pro at doing one thing and doing it well? I'll choose the specialist every time.
And when it comes to my own experience, choosing to specialize as a content marketing consultant—as opposed to being a general digital marketer for hire—has been the single best decision I've made with my freelance business. Because I've built my reputation with clients as a talented content marketer over the past few years and frequently engage with content marketing content on various social media channels, I've been able to rise to the top of my niche in a relatively short period of time. This is one of my favorite takeaways from Becoming a Successful Freelancer over on CreativeLive.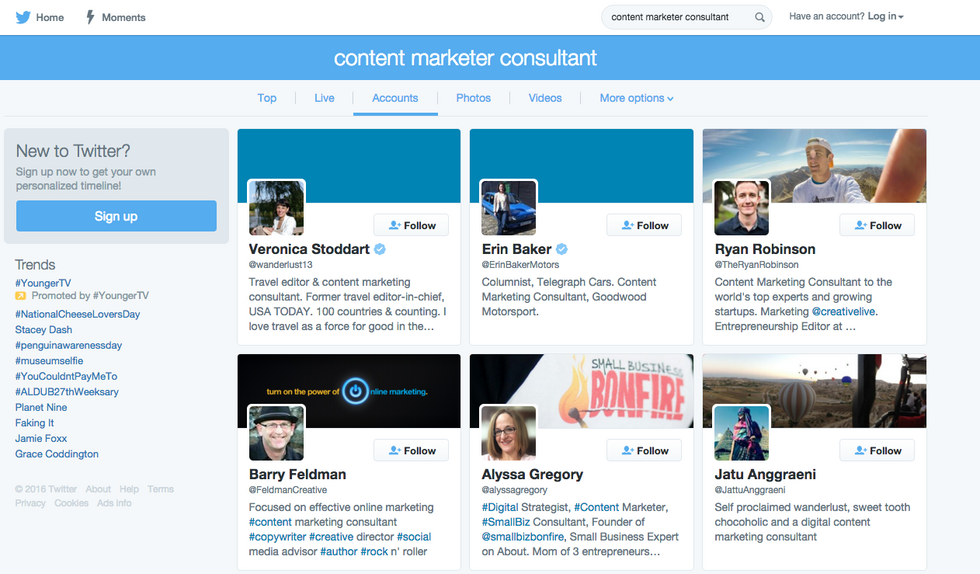 Aside from my blog and existing client referrals, the next most consistent source of new clients has been from business owners seeking out specific expert help through both Google and social searches like the one above from Twitter.
So to expand this example to other fields, imagine you are just starting out as a web developer—you can get into a niche like migrating blogs to WordPress. That means when someone searches for "help with migrating a blog to WordPress," they can find you.
If you choose the right niche, deciding to specialize and putting some effort into branding yourself as an expert within your niche can really pay off for years to come.
2. Get Clear on Your Service Offerings.
One major decision you need to make early on in your freelance career is what you do and what you don't do.
The more specific you can be about what services you offer, the better. Not only will it help you brand yourself, it'll allow you to control how potential clients perceive you and give you the opportunity to continue building your portfolio in the direction you want to move in.
If you want to focus on becoming a sought after, highly paid Ruby on Rails developer, then you shouldn't even consider contract offers for customizing WordPress themes or designing the user experience for an upcoming app. While the short-term benefits of steady work are tempting (and sometimes necessary), taking on projects that aren't getting you closer to your ultimate goal of becoming the best in your field, will only distract and delay you from making meaningful progress.
3. Define What Your Ideal Client Looks Like.
Before you can go out and start looking for clients, you'll need to develop a clear picture of who you're going to work best with. Do you want to build websites for small business owners, pitch in on new feature development for high growth technology startups, or take on longer-term contracts with enterprise-sized companies? Making these clear distinctions between who and what type of business you're targeting will be essential to effectively pitching your services.
To define exactly who your ideal freelance clients should be (and how to start finding them), ask yourself these questions:
What type of business has the problems I'm solving with my services?
Can the business I want to work with afford to hire me?
What demographic trends can I identify about the decision makers in the types of businesses I'm targeting? Think: age, gender, geographic location, websites they frequent, and their personal interests.
Because I know that I'll be more engaged and work most effectively with smaller startup teams who are working on projects I can personally relate to, I've proactively chosen to make my scope of potential clients narrow. By working with similar startup teams, new potential clients I target within my niche are able to instantly relate with me, and have confidence that I'll be able to replicate my results for their business, too.
Picking your niche and making yourself stand out is one of the core principles covered in CreativeLive's Essential Guide to Launching a Freelance Career.
4. Create a High Quality Portfolio Site.
It goes without saying that one of the best ways to demonstrate your technical skills is by having an amazing portfolio site of your own. If you want to be taken seriously as a new freelancer, you're going to need a website that:
Showcases your expertise.
Highlights relevant past experiences.
Shows who you are.
Includes your contact information so that potential clients can easily find you.
Plus, a stellar portfolio can really help you out if you don't have a lot of job experience to prove that you know your stuff. (Read more about that here: How to Get Hired in Tech With No Experience.)
The purpose of your portfolio is to educate, spark interest, and convince potential clients that they'll want to choose you for their technical needs. That's why it's worth investing time into deciding what to feature on your portfolio and how it's being displayed—before you start looking for new projects.
Once your portfolio site is up, start including a link to the site within your email signature and on your social profiles.
(Get more inspiration on awesome portfolios here: 25 Portfolio Dos and Don'ts)
5. Start Freelancing Before Your Quit Your Day Job.
I'm a huge fan of starting a freelance business while you keep your day job, as opposed to immediately pursuing self-employment.
In addition to the fact that creating a high-quality portfolio website, building your personal brand, and adding to your portfolio naturally takes a good amount of time, it's a good idea to have a few steady freelance clients on your roster before axing your sole source of income.
I recommend growing your side income to at least 50–75% of your total current income before leaving your full-time job, depending on your risk tolerance.
Managing a tight schedule, heavy workload (including demanding freelance projects), and being responsible for client deliverables with limited time resources will teach you quickly what it's like to run your own business.
The other awesome benefit of picking up freelance clients while you're still working full-time is that you can be selective. You likely don't absolutely need the money. This puts you in a position to turn down work that either doesn't pay enough to justify your time investment, or that you're not genuinely interested in.
These are two points you'll need to be a stickler about if you want to be happy once you're freelancing full-time.
6. Level Up Your Skills.
The best way to justify higher rates? Make sure you have impressive skills that are in high demand.
Practice using your new skills by building the types of projects that you want to eventually be paid to work on. Whether that's WordPress websites, mobile apps, or something else entirely, the more you can differentiate yourself among a sea of competition with cool side projects and examples that'll attract potential customers, the better.
And remember that while highly trained freelancers can get paid much more for their work, you don'thave to head back to school for BS in computer science to get on the train. Taking online classes like a Skillcrush Blueprint can get you on the right track and put you in charge of your education.
7. Build Your Credibility.
There are many ways to build your credibility within your industry. Aside from creating high quality blog content and collaborating with notable influencers in your industry, you can write an ebook, create an online course, and line up speaking engagements to start increasing your visibility within your niche.
These credibility-boosters can help you add your list of accomplishments that you can highlight on your portfolio and simultaneously demonstrate your knowledge for more potential clients to see. The wider you can broadcast your message, the more influence you'll build within your niche.
8. Determine Your Pricing.
While deciding how much to charge for your freelance services is a major step toward determining your perceived value, you need to make sure you're charging enough to make a sustainable, comfortable living. Most clients won't hesitate to pay higher rates for a freelancer that gives them an incredible first impression and sells them on the ability to deliver high quality results.
As long as I continue to deliver consistent value to my clients (beyond their expectations), I have no trouble setting and maintaining high prices for the services I'm providing.
Before setting your prices at the bare minimum you need to charge in order to hit your financial needs, consider the actual value you'd be creating for your potential clients and make sure you're not leaving money on the table. You can always increase your rates in the future and hope your client stays on board, but if you start at a price point you're already excited about, you'll be that much more likely to over-deliver and continue increasing your value moving forward.
9. Leverage Your Network for Introductions.
One of the most effective ways to land higher quality and better paying freelance work is through leveraging your existing networks. Whether it's pitching your actual friends and former co-workers on freelance help, or using their connections to make warm introductions to companies you do want to work with, this is a great alternative to cold contacting potential clients.
(Need more help actually building a network? Get Skillcrush's free ebook, The Ultimate Guide to Non Sleazy Networking!)
Whenever I discover a freelance opportunity I want to pursue on Angel.co, CloudPeeps, or elsewhere, I give myself 10–15 minutes to research the company, find my ideal point of contact, and do a little homework on if I have a mutual connection on LinkedIn, Twitter, or Facebook before reaching out with a cold email.
If I do have a mutual contact, I'll reach out to my friend (only if I'm actually friends with them) and ask if they'd mind sending an email introduction on my behalf.
This approach, where my first impression is being endorsed by a recommendation from someone my potential client already knows, has consistently netted me higher response and close rates.
10. Perfect Your Pitching.
There's an art and science to pitching your freelance services to new clients. Because it's such an important part of running a profitable freelance business, I created an entire online course on the topic of writing freelance proposals that convert, and I even give away my freelance proposal template for free.
Landing new clients isn't just a matter of crafting an awesome freelance proposal. Your success depends on how you're selecting new jobs, how you position your value propositions, and how much research you do ahead of time.
I've won new gigs simply because I clearly put in more time and effort into researching the company, determining their needs, and providing immense up front value in the form of insightful recommendations before I even discuss payment. In the world of freelancing, much of your success will depend upon the strength of your client relationships, and how well you're able to forge meaningful partnerships.
11. Blog Frequently.
The goal of having a website showcasing your skills is to attract and convert new clients. What better way to increase the number of potential new clients coming across your website than by creating high quality blog content that positions you as a stand out expert within your field?
At the beginning, aim for creating one or two in-depth blog posts per month, geared toward providing truly helpful solutions that your potential clients may be searching for. Note: That means you'll be writing for an audience of your clients, not other people in your field.
Once they discover your content and get some free value from you, you'll naturally be top-of-mind if they're ready to hire out for more in-depth help.
I initiated the majority of the freelance contracts I've landed over the last year by mentioning a company in a successful blog post on my website. After publishing my in-depth post chronicling all of the best side business ideas, I spent a lot of time reaching out to a carefully chosen person at each brand or online tool I mentioned, asking if I cited them correctly within the post. The majority of them wrote back either confirming or offering a suggestion, which then gave me an opportunity to either pitch a guest post, ask them to share my content with their audience on social, or open the door to a potential marketing contract.
My blog has been by far my highest return marketing channel for my freelance business.
12. Guest Post on Relevant Industry Blogs & Publications.
Once you have a website that highlights your abilities and clearly communicates that you offer freelance services, one of the most effective ways to increase your online visibility is by getting content published on the blogs and publications where your potential customers spend the most time. Marketing guru and consultant Neil Patel frequently shares about the huge contracts he lands for his business by publishing over 100 guest posts per year.
While you'll be starting on a much smaller scale, don't underestimate the immediate benefit of getting your content featured on blogs and publications that can drive hundreds or even thousands of new visitors to your website. In the span of less than one year, I've been able to get my posts published on Entrepreneur, Inc, Business Insider, HubSpot, and dozens more publications by creating extremely high quality content and leveraging my pitching abilities. This increased visibility has had a direct, positive impact on my business.
And don't forget to snag a copy of Skillcrush's free guide, The Ultimate Guide to Going Freelance. You'll get everything you need to know to take the first steps towards a freelance business you love. Get the guide here.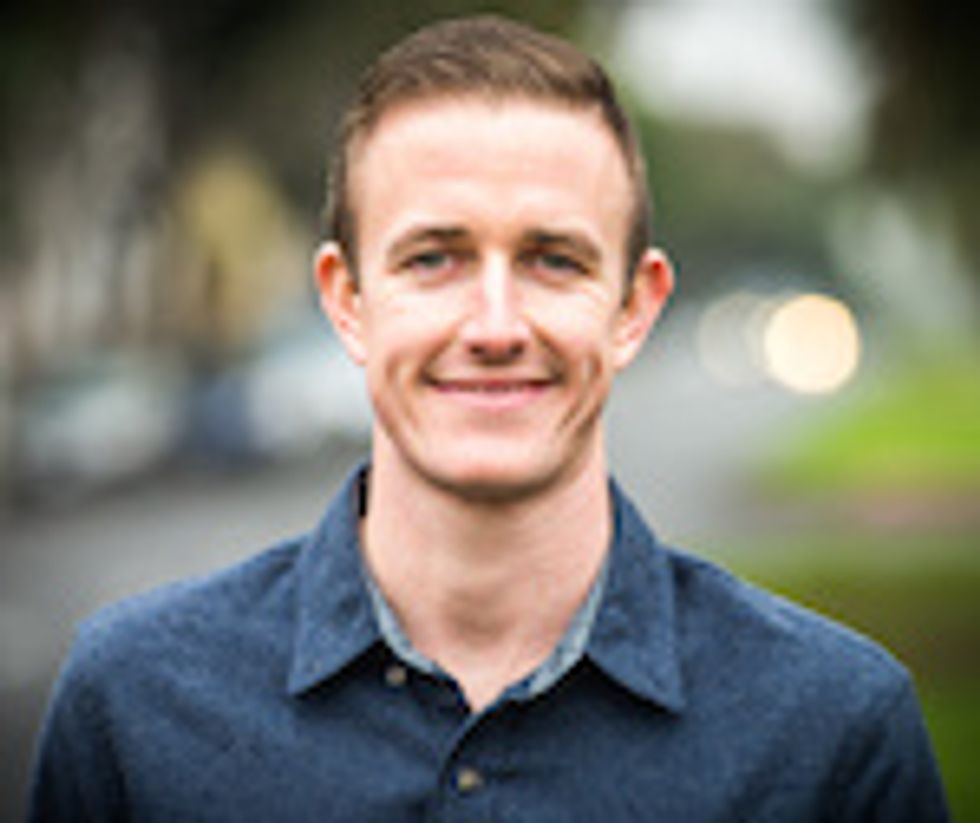 RYAN ROBINSON
Content Marketing at CreativeLive. Online educator at ryrob.com where I teach entrepreneurs how to start a business while working full-time.
READ MORE AND DISCUSS
Show less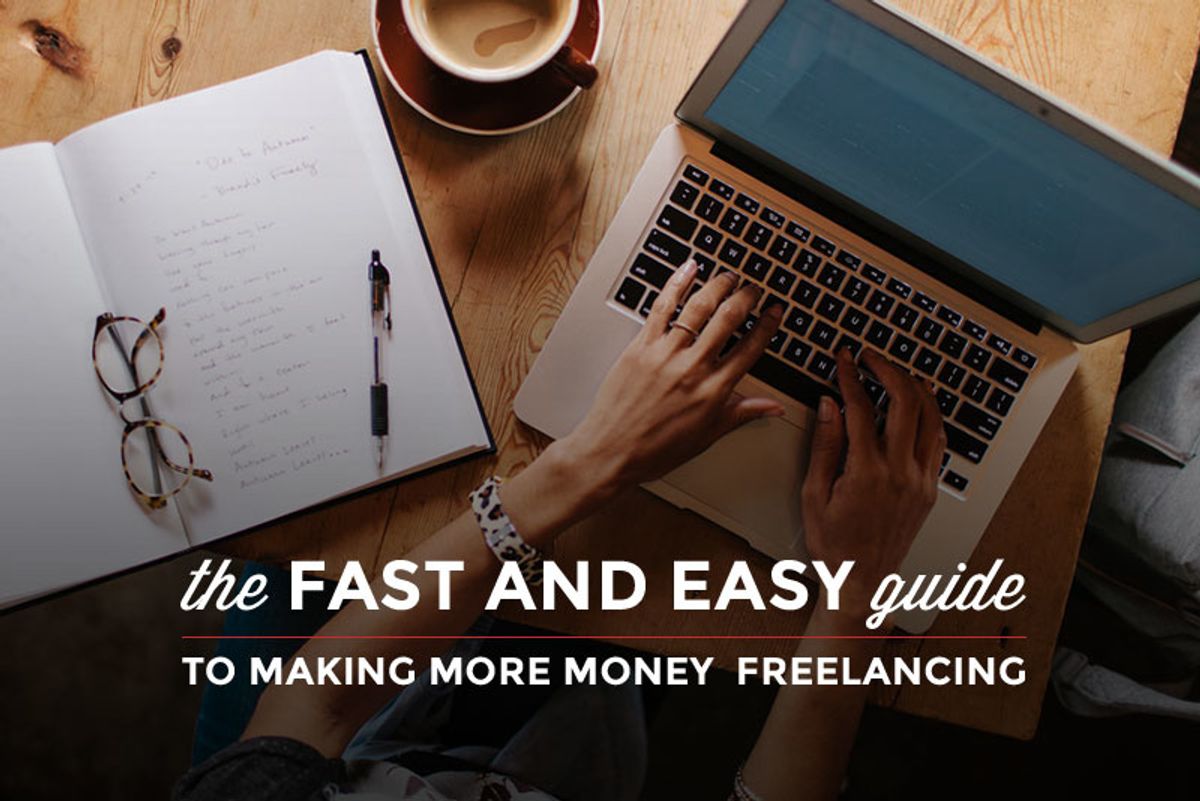 Career and Interview Tips
A version of this article previously appeared on Skillcrush, an online education program for creatives, thinkers, and makers that gives total tech newbies the tools to make major career changes.
Randle Browning, Skillcrush
This article is a follow-up to The Ultimate Guide to Transitioning Into Freelance, a step-by-step handbook to navigating the 4 phases of leaving your old office job for a flexible freelance lifestyle.
When you launch a new freelance career, there are a million thoughts swimming through your brain:
Can I really do this?
How am I going to finish this project?
What if I don't know enough?
How am I going to talk to clients?
But I'm willing to bet that the most pressing question of all is:
How am I going to make enough money doing this?
Once you've made it through the 4 phases of transitioning into freelance, you're faced with the basic (and yet crucial) issue of making ends meet. But it doesn't have to be rocket science. Whether you've been freelancing for a while, and could use a boost, or you just launched your freelance business, paying attention to these 5 factors can help you raise your rates and make the money you need (without losing your marbles).
But if all of this seems like an insurmountable amount of work, keep in mind that you don't have to do all of these tasks every single day to make sure your business is profitable. In fact, giving due diligence to just ONE of these factors every day can be enough to keep you running to the bank to make deposits. Download the handy 1-Month Calendar to Make Money Freelancing at the bottom of this post and stay on track to do just ONE small task a day. Before you know it, your business will be running like a well-oiled machine.

5 Keys to Making (Lots of) Money Freelancing (even your first year!)
1. Get your finances in order
It makes sense. If you want to figure out how to make more money freelancing, the first thing you should think about…is the money!
FIGURE OUT WHAT YOU NEED
Like I did, most freelancers just starting out spend a lot of energy worrying about how much they can reasonably charge for their web design or development work. They're not always confident asking for substantial amounts of money to work on a project using completely new skills. But in reality, "How much can I charge?" is not the most important question. Instead, you should ask yourself, "What do I need?"
As counterintuitive as it might seem, rather than figuring out how much you want to charge first, you should take a long, hard look at your expenses and figure out how much you NEED to make. Not only will the looking at your expenses all stacked up together make it easier for you to start charging (you NEED the cash!), it also means you're more in control of your freelance work. For example, if you know you need to make $5,000 this month, are you likely to accept a 2-week project that pays $100? Check out this guide to calculating your rate to see how much you truly need to bring in.
And don't forget to think about the perks you might have been used to at your former desk job. Being a freelancer means lots of freedom, but you also need to set up your OWN benefits package to find out exactly how much money you need to make to cover your freelance business expenses.
KEEP TRACK OF EVERYTHING
And don't stop there. Make sure you keep track of your expenses as you go, from tracking your hours, to keeping a folder full of business-related expenses, client coffee dates included. One of the most common mistakes new freelancers make is the tendency to lose track of important documents, like invoices and receipts. You can't get paid if you don't keep a record of your work!
RAISE YOUR RATES ON THE REGULAR
As you start freelancing, you'll probably notice a trend. If you charged $150 for your very first project, you'll probably charge double that for the next one. And once you realize how many hours these projects really take, before you know it, you'll be charging exponentially more than you did at first. I know I did. In a few months I went from charging a few hundred dollars per project to a few thousand.
And that's good. As your skills and experience improve, your rates should go up accordingly. For a guide on what to factor in when setting your rates, check out this Ultimate Guide to Charging for Freelance Work.
And once if you want to show clients exactly what they're paying for, use this Foolproof Formula for Calculating Your Price to help them make sense of your new rates. You'd be surprised what a few simple tweaks to the way you present your prices can do. One tiny trick that actually involves taking awayzeroes can make you richer.
And if you can't convince your clients to pay for your new rates, you might need to think about what YOU can do to make your work seem (and be!) more valuable.
KEEP THE TAX MAN HAPPY
And of course, you can't forget about good old-fashioned responsibility while you're counting your cash on Cloud 9. To make sure you get to KEEP that hard-earned money, find out everything you need to know about freelance taxes before April rolls around.
PROTECT YOURSELF FROM CALAMITY
That might sound dramatic, but you wouldn't leave your wallet on your front porch, I'm guessing. Keep your earnings (and your business) safe. To protect yourself from liability (and hefty legal costs) by always using a custom contract. This isn't a time for the DIY mentality—in fact, "do it yourself" contracts can be one of the biggest pitfalls freelancers find themselves in!
2. Stay productive
Your first year of freelancing is sure to keep you busy either working with all your new clients or working hard to get new ones. You'll need to stay productive to be able to do it all – and still have a life!
USE THE TOOLS
Two essentials you should make sure you have in your freelancing toolkit are a production calendar and a to-do list. The calendar is where you'll plan out the steps for each projects to make sure you have a realistic schedule that also meets your client's deadlines. And the to-do list is where you'll keep track of the work for each phase of the project as well as the tasks needed to keep your freelance business running.
JUST DO IT!
Speaking of those tasks… There are bound to be a few parts of running your own business that you're not so excited about. Now that you're on your own you won't be able to pawn these off on anyone else. To get the tasks off your to-do list and off your mind is to do them as soon as you can. That way, you'll stay on top of your business and your client work – a sure way to be productive in your first year!
KEEP IT TOGETHER
When you get busy, it can be tempting to let your freelancing "housekeeping" fall by the wayside. (Not to mention actual housekeeping. Laundry – Ugh!) But you'll be much more effective if you make a regular habit of organizing your files – both paper and digital, going through your snail mail and email, and tidying up your workspace. When you know what you have and where you can spend your time and energy focusing on your freelancing.
REFRESH AND RECHARGE
No matter how much you enjoy your work, sometimes the best way to stay effective is to STOP working! Just because you aren't doing the 9-to-5 with a boss watching over you, you still need to draw a line between work and play. So, get the most out of your weekends and free time, and don't forget vacations now and then. You'll come back full of energy, ideas, and excitement – aka some serious productivity mojo!
3. Get clients and keep them happy
If you spend most of your days alone with your code editor, talking to clients can feel like a major shift. And many freelancers struggle more with client relationships than with code. But just like coding, you can master the art of keeping your clients (and you!) happy by taking it one bit at a time. And remember, without happy clients, there's no money, honey.
SET THE "BAIT"
Okay, clients aren't fish, but you do have to do some work to hook them in. Start by making sure your new tech portfolio is killing it. You don't have to be an expert to have a well-stocked portfolio. You just need to figure out How to Build an Impressive Portfolio When You're New to Tech.
Start by doing unpaid projects (that pay off in other ways, like experience and publicity), and move on to smaller projects that can earn you $500 or so. And as you're gaining experience and a track record for excellent work, take some time to build your personal brand. A personal brand ensures that your potential clients "know you for" something, and it build your credibility (and clients' trust in you). Win, win!
GET IN TOUCH
But don't expect your portfolio to do all the work. Make sure clients know about you by sending out emails looking for work—these 5 email templates are a great place to start—and make the most of social media by perfecting your Twitter bio and updating your LinkedIn. Starting a blog is a great way to get noticed too.
MAKE THEM HAPPY
And once you have your clients, if you want them to be paying customers, do everything it takes to earn their trust. That means saying and doing all the right things the very first time you meet them, and keeping them satisfied throughout the process by doing everything from asking them zillions of questions to meeting deadlines.
DEAL WITH STICKY SITUATIONS
Of course, there's no way to keep clients happy 24/7, so when something DOES go wrong, make sure you're ready to handle it in the most diplomatic way. These email templates cover everything from what to say if you're not going to meet a deadline to how to mend a miscommunication. They should keep you from making any serious faux-pas or irreparably damaging your client relationship.
REMEMBER THE LITTLE THINGS
Clients are people too. A sure way to turn a client into a repeat customer is to show your appreciation through little things like occasional personal emails (just to check in), and sending customized holiday cards.
4. Make sure you still have in-demand skills.
Part of what makes tech such an exciting industry is the fact that it's always changing. This means new software, hardware, technologies, and trends you can offer your clients. But first you have to know how to use them! You can think of it as "learning for earning".
CATCH UP ON YOUR READING
Thanks to the Internet, you have a world of information just a mouse-click away. You can keep up on freelancing and tech on blogs, forums, and even Twitter. Make it a regular habit, and you'll always know what's up and coming so you can keep your clients informed and impressed.
PRACTICE MAKES PERFECT
If you want to keep practicing your craft without having to worry about your client's reaction to your experimentation, try things out on your own personal site. Try out that new jQuery effect or revamp your color palette. It'll let you put your skills to the test and will keep your portfolio looking fresh too.
STAY OPEN
Or you can do some "real life" work on an open-source project to keep yourself sharp. Open source is an amazing opportunity to build up your tech karma while also getting experience and exposure for your talents. And, like tweaking your own site, you'll be able to do it without the pressure of a paying client.
GET SOME CLASS
To really move ahead with your freelancing, invest in a course or tutorial to learn a new skill or improve your current knowledge. For example, if you're a web designer, find out about web development. Or, if you're a web developer, learn about WordPress. Not sure where to start? Check out all our Skillcrush Blueprints to take your skills to the next level!
5. Become part of the tech community
Just because you're going it alone doesn't mean you have to be lonely. By getting involved in the tech community, you'll find people with the same interests who you can learn from, have fun with, and maybe even work with.
GO VIRTUAL
Wherever you live in the world, you can take part in online forms, follow industry leaders and innovators on Twitter, or take part in workshops and conferences virtually. So don't let location or your lifestyle hold you back from finding a community.
MEET AT A MEET-UP
The meet-up is a phenomena that tech has especially embraced. These groups, that get together regularly, are nearly always very welcoming to people of all skills levels and backgrounds so don't be shy. If you just show up and introduce yourself, you'll soon have a whole clan of people who share your same passions and can give you plenty of tips and support.
COMMIT TO A CONFERENCE
Conferences are also huge in tech, and there are plenty of huge ones – and not so huge ones – all around the world. Just do some Googling to find ones in places you'd like to visit and then start making travel plans. Even though the trip will be an investment, it'll pay off when you meet tons of new people, make in-person connections, and hear about the hottest topics in tech.
GIVE AS GOOD AS YOU GET
Once you've found the communities you love, you can "pay it forward" by volunteering with the group. It's what keeps most of these groups going so that more newcomers like you can benefit from them. And it's also a chance to work with more people in the industry and even gain some skills and experience that could help you out with your freelancing. Not bad for a little unpaid side project!
And if all of these categories feel like too much to keep track of, do NOT worry! Paying attention to each of these areas just once a month is enough to maximize your earning. Just follow this simple 1-Month Calendar to Making Money Your Freelancing. Have you ever seen one of those chores calendars? This is like that, except all of the tasks are challenging and fun, and sure to yield results in your bank account. Download it right this minute, and get ready to watch your bank account grow.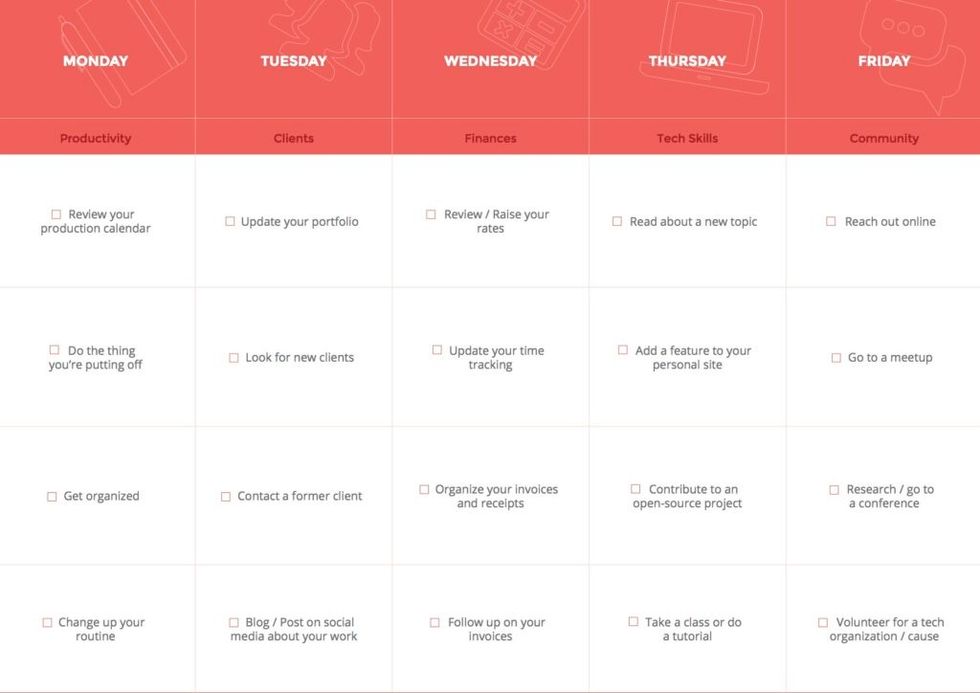 READ MORE AND DISCUSS
Show less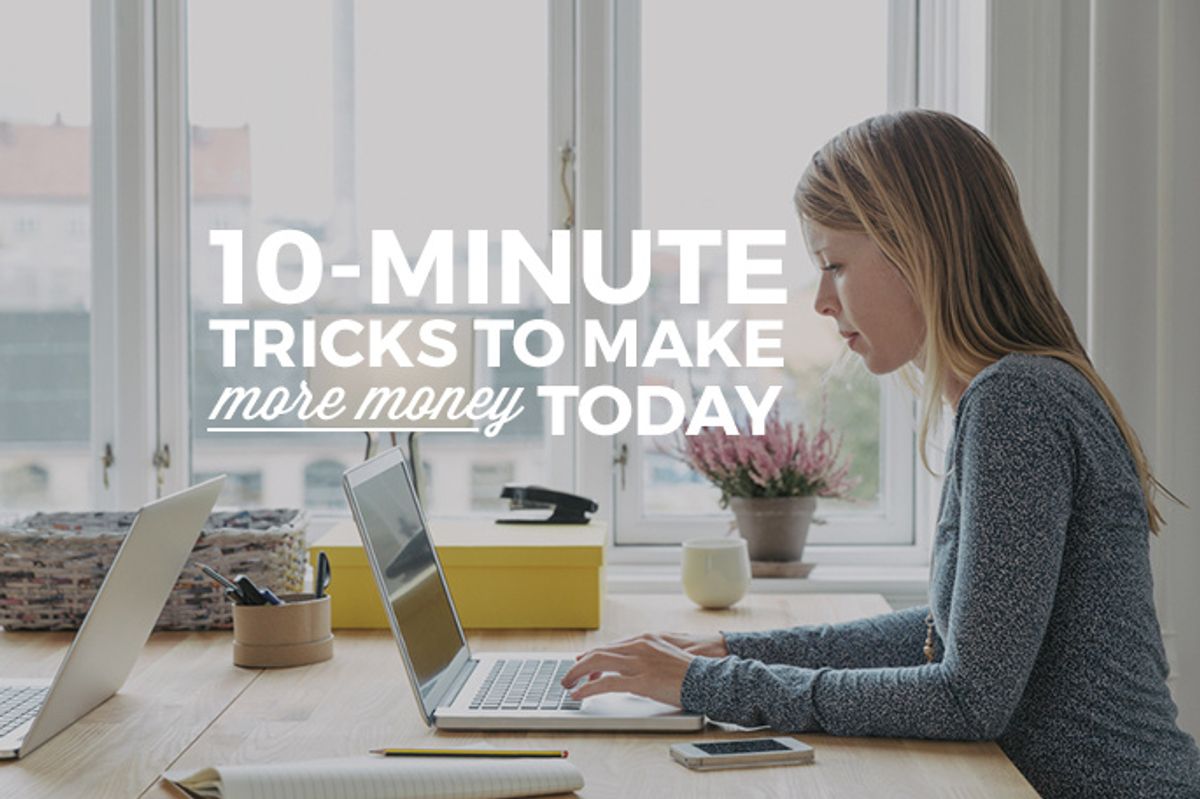 Career and Interview Tips
A version of this article previously appeared on Skillcrush, an online education program for creatives, thinkers, and makers that gives total tech newbies the tools to make major career changes.
Kelli Smith, Skillcrush
If you're reading this, you're probably either freelancing full-time or as a side hustle or at least considering it. But, with the freedom of freelancing, some days (or weeks or months!) you just don't know where to start. You're so overwhelmed with work you can't even contemplate when you've last invoiced your clients. Or you're so freaked out because you don't have any work that you end up jealousy-surfing site re-designs on Dribbble all day.
But I'm guessing you don't enjoy either of those situations too much – and I imagine your bank account ain't too happy about them either. So now's the time to do something about it. And I promise it won't take much time.
The super easy and ruthlessly efficient checklist below will help you right now, and that help is just 10 minutes away. That means, if you do all 5 of the money-making actions on the list, it'll take you under an hour – less than the time you could waste watching a couple re-runs of "Friends". (Sorry, Chandler! We love you, but we gotta get some funds – fast!)
And no need to feel bad that you need a list like this. When you're a freelancer, you and you alone are running the show. Which is all "I am woman, Hear me roar" cool. But sometimes you just need someone or something (like maybe a 10-minute checklist, hint hint!) to make sure you take care of what's important right now. And I'm guessing the most important of your most important things right now is to make money ASAP!
Agreed? Good! But still wondering why, if this is so critical, I'm only giving you 10 minutes to get each thing done? Because 10 minutes is enough time to actually make a difference without taking a huge chunk out of your busy schedule. And, when you know that it literally only takes a few minutes to do something AND that the result of it will be something you truly want, you're so much more likely to actually get 'er done!
So, here are your 5 actions to take to make more money freelancing today…
ACTION #1: Make a doable to do list
Before you can get something done, you gotta know what you're doing! Just letting all your tasks rattle around in your brain waking you up at night is NOT good for your productivity. And poor productivity equals poor freelancer. Booooo! Time to get it out of your head and get it organized.
ACTION #2: Send that hard email
Every freelancer has a message that they know they should send but… Stop making excuses about not knowing what to say or how to say it. It only takes a few sentences to get it over with – and, eventually, get the money you need!
ACTION #3: Refresh your site
Choose one way to update your portfolio. Your own website is a reflection of you and your skills so keep it looking awesome! You know that there's more than a few little (or big?) things that you've never loved about your site. It doesn't help for you to just ignore them because the whole Web can see them – and that includes your potential clients! Instead, grab a friend to get a fresh take on how to make your site shine.
ACTION #4: Recalculate your rate
It's hard to admit, but you're probably not charging enough. Really! Forget being "nice" or "modest". You have skills. Skills that other people don't have. So those skills are worth paying for, and you have todemand what you're worth.
ACTION #5: Commit to getting better
Working in tech means you have to keep up, constantly. It can be a bit overwhelming some times – with new tools, tricks, frameworks, and even whole languages coming out all the time. Instead of stressing out about it, try seeing it as an opportunity – a money-making opportunity! The more you can offer your clients, the more you can make. So, there's no procrastinating learning new skills…
That's it! 5 actions. 10 minutes each. Sounds simple enough. But how are you going to do it in 10 minutes or less?? Download the guide and get the simple, step-by-step instructions for finishing ALL of this in less than an hour – plus 5 bonus actions to take your money-making to the next level!
READ MORE AND DISCUSS
Show less
Loading...