GET EMAIL UPDATES FROM POWERTOFLY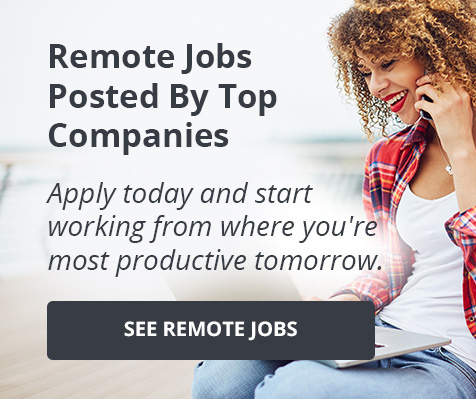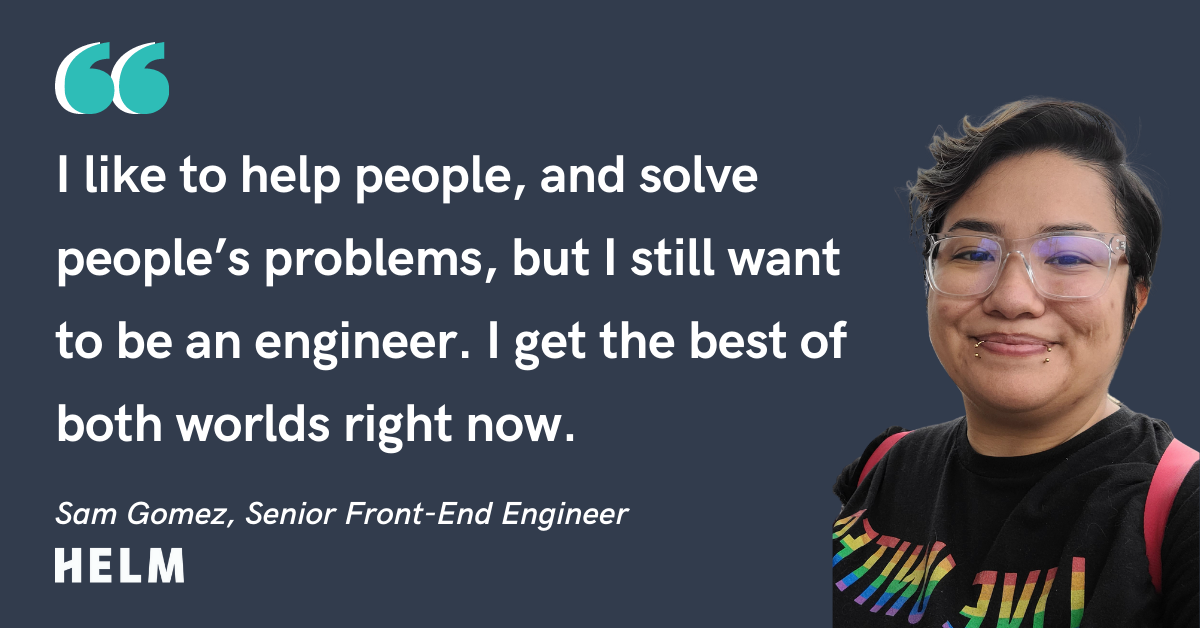 Helm
You know that scene in Arrested Development where Lucille guessed how much a banana costs (and was wrong by a factor of 50)?
That scene works because it really is what out-of-touch politicians sound like.
And that's why Sam Gomez believes in supporting local, grassroots leaders through the work she does as a senior frontend engineer at Helm, a data platform for political organizers aimed at creating a more participatory democracy.
"It's ridiculous when I see politicians try to put a budget plan together and they're like, 'Rent, $800.' It's like, 'Where are you getting rent for that?'" she says. "It's important to support grassroots politicians because those are the people that are us, that are living in our shoes."
Sam didn't set out to work in a politics-adjacent field. She didn't set out to be a leader, either. Both things happened because of the mission and culture at Helm—so we sat down with her to find out more about her journey, as well as what advice she has to share with others looking to also find meaningful paths at work.
From MySpace to Frontend
Sam got into coding by teaching herself HTML and CSS in order to personalize her MySpace page. She loved connecting a few lines of code to an external change that would make her page better reflect her personality.
"I was excited that I was understanding it, so I was like, 'I wanna do this. I want to make websites for a living,'" she remembers. "That was in middle school. You don't expect stuff like that to really stick. But it did!"
Her first job out of college was in front end development, which Sam was grateful for. "I'm honestly not sure I would still be in this field if I couldn't work in the front," she says. "I had an internship project that was more back-end-oriented and I kind of felt miserable."
It's the immediate return on investment that Sam loves about front-end work, she says. "The reward is quicker," she explains.
Even though Sam had started out working as an individual contributor on the frontend at her last job, she wasn't feeling very fulfilled. She'd been asked to take on a management role, which had removed her from day-to-day coding and replaced it with endless meetings and responsibilities she wasn't ready for. "I wasn't getting the training I needed, and I felt like I was drowning," she says.
So she started looking for a new role.
Enter Helm
When Sam saw a post from Helm on LinkedIn, she was immediately intrigued. "I'd never worked in the political space before, but when I saw they wanted to help these local-level campaigns and advocacy groups, it almost felt like a calling," she says. "Like, 'This is what I want to do. I want to help. I like helping the community, and I feel like this will do that.'"
She applied, and found the interview process "almost too good to be true" because everyone she interacted with was "so nice" and the whole thing was quick and transparent. Sam had applied for an individual contributor role, because she wanted to take a step back from management, and that's where she started.
A few months in, though, her manager asked her about her career goals during a 1:1, and Sam shared that she'd like to get into management again—with the right support system. From there, she moved to a tech lead position, where she got a feel for making decisions.
It's been different at Helm, says Sam, because she's not been thrust into leadership without any guidance. She's going through training materials with Helm's Director of People Operations and another coworker, who are putting together sessions on how to manage.
"It shows that they really do care about supporting us and making sure they are setting us up for success," says Sam, who has found that a mix of coding and management is her calling.
"I like to help people, and solve people's problems, but I still want to be an engineer. I get the best of both worlds right now," she says.
Sam now has a few direct reports, and has solidified her transition into a leadership role.
3 Lessons on Moving Into Management
As her career progresses, Sam is racking up hard-earned wisdom about building a meaningful experience at work. She shares some of her favorites with us:
Stay open-minded to feedback. "I used to take things personally, or get really defensive," says Sam. "If you're always in a defensive stance, you're not going to grow. Now, as a manager, I want my direct reports to trust me and be open."
Enjoy the payoff. Sam's working on a new product, and is making sure to take the time to slow down and celebrate all the hard work she and her team have done to get there. "We know what we're doing now. It feels so nice, when you've been doing all that hard work in the beginning, to see it come to life," she says.
Embrace the pendulum. Sam is modeling her path at Helm off of other senior engineers-slash-managers she sees who are also pursuing the best of both worlds. "It's the pendulum effect: I started out as an engineer, and am working my way up to manager. Once I'm good with that project, I'll start a new project back as an engineer and work my way up," she says. "I want to be a really good manager—trusting and empathetic—but I still want to code. I still want to stay up-to-date with the newest trends or best practices or technologies."
Does working with Helm's mission and culture sound good to you? Check out their open roles!
READ MORE AND DISCUSS
Show less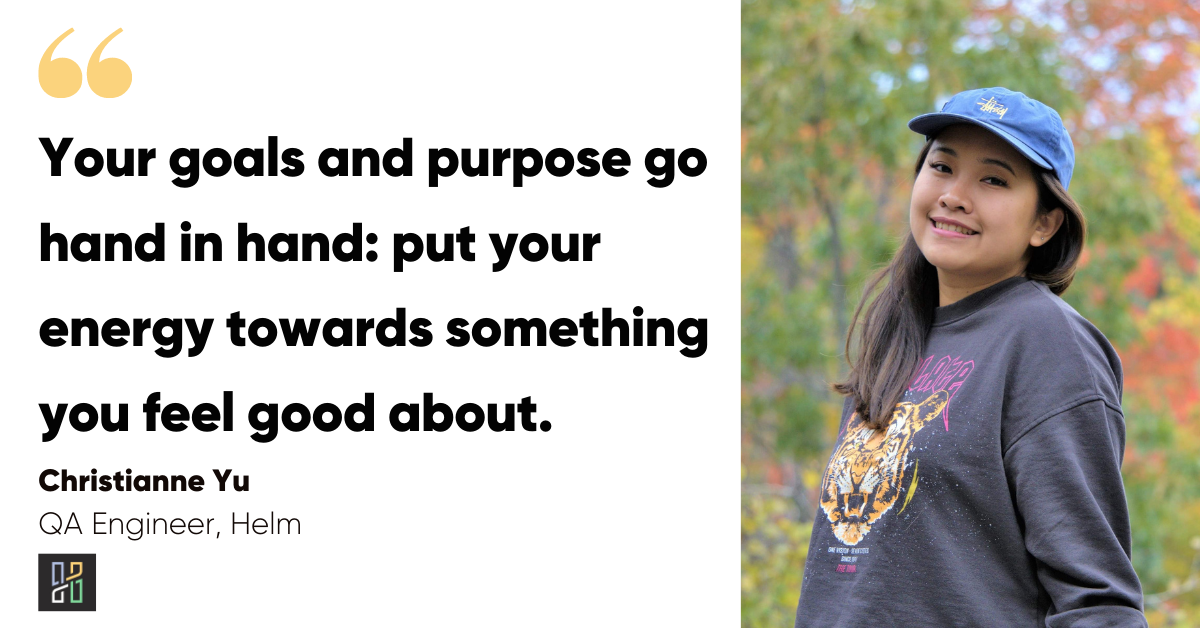 Helm
Christianne—or Tianne, to her colleagues—Yu has been her family's tech support for as long as she can remember.

Over the years, she has helped her family set up their cell phones, use their computers, and solve their wifi issues, along with fixing other technical snafus.
In so doing, she found her way into an overarching passion and mission that's guided her career ever since.
"My purpose in life is to help people, especially the elderly, make their lives easier with technology," explains Christianne, who is a Quality Assurance Engineer at Helm, a data and technology platform for community organizers. "It's fulfilling for me to be part of this company that creates an impact for their community, that creates more civic engagement."
We sat down with Christianne to hear more about her career journey, including how she landed her first job in tech after moving to the U.S. from the Philippines, how she's made the most of the opportunities at Helm, and what advice she has for other engineers looking to grow their careers.
Seizing Opportunities
When she was still living in the Philippines, Christianne realized that she wanted to live in a big city. She talked to her family and moved into an apartment with her aunt who worked near a big university campus, where Christianne ended up enrolling.
The university had strong programs in IT, computer science, and education, and Christianne followed a process-of-elimination path to decide on IT: "I do not know how to deal with people, and I don't like math as much, so I chose IT!" she says, smiling.
She'd found her way to the city she wanted to live in, and to the field she wanted to study, but when it came time to apply for jobs, she hit a roadblock. She was applying for software engineering roles, but the only company that gave her an offer wanted her to work in a quality assurance (QA) function.
So Christianne took the opportunity and learned how to QA. She figured she could build a meaningful career there—but then when she was 21, her family moved to the U.S.
"I had no contacts, no connections to tech [in the United States]," says Christianne of what it felt like to start fresh in east Texas—Nacogdoches, to be exact. She knew she wanted a big city again, and on a trip to visit an aunt in New York, she knew she had to move there.
Her first job in New York was at a Japanese curry restaurant, where Christianne quickly took on extra responsibilities doing administrative work and running the register.
She was behind the register on a slow Saturday when a customer came in. Noticing that he was wearing a t-shirt branded by a big database company—one Christianne was familiar with from her QA job in the Philippines—she asked him about his work. Their conversation turned into him offering to help Christianne with her resume and introduce her to someone on the Hillary Clinton campaign who was looking to fill a QA engineer role.
She fixed her resume, applied, and was hired by Tuesday Company a few weeks later.
Finding Room to Grow: 3 Tips
It took Christianne some time to get used to a new work culture—like meetings that ended on time, and managers who didn't glorify staying extra hours—but she settled in well to her first QA role in the States. She was in charge of release management, including troubleshooting issues for the sales and customer service teams.
When that company was acquired by Helm, Christianne had to go from being the only QA engineer on a team of 20 to being one of several engineers in her function serving a team of 70.
"I wasn't exactly overwhelmed, but 70 was big for me," says Christianne. "It was great to be a part of lots of different groups and hear lots of views from people in different states. Being new to this country four years ago, I got to meet a lot of interesting people [from all over thanks to] remote work."
Working for a company with an increased scope has meant that Christianne's opportunities for impact and growth have increased, too. Here's what she's learned along the way that has helped her make the most of the options available to her:
"Your goals and purpose go hand in hand: put your energy towards something you feel good about." Knowing that she cared about finding ways to help people make their lives easier with technology made it easy for Chrstianne to get excited about the Helm acquisition. She couldn't have stayed on to work for a company whose mission wasn't aligned with her own.
"Challenge yourself. Don't let yourself get bored." When Christianne's former manager used to check in with her, she'd tell him that things were good, that they were consistent. "He'd say, 'Consistent means there's no progress, it's a flat line,'" she remembers. Then Helm asked Christianne to take on a new responsibility, doing database testing instead of web application and mobile application testing, she was nervous. "I thought I was going to have to do a side step in my career. It wasn't the automation testing that I was trying to go up in my career later," says Christianne. But she talked to her manager about what she could get out of the challenge and came around to being excited by it: "It was a way to expand my career and grow. It could help build my career in the future," says Christianne.
"Be open to anyone you trust. Connect with people." Christianne recognizes that the whole reason she managed to kick off a QA engineering career in New York City was because she struck up a conversation with a kind-hearted and generous customer one random weekend. And now she's working at a company she believes in and enjoys, one that she feels values her, listens to her, and cares about her wellbeing. Christianne now tries to pay forward the connections that have helped her find a role she loves by helping other young engineers with their resumes so they have the best chance of finding good jobs in their fields.
And Christianne is excited to keep seeing how far she can grow her QA career. "It's an art," explains Christianne, who is currently working on database testing and universal ingestion pipeline testing. "I thought software engineering was this big, whole thing, and QA is small, but QA is so much bigger [than I realized]."
Pursuing a career in the States does mean that her grandparents back in the Philippines are without their favorite in-person tech support, but Christianne makes do with video calls. "I get kind of frustrated that I can't help them as much as if I was there, but working in civic tech is great for me," she says. "It's sustainable. We're not burning money for the benefit of ourselves, we're actually helping people."
If you want to help Helm help people, check out their open roles!
READ MORE AND DISCUSS
Show less
Helm
💎 Wondering how you can show up as the right candidate for the job?
📼 Press PLAY to hear some insight from a recruiter at Helm into what the right candidate for the job looks like in an interview. Alayna Sye, Helm's Senior Technical Recruiter, knows an applicant is going to be the right for the job usually after the first conversation. Find out exactly what will make you stand out, as well as the steps for the application process at Helm.
📼 You can be the right candidate for the job even if you don't check all the boxes in the application description. Alayna debunks this common misconception that recruiters are only seeking applicants who have 100% of the qualifications listed for the role. That's simply not true! There are so many valuable skills outside of the parameters of the job description. And, as Alayna says, oftentimes she doesn't know the company needs these skills until she sees them in a candidate at the job interview. Don't miss her take on the minimum amount of qualifications you should meet to apply for a job at Helm.
📼 What are the steps in Helm's application process? First, once your application is received and reviewed, the recruiting team will move you forward through a series of interviews to assess your potential. Some roles also require an additional assessment to see how you would perform in the role and also for you to learn the type of work you could be doing. Once the hiring team decides that you're the right candidate for the job, a decision on an offer can be made. Congratulations!
Tailor Your Resume to Be the Right Candidate for the Job at Your Interview
You can tailor your resume to the role you're applying for by taking a look at the job description and comparing it to what you've done. Emphasize relevant experiences on your resume to make it easier for the hiring team to see the value you'd bring to the role and hopefully move you through to the next round of interviews.
📨 Are you interested in joining Helm? They have open positions! To learn more, click here.
Get to Know Alayna

Alayna Sye is a driven, detail-oriented professional with remarkable work ethic and organization skills. She possesses relevant experience in recruiting, project coordination, resource management, communications, data analysis, and more. She consistently demonstrates her ability to self-manage and work independently, however is a valued member when working with a team. Her experience working with corporate departments and leadership to continually assess their workforce needs, which are essential to executing corporate initiatives, has afforded her the opportunity to gain insight and perspective into the operations of several complex programs within a variety of organizations.
More About Helm
Helm is a team of scientists, designers, engineers, and campaigners. They are building a data and technology platform for organizers and issue advocates. They design and execute experiments to better understand human civic behavior, determine which interventions drive impact, and scale them toward a more participatory democracy. Helm works with visionary leaders who seek to create a more equitable world. Their tools give elite operators power to shape campaigns, organizations, and movements.
READ MORE AND DISCUSS
Show less
Loading...