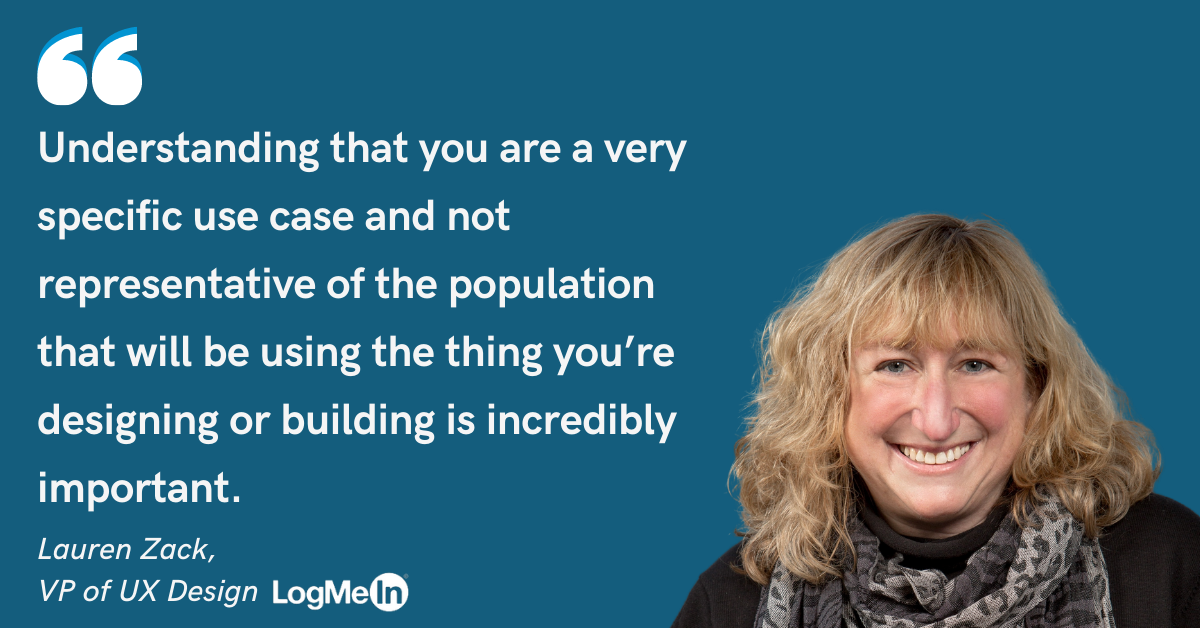 GoTo
There's a laptop sticker that Lauren Zack sees and agrees with every day: "You are not the user."
As a longtime UX professional, and the current VP of UX Design at SaaS company LogMeIn, recognizing the diverse set of people who will be using the products she works on is vital to Lauren's work.
"Understanding that you are a very specific use case and not representative of the population that will be using the thing you're designing or building is incredibly important," says Lauren. That approach builds empathy, she argues, because it forces designers to start their work from the perspective of people with different backgrounds, different viewpoints, and different priorities.
Whether she's working on the next generation of remote-friendly meeting software or managing her growing team, Lauren leads with inclusion, which allows her to design products that work for the largest percentage of people possible. We sat down with her to learn just how she does that—and what sparked her interest in this field.
Making problem solving better
Lauren owes her career to a book she read when she was 11: Cheaper by the Dozen, the biographical novel about parents who are efficiency experts and their large brood of children.
"They figured out that making peanut butter and jelly sandwiches in the morning, they should do bread, bread, bread, peanut butter, peanut butter, peanut butter, jelly, jelly, jelly, bread, bread, bread. You can see how that led to process improvements," explains Lauren. "And it just resonated with me. It was like wow, that is exactly how I see the world."
When she got to college, Lauren majored in physics, because it seemed like a way to understand how the world works, then added a cognitive psychology major. "I figured if I knew a lot about how the world works and how people think and work in the world, I could design things better for people," she says. After a class called Human Factors Engineering, she walked up to the professor, shook his hand, and said, "How do I do this?"
There wasn't a name for the field of user experience research and design, but that's what Lauren wanted to do. She started as a human factors engineer at IBM. She later worked in healthcare systems, figuring out how to help people deliver care in better ways, from designing bedside terminals for doctors to transforming how health records were kept.
Along the way, she was always interested in how she could solve people's problems and make their daily lives better.
Why culture matters
A few years into her career, Lauren realized that the best ideas couldn't help solve problems if no one was willing to listen to them. She was working at a well-known website whose culture didn't facilitate creativity or collaboration.
"Something that really came home to me was the connection between a company culture and the products they produce," she says. "It was very frustrating. You want to feel valued as an employee, and that each voice is heard. As somebody who was developing products, I was seeing that we weren't able to innovate in a way that made sense for our product market fit."
Lauren says that was the first time she realized how hard culture was to change—and how important it was to be in a culture that aligned with her values from the get-go. "So one of the things that I've done since then is to always select where I'm working based on the culture," she says, "because culture is so foundational to producing great products for people."
That's what interested her about LogMeIn, shares Lauren. "We really value communication, transparency, and being fearless," she says. "Those things are key tenets to a healthy culture, and as the leader in UX in the company, those are things that will make us successful in producing great designs."
How inclusion propels projects
One of LogMeIn's most well-known products is their GoToMeeting software, which has become especially beloved during COVID. Included in that software is a Smart Meeting Assistant feature. "If you were impaired in any way, you would be able to review the transcript and make sure you catch everything that happened in the meeting. But that's a fantastic tool for anybody," says Lauren. "In this day of meeting fatigue, if you zone out for a couple of minutes or turn off the camera to get another Diet Coke, having a transcript of the meeting is useful to you regardless of where you fall on an ability spectrum."
That's an example of inclusive design, explains Lauren, and how it means better projects for people with disabilities, but also for everyone.
Lauren's team starts all of their work with an inclusive focus, aiming to create products and services that are accessible to a large part of the population. That means they study not just the 80% of users who fall within the bell curve, but also the outliers. "You need to understand what their needs are and make sure that you're creating a product that can include as many of them as possible," she says. For example, notes Lauren, many people over 40 need glasses to help see things up close. An app that doesn't allow for pinch zoom—like Uber and Lyft's car confirmation pages—means not only that you've left out a segment of the population, but also that you've invited a competitor to come in and seize that market opportunity.
"By doing inclusive design and having products that are more available to people, you actually open up opportunities for a much more diverse workforce and a much more diverse environment," says Lauren.
5 DEI lessons from inclusive product design
Lauren shared her top five tips for design teams who want to create a culture of inclusivity where ideas are freely shared and products serve the greatest possible population, but we think these tips are transferable to anyone looking to create more inclusive teams:
Consider failure—and see it as an opportunity. Lauren shares another favorite design principle, inspired by a popular science fiction novel: "When you've invented a new technology, you've automatically invented its failure. So the Wright brothers invented flight, they also invented the plane crash." In her work, that means that extended video meetings begat "Zoom bombing," or unwanted participants crashing meetings. The need to solve for that failure led to Lauren's team creating meeting lock controls, which evolved into waiting rooms for participants, which in turn became a really useful feature for meeting moderators, even beyond the benefit of keeping would-be crashers out.
Build empathy. "It's building empathy and figuring out how to personalize that… deep empathy helps you to create [an] understanding of what people truly want."
You don't have a pipeline problem. Lauren read an article a while back that resonated with her called "If you think it's a pipeline problem, you haven't been paying attention." "What that means is you can fill your pipeline as much as you want with a diverse slate, but if you don't hire that way, you won't hire those people. And if you do hire that way, but you don't create a culture where they can be successful, they're going to leave," she says. To solve that, she suggests applying a product-design framework to your hiring systems to make sure they allow for everyone to be successful.
Listen. Lauren's team spans continents, from California to Budapest to India and beyond, and to foster connection and inclusion, she hosts regular "listening post" office hours every week. She also uses Slack and informal monthly all-hands meetings to create a sense of community and give her team multiple avenues for sharing their ideas.
Consider the overall org design. Lauren says she's worked at companies where product design reports into marketing or other groups, and she didn't like that structure. "One of the reasons I took the job at LogMeIn has been to elevate design to be a partner with both product and engineering," she says. "I call it the three-legged stool. It creates a very healthy tension between the product team, who's saying 'here's what we should build, because it's going to be a great product market fit,' and the engineering team, that says 'here's how we will build it.' The design team says 'here's how it's going to work.'"
Interested in joining LogMeIn? Check out their open roles here.

READ MORE AND DISCUSS
Show less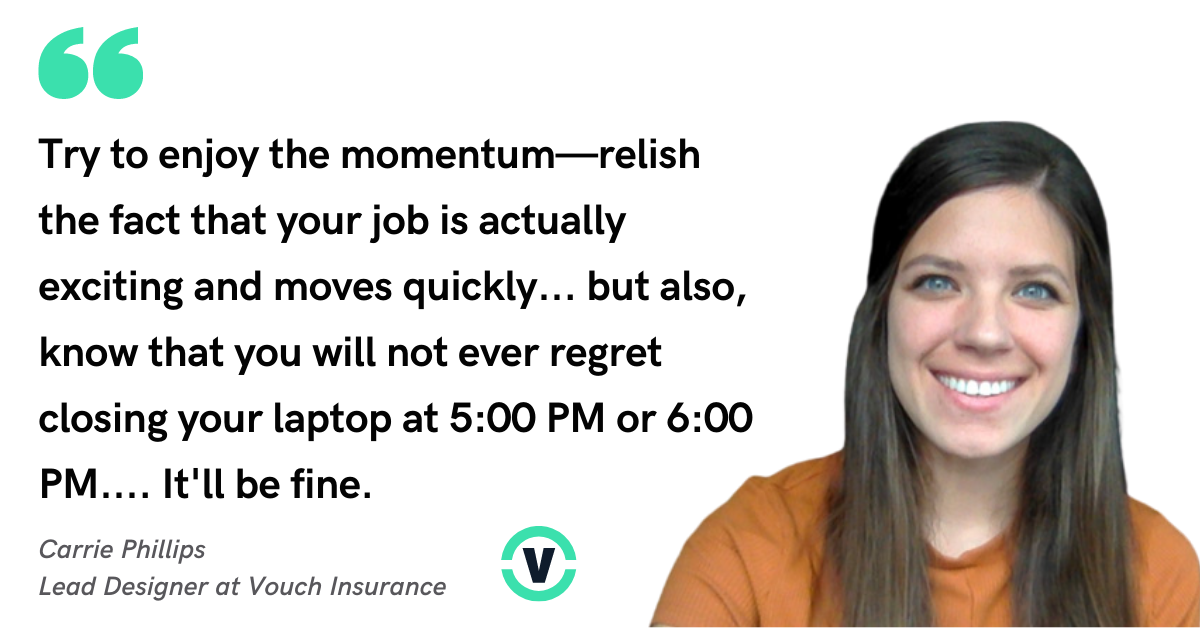 Vouch Insurance
A Conversation with Vouch's Lead Designer Carrie Phillips
Carrie Phillips was working at a healthcare startup when she connected with one of
Vouch Insurance
's founders, a friend of a friend from university. The idea he and his cofounder were working on: a way to solve the business insurance problem, piqued her interest. "I was pretty familiar with how broken insurance was," says Carrie, who was interested in the mission, as well as the chance to be their first full-time hire and help build the product from the ground up.
She signed on as their lead designer, and in the two and a half years she's been at Vouch, she's worn half a dozen different hats, experienced a personal evolution in the way she strikes a work/life balance, and made inroads against the goal she shares with the whole Vouch team of creating a business insurance product that works for startups.

We sat down with Carrie to hear more about why she became interested in design, why she joined Vouch and how Vouch's culture supports her design work, and what advice she has for others looking to succeed at a high-growth startup.
Why design?
Carrie's first few design projects were practical ones.
"I grew up with a little sister who has a bunch of disabilities, and my father and I spent a lot of time building things around the house and retrofitting really crappy medical equipment," she explains. "We were always sort of trying to make her environment work for her and her interests, like to play baseball or cello or go to school. So much needed to be adjusted that I developed a bit of an eye for problems to be solved."
Carrie credits her early experience seeing how her sister navigates the world and coming up with ways to help her as sparking her interest in product design. She studied industrial design at Ohio State University with the goal of working in medical products and technology to improve accessibility.
"I think when people say accessibility, they think of making sure the buttons on the screen are high enough contrast so that somebody with colorblindness can parse out the active areas or text hierarchy and screen readers and stuff like that," says Carrie. And while she notes that those are certainly important examples, larger impact in the accessible space stems from general innovations.
She gives an example of what she means: "Like my AirPods. I'm jazzed about AirPods because my sister wears hearing aids, and hearing aids are still clunky and ugly. AirPods are like a sneeze away from a hearing aid, they're pretty close, and that's really cool."
Other things that fit in that category? Google Glass, Siri, swipe keyboards, and Google Maps, says Carrie. Those are the kinds of projects Carrie wants to work on—projects that transform the way something is done or experienced and, in so doing, create a better product for people with disabilities. "When I think about accessibility, I'm almost thinking about it like, what are the most interesting innovations happening for the mass market that could then trickle into smaller niche markets and really change lives?" she says.
Why Vouch?
Carrie is still a team of one, which means she's done almost every kind of design work for Vouch at some point over the last few years, from mocking up onboarding funnels to branding to conducting user research and handling "QA bug bashing stuff." She has a practiced spiel she uses to explain her work to new hires at Vouch:
"Design is intended to make things useful, usable, and beautiful. And each of those words routes to a different field of design. Beautiful is user interface, graphic design, and making it pretty. Usable is more UX—how can I organize this flow or label things in a way that somebody doesn't get stranded somewhere and confused? And useful is more product design. It's like, how do we actually answer the question in the first place? Not just how do we make the solution we've already chosen useful, beautiful, or usable...it's more, what should the solution be in the first place?"
It's that top-down, open-ended problem solving that Carrie loves most about the product design work she's doing now. "It's really fun, sort of the puzzle of unpacking the problem and coming up with a solution," she says.
The puzzle is a particularly big one for Vouch. "Vouch is rewriting policies. We're trying to solve [the business insurance problem] at the very bottom," says Carrie. "A lot of my most valuable time is spent trying to understand what it is we're building and how this tiny decision over here is going to cascade all the way to the customer experience in a year when this policy gets approved."
Carrie approaches solving that puzzle with what she calls her best "user-centric shot." For example, she'll design a button, including its text, in the way that would make the most sense to customers. "Then that does a round trip through insurance, ops, and legal and comes back to me. If it sounds too much like a robot lawyer rewrote it, then we put it back in the cycle. We are a no-lorem-ipsum shop because text is just too important for meaning," she explains.
It was Vouch's mission that initially inspired Carrie, but the reason she keeps going into work (or, in the last ten months, logging in to work) is the company's culture.
"It sounds very corny, but the team genuinely cares and gets to know each other, which produces an environment where everyone feels comfortable contributing really big, weird ideas," says Carrie. "Vouch isn't interested in just making insurance a little bit better. We really want to shake it up. So everybody has to feel safe throwing out some real ridiculous nonsense from time to time. And you only do that when you're amongst friends."
That focus on human beings is so important that it's one of Vouch's five core values and the one that stands out the most to Carrie.
"Put people first" can refer to users, teammates, and individuals, explains Carrie. "It means 'put your partner first, your kids first, your people first," she says.
3 tips for succeeding at a startup
Carrie has worked to bring accessible product design to every company she's worked at, from the small startup she founded with friends after college to Vouch. She's able to make the most impact in environments like Vouch's, where open collaboration between teams and a constant focus on learning is shared by all.
"What I care about with startups is the hustle and momentum," she explains. "I know a lot of people are really into the impact that they could have in Silicon Valley. But I don't care if thousands of people use what I made or just a few [do]. I really love being on a small team that is intimately aware of their competitors and is earning the respect of new customers and trying to win."
"I like playing on the team. It's like the only sport I've ever been good at is startups," says Carrie.
She's gotten better at her sport over time and has three key lessons to pass on:
1. Do regular personal retros. Carrie used to have a 30-minute date with herself every Friday ("in the morning, 'cause if I did it Friday afternoon, it wouldn't be worth my time; my brain would be fried," she notes) to do a retrospective on the week. She's fallen away from the habit, she says, but is bringing it back as she keeps going deeper into the specifics of the insurance world. "I reflect on the week, what I learned, what I did, what changed, what produced a big emotional response for no good reason," she says.
2. Organize pairing sessions. One of the key parts of Carrie's workflow is the "tweaking sessions" she has with engineers on her team. "Instead of peppering them with tiny, nitty-gritty feedback all along the way, I reserve some time at the end, like, 'We're going to get coffee together and you're going to share your screen and I'm going to angst over the spacing a little bit and it's going to be kind of annoying 'cause we're going to be nudging around pixels,' but it almost always ends with something that feels like 10 or 20% more polished," she says. "And it makes sure that I'm perpetually aware of the friction generated by my requests."
3. Don't lose yourself. "Startups are just so fun. They move so fast. You can get kind of lost in the hustle or momentum of things," says Carrie, who says that she struggled to remember that in her first few years on the job. "I used to really let that hustle and momentum take over my life. It was too fun to stay late and get ahead and really sweat the details. I thought I was being a good designer by getting really amped on whatever teeny-tiny change needed to be made," she says. "Try to enjoy the momentum—relish the fact that your job is actually exciting and moves quickly and that you can see your change in production in the wild—but also, know that you will not ever regret closing your laptop at 5:00 PM or 6:00 PM," she reminds readers. "It'll be fine."
Learn more about company culture and open roles at Vouch Insurance.
READ MORE AND DISCUSS
Show less
Loading...