GET EMAIL UPDATES FROM POWERTOFLY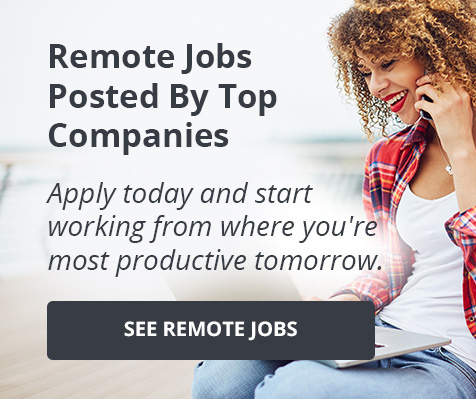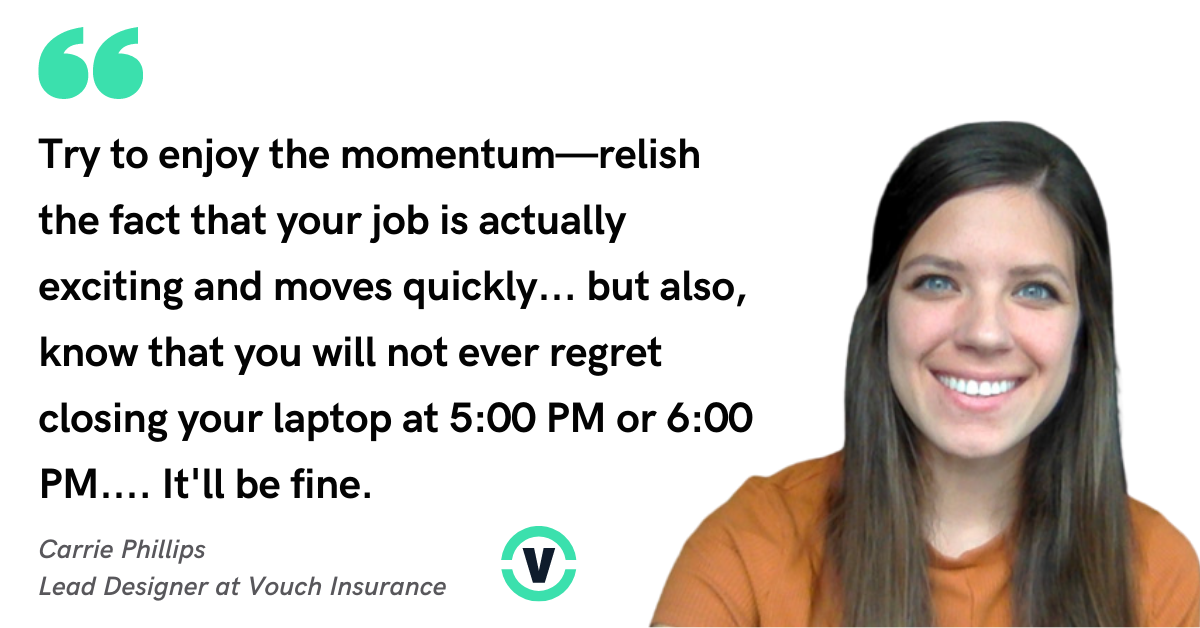 Vouch Insurance
A Conversation with Vouch's Lead Designer Carrie Phillips
Carrie Phillips was working at a healthcare startup when she connected with one of
Vouch Insurance
's founders, a friend of a friend from university. The idea he and his cofounder were working on: a way to solve the business insurance problem, piqued her interest. "I was pretty familiar with how broken insurance was," says Carrie, who was interested in the mission, as well as the chance to be their first full-time hire and help build the product from the ground up.
She signed on as their lead designer, and in the two and a half years she's been at Vouch, she's worn half a dozen different hats, experienced a personal evolution in the way she strikes a work/life balance, and made inroads against the goal she shares with the whole Vouch team of creating a business insurance product that works for startups.

We sat down with Carrie to hear more about why she became interested in design, why she joined Vouch and how Vouch's culture supports her design work, and what advice she has for others looking to succeed at a high-growth startup.
Why design?
Carrie's first few design projects were practical ones.
"I grew up with a little sister who has a bunch of disabilities, and my father and I spent a lot of time building things around the house and retrofitting really crappy medical equipment," she explains. "We were always sort of trying to make her environment work for her and her interests, like to play baseball or cello or go to school. So much needed to be adjusted that I developed a bit of an eye for problems to be solved."
Carrie credits her early experience seeing how her sister navigates the world and coming up with ways to help her as sparking her interest in product design. She studied industrial design at Ohio State University with the goal of working in medical products and technology to improve accessibility.
"I think when people say accessibility, they think of making sure the buttons on the screen are high enough contrast so that somebody with colorblindness can parse out the active areas or text hierarchy and screen readers and stuff like that," says Carrie. And while she notes that those are certainly important examples, larger impact in the accessible space stems from general innovations.
She gives an example of what she means: "Like my AirPods. I'm jazzed about AirPods because my sister wears hearing aids, and hearing aids are still clunky and ugly. AirPods are like a sneeze away from a hearing aid, they're pretty close, and that's really cool."
Other things that fit in that category? Google Glass, Siri, swipe keyboards, and Google Maps, says Carrie. Those are the kinds of projects Carrie wants to work on—projects that transform the way something is done or experienced and, in so doing, create a better product for people with disabilities. "When I think about accessibility, I'm almost thinking about it like, what are the most interesting innovations happening for the mass market that could then trickle into smaller niche markets and really change lives?" she says.
Why Vouch?
Carrie is still a team of one, which means she's done almost every kind of design work for Vouch at some point over the last few years, from mocking up onboarding funnels to branding to conducting user research and handling "QA bug bashing stuff." She has a practiced spiel she uses to explain her work to new hires at Vouch:
"Design is intended to make things useful, usable, and beautiful. And each of those words routes to a different field of design. Beautiful is user interface, graphic design, and making it pretty. Usable is more UX—how can I organize this flow or label things in a way that somebody doesn't get stranded somewhere and confused? And useful is more product design. It's like, how do we actually answer the question in the first place? Not just how do we make the solution we've already chosen useful, beautiful, or usable...it's more, what should the solution be in the first place?"
It's that top-down, open-ended problem solving that Carrie loves most about the product design work she's doing now. "It's really fun, sort of the puzzle of unpacking the problem and coming up with a solution," she says.
The puzzle is a particularly big one for Vouch. "Vouch is rewriting policies. We're trying to solve [the business insurance problem] at the very bottom," says Carrie. "A lot of my most valuable time is spent trying to understand what it is we're building and how this tiny decision over here is going to cascade all the way to the customer experience in a year when this policy gets approved."
Carrie approaches solving that puzzle with what she calls her best "user-centric shot." For example, she'll design a button, including its text, in the way that would make the most sense to customers. "Then that does a round trip through insurance, ops, and legal and comes back to me. If it sounds too much like a robot lawyer rewrote it, then we put it back in the cycle. We are a no-lorem-ipsum shop because text is just too important for meaning," she explains.
It was Vouch's mission that initially inspired Carrie, but the reason she keeps going into work (or, in the last ten months, logging in to work) is the company's culture.
"It sounds very corny, but the team genuinely cares and gets to know each other, which produces an environment where everyone feels comfortable contributing really big, weird ideas," says Carrie. "Vouch isn't interested in just making insurance a little bit better. We really want to shake it up. So everybody has to feel safe throwing out some real ridiculous nonsense from time to time. And you only do that when you're amongst friends."
That focus on human beings is so important that it's one of Vouch's five core values and the one that stands out the most to Carrie.
"Put people first" can refer to users, teammates, and individuals, explains Carrie. "It means 'put your partner first, your kids first, your people first," she says.
3 tips for succeeding at a startup
Carrie has worked to bring accessible product design to every company she's worked at, from the small startup she founded with friends after college to Vouch. She's able to make the most impact in environments like Vouch's, where open collaboration between teams and a constant focus on learning is shared by all.
"What I care about with startups is the hustle and momentum," she explains. "I know a lot of people are really into the impact that they could have in Silicon Valley. But I don't care if thousands of people use what I made or just a few [do]. I really love being on a small team that is intimately aware of their competitors and is earning the respect of new customers and trying to win."
"I like playing on the team. It's like the only sport I've ever been good at is startups," says Carrie.
She's gotten better at her sport over time and has three key lessons to pass on:
1. Do regular personal retros. Carrie used to have a 30-minute date with herself every Friday ("in the morning, 'cause if I did it Friday afternoon, it wouldn't be worth my time; my brain would be fried," she notes) to do a retrospective on the week. She's fallen away from the habit, she says, but is bringing it back as she keeps going deeper into the specifics of the insurance world. "I reflect on the week, what I learned, what I did, what changed, what produced a big emotional response for no good reason," she says.
2. Organize pairing sessions. One of the key parts of Carrie's workflow is the "tweaking sessions" she has with engineers on her team. "Instead of peppering them with tiny, nitty-gritty feedback all along the way, I reserve some time at the end, like, 'We're going to get coffee together and you're going to share your screen and I'm going to angst over the spacing a little bit and it's going to be kind of annoying 'cause we're going to be nudging around pixels,' but it almost always ends with something that feels like 10 or 20% more polished," she says. "And it makes sure that I'm perpetually aware of the friction generated by my requests."
3. Don't lose yourself. "Startups are just so fun. They move so fast. You can get kind of lost in the hustle or momentum of things," says Carrie, who says that she struggled to remember that in her first few years on the job. "I used to really let that hustle and momentum take over my life. It was too fun to stay late and get ahead and really sweat the details. I thought I was being a good designer by getting really amped on whatever teeny-tiny change needed to be made," she says. "Try to enjoy the momentum—relish the fact that your job is actually exciting and moves quickly and that you can see your change in production in the wild—but also, know that you will not ever regret closing your laptop at 5:00 PM or 6:00 PM," she reminds readers. "It'll be fine."
Learn more about company culture and open roles at Vouch Insurance.
READ MORE AND DISCUSS
Show less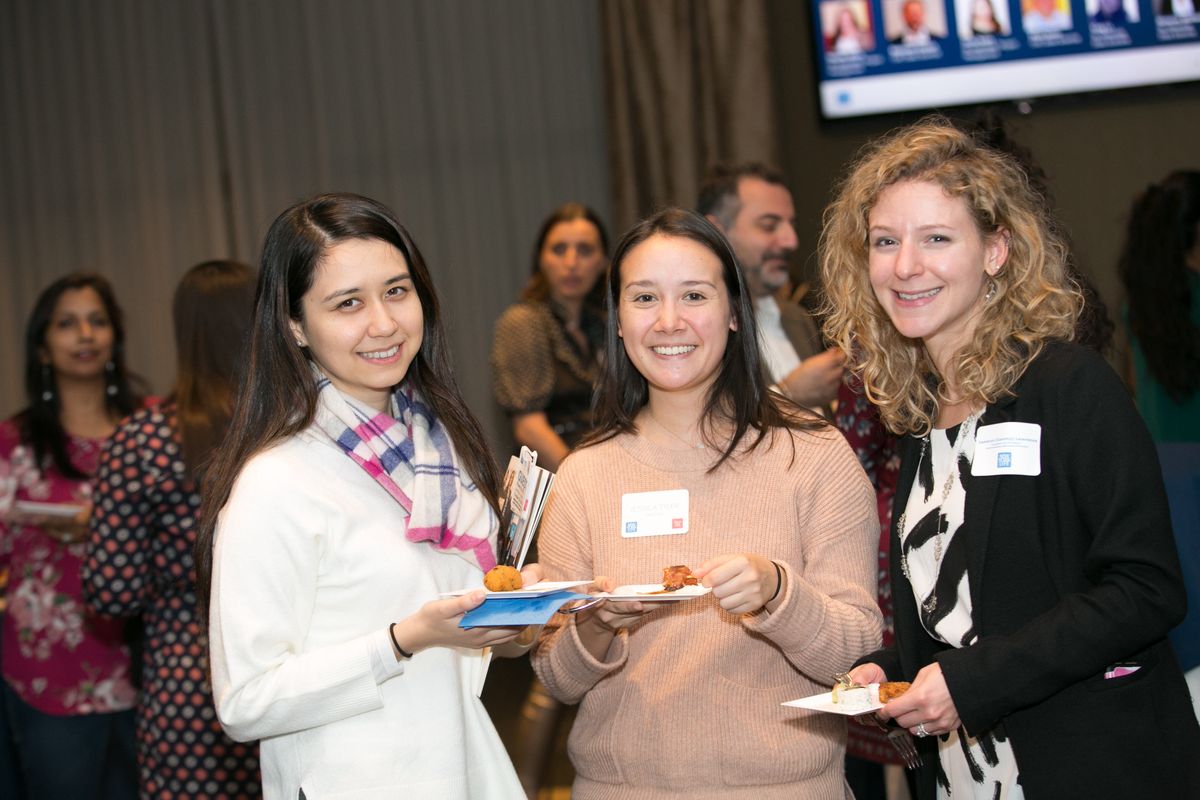 New York Life Insurance Company
New York Life's headquarters is a gorgeous, gothic National Historic Landmark, located adjacent to the Flatiron District's scenic Madison Square Park. After over a decade of living in NYC, I was thrilled that my first time inside this legendary building would be for a PowerToFly event highlighting New York Life's data science and analytics leaders.
PowerToFly's event with New York Life was held on Thursday, October 25th, inside New York Life's Ben Feldman Auditorium. After guests navigated the ornate lobby, they were welcomed with delicious food and drinks and had the chance to network with both members of the New York Life data and hiring teams as well as their peers.
PowerToFly's CoFounder and President Katharine Zaleski started the night off by introducing New York Life's SVP/Head of Retail Life Alex Cook. "We are always finding ways to be collaborative because we know a diverse culture leads to innovative and new ways of thinking, which are critical to the future success of the company. I'm impressed that a company like ours that's been around since 1845 and is as large as we are, how quickly we're moving on multiple fronts. For example, in just the last two to three years we've built a 50-person Data Science Team We're also making a lot of investments in our infrastructure and our technology capabilities. We're now at a point where everywhere you look in the company, we're transforming something," explained Cook.
Alex went on to speak about how New York Life uses data in assessing mortality risk and the inherent challenges involved. "You don't know whether your calculations are accurate for 10, 30, even 70 years. It's a very difficult problem to solve and very intriguing from a data science perspective."
As Alex concluded, he introduced CVP, Advanced Analytics Rita Fuller who discussed New York Life's Data Science Academy which, as Rita describes it, "is a program with two educational tracks designed to increase knowledge of Data Science and Analytics for our employees.." The Data Science Academy is part of a cultural shift to generate greater understanding of data science and to create an environment in which New York Life data scientists can thrive. The program features two educational tracks. The technical track is for those who want to gain or improve your skillset in statistical modeling and machine learning. The business track introduces you to case studies involving analytic solutions to foster an analytical mindset. Rita then introduced an insightful short video that provided a better glimpse into a "day in the life" of the data team.
Next up, Katharine introduced our amazing panel of New York Life leaders which included Michelle Bottomley, SVP & Chief Marketing Officer; Glenn Hofmann, VP & Chief Analytics Officer; Mary Louie, CVP & Lead Data Scientist and Beth Schumacher, CVP Human Resources/Training. Our experienced panel discussed their latest projects, how they keep current on the latest tech trends and dove a bit deeper into their individual career journeys. The formal programming for the evening ended by opening up the floor to questions from the audience.
But the night wasn't over yet! Our attendees had plenty of opportunities to network with the panel, members of the New York Life team and each other before the evening eventually drew to a close. As they exited, our guests were greeted with a complimentary copy of a book to remember the evening by. All in all, this was a fabulous New York evening with an iconic New York company.
Follow New York Life on PowerToFly to learn more about their open roles.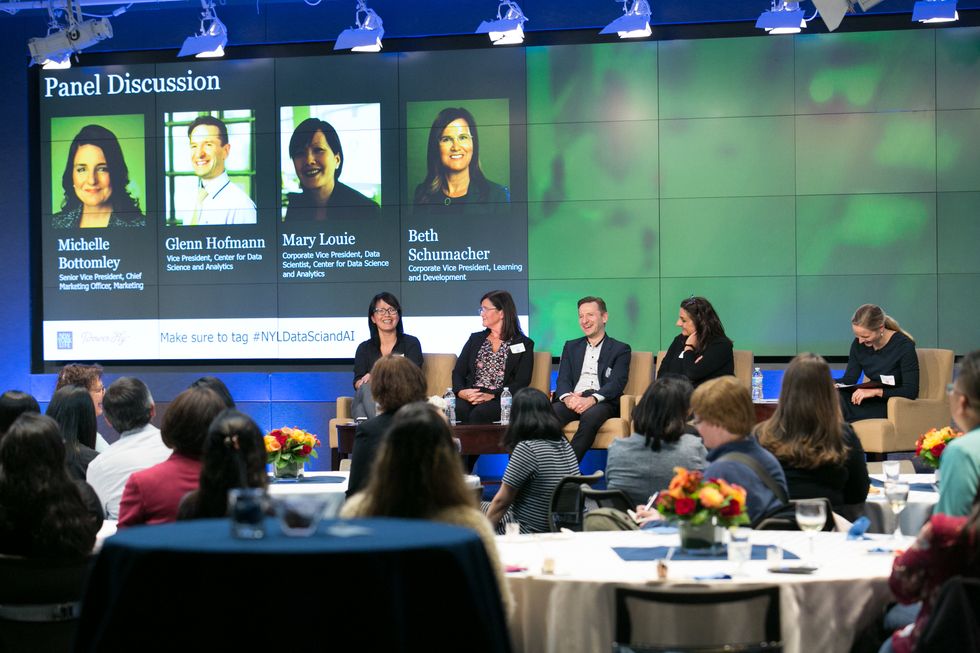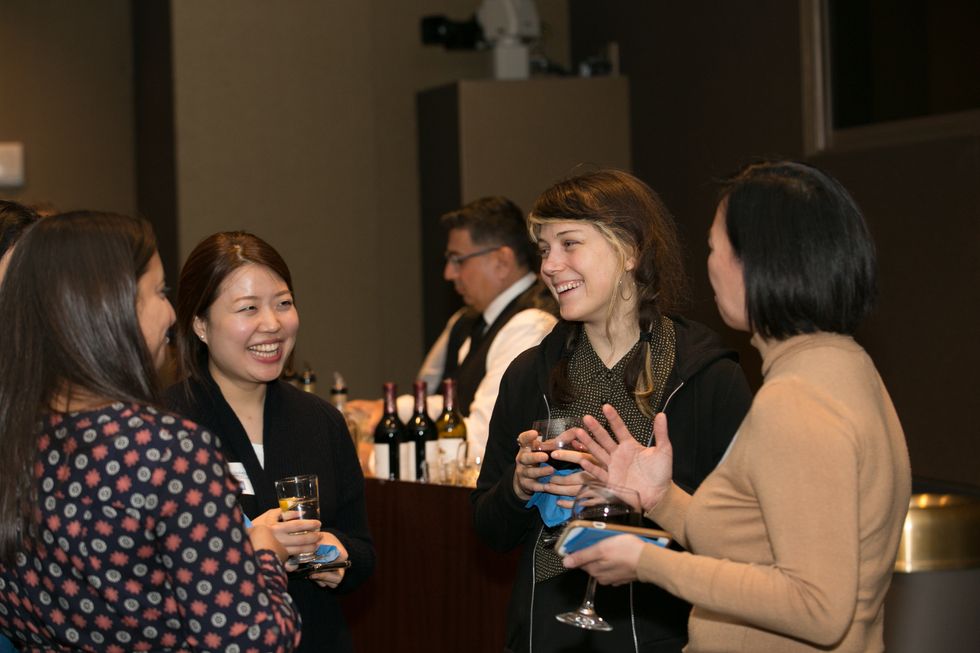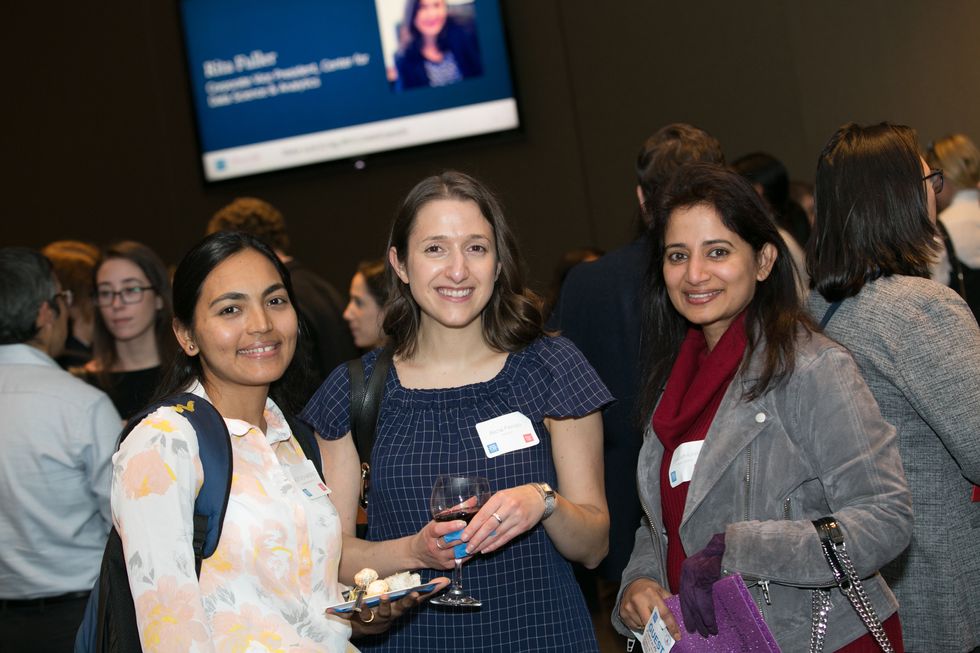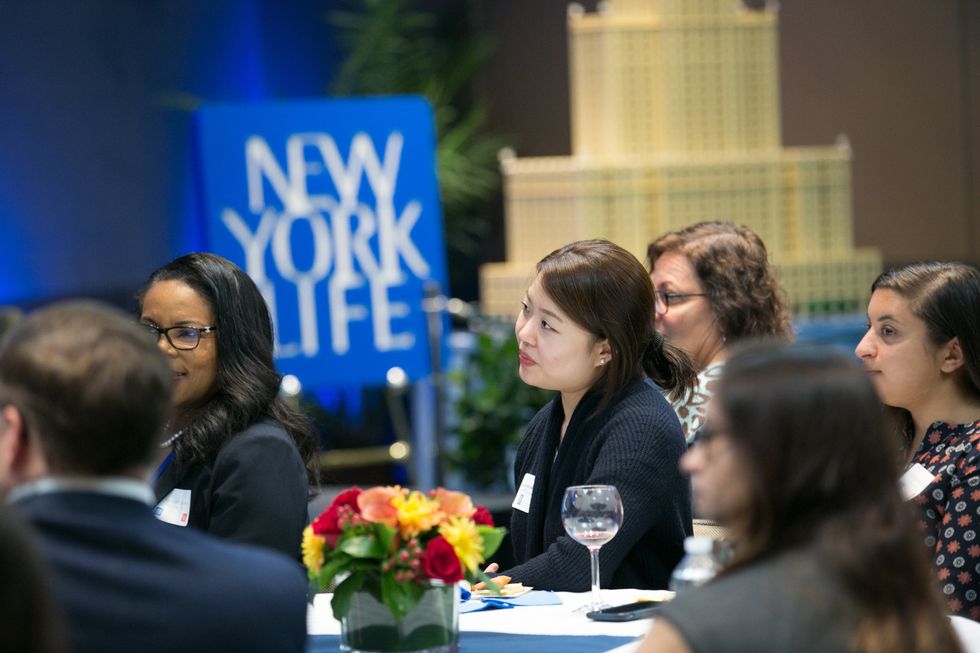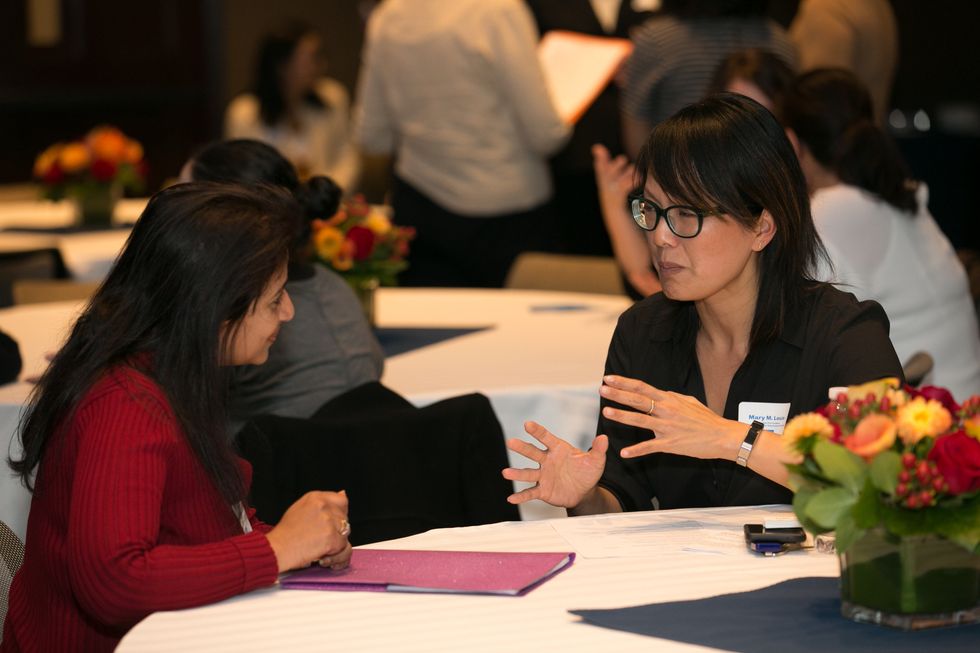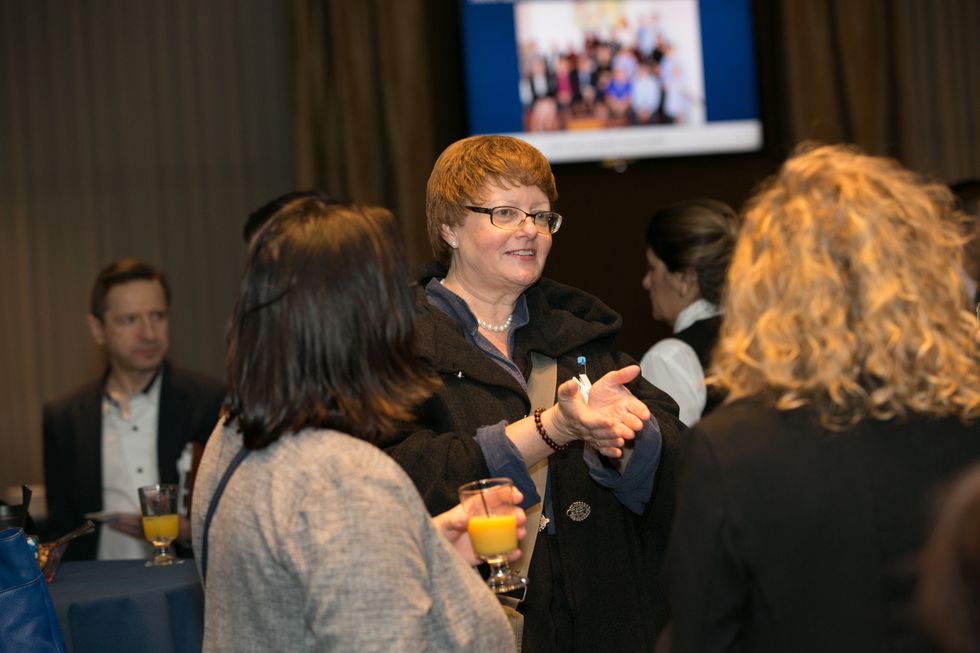 READ MORE AND DISCUSS
Show less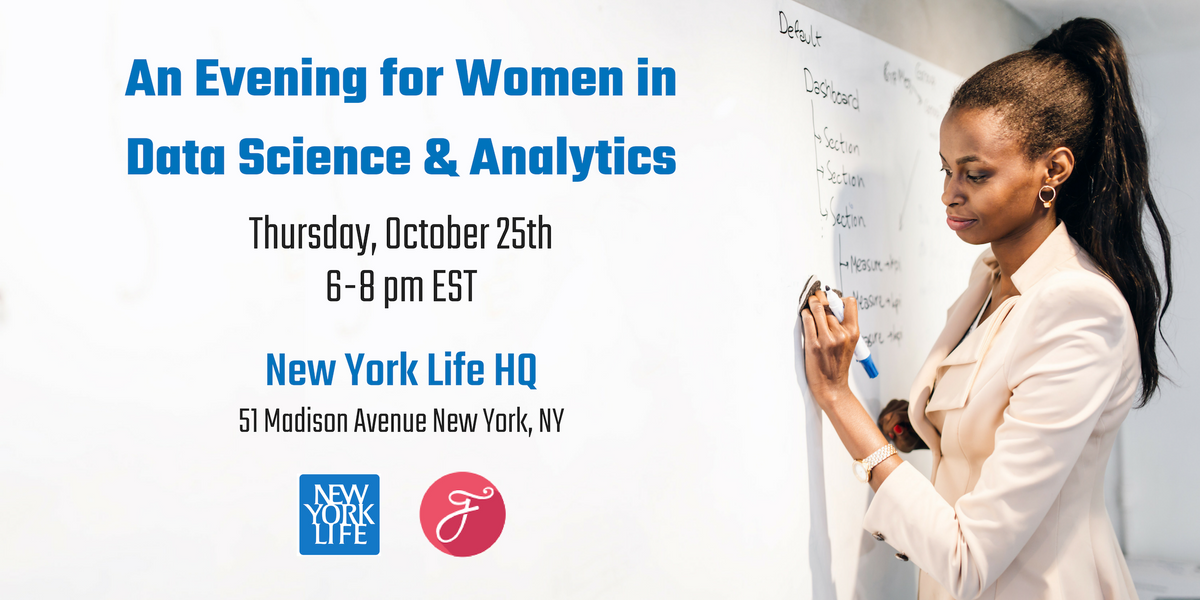 New York Life Insurance Company
This event is intended for women working in data science & analytics. If you would like to be considered for an invitation, please email hi@powertofly.com

Are you working in data science or data analytics? Then please join New York Life and PowerToFly for this exclusive evening of panels and networking featuring women leaders from New York Life's data teams.
The event will take place on October 25th from 6pm to 8pm at the New York Life Insurance Company's HQ, located at 51 Madison Avenue New York, New York 10010 (Ben Feldman Auditorium, 13th Floor).
Agenda (Subject to Change):
6:00pm - Check-In & Networking over Cocktails & Light Food
6:30pm - Kick-Off from PowerToFly's CoFounder & CEO Katharine Zaleski
6:35pm - Welcome & Introduction by New York Life's Alex Cook, SVP/Head of Retail Life Department
6:40pm - Panel Discussion featuring from New York Life

Michelle Bottomley, SVP & Chief Marketing Officer
Glenn Hofmann, VP & Chief Analytics Officer
Beth Schumacher, CVP Human Resources/Training
Mary Louie, CVP & Lead Data Scientist

7:05pm - Audience Q&A
This is an excellent opportunity to meet and network with New York Life's data and hiring leaders and to of course network with your fellow women in tech over food and drinks. New York Life is hiring but you don't need to be looking for a new opportunity to attend - if you'd just like to come to network, that's great too.
About our Events: All RSVP'd attendees are welcome, regardless of race, color, religion, national origin, gender identity, pregnancy, physical or mental disability, or age. If you require accommodation to fully participate in this event, please email hi@powertofly.com, and we will contact you to discuss your specific needs.
Unfortunately, PowerToFly and the company it is holding an event on behalf of cannot admit outside recruiters to that particular event. Please email hi@powertofly.com if you have any questions about this policy.
About New York Life Insurance Company: New York Life Insurance Company is the largest mutual life insurance company in the United States. Founded in 1845, New York Life is headquartered in New York City, maintains offices in all fifty states, and owns Seguros Monterrey New York Life in Mexico. New York Life is one of the most financially strong and highly capitalized insurers in the business. New York Life have steadfastly refused to ask agents and employees to conform themselves to a single way of doing business. Instead, everyone is expected to bring his or her own cultural and intellectual perspectives to the table.
READ MORE AND DISCUSS
Show less
Loading...