GET EMAIL UPDATES FROM POWERTOFLY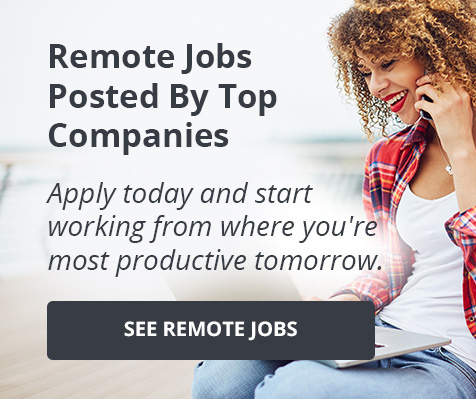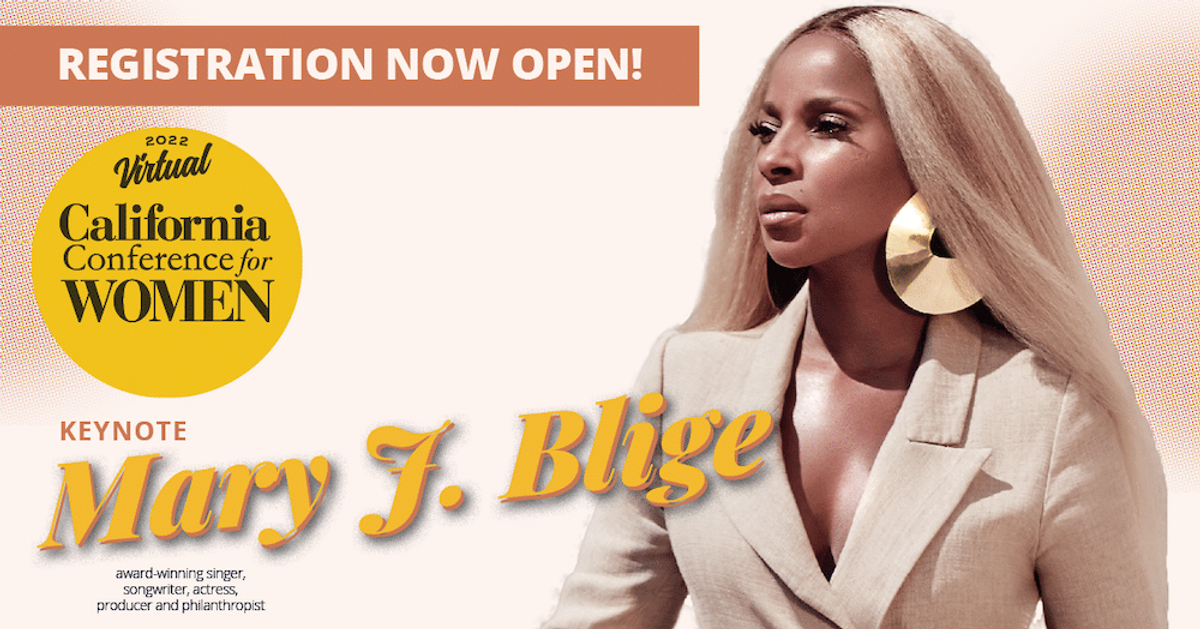 Partnership
Plus sign up for the 2022 California Conference for Women FREE virtual job fair.
PowerToFly is proud to partner with the the California Conference for Women on their upcoming 2022 virtual event. This is a great chance to renew, reconnect and re-ignite.
Keynote speakers will include:
Your virtual conference ticket will include:

Two exclusive keynote sessions, featuring Mary J. Blige, Dr. Brené Brown, Dolores Huerta, Eva Longoria, and more
Nine 30-minute expert-led breakout sessions on leadership, career advancement, and personal development, including Q&A with speakers
On-demand playback of ALL breakout sessions and learning bursts until March 31, 2022
Interactive virtual exhibit hall, bookstore, and 1:1 resume review and career coaching (subject to availability)
Multiple opportunities to network with fellow attendees and community leaders
Looking for a new role? You can sign up for the California Conference for Women's 2022 virtual job fair featuring Google, Bristol Myers Squibb, Indeed and more for FREE here.
READ MORE AND DISCUSS
Show less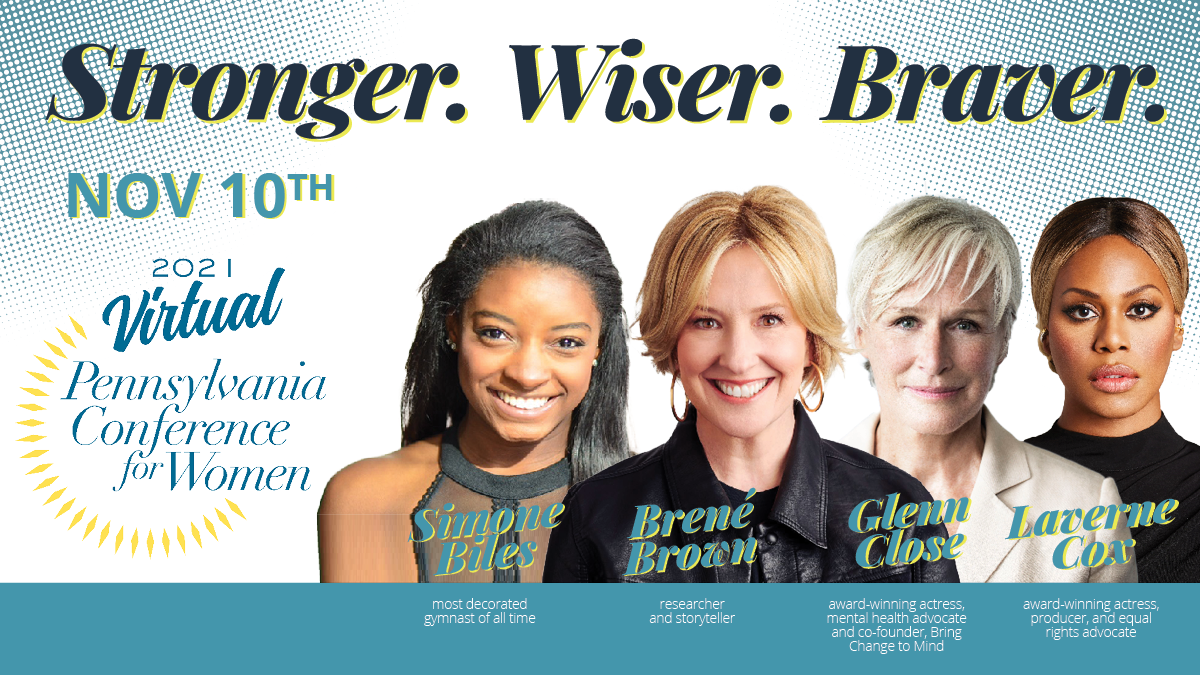 Talent
Speakers will include Simone Biles, Brené Brown, Glenn Close and Laverne Cox
PowerToFly is proud to join the Pennsylvania Conference for Women as a community sponsor and is happy to share a registration discount code with the PowerToFly community.
The Pennsylvania Conference for Women is a non-profit, non-partisan, one-day professional and personal development event for women that features more than 100 renowned speakers sharing inspirational stories and leading seminars on the issues that matter most to women, including health, personal finance, executive leadership, small business and entrepreneurship, work/life balance, branding and social media marketing, and more.
This year's conference will be virtual and will be hosted on November 10th, 2021.
REGISTER FOR THE CONFERENCE HERE. PowerToFly community members can receive a $25 registration discount with code 2021PASO.
Speakers will include:
Brené Brown, researcher and storyteller
Glenn Close, award-winning actress, mental health advocate, and co-founder, Bring Change to Mind
Laverne Cox, award-winning actress, producer and equal rights advocate
Simone Biles, most decorated gymnast of all time
Susan Cain, author, Quiet
Dolly Chugh, author, The Person You Mean to Be
And many more
On Tuesday, November 9th, the Conference will also include a virtual job fair where attendees can explore thousands of open positions from organizations such as Bristol Myers Squibb, Cisco, Comcast NBCUniversal, Independence Blue Cross, Johnson & Johnson, PECO, Pfizer, Takeda Pharmaceuticals, TD Bank and more!
Visit here to find out more or to register.
READ MORE AND DISCUSS
Show less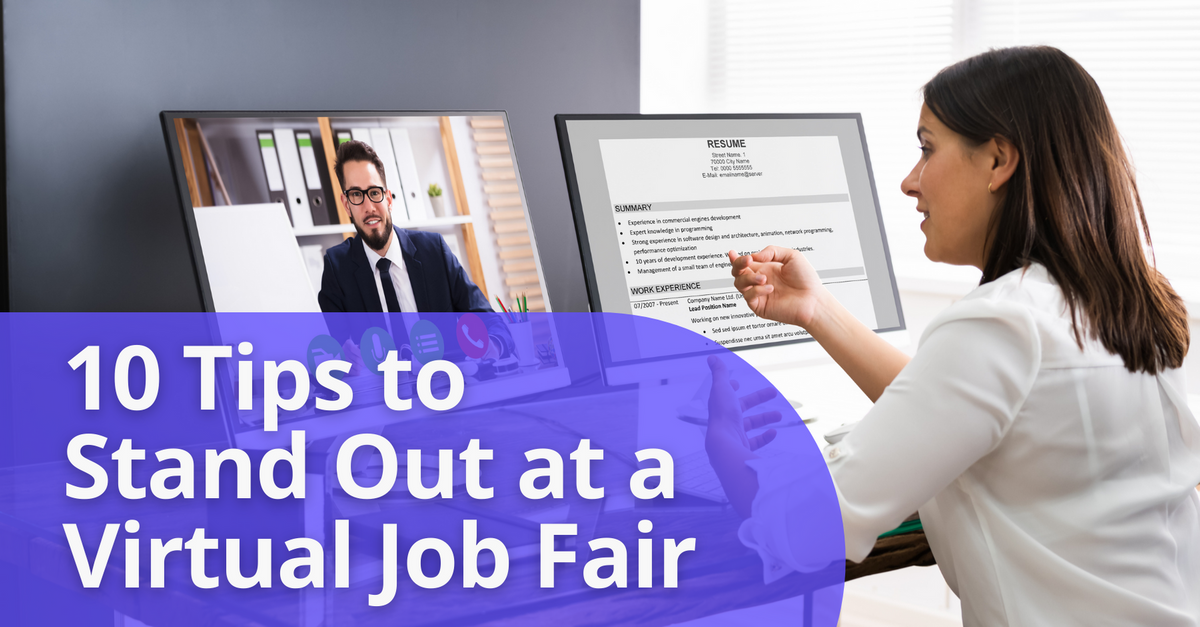 Upskilling and Development
Your guide to preparing for virtual career fairs and making a great impression with recruiters
According to a LinkedIn survey, up to 85% of jobs are filled via networking. For job seekers, virtual job fairs make networking with recruiters more convenient. You can interact with potential employers from all over the world, ask them questions, and apply for jobs. Every event is different, but they most often include video conferencing features, chat rooms, and Q&A sessions.
Dilyara Timerbulatova, Virtual Job Fair Coordinator at PowerToFly explains that, "virtual job fairs have many benefits, namely connecting top talent and recruiters that would otherwise never cross paths. These events are a tool to help companies build well-rounded, diverse teams that align with the company culture and business vision."
10 steps to standing out at a job fair.
Virtual job fairs are different from the in-person experience that we're used to, so it's important to adapt and prepare for this new setting. Here are some key ways to put your best foot forward and make a lasting impression with a recruiter.
Update your LinkedIn profile and resume. Start by making sure that your work history is up to date. Make sure to include any experience relevant to jobs you are applying for.
Do your homework. Find out which companies will be attending the fair and learn more about what the company does, their mission and values, company culture, and skills they're looking for. At this stage, you can begin preparing questions for the recruiter(s).
Practice your pitch. During the virtual job fair, you may have to introduce yourself to recruiters. Prepare a short pitch talking about who you are, your skills, and relevant experience. (Not every virtual job fair will provide an opportunity for this, but better safe than sorry. If you do get a bit of time to introduce yourself, you want to make it count.)
Look the part. YES, you still have to dress professionally, even though this is all happening online. Plus, studies show that dressing up can increase confidence, which might be the boost that you need to score the job.
Prepare your space. Find a quiet area with a strong wi-fi connection and do your best to make sure your background is clean and distraction-free. We recommend sitting against a neutral wall, preferably near a power outlet, just in case your computer battery runs low. Don't forget to turn your phone and computer on 'do-not-disturb' mode.
Be on time. As they say, five minutes early is on time, and on time is late. Showing up early demonstrates that you are dependable and consistent. Remember to leave some extra time for potential technical difficulties or connection issues, and log into the fair a few minutes early. Who knows, you might get the chance to snag a few extra minutes with recruiters while you wait for the rest of the fairgoers to arrive.
Use strong body language. Since the interactions between recruiters and talent are virtual, the ability to read a person's body language is limited. Introduce yourself with a smile, maintain focused eye contact, and nod your head in agreement (even when your microphone is muted). Using strong body language will help you demonstrate interest and confidence.
Communicate professionally. One of the best ways for a candidate to stand out is through good communication and grammar skills. During a virtual job fair, a lot of communication will be done through written interactions, whether in the chat function or follow-up messages/emails. To make a great first impression, you'll want to demonstrate strong written communication and avoid using slang or excessive abbreviations.
Ask the right questions. Come up with questions that can't be found on the company website. Think of questions that would allow you to get deeper knowledge about the organization's culture, learn about ways to move up in that organization, or discover what you might be able to contribute to the company.
Follow up. Once the fair is over, connect with recruiters on LinkedIn and include a personalized message thanking them for their time and further expressing your interest in working at their company. Keep in mind that recruiters come in contact with many candidates, so you can use this opportunity to refresh their memory and remind them about why you're a promising candidate, or to properly introduce yourself if you didn't get a chance to do so at the fair. Try and offer a specific example of information they shared that you found valuable to jog their memory and make your thank you feel extra sincere! Don't forget #8 on this list! Always proofread your message before you hit send.
Ready to give it a go? Sign up for PowerToFly's upcoming Virtual Career Fair here.
READ MORE AND DISCUSS
Show less
Loading...