GET EMAIL UPDATES FROM POWERTOFLY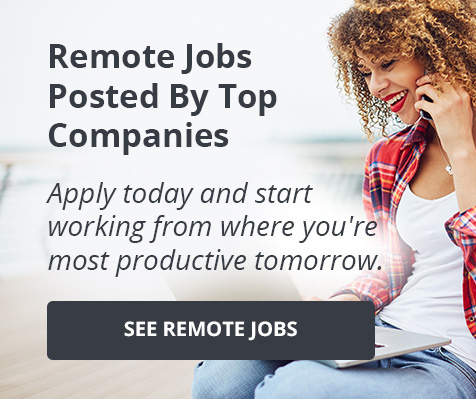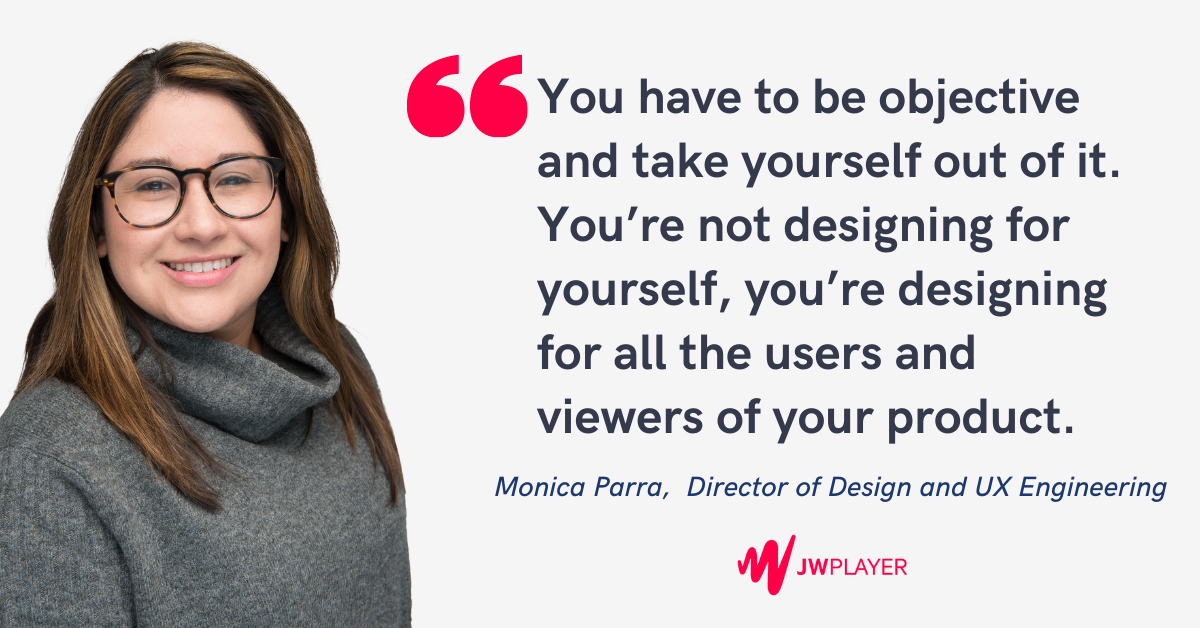 JW PLAYER
Insight from JW Player's Monica Parra
Monica Parra knows she wouldn't have had a successful career in art—and now in design and UX engineering—if she wasn't comfortable with conflict.
"It's actually quite required of us to disagree with each other, because we're after the best possible solution," she says of the creative process. "Healthy debate is really important, and I crave it, to be honest."
That's been true at every stage of her career, from when she made a late switch to art school to when she worked her way into the digital side of traditional media magazines to when she got into digital product design.
Now, Monica is the Director of Design and UX Engineering at video software and data insights platform JW Player.
As a woman working in tech, she's learned how to make sure her perspective is considered. "Men love to interrupt; women love to give people space," she says. "You fight for your voice at the table."
We sat down with Monica to hear more about how she fosters a spirit of healthy debate and collaboration, as well as the career path that brought her here and what advice she has for budding designers looking to find the path that's right for them.
Raising her hand
Monica was studying international business in college when she realized she didn't want to ever work in a cubicle farm. "I saw a future that looked like Dundler Mufflin, and I needed to pivot," she says, smiling. "The only other talent or hobby that I had at the time was graphic design."
She followed that interest, which had previously manifested itself in homemade flyers for family businesses and fun Photoshop projects, all the way into transferring into art school. By the time she graduated, she set out to work in publishing, so she could be a part of editorial storytelling.
Monica thought she'd be working on print magazines, but a recruiter pointed out that lots of publishers were hiring in their digital space. "I really wasn't confident, and they were like, 'Trust me; you have a portfolio. And you'll make more money because there's not so many people in the running for these roles,'" remembers Monica.
She ended up being part of the early design teams at magazines like Newsweek and Spin, and she credits those experiences with teaching her the importance of collaboration.
"We were working with editors, videographers, and photographers, and you got staffed and tried to do your work as fast as possible. That's where I got my hustle," she says. "It's where I learned what a real design team was. It was supportive, with camaraderie and not competition. Truly just a bunch of design nerds, we traded our skills to help each other, we stayed late if someone was on a deadline. The team culture I have today is definitely rooted in that first design team."
While Monica loved her experience in publishing, she felt the industry closing in around her, and once again, she raised her hand to try something new.
"I'd always thought product design was physical—like designing this ChapStick, essentially," she says, gesturing towards an example. "But there was this whole new wave of digital product design, which was a domination of software design and UX, and I had the chance to again be at the forefront of something that was not fully saturated with too many designers," she says.
Leaning into the differences between design and product design
When she moved into product, Monica had to learn not to run to a solutions space. "Instead of going straight into Photoshop and designing to your heart's desire, you start with understanding user goals. What are the requirements of this? How do we know the solution we've chosen is the right solution?," she asks.
She liked the change, saying, "as you get used to what the data can tell you, you start to crave more data."
In trading in her design aesthetic for user perspectives and feedback, Monica found that a lot of the core skills were the same. "You have to be objective and take yourself out of it. You're not designing for yourself, you're designing for all the users and viewers of your product," she says.
When Monica joined JW Player, it was because she was ready for a product design role where she could be more creative. She knew she'd have the chance to build a team, and was excited to do so at the intersection of design and tech for a company whose tech stack and product she really believed in.
"When I started at JW Player, I had friends ask me, 'Why aren't you applying for creative director jobs?' But at the time, I wasn't ready to let it go, to be hands-off," she says. So her first year on the job was focused on digging into product and really creating the kind of design culture she came from and appreciated.
But then it was time to move into a directorship, and Monica knew she was ready. "It's an uncomfortable feeling, but it's a pretty great place to be, when you're ready to be challenged," she says.
3 key skills for being successful in design in tech
Monica has hired both designers and engineers to work on her product team, and here are some of the common markers of success she's seen:
An ability to communicate. "If you don't know how to communicate your design philosophy or thoughts, communication from designer to engineer can break down pretty quickly," she says.
An interest in the other side. Monica looks for designers who are excited to "sit with an engineer and look at every pixel to make sure it's perfect," she says, and engineers who are excited to participate in the creative process.
A belief in compromise. "We cannot be precious about what we built and we cannot insert ourselves as the user for what we're building," says Monica. "This is a career that's not for the faint of heart. You get a lot of hard feedback. I always say I'm very open to being convinced of being wrong, but you have to put in the work to convince me."
Interested in joining the team at JW Player? Check out their open roles!
READ MORE AND DISCUSS
Show less
JW PLAYER
📼 In this video, you'll hear super valuable tips from Thompson Khoo, Senior Recruitment Manager, Ashley Stewart, Senior Technical Recruiter, and Andrew Brancato, Human Resources Associate at JW Player—the leading platform for monetization of advertising in the video space.
📼 There's no magic trick for interviewing, but Andrew shares a keyword that'll help you: attitude! If you have great energy, are engaged and enthusiastic, show up as your authentic self, and are honest about your abilities and skills, you'll make a great impression on the recruitment team.
📼 Get ready: The last step of the interview process involves meeting with members of the team. Prepare for a half-day of getting to know your potential future teammates and familiarizing yourself with the role! Spoiler—JW Player is big on teamwork and offers an environment of support, transparency, and autonomy. Working on JW Player means wearing a lot of hats, which will give you the opportunity to participate in different projects, surrounded by a work culture that supports growth and development.
📼 One last key piece of advice before you go? Sending a timely "thank you" email after the interview will go a long way in helping you stand out.
🧑💼 Are you interested in joining JW Player? They have open roles! To learn more about them, click here.
READ MORE AND DISCUSS
Show less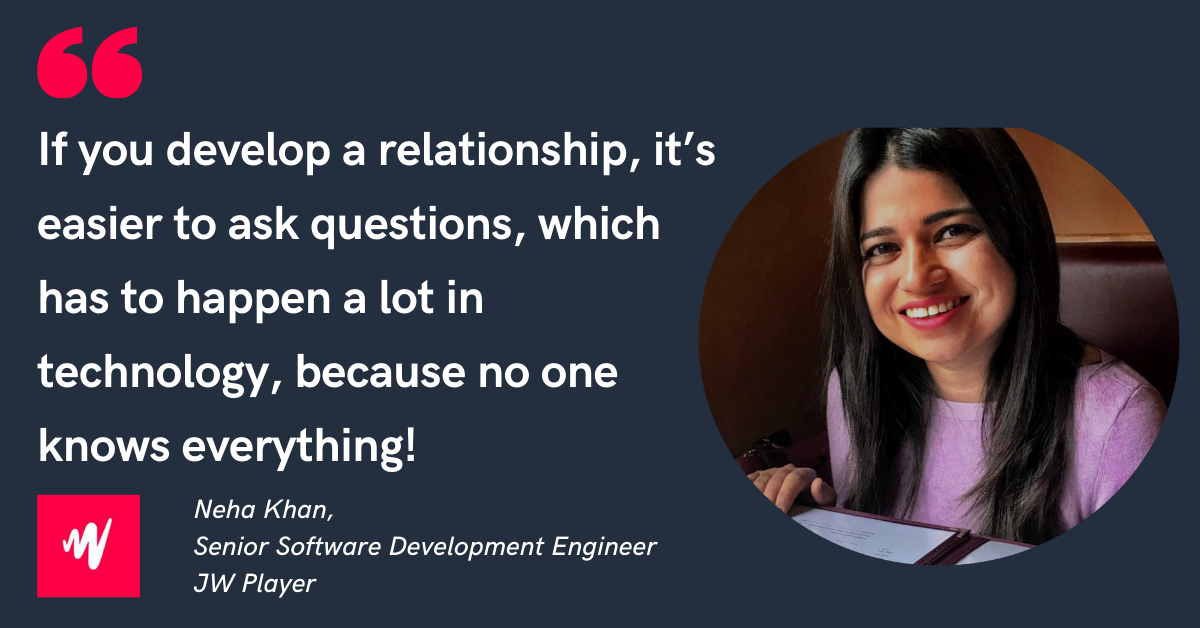 Personal Narratives
JW Player Senior Software Development Engineer Neha Khan Talks Company Culture and Collaborative Problem-Solving
When Neha Khan moved to Seattle from India for her first software engineering job in the United States, she didn't know where the grocery store was—or how she'd get there.
Luckily, her work friends helped her out. "They took me for lunch, and somebody even helped me buy groceries because they had a car," she says, smiling.
Neha has moved industries and jobs several times since then, but she's still a huge believer in the importance of having work friends. In fact, it's become part of how she evaluates a company's culture: is it a place she could make a life-changing friendship?
From her first interview at JW Player, Neha knew the video platform was that kind of place.
We sat down with the senior software development engineer to hear about why work friendships matter, how JW Player's culture fosters those kinds of relationships, and how the combination of interpersonal connection and a thoughtful culture creates better outcomes for everyone involved.
Why friendships matter at work
Neha says that her first good work friend in the U.S. taught her about three things: football, eggnog, and Christmas. That vital knowledge was conveyed on a cross-country trip where Neha visited Boston to explore Harvard and spend Christmas with her friend's family.
But a work friendship can bring more than just personal joy and the satisfaction of a well-spiced cup of holiday cheer.
"Human beings want to work with other people, and to have some fun, so that's the first aspect," says Neha of friendships at work. "The second is in terms of learning."
Neha shares the story of a new hire at work who felt too scared and shy to ask her team questions about work. Neha's advice to her was to warm up to her new teammates as friends first, whether to talk about their backgrounds or learn about their hobbies, and start to see them as approachable peers versus people she had to impress. "If you develop a relationship, it's easier to ask questions, which has to happen a lot in technology, because no one knows everything!" says Neha.
How JW Player's culture is set up to encourage connection and collaboration
Although Neha found her way into engineering because it was a reliable, well-paying career path that her parents approved of, she's spent 11 years in the field because she loves solving the complex problems that come across her desk as a software development engineer.
She also loves the chance to learn from experts, no matter the industry she's working in. When she was at Amazon's HR department, she learned a lot about U.S. workforce laws, and when she worked at Bank of America, she went deep on how Wall Street works.
But for her to enjoy the process of solving problems and learning about something new, the people around her have to be empathetic, collaborative, and open, and that's not the case everywhere.
"I have interviewed enough to know how they work," says Neha. "A lot of times the interviewer is not collaborative. They don't solve the problem with you. But that's how technology has to be—eventually you have to do teamwork."
She knew JW Player was the kind of workplace she'd like when her first interviewer there collaborated on a solution with her. This was reaffirmed when the company's CTO treated her like a peer in their interview and really valued her ideas. "The company is very, very engineering driven—an engineer has as much of a say as a sales or a product person," she says.
A bonus was realizing how non-hierarchical the engineering team at JW Player is. "As a software engineer, I can share an idea, it doesn't have to come from a principal engineer," she says. "That's helped me grow a lot, because that pushes me to come up with ideas."
It's also given her the opportunity to learn about the media industry and how JW Player lets companies host their own videos, versus relying on big tech to host and distribute them, and thus have more control over their revenue and viewership through their software.
That focus on inclusion and growth is the "best approach" to a friendship-enabling work culture that she's come across, says Neha. Specifically, she thinks the fact that they don't force-rank employees during their review process and that engineers can work on any project irrespective of their place in the hierarchy (which gives them a chance to showcase their architectural and management skills, especially with cross-functional projects) sets JW Player apart.
Neha also loves that the company hosts events to encourage relationship-building, and is down to try just about all of them—from knitting circles (she'd never knit before but can now!) to a gourmet foods club to a lunch-and-learn with senior members of the company.
"I participated in a volunteer program with a senior account manager. Our jobs don't require us to interact on a daily basis, but that day we discovered that we had so many shared interests. And now we're friends!" says Neha.
Paying it forward
Having friends at work makes learning, asking questions, and collaborating easier and more efficient.
But it's also a way to be not just a better employee, but a better world citizen, says Neha.
"Work is the best place to find diversity," she says. "Any other place you go, it'll be mostly people similar to you, but work is a place where you will find people with different interests, different backgrounds, and different nationalities."
For her, that's meant working with people from all over the world and learning about their cultures (and cuisines, since she really is a big fan of adventurous eating). "It's made me more empathetic towards different groups of people," she says. "Maybe I used to have certain stereotypes in mind, but when I interacted with them, it changed."
Now, Neha approaches new colleagues with a deep sense of empathy. "It's important that you develop a more human relationship with people so they can communicate their problems," she says. "Most people would rather work with someone who is easy to work with than someone who is brilliant but has a bad attitude."
Want to find your people at JW Player? Check out their open roles.
READ MORE AND DISCUSS
Show less
Loading...