GET EMAIL UPDATES FROM POWERTOFLY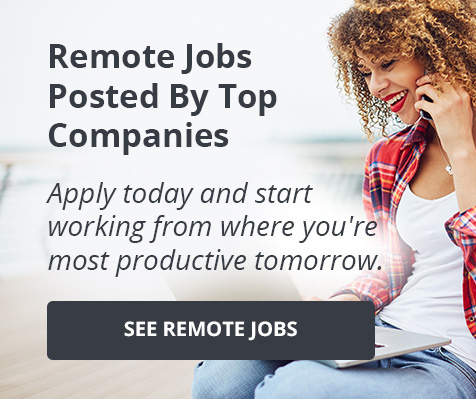 Bloomberg LP
Below is an article originally written by PowerToFly Partner Bloomberg, and published on September 14, 2018. Go to Bloomberg's page on PowerToFly to see their open positions and learn more.
Jaime Chan is a manager on the Engineering Technical Operations team in Bloomberg's New York office.
Like many software developers at Bloomberg, I went to school for computer science and mostly learned about "for" loops and "if" statements. Communication was never an area of focus for me. When I first started, right out of college, I communicated in grunts. The stereotypical developer in a hoodie was really me. Over the next couple of years, I gained some more agency, and, in the process, a better understanding of who I was and the culture I wanted to be a part of.
Flash forward more than a decade, and I'm now a manager on the Internal Applications team at Bloomberg. I work with an amazing group, creating solutions that help our employees provide great customer service to our hundreds of thousands of clients. I'm also involved in corporate diversity programs — particularly for women in tech at Bloomberg. I found my voice, and grew my career through participation in our company culture.
Looking back, I often wonder how I got to where I am today. When did I become so involved? And could what helped me grow in my career, help other fellow technologists grow in theirs?
Here are some lessons I've learned, both from being a leader and benefiting from the leaders who have helped me.
Challenge standard definitions of "leadership"
At Bloomberg, we talk about different leadership qualities and how to bring them out. And it's important to remember that the ways in which these traits show themselves can vary widely for different employees.
For example, by definition, tenacity and persistence can be considered great leadership skills. But one of the things I realized in leading women on my team (and as a woman in technology myself) was the difference in how these qualities are expressed – and how it doesn't necessarily have a bearing on a man or woman's performance leading a team.
A woman who might be less likely to follow up on her own behalf could still be tenacious when it came to vying for budget for her team. I've stopped equating tenacity — or any other one "leadership" quality — with the ability to thrive in a role. I've had to challenge what my standard definition of leadership competency was.
And I've started telling women, who may be reluctant to follow up: "If you get feedback, don't be hard on yourself. The feedback is meant to help you grow." As a female leader, it's important to identify leadership potential, and find ways to provide productive feedback to help people grow in their roles.
Ask what people need
One of the things that kept me from getting personally involved with corporate D&I early in my career was feeling that the conversations didn't specifically apply to me. I didn't perceive it that way, at least. Sure, I was a woman, and a woman in technology, but conversation about diversity can start to sound generic if the employees it's supposed to benefit don't find the conversation personally relevant.
In my group, I've made a point to speak with women, in a candid setting of ten people, to get their thoughts, ask for their feedback, and try to understand their needs. What's on their mind? What things are in their heads that we want to start getting out? What problems are women tired of discussing as "women's issues" just because research pointed to it? What issues are strictly women's issues that don't get talked about, whose taboos should be questioned?
Speak with different groups on your team, so that you're not making assumptions. Be receptive to the nuances of diversity issues. Even if it's one-on-one, solicit that input, and be open to hearing feedback. The best way to understand the nuances of diversity issues and how they play out on your team is simply to ask. And keep asking. People will tell you what their priorities are when you foster the environment – and if you ask.
Be judicious with growth opportunities
The tipping point in my early career — when I really found my voice — was the moment someone tapped me on the shoulder and said, "Hey, here's a new challenge: to rethink how ADSK (Bloomberg's communications analytics desk) is going to work." It was the first time I had to make a choice: Do I leave my old team? Do I take on this big project? Needing to make a career altering decision doesn't give you much choice but to find your voice fast, and trust it.
Leaders may not think of stretch assignments as an inclusion tactic, but the work you delegate implicitly says: "You are depended upon for this project."
While corporate D&I channels are hugely important for building community and holding the business accountable for delivering on inclusion goals, it's also up to employees to seek out those opportunities to grow. One thing I recommend to my team members –- both men and women – is to find their "Board of Directors," as I call them. This is the network you can rely on to remind you of your greatness and push you forward.
Employees need to advocate for their own advancement, but leaders play a big role in the development of a diverse and inclusive team. It's up to us to notice what we can do to support diversity outside of formal channels. I've had to learn how to meet employees where they are — like where I was when I started. Managers have many tools at their disposal to complement the formal channels of engagement in companies. Give them new projects. Look for unconventional leadership traits. Solicit their ideas. Your team's "grunter" of today may be an important voice of your organization's future.
Bloomberg LP
Below is an article originally written by PowerToFly Partner Bloomberg, and published on September 20, 2018. Go to Bloomberg's page on PowerToFly to see their open positions and learn more.
Emerging technologies like machine learning and deep learning are key to helping Bloomberg engineers solve complex problems. While working with over 100 million financial instruments, and thousands of distinct attributes associated with each, it's essential that technologists keep pace with the sophistication of the technology, ensuring the data's accuracy and accessibility while leaving room for creativity and innovation.
Engineers at Bloomberg are encouraged to expand their skill sets through projects they undertake. We talked with Gillian Chin, a data scientist in Bloomberg's Office of the CTO, and software developers Rupali Saboo and Sheryl Zhang, from the Data Services team in New York. We discussed their approach to new technologies, the projects they are able to apply them to, and how their work personally helps ensure the accuracy and accessibility of Bloomberg's data, while also providing a superior user experience.
Using Deep Learning to Detect Anomalies in Text Data Sets
As developers on the Data Services team, Sheryl Zhang and Rupali Saboo are responsible for building a machine learning-based anomaly detection platform. While statistical and rules-based checks work well for some classes of problems, they realized they would need a different approach to effectively tackle text data.
"Rule-based checks to detect anomalies would create an unmanageable system, given the variety of errors possible in text data," said Rupali. "Our goal was to create a low-cost and easy to use platform which would work on different text-based datasets. If we could pull this off, the system could be used effectively to detect anomalies in any text datasets. We realized that deep learning was the best way to achieve this."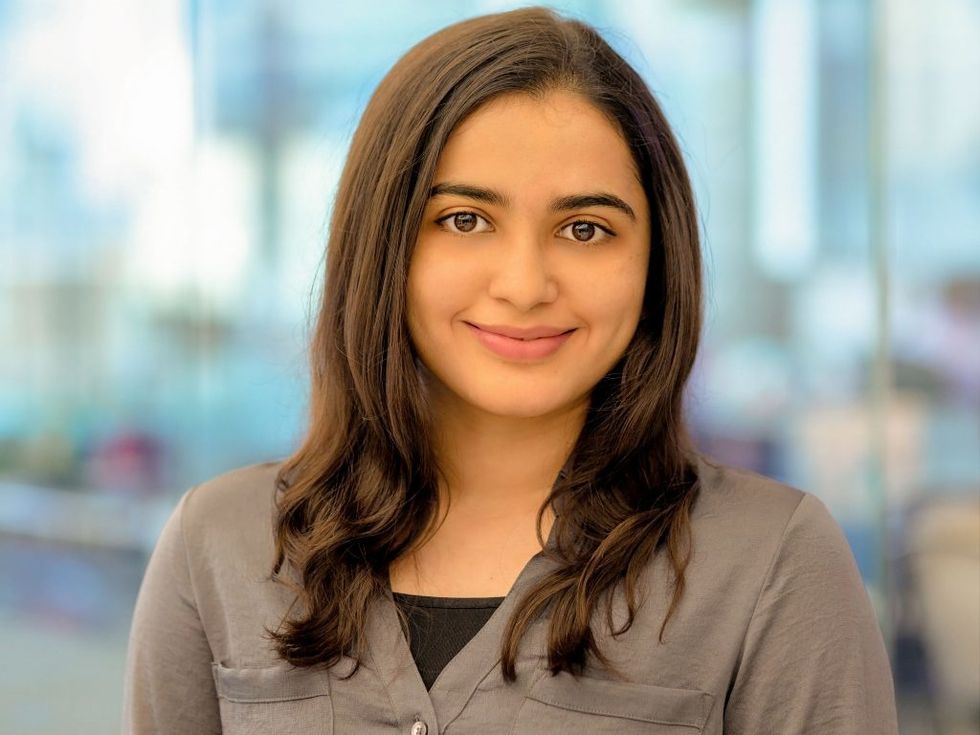 Rupali Saboo(Photographer: Lori Hoffman/Bloomberg)
"We doubted ourselves and had concerns about the idea at first. Neither of us had any formal deep learning background. We had only been working for a year and this wasn't even in the business plans. We were not sure how to proceed," said Sheryl.
Speaking up proved to be a critical part of the process. "We brought this idea forward to our manager, and were surprised with the wholehearted support we received," Rupali adds. "We got started studying and expanding our knowledge of ML-based anomaly detection methods."
At Bloomberg, continued learning is an essential part of the company culture. Rupali and Sheryl took advantage of their access to world-class on-site training sessions and internal education portals, as well as open courses like Bloomberg's Foundations of Machine Learning. The team also huddled together in weekly ML reading groups and participated in hackathons to sharpen their skills. In a few short months, through late nights and hard work, the team had a Minimum Viable Product ready to go.
Sheryl and Rupali had a strong support network in the Bloomberg Women in Technology (BWIT) organization, which provides mentoring, access to allies and sponsors across the company. BWIT also gave Sheryl and Rupali opportunities to pitch their product to senior management. "BWIT mentors helped us gain confidence, improve our presentation skills and become more entrepreneurial," Rupali said. "Presenting at the BWIT Tech Expo in our Princeton office helped us polish our pitch by forcing us to think beyond the technology and focus instead on the value our product offers."
"The exposure we gained at the Tech Expo led to multiple teams partnering with us on their datasets," Sheryl said. "This experience helped us refine our algorithm and improve its accuracy."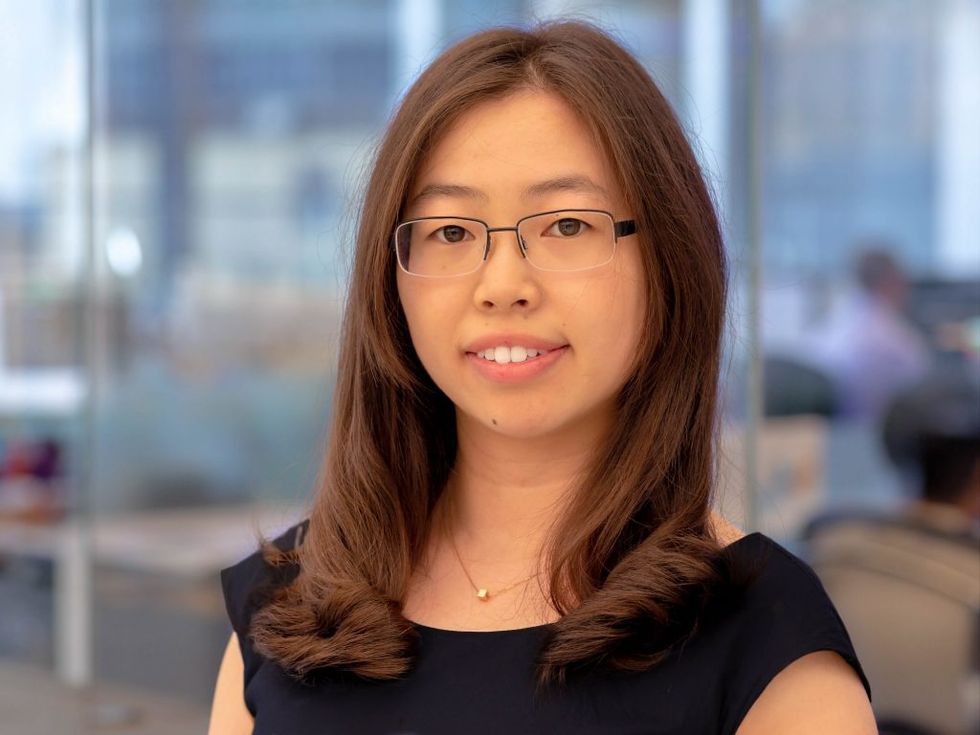 Sheryl ZhangPhotographer: Lori Hoffman/Bloomberg
The system is now running on 5 datasets across different applications, each containing millions of records. It has helped detect and resolve over 10,000 cases where text in the database looked suspicious and was potentially mistyped.
"If we had hesitated and waited until we knew everything, nothing would have gotten done," Sheryl said. "I'm glad we jumped in and made it happen."
The diversity of experiences, backgrounds, and perspectives on Sheryl and Rupali's team, combined with the feedback they solicited from engineering, data and product stakeholders, made creating the deep learning-based platform possible.
"Faced with the difficult problem of text anomaly detection, we engaged in cutting-edge research that benefits every Bloomberg data consumer," said Rupali.
"Data is a key part of our business. It feels great that we took what was an abstract idea and delivered an impactful product," added Sheryl.
Sheryl and Rupali will be presenting their project, "Deep Learning Based Text Anomaly Detection," during the Grace Hopper Celebration 2018 Poster Session, on Wednesday, September 26th, from 11:30 AM-2 PM CDT.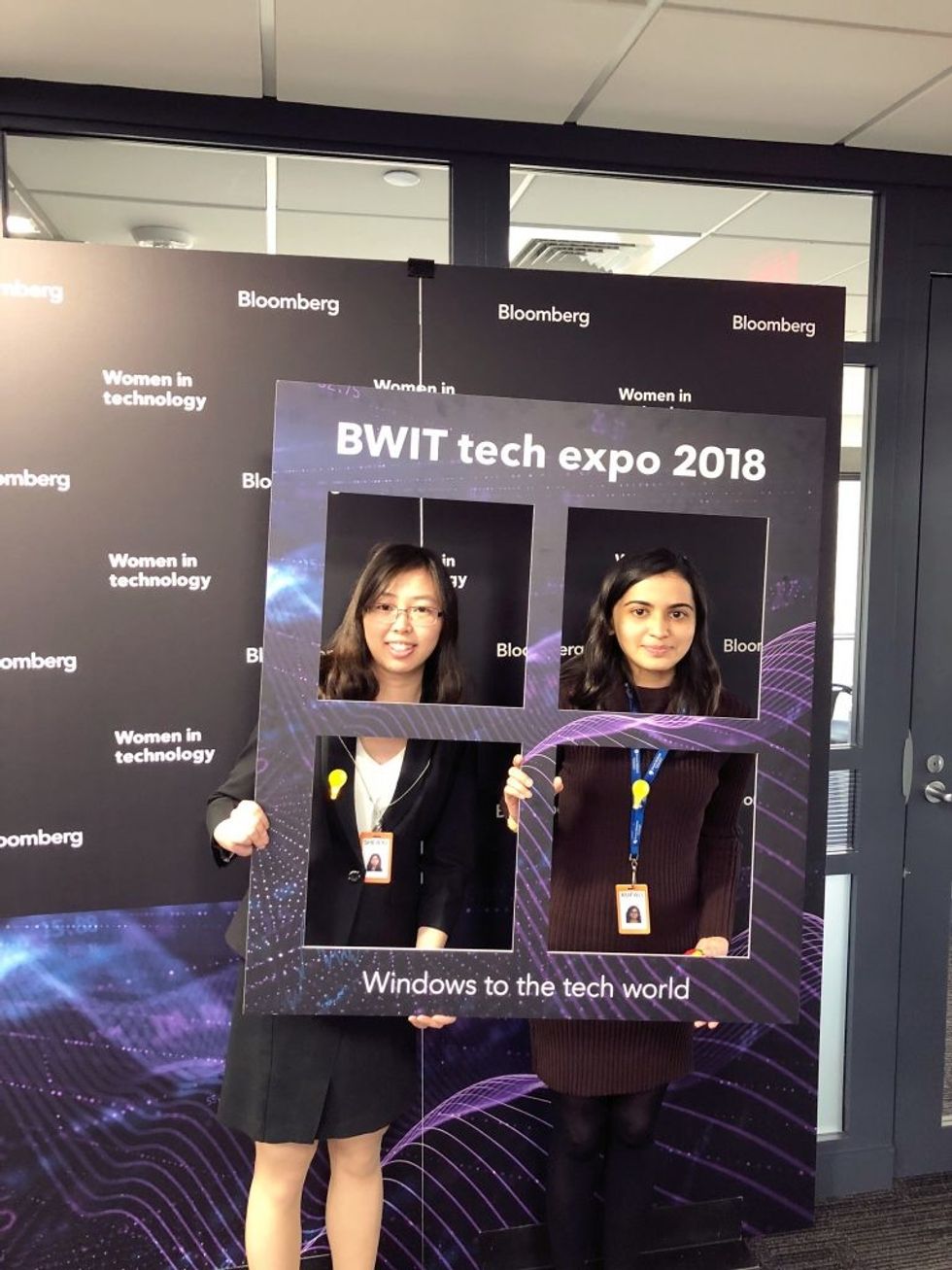 Using Data Science to Improve Bloomberg Clients' Search Experience
In Bloomberg's Office of the CTO, Gillian Chin works on strategic technology initiatives for the company. She is currently focused on the Smarter Autocomplete project, which will improve discoverability in the Bloomberg terminal so that users can find information more quickly. "I can observe the issues our clients are having with search and information discovery on the terminal and I'm determined to improve our clients' experience," she said.
Gillian has a few different roles within the project. She manages the roadmap and sprint work, and conducts the quantitative analysis for assessing user behavior, product adoption and product success. As a data scientist, she traces users' perspectives through observational data to understand how they experience a product wherever possible. Then, she uses these insights to guide future enhancements.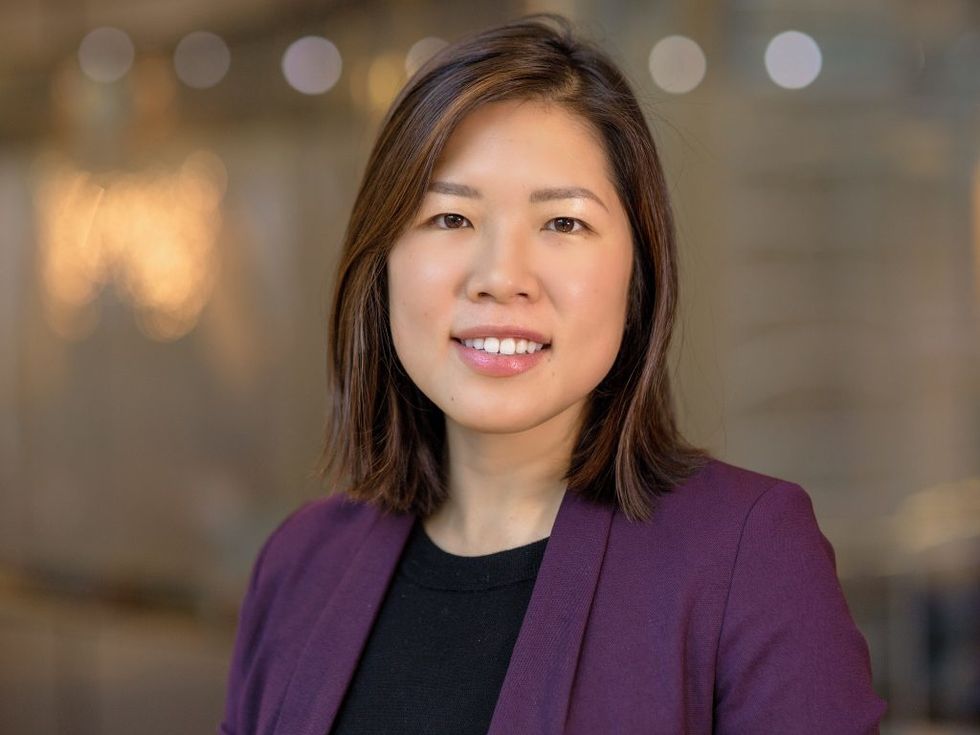 Gillian Chin Photographer: Lori Hoffman/Bloomberg
"Right now, we're slowly evolving the way the command line and autocomplete can help users discover information," said Gillian. "The current process is rigid in that it is built to support the workflow of: load a security, run a function." Gillian's innovative work will allow users to interact with the command line in a more intuitive fashion, so that the discovery paths that users traverse become increasingly more fluid and accessible.
In addition to improving the company's systems, Chin, who holds a Ph.D. from Northwestern University, also chaired Bloomberg's 2018 Data Science Research Grant and 2018 Data Science Ph.D. Fellowship programs. "These programs bring visibility to Bloomberg as a powerhouse of research in the fields of data science and machine learning, and demonstrate the company's willingness to engage and invest in solving important business and technological problems," she said. "It also connects Bloomberg with academics working on cutting-edge research and tangibly supports those communities."
While Bloomberg provides technologists like Gillian with broad parameters that encourage creativity, "I also appreciate how the company operates and how philanthropic Bloomberg is," she said. "I feel the imperative to work at a company with values I strongly believe in, and Bloomberg definitely is one."
Gillian is participating in the "Unexpected Yet Common: Industry after Ph.D." career panel at Grace Hopper on Friday, September 28th, from 1-2 PM CDT (Lanier J in the Hilton Americas-Houston).
Loading...