GET EMAIL UPDATES FROM POWERTOFLY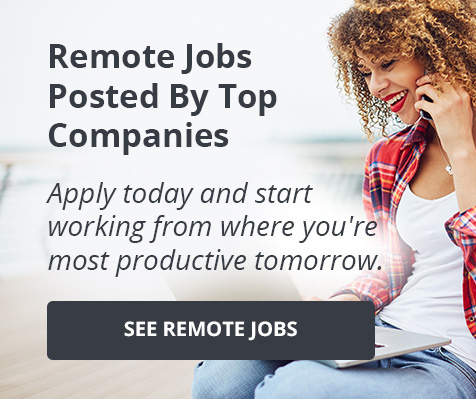 Braintree
Below is an article originally written by Anna Johnson at PowerToFly Partner Braintree, and published on November 13, 2015. Go to Braintree's page on PowerToFly to see their open positions and learn more.
Most of us have probably been in this position at some point: you're scheduled for a job interview at an exciting company, but it's still a few days away. As you anxiously wait, you prepare by furiously reading everything you can find on the company's website. If you're waiting for an interview at Braintree, this means that, at some point, you will run across Braintree's diversity statement:
As our industry finds itself at the center of the conversation about workplace diversity, we must shine a light down our own halls and ensure we're being reflective of the people who use the products we build. With this call to self-awareness comes a responsibility to continually make things better than they are. We're on the hook now. We acknowledge that we have room to grow, and we push ourselves to reach out and actively elevate those who might otherwise be suppressed. We do this through the events we host, the education we support, and the jobs we offer—in the hope that the change we bring about today will ripple through the larger community.
Now, I have to admit, when I first read this, I was impressed. "We're on the hook now" -- that's a bold statement. What's more, as a queer person, this type of statement is an integral part of my job search. Like anybody else, I want to work for a company that is a "good fit," and, for me, a company open to conversations about diversity is part of this fit. But, of course, words don't necessarily lead to actions, so I decided to suspend judgment and wait for my interview to see how Braintree put this statement into practice.
Interview day came, and I was, admittedly, a bit nervous. After checking in at reception, a sticker with a rainbow and Braintree's logo caught my eye. As I toured the office, I noticed more rainbow stickers: a couple on the office sticker board, where employees are encouraged to add any stickers they like, as well as on individual computers. Small and unassuming, many people might not have even noticed them, but, to me, they spoke volumes: this office was "out." Immediately, I was both more and less nervous for my interview. Less nervous because this was clearly a company where I was fully welcome. More nervous because I realized that this was exactly the type of company I was hoping to work for.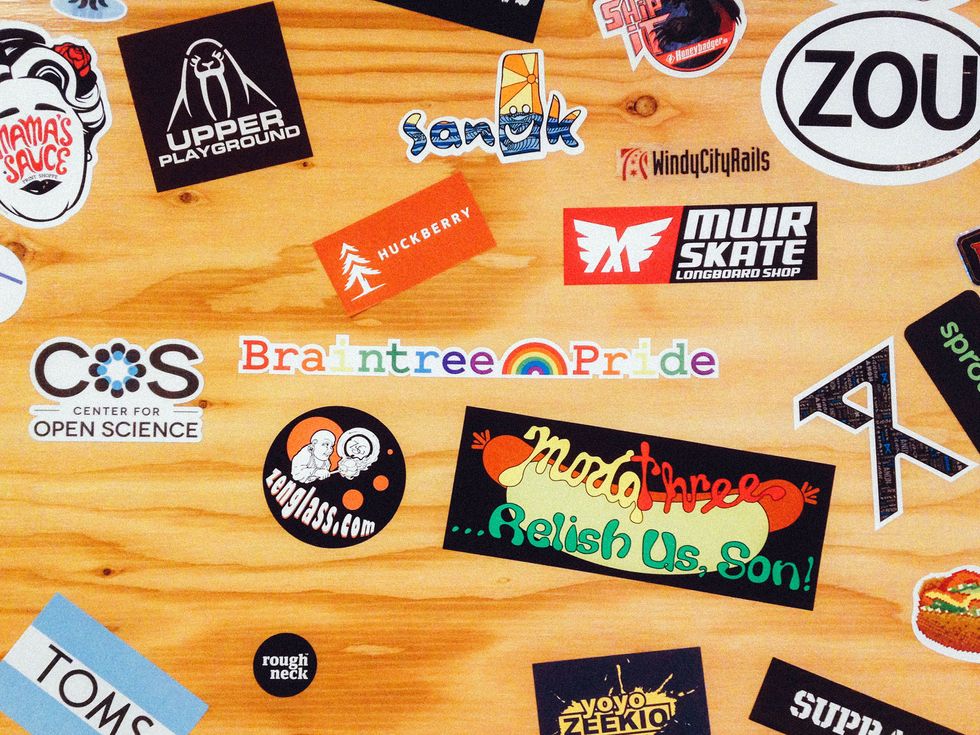 Presumably, my interview went well, because shortly thereafter Braintree called with an offer, which I happily accepted. The first few days at any new company entail quite a bit of acclimation, and at Braintree this includes navigating the landscape of our internal chat system, Slack. As I explored, I came across a channel named "Pride." The #Pride slack channel is many things: a place for new employees to introduce themselves, a place to discuss and organize company events, or simply a place to talk about the best new tv shows (is it Transparent, Grace and Frankie, or Sense8?) and share information and resources, such as adoption procedures in Illinois. Employees from all over the company participate on it, connecting people from a variety of departments who may not otherwise interact with each other on a daily basis.
For me, equally important to #Pride, is the fact that these conversations also happen IRL, amongst LGBTQ and non-LGBTQ identified Braintreeps alike. A perfect example of this is the recent Pride@BT social hosted by the office. Over 50 employees RSVP'd for the event, and we had a lovely evening sipping drinks, eating pizza, and playing ping pong. Again, an after work social may not seem like a momentous event, but, at least for me, little actions such as this speak to the everyday, open culture Braintree and its employees work to foster.
To return to Braintree's diversity statement, this blog post is by no means meant to let Braintree "off the hook." Diversity and inclusion are complicated practices, involving many different identities; they're not a one-off that can be addressed by a single blog post or a single experience. We "have a responsibility to continually make things better than they are." Along these lines, what this post hopefully does is point out the little actions a company and its employees can take in order to participate in this continual process. As a job candidate, I looked for and immediately picked up on these little things, and as I continue to acclimate to the Braintree world, the little things are adding up to make a huge difference.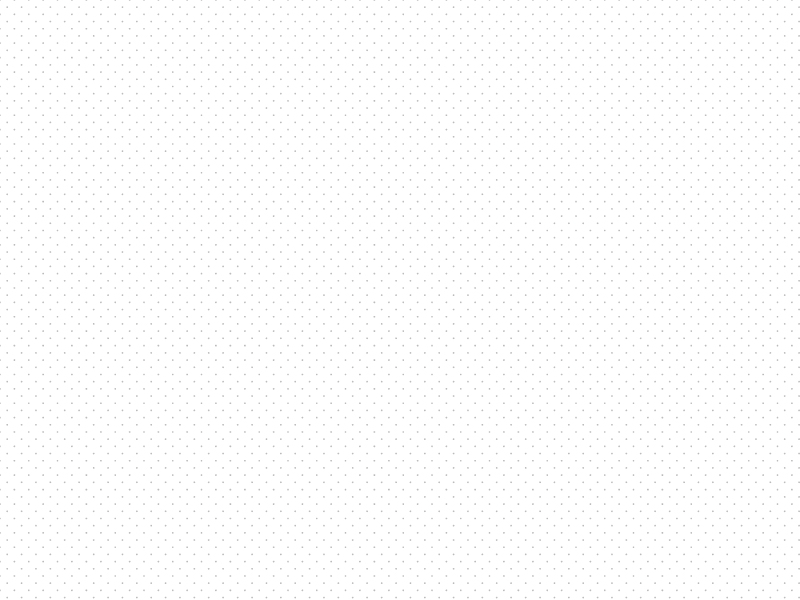 ***
READ MORE AND DISCUSS
Show less

Braintree
Below is an article originally written by Terri Shih, an Analyst at PowerToFly Partner Braintree, and published on March 7, 2018. Go to Braintree's page on PowerToFly to see their open positions and learn more.
For my first few months at Braintree, I struggled with meeting people outside of my team. As someone who enjoys building relationships with different people, this often made me feel alone.
I had a great team and enjoyed the work, but it was difficult to meet new people -- let alone get to know anyone I didn't work with directly. Most people ate lunch either at their desks or with their teams, and with a Chicago office of 500+ employees, you could easily walk across the floor and only recognize a handful of people. While I enjoyed socializing with people I already knew, the emotional energy required to meet new people was overwhelming because I'm naturally more of an introverted person. And since my role doesn't require much interaction with other teams, the thought of simply walking up and introducing myself to someone new seemed daunting.
As I started to work with others who are passionate about Diversity & Inclusion, I learned that many had, and continued to have, similar feelings even months into their job. We asked ourselves what would have made this transition easier for us, and that's how Let's Get Together was born.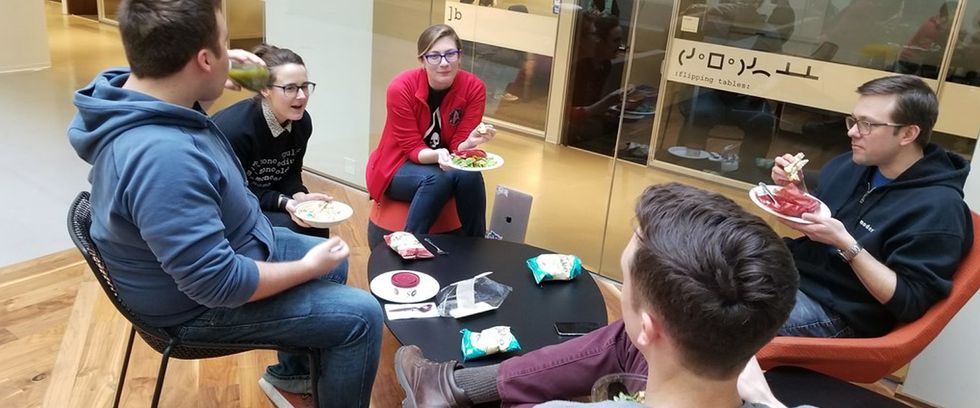 The idea behind Let's Get Together is simple: build a structured program that helps people in the same office meet each other. To get it started, we created an opt-in survey asking people their name, contact information, and location. I then built a simple random generator script in Python during an Open Dev day, which created groups of ~5 people by office. Each month groups are emailed out, and the individuals in that group find a time and place that works for them.
Our office serves lunch so that's always an easy place to start, but people have gotten more creative, going out for ice cream or boba tea, organizing holiday gift exchanges, or taking walks when the weather is nice. We've found that giving people flexibility to pick a time and activity works best, as it helps people with scheduled lunches/breaks or non-9am-5pm hours participate. New hires are now alerted to this program during their first weeks so that they can sign up.
Our program has been active now for over a year. In that time we've had more than 200 people across three offices sign up. The feedback, which we collect monthly, has been overwhelmingly positive. Over a 4-month period from June through October 2017, ~90% of survey respondents said they would or have recommend Let's Get Together to a coworker, and ~80% of respondents met someone new. Of course there have been a few hiccups here and there, but through collecting regular feedback, we have been able to make improvements.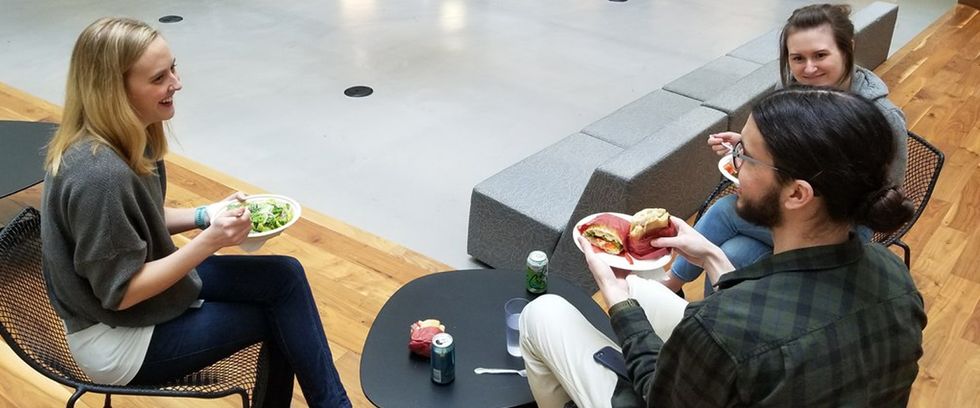 For anyone looking to implement this type of program, here are some learnings I've gathered:
Start simple. At first, I tried to write the most elegant script with every feature. Deciding what to prioritize for a future phase allowed us to get this program off the ground with very positive feedback.
Ask managers about their concerns. Managers of customer-facing teams expressed concern that team members with scheduled breaks/lunches may be left out. We therefore encourage people to consider activities beyond lunch and ask groups to be mindful of schedules when planning.
Get feedback, early and often. We didn't start collecting monthly feedback until 6+ months after the program started. I strongly believe that having people's input earlier could have helped to understand why some groups weren't meeting and what features we could add to improve this.
Send out regular reminders. We chose to send out new groups on a monthly basis since schedules are hard to coordinate. Based on survey feedback, we realized that if people didn't see their assignments right away they might not remember until the next month's email went out! This led us to send mid-month reminders to help improve participation.
Designate a group leader. Having someone to start communication and find a time that works for everyone is very helpful. Encourage partial groups to meet a couple of times if they can't find one time that works for everyone. We simplified this by designating the first person listed in each group to be the leader.
Create a calendar invite once the group has agreed on a time. It's much easier to remember and plan if it's in plain sight!
Choose a communication method. The one your company most frequently communicates with is probably best. Our groups are currently emailed out, but I quickly realized that chat is more integral to internal communication. In the future we're hoping to implement a chat feature that starts communication for groups each month and sends out reminders.
It's easy to fall back on advising someone to "try to meet new people." It's also easy to forget that that task can be daunting for some people. By implementing the Let's Get Together program, we've found that the simple act of providing people with a group of names they should try and meet each month has helped build connections and foster community -- these can be key components to any company's successful Diversity & Inclusion efforts.
Now if you'll excuse me, I have some folks I'm about to get together with!
***
READ MORE AND DISCUSS
Show less
Loading...