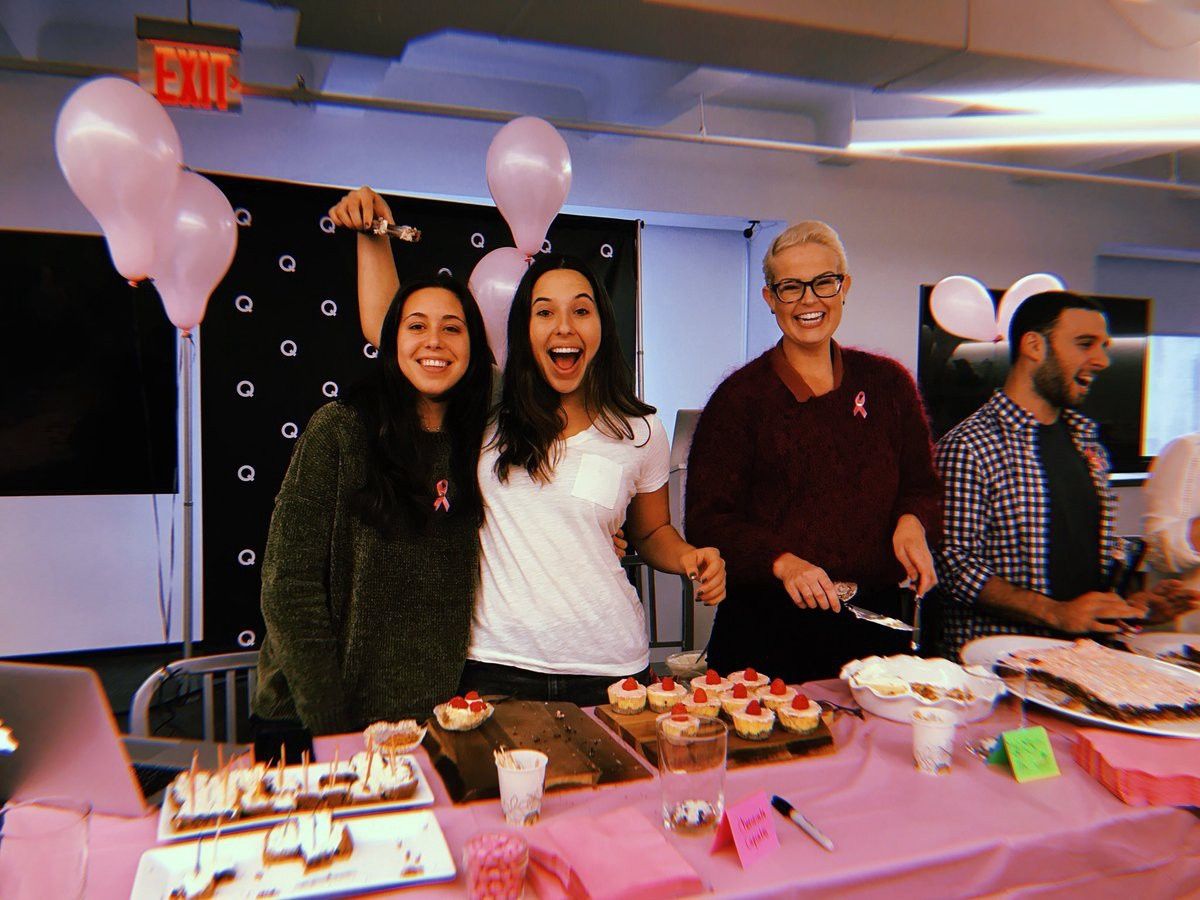 With my co-workers at Managed by Q's 2018 bake-off to raise money for Susan G. Komen
Managed By Q Inc
Below is an article originally written by Drew McColley at PowerToFly Partner Managed by Q, and published on October 25, 2018. Go to Managed by Q's page on PowerToFly to see their open positions and learn more.
When I started working for Managed by Q in February of 2017, I was quickly swept up in a flurry of activities organized by our People and Culture team. I was thrilled to be part of the company's culture and to get to know my coworkers, so I went to every happy hour and signed up for every extracurricular program. The beginning of my story was not uncommon for a tech startup employee, but Managed by Q's programming would eventually end up having an impact on my life that would go far beyond a fun night out.
I had been with the company about eight months when our People and Culture team organized several events in October for National Breast Cancer Awareness Month, including a bake-off where the proceeds went to Susan G. Komen. I was excited that my pink ribbon sprinkle cookies won the taste test and Q donated to Susan G. Komen in my honor. Following the bake-off, Q invited Lindsay Jean Thomson, breast cancer survivor and Vice contributor, to tell her story. Her harrowing tale made a deep impression on me as she is the same age as me and my many under-30 coworkers. While I felt empathy for Lindsay and felt it was important for me to participate in Q's awareness events, I didn't fully value their weight because I was young and healthy.
However, the information from those events must have subconsciously taken hold. A few weeks later, I did a self-examination and found a golf ball size lump. The radiologist couldn't look me in the face as she went over the mammogram. She kept asking, "how old are you?", shaking her head in disbelief of what she was seeing on her screen. I had stage 3 breast cancer; I was 29 years old.
The following year would consist of me balancing multiple grueling treatments and still going into the office nearly every day. I wore a wig and a smile, and with the exception of my direct team and People and Culture knowing the truth, I was proud I could fight through the work day with very few people knowing that I was sick. This past week, I completed one of the final treatments, and being cancer free is nearly in sight!
I think often about how Q's programming was the motivation that got me to the doctor, and how it ultimately saved my life. The scary part for me to consider is that without Managed by Q's participation in Breast Cancer Awareness Month, it is likely that I wouldn't have found the lump until it was too late.
While the reaction from the radiologist who originally provided the diagnosis might make you think twenty-somethings with cancer are rare, it turns out it's not that uncommon. According to Susan G. Komen, 1 in 8 women will be diagnosed with breast cancer at some point in their lifetime. The Young Survival Coalition states that in the US alone, 70,000 women between ages 15–39 are diagnosed every year. Nearly 40,000 women in the US will die annually from the disease, 1,000 of whom will be under the age of 40. Looking around the office and seeing how many women work here, it's sobering to know that statistically, there will be more women that I work with diagnosed with breast cancer in their lifetime.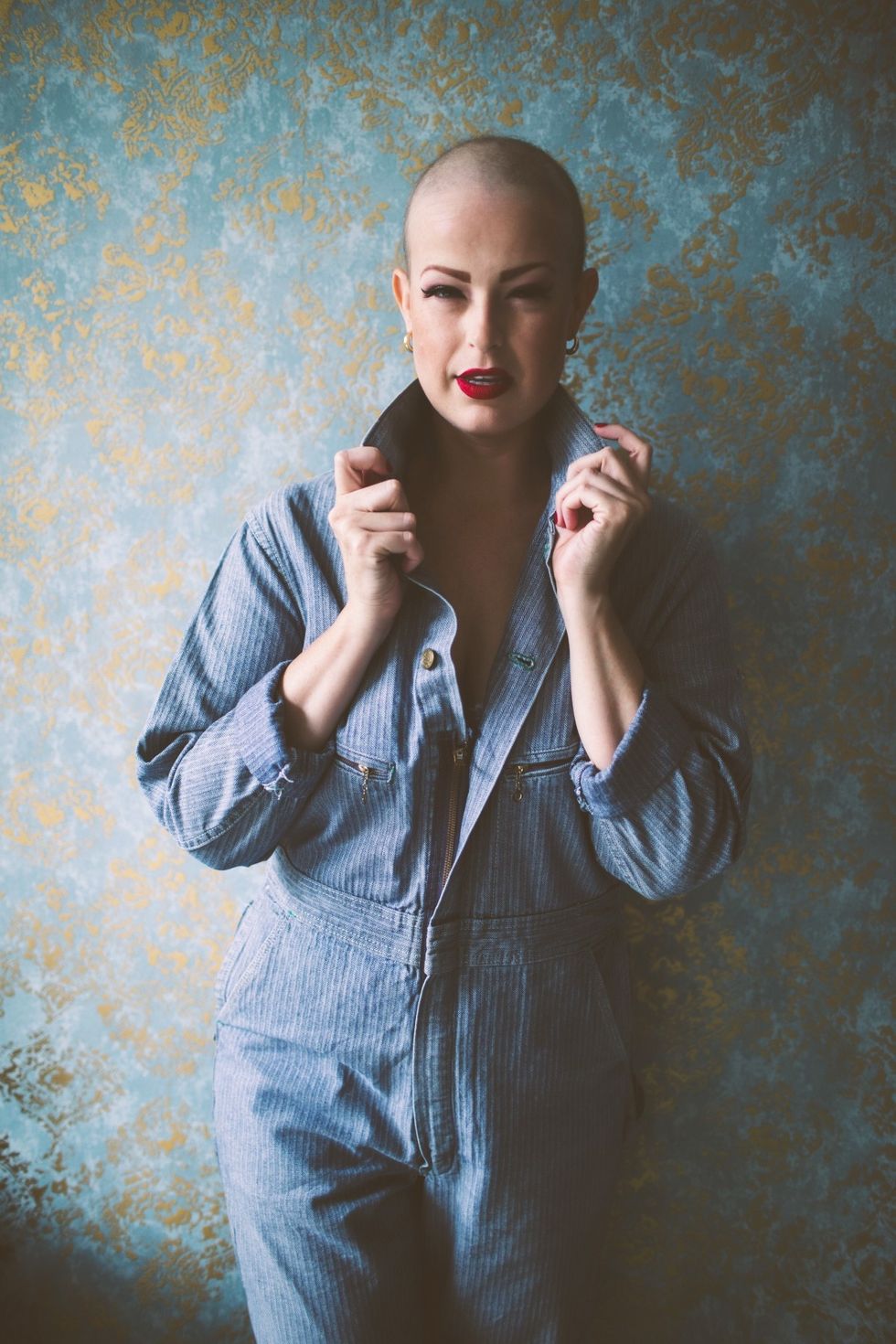 Shortly after I finished chemo, June 2018
The Affordable Care Act requires insurance companies to cover mammograms starting at the age of 40, but most insurance companies don't offer regular screenings for the disease prior to that age because they're not legally required to. Considering that millennials, the eldest of whom are now 37 years old, are soon to make up 75% of the workforce, that means that most women in the workplace are not getting insured coverage for breast cancer screenings. While it is important that individuals know what their own health care plans cover, I do think that companies should step up to the plate as well. In the same way that employer-provided flu shots are now commonplace, so should breast cancer education and screenings.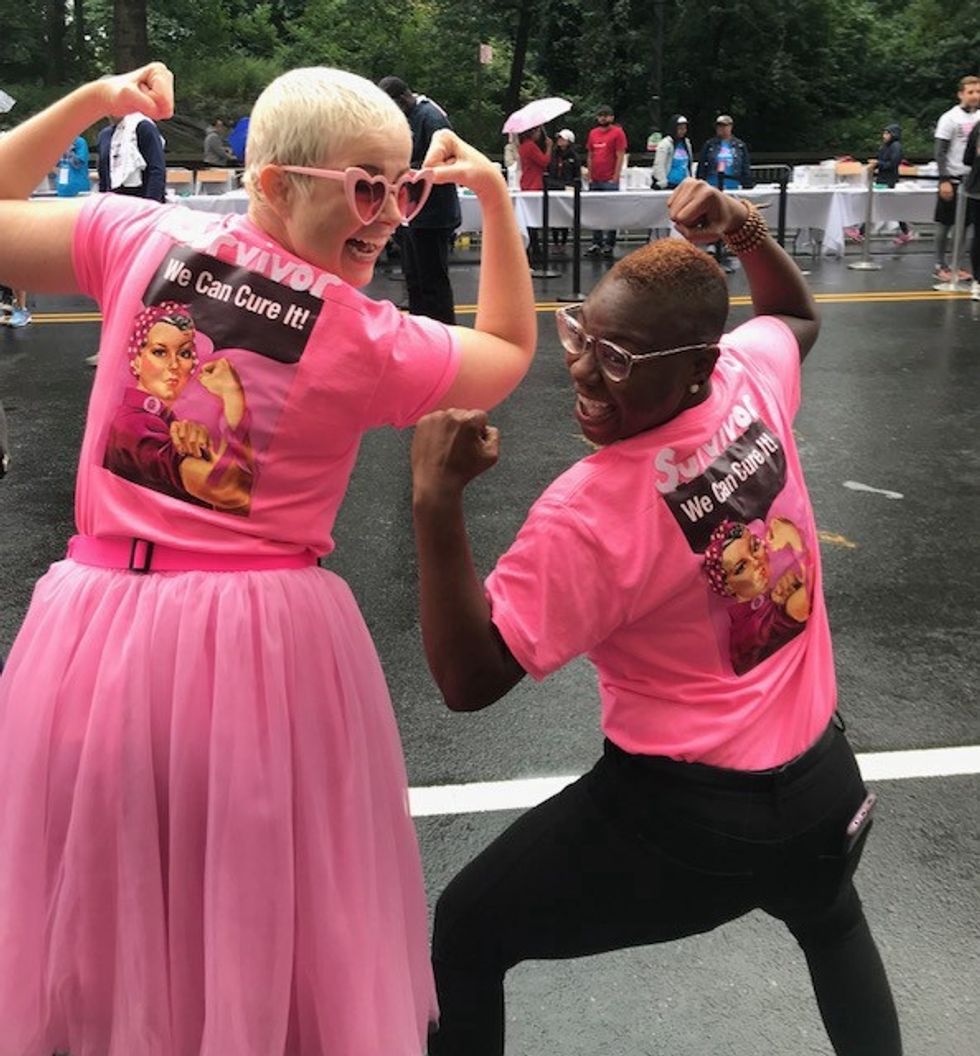 With fellow survivor and Managed by Q alum, Helena, at Susan G. Komen's Race For The Cure September 2018
During this Breast Cancer Awareness Month, there are quite a few impactful activities, beyond wearing pink, that any People and Culture team can do to make sure its team is informed on the subject and, ultimately, stays healthy. These are my top suggestions:
This year, Q continued with the awareness programming, hosting another Susan G. Komen fundraising bake-off where we outdid last year's record. And this week, New York's Susan G. Komen CEO, Linda Tantawi, came to Q to further educate us on early detection.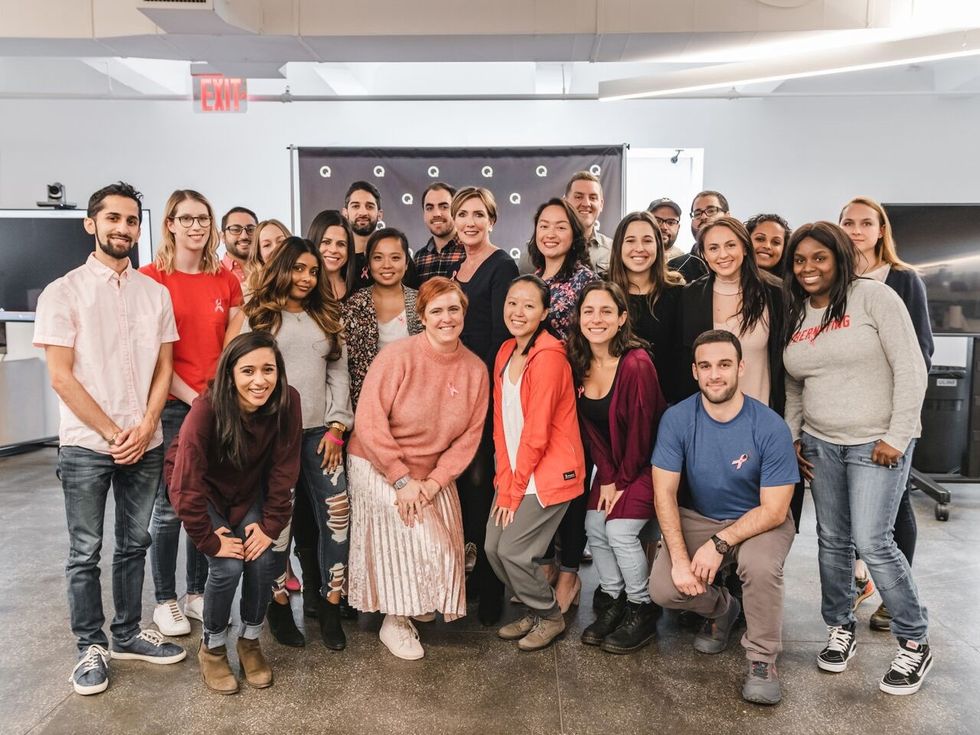 Managed by Q's team with Susan G. Komen NY's CEO, Linda Tantawi
It's been almost a year since my diagnosis. As I have undergone treatment, the team at Managed by Q has been there for me in every way imaginable. I'm grateful that my employer cared for me when I needed them most, and it ultimately has made me an incredibly dedicated employee. I couldn't be more humbled and proud to work for a company that values the health and care of its employees.
During Breast Cancer Awareness Month, and every month, I encourage other companies to take initiative where insurance companies fall short: raise awareness, educate everyone on the facts about breast cancer, and offer screenings. It could ultimately save your co-worker's life.
READ MORE AND DISCUSS
Show less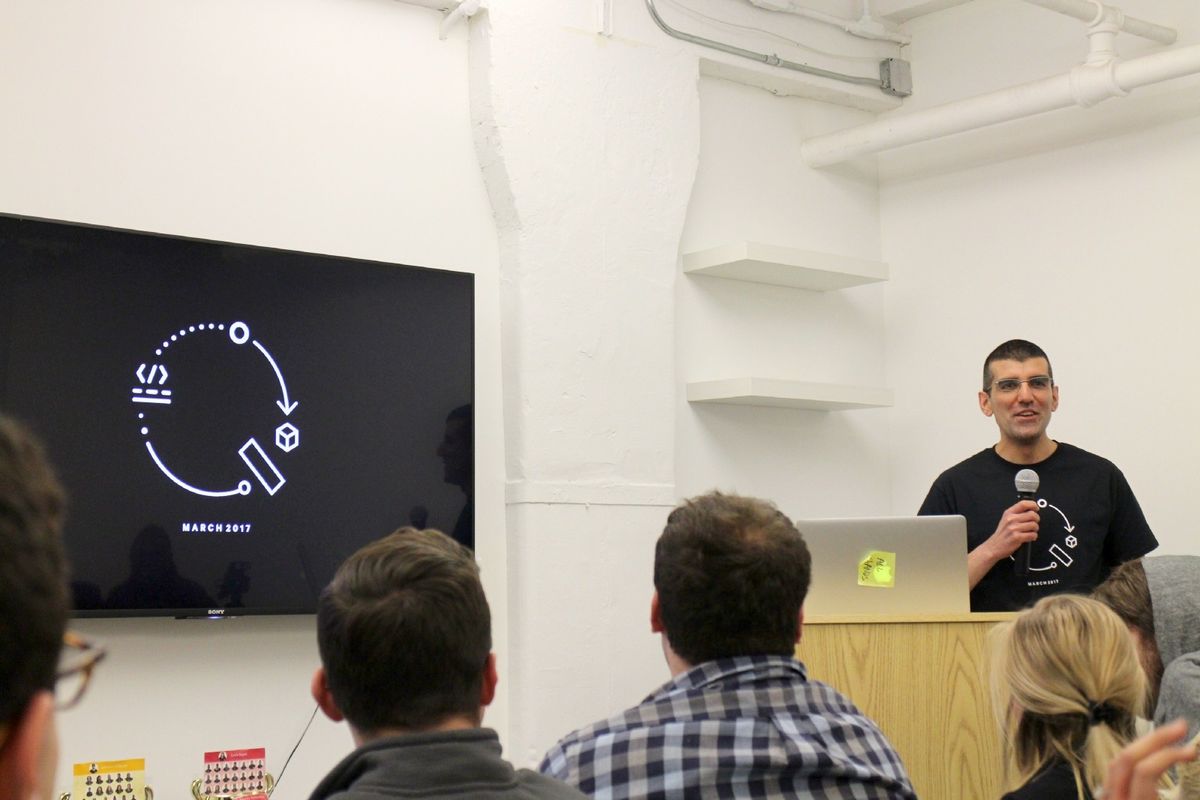 Managed By Q Inc
Below is an article originally written by Rochelle DiRe at PowerToFly Partner Managed by Q, and published on April 4, 2017. Go to Managed by Q's page on PowerToFly to see their open positions and learn more.
The fluorescent-lit training room at Managed by Q was standing-room only. We were all cracking smiles, up on our toes or shifting in our seats, tipping beers, and scanning for a sign that things were beginning. We were all Ferris Bueller and we were in on the joke. Even the engineers seemed giddy. It was time for the reveal.
One by one, teams came up — we each had a strict two minutes to pitch our projects. The wave of delight and pride crescendoed when our newly-minted product manager, Chris Schilling, debuted SnapQuote, a product feature that would enable Q clients to request project quotes through a Snapchat-inspired mobile application. Chris demo-ed a trash hauling request and the room erupted. We were suddenly chanting "SNAP THAT JUNK" in unison, screaming like children or fans during March Madness.
It was 7 pm on a Friday night and the office felt like the best place on earth. Managed by Q had just wrapped its first Hack Day.
As Q's Chief People Officer, I was eager to decode what made Hack Day so distinct and gratifying. During my two decades of managing people and culture teams at companies ranging from Limewire to Martha Stewart Living to Quirky, I had never seen anything quite like it.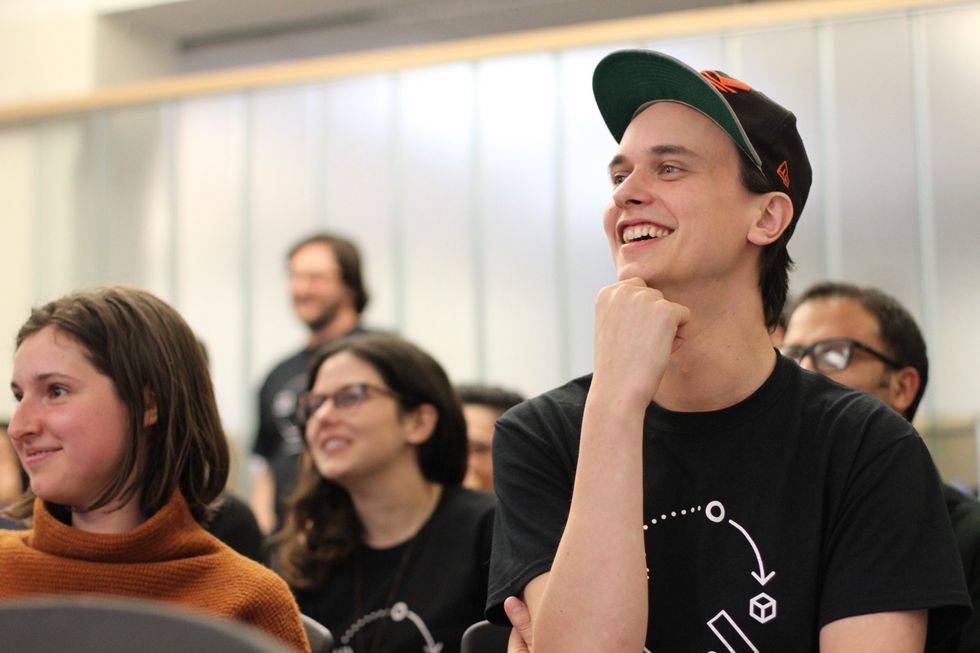 On Hack Day, we worked singlemindedly
Hack Day is a cloudless, meeting-free day. Liberated from the fragmentation of normal office existence, we suddenly sensed possibility. Unbroken concentration and a ticking clock meant a release from anything irrelevant to the task at hand. The daily arrhythmia of our always-on workplace was replaced by feverish intensity, camaraderie, and confidence. We were entirely focused on the goal at hand and we produced.
As Cal Newport has written, deep work — the ability to focus on one task without distraction and at the edge of your cognitive comfort zone — will be the 21st-century's competitive advantage and superpower for those who can master it.
With only a few hours to realize our projects, on Hack Day we devoted ourselves entirely to the work that moved the needle the fastest and farthest. Planning suddenly felt like a form of foreplay; focus on polishing felt like a form of procrastination.
On Hack Day, we erased the org chart.
Our Hack Day teams — acting without mandates or marching orders — brilliantly and effectively self-organized.
Without explicit goals, roadmaps, boundaries, or guidelines, the only people we had to please on Hack Day were ourselves. We looked to no one to criticize, rescue, or validate our ideas or projects. Institutional voices were silenced; shackles of hesitancy and self-consciousness were broken. We were absolved from the expectations and constraints of being a specialist or knowing all the answers — and in a twist, we ended up doing some of our best work.
Decision-making power flowed freely between people depending on the needs of the moment. The only organizing principle was to solve problems directly for our customer, or solve a pain point that plagued the company. Whoever could make progress on our issue won the moment. I was impressed when Jean, a senior product designer finishing up her fifth day at Q, rose to lead our team several times — and again when the baton was gracefully passed along to another teammate who could best maintain our momentum.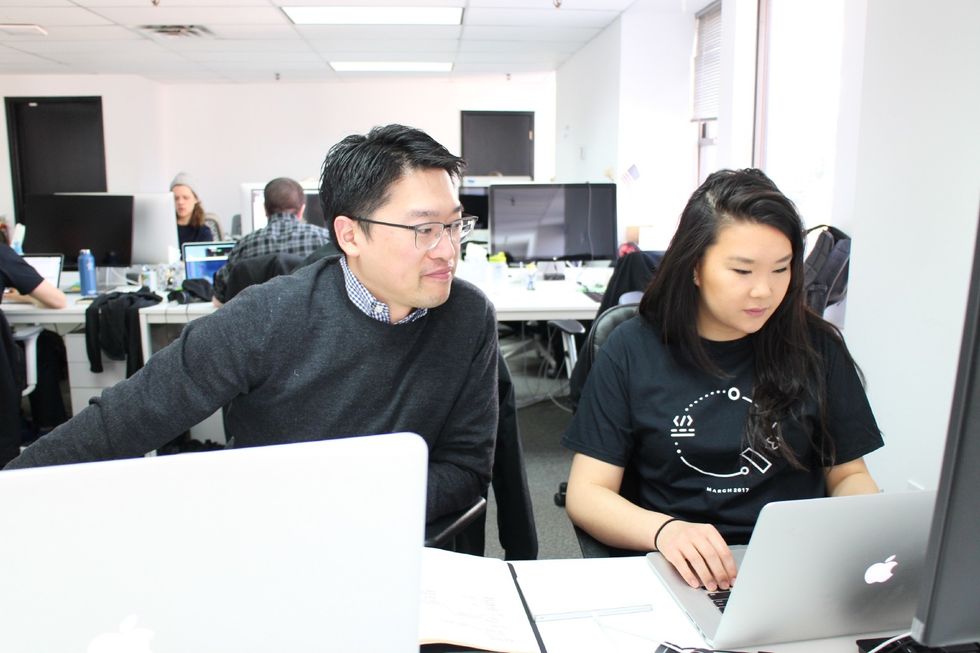 On Hack Day, we were all founders.
Hack Day catapulted me back to the experience of producing a play when I was a kid. When we are young, we happily and confidently assume every role: we are playwright, graphic designer, set designer. Our passion and joy in creation carries the day; collaboration is effortless. The production is bigger than our individual selves, we're invested in what needs to get done. Our only concern is what we are aspiring to build.
On Hack Day, infused with a 'let's put on a show' spirit, we assumed any role necessary to breathe life into our ideas, becoming product managers, designers, and project managers as needed. Hack Day was a reminder of why we work at a startup. By stepping outside the day-to-day, the risks we took filled the rooms with fresh air, the level of investment buoyed us with new energy.
On holiday from the Rube Goldberg machinery of typical office projects — and relieved from our own preconceptions of how 'work gets done' — Hack Day exposed the strength of our culture and unleashed the full passion, creativity and talent of our team.
Managed by Q is entering its 4th year of operations this month, and as we grow, we're determined to hold on to the spirit and tenacity that drove us in our first year. As our CEO Dan Teran Slacked that night after Hack Day, "if it doesn't feel like the early days, it's not worth doing."

READ MORE AND DISCUSS
Show less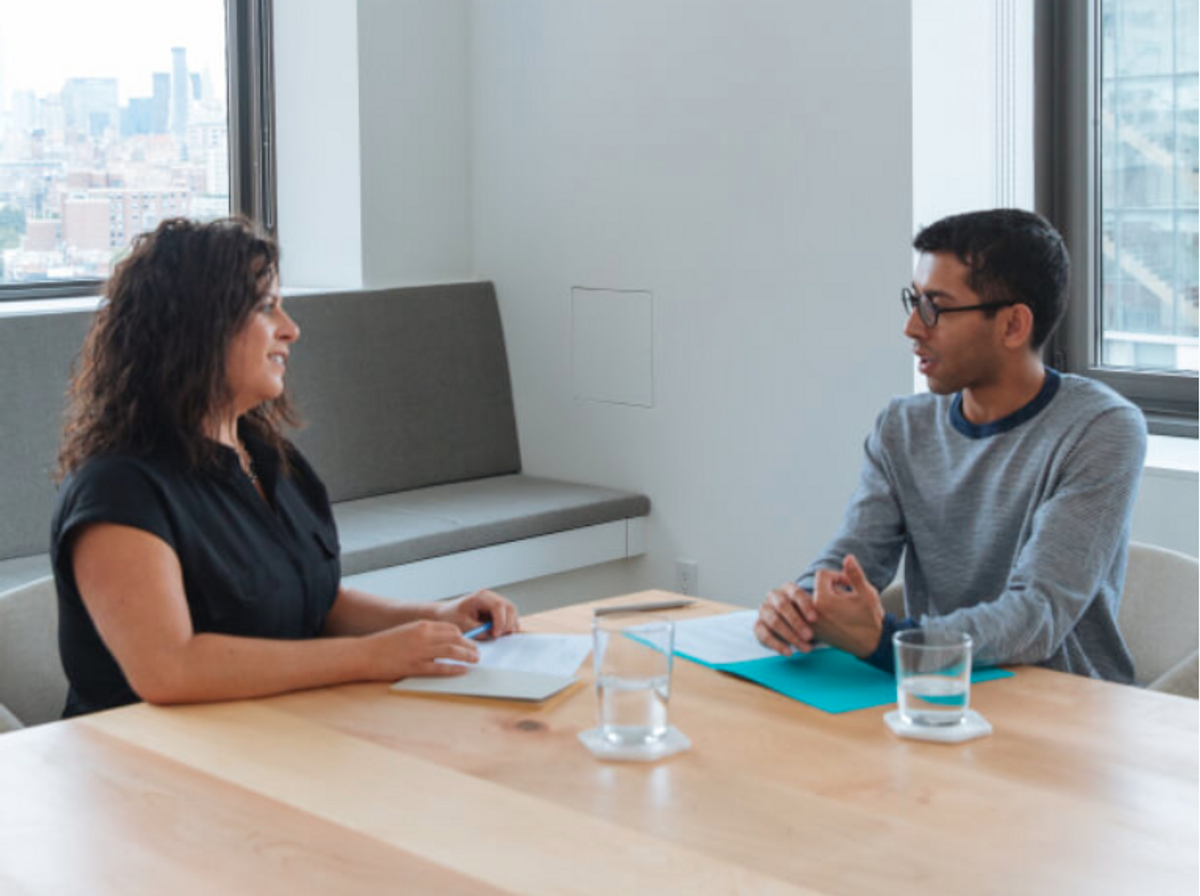 Managed By Q Inc
How Managed By Q Creates a Positive Company Culture
Below is an article originally published by PowerToFly Partner Managed By Q here. Go to Managed By Q's page on PowerToFly to see their open positions and learn more.
"Company culture" is a buzzword we've all heard by now. As the name implies, it's a nod to a company's way of being—how their values and expectations shape the employee experience. Fitting in with the company vibe can make a huge difference when it comes to your professional growth and career happiness, but culture can be notoriously difficult to gauge. When you are interviewing for a job, how do you get a sense of how a company lives their values and the cultural expectations they have for their employees?
To help guide job seekers, we tapped career experts who are immersed in the topic. These eight interview questions will help you get sense of a company's culture and whether it's a good fit for you.
What do most employees do for lunch?
"I love this question," says longtime HR mentor and career coach Nicole Drummond. "Are people eating sad salads at their desks? Or do small groups go out and get lunch together? Is there a dining area where people gather, even if it's just for 30 minutes? It's a question most people don't ask, so it's a great way to gauge the culture."
A worthy follow-up is to ask about any regular social events. Connecting with fellow employees plays a major role in work happiness. Go beyond the water cooler and ask directly about routine get-togethers and other opportunities for fostering authentic connections.
Can I take an office tour?
This is a simple question that can reveal much about life at a particular office. Do you see closed cubicles or a collaborative, open-air setup? Take note of the dress code; are employees in straight-laced business attire or more self-expressive clothing?
An office tour is also an ideal time to ask the interviewer about what work styles the company supports. Is it a strict in-office, 9-to-5 policy? Or do employees have the option to, say, take their laptop to a local park to meet deadlines in the fresh air? Is working remotely on the table? You won't always know until you ask.
How are employees recognized for their achievements (and failures)?
What happens when someone slam dunks a project?
"Is it just kudos on Slack or in an email, or is it a shout out at town hall?" asks Drummond. "Celebrating each other's successes, for me, is a big thing. We all want to be recognized; it can sometimes feel better than a raise!"
On the flip side, what happens if you flop? A smart way to find out is to ask how they handle letting someone go, adds Drummond. On that note, if an employee is struggling to meet expectations, what kind of support does HR provide?
What you're really trying to figure out with these questions is if the company encourages employees to try new approaches and take reasonable risks.
How does this role fit into the overall company goals?
Instead of asking what the company values are, which might elicit a generic response, ask specifically how the job you're interviewing for plays into their big-picture objectives. In what way does it support the grander vision? This tack clarifies the impact you'll have at the company, while simultaneously highlighting their values.
What is one characteristic all employees have in common?
Ariel Lopez, founder and CEO of 2020Shift, says this question will probably catch the interviewer off guard. (In a good way).
"Maybe it's something fresh and unexpected, like a great sense of humor," she says. "You might get a cliché answer, like 'team players who are self-motivated,' but you might also get something more genuine and telling about the company culture."
What are the growth opportunities like?
This is a biggie. A solid culture fit goes hand in hand with feeling supported to learn and grow.
"Definitely ask what they look for when promoting individuals, and also what they look for in managers and their executive staff," says Lopez. "If you can speak to people already in those senior positions, it'll probably give you a pretty good idea if you can actually go through that glass ceiling or not."
Inquiring about professional development and mentorship opportunities is another way to get a feel for the company's stance on employee growth.
How do they embrace diversity and inclusion?
Unfortunately, sometimes "culture fit" is a subtle way in which employers practice unconscious bias (especially for candidates from non-majority backgrounds).
"This happens all the time," says Lopez, whose company focuses on helping tech and digital media companies diversify their recruitment process and retain minority talent. "Underrepresented groups are uniquely affected."
This is precisely why diversity and inclusion practices are important to explore during the interview process. Lopez suggests asking for a specific example of how the company maintains an inclusive environment.
What would your employees have to say about the company?
"This is one of my favorite interview questions because it really catches people on the spot, so they don't have time to give a canned answer," says Lopez.
Perhaps the best way to do tease out company culture is to connect with a past or present employee. Drummond recommends setting this up on your own—if you ask the interviewer, it'll be tough to decipher if the person they send you to is being genuine.
"Seek out another individual contributor who works there; it doesn't necessarily have to be someone on the team you're interviewing for," says Drummond.
Whether you go through a shared connection or you send a cold email to someone you found on LinkedIn, what you're trying to uncover is what it's really like to work there. Lopez also says there's real value in chatting with former employees, who are more likely to speak openly about their experience.
When you are able to get a sense of a company's culture you will be better able to start your new job with confidence, knowing that you will be joining an environment where you can thrive.

READ MORE AND DISCUSS
Show less
Loading...