GET EMAIL UPDATES FROM POWERTOFLY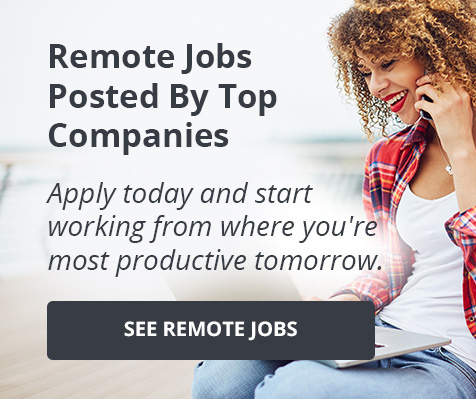 Yelp Inc.
Below is an article originally written by Grace Jiras, University Recruiting Manager at PowerToFly Partner Yelp, and published on February 14, 2018. Go to Yelp's page on PowerToFly to see their open positions and learn more.
As a recruiter, I talk to a lot of people about what it's like to work at Yelp. Most often, I find myself answering questions about the work environment and individual growth opportunities. During my four and a half years at Yelp, I would summarize the people here as very sharp and intelligent, while also humble and open minded. This spirit has fostered an environment that encourages individuals to learn by trying things for themselves (new hires get to push code out their first week!) and empowers them to ask questions.
This collaborative work culture invites tremendous opportunity and gives employees the power to participate in the projects they are most passionate about, whether it's specifically related to work, technology, community or otherwise. This attitude is core to Yelp's values and allows employees from every walk of life and every skill set find opportunity and growth.
In an effort to foster community and build relationships across the organization, Yelp has a number of Employee Resource Groups. One of the groups that I'm actively involved with is Awesome Women in Engineering (AWE). AWE is focused on building a strong community for women in engineering and their allies by facilitating professional career building activities, networking, leadership, and mentorship. Over the years, I've had the privilege of learning more about this groups' experience working in the tech industry as well as their experiences here at Yelp. As I heard more stories, I felt inspired to collect and share them with others outside of Yelp. Thus began the start of our hackathon project: AWE the Book.
As with any hackathon, the idea of creating a book was pitched to a group of engineers and those interested joined to help turn this idea into a final product! Our team came together to craft compelling interview questions ranging from childhood aspirations, what they love about Yelp, and helpful advice they wish they had received earlier in their career. We had over 60 women in Engineering and Product volunteer to participate! Along with the interviews we had (very talented) Yelpers take portraits of each individual. After Hackathon we had even more volunteers, men and women, across the entire engineering organization help transpose, type, and edit the interviews. It was so much fun seeing everyone work together to make the book come together. The finished product was incredible to read - over 120 pages of stories, experiences, and advice shared by women professionals in tech.
Here are some of my favorites!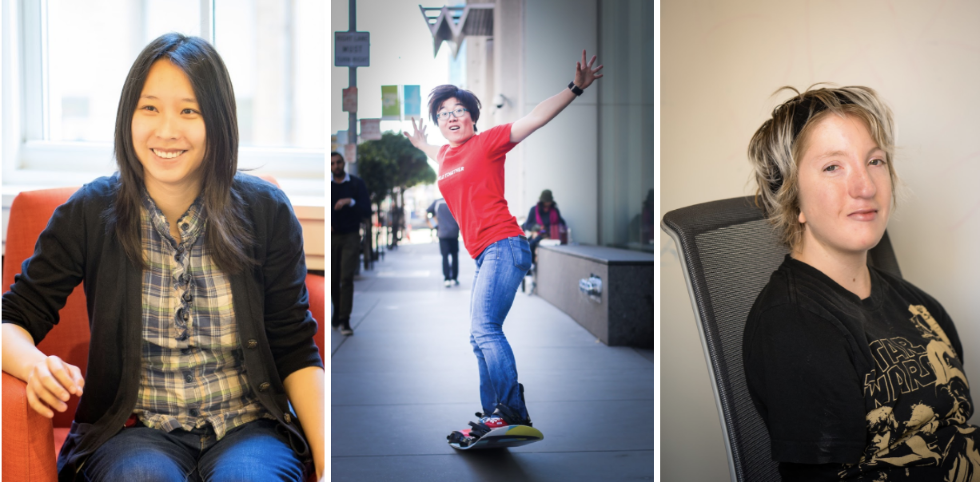 Pictured above from left to right: Yue Wu, Product Manager; Ya-Lin Huang, Software Engineer; Marianne Gosciniak, Software Engineer
How did you get into tech?
I've always been interested in tech, a lot of my favorite products are tech products. I used to be in consulting and data, working on heavy data driven roles. Then I went to business school to try to find a career change outside of consulting. I found a lot of good opportunities in tech. This is an area I'm very passionate about. I had my favorite products as a consumer and Yelp was right on the top. Being able to work on one of my favorite products ever is awesome!
Yue Wu, Product Manager
What did you want to be when you were a kid?
When I was a child, my parents wanted me to become a teacher because they thought it would be a stable job. It's a very regular job from 8-4 and you deal with kids - what possible trouble could kids get into?! At that time, though, I didn't think too much about being a teacher. I played a lot of video games, a lot of Super Mario, so I wanted to be either the character Super Mario, or someone who creates Super Mario.
Ya-Lin Huang, Software Engineer
What is the most exciting thing you have worked on at Yelp?
I really loved my internship project. I added addresses and street suggestions to the location suggest service. When I was presenting during the intern project presentations, a lot of people said they were wondering why we never had this. It was really exciting to help make a feature that a lot of people had been wanting and then later got to use.
Marianne Gosciniak, Software Engineer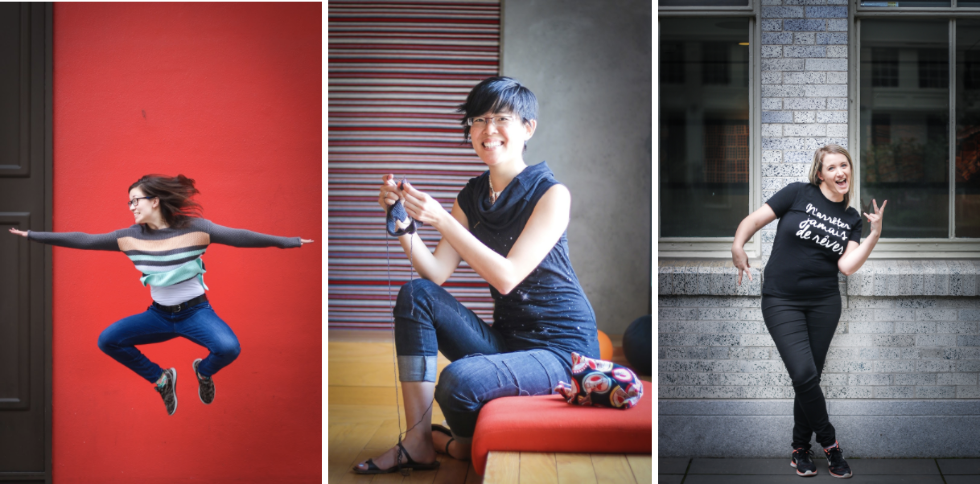 Pictured above from left to right: Alex Phillips, Engineering Manager; Jen Wang, Software Engineer; Ellen Heirbaut, Technical Recruiter
What do you love about Yelp?
When I was looking for a job, I was looking for four things that I really valued in a job. One was mentorship - I would love learning from other people's experiences and I find that I can do that a lot at Yelp. There are so many different people with diverse backgrounds and diverse experiences that I feel like I learn something new every day. Two is problem solving - within Yelp and within Yelp Reservations, it's a fun problem - It's relatable. Thirdly, I think the culture we have at Yelp is really extraordinary. The friendliness, the collaborative nature, the kindness, the relatability, and the welcoming feeling. We're always helping each other learn - that's so wonderful to have. The last thing was opportunities to grow and I think that's something that Yelp has been really focusing on lately. Those are the main reasons why I chose to work at Yelp and why I continue to work at Yelp.
Alex Phillips, Engineering Manager
Have you ever broken Yelp?
Oh, lots of times. I've caused lots of codedeploy rollbacks. I tanked SEO for awhile. I've also recommended changes that ended up breaking Yelp. I won't go into the specifics here, but one of the things I like the most about Yelp is the empathetic environment. It is OK to make mistakes, as long as you take responsibility for them and learn from them and don't keep repeating them. Better yet, teach others how to not make the same mistakes or build tools that safeguard against them. I've broken Yelp many times, but I've learned from all of them and made my peace. None of them give me nightmares now. Well, except, maybe the SEO one.
Jen Wang, Software Engineer
How do you balance a personal life and work life?
I'm a working mom, so I always feel like I should be doing more. I do a lot of events outside of work, like the Expat Women meet-up. It's a lot of time management and balancing priorities. Some days I will have my son and on those days I have to leave right on time. If I'm not on time, they can kick us out of preschool, which is not an option! I feel like Yelp makes it easier for me. My manager is very understanding when I have to leave early, and other days I work longer. The nice thing is I have a very happy, fulfilling life with many different aspects to it.
Ellen Heirbaut, Technical Recruiter
Make sure to ask the see the book in person whenever you come by our HQ in SF!
For more information about roles at Yelp check out our PowerToFly page.
Yelp Inc.
Below is an article originally written by Caitlin Erickson at PowerToFly Partner Yelp, and published on September 17, 2018. Go to Yelp's page on PowerToFly to see their open positions and learn more.
When I started at Yelp's Phoenix office six years ago as an Account Executive, I was nervous. I was six months' pregnant and had no idea how I was going to start a new career and a new family.
But Yelp made it easy. No one thought twice about my going on maternity leave after only being at work for three months. In fact, my training manager asked me about names and my teammates threw me a baby shower (they gifted me with a baby swing that proved to be a lifesaver). The day I left for maternity leave, my director even came over to shake my hand and thank me for my hard work.
After returning from leave, I had to juggle a newborn with my new sales career. One thing I learned as a new mom was that newborns get sick and constantly have to go in for checkups! Fortunately, my manager always worked with my schedule. He would help me call high-priority follow-up appointments and we'd work together to recover lost time so I could still hit my target. Now the company even offers backup daycare options, so I can have someone come to our home and watch my son if he's not feeling great or if school is closed.
Fast forward a couple years and I was advancing to a management role while parenting a toddler. Career advancement in general isn't easy. Career advancement when you're a single parent is even harder, but the launch of the Yelp Parents Employee Resource Group in 2014 has helped me tremendously. I built up important professional skills and increased visibility with leadership by talking with group members and building out membership. This helped me earn my promotion into management. Today, as a leader for the Yelp Parents resource group, I've forged lasting friendships among many other parents who have become my support network when work or life gets tough.
After managing a sales team for a few years, I was offered a new opportunity as a National Sales Planner. This role allowed me to further my career, and refocus on my family and our hopes of growing it by one more. When you start a new role and tell your new boss that you're hoping to be on maternity leave within the year, you're probably not expecting a happy response. However, my new boss was delighted to hear about our plans. It was incredibly refreshing to have him remind me to not worry about work and enjoy my time with the baby on leave. My entire team echoed that sentiment, which really made my three months of maternity leave extra enjoyable. It also made coming back easy (as did having access to a private mother's room with a hospital grade pump!).
Since returning from my second maternity leave, I've been able to jump back into leading Yelp Parents and continue to spread love for parents across the organization. We'll be holding our sixth annual Halloween Hullabaloo in Phoenix next month, where employees decorate the entire office and bring in their kids to participate in crafts and trick-or-treating. Last year, my son dressed up as Shaggy and carried around his Scooby Doo doll, while my husband and I escorted him as Fred and Velma! The office is also supporting an incredible professional development event where Yelp vice presidents are flying in from San Francisco and hosting lunchtime workshop sessions on topics like time management, work-life balance, and emotional intelligence.
The opportunities and support Yelp provides constantly remind me how lucky I am to work at a place that values me as an employee, celebrates me as a parent, and helps me advance even through all the obstacles of parenting!
Yelp Inc.
Below is an article originally written by Alexandra Phillips, an Engineering Manager at PowerToFly Partner Yelp, and published on November 7, 2018. Go to Yelp's page on PowerToFly to see their open positions and learn more.
It's time for our fall Hackathon! At Yelp, Hackathons are two-day events that provide unstructured time for our engineering and product teams to work on whatever may scratch their creative itch! Hackathon truly embodies our company values of "Playing Well with Others" and "Being Unboring," as it invites us to participate in so many different ways.
Engineers have the liberty to work on projects related to or completely outside the box of the Yelp product. We've seen many types of projects over the years from music videos and new photo classification algorithms to baking workshops, custom video games, and so much more! It's a great outlet for collaboration and innovation that really helps foster teamwork and creativity.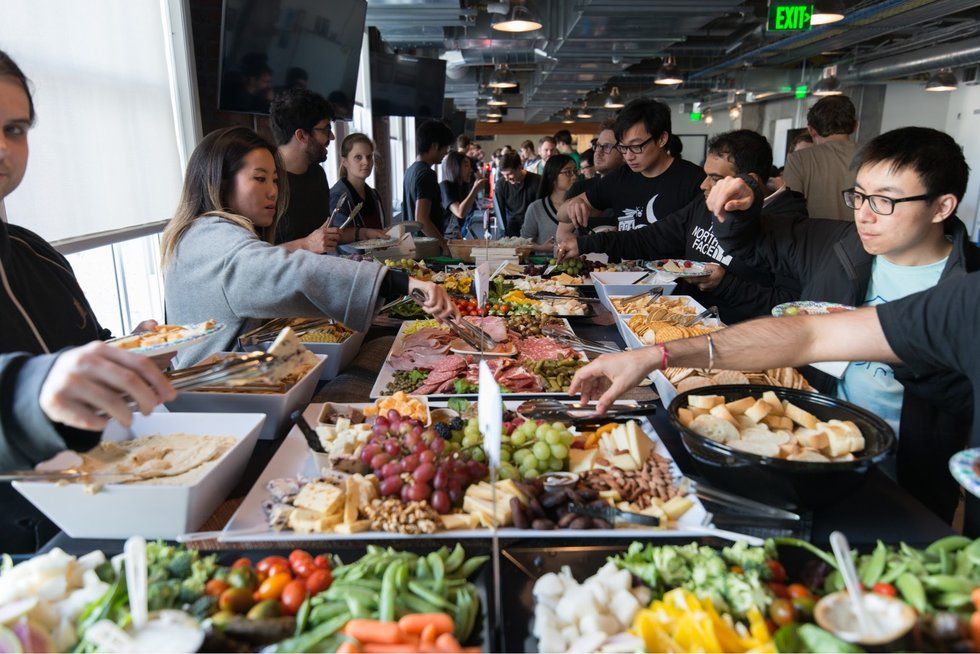 Ready, set, hack!
For the past several weeks, we've been hard at work preparing for the final Hackathon of the year: number 27! This year will be our ninth year running, with each year traditionally hosting three hackathons. This pace enables the engineering team to have reliable and regular outlets for their creativity and to take advantage of several opportunities throughout their career to work on a variety of different project types.
We're particularly focused on the celebration of building something together, and in an effort to recognize that, have come up with six different awards: Useful, Funny, Cool, Hardcore, Unhack, and Spotlight. The Spotlight award in particular rotates its theme every Hackathon; Hackathon 27 we'll be spotlighting "Inclusion" which is an important facet of Yelp culture. We're hoping to this inspires a broad range of projects and activities bringing awareness to how important inclusion is in workplace culture.
Hackathon planning is a collaboration between our awesome Engineering, Engineering Event Planning, and Engineering Recruiting teams. There's a lot of orchestration involved in selecting the theme, arranging the catering, helping engineers find or evangelize their ideal projects, designing the swag, and of course, planning the Ridiculousness!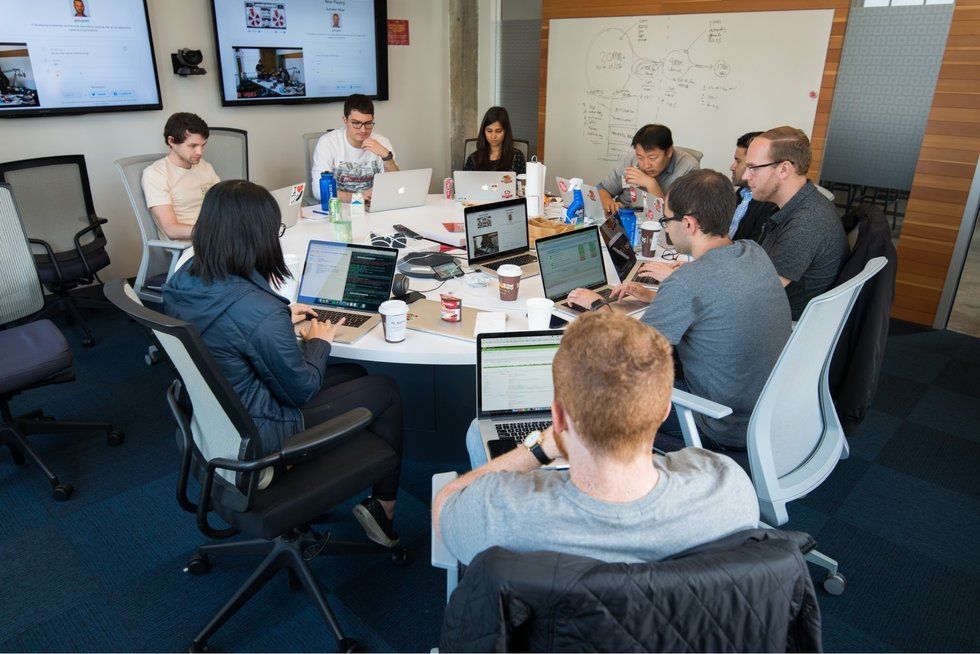 Plenty of hacking fuel!
In the true spirit of being unboring, Ridiculousness is the center of fun and games during Hackathon. Need a break from hacking? Come on by to paint, build, draw, or play interactive games with your fellow engineers! Team connectedness is something that transcends both our SF and Hamburg Engineering teams and is celebrated by sharing a Hackathon kickoff toast and awards ceremony.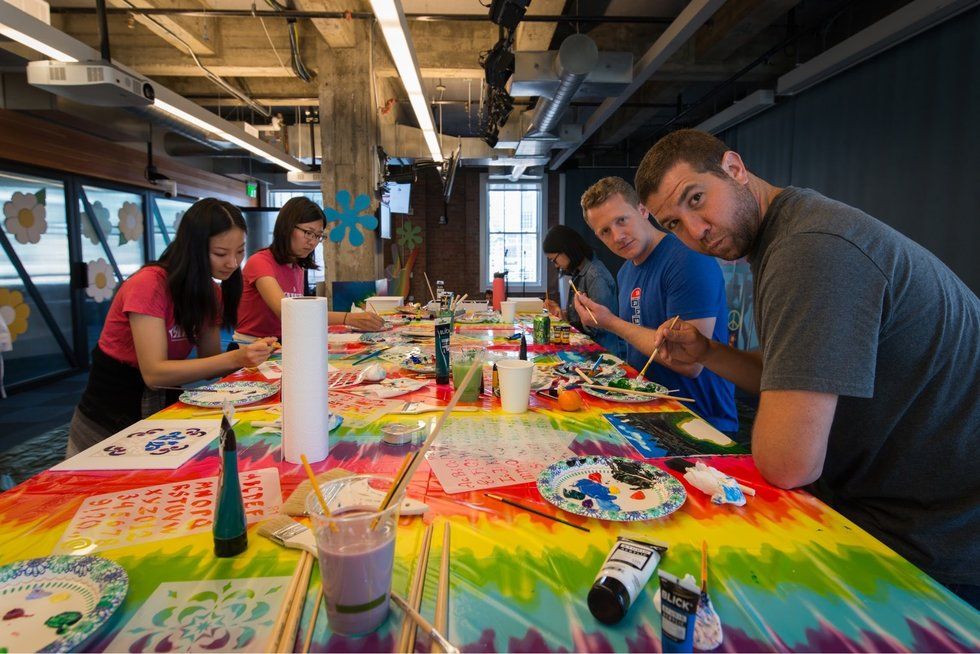 Ridiculousness!
I've had the amazing opportunity of seeing so many unique, creative projects that have been the product of hard work and collaboration of our engineering and product teams. I'd like to share just a few with you!
One of my favorite projects coming out of Hackathon is "AWE the Book." AWE is our Awesome Women in Engineering employee group at Yelp, who champions and facilitates initiatives to improve inclusion and diversity within Yelp Engineering. "AWE the Book" is a collection of interviews from over 60 women in Engineering and Product, with each page speaking to their childhood aspirations, what they love about Yelp, and their pathway into the tech industry. It was an amazing demonstration of people coming together to work on a project they're passionate about. Read more about it in this blog post!
One useful Hackathon project that's now embedded into Yelp culture is Yelp Love, an app that allows any employee to send kudos to one or several colleagues at a time. Yelp Love has become the defacto way to say "thank you" to a coworker that really went above and beyond, and it helps us all live by our "play well with others" value.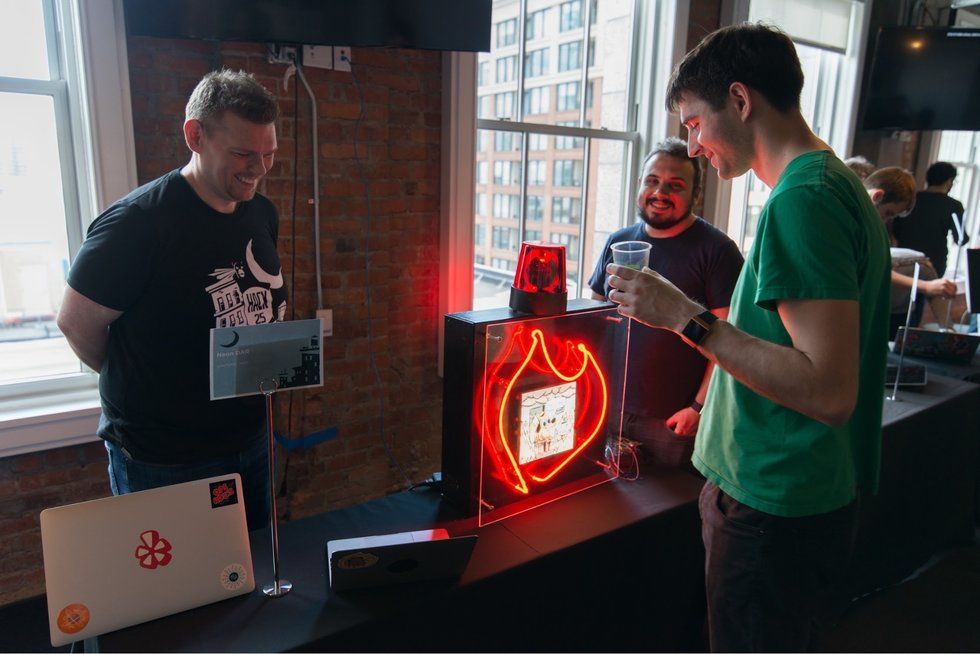 Hackathon Science Fair - Winner of the Hardcore award, Neon Incident Pager
One of the most hardcore projects was the "Neon Incident Pager project." This was a physical neon light and LED display that integrated with our incident paging system to create a bright and eye-catching display when an incident is triggered! This project took on a creative, fun, and yet hardcore challenge to produce something really remarkable!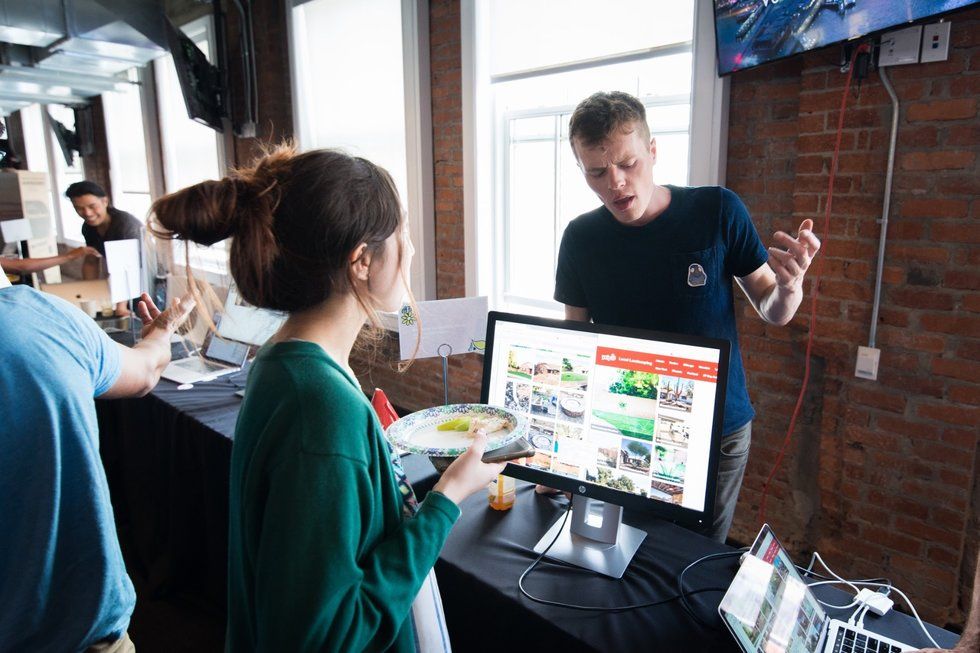 Hackathon Science Fair
I grow more and more excited as we head into Hackathon 27 as I'm reminded of some of my favorite aspects of Hackathon at Yelp: meeting new people, learning new things, and building! Hack on!
Loading...