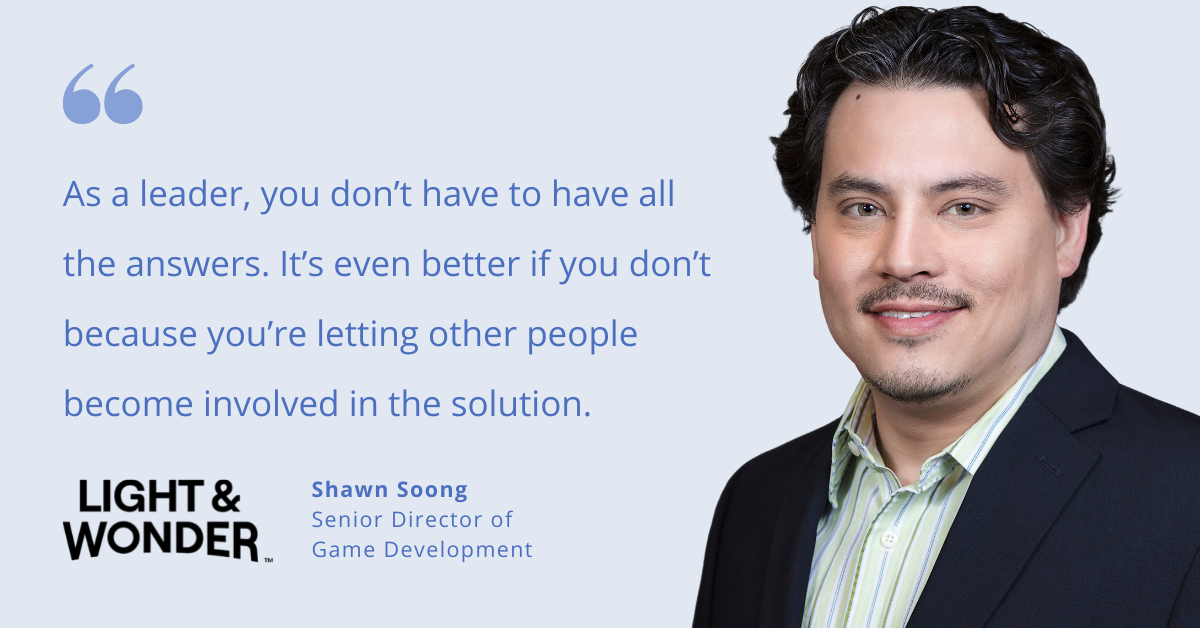 Light & Wonder
When lifelong gaming industry enthusiast Shawn Soong realized someone designs all the games in every casino, his life — and career — changed forever.
Shawn was working at a casino in his home state of Colorado, where he was exposed to its day-to-day operations.
"That's where I realized that someone has to make all the games, but few people know who or how," he explains.
Now as the Senior Director of Game Development for Light & Wonder, Shawn finds great fulfillment in leading a team and overseeing all the game creation pieces as they come together.
We sat down with Shawn to learn more about the gaming industry, and how he fosters innovation and creativity on his teams in order to create engaging experiences for players.
From Casino Worker to Gaming Mathematician
Shawn was exposed early to the excitement of casinos during family vacations with his parents.
"Growing up, a common summer vacation would be a road trip to Vegas for a week. I was too young to join in on the gambling with my parents, but I remember thinking it looked like fun," he recalls.
As chance would have it, he fell into his first casino gig in his mid-twenties, working on the operations side of things. It was there that he got curious about table games, and began experimenting with different variations of popular games.
He pitched one of these variations to Shuffle Master, a major gaming company. This turned out to be a life-changing career move.
"Shuffle Master liked my idea and bought the game from me. Then I ended up freelancing with them as a mathematician, helping them analyze the strategy and design of table games that other people like me had pitched to them," he explains. Shawn has a background in math and science, so this was perfect for him.
His freelance work then led to a full-time opportunity in Vegas as a gaming mathematician with Bally Technologies, working on the mathematics of slot machines. From there, the rest is history; Shawn has been working on slot machines ever since and hasn't looked back.
"I was very lucky to have Shuffle Master like my idea enough to want to do something with it, which got my foot in the door to where I am now," he reflects.
A Culture of Internal Promotion and Employee Autonomy
Light & Wonder has gone through many acquisitions throughout the years — Shawn was brought onboard when it was still Bally Technologies — but it has always retained its culture of investing in current talent and internal promotion.
"Light & Wonder's leadership has always been good about finding the next round of leaders internally and developing our internal talent. Internal growth has always been important," says Shawn.
This mindset has naturally led to a culture of trust where individual contributors are given plenty of autonomy to shine, which gave Shawn the opportunity to continually push out quality work and move up the ranks. As he did, he developed a leadership style that gives his team enough space and support to do what they do best.
"It's all about knowing how far to push your team members, knowing when to guide, where to stop and let them run with it because it's now in their field of expertise," he explains.
Because of their focus on internal promotion and employee autonomy, Light & Wonder boasts a high retention rate.
"I've been here 14 years now, and we've got people who have been here 20 plus years," reveals Shawn. "A lot of people, once they land here, tend to stay here. Which is unusual for game development," he adds.
Creativity & Innovation in the Gaming World
Because casinos need to keep their players engaged as part of their business model, creativity and innovation are key to achieving that engagement.
"Casinos have to constantly refresh their floor in order to keep the players engaged, so there's always a new game to make," says Shawn.
According to Shawn, there's a direct correlation between creativity and innovation, although they are separate aspects of game development.
"The creativity aspect addresses how you put the game together in a way that helps players enjoy the experience. Innovation addresses what kind of new game mechanics we can introduce that players haven't seen before," he shares.
For Shawn, innovation also means asking himself and his team how they can make things better, not only in terms of product but also processes.
"We are constantly thinking about how to create and innovate versions of games to prioritize and enhance the user experience, as well as how to improve our development processes," he notes.
3 Tips For Leaders to Foster Innovation and Creativity on their Teams
Shawn recognizes that innovation and creativity are key aspects of gaming, but that leaders in any industry can benefit from both. Here are his top tips for leaders to foster creativity and innovation in the workplace:
You don't have to be the smartest person in the room. "As a leader, you don't have to have all the answers. It's even better if you don't because you're letting other people become involved in the solution," says Shawn.
Leave space for your team to grow. Shawn knows that micromanaging is the quickest way to stifle growth. He prefers to present his team with problems and allow them to use their expertise to find solutions. "I could direct my team on exactly what to do when designing a game, but then it becomes very transactional for them," he explains.
Tap into talent from different spheres. "Some math majors don't think that they can be involved in developing games, for example. You don't realize how many different kinds of expertise and backgrounds you need in order to make a product until you're in the thick of it," insists Shawn. He has learned that having diverse backgrounds brings fresh ideas to any workplace.
If you're interested in working at one of the leading companies in the gaming industry, Light & Wonder is
hiring
!
READ MORE AND DISCUSS
Show less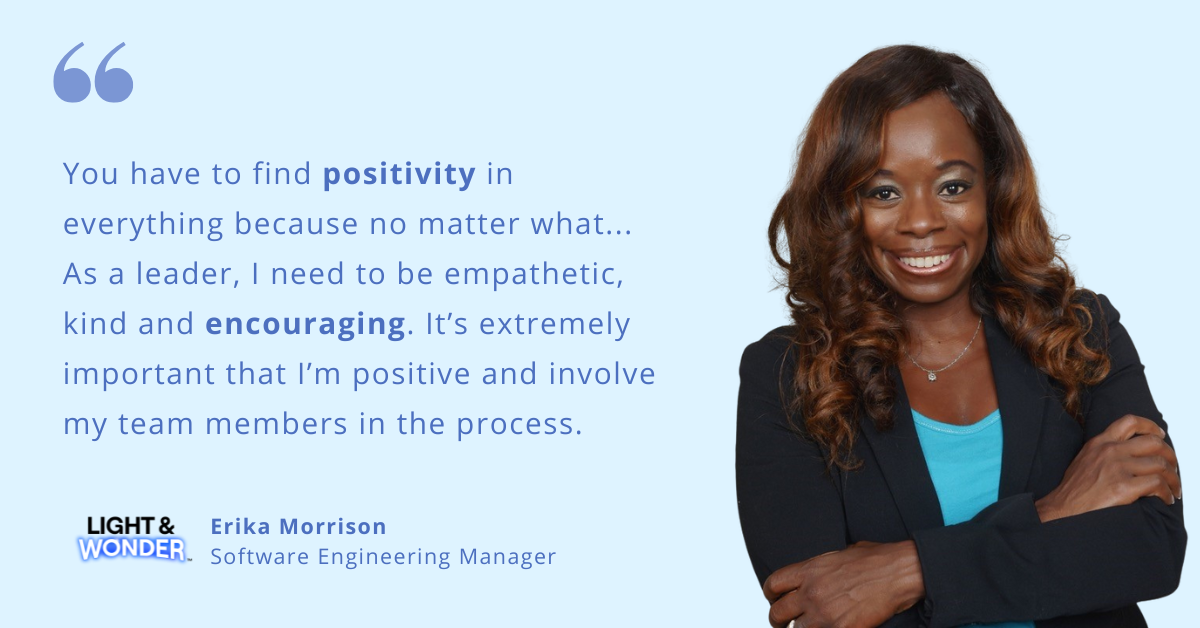 Light & Wonder
Erika Morrison is a naturally passionate and encouraging leader. From leading her family in giving back to their community, to coaching adolescents in track and cheer, to managing her team at Light & Wonder during the pandemic, her experience is rich with lessons to share with up-and-coming leaders.
"I believe in motivation, positivity, inspiring, finding the good in everything, everybody," she says. In addition to 30+ years in the tech field, Erika is a wife, a mother of two, an avid exercise lover, and has even been a small-business owner.
We sat down with Erika to hear about the experiences that have led her to her current role as a Software Engineering Manager at Light & Wonder, as well as three practical ways to lead with purpose.
Seeing Potential in Others
Erika has always been fascinated by the world of technology. Growing up, she loved cassette tapes, DVD players, phones, and whatever other gadgets she could get her hands on. When her dad brought home a PC Junior, it didn't take long before she started programming on it. She designed her own trivia game, using what she learned in her middle school programming classes. "I was typing the questions in and programming the answers. I had a blast writing it and showing it to my family. I remember I wanted to show everyone what I made. That was my first real desire to get into programming."
Erika followed that instinct into college where she majored in Business Administration and minored in Computer Science. The kickstart to her tech career came when she landed a computer operating job while still in school. She comments, "I was originally applying for a secretarial position at this company. But someone looked at my studies and experience and saw potential in me. I didn't think I was ready for that because I was still so young, I was still in school."
Erika went on to work as a programmer analyst and software engineer for multiple major Casino based companies. During this time, she even started and ran a local event-planning business, which fine-tuned her skills in successful customer service.
Then, someone saw potential in Erika again. A former coworker reached out and offered her a leadership position with the company that would become Light & Wonder. Erika took on the role of Software Engineering Manager and says "it's been opportunity after opportunity ever since."
Managing Through the Pandemic
Erika believes that the best way to lead a team is to really get to know its members. "A lot of leading is knowing the people on your team," she explains. "Know what each person needs — What may work for one person may not work for someone else. We have to take a little bit of who they are into consideration when attempting to motivate, to coach, to inspire because we're not all motivated by the same things."
Prior to the pandemic, Erika and her team worked together in the office, which gave her the opportunity to do so. Once the pandemic hit, however, she had to pivot to incorporating virtual meetings to be able to generate that intimacy. She organizes bi-monthly check-ins with her team members where she intentionally asks for their individual preferences on communication and feedback.
"I have one-on-ones with each of my staff every two weeks. We go over the issues that they've had and then any questions or concerns or anything that they want to chat about. Sometimes it's business and sometimes it's personal. But, I feel like taking that extra time out just to have those conversations is extremely important."
She also cohosts weekly remote Friday cocktail hours to cultivate her team's relationships and check in on their mental health. "During the Friday cocktail hours, we would relax, ask some questions, or play some games. And it was nice to have that interaction again and connect with the team. It also allowed me to check in on everyone's mental health and make sure that if there was anything that we could do, we were here."
Inspired to Encourage the Team
Erika is inspired by the example of her past and current mentors and their vision for her professional trajectory. She acknowledges that it was thanks to key people who saw her potential that she has been able to have these experiences. Erika's own personal drive and passion for encouraging and uplifting others have led her to love her leadership position.
As a manager, Erika seeks the highest level of respect and excellence for her customers, while creating an encouraging work environment for her team. "I want to make sure that my team has everything that they need in order to succeed and get their jobs done the way they want to. I want them to have the level of success that they want."
Erika ensures that her team members feel their significant contribution to the company and how they are serving with purpose. "We need to feel like we are part of something significant," she says. "That's my goal as a leader and for my team."
3 Ways to Lead with Purpose:
Drawing from her experiences as a tech leader, business owner, coach, and community volunteer, she gives us three practical ways to lead with purpose in whatever context.
Understand the "why". "It's extremely important to know the why of your company. Once you understand it from the company's perspective, you can communicate it clearly to the team. And once you get that down, you're able to help build a strong path for them to follow so that both "why's" are in alignment. Knowing the why of your individual team members allows you to better manage, assist, and build a relationship with them."
Build consistency. "I think it's very important that we are consistent and don't deviate from the why and the task at hand. Building consistency with others motivates and inspires people to give their best, even when we don't feel like it. When dealing with a change or a huge transition, it's extremely important to stick to the why's, the steps we're taking, and the right attitude."
Remain positive. "You have to find positivity in everything because no matter what, it could always be worse. We can always find the negative things, but there are also always positive things. As a leader, I need to be empathetic, kind, and encouraging no matter what. It's extremely important that I'm positive and involve my team members in the process."
Follow this link for more information about Light & Wonder and their current openings!
READ MORE AND DISCUSS
Show less
Loading...