GET EMAIL UPDATES FROM POWERTOFLY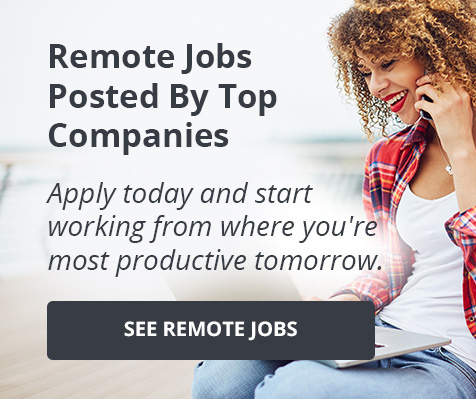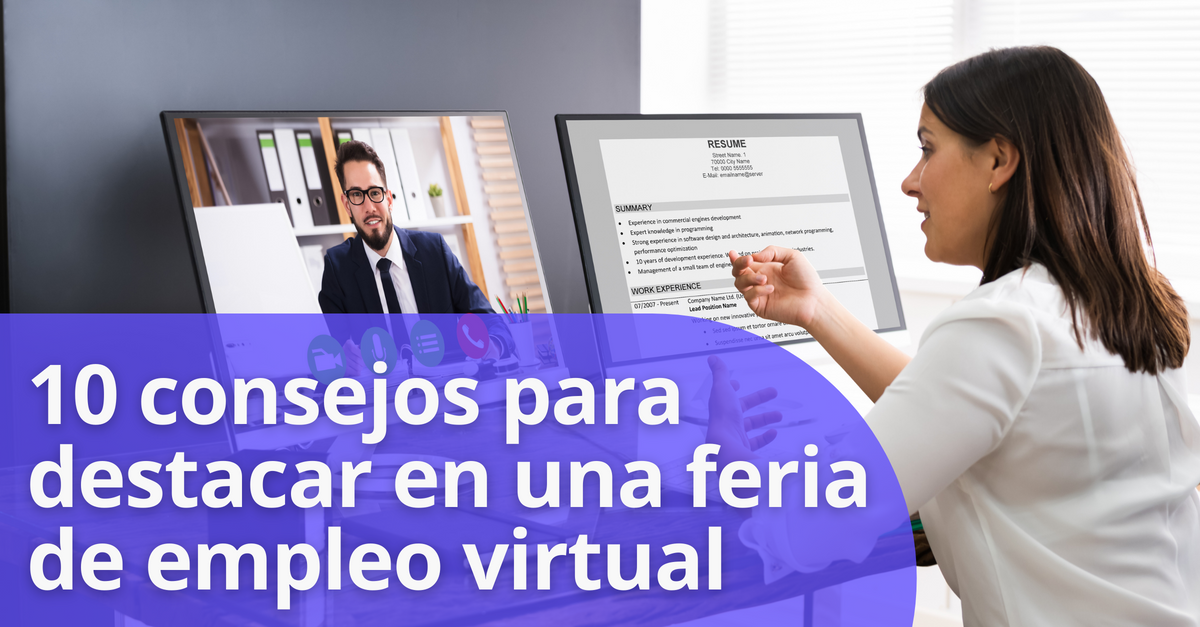 Career and Interview Tips
Tu guía para tener éxito en una feria virtual y crear una gran impresión en los reclutadores
Según una encuesta de LinkedIn, hasta el 85% de los puestos de trabajo se consiguen a través de networking. Para quienes buscan empleo, las ferias virtuales facilitan este proceso con una simple conexión a internet. Hoy en día, es posible interactuar con empleadores de todo el mundo, hacerles preguntas y solicitar puestos de trabajo desde casa. Cada evento es diferente, pero la mayoría dispone de funciones de videoconferencia, salas de chat y sesiones de preguntas y respuestas.
Dilyara Timerbulatova, coordinadora de ferias de empleo virtuales de PowerToFly, explica que "estas ferias tienen muchos beneficios, sobre todo conectan a los mejores candidatos y reclutadores que, de otro modo, nunca se cruzarían. Estos eventos son una herramienta para ayudar a las empresas a crear equipos más diversos".
10 pasos para destacar en una feria de empleo.
Las ferias de empleo virtuales son distintas a las presenciales que estamos acostumbrados, por lo que es importante adaptarte y prepararte para este nuevo entorno. A continuación, te presentamos algunas claves para dar lo mejor de ti y dejar huella en los empleadores.
Actualiza tu perfil y currículum de LinkedIn. Empieza por revisar las dos cosas y asegurar que tu historial laboral esté actualizado. Asegúrate de incluir cualquier experiencia relevante para los puestos de trabajo que te interesan.
Haz tus deberes. Investiga qué empresas asistirán a la feria y aprende más sobre lo que hace cada una, su misión y valores, su cultura y las cualificaciones que están buscando. En este paso, puedes comenzar a preparar preguntas para los empleadores.
Practica tu discurso. Durante la feria de empleo virtual, es posible que tengas la oportunidad de presentarte a los reclutadores. Prepara una presentación breve hablando sobre quién eres, tus habilidades y tu experiencia laboral. (No todas las ferias de empleo virtuales brindan una oportunidad para esto, pero es mejor prevenir que lamentar).
Ponte guapo/a. SÍ, aunque este evento es virtual, deberías arreglarte. Como dice el viejo refrán: así te veo, así te respecto. Además, los estudios muestran que vestirse bien puede aumentar la confianza, lo que podría ser la clave para conseguir el trabajo.
Prepara tu espacio. Busca una zona tranquila con una buena conexión al wi-fi y haz todo lo posible para conseguir que tu fondo esté limpio y libre de distracciones. Recomendamos que te sientes contra una pared blanca, preferiblemente cerca de un enchufe, en caso de que tu ordenador se quede sin batería. No olvides de poner tus dispositivos en silencio o en modo "no molestar".
Llega a tiempo. Llegar cinco minutos antes es puntual y llegar puntual es tarde. Llegar temprano demuestra que eres responsable y confiable. Recuerda dejar unos minutos para posibles dificultades técnicas o problemas de conexión e inicia sesión en la feria un poco antes de la hora. ¿Quién sabe? Es posible que tengas la oportunidad de charlar con los reclutadores mientras que llegue el resto de los asistentes.
¡No te olvides del lenguaje corporal! Leer el lenguaje corporal de una persona a través de una pantalla puede ser complicado. Preséntate con una sonrisa, mantén contacto visual y asienta con la cabeza cuando sea apropiado (incluso cuando tu micrófono está silenciado). Todo esto te ayudará a demostrar interés y confianza.
Comunícate de forma profesional. Una de las mejores maneras de destacar es a través de una comunicación adecuada. Durante una feria de trabajo virtual, muchas de las interacciones serán escritas, ya sea en el chat o en mensajes de seguimiento. Para crear una buena primera impresión, evita el uso de jergas y demuestra tus habilidades de comunicación con un uso correcto y profesional de gramática y vocabulario.
Haz las preguntas correctas. Prepárate bien y piensa en preguntas que te permitan obtener un conocimiento más profundo sobre la empresa o descubrir en qué podrías contribuir. Asegúrate de leer antes la página web de la compañía para que no consultes por información que se consigue fácilmente en línea.
Haz un seguimiento. Una vez finalizada la feria, conéctate con los reclutadores en LinkedIn e incluye un mensaje personalizado agradeciéndoles por su tiempo y expresando tu interés en trabajar en su empresa. Ten en cuenta que los empleadores están en constante contacto con muchos candidatos. Aprovecha este mensaje para refrescar su memoria y recordarles por qué eres un buen candidato (o para presentarte adecuadamente si no tuviste la oportunidad de hacerlo en la feria). Intenta ofrecer un ejemplo específico de la información que compartieron que haya parecido valiosa para hacer que tu mensaje de agradecimiento se sienta más sincero. ¡No olvides el número 8 en esta lista! Siempre revisa tu mensaje antes de hacer clic en enviar.
¿Estás listo/a para poner todo esto a la práctica? Regístrate aquí para la próxima Feria de Empleo Virtual de PowerToFly.
READ MORE AND DISCUSS
Show less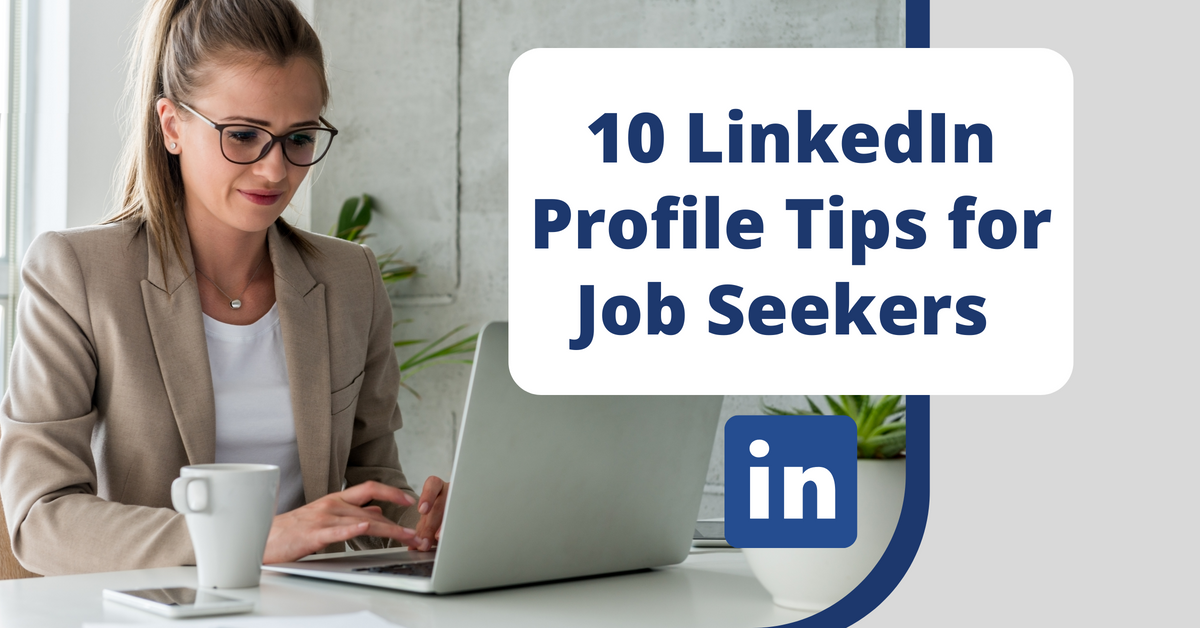 Resume Help
Pop Quiz! What is the most important tool for job seekers in 2021?
You probably said your resume or your network. But what about a social platform that combines the two? LinkedIn.
If you don't already know, LinkedIn is a platform where you can showcase your professional experience and achievements to other members and future employers who view your profile.
Whether you're just entering the workforce or you're considering a career change, our advice is to make sure your LinkedIn profile is optimized BEFORE starting your job search.
Want to learn how to make your LinkedIn profile stand out above the rest? Keep reading for 10 LinkedIn profile tips that will help you present your best professional face to potential employers.
10 LinkedIn Profile Tips
1. Put your best face forward. Think of your profile photo as a recruiter's first impression of you. Be sure to upload a professional, high quality photo to start. Plus, a good profile photo can increase your profile traffic by up to 40%! Here are our best tips to make sure your profile photo meets the mark:
Have a plain, non-distracting background
Make sure you're wearing appropriate clothing
Crop the photo from shoulders to the top of your head
Smile!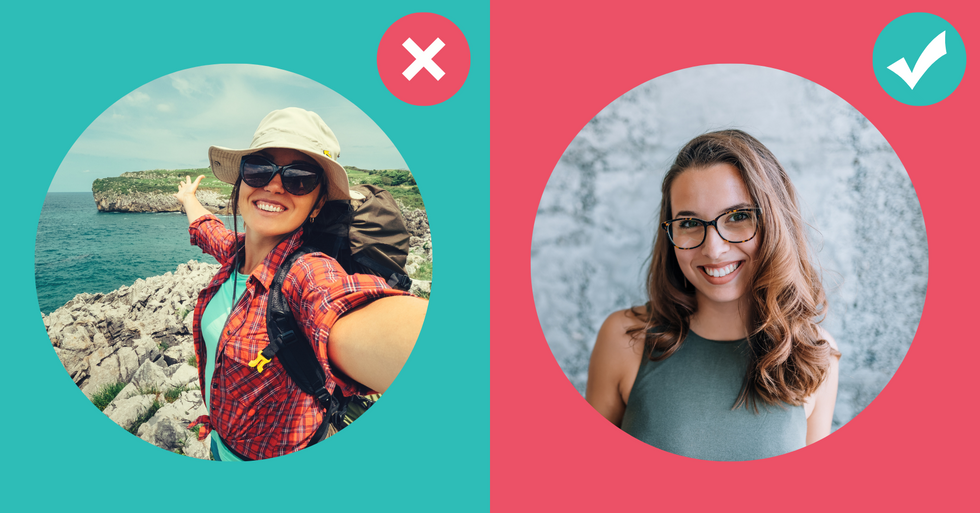 2. Add a background photo. This is the second visual element at the top of your profile page. Choose a photo that grabs people's attention, sets the context, and highlights what is important to you. Some people choose to add a personalized message or their contact information on the background photo. More than anything, the right background image helps your profile stand out, attract attention, and stay memorable.

3. Write an attention-grabbing headline. You have 120 characters to convince visitors to click on your profile. It tells recruiters what your prime skill or job is and highlights your greatest strengths. If you are unemployed or looking for a new role, use this section to list hard skills and desired job titles. Here are six examples of really impactful LinkedIn headlines: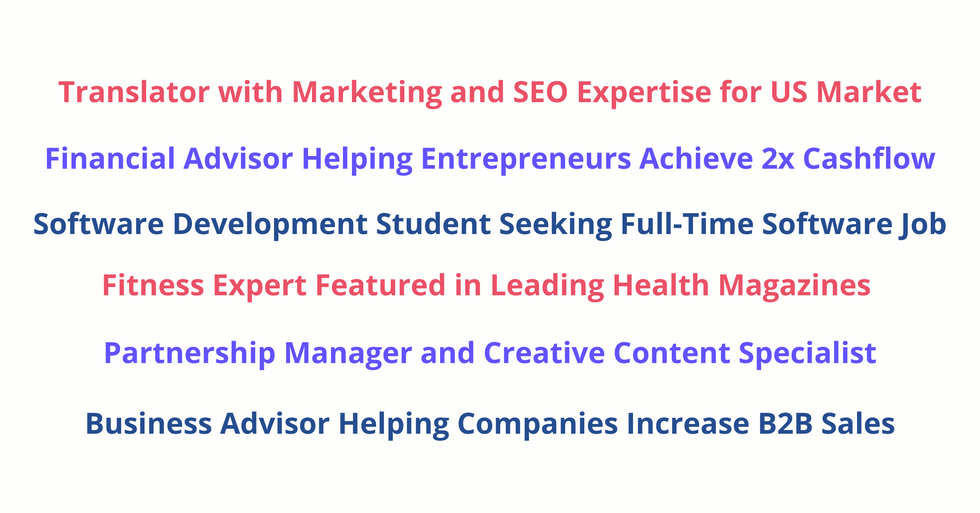 4. Write a compelling background summary. LinkedIn's 'About' section gives you an opportunity to introduce yourself, your passions, and your personality. It should include three to eight sentences that describe years of experience, area(s) of expertise, types of organizations you've worked with, hard and soft skills, and what you're most known for professionally. Click here for some examples of impactful background summaries.


5. Use keywords. Boost your chances of being seen by recruiters and hiring managers by using keywords in your headline and background summaries. Add keywords that represent job titles, locations, and skills relevant to the position you are seeking. While LinkedIn's indexing algorithm hasn't yet been fully cracked, our best advice is to be specific and disperse keywords throughout your profile. Here's a list of example keywords for you to get started!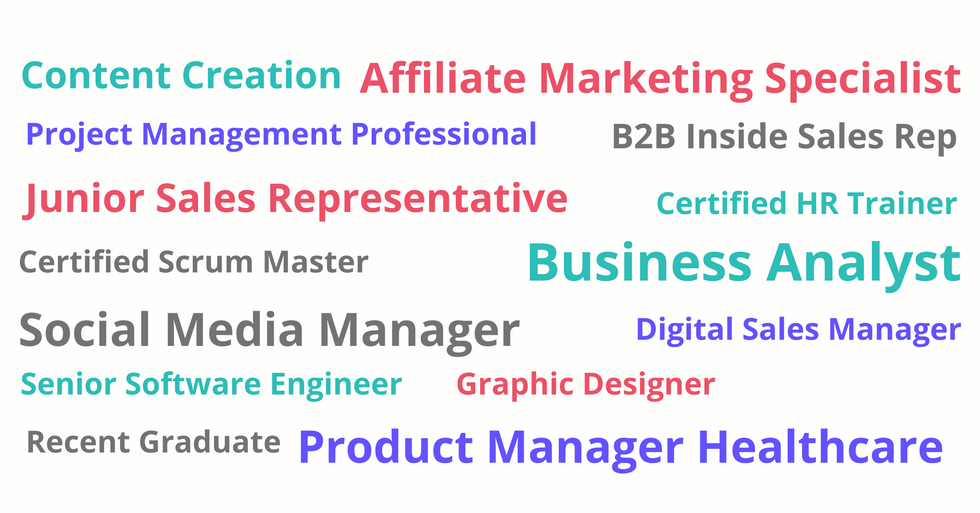 6. Add your skills. One of the most important aspects of job matching is adding your skills everywhere possible. In your 'About' section, job description, and experience mention as many relevant quantifiable achievements as possible. You can also have current or former colleagues endorse a skill or two to boost credibility (make sure you endorse them right back—you scratch my back, I scratch yours). You can also request recommendations from close contacts that you've worked with in the past.

7. Complete your profile. While it can be a tedious process, completing your LinkedIn profile is crucial to greater visibility. Be sure to add your contact information, education and work experience, and your postal code. This will allow you to more easily connect with professionals in your industry that are closeby. If you don't want your contact information on display, you can adjust contact visibility in LinkedIn's privacy settings. Lastly, be sure to add a custom url to rank better in search results!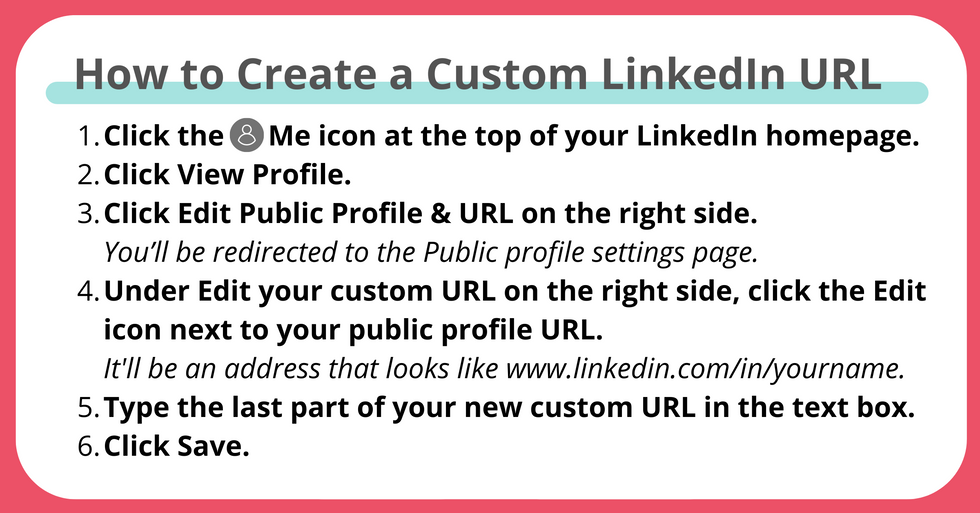 8. Add links and media to your work experience. Nothing screams "I'm good at what I do" more than a solid portfolio. LinkedIn has the option of including aspects of your portfolio, publications, web pages, and examples of your work under the work experience section.


9. Add licenses, certifications, projects, volunteer experiences, accomplishments, and languages. We already talked about the importance of having a complete profile sprinkled with keywords. Take your profile to the next level by adding as much relevant detail as possible. Add any certifications, courses, awards, and experience that can help you stand out as a candidate. Don't forget to include language certificates!

10. Connections, connections, connections! Put your complete profile to good use by connecting with leaders and contributors to your industry of interest. The more connections you have, the more likely you are to be seen!
Now that your LinkedIn profile is optimized and ready to be seen by potential employers, remember to add your customized URL to other job search and networking platforms. Take PowerToFly for instance (shameless plug!). Recruiters come here to look for diverse talent, and when they search for you on our platform, they love to see a link to your optimized LinkedIn profile! Click here to create your PowerToFly profile!

READ MORE AND DISCUSS
Show less
Landing a New Job
As the Senior Manager of Marketing & Community at PowerToFly, I get to meet and connect with new women each day. Many of these connections are made via LinkedIn, which means that my virtual network is constantly expanding.

As my network has continued to grow, I've had multiple friends and acquaintances reach out asking me for introductions. I love bringing people together, but I didn't realize until the last year or so just how easy it is to connect friends on LinkedIn!
Check out the video above & the instructions below for step-by-step directions on connecting two people on LinkedIn (hassle free)!
Navigate to the person's profile you want to share.
Press the 'More' button and select 'Share Profile'.
A brand new message should appear with the connection profile as a link at the bottom.
Type the name of the person you'd like to connect this person to at the top of this page ( where it says 'Type a name or multiple names').
Write a brief message explaining why you are connecting these two people. Not sure what to say in the connection message? I wrote another guide here that may be helpful!
Let the other person know that you've made the connection!
READ MORE AND DISCUSS
Show less
Loading...