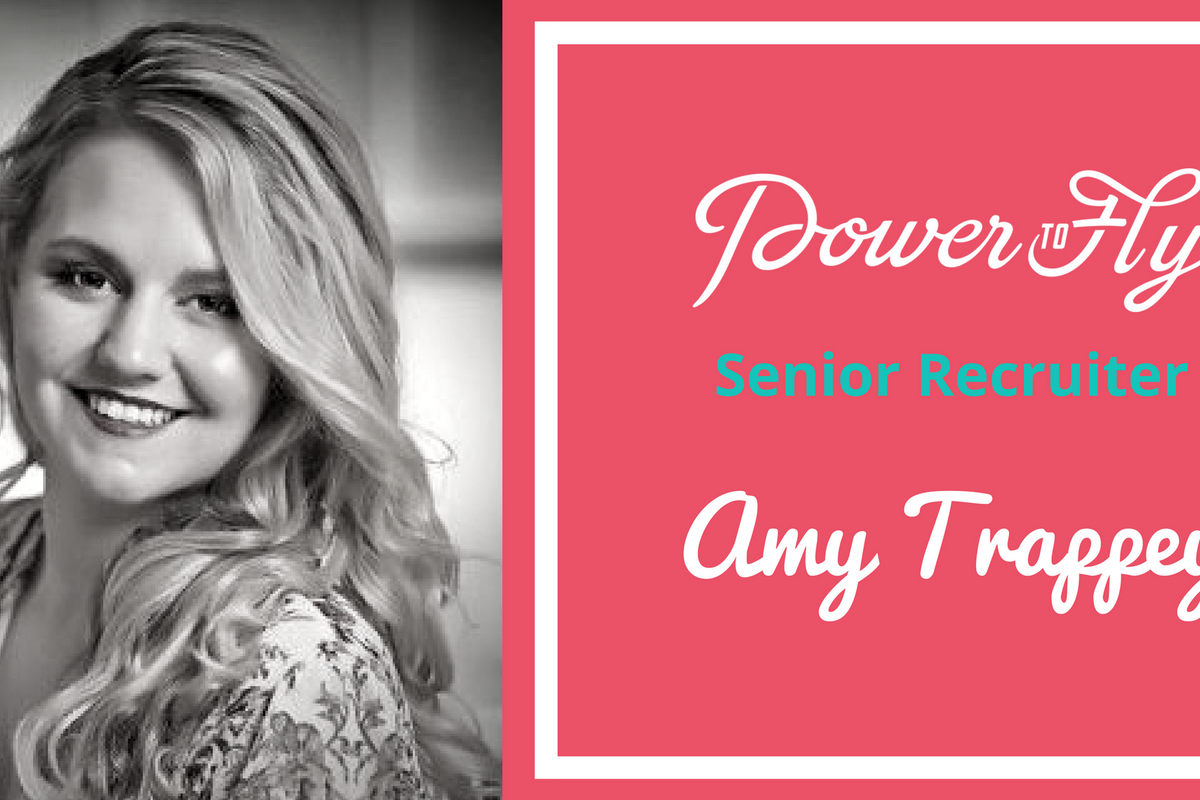 Career and Interview Tips
Mentor month may be coming to a close, but matches are still being made! If you want to be matched with the mentor/ mentee of your dreams, shoot me a message on Networks today!

If you've job hunted with us before, you've probably already spoken to her, but I had an awesome conversation with one of our Senior Recruiters, Amy, who is always going above and beyond to help women find their dream jobs on PowerToFly. She reveals how she manages to find jobs for so many women on our platform, while traveling to five states and three different country (working remotely definitely helps!) and gives her advice on being a great mentor and mentee below!
Q: Have you ever had a mentor or mentee that's made a significant impact on your career and why?
A: Too many to count! There are two who really stand out to me though-the first would be Marie-Elizabeth Oliver who is my former colleague. She taught me so much about communication and voicing your opinions strategically, both verbally and in writing. The second would be our Chief Talent Officer, and my manager, Rachel Valdez. She has shown me how to put the growth mindset into action and exudes positivity.
Q: What makes a good mentor/ mentee?
What makes a good mentor is trust and the ability to build relationships-you need to have an honest and transparent way to communicate so you can really listen to your mentee and help them problem solve. A good mentee is someone who can not only listen to constructive criticism but put it into action to continually improve.
Q: What's one piece of advice you'd give to someone looking to start a career in recruitment?
It may sound cliche, but I think being your authentic self goes the furthest when it comes to recruitment. Particularly in the technical landscape, candidates are often in such high demand they are contacted by numerous recruiters daily. It's about building rapport and trust. Sometimes, you get to give life changing good news if interviews go well, and sometimes you have to deliver bad news. A recruiter is successful if they can deliver both types and elevate the candidate on their career path regardless.
Q: You've attended a lot of our live PowerToFly events recently, what's been your favorite moment thus far?
I love getting the chance to interact with women who attend our events face to face. I think there is so much power in solidarity. You can tangibly feel the energy and excitement emanating from the room when a panel of women in executive roles discuss their own challenges in rising to the top, and how they overcame them.

Q: It seems like you love to travel! How has working remotely changed your life?

I feel so lucky to have come of age professionally at the time that technology and travel really intersected with the work environment-I didn't have to choose between a great job and seeing the world. In the past 6 months I've worked from Cape Cod, Nashville, Seattle, New York, Spain, Portugal, and now I'm back in New Orleans. Last year I worked from India for a month. It's all about delivering results no matter where you are.
Q: What tips do you have for other women looking to start a remote career?
Take advantage of your ability to be transient, but always put work first. If you want a true vacation offline, take the PTO. Otherwise, be ready to commit and manage your responsibilities in whatever time zone necessary to make your team successful. Also, time management is your best friend. You can be so much more productive and have a better work-life balance while working remotely-just communicate clearly with your team and be available via slack.
Q: What's the best piece of advice you've ever been given throughout your career?
The best piece of advice I've been given is to constantly challenge yourself. If something makes you anxious or scared, it means you're growing.
Q: What's the best piece of advice you've ever given someone throughout their career?
I always advise talents to frame negative feedback positively. If a particular role or path you wanted to follow doesn't work out, use that feedback to improve for your next opportunity. It will undoubtedly come.
Q: What motivates you to come to work every day?
I truly believe in our mission. We still have a way to go when it comes to gender equality in the workforce, and PowerToFly is contributing to getting there. It's been cool to witness the reckoning on a larger scale taking place in the US with movements like 'TimesUp' and 'MeToo' across industries as well.
Q: Why do you love networking on PowerToFly?
It's a great space to share knowledge and learn. You can speak to people globally in various industries with our networking tool, so whatever steps you are looking to take, someone will be there to give you great advice on your career.
READ MORE AND DISCUSS
Show less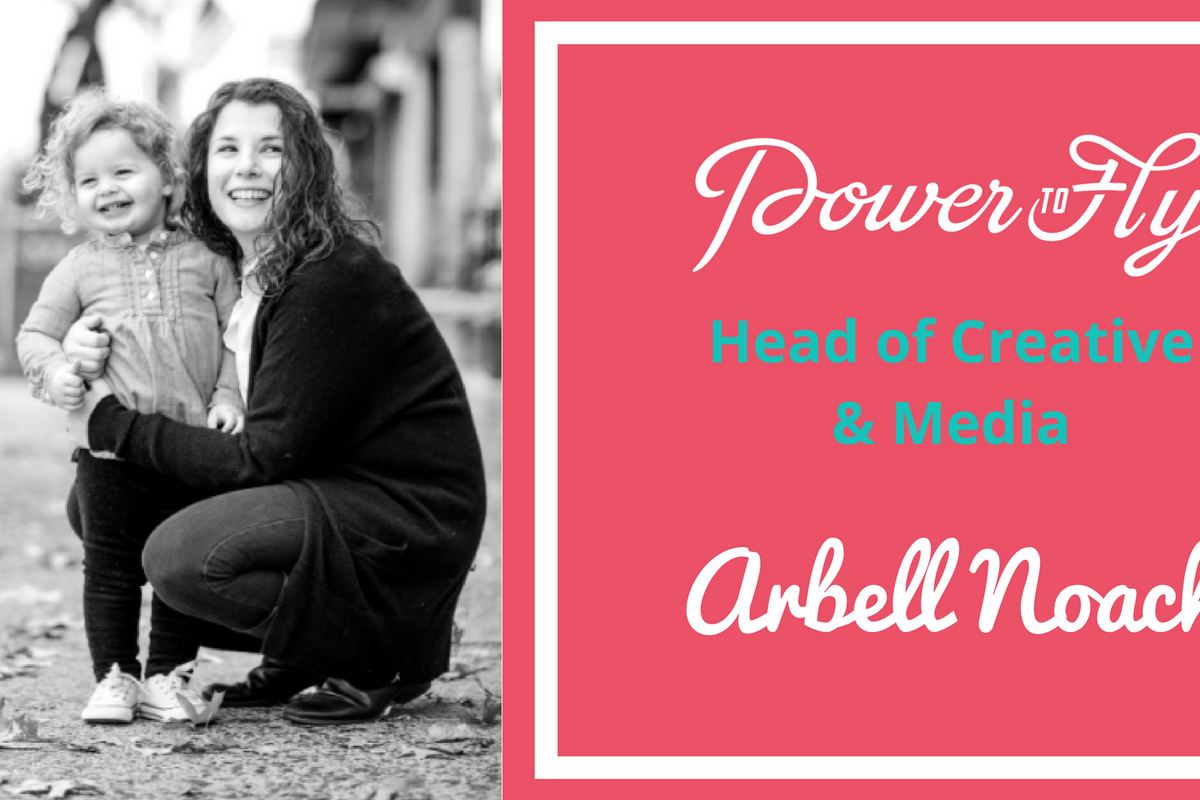 Women at Work
As you may know, February is Mentor Month at PowerToFly, and we're celebrating by connecting you with the mentor of your dreams on Networks! While we're busy matching, we wanted to chat with some of our team-members to not only get to know them a little better, but give them a chance to share their experiences as a mentor or mentee and offer up some advice on how they've tackled various roadblocks in their careers and what's made them the successful women they are today!
Today we're featuring Arbell, who is the Head of Creative & Media here at PowerToFly! She has 14 years of experience in publicity, social media and content marketing. Arbell previously worked in the music industry where she honed her content creation and dissemination strategies for artists such as Barbra Streisand, Bob Dylan and Bruce Springsteen, before moving into branded content innovation for companies like Samsung, JPMorgan Chase and Michelin (she's a busy woman!) Make sure to connect with her on Networks and ask any questions you may have!

Q: Have you ever had a mentor or mentee that's made a significant impact on your career and why?
A: I've been incredibly fortunate to have had both and have found I've much to learn from mentors and mentees alike. While I've had numerous people influence me throughout my career significantly, my former boss from Columbia Records, Glenn Frese, always stands out in my mind. He once told me, "Be a good person and do good work, and good things will come." 10 years later, it's still my core philosophy, and I strive to pass it on to others.
Q: What makes a good mentor/ mentee?
A: Someone who believes in you unconditionally, but can still (and will) deliver the hard truths. They'll tell you when you've done well or done poorly.
Q: What's one piece of advice you'd give to someone looking to start a career in content marketing/ social strategy?
A: You have to love it. You have to have passion. Don't do it because you want to be insta-famous or because you want to hang out on Snapchat all day. There's a lot of effort and strategy that goes into this business, so be prepared for long hours and hard work. Much of it can be fun and exciting, but if you don't love taking things apart and putting them back together on an intellectual level, then this business isn't right for you.
Also: just because you posted something on Facebook that one time or you know how to use Twitter, that doesn't make you a skilled social marketer. This is a real profession. That's akin to saying you accurately put on a bandage once, so therefore, you can practice medicine.
Q: We all know how much you love Facebook- but if you were to run the campaign of your dreams, what platform would it be on and why?
A: You already answered the question! The reason why is that Facebook has the most robust and accurate targeting available of any platform, and is built in a logical fashion. It really depends on what your objective is, but since Facebook is the originator in terms of paid social, and since it is still so relatively new, Facebook continues to have a leg up. Their profits don't lie.
Q: As a working mom, what's the biggest challenge you've faced in your career?
A: I've been extremely lucky that I've worked for companies and individuals who have been understanding and open to me being an involved parent. But even still, spending long hours away from a young child is incredibly difficult. Working remotely has allowed me more flexibility to be family-focused while still career-oriented - the best of both worlds.
Q: What tips do you have for other working moms looking to recharge their careers?
A: Be patient to find the right situation for you and your family. Motherhood makes you re-evaluate what you want out of your career, even out of your life. No job is one-size-fits-all. Take your time to weigh scenarios and decide what's important for you to make you happy - then go after what makes you happy.
Q: What motivates you to come to work every day?
A: Knowing that what I do effects the greater good. I loved working in music and for brands, but at a certain point, I wanted to lend my talents to something I believed in. Being a woman, and a mother, I've been enmeshed in so many different workplace scenarios governed by being a woman and a mother, for better or worse. And the stories I've heard! I don't want my daughter - or any other woman or girl - to experience negativity in the workplace based on who they are or how they choose to live their lives.
Q: Why do you love networking on PowerToFly?
A: I love meeting other women and hearing their stories. I love being able to help them in any way I can. And I love hearing that they're having success. That is the greatest gift of all.
READ MORE AND DISCUSS
Show less
Loading...