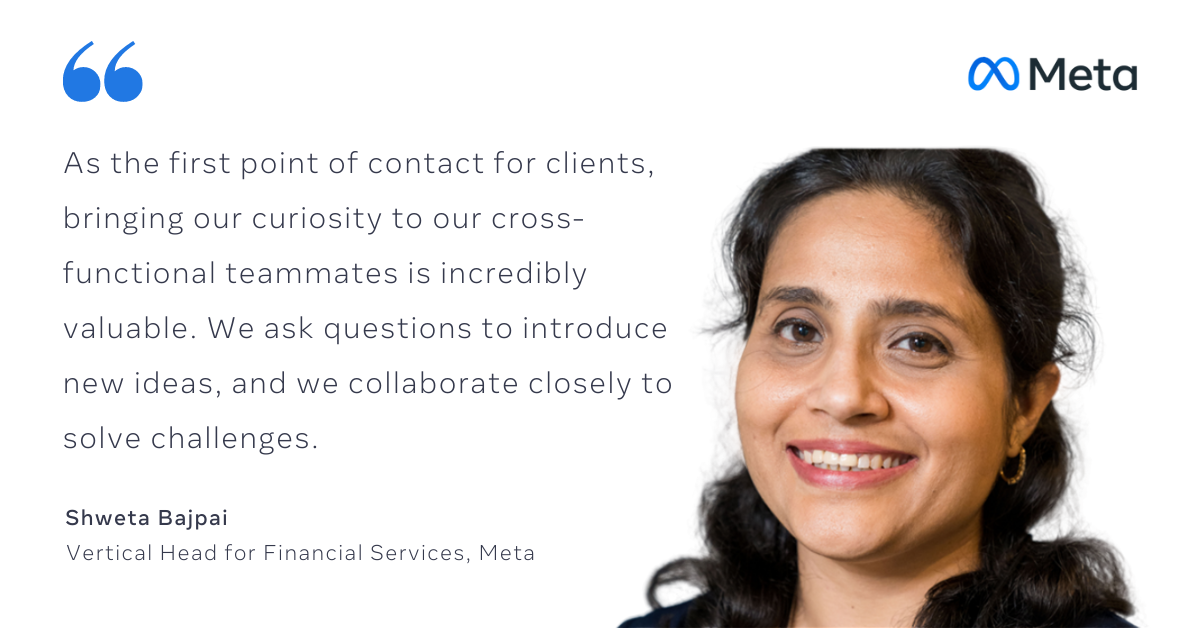 Meta
This post was originally published on the Meta blog. Go to Meta's company page on PowerToFly to see their open positions and learn more.
Editor's note: The following post is by Shweta B., Vertical Head for Financial Services, Media, Travel and Professional Services, in India. In her own words, she describes four core characteristics that empower client partners and client solution managers on the Global Business Group team to succeed.

When I'm asked about the last two years of my career journey, the first thing that comes to mind is the people I've worked with and the impactful change we've made together. After four years in business operations at another tech company, I started thinking about how I could apply my leadership skills to a new challenge. After exploring a few different opportunities, I was introduced to a position with the Global Business Group team in India that aligned with my experience and interests in developing a team of client partners and client solution managers. I was struck by something else I discovered through my interactions with my Meta colleagues as well: an incredibly inclusive culture where it was clear that the team was intentional about empowering one another to grow. Collaborating with a diverse group of people from unique backgrounds has been one of the most rewarding parts of my experience over the last two years with the company. I've also been inspired by observing how, despite the different paths people on my team have taken throughout their career journeys, we all share several key traits and skills: empathy, curiosity, authenticity, and the ability to think ahead. Looking back, I've reflected on how each of these characteristics are helping to power our collective success.
1. Empathy
Empathy not only helps me connect with my team, but it empowers us to build relationships with one another, the cross-functional partners we work with internally, and our clients - advertisers across the travel, financial, media, and professional services industries. Strong relationships enable us to establish a foundation of trust, facilitate open and honest conversations, and see things from a perspective outside of our own. This is especially important for my team. Our clients depend on us to advise on their advertising strategy, and in order to help them meet their goals, it's critical that we understand who they are, what they're doing, and what matters most to their customers. With this, we must also recognize that there isn't a "one-size-fits-all" approach. What works for one client won't necessarily work for another, and solving problems often means working together to think about a creative idea we haven't tried before. Having deep care for the end-user and being empathetic about their needs is a north star that helps us continuously strive for building the best experience possible.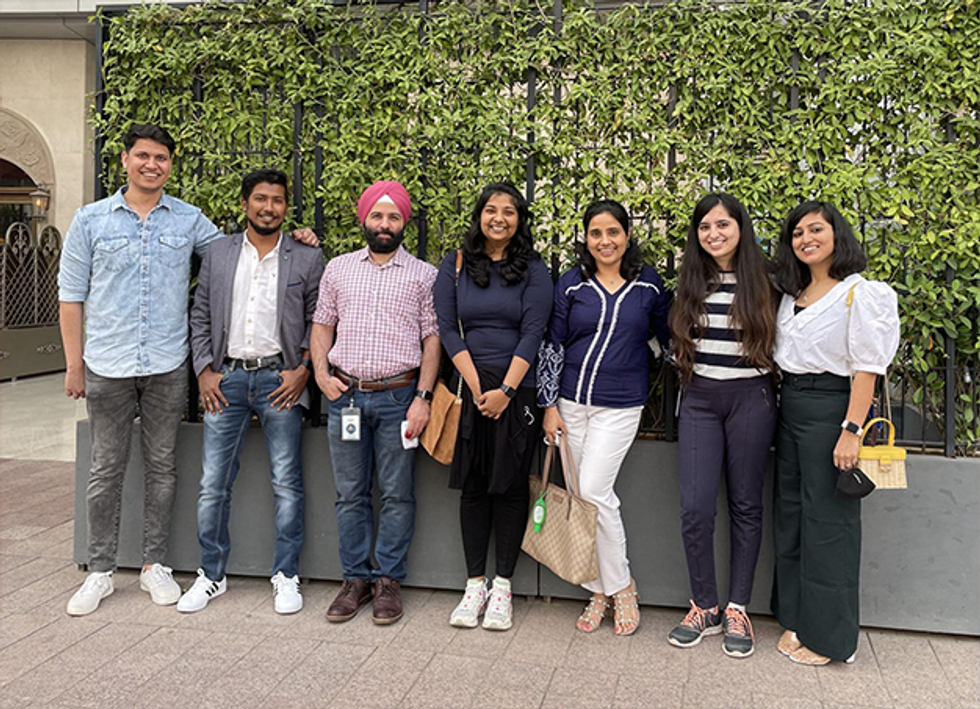 Shweta and the GBG In Market team enjoying time together at the Meta office in Gurgaon, India.
2. Curiosity
At Meta, we're on the frontier of inventing cutting-edge ways to develop new advertising solutions—and with that, we're implementing methods we haven't tried before. Innovation is a key element of our team and company culture, and introducing new ideas calls for deep curiosity. Rather than doing things as they've always been done, people who thrive on my team challenge each other to be bold, think bigger and share outside-of-the-box ideas. We ask ourselves questions like, "What can we do for the client if we think beyond product or bandwidth constraints", "What could this look like in the long-term?", and "We might not have the skills internally to answer all of our client's questions, but who can we partner with cross-functionally—or globally—to solve this problem?" As the first point of contact for clients, bringing our curiosity to our cross-functional teammates is incredibly valuable. We ask questions to introduce new ideas, and we collaborate closely to solve challenges." Curiosity also means being open to change, and it's a trait I look for when meeting with potential team members. Outside the questions focused on skills, I usually ask potential candidates for their honest view on Meta technologies, what do we do exceptionally well, and where we could do better as a company from their perspective. While we hire for specific roles, we leave space for people to help redefine their roles and take on new challenges as our work evolves. This not only empowers team members to employ their curiosity to explore different interests and possibilities, but to think more broadly about how to make the most meaningful impact.
3. Authenticity
Authenticity—bringing your full self to work—makes it possible to be open, transparent, and vulnerable. In turn, we can communicate more effectively, foster strong relationships and lead by example. Having these capabilities is like having superpowers when collaborating cross-functionally, developing a team, and working with clients. Despite the incredible benefits of being authentic, I wasn't always certain how to balance being my full self and showing up as a strong leader. I initially felt hesitant to share details about my life or talk about what mattered to me outside of work—and that prevented my team from being more open with me. At Meta, being authentic is at the heart of our culture. Leaders embrace transparency and demonstrate what it means to be open. Experiencing this has inspired me to rethink my own approach and grow. "When we're comfortable being our authentic selves, we're most empowered to put our best foot forward." Now, one of my favorite parts of the week is the first 15 minutes of our weekly team meeting. We talk about anything and everything—as long as it's not work-related! This bonding time helps us learn more about one another. I'm proud of the relationship we've formed together, and they know I truly care about each of them. This comfort and connection extends to our work with clients as well, helping us bring a transparent, people-first approach to our work. We won't suggest a product that doesn't align with their goals just to fulfill ours, and we'll be realistic when we need to think about changing course. While these authentic interactions may seem small, they make a big impact.
4. Forward-thinking
No two days are the same here, and we're constantly thinking about what's next. No matter a team member's experience or role, having the ability to look ahead enables us to keep the big picture in mind and work toward longer-term goals. It also inspires us to be creative and start conversations about how small decisions today can contribute to what happens tomorrow.Right now, we have a massive opportunity to shape the future and make an impact across India in the travel, financial, media, and professional services industries. I often think about how this is the first time that India's digital advertising industry has surpassed the TV industry, and how WhatsApp and Instagram have exploded in popularity over the last few years. The work we do with our clients is part of this shift in the way people consume advertising and media, and everyone on the team is able to drive change for the community. While we've already accomplished so much together, there's still limitless opportunity to look forward to!
Stay connected!
READ MORE AND DISCUSS
Show less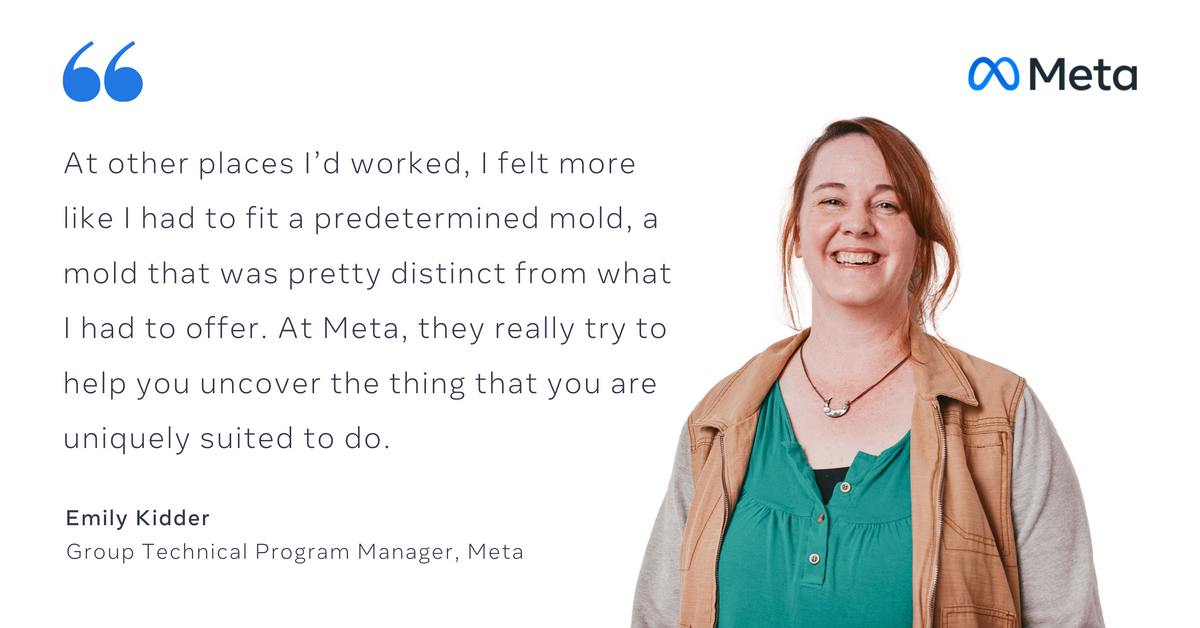 Meta
When Emily Kidder signed up to give a just-for-fun presentation on Linguistics 101 during a work summit, she had no idea it would change her career — and the way she felt about whether she belonged in it.
She'd transitioned into the tech industry after five years of graduate studies in Linguistics and Anthropology, and worked as a knowledge engineer for the five additional years it took her to write her PhD dissertation while working full-time. She stayed in tech after getting her PhD, working as various versions of a product manager for a few different companies, but it wasn't until her first few months working as a technical program manager at Meta when she gave that presentation that Emily really felt like her background was valued by her company.
"As someone who had come into tech from a non-traditional background, I always struggled with imposter syndrome. Even though I'd spent 10 years working with engineering teams and picking up a lot of knowledge along the way, in the back of my mind I would think, 'I'm not an engineer, I'm not really supposed to be here, I just got lucky,'" says Emily.
But her manager loved her talk and asked her to give it to several other teams around the company. In doing so, Emily ended up getting a lot of people excited to work on her then-focus area — improving Meta's international search capabilities in non-English languages — and even secured more funding to expand the team.
"At other places I'd worked, I felt more like I had to fit a predetermined mold, a mold that was pretty distinct from what I had to offer. At Meta, they really try to help you uncover the thing that you are uniquely suited to do," she says. "When I had always struggled with viewing myself as 'technical enough,' to have this experience flipped on its head and be told I have a technical skill that very few people have, and that it could be considered deep subject matter expertise, it unlocked a lot of my confidence. I found my home here after that."
Her home as a technical program manager (TPM) has included stints working across several different teams, but in all of them, Emily has found a shared focus on unlocking people's superpowers. We sat down with Emily to hear more about how that works — and about what sets the TPM role apart from product management roles.
Finding Her Superpower
Emily studied linguistics because she was fascinated by how people communicate. She did field work in the Yucatec Mayan language, both via trips to Mexico and via weekend interviews with a group of diaspora speakers living in the Mission district of San Francisco, where she and her husband had moved back to after she finished her studies.
She considered entering the academic job market, but she knew that to get a tenure-track job, she'd need to be ready to move herself and her family to wherever she was offered a position. Being a Bay Area native, Emily decided to commit to a career in tech — and came to love the ability to launch products that were useful to people.
But it didn't fully utilize her background.
After working on natural language processing projects for Ask.com, Emily leaned on the statistical knowledge she'd gained during her PhD and became a data specialist for the same company. With years of experience gaining product knowledge and working with engineering teams, it was a smooth transition into product management, and then to technical program management at Amazon. But the problems she was solving were primarily focused on the English language, so when a recruiter at Meta let her know there was an opening for a TPM on their international search team, Emily went for it.
This project allowed her to utilize her linguistics background from the start. "A lot of software products are built for English speakers, and systems are modified or rolled out globally after the fact. A lot of assumptions are made that may not hold up if you switch from English to something like Japanese, because those two languages are super, super different," she says. "So I looked into our backend systems to understand how we were processing language — and misprocessing it, in non-English languages."
For the first time, Emily felt like she could bring all of her years of experience — not just her tech years — to bear at work. "For example, at previous companies, my background and my PhD were interesting, but never treated as a superpower. It was more, 'Okay, that's great' than 'How can we apply that in what you do day-to-day?'" she says. "At Meta, I've been really grateful for the management culture, because they really do incentivize managers to find those superpowers."
The 3 Core Elements of Being a TPM
A technical program manager isn't that different from a product manager, says Emily. "Both roles are looking to solve user problems," she explains. "It's just that TPMs tend to solve problems that are more technical in nature."
For example, on that first project of hers, Emily was looking at Meta's backend systems herself, whereas the PM on the project was looking at what users in different markets wanted to see and experience. She collaborated more with the engineering and data science teams, whereas her PM partner worked more with the design and user research teams. "Together, we could be a superhero team by playing to our unique strengths. That's the best case scenario, when TPMs and PMs clearly define what each is trying to do and each is solving distinct pieces of the puzzle," she says.
All TPMs, no matter where they are in the company, have the same three main responsibilities, explains Emily:
Technical depth. "We all spend a lot of time working with our engineering partners, really digging into how our systems work, becoming subject matter experts, understanding the ins and outs of how our systems are built, and being thought leaders in that area. This is about being strong partners with engineers."
Execution. "This is about getting stuff done and bringing visions to reality. There are a lot of amazing visions that the company wants to make real, and TPMs are superpowered at doing that. We connect all the dots. We bring the pieces together. We get the people in the room who need to be in the room to align on what we should be doing."
Leadership, vision, and strategy. "We're not just there to help execute and get things out of the door. We're also there to be thought leaders and to figure out how to make things work better for our users, from the technical systems to the front end."
Managing Others Towards Their Strengths
When the pandemic began, Emily volunteered to join an internal Meta project called the COVID information center. Her team was working to pull in high-quality, verifiable information to help keep people aware of what was going on in their country. She then worked on the Lift Black Voices experience, which Meta rolled out for Juneteenth in 2020, and then similar information centers for climate science, voting, and vaccine information.
Now Emily works with Meta's integrity team, where she's building out a team of technical program managers to help support Meta's goals around preventing harm within the Facebook App.
"Social media can allow people to do amazing things, but keeping people safe and preventing bad experiences is extremely important. We work really hard to make sure that people's experiences are safe," she explains.
And now, as a manager of other TPMs on that team, Emily is able to help them find their own superpowers — and the right roles to let them shine.
"In a company of Meta's scale, there are so many opportunities. If you decide there's something new and interesting you want to try, it's possible here," says Emily.
2 Tips for Becoming a TPM at Meta
If the TPM role sounds interesting to you, check out Meta's open TPM roles!
"If you like helping to solve really complex, interesting problems — if you're the type of person who enjoys helping a vision come to life, creating valuable products for people and seeing things get better and better over time — it's a really great role," says Emily, who shares her two top tips for applicants:
Figure out what kind of technical problems you're excited about. "Some people will be really, really excited about understanding data and how data works. Some people will be really into AI or machine learning and all the cutting edge stuff that it can do. Find the puzzle you are interested in solving and learn as much as you can, you don't have to be an engineer and know how to code to be a TPM."
Don't assume you need to fit a mold, go ahead and apply. "If you have a passion for solving technical problems but you come from a non-traditional background, and if you're like I was and think you may not be technical enough for a role that has 'technical' in the title, don't let that stop you. Just go for it!" says Emily with a smile.
Interested in working at Meta? Check out their other open roles here!
READ MORE AND DISCUSS
Show less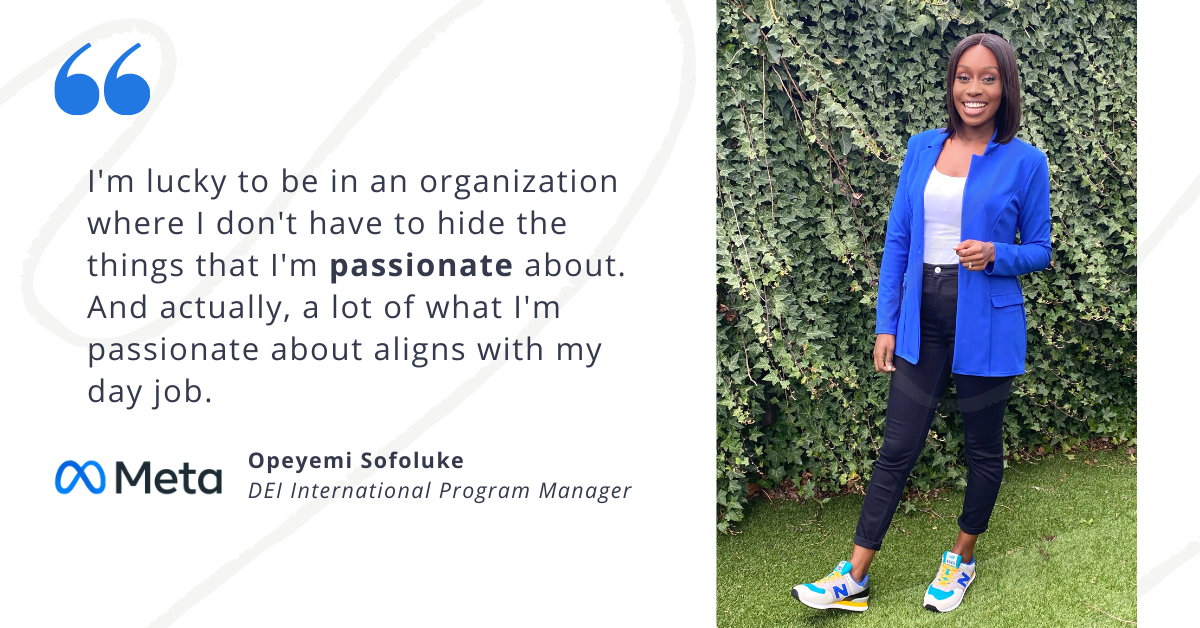 Meta
Opeyemi Sofoluke knows there's not one single word or aspect of her life that defines her.
Not being a mother, or the DEI International Program Manager at Meta, or the co-author of the book Twice as Hard.
"Black is not a monolith, or being a woman is not a monolith. There are so many dimensions to who we are as people," says Opeyemi.
In her own life, she has embraced those dimensions, combining career growth and personal growth by pursuing her interests at work and beyond.
That's what led to the book that she co-authored with her husband—and in which she explores how to create space for Black talent to thrive by tracing the stories of 40 entrepreneurs and professionals.
Twice as Hard was written in four months during the pandemic, while Opeyemi was working and also raising her two young children along with her husband. But she didn't see the project as something that took time away from her roles at work and at home, but rather that added to both.
"I'm lucky to be in an organization where I don't have to hide the things that I'm passionate about. And actually, a lot of what I'm passionate about aligns with my day job," she says.
We sat down with Opeyemi to ask how she balances her impactful work at Meta with her personal passions beyond tech—and what advice she has for other people looking to do the same.
A passion to create change
Opeyemi isn't new to the whole juggling-two-or-more-interests thing. She was interested in both business and politics while at university, so did a combined honors degree in both subjects.
"It comes from a passion and desire to create positive change in spaces where I find myself," says Opeyemi of what drives her to take on more.
The first space she found herself in after university was banking, because she wanted to build her career in a strong industry with lots of learning opportunities. But she had trouble feeling like she was making an impact.
"Being a change agent, creating spaces for people to be themselves—I wasn't doing that in my day-to-day," she says.
So Opeyemi started volunteering and joining employee resource groups, which is how she found an opportunity with her firm's social responsibility arm using the company's technologists to support NGOs and charity organizations.
Working with the mostly-white, mostly-male tech world inspired Opeyemi to pursue DEI work. She's particularly excited about the challenges of her field compared to others: "There is still so much opportunity to change the face and technology, and make it more diverse and representative of the world and the actual global majority that we see today."
She was ready for her next challenge when she heard about the job at Meta. Now, as their DEI International Program Manager, Opeyemi's days are spent working with Meta's nine employee resource groups across the three regions—Asia Pacific, Europe / Middle East / Africa, and Latin America—that she supports.
That can include things like supporting the Meta employee resource groups in building out their strategy, determining key priorities to activate against and amplifying community concerns to senior leadership, or supporting the planning and programming of community Heritage Months across the regions such as International Women's Day or Black History Month in all its forms: in October in the UK, in November in Brazil, in May in other parts of Europe, and in February in the U.S and Germany.
Opeyemi is cognizant of her own various identities, passions, and interests, and knows that the Meta community as a whole has the same diversity of experiences.
"We want to make sure that the programming is truly intersectional," she says. "So for Black History Month, for example, we want to make sure you're seeing programming that is relevant to someone who may be Black and disabled, or Black and a mother."
Making time for growth outside of work
Opeyemi didn't set out to write a book. But in 2019, her husband, who is the founder of the UK Black Business Show and UK Black Business Week, had an idea about writing a book that would be relevant for Black professionals and entrepreneurs.
"We were really intentional about addressing topics that would've been helpful for us when we started our career. What are some key areas that would've been important to address?" she says. They came up with a chapter list featuring everything from building a personal brand, to how to network and relationships to how to navigate white spaces, and got to writing. They also came up with a list of professional sources to interview.
"When people think about successful Black people, they often think about sports or entertainment. But the reality is we can be successful wherever we find ourselves, and we should not put ourselves in a box," she says. That's why Twice as Hard includes stories from people such as Matthew Knowles, who managed his daughters' careers, and Pamela Hutchinson, Global Head of D&I at Bloomberg.
Opeyemi sees her book as having two messages.
The first is for the Black community, and it's one of hope and inspiration.
"It was important to demonstrate that the struggle has been around for a long time, and even though it still exists, people are doing excellent things," she says. "We idolize people that have made it, and we don't see their journey. Imagine a portrait in a gallery. You don't see the nights where the artist sat there saying, 'How should I paint this picture?' We just see the end result. But it's important to highlight the work that people have put into their careers, the challenges that people have faced, because those challenges are not necessarily unique. They're all things we can identify with."
The second message is for people outside of the Black community, including allies.
"We're giving you that insight into our world," says Opeyemi. "Hopefully, then you're more informed on our experiences and can therefore be a better, a more active, a more intentional ally, because you know what to look out for."
4 tips for balancing passions
The process of writing, publishing, and promoting the book is something that Opeyemi has balanced with her day job, though her passion to support her community and her work to do the same are clearly aligned.
For others looking to do the same, whether with complementary interests or not, Opeyemi suggests:
Figure out what balance looks like to you. Opeyemi considers herself an "intrapreneur"—someone who is able to deliver on new ideas in a working environment, but doesn't have to set out on their own to do it. "If someone else wants to go off and be an entrepreneur, that's great. You just have to set yourself up to actually get there, so you can make sure that financially you are secure," she says. But it's also entirely possible to follow her path and keep a full-time job while pursuing extracurricular growth, she says.
Remind yourself that you deserve the investment. Working on a passion project often requires an investment of money, time and effort. "Whether that's on your weekends or in the evenings, it's about finding ways to make the time for you to deliver on that passion," she says. Stay disciplined and motivated by reminding yourself that the investment will be worth it in the end and you deserve to work on and invest in projects that bring you joy.
Share your work with your team. Support is a major factor when creating a product or project on your own. Don't be afraid to showcase what you're working on to others. You might get that extra support you need, or even gain a connection to someone who can help. "Imagine if I kept it quiet that I've got this book coming," she says. "You don't want to hide away a gift or a talent."
Recognize the impact that your work will have on your broader communities. "Often when you are passionate about something or when you're creating something, it's not just for yourself," says Opeyemi. "When you think about a creator, they're creating for a community."
To hear more from Opeyemi and other women at Meta about balancing their impact at work and in their communities, check out this Beyond Women's History Month event video!
READ MORE AND DISCUSS
Show less
Loading...