GET EMAIL UPDATES FROM POWERTOFLY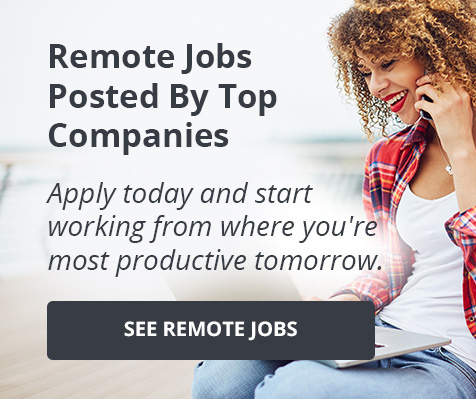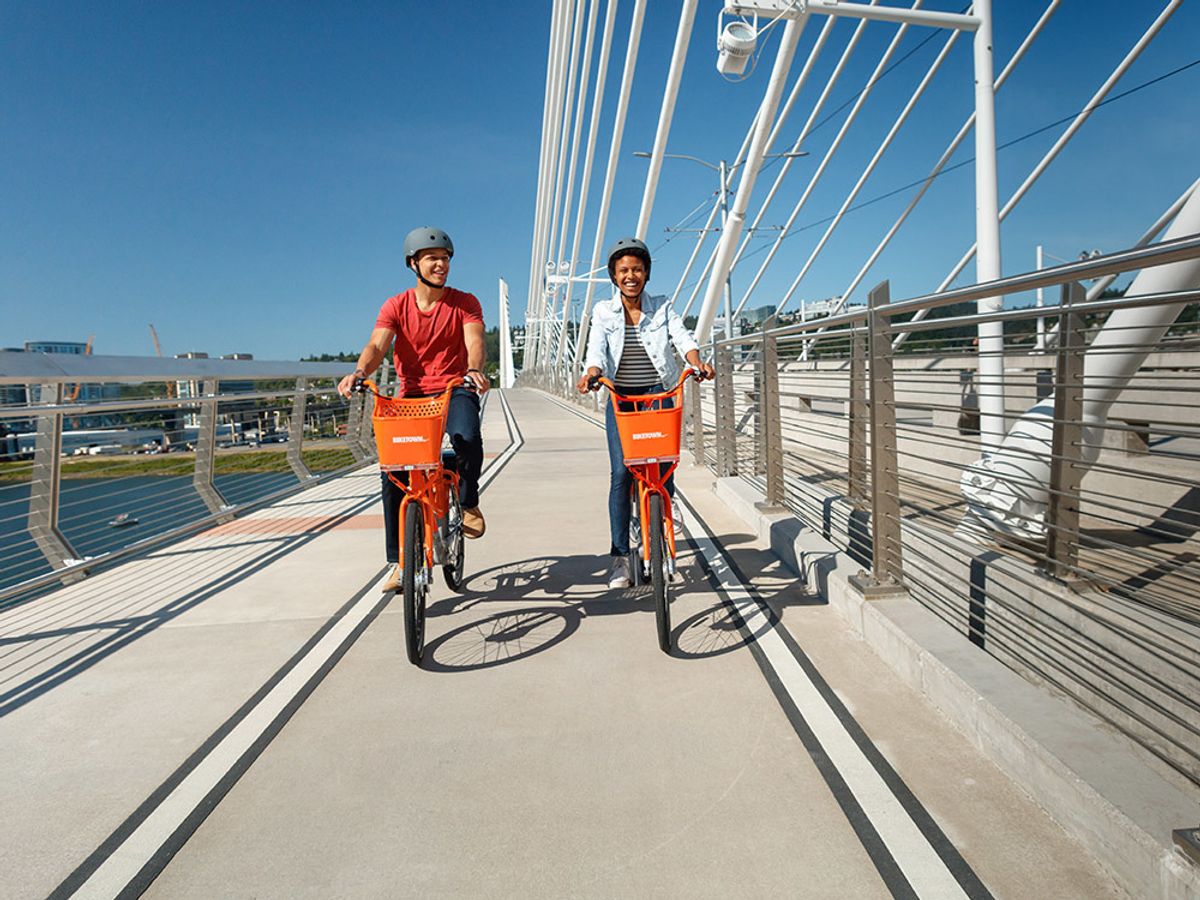 Motivate
They want you to join their team!
Below is an article originally written by PowerToFly Partner Motivate. Go Motivate's Page on PowerToFly to see their open positions and learn more.

Bike share leader Motivate continues to revolutionize the landscape of cities, making them more accessible, healthier, and sustainableFirst-time honoree Motivate selected alongside Patagonia, Salesforce, and Starbucks
NEW YORK (February 20, 2018) – Today, Fast Company honored Motivate as one of the top ten most innovative companies in social good, as part of the magazine's annual Most Innovative Companies issue. Operating bike share systems across the nation, from New York to the Bay Area, Motivate continues to lead in making bike share a key component of the mobility solutions for modern cities.
In 2018, Motivate continues to develop its technology and operations to further cement itself as the leader in bike share. Motivate is working to expand its Bike Angels program, which incentivizes Citi Bike riders to use their people-power to help rebalance bikes across the system. Motivate also continues to develop new products, with the recent news that Motivate has been selected to transition the Minneapolis bike share system to a dockless network, and its plans to add pedal-assist ebikes to the Ford GoBike system in San Francisco.
"Through our best-in-class bike share operations, Motivate makes commutes shorter, neighborhoods closer, and biking easier. Our mission is to deliver solutions to create healthier, greener, and more accessible cities — and that's why I am so pleased that Fast Company has selected Motivate as one of the most innovative companies in social good. We look forward to delivering additional innovations to our cities and riders in 2018," said Jay Walder, President and CEO of Motivate.
"This year's Most Innovative Companies list is an inspiring and insightful window into how many companies have embraced innovation and are working to make meaningful change," said Fast Company deputy editor David Lidsky.
Fast Company's ranking of the world's 50 Most Innovative Companies for 2018 honors leading enterprises and rising newcomers that exemplify the best in business and innovation across various sectors. Most Innovative Companies is Fast Company's signature franchise and one of its most highly anticipated editorial efforts of the year. It provides both a snapshot and a road map for the future of innovation across the most dynamic sectors of the economy.
Fast Company's Most Innovative Companies issue (March-April 2018) is now available online at www.fastcompany.com/MIC, as well as in app form via iTunes and on newsstands beginning February 27.
READ MORE AND DISCUSS
Show less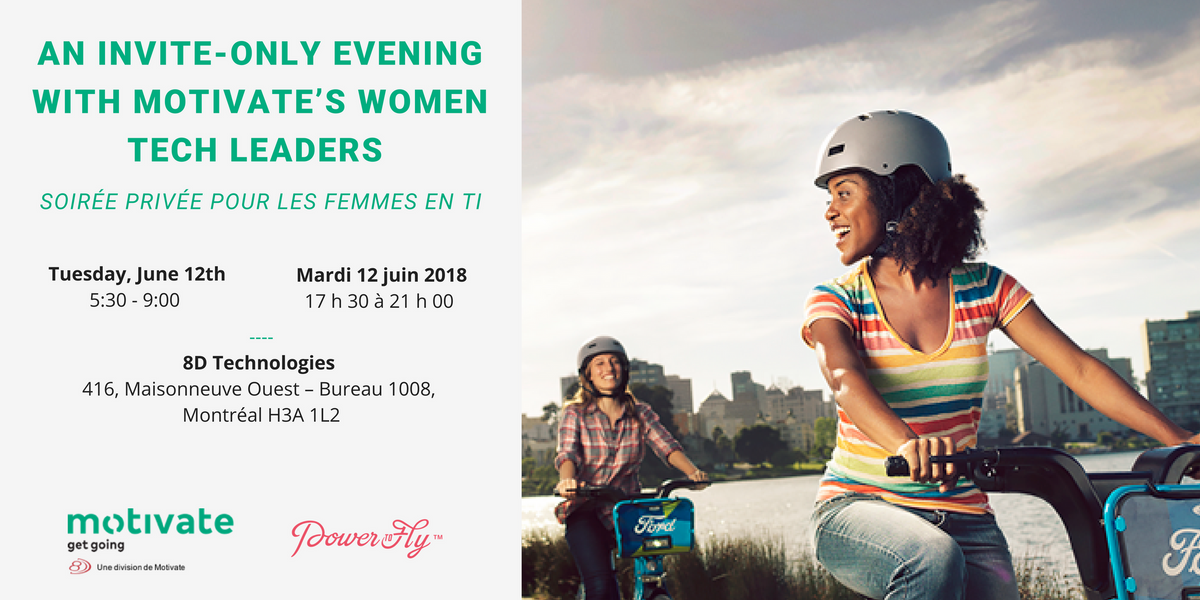 Motivate
This is an invite-only event for software engineers and developers with at least 2+ years of experience. If you think this event would be a good fit for you, please email hi@powertofly.com to be considered for an invitation. (Il s'agit d'un événement sur invitation seulement pour les ingénieurs en logiciel et les développeurs ayant au moins 2 ans d'expérience. Si vous pensez que cet événement vous conviendrait, veuillez envoyer un courriel à hi@powertofly.com pour être considéré pour une invitation.)
Motivate has partnered with PowerToFly to present an exclusive, invite-only evening for women in tech. The evening will feature discussions and an inside look into Motivate's latest product builds. We'll leave plenty of time to network with Motivate executives and other top women in your field who have been invited. Motivate is the global bike share leader, revolutionizing city landscapes by making them more accessible, healthy and sustainable.
The event will take place on June 12th from 5:30pm to 9pm at 8D Technologies, 416, Maisonneuve Ouest – Bureau 1008, Montréal H3A1L2.
Agenda (Subject to Change):
5:30pm - Check-In & Networking over Food & Drinks
5:50pm - Kickoff from PowerToFly
5:55pm - Welcome & Introduction by Motivate Leaders
6:10pm - Product Demo
6:40pm - A Conversation with Motivate's Tech Leaders
7:10pm - Audience Q&A;
7:30pm - Networking over Food & Drinks
9:00pm - Event Ends
Create Your Free Profile on PowerToFly and follow Motivate on PowerToFly to be updated on events and open roles.
About our Events: All RSVP'd attendees are welcome, regardless of race, color, religion, national origin, gender identity, pregnancy, physical or mental disability, or age. If you require accommodation to fully participate in this event, please email hi@powertofly.com, and we will contact you to discuss your specific needs.
Unfortunately, PowerToFly and the company it is holding an event on behalf of cannot admit outside recruiters to this particular event. Please email hi@powertofly.com if you have any questions about this policy.
********************
Motivate s'est associée à PowerToFly pour présenter une soirée exclusive réservée aux femmes du domaine des technologies. La soirée mettra en vedette des discussions et un regard sur les dernières créations de Motivate. Nous vous réservons beaucoup de temps pour faire du réseautage avec les cadres de Motivate et d'autres femmes de votre domaine qui ont été invitées.

Motivate est le leader mondial du partage de vélos, révolutionnant les paysages urbains en les rendant plus accessibles, sains et durables.
L'événement aura lieu le 12 juin de 17h30 à 21h à 8D Technologies, 416, Maisonneuve Ouest - Bureau 1008, Montréal H3A1L2.
Ordre du jour (sujet à changement):
5:30pm - Enregistrement et réseautage avec nourriture et boissons
5:50pm - Coup d'envoi de PowerToFly
5:55pm - Mot de bienvenue et introduction par les leaders de Motivate
6:10pm - Démo du produit
6:40pm - Une conversation avec les leaders technologiques de Motivate
7:10pm - Audience Q&A;
7:30pm - Réseautage avec nourriture et boissons
9:00pm - Fin de l'énénement
Créez votre profil gratuit sur PowerToFly et suivez Motivate sur PowerToFly pour être mis à jour sur les événements et les postes ouverts.
À propos de nos événements: Tous les participants au RSVP sont les bienvenus, sans distinction de race, de couleur, de religion, d'origine, d'identité de genre, de grossesse, de handicap physique ou mental ou d'âge. Si vous avez besoin d'un accommodement pour participer pleinement à cet événement, veuillez envoyer un courriel à hi@powertofly.com, et nous vous contacterons pour discuter de vos besoins spécifiques.
Malheureusement, PowerToFly et l'entreprise pour laquelle elle organise un événement ne peuvent pas admettre des recruteurs externes à cet événement particulier. S'il vous plaît écrivez à hi@powertofly.com si vous avez des questions sur cette politique.
READ MORE AND DISCUSS
Show less
Loading...