GET EMAIL UPDATES FROM POWERTOFLY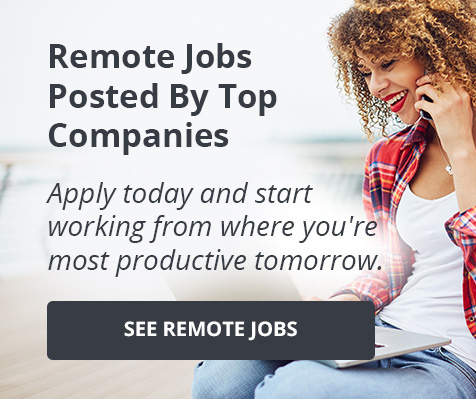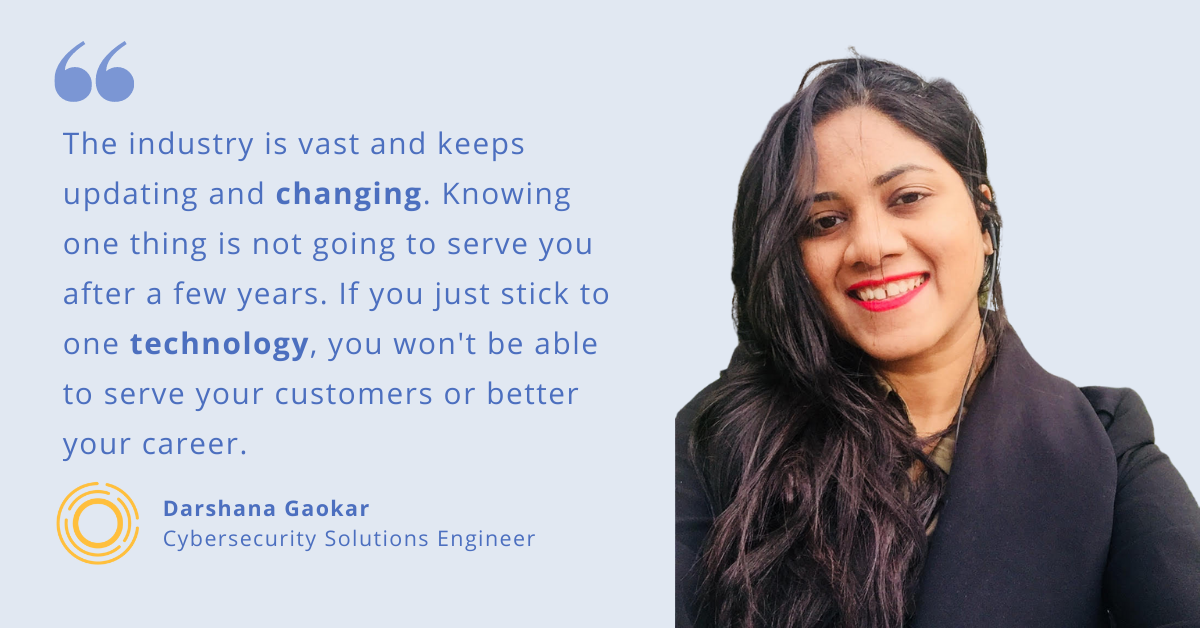 Myriad360
When Darshana Gaokar has free time, you can find her on the court with a racket in hand. "I used to play badminton in India a lot," Darshana explains. "After coming [to the United States], I continued playing and I even won a couple of tournaments." A recent move to a new city sparked her interest in a new sport — squash. "It's a bit different than badminton, even though there's a racket and a ball, but I'm learning and I think I'm getting good at it now."
Darshana's drive and knack for learning has helped her off the court as well. This led her to move to a new country, pursue a degree in security and networking, and land her role as a Cybersecurity Solutions Engineer at Myriad360. We sat down with Darshana to learn more about her professional journey and her advice for women who are building their careers in tech.
From Networking to Cybersecurity
Darshana had a clear idea of her future career from early on. "I knew from when I was a kid that I wanted to become an engineer because of my dad — he's an engineer." she shares. "I never thought of exploring any other industry."
She completed her undergraduate degree in her home country of India and decided to pursue a master's degree instead of jumping straight into the workforce. "I had an internship with my university that was in basic networking and it really sparked my interest," Darshana explains."So I decided to get a master's degree in security and networking before I started working." She ultimately decided to pursue that degree in the United States at George Mason University.
After graduation, Darshana secured a job at the university's technology department as a network engineer. "That was my first full exposure [to networking]," she shares. "I learned how the industry works and the basics of network engineering."
While that job provided Darshana with a strong foundation, she began seeking out a role that would give her more exposure to other aspects of the industry and sponsor a long-term stay in the States to gain more knowledge and experience. She was quickly hired as an associate engineer at an IT solutions company in New York. "My job was basically to learn different technologies and get certifications in different areas and different industries," she shares. "That job actually turned out to be a really good point for me, because I didn't really know which part of networking I wanted to focus on, and I got exposure to all the areas so I could decide better which one I like the best."
With ample opportunities to learn, Darshana started clarifying her career direction. "That's when I knew that I wanted to be a cybersecurity engineer," she enthusiastically shares. She was able to grow in her role as a security implementation engineer, and after 3 years at that company, Darshana was ready to take her next career step.
"I knew I didn't want to focus on one concentration, working on the same technology," she explains. "I wanted to explore more. I wanted to learn and work on multiple technologies, because I knew I'd get bored easily." So she reached out to a former colleague who worked at Myriad360 to learn more about the company and his experience working there. "I liked the stories that I heard from him and I thought that it would make sense for me to apply," she reminisces. "So I did, and luckily I got it!"
Career Expansion with Myriad360
Darshana joined Myriad360 in July of 2020, and she's been thriving in a role that provides her with constant learning and opportunities to work with new technologies. "I wanted to develop further on cloud security and endpoint security," she explains. "After a few months [at Myriad360], I started getting put on those projects — both internal and customer-facing ones."
Because of Myriad360's vast vendor partnerships, their engineers are required to obtain certain certifications to maintain their connection with clients. "I get to choose which certification I do, and I'm supported," she explains. Even when that technology isn't yet needed. "I'm pursuing a certification that isn't necessarily required. Even though we don't need this partnership level immediately, I get to invest my time in learning this technology and they are happy that I'm doing it because it'll help me in my career."
Deciding on the next certification to pursue is a strategic decision. "First, I see what kind of technologies customers have and where they're struggling or need help," says Darshana. "And I find a certification that will help me, help them." She also talks to her manager for advice on where they see the industry going. "We talk on a weekly basis about what I should invest my time in."
For example, Darshana has found two areas that she's interested in — cloud security and automation. "Even though I like both areas, I decided to work on the cloud security part of it first, but I know that in the long term I want to be in automation, because that's where the industry will go next."
Continual Learning for Career Development
This quest for learning and growth has been an integral part of Darshana's life and is what has led her to earning over a dozen different certifications to date. She encourages other women to push themselves further in their career by never ceasing to advance their skills. Here's her advice on how to do that.
1. Be proactive and prepare for the future. Although it's important to have expertise in your field of technology, Darshana advises women looking to advance their career to expand their knowledge and to not stick to one specialized area. "The industry is vast and keeps updating and changing," she elaborates. "Knowing one thing may not be able to serve you after a few years."
Being proactive by learning technologies will help your career and your clients in the future. "You have to skill up to learn those technologies," Darshana encourages. "If you just stick to one technology, you won't be able to serve your customers or better your career."
2. Don't forget to focus on the task at hand. With technology moving at such a fast rate, upskilling can be overwhelming. Darshana encourages others to not spread themselves too thin, but to remember to focus on completing one task at a time. "I think there should be a balance," she says. "You don't want to just look at the future, you also have to stay in the present. Striking that balance is hard for me sometimes — I'm also still learning it." But she assures that finding a balance between focusing on the present and preparing for the future is key to success.

3. Find a mentor. "It's really important to have a good mentor." Darshana states. She defines a good mentor as someone who knows where the industry is going and can provide training resources for you.
She has seen people succeed without a mentor, "You have people that are self drivers, they sign up for courses and do that," Darshana admits. However, a mentor can provide you with stability. "Nothing can replace the confidence a mentor can instill in you."
If you're looking for your next career move check out the open positions at Myriad360.
READ MORE AND DISCUSS
Show less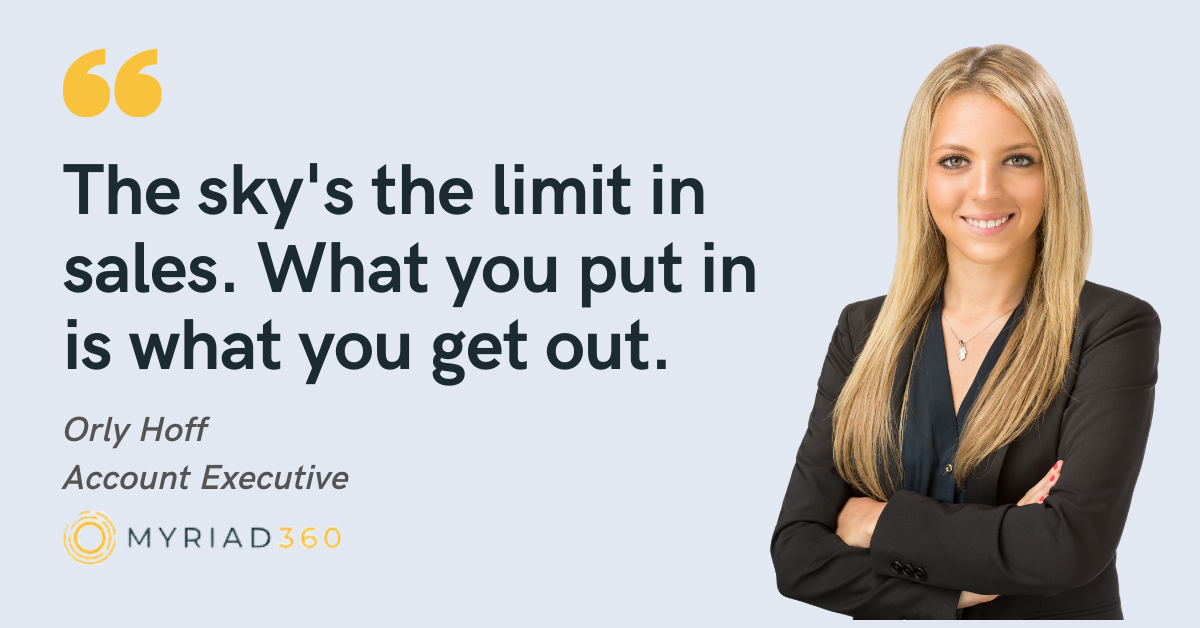 Myriad360
Orly Hoff studied communications in college, fully expecting to make a career in marketing or PR.
But within a year of graduation, she realized that she was much better suited to sales than marketing.
"I didn't like being heads down at my desk all day," explains the now Account Executive at cybersecurity consultancy Myriad360. "If you're meeting new people, every day is different."
We sat down with the native New Yorker and self-described people person to learn more about her pivot to sales (including why she joined—and then rejoined—Myriad360), and to get her advice for others looking to succeed in the field.
On Joining—And Rejoining—Myriad360
Orly first joined Myriad360, then Myriad Supply, in 2013. She discovered a knack for sales and quickly learned about the importance of "being persistent and handling rejection" (in the way only cold calling can teach you).
After a year honing her skills, she felt ready for a new kind of sales challenge. "I wanted to pursue real estate," she explains. "I thought, 'what better opportunity than meeting new people and supporting them through one of the biggest, most emotional experiences in their lives?'" she explains.
And she did enjoy meeting new people. "What I didn't enjoy," she says, laughing, "was working in a field where you are on your feet seven days a week, running around the city of Manhattan and all the boroughs, trying to find a place that doesn't exist because everyone has crazy expectations!"
After four years in real estate, Orly was ready to find a job with more sustainable demands, but knew she didn't want to give up the excitement of working with and helping people.
So, she started looking for other opportunities and reached out to her former boss and Myriad360's current Executive Vice President of Revenue, Mike Sloan, for a reference.
"I've always had a great relationship with Mike. He suggested we get coffee," she explains. "I should have known then he was selling me," she adds, with a laugh.
They met for coffee, and Mike filled her in on the growth that had happened at Myriad360 since she left. He explained the sales function had become more strategic and if she returned, her role as an account executive would be helping clients make the best possible decision for their business (less cold calling, and more advising!).
This appealed to Orly's relationship-driven approach to business, and she left their meeting with a job instead of a reference.
Putting People First
When Orly rejoined Myriad360, her work became more about building relationships than pushing products. "This is a people-to-people business, you are selling the idea of making their life easier," Orly explains.
Myriad360 sells millions of tech products but working in tech sales doesn't mean you have to be a tech expert. "What I like about Myriad360 is that we focus on the business outcomes," explains Orly. "At the end of the day, the technology that we're selling is there to impact our client's business—to give them a competitive edge, to save money, to be more efficient."
Through her experience, she's learned that what's most important is understanding how to identify her clients' pain points so that she can work with the engineers on her team to help solve them.
Providing solutions to her clients is what keeps Orly feeling fulfilled, even when the job itself gets stressful. "I've truly become friends with a lot of my clients," she elaborates. "It's very rewarding knowing you're actually making an impact for them personally and professionally."
Five Tips for Success in Sales
The world of tech sales creates countless opportunities for personal and professional growth. Here's Orly's advice for making the most of them:
Be a people person: "Being genuine and focusing on how to help a client will always move you further along the sales call. The best [sales people] here at Myriad360 know the most about people and how to interact and ask the right questions," shares Orly.
No corporate jargon: "Talk like a human," Orly advises. "Because they're all human too." Communicating to clients as if they are friends or family members will help earn their respect and trust.
Tell stories: "I wasn't doing that pre-Myriad360," confesses Orly. "It resonates with clients. They remember stories, they don't remember facts."
Take time to recharge: "Sales can be stressful, so it's important to make time for yourself to disconnect," she explains. For Orly, this means working out regularly to blow off steam and taking advantage of the culture at Myriad360. "There's no strict PTO, it's unlimited. They encourage you to take time off and turn off your phone and check out."
Ultimately, it's up to you to make the most of your sales career, says Orly. "The sky's the limit in sales. What you put in is what you get out."
Want to maximize your potential?
Check out Myriad's open roles.
READ MORE AND DISCUSS
Show less
Loading...