GET EMAIL UPDATES FROM POWERTOFLY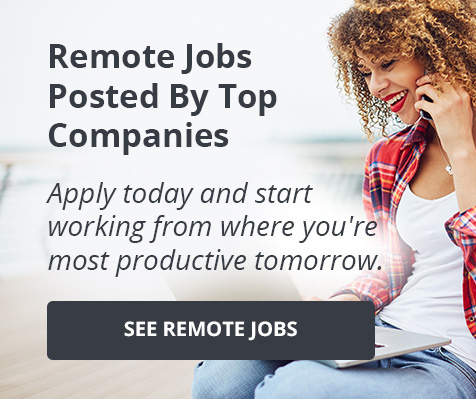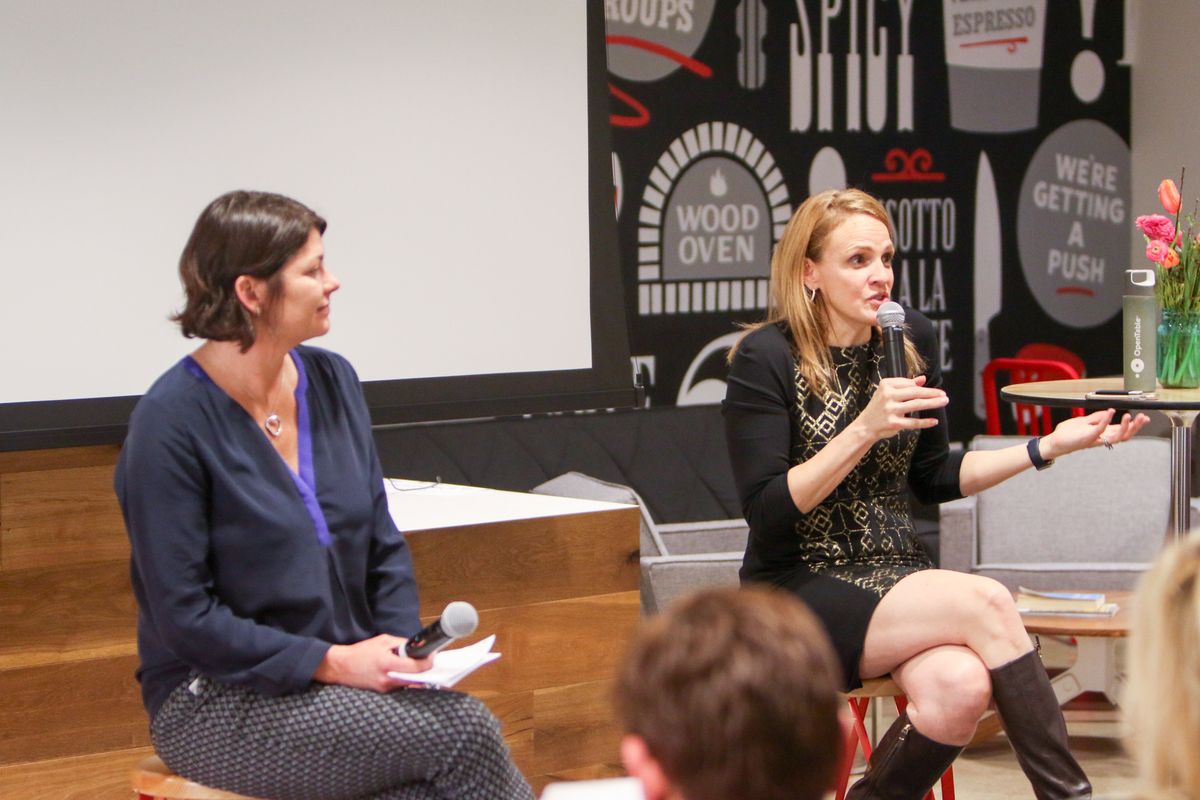 OpenTable
When we think of CEOs leading America's most well-known networks, we don't hear them combine their goal of building a product that serves over 25 million diners a month with ensuring they will reach gender parity across their teams. That's because they're not Christa Quarles, the OpenTable CEO, who spoke to women from PowerToFly about changes she and her team have made to "create the ultimate restaurant recommendation engine" while focusing on creating a diverse and inclusive environment for everyone to thrive in.
We recorded a number of key quotes throughout the evening from Christa and senior executives, who included OpenTable's CTO, their SVP of Global Sales and Services, their Senior Product Marketing Specialist, and their Senior Engineering Manager.
Joseph Essas, OpenTable's CTO (and a father of five), formally kicked off the evening by declaring: "everyone has a gift." Essas, who shared his journey of immigrating from Russia to the United States where he was able to not only launch his career but start a family, implored our audience to consider "what will you bring to the table to enable change?"
Christine Elfalan, a Senior Director of Product Management, provided insight into the OpenTable platform, specifically how she and her team think of the world through the eyes and experience of the end user.
Karen Nguyen, a Senior Engineering Manager, walked the audience through a "sneak preview" release with an A/B test.
Sarah Knight, a Senior Product Marketing Specialist broke down the host experience and joined her colleagues in detailing the different ways that hosts, guests and general management all approach the platform.
To cap the evening off,
OpenTable CEO Christa Quarles joined Andrea Johnston, OpenTable's SVP, Global Sales & Restaurant Services for a one-on-one conversation. Here are some highlights:

On the importance of guest location: "Where you are matters so much. If you are in a dense market like Manhattan you're not going to go more than ten blocks. We know this."
On analyzing intent: "We know if at certain times of day, what you're looking for and when. So we are taking intent and aim to serve back what our diners are looking for."
On what sets OpenTable apart: "The data that we have is unique because we have conversion data. We know when that person sat in that seat, which they don't have. They have an insane amount of upper funnel data, but they don't know when that connection got made."
On prioritizing: "Where you invest your time is more valuable than where you invest money."
On life at OpenTable: "Joy and laughter belong here."
Follow OpenTable for more information on the company, including their open roles or visit OpenTable's career page.
Follow OpenTable on Facebook, Twitter and Instagram.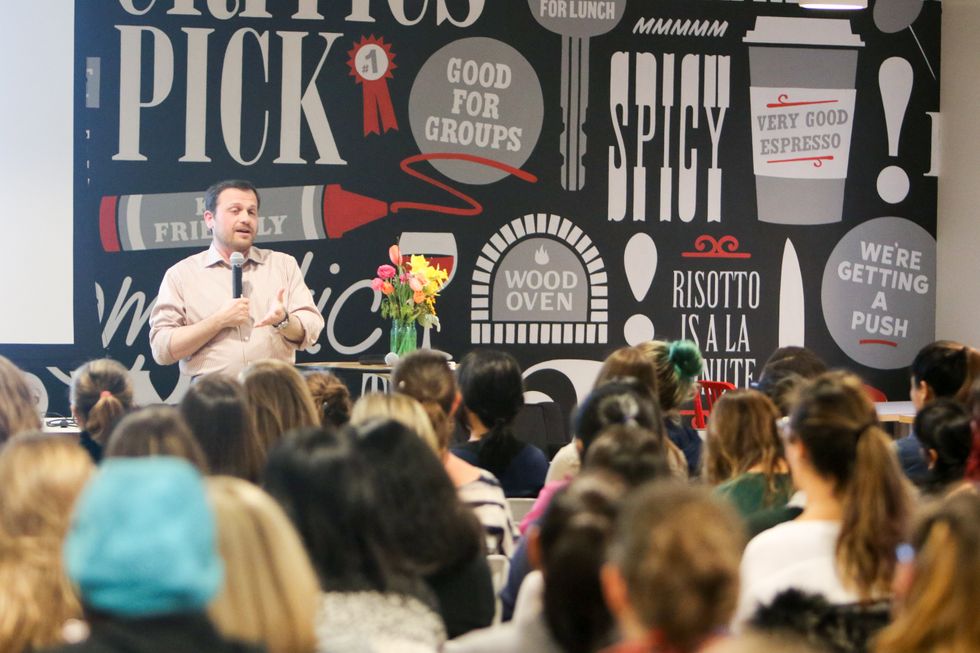 OpenTable CTO Joseph Essas delivered the evening's keynote address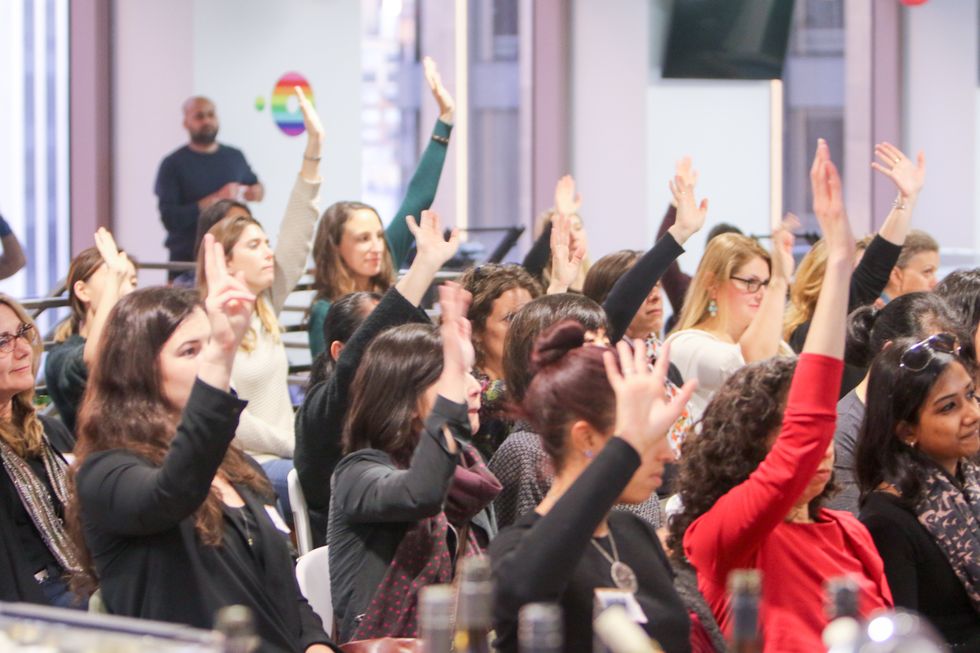 The enthusiastic audience of women in tech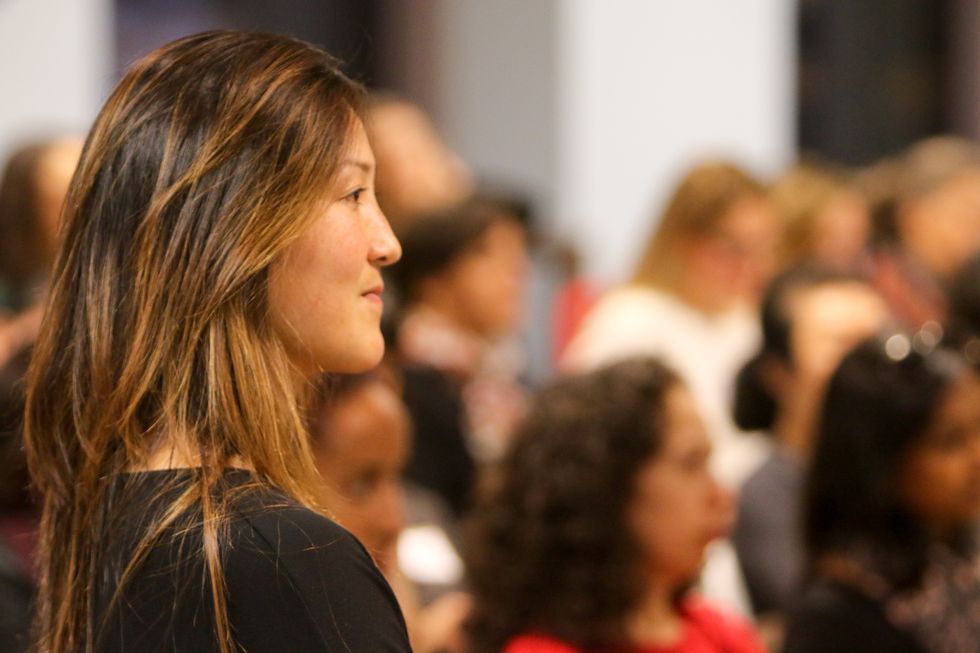 The OpenTable team provided an insightful product demonstration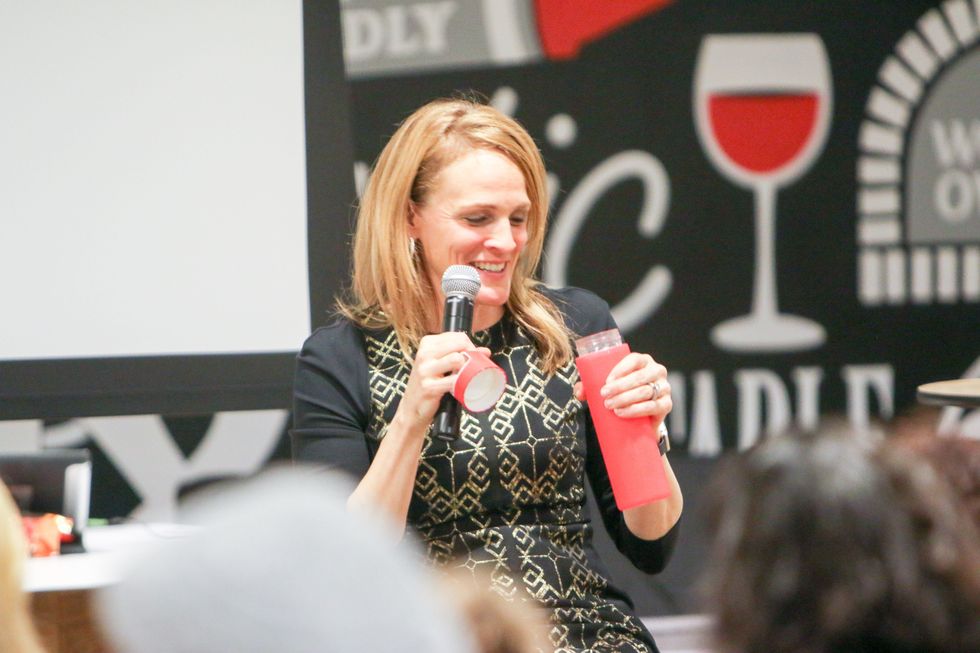 OpenTable CEO Christa Quarles conducted a fireside chat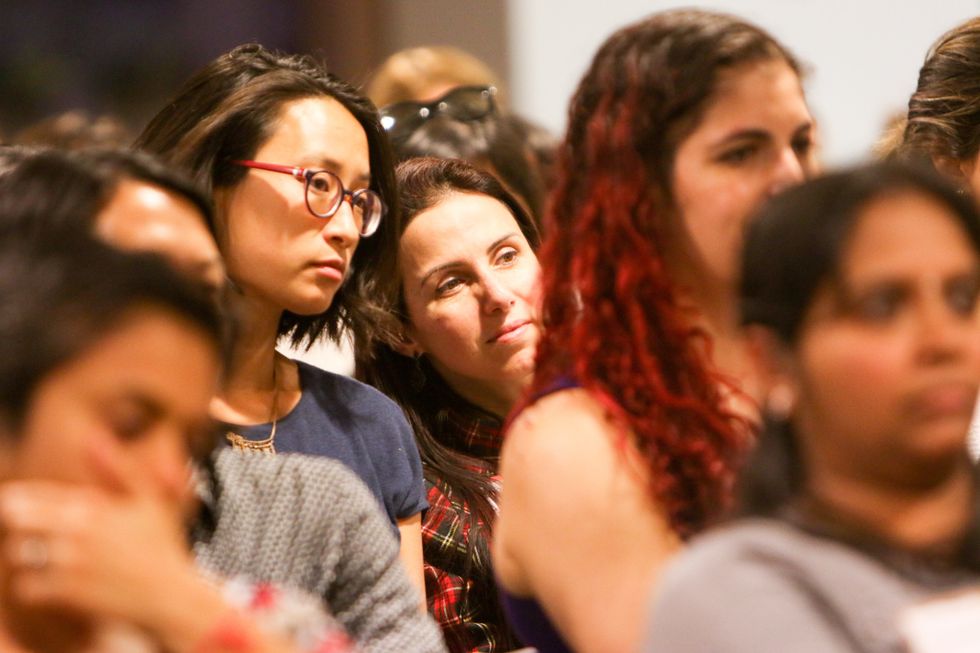 A packed house
READ MORE AND DISCUSS
Show less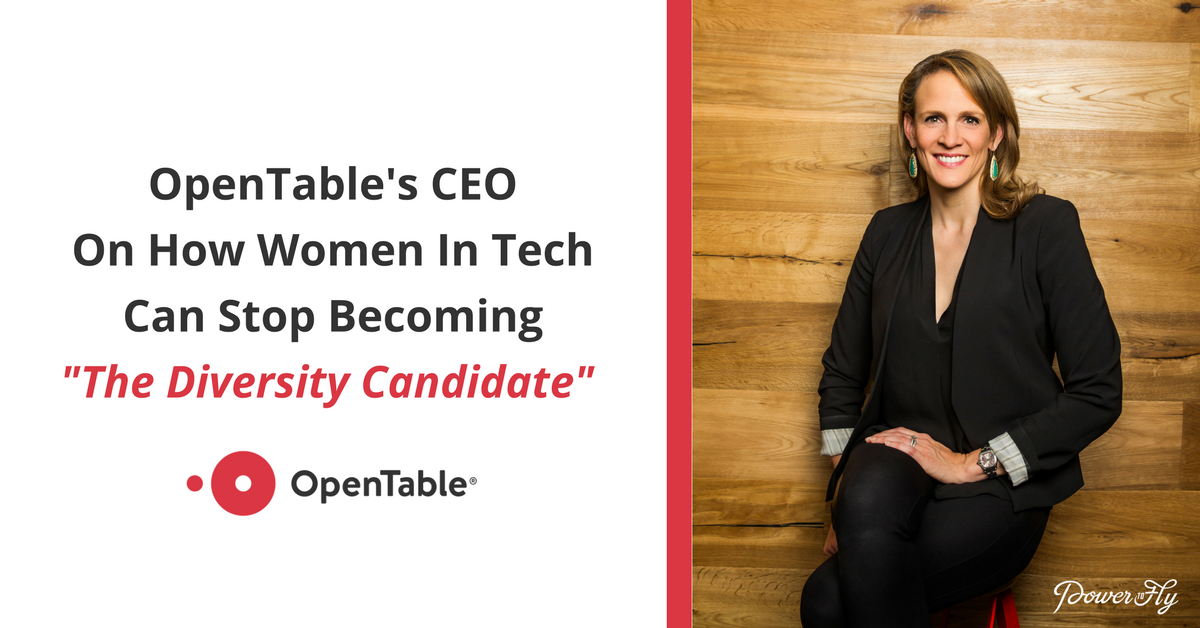 OpenTable
It was the "bullshit" heard round the world, or at least Silicon Valley. During a Fortune event in 2017, a man claimed that one reason behind the tech world's gender gap is that "women don't always support each other". To this, Christa Quarles, who since 2015 has been the CEO of OpenTable, countered: "bullshit".
"In Silicon Valley today there is a sisterhood of women who are supporting each other, telling each other about board opportunities, giving each other business ideas," explains Quarles. OpenTable has embraced this sense of sisterhood like few other companies. In November 2017, Quarles pledged to have the entire company be comprised of 50% women. "Over the last quarter, 40% of the people that we hired into our engineering organization were women," states Quarles.
For OpenTable, reaching this goal begins with interviewing multiple female candidates. "Too often there is one female candidate and the studies show that they become the diversity candidate, not the candidate," says Quarles. Even with her busy schedule, this CEO is willing to speak to a candidate personally to seal the deal. "I got on the phone a few times, making sure that we're pulling out all the stops to achieve our goal."
While it's the ultimate goal of OpenTable to open up more opportunities to women, Quarles is keen to not leave out the other half of the population (i.e. men). "We want to make sure that that men have a place in the story," says Quarles. "One of things I've been encouraging men to do is ask women about their story. Ask what's happening and build that empathy muscle."
But what happens once these women are hired? How can OpenTable create an atmosphere that is welcoming while still open to feedback? For Quarles, this is about creating an environment where you can bring your 'whole self'. "Not always in my past have I felt comfortable bringing my whole self to work which also meant my femininity and who I was as a woman." Through their efforts, Quarles and her team have fostered a company ethos where this kind of openness can not only be accepted but thrive. Part of that is moving away from the dreaded words "cultural fit". "People used to talk about culture fit and we're always talking about cultural addictive, who's going to add something to our culture, who is going to bring some different perspectives, who's going to challenge the assumption."
Through employee resource groups such as Women of Open Table (WOOT), OpenTable is providing the necessary skills for their female employees to take their careers to the next level. "They are holding brown bags so that they can share how to interject in meetings more effectively, share ideas around how their voice is getting heard relative to those in the room, even things like asking for promotion," says Quarles about OpenTable's resource groups. "It's by women, for women. We're creating the infrastructure to do that but it's women who are the ones signing up, creating it, organizing it."
Next time someone tells you that women in tech do not support each other, just point to the initiatives of Christa Quarles and the team at OpenTable.
PowerToFly is presenting an invite-only evening with OpenTable CEO Christa Quarles on Wed. March 14th at 6pm in San Francisco. If you are interested in attending, please email hi@powertofly.com for an invitation or contact us through the button below.
READ MORE AND DISCUSS
Show less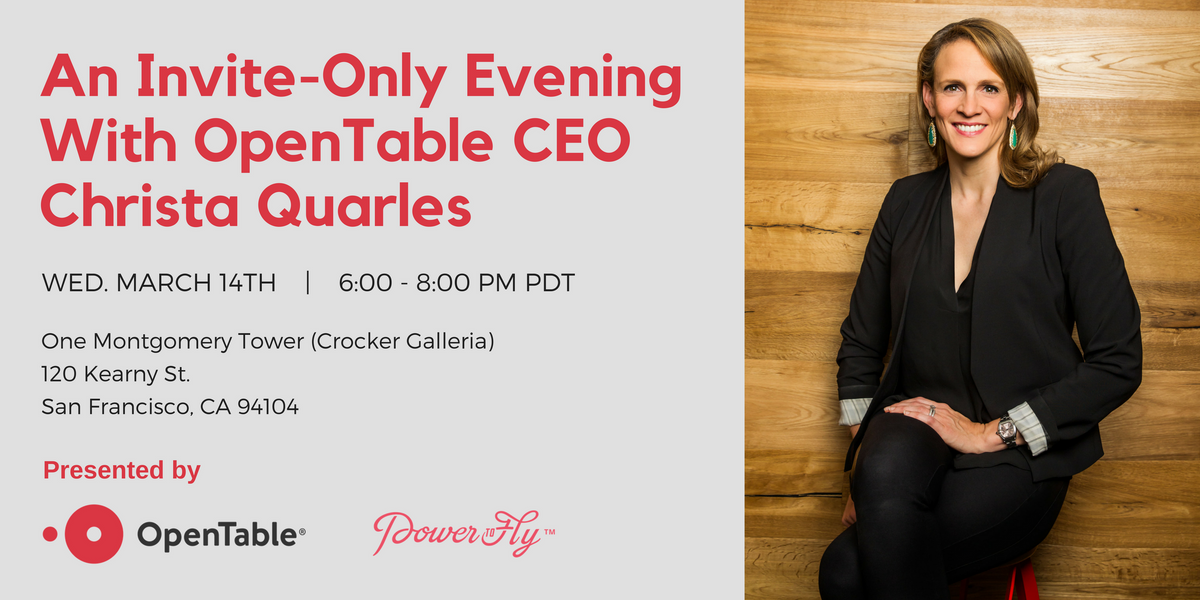 OpenTable
This is an invite-only event for software engineers. Contact hi@powertofly.com or click on the button below for the event password if you think this event would be a good fit for your skill set.
"In Silicon Valley, today, there is a sisterhood of women who are supporting each other, telling each other about board opportunities, giving each other business ideas" - Christa Quarles, OpenTable CEO.

Meet and hear more from Christa and her executive team on March 14th about how they're building inclusive environments and innovative tech products at OpenTable. The night will kickoff with a keynote address by OpenTable CTO Joseph Essas and will feature a product demonstration from OpenTable's female tech leaders. We'll end the evening with an opportunity for you to network with additional women in tech over cocktails and light food.
Also, OpenTable is hiring! They offer professional development opportunities, wellness events, four weeks of accrued PTO per year and access to such affinity groups as OpenTable's Women in Tech and Women of OpenTable. To learn more about OpenTable, a company that Glassdoor named one of the "Best Places to Work 2016", and their open opportunities, visit their page at PowerToFly.
About our Events: All RSVP'd attendees are welcome, regardless of race, color, religion, national origin, gender identity, pregnancy, physical or mental disability, or age. If you require accommodation to fully participate in this event, please email talentgrowth@powertofly.com, and we will contact you to discuss your specific needs.
READ MORE AND DISCUSS
Show less
Loading...