GET EMAIL UPDATES FROM POWERTOFLY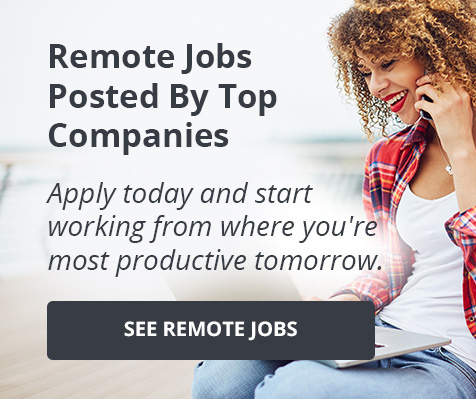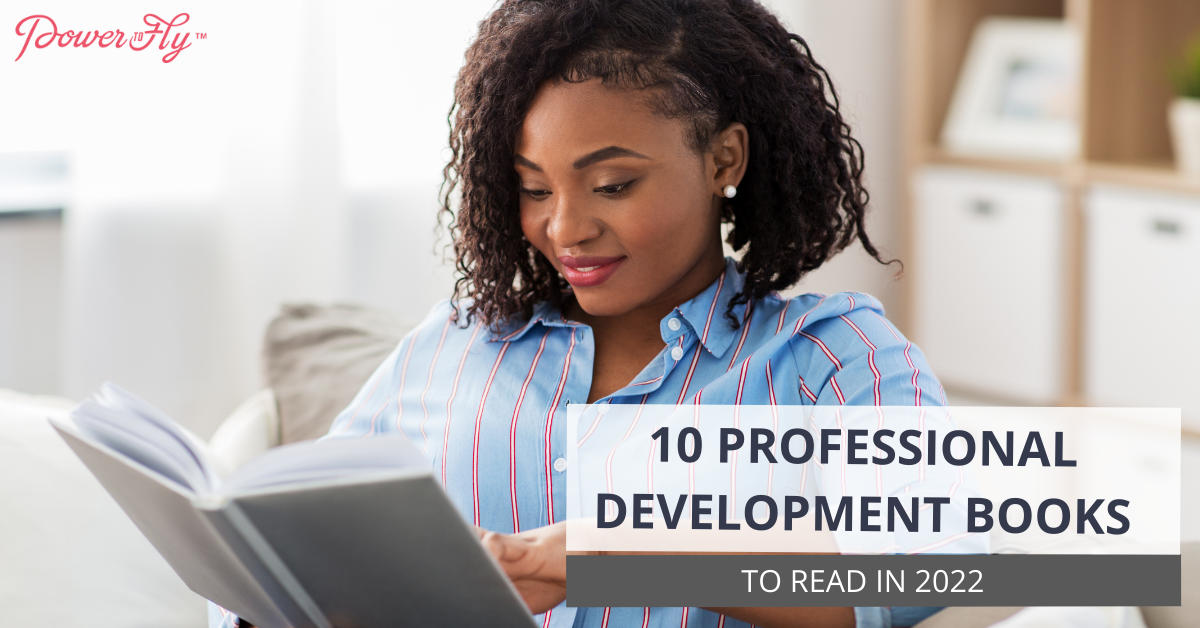 Upskilling and Development
There are countless ways to invest in your professional growth these days– mentorships, online courses, and conferences, just to name a few.
But if you're looking for a simple, affordable way to boost your career growth, don't underestimate the power of a good book!
Professional development books give insight on how to grow in our careers and better approach work-related conflict through self-improvement, education, and mindset shifts. They also strengthen how we respond to challenges and how well we adapt to shifting work environments.
We asked the team at PowerToFly to share their favorite reads for career growth. Keep reading to see our top 10 professional development books to read this year!
Deep Work: Rules for Focused Success in a Distracted World by Cal Newport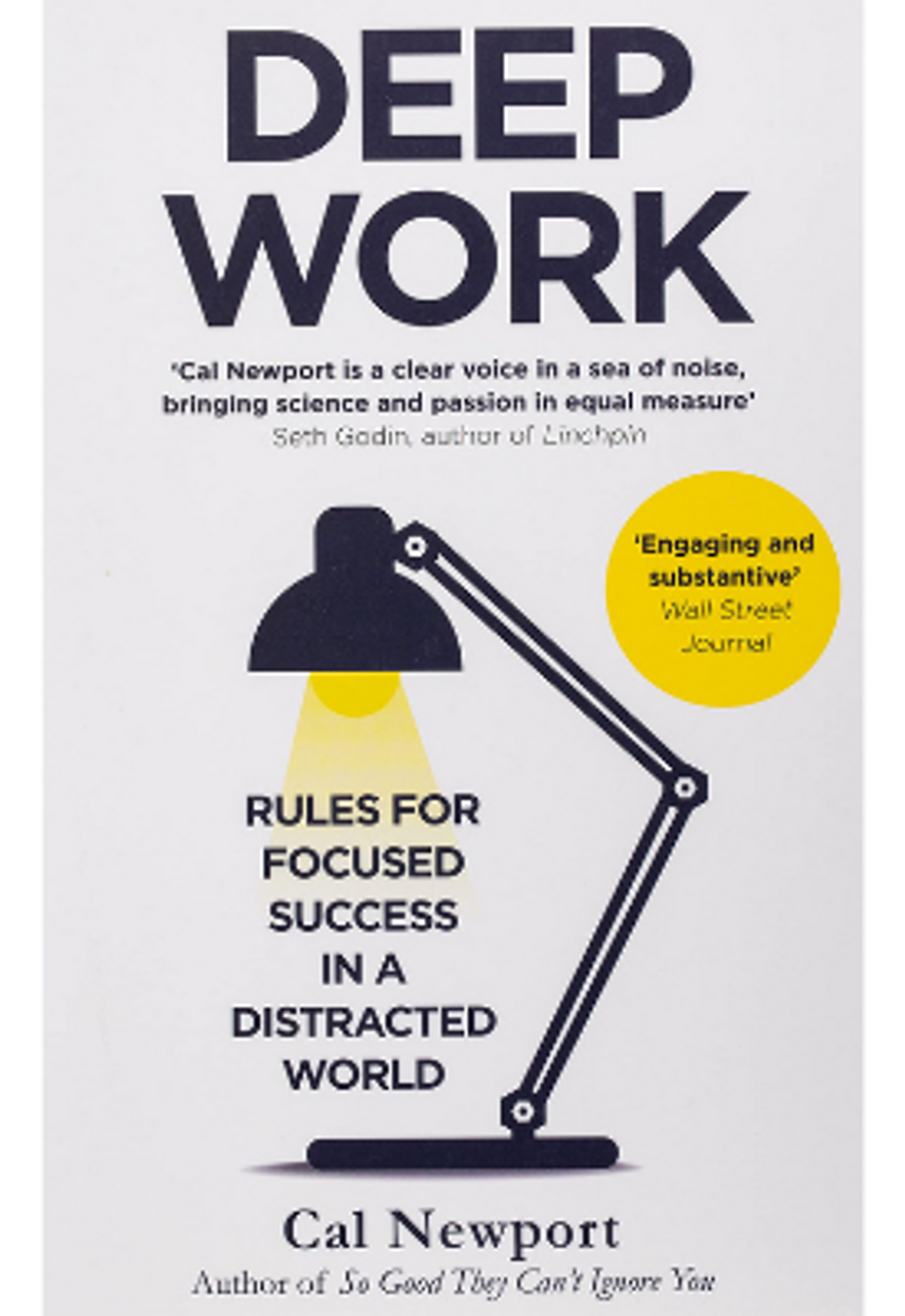 What Cal Newport calls a "valuable" and "increasingly rare" skill, having the ability to deep work will not only allow you to feel truly fulfilled, but to be better at your job and to be more successful in both work and life. With practical and actionable advice, Newport teaches you how to transform your mind and your daily habits so that you can learn the life-changing art of deep work and become the professional you have always wanted to be.
How to Win Friends and Influence People by Dale Carnegie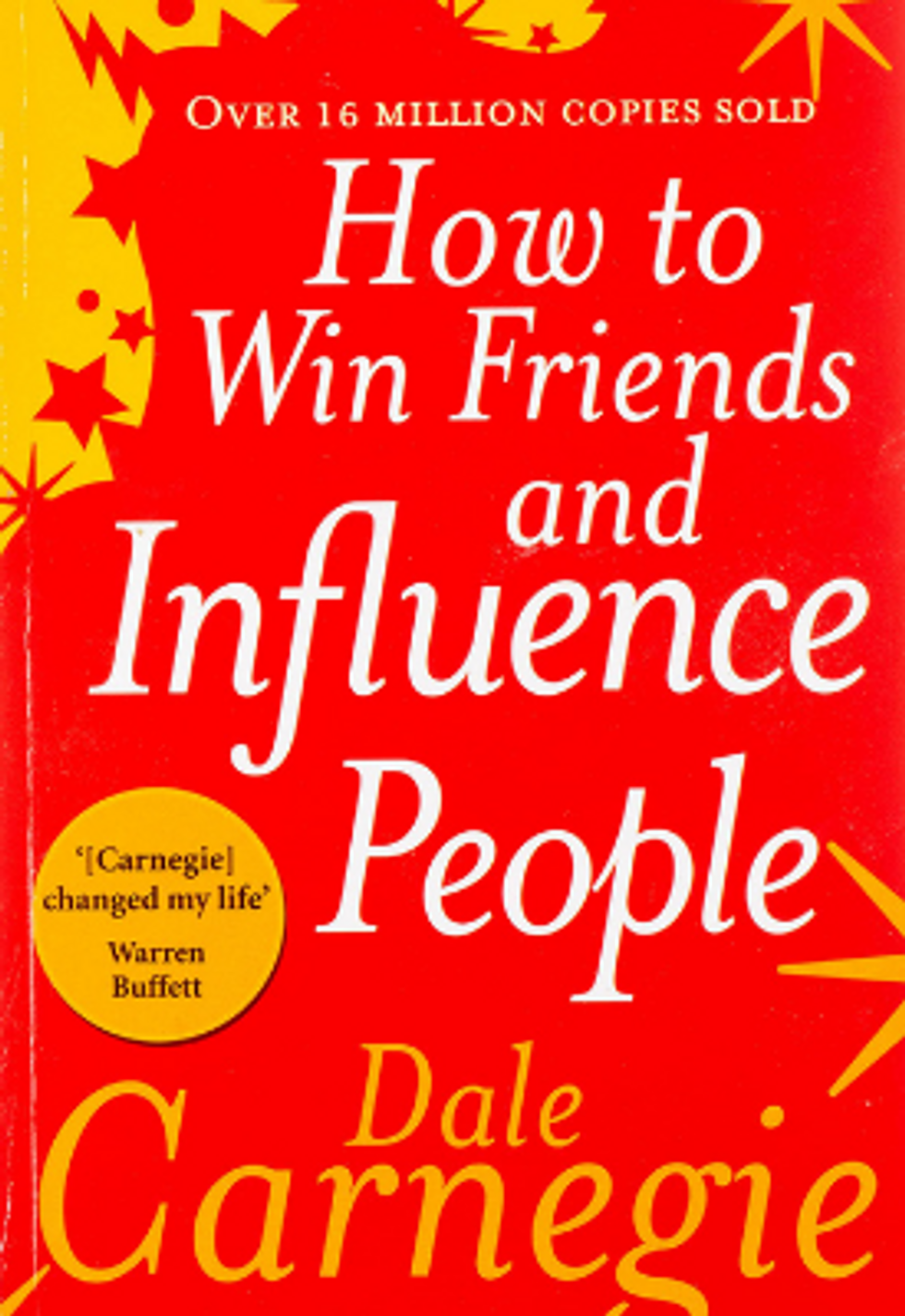 In this insightful book, Dale Carnegie teaches you how to succeed in your personal and professional life by transforming the way you interact with the people around you. By improving your communication skills you can boost your confidence, grow your social circle, strengthen your public speaking, and ultimately strengthen your professional life.
Awaken the Giant Within: How to Take Immediate Control of Your Mental, Emotional, Physical and Financial Destiny by Anthony Robbins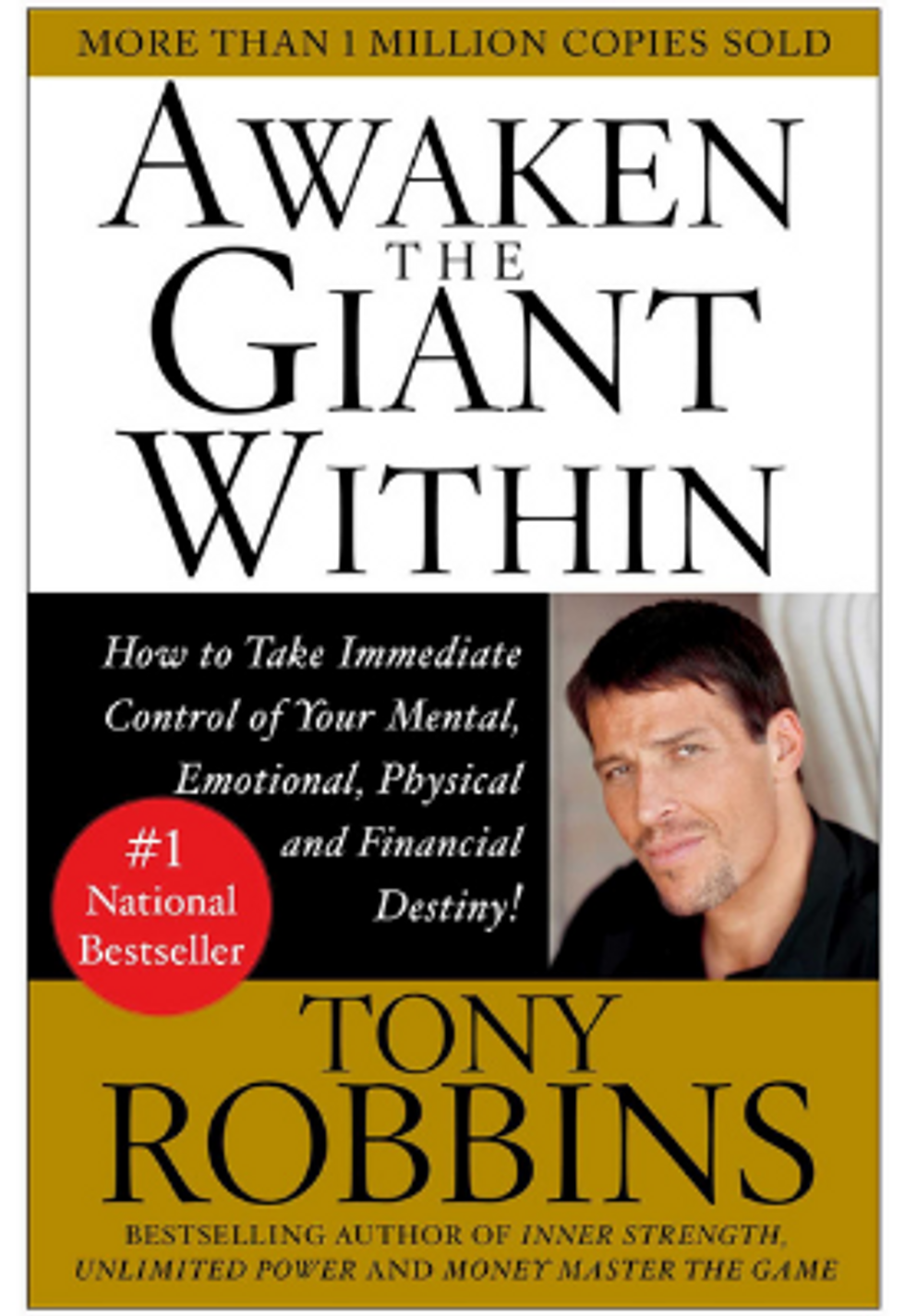 Renowned expert Tony Robbins teaches you how to master your mind, body, relationships, and money so you can take control of your life and find your purpose. Through practical steps, you can learn how to propel your career forward and reach your true potential in your professional life through the power of self-mastery, goal setting, and perseverance.
The Untethered Soul at Work: Teachings to Transform Your Work Life by Michael A. Singer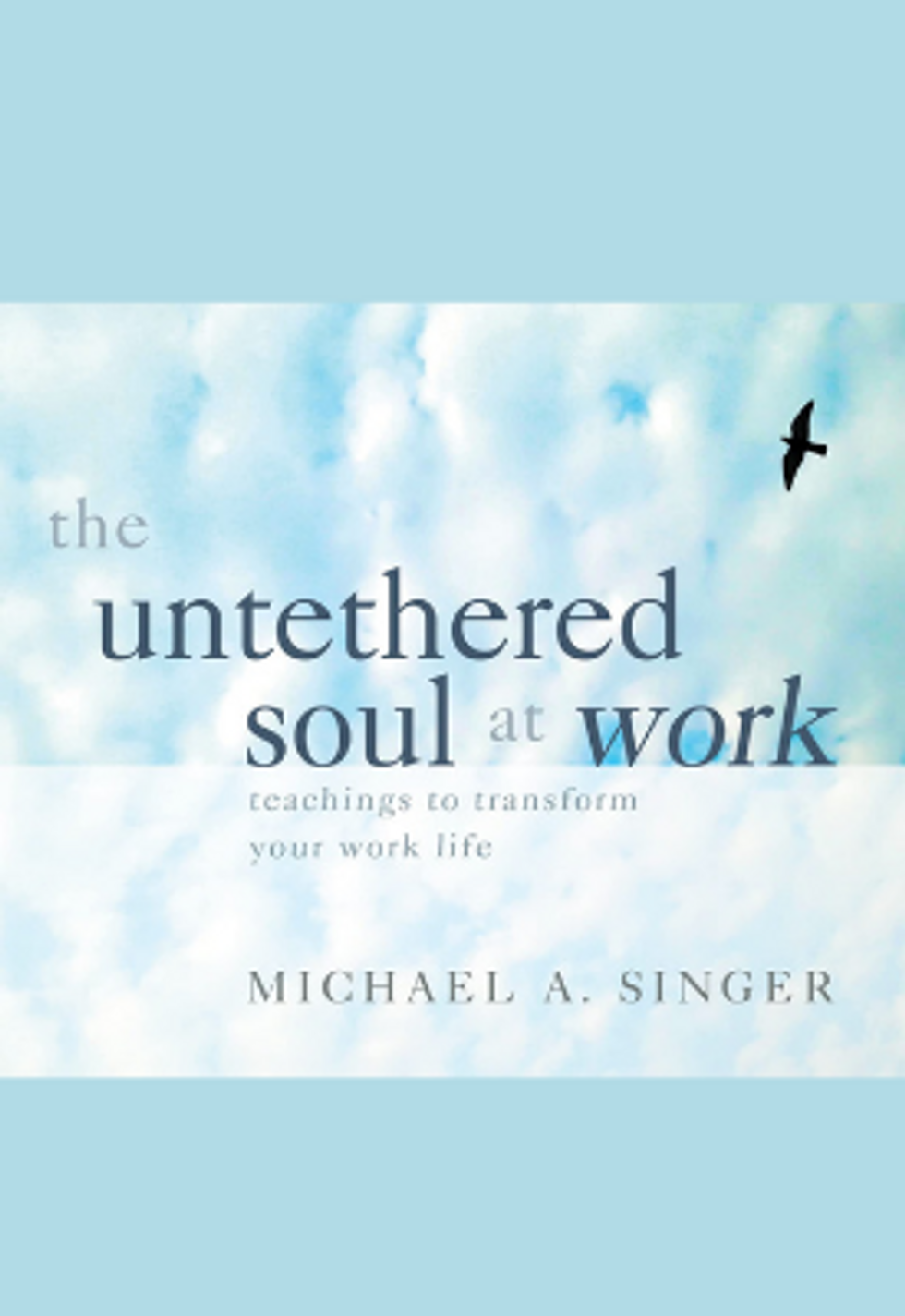 A spiritual leader, founder of the Medical Manager Corporation, and software architect, Michael A. Singer delivers a powerful program that focuses on building a healthy relationship with the mind to transform how we approach our work. By properly equipping our minds, Singer teaches us how to handle the 10 most common workplace issues, win success, and find fulfillment in our professional careers.
The Ride of a Lifetime: Lessons Learned from 15 Years as CEO of the Walt Disney Company by Robert Iger and Joel Lovell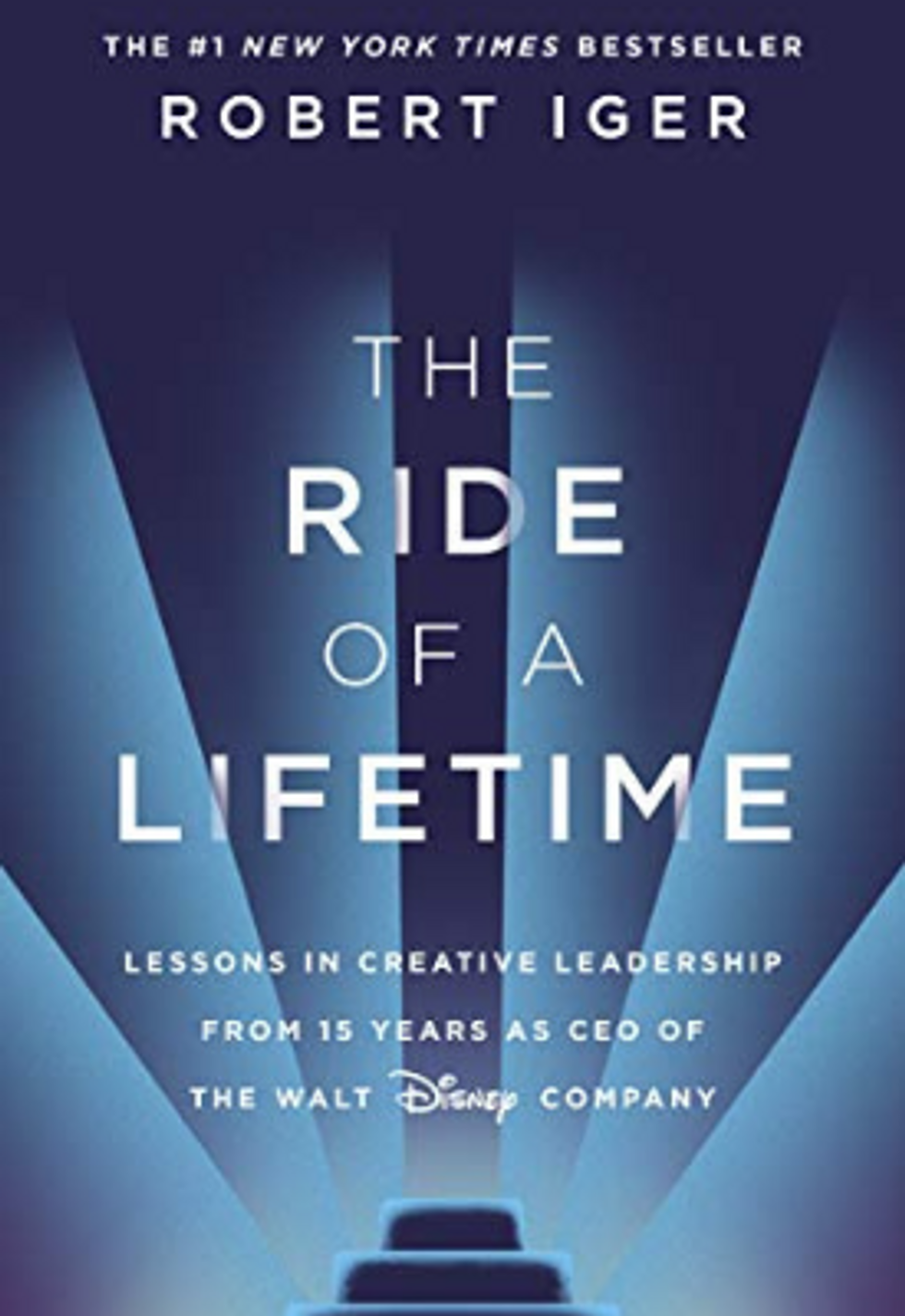 Bob Iger, CEO of the Walt Disney Company and one of the most successful CEOs of our time, shares the lessons he learned and the ideas and values he gained while leading Disney, a company of 200,000 employees, from a position of increased competition and rapidly changing technology to the internationally beloved name we all know today.
The Culture Map: Breaking Through the Invisible Boundaries of Global Business by Erin Meyer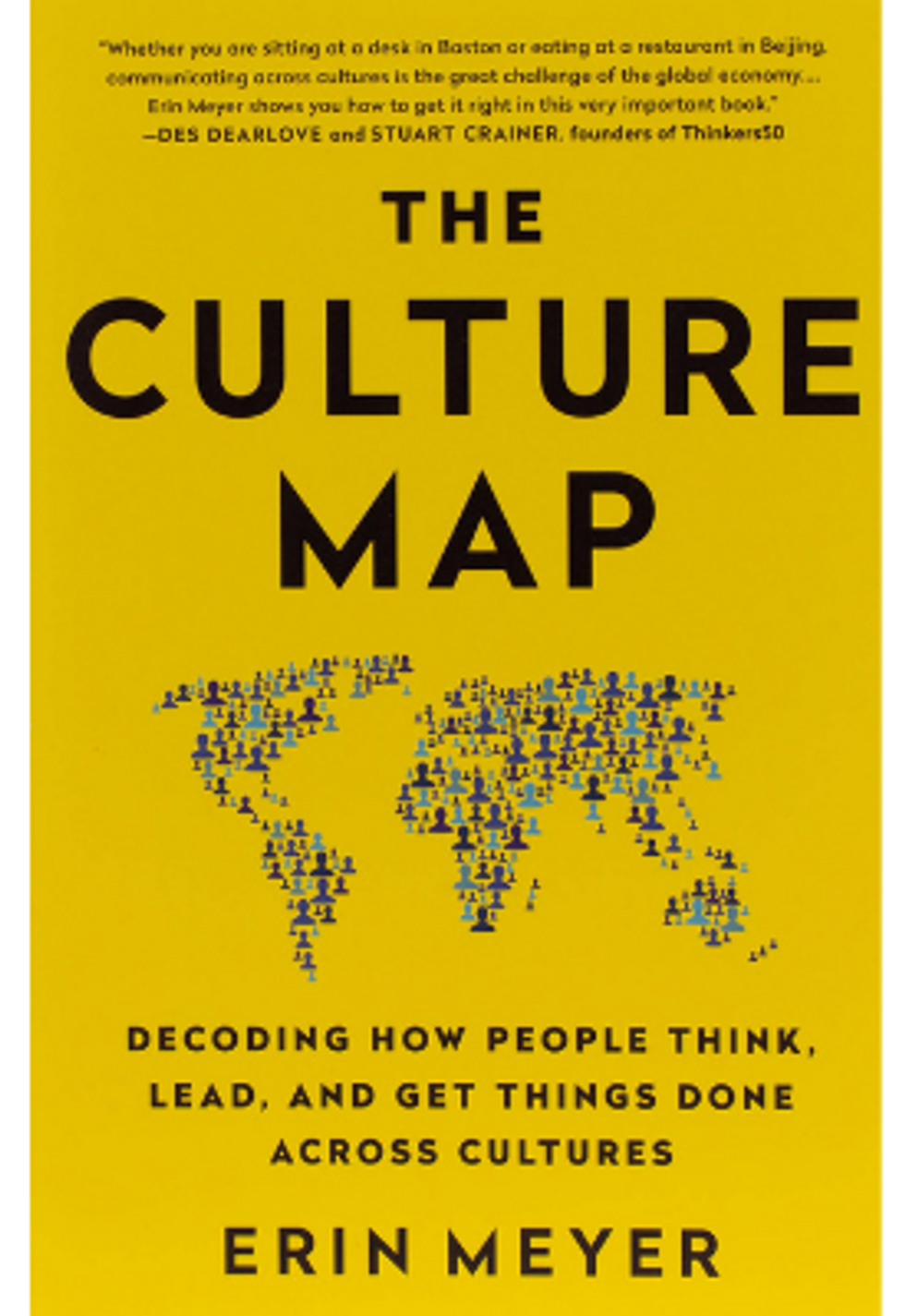 We live in a very connected world, and the more virtual we become, the more connected we get. With such a culture clash happening in the workplace, Erin Meyer expertly guides us through the sometimes funny, sometimes messy issues that can arise in a culturally diverse environment by providing a model of how these differences can affect international business, along with some practical advice for overcoming them.
Nine Lies About Work: A Freethinking Leader's Guide to the Real World by Ashley Godall and Marcus Buckingham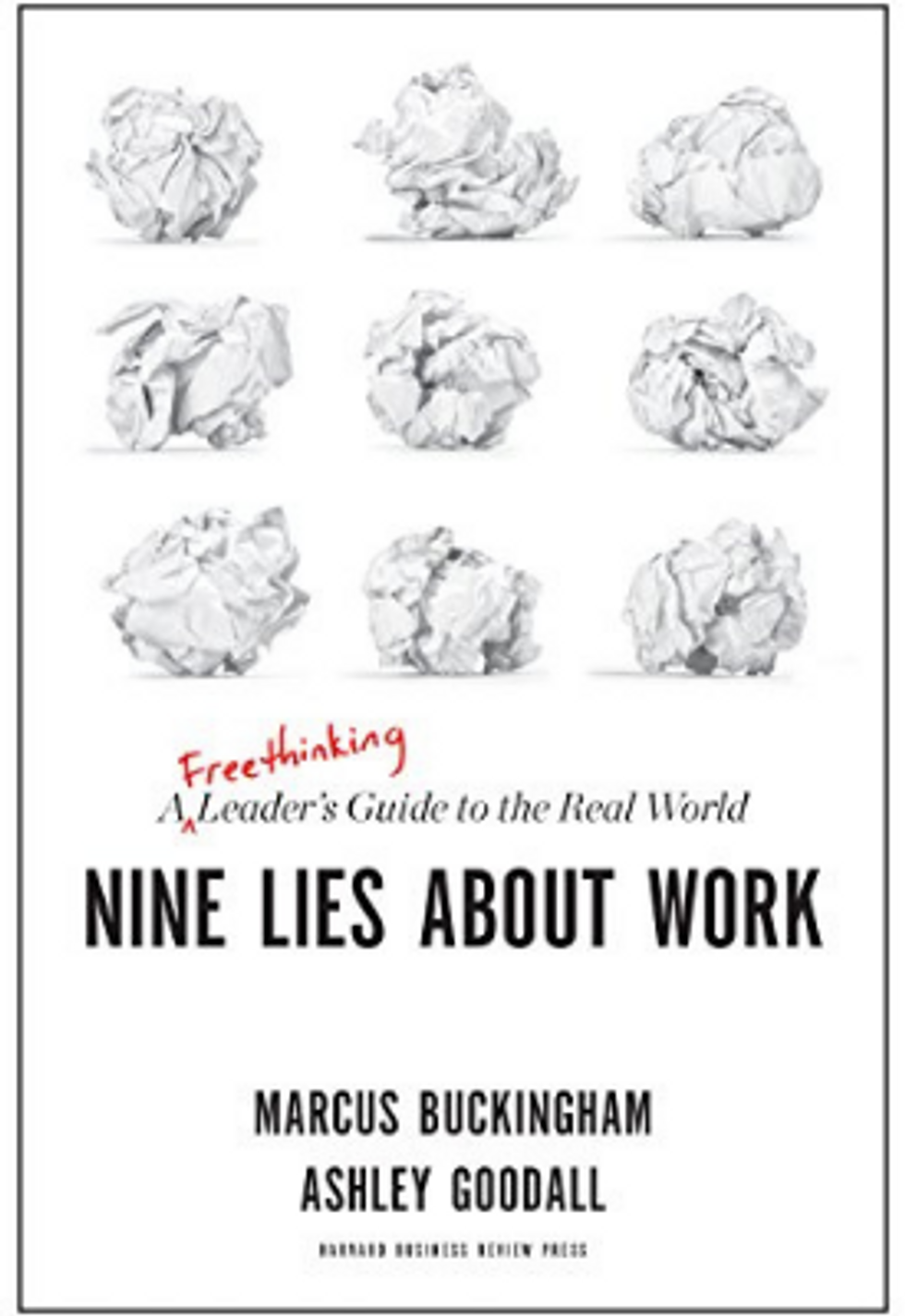 There are nine lies pervading the workplace, and as well-intentioned as they may be, they are wreaking havoc. According to Buckingham and Goodall in this insightful work, the only way to overcome these destructive lies is through freethinking leadership. By digging deeper, breaking some outdated patterns, and embracing uniqueness, freethinking leaders are paving the way for a workplace that is real, functional, and displays its success down to its very core.
Radical Candor: Be a Kickass Boss Without Losing Your Humanity by Kim Malone Scott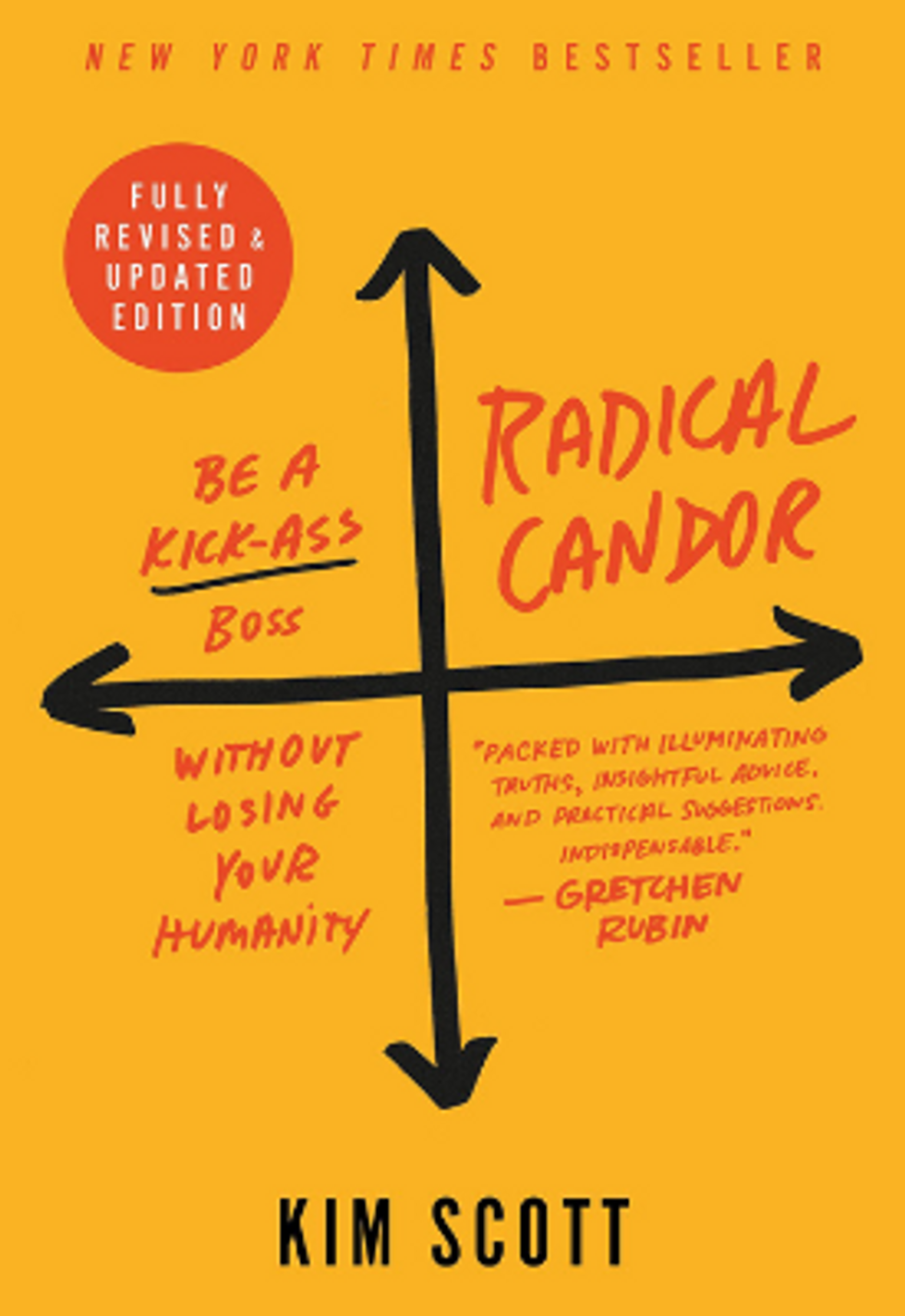 Expert CEO Coach Kim Scott understands that being a good boss is tough, which is why she created a radical, new method to approach management. By finding the middle ground between what Scott calls "obnoxious aggression" and "ruinous empathy", she teaches bosses about the power of radical candor and how they can use it to create success as a leader – and maintain their humanity while they're at it. Written for bosses by a boss, this practical guide to leadership is certain to change the professional environment for the better.
What Color Is Your Parachute? A Practical Manual for Job-Hunters and Career-Changers by Richard Nelson Bolles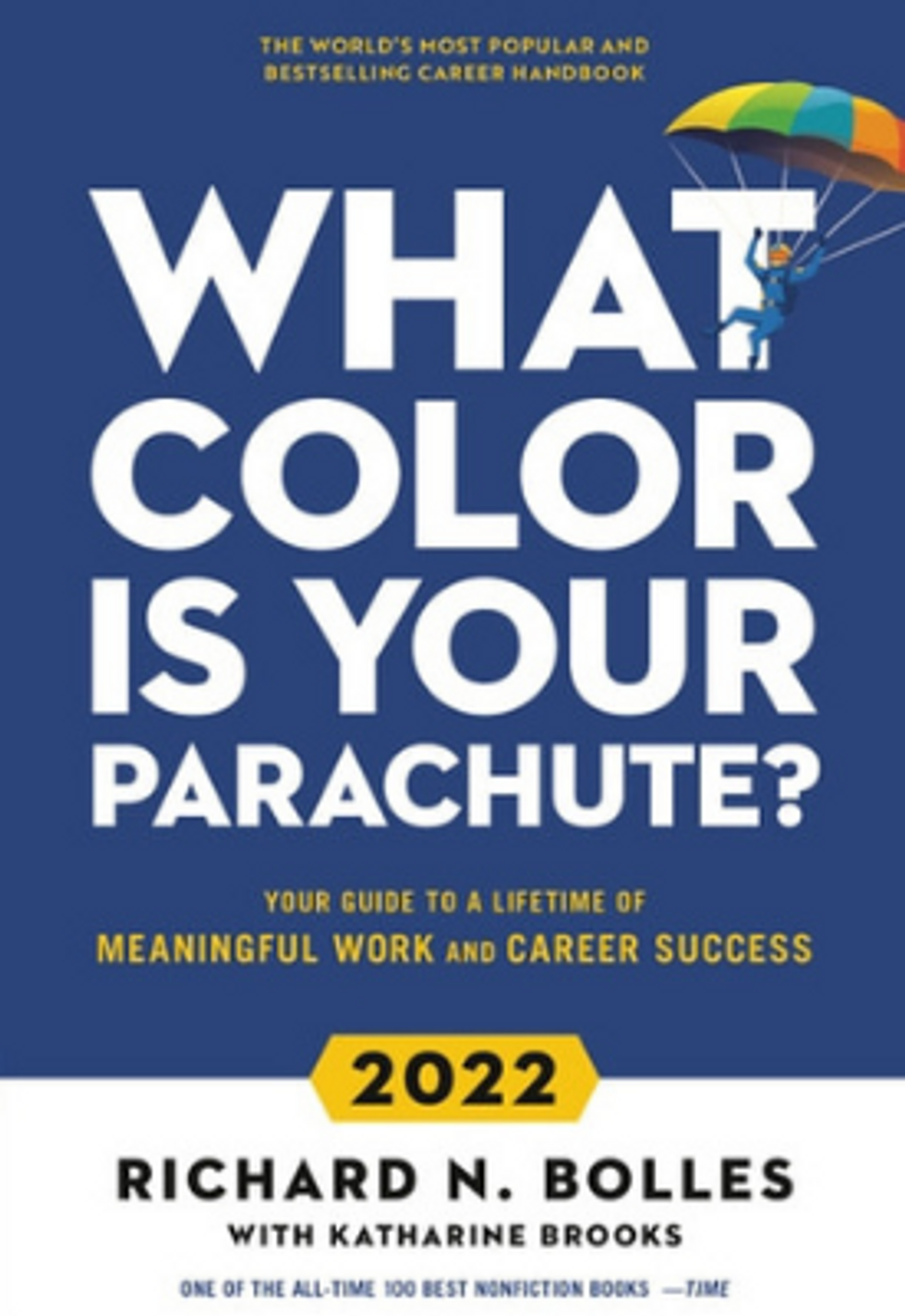 With timeless advice, up-to-the-minute insights, and more than ten million copies sold over fifty years, the advice in this book still rings true in today's challenging job market, as recent grads face a shifting economic landscape and seek work that pays and inspires, as workers are laid off mid-career, and as people search for an inspiring work-life change. In this highly regarded career advice book, Richard Nelson Bolles offers unique and authoritative guidance so that job seekers and pivoters can have the tools to discover and land their dream job.
The Happiness Advantage: the 7 Principles of Positive Psychology That Fuel Success and Performance at Work by Shawn Anchor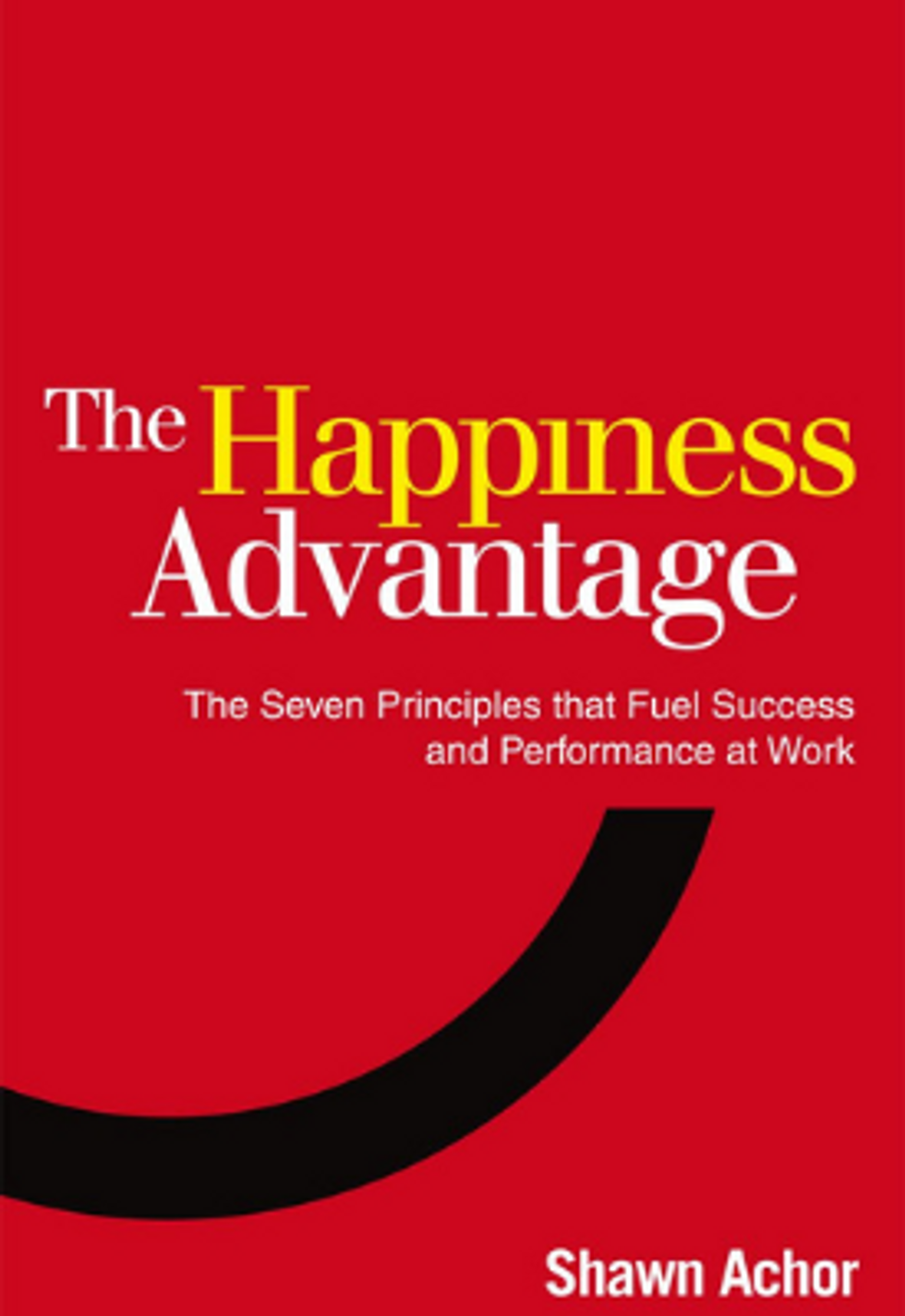 Conventional wisdom ties success to happiness: the more successful we are, the happier we'll be. In this book, Harvard lecturer Shawn Anchor explores the possibility that happiness fuels success. When we are positive, our brains become more engaged, creative, motivated, energetic, resilient, and productive at work. He outlines seven actionable principles that lead to success, backed by research in psychology, neuroscience, and management studies. He highlights how to reap the benefits of a happier and more positive mind-set to achieve the extraordinary in our work and in our lives.
READ MORE AND DISCUSS
Show less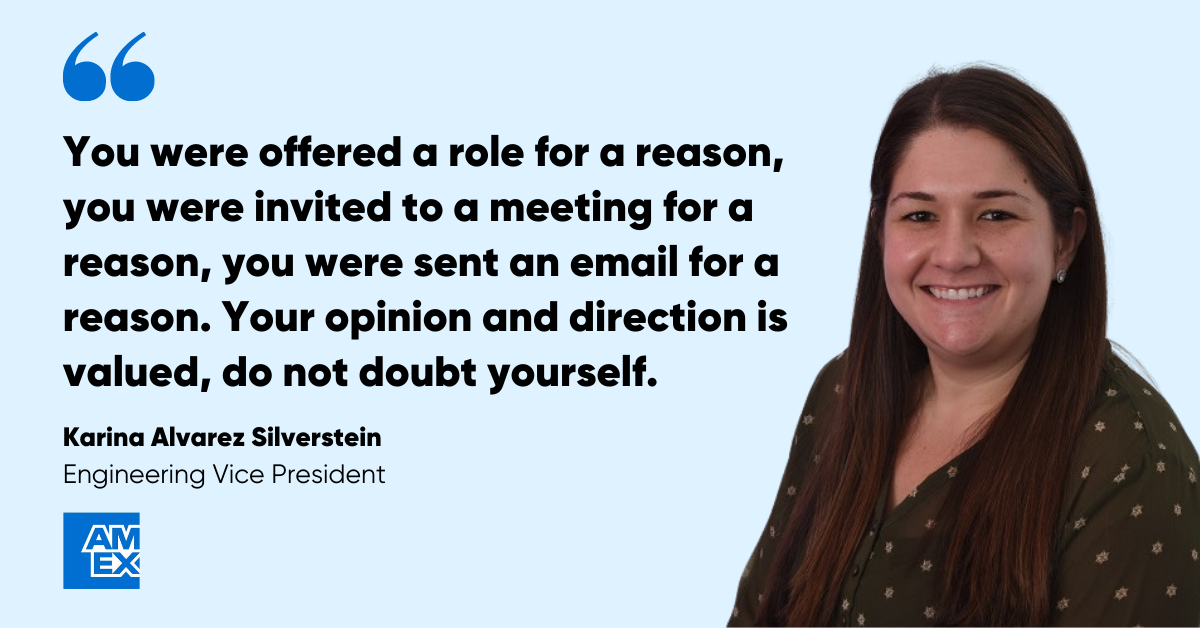 American Express Company
Any seasoned professional can tell you that advancing in your career isn't only about moving up the ladder, it's also about moving around it. Karina Alvarez Silverstein, Engineering Vice President at American Express has done just that during her 12-year tenure with the payments company. "I love finding new challenges when I have an itch for something new," says Karina. Her career growth at American Express has allowed her to increase professional impact without having to switch companies.
We sat down with Karina to learn more about her career journey and glean some key lessons for steady career growth.
Moving Around the Career Ladder at Amex
Karina's experience with American Express began after an interaction with a recruiter at her university's career fair in 2008. "I was really intimidated about joining corporate America," reflects Karina, "but the experience during recruitment and interviewing was so positive that I wanted to join the company."
Twelve years later, Karina's journey at Amex continues. She's had the opportunity to grow and reinvent herself during that time. "I've been able to switch domains or positions almost every 18 months." Karina attributes her consistent career growth to her insatiable drive to learn new things. "Being in technology, you always have to be learning to keep up; otherwise it's easy to feel irrelevant," she says. "I truly believe that learning is how someone gets better. I'm always striving to be a better version of myself in all dimensions, day to day."
Through the years, as she's gained experience working across functions and teams, Karina has gotten to learn about different areas that interest her. "Deciding what challenges to pursue next is influenced by what is sparking my curiosity." Amex makes learning and exploring new concepts easier for employees like Karina by offering plentiful career development opportunities.
"We have a program at Amex called 5+ Development Days," shares Karina, "where you get to invest in your professional development and personal growth over five uninterrupted days, so you don't have to take time off to learn something new." Through this program Karina has obtained certifications, completed courses, and taken advantage of job shadowing, all of which helped her tremendously as she took on new roles.
Karina's most recent transition from Engineering Director to Vice President of Engineering was particularly challenging as she dealt with changes in her personal life. "It was definitely overwhelming at first, as it was the same time I found out I was going to be a mother." She leaned on her leaders and mentors to help her navigate those challenges after she accepted the role. "I learned that work-life balance is in my control and I really appreciated the value they brought me during this change."
3 Key Lessons (and a Mantra) for Constant Career Growth
Whether you're just starting your career journey or are eager to try something new, here are Karina's top three lessons, and a reassuring mantra, to help you advance your career:
Build meaningful relationships. Building true connections with your colleagues facilitates collaboration. "In most instances, bringing a win to the enterprise means working with others," Karina explains. Go beyond superficial gestures and reach out to people in your circle to get to know them better. You never know, they might teach you something new or help you get your next promotion!
Don't be afraid to fail. "Failure is not a bad thing. It's how we learn," says Karina. "What is important is how you recover from a failure." Being afraid to mess up can cause you to be hesitant to take that next step in your career or even prevent you from doing it all together. Take on new challenges as learning opportunities. That way if you fail, you learn something new along the way.
Keep learning and challenging yourself. "Don't become complacent in your current situation," advises Karina. "We live in a rapidly changing world. If you want to change your situation, constantly remind yourself the status quo is there to be challenged." Find ways to upskill and reskill so you don't fall flat when a new career opportunity presents itself.
Don't give in to imposter syndrome. One thing Karina wishes she knew earlier in her career is avoiding imposter syndrome through positive self-reinforcement. She uses this mantra to combat self-doubt: "Don't get in your own way. You were offered a role for a reason, you were invited to a meeting for a reason, you were sent an email for a reason. Your opinion and direction are valued, so do not doubt yourself."
Do you want to take advantage of Amex's career development opportunities? Take a look at their open roles here!
READ MORE AND DISCUSS
Show less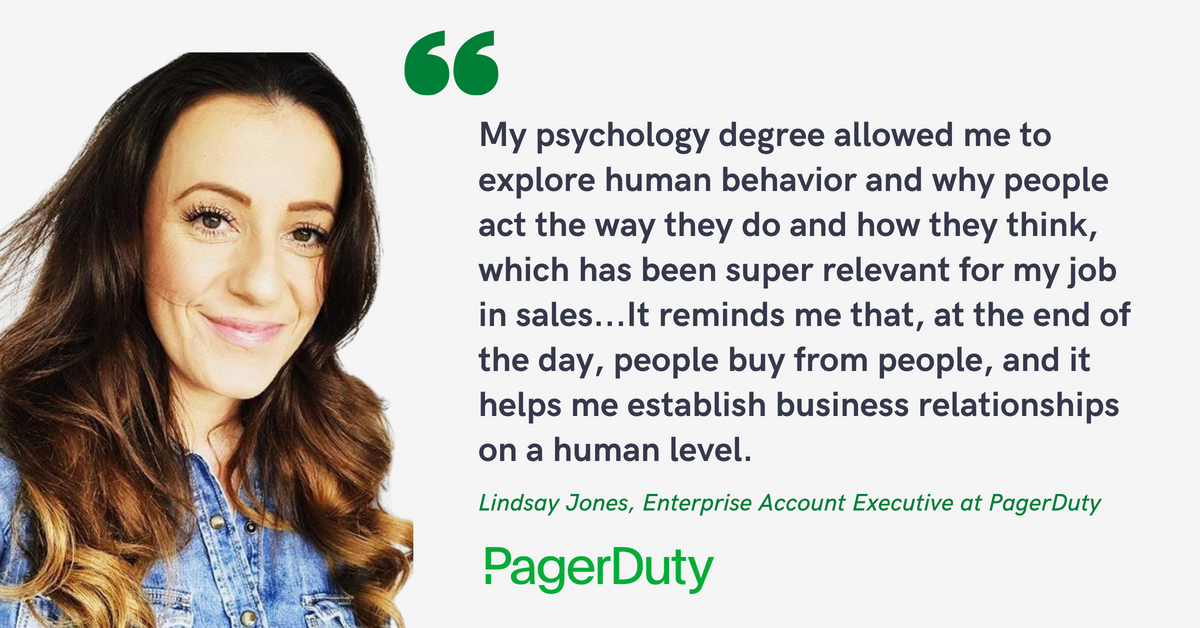 PagerDuty
The phrase 'work-life balance' doesn't work for Lindsay Jones. She much prefers 'work-life integration.'
The London-based enterprise account executive at cloud computing company PagerDuty starts her day with a wakeup call from her four-year-old son. Once the children are off to school, she links up with her team in a virtual coffee meeting, and spends the rest of her work day helping grow international business for PagerDuty. After a full day of work and meetings, she returns to mom duty. "As a working mom, you've got to figure out how to integrate all of that together," she explains.
Working for a company with a supportive culture facilitates that integration. "I've never, ever felt that I couldn't say no to something work-related because family needed to take priority at that particular time."
We sat down with Lindsay to learn more about how PagerDuty has supported her in achieving that work-life integration, even in the midst of the company's global expansion and growth.
Breaking into the business
Lindsay studied psychology in university. "I'm analytical, but also creative. The psychology degree allowed me to explore human behavior and why people act the way they do and how they think, which has been super relevant for my job in sales," she says. "It reminds me that, at the end of the day, people buy from people, and it helps me establish business relationships on a human level."
After finishing her studies in psychology, she turned to dance choreography to satisfy her creative side. "I danced for eight hours a day, every day, for two years." But at the end of those two years, Lindsay had to make a decision to either pursue dance professionally or enter into a corporate career. She decided to hang up her dancing shoes and find a career where she could apply creativity and love of people to her work.
Eager to start a new chapter in her professional life, Lindsay signed up for a career guidance workshop where she would showcase her skills and learn the best career fit for her. "At the end of the workshop, I was sent a job application for a sales position for an organization focused on building the sales pipeline for enterprise software companies." Lindsay spent five years at this company, learning and perfecting the art of sales. "[My path] was slightly unconventional, but I absolutely wouldn't change it. I am really honored that that was my first step into sales, because I built a super strong foundation that has enabled me to springboard into other roles."
Creating true impact
Nearly 15 years after that career guidance workshop, Lindsay started thinking of ways she could further grow in her career. "It was really important for me to end up in an organization that was doing something innovative, that had strong leaders, that had a culture that I could buy into and be part of, and that was really making a difference," she says. After doing research and connecting with different companies, she found a company that checked all of her boxes. "The clincher for me was meeting with some of the leaders and learning not only the culture that exists at PagerDuty, but how they were so maniacal about creating and maintaining it."
Lindsay attributes the intentionality behind the company culture to the impact it has on transforming businesses. "I've never worked at an organization like PagerDuty where the culture was really felt from the top all the way down through the organization and actually has transferred into every engagement that we have with our customers."
"The cultural values are really well communicated and that allows you to embody them and represent those on a daily basis." One of Lindsay's favorite company culture principles is #AckAndOwn, which stands for acknowledge and own. "It's about empowering everybody at all levels in the organization to be responsible and accountable for the types of engagements that they're having, not only externally, but internally as well," she says."Everyone has the best of interests at heart, always."
Navigating growth in a hybrid environment
In 2017, PagerDuty announced the launch of its UK offices. Since then, the company has expanded into the markets throughout EMEA (Europe, the Middle East, and Africa) and APJ (Asia-Pacific Japan), and evolved from an office culture to 'distributed by design'. (The Europe-based sales team continues to scale, now hiring beyond London in Germany and the Netherlands, and the company has added a sales team based in Australia. Four years later and the international business continues to be one of the fastest growing parts of PagerDuty.) This rapid growth has kept Lindsay on her toes. "Everybody needs to wear quite a few hats, especially in those early days, and that means that we're super busy." With shifting responsibilities at work and two growing boys at home, Lindsay has learned the importance of work-life integration for both personal and professional success.
"One of the challenges that comes as an organization grows is maintaining company culture." Luckily for Lindsay, PagerDuty's collaborative culture has only been reinforced by the company's growth. This makes work-life integration much more feasible because she knows she's not expected to solve every problem on her own. "We've got a policy here that if you've been working on a problem for more than five minutes on your own, and you've not managed to think of a solution, get your team involved."
Maintaining these personal interactions with her team has been crucial to Lindsay's personal development as well. "Personal growth has come from an awareness of the integral parts that all work together in a business the size of PagerDuty," she explains. "While we are expanding globally, we're at a stage of growth where I can still have personal interactions with other departments." Finding ways to collaborate with other teams and work toward a common goal has helped Lindsay to support some of PagerDuty's largest enterprise customers.
Working virtually also poses its challenges for a rapidly growing team, but regular communication has been Lindsay's key to successfully navigating growth in a virtual work environment. "We're pretty maniacal about making sure that we have regular touch points as a team and talk through our business, share our wins, and brainstorm through challenges." These twice per week 'tea-time' meetings have kept Lindsay and her team united as they navigate challenges and collectively come up with solutions.
"For every challenge, there are two wins we're celebrating." Apart from visible wins such as onboarding new clients, Lindsay's team celebrates less obvious wins like reaching personal objectives, welcoming new team members, and "continuing to hire diverse talent and making sure that we've got a good representation, across the board, with different beliefs, cultures, and ethnicities."
Advice for leaders experiencing global expansion
If you find yourself in a situation similar to Lindsay's, here are her tips for continuing to pursue personal growth and work-life integration while your company grows:
Create the culture that you want to be part of. "Invest time in defining the attributes that you want your team culture to have, and communicate why they are important." Lindsay also highlights that a team's culture should appeal to heart and mind. "Think about how you can encourage everyone to work cohesively so that they buy into the culture and collectively work toward a common goal."
Get clear on your goals. While it is easy to get caught up in busywork, don't lose track of your objectives. "I check in with myself every day on my daily goals. I also track my monthly goals and my quarterly goals. At any time I know where I am against each one." And with the rapidly shifting climate of global sales, one must be flexible and fearless. "Don't be afraid to change those smaller goals if they are not driving you towards your north star goal."
Celebrate your wins. While global expansion comes with growing pains, it is necessary to bring attention to the positive outcomes. "You're going to have some tough times ahead, especially in that early global expansion stage, so it's important to celebrate your wins, not only internally with your colleagues, but also with your customers."
Want to celebrate personal and professional wins alongside Lindsay at PagerDuty? Check out their open roles here.
READ MORE AND DISCUSS
Show less
Loading...