GET EMAIL UPDATES FROM POWERTOFLY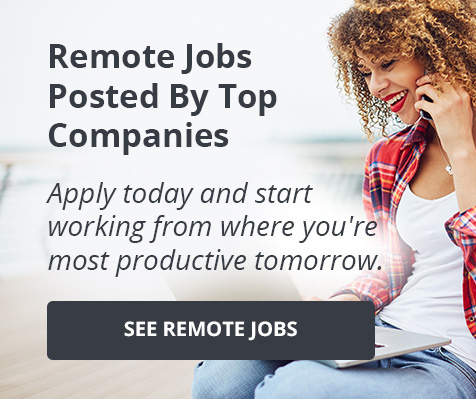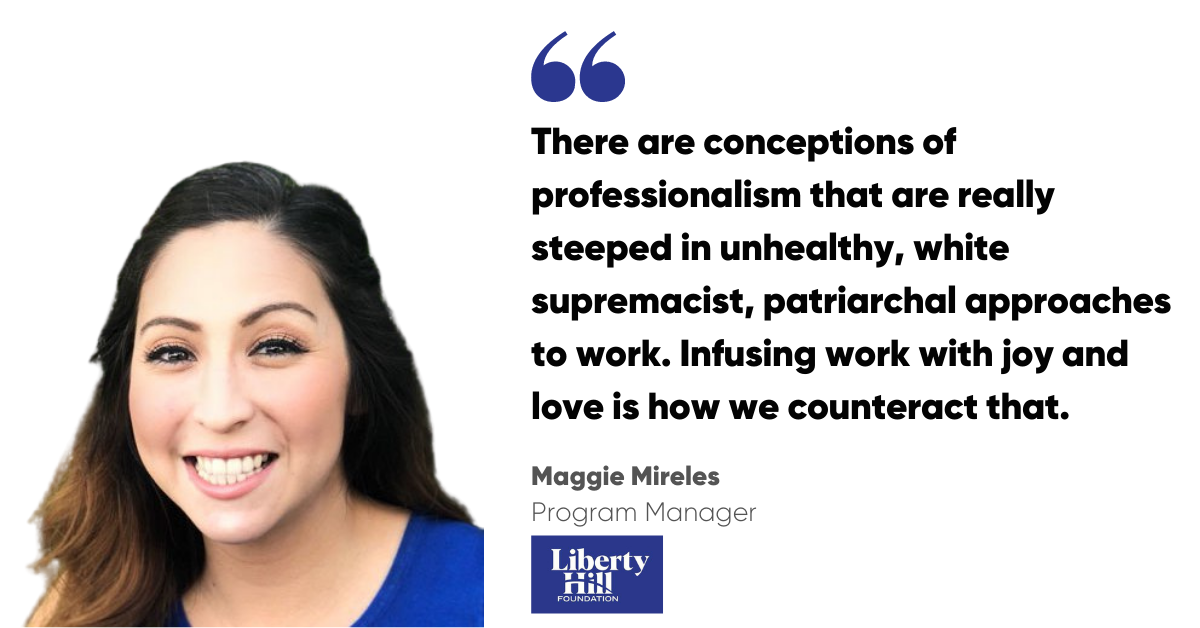 Liberty Hill Foundation
One of the best moments of Maggie Mireles' career thus far happened, against all odds, during a global pandemic.
The Program Manager at social-justice-focused public foundation Liberty Hill had been planning an op-ed training for youth activists that was meant to happen in person. It had to move online at the last minute, and Maggie was skeptical it would go well.
"Especially with programs and trainings, it can be like, 'Is this impactful at all? How is this contributing?'" she says. "But by the end of the sessions, these activists brought me to tears."
It was a full-circle moment for Maggie. While teaching activists how to develop op-eds and seize opportunities to share their messages with the world, she and her team were empowering them to see themselves as credible messengers based on their lived experiences. She was able to do that, showing up for her Latinx L.A. community, because of her experience studying communication and political science at Berkeley and her long track record of community action work (and thanks to their partnership with The Chronicle for Social Change, now The Imprint!).
We sat down with Maggie to hear more about her career journey, including how she found her way into the fulfilling world of social justice work and how her experience differs from common beliefs about the field.
Finding Organizing, On Micro and Macro Scales
"College was a really huge culture shock," says Maggie of her years at UC Berkeley. "It was the first time I left my neighborhood, which was predominantly Latinx and in a working class community."
Being exposed to a new set of people—people whose experiences differed so dramatically from her own—made Maggie interested in studying the systems that produced those outcomes. "It became really apparent to me, the disparity between the communities of my classmates and the communities that I came from and where my grandparents still live, and how much of an influence politics had in making the reality of the city I grew up in," she explains.
Alongside her coursework, Maggie got hands-on experience with political engagement by working with the resource center for Latinx students. "It helped me see that there were opportunities in public sector work, and that that work gave back to the community," she says. "It was the impetus of me recognizing that I wanted to do work rooted in social justice, connecting the classroom and my lived experience."
Her first job post-college was in a school district, where she saw firsthand the impact that education policies had on families and children. It was meaningful work, but incredibly challenging, too, and Maggie was interested in zooming out from the micro lens to focus on making change at a macro level.
She applied for and was offered an administrative role at National Council of La Raza, now known as UnidosUS, where her responsibilities grew and grew under the mentorship of several women she worked with.
"I was really fortunate to have great mentors that saw my talent and ability and invested in growing me," she says.
As she took on event planning and program management duties there, Maggie saw that the macro focus had its limits, too. "It's very, very challenging to make policy changes on a national level," she says. "It takes years of work and impact, and it can be really frustrating on the ground." She offers examples: working to push healthcare reform and the Affordable Care Act while her community members were struggling with day-to-day access to healthcare, or seeing immigration reform backslide during a Trump presidency.
Hitting the Sweet Spot of Local Impact
Maggie had heard of Liberty Hill, and knew that they were focused on social justice campaigns, research, and policy initiatives in L.A. County. It seemed like the perfect next step for her—she just wasn't sure they would feel the same way.
"I applied thinking that I didn't meet any of the qualifications, that they'd never call me," she says, smiling. But Liberty Hill was impressed with her experience and offered her a Program Manager role, which Maggie didn't hesitate to take.
"Under the Trump administration, we were making little to no ground doing anything at the federal level, and it felt like the time to be focused on more local work. And I wanted to work in a more intersectional space, to invest in the power of grassroots organizing in a new landscape," she says. Maggie, who identifies as Latinx—"Being a US-born Hispanic, for me, Latinx feels like it meets what I need," she explains of the term—was excited to keep supporting L.A.'s Latinx community, but to do so in partnership with other groups from different backgrounds.
Maggie knows that her work to help build power and organizational sustainability in L.A. social justice movements is meaningful, and that she's uniquely able to bring value to her team. "It's not just my academic or work training—it's because of my lived experience that I'm a valuable asset," she says. "And I want to live and work and exist in a world and in a community that is more equitable for everyone, that improves outcomes and quality for life for everyone here. That's why this work matters."
3 Myths about Social Justice Work—And What It's Really Like Instead
Working with nonprofits for her entire career, Maggie has run up against preconceived notions of what the field is like and what it looks like to build a fulfilling career within it. She's shared some of those with us:
You can't earn a living wage in philanthropic work. This is a common misconception, says Maggie. "There's no reason to think that you need to not earn a living wage to do organizing work or support grassroots movements," she says. "I want to use my privilege to continue to elevate this message: folks should be [and are,] paid for the labor and work that goes into this."
Working against oppressive systems is joyless. Yes, Maggie's work deals with serious topics like systemic racism and discrimination. "But just because it's hard doesn't mean that it has to be bad, or ugly, or absent of joy and fun," she says. "I'm so grateful to be in community with people that I don't only enjoy, but I have genuine love for."
Professionalism means only one thing. "There are conceptions of professionalism that are really steeped in unhealthy, white supremacist, patriarchal approaches to work. Infusing work with joy and love is how we counteract that," says Maggie.
If you're thinking you'd like to work for a nonprofit organization like Liberty Hill, Maggie encourages you to apply.
Think about what you're good at, she says, and then find a place that's in need of your skills. "From a finance department to comms to programs like leadership operations, there is so much need out there. If you're looking for an opportunity, chances are there's somewhere that you could be a good fit."
READ MORE AND DISCUSS
Show less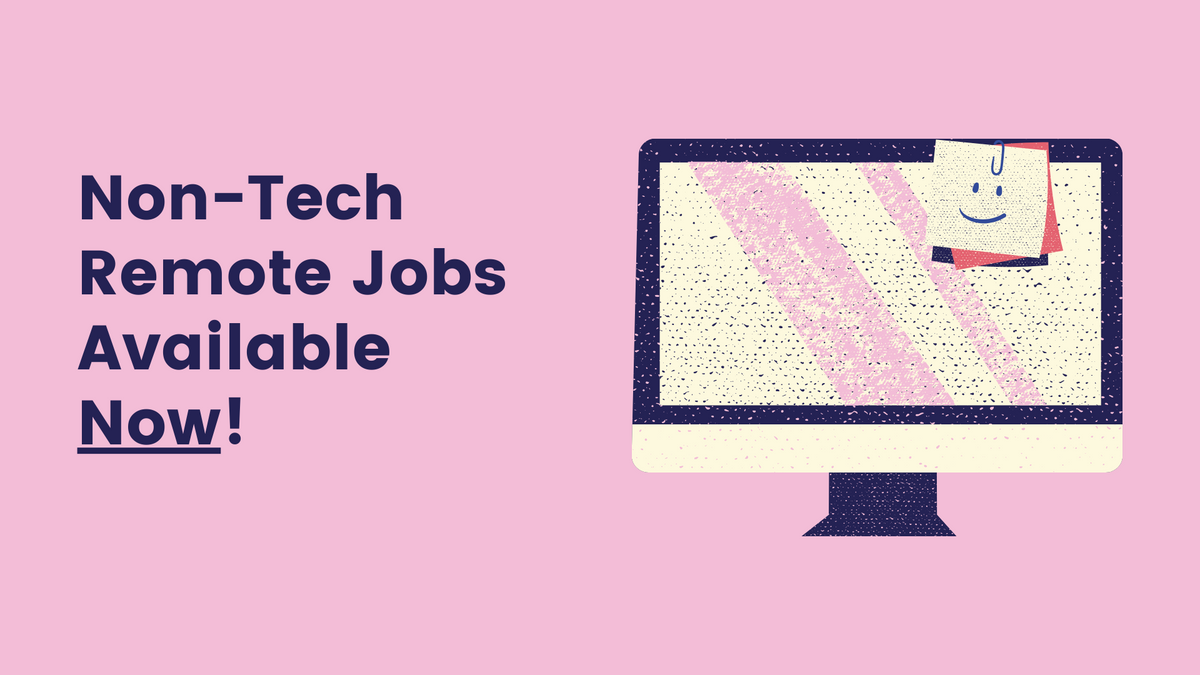 Remote and Flexible Work
Because you don't need to be a "tech person" to work at a tech company.
[This article was first written on April 24th, 2020 and was updated on August 10th, 2021.]
People in all industries and fields have felt the impact of the Coronavirus pandemic, but it's no secret that some fields have been hit harder than others. The information technology sector stands to fare relatively well, as their products continue to be in high (or even higher than usual) demand during lockdown – just consider Zoom and Netflix.

So what should this mean for you if you're on the job market? Tech companies are an ideal place to look for roles — and by necessity, these companies are hiring remotely and offering unprecedented amounts of flexibility. While some companies may be looking to make remote hires who would later transition to in-office staff, it's unlikely that they'll rescind work-from-home flexibility all together.
The best part? Software engineers aren't the only ones that can benefit from tech companies hiring remotely. You can work in tech without being highly technical. (Though if you are an engineer, we've got hundreds of open remote roles for you to check out!)
So if you're on the job market, consider the open remote roles listed below with tech companies that are still hiring! We've created four clusters of opportunity for you to consider depending upon your skillset and expertise:
-----
Don't see a job that's a good fit? Sign up for customized job alerts here.
Good luck!
READ MORE AND DISCUSS
Show less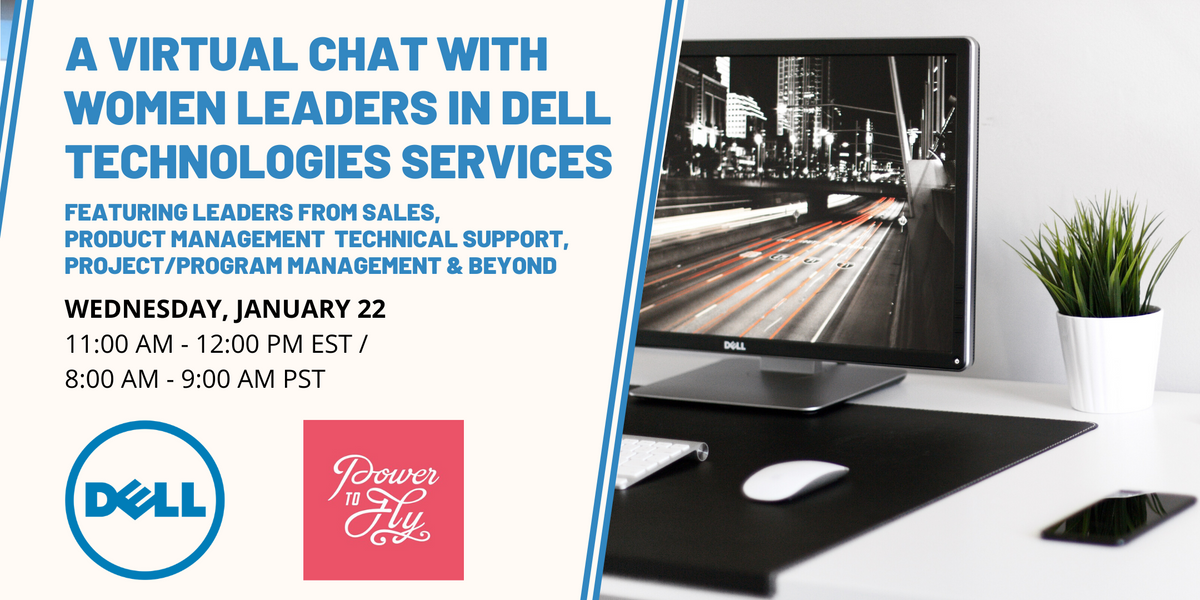 Dell Technologies
Start your 2020 (and Q1!) off right by joining PowerToFly's virtual seminar with some of Dell Technologies Services team's women leaders in sales, product management, technical support, project/program management and more. Our diverse panel will discuss their work at Dell, dive deeper into current industry trends, share their career journeys and, most of all, answer your questions!
The invite-only virtual seminar will take place on Wednesday, January 22nd from 11:00 AM to 12:00 PM EST (8:00 AM to 9:00 AM PST). We'll send you a GoToWebinar link after you register.
Speakers from Dell Technologies Services will include:
PowerToFly is working closely with Dell Services to put together an accomplished panel of industry leaders across multiple fields who are looking forward to sharing their current projects and personal stories with you. Best of all, we'll be dedicating the entire second half of the chat to answering audience questions so please feel free to send us a question or topic when you register or you can ask your questions live on 1/22.
While you don't need to be looking for new opportunities in order to attend this virtual seminar, Dell Technologies Services team is hiring for a large number of roles. Their competitive benefits include their 'Women in Action' Employee Resource Group that focuses on empowering women globally, dependent care backup, caregiver support, adoption assistance and remote opportunities.
About Dell Technologies: Dell Technologies is a collective of customer-obsessed, industry-leading visionaries. At Dell Technologies's core is a commitment to diversity, sustainability and our communities. Dell Technologies believes that technology is essential for driving human progress, and they're committed to providing that technology to people and organizations everywhere, so they can transform the way they work and live.
About PowerToFly's events:
All RSVP'd attendees are welcome, regardless of race, color, religion, national origin, gender identity, pregnancy, physical or mental disability, or age. If you require assistance to fully participate in this event, please email hi@powertofly.com, and we will contact you to discuss your specific needs.
READ MORE AND DISCUSS
Show less
Loading...