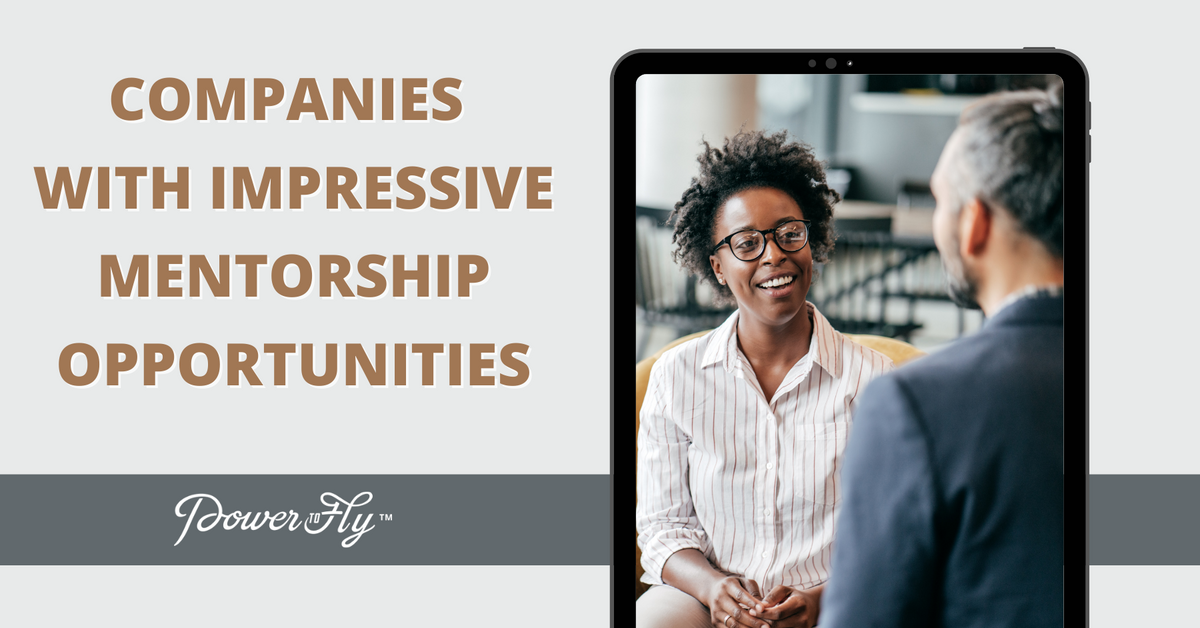 Diversity, Equity, and Inclusion
January is National Mentorship Month— the perfect time to focus on growing and building important relationships with mentors that will positively affect your professional career.
Research shows that mentorship greatly improves career outcomes by providing professional guidance, skill development, and support through major work and life transitions.
We asked some of our partner companies to tell us about the mentorship opportunities they offer. If you're ready to unleash your full potential by joining an impactful mentoring program, keep reading to hear what they said. (Plus, they're all hiring—check out their open jobs under each entry!)
Clarus Commerce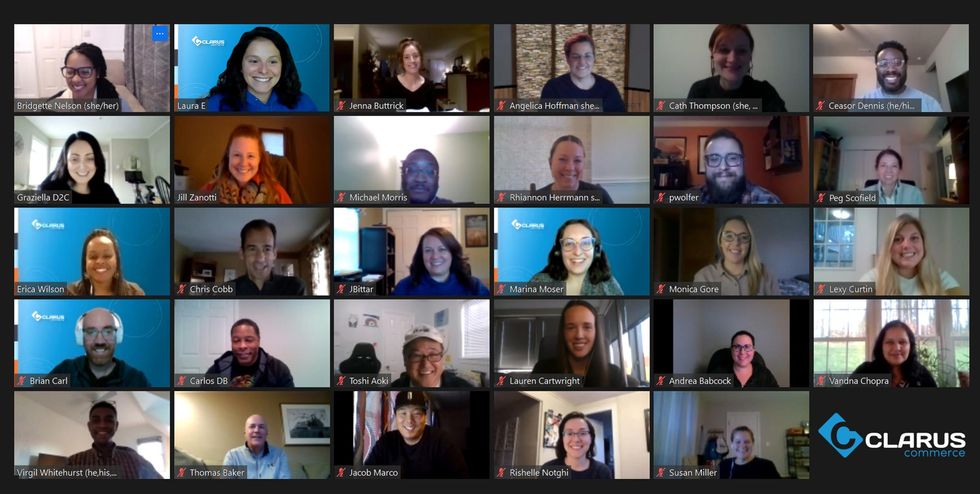 "Clarus Commerce has been running a mentorship program for the last 9 years. Here is how it works:
Senior leaders nominate mentors within their department.
The program lasts for about 6 months.
Those who are interested in being mentored provide 6 topics that they'd like to discuss in mentoring meetings, which help us pair people up. Mentoring topics should focus on topics such as: leadership, how to manage up, presentation skills, communication, work life balance, etc.
We leverage our Insights and Discovery profiles that each employee has to help better understand each other's communication styles and help facilitate great discussions."
Learn more about Clarus Commerce here.
PwC
"PwC professionals are provided learning opportunities, supportive career growth and unique mentoring opportunities to help them to fulfill their potential. The firm has several programs that include intentional mentorship and focus on building representation, inclusion and development of their people. For example, the firm launched Enrich, an experience designed to support the development and leadership skills of high-potential female and racially and ethnically diverse senior managers and directors. There is also Thrive, an innovative two-year experience for Black and Latinx entry-level new joiners that helps lay the foundation for a successful career through culture workshops, networking, connectivity and leadership engagement."
Learn more about PwC here.
CallRail
"At CallRail we have a program called Connection Point where individual contributors are paired with members of the Senior Leadership Team. Each pair is together for a full quarter and are given topics for their meetings, topics range from; career stories, situational advice and feedback, etc. At the conclusion of the quarter the individual contributors that have been in the program have a round table lunch with the CEO. This has been a great way to foster deeper connections within the organization, demystify senior leadership and help individuals see a path forward."
Learn more about CallRail here.
Automattic
"Automattic's Design Mentoring program is a mutually beneficial partnership providing development opportunities for all. Mentees pick up new skills or get guidance with a project. Mentors practice communication, leadership, and knowledge sharing. The organization benefits from more engaged, productive employees, who have increased job satisfaction because mentorship encourages meaningful work that aligns personal and professional goals. In our distributed work environment, mentoring provides a human connection and a trusted space to grow. Tapping into all of the design experience and skill that our organization has is a powerful way to grow individually … and collectively."
Learn more about Automattic here.
Relativity
"Relativity Women of the Workplace (RelWoW) Mentorship Circles is a group mentoring program that brings together women at varying stages in their careers and from every department at Relativity. The program sessions are curated by our team and include materials, talking points and action items to help create open dialogue, build connections and develop skills for personal and professional development. The program runs around six months, and includes a kickoff, mid-point event exclusive to program members, and a closing celebration. Relativity also plans to pilot a new mentoring program with broader reach across the company in 2022."
—Yvonne Frazier – Executive Assistant
Learn more about Relativity here.
CDW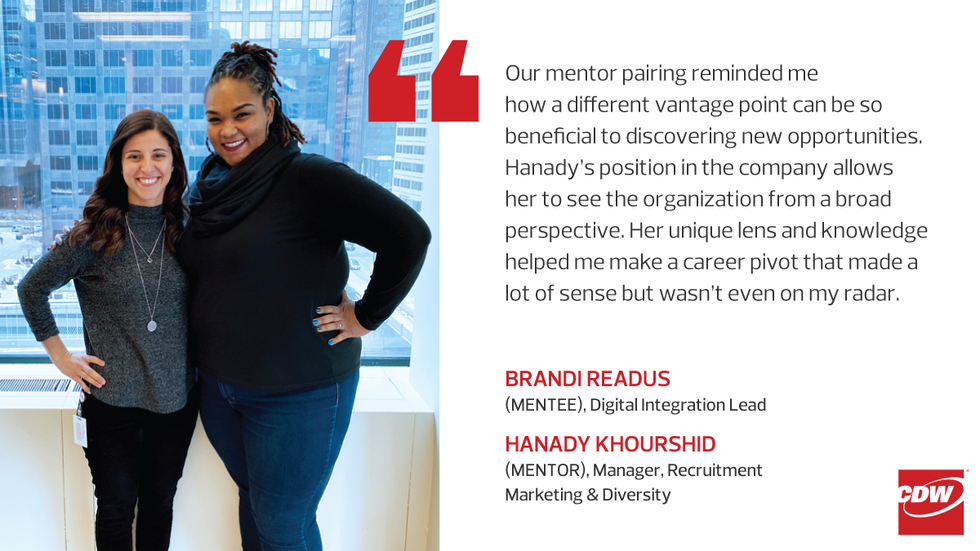 "CDW Business Resource Groups are a key source for networking and mentoring opportunities. In 2019, our BeU BRG launched a formal mentoring program through their Project IMPACT initiative aimed at recruiting, retaining and promoting Black coworkers. It has been a successful program that has brought coworkers together across departments and roles, sharing new experiences and perspectives for both mentors and mentees."
Learn more about CDW here.
Kinesso

"BRIDGE is Kinesso's reverse mentoring program bringing together senior leaders and future leaders globally. Our program pairs employees with Kinesso's Senior Leadership Team, but rather than leadership mentoring employees, our employees mentor our senior leaders!
Through mentorship programs like Bridge, Kinesso's brings together employees across generations, cultures, territories, and job levels. Giving our future leaders the opportunity to share fresh perspectives and innovative ideas allows our current leaders to look at inclusion, capabilities, collaboration, and connectivity from a completely different lens.
"(Bridge) is immensely important for many reasons, but most of all, it shows that no matter where you are in your career, you should never stop learning and growing."
—Arun Kumar, CEO at Kinesso and Global Chief Data & Marketing Technology Officer at IPG"
For more information on Kinesso, please visit Kinesso.com/careers.
Learn more about Kinesso here.
SoundCloud
"At SoundCloud, one of our core behaviors is to embrace the challenge- but that doesn't mean that you go at it alone. We encourage SoundClouders to ask for help and to give help to those who it need along the way. Over the past few years we have offered a mentorship program that connects rising SoundClouders with under-represented identities (gender/race/ethnicity) with more senior level employees around topics of professional branding and career growth, influencing and emotional intelligence, and strategic thinking. In 2022, we aim to launch 2 cohorts of mentorship/coaching targeting different ranks of women of color."
Learn more about SoundCloud here.
BlackRock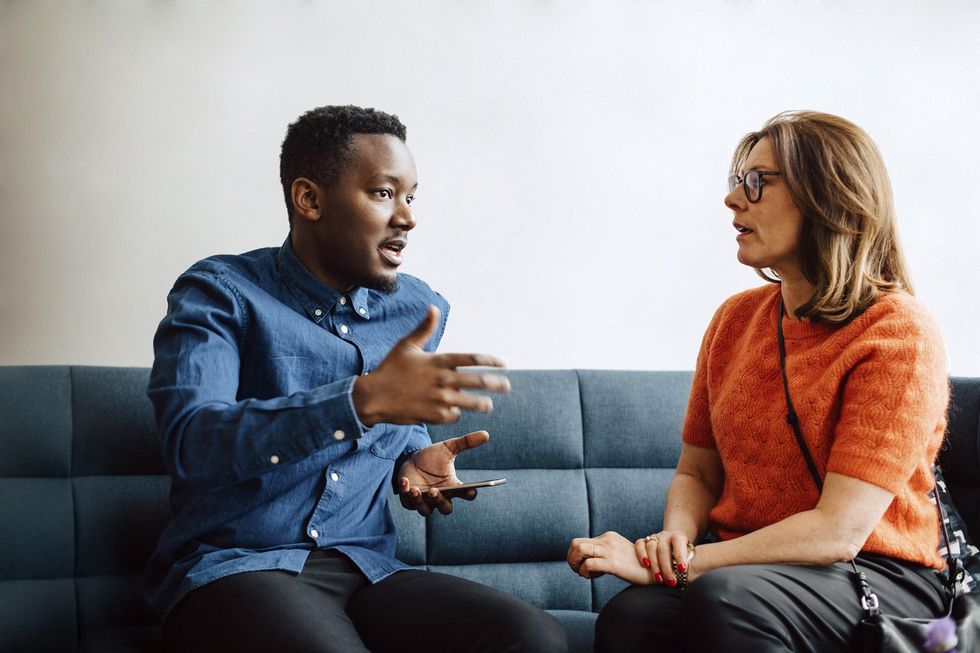 "BlackRock has nine employee networks and four professional networks – all of which offer mentorship programs or opportunities.
Our employee networks: Mosaic; Ability & Allies Network; Asian, Middle Eastern & Allies Professional Network; Black Professionals & Allies Network; Families & Allies Network; Out & Allies Network; SOMOS Latinx & Allies Network; and Women's Initiative & Allies Network.
Our professional networks: Analyst Alley, Associates Arena, Global Administrative Initiative Network, and VP Village."
Learn more about BlackRock here.
Lockheed Martin
"Having both formal and informal mentors is crucial to elevate any career. At Lockheed Martin, mentoring is the development of meaningful relationships to transfer valuable knowledge and understanding from one person to another. It is a personal enhancement strategy through which one person willingly facilitates the development of another by sharing known resources, expertise, values, skills, perspectives, attitudes, and proficiencies. Our mentoring program is tailored to the individual employee to give them the right tools, the right resources, at the right time."

Learn more about Lockheed Martin here.
Autodesk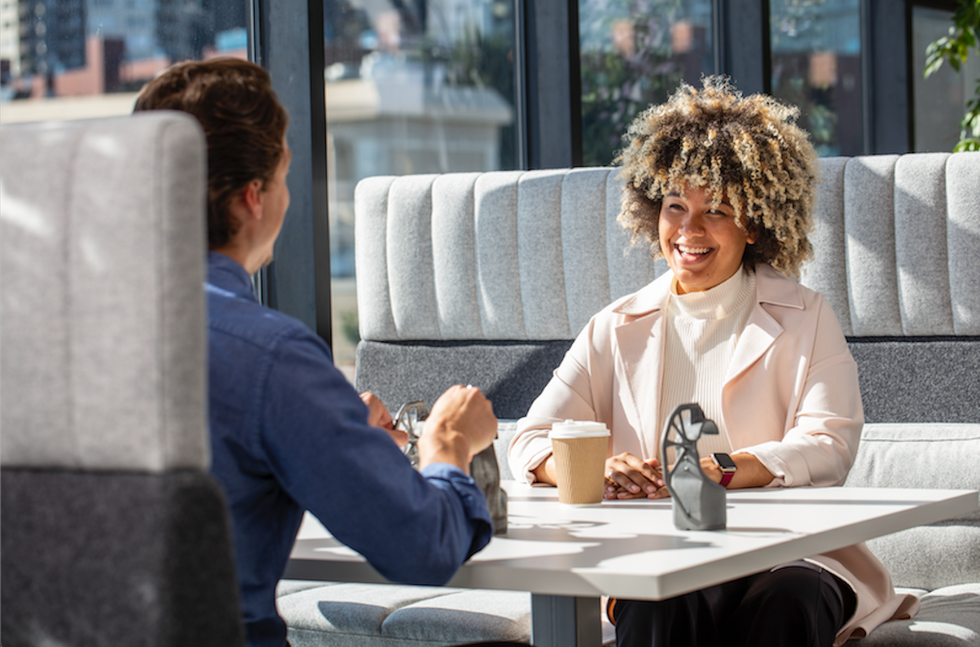 "Autodesk is a place where you can shape your future and help others do the same. The Autodesk Mentorship Program empowers employees to take ownership of their careers and build on a mindset of learning from each other by offering mentorship opportunities for professional and personal development, peer-to-peer learning, and focused networking. The program helps you identify your goals and recommends matches for a mentor or mentee to help you accomplish them. Through the Autodesk Mentorship Program, employees can make connections, grow their skills, explore opportunities and build their career paths."
Learn more about Autodesk here.
Cummins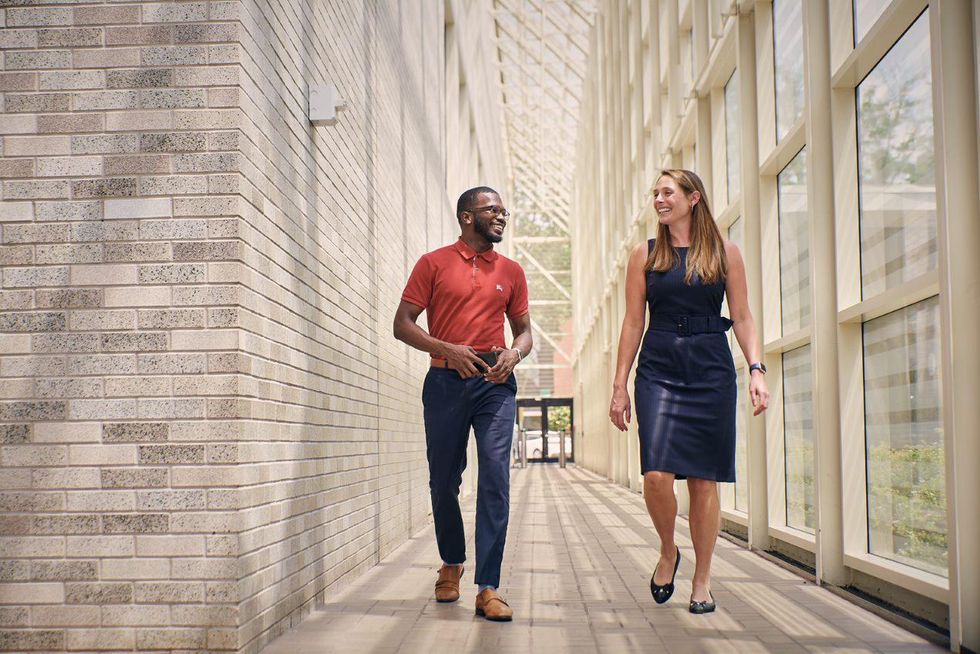 "Cummins Women's Empowerment Network (WEN) focuses on a mission to create the right environment by advocating for equal representation, empowering women, and fostering inclusion for every employee in all work assignments at all levels.
As part of the work to achieve such a mission, WEN focuses on mentoring and development initiatives designed to foster mentoring relationships, broaden employee networks, and provide opportunities for personal and professional growth. Initiatives include Speed Mentoring Sessions, Personal Development & Networking Events and WEN Mentoring Circles Program. This annual Mentoring Circles Program provides a monthly opportunity for exempt employees to participate in a forum for open discussion, explore new perspectives and learn from peers and leaders.
Within the Europe region we also have the Cummins Business Services mentoring program which is open to all employees at all levels."
Learn more about Cummins here.
Millennium Management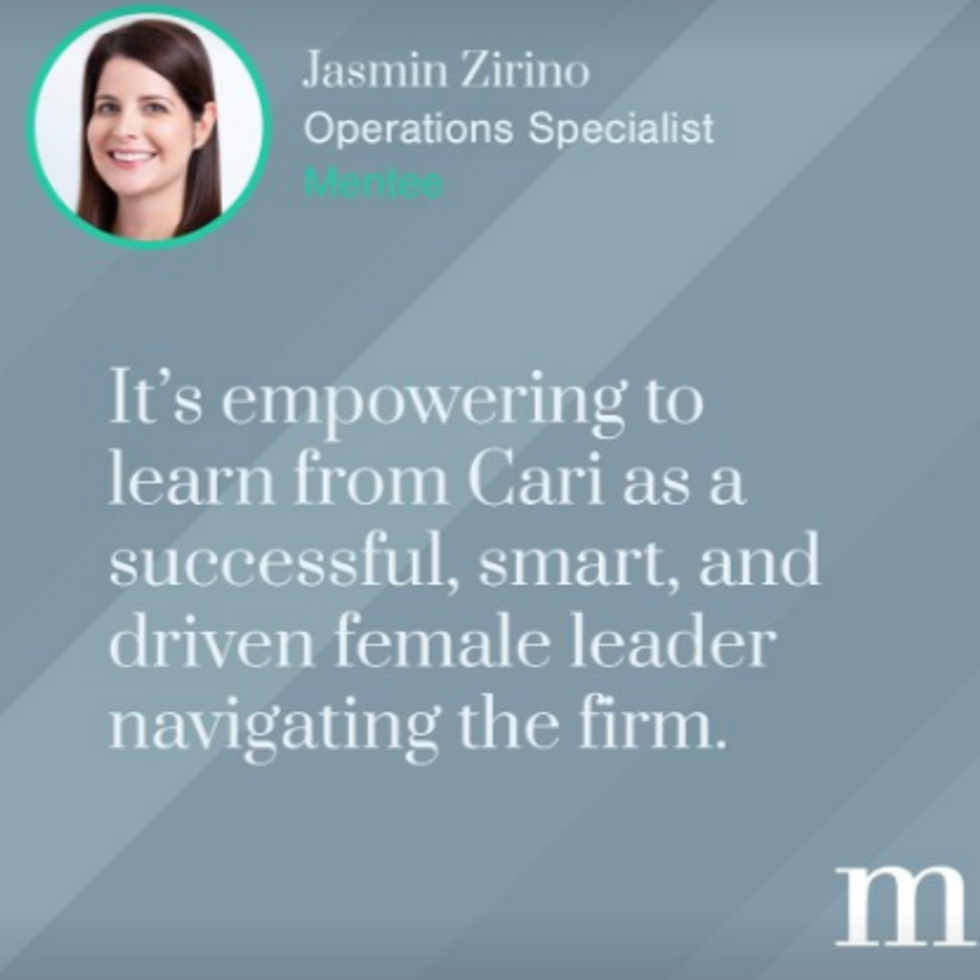 "Meet a pairing in Millennium's Mentorship Program: Cari Smalley, Co-Head HR Business Partners, Americas, and Jasmin Zirino, Operations Specialist. They say, "The mentorship program is a fantastic experience for anyone who wishes to join. It allows you to meet someone you do not directly work with and grow your network. It is invaluable to have the ability to work through solutions to problems, use one another as sounding boards, and occasionally just blow off steam in a supportive space.""
Learn more about Millennium Management here.
Expedia Group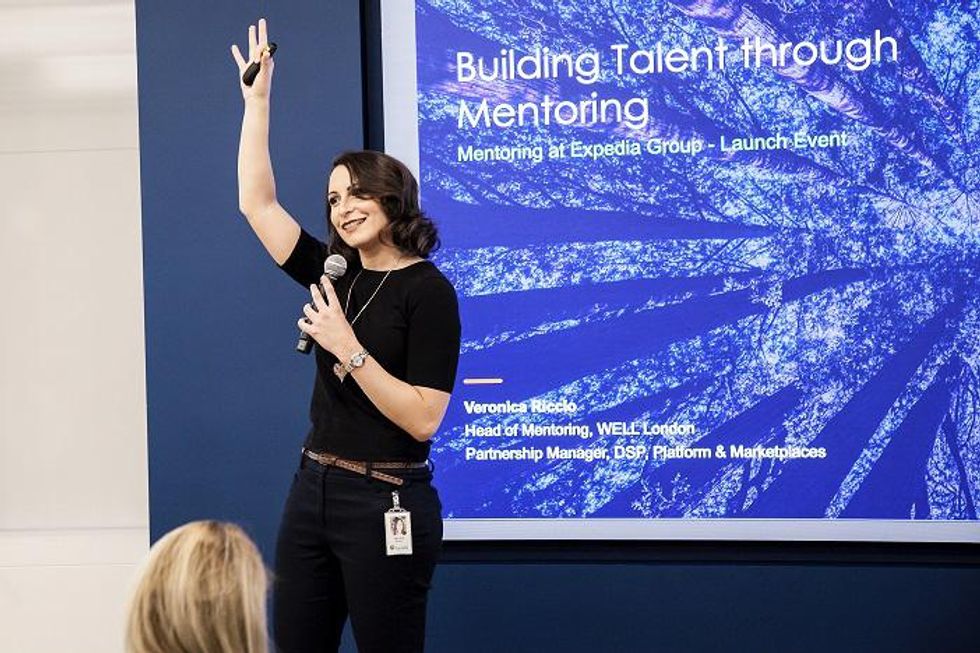 "Mentorship is about stepping out of our comfort zone, taking charge and acting upon our ambitions, opening doors for others and learning more about the skills that make our own success.
Expedia Group has a volunteer-led program allowing every employee to have an equal chance to grow and succeed. The program has brought together a group of 1,700 Expedians from all over the world who believe in skills development and the power to elevate others while creating Inclusion at Expedia Group. Through a self-service marketplace platform and organized meetup sessions, EG's Mentoring Program enables all employees to ask for help and embrace their own identity while belonging to a community that thrives through diversity."
Learn more about Expedia Group here.
Equinix
"At Equinix, our employee connection networks (EECNs) play an important role in bringing together communities for learning and growth opportunities, including mentoring. While mentees gain much from mentors, we often find that mentors also discover growth opportunities.
By asking these questions, we instill best practices for a successful mentorship:
What does each party want from this experience? How often to meet? Confidentiality: What's shareable and what isn't?
Feedback: What are the expectations around giving and receiving feedback?
And remember, a mentoring relationship is like any other relationship—it takes time to develop. Build trust by getting to know one another."
Learn more about Equinix here.
Unstoppable Domains
"At Unstoppable, it is our commitment to having a crypto forward culture. Every new team member is matched with a Crypto Buddy who acts as their first point of contact outside of their direct team, guides them down the crypto rabbit hole, and welcomes them into Unstoppable's culture. As a fully remote company, making cross-team collaboration a key part of onboarding strengthens our community. This is also an opportunity for the buddy to hone their mentoring and teaching skills. When the new hire has been with the company for six months, they will then become a mentor themselves, driving a continuous cycle of mentorship."
Learn more about Unstoppable Domains here.
Uber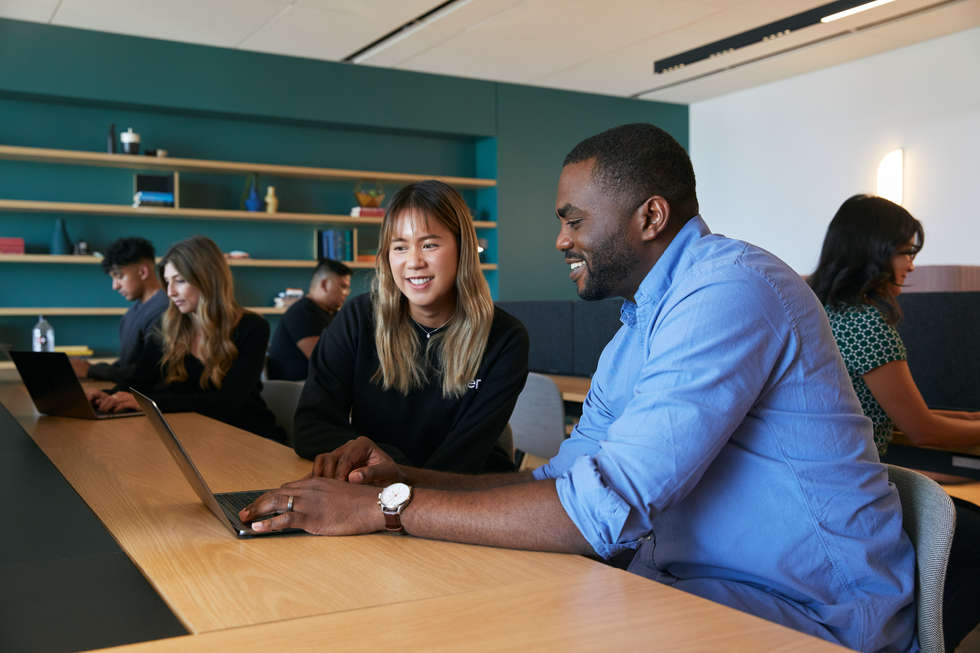 "Mentoring@Uber connects employees who are passionate about helping and up-skilling others with those who are seeking guidance and development. It is a way of connecting and sharing challenges on a mutual and reliable relationship —and trying to get another perspective from an unbiased source. It's also an opportunity to learn from the experiences of others, or collaborate together to come up with a solution to professional problems that arise. People with mentors perform better, advance in their careers faster, and even maintain more work-life balance. And mentors benefit, too."
Learn more about Uber here.
MongoDB
"MongoDB has offered two pilot mentorship programs to support underrepresented groups. One program focused on promising first-line managers and ICs from underrepresented groups and the other focused on providing executive mentorship to women & nonbinary leaders at the director level and up. In both programs, participants were matched with a mentor with who they regularly met to discuss career planning and personal development. Feedback from both pilots was hugely positive with participants indicating that they received helpful support from their mentors. Members from our ERGs have also served as mentors to our summer class of interns."
Learn more about MongoDB here.
PagerDuty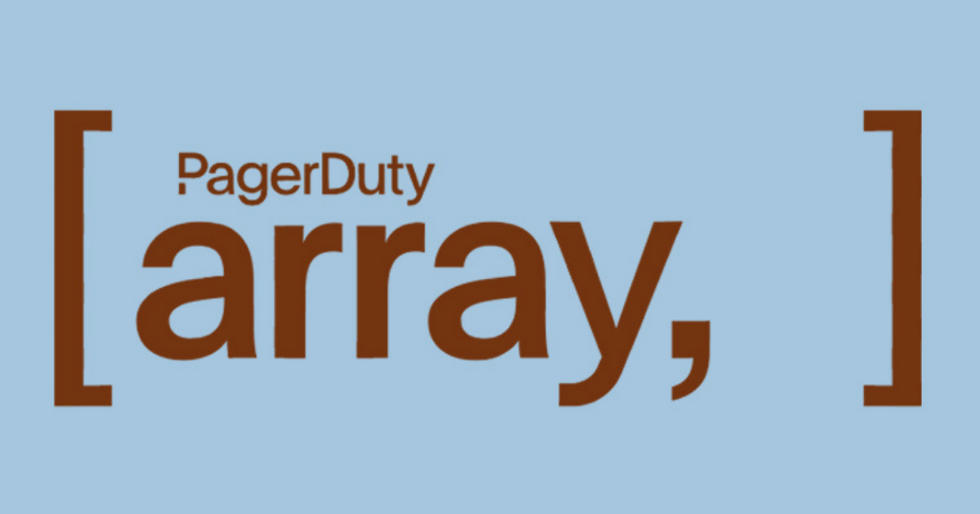 "Our Black and Latinx ERG, Array, offers a mentorship program pairing individual contributors within Array to C-Suite and VP level mentors, including PagerDuty CEO Jennifer Tejada. Dedicated to leveling the playing field for Black and Latinx employees, the program is structured so everyone can learn from each other. Mentees are paired with mentors from within or outside their department for a nine-month term, which includes check-ins, themed discussions, and monthly one-on-ones. Bri Solorzano, an Array mentee, explained that this mentorship program allows her to build bonds with higher level executives, and share her personal experiences as a Latinx employee and individual contributor at PagerDuty."

Learn more about PagerDuty here.

T. Rowe Price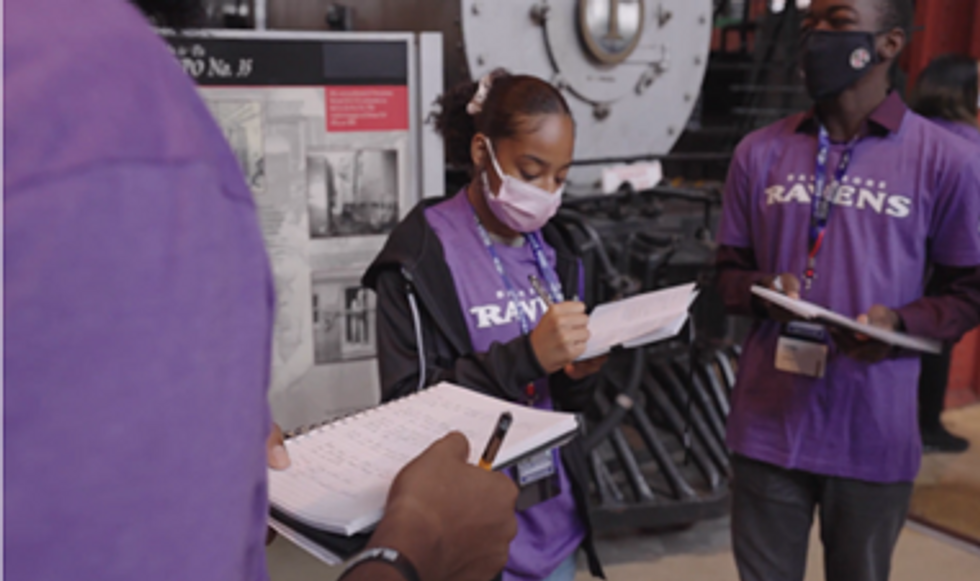 "Due to the highly collaborative culture at T. Rowe Price, the firm understands the value of relationships and the opportunities strong mentorship can provide. It is committed to not only developing talent within its walls but developing the next generation of talent within communities.
The firm will launch a new global mentorship program in 2022, which will offer associates the opportunity to connect with colleagues, agnostic of location or business unit. T. Rowe Price also provides leadership development to youth in the community through strategic partnerships such as the Baltimore Ravens Leadership Institute, a program aimed at high school students."
Learn more about T. Rowe Price here.
Pluralsight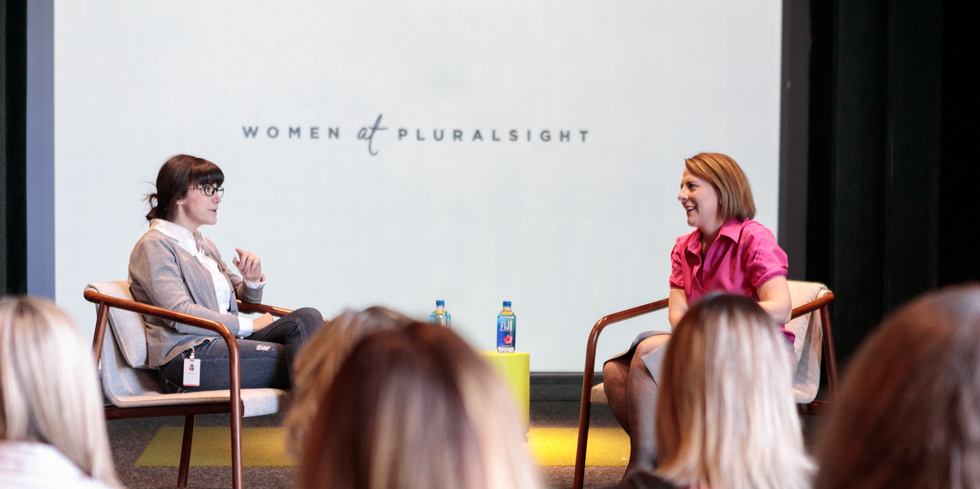 "At Pluralsight, we take growth seriously. Which is why we offer a six-month long mentorship program for all of our employees. Our mentorship program is facilitated bi-annually by Women@Pluralsight, one of our Employee Resource Groups (ERGs) and aims to empower participants to recognize their full potential. We intentionally pair mentors and mentees to create connections that encourage the development of skills crucial to success, and foster personal and professional growth. In our most recent cycle we paired nearly 200 participants and have plans to continue growing that number. Because at Pluralsight, your growth is our growth, and vice versa."
Learn more about Pluralsight here.
Yelp
"At Yelp, we value and actively foster an environment focused on learning and development. There are a variety of mentorship opportunities available, such as:
New Hire Mentors — new employees are paired with a team mentor to help them onboard and get settled in.
Engineering Mentorship Program — any IC engineer can sign up to become or get a mentor within Yelp Engineering.
Manager Mentorship Program — new engineering managers or proto-managers can get support from experienced managers at Yelp.
Awesome Women in Engineering — This employee resource group's mentorship program helps AWE members find mentors or mentee within the group."
Learn more about Yelp here.
Turo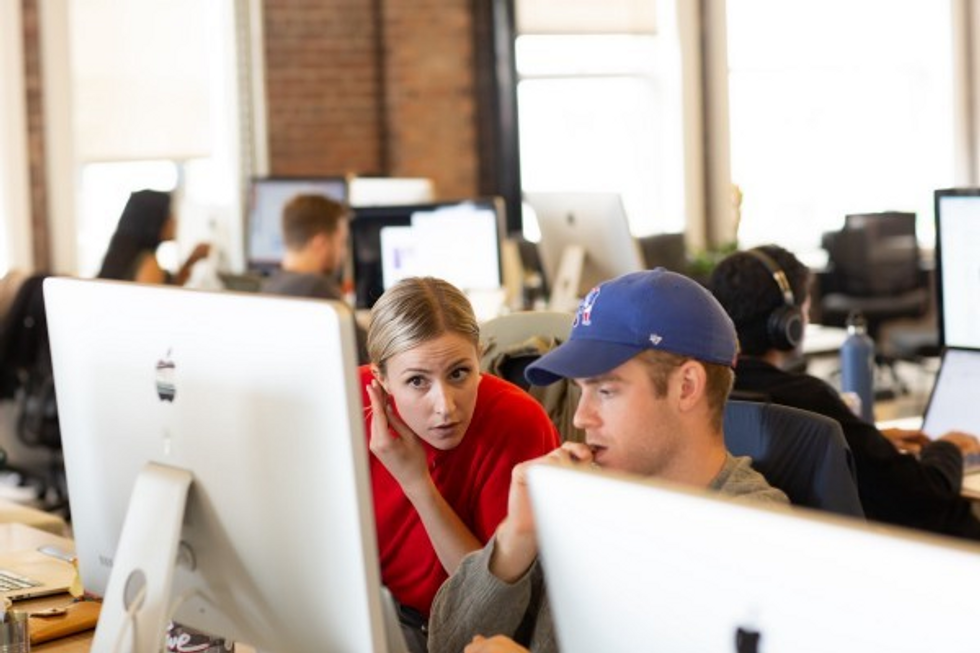 "At Turo, we help each other. We collaborate. We challenge each other. And we create the tools to succeed independently and as a team.
When you join Turo engineering, you're assigned a mentor, a reliable, single point-of-contact to help you set up your environment, navigate the codebase, and acclimate to Turo's culture and workplace. Mentors have a great responsibility to ensure new Turists feel welcome, offer encouragement, and provide advice and guidance on complex matters of systems and architecture. Engineers who demonstrate our core values of efficiency, pioneering, and being down-to-earth and supportive have an opportunity to mentor new engineers. Mentoring engineers is a great way to build the skills necessary to further your career at Turo."
"Mentoring has allowed me to deepen my technical understanding and team connections."
– Lauren Kroner, Senior Software Engineer
Learn more about Turo here.
Moody's
"In the US, Moody's has an intergenerational mentoring program, our Pride BRG members coach youth in the Queer Coders program. Our Women's, Veterans, and Multicultural BRGs have a variety of mentoring programs, including summer intern mentorship, our Asian Leadership Initiative and our ConectaMos Hispanic/Latinx 1:1 mentoring program. Our Women's Group Mentoring Program just celebrated its 10th anniversary with over 800 mentor-mentee participants over 10 years. In EMEA, Moody's offers Power to Act reverse mentoring, mentoring through the Women's and Pride BRGs, and a parental leave mentoring scheme. In APAC, Moody's has various cross-BRG and cross-department mentoring programs."
Learn more about Moody's here.
Condé Nast
"At Condé Nast, we are focused on providing positive career development opportunities. We recently launched a Global Mentorship Program as an option for employees to connect and learn from one another. For six months, employees participate as a mentor and/or mentee to develop their careers, grow their skills and guide one another. The structured framework creates and sustains an inclusive experience that empowers everyone's growth.
The MentorcliQ platform we use lets us create mentoring pairs based on their interests, experiences and personality compatibility. To date we have had 473 active mentorship pairs."
Learn more about Condé Nast
here
.
Thornburg
"Thornburg Small Group Mentor Program was created to bring employees of various tenures and experience levels together in order to cultivate organic relationships and opportunities for influence in a low-pressure environment.
The program consists of six small groups comprised of one mentor and three to six mentees. These groups meet for one hour every month for six months. The series concludes with a virtual event where all participants from every group can meet and share takeaways from their experiences.

Program Highlights:

Small group format (not one-on-one)
Low cost, low maintenance, light structure
Flexibility for mentors to lead through individual style"
Learn more about Thornburg here.
Okta
"Women@Okta's upcoming mentorship program:
W@Okta's vision for the year is to empower, develop and support women-identified employees in order to ultimately improve gender diversity at Okta. One of our key methods is to empower the next generation of female leadership by providing a platform for women to connect and learn from one another through group and 1:1 mentorship opportunities. Our Professional Development branch is launching a pilot mentorship program with an initial cohort of 32 mentors and mentees.
Goals: Career, personal and organizational
Share your needs, desires, goals, and challenges; career choice and mobility.
Explore people, resources, information, expertise you need – but don't have – to speed up, enhance, and ensure your results."
—Professional Development Lead Christina Gallagher (Senior Sales Development Representative) & Partnerships Co-Lead Sarah Schiff (Senior Manager, Customer First Recruiting)
Learn more about Okta here.
READ MORE AND DISCUSS
Show less
Loading...