GET EMAIL UPDATES FROM POWERTOFLY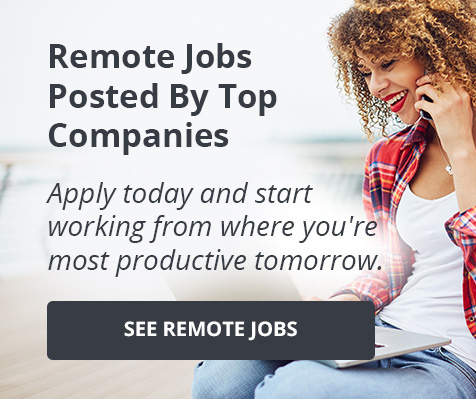 Relativity LLC
Below is an article originally written by Mary Rechtoris, Senior Producer at PowerToFly Partner Relativity, and published on March 31, 2020. Go to Relativity's page on PowerToFly to see their open positions and learn more.
At Relativity, we've celebrated Women's History Month in a variety of ways. At the intersection of the legal and technology industries, it's critical for us to recognize the contribution of female peers who bring innovation and insight to our professional space and our world.
In early March, our community resource group, Relativity Women of the Workplace (RelWoW), hosted a fireside chat with our CEO Mike Gamson. The conversation, in large part, focused on allyship. Mike shared Relativity's plans to squash gender norms that are restrictive for both women and men. Read the article here to learn about Mike's path toward allyship—from where he started to what he is doing today.
We also had the opportunity to share the experience of another Relativian: Aidana Om. In this video, she shares how she is helping break down the gender norms that persist in her home country.
Taking the Path Less Traveled

Aidana grew up in Kyrgyzstan, a Central Asian country nestled in the middle of Kazakhstan, Uzbekistan, Tajikistan, and China. She came to Chicago for school in 2012, although her path deviated from what she had planned.
"I didn't end up finishing college," she said. "I wanted to get hands-on experience in the tech industry. I wanted to build and build fast."
Aidana joined Relativity's dev ops team in 2017. She manages internal technology applications that employees use throughout the company. In her work here, Aidana values the support she receives from her manager and the ability to maintain a healthy work-life balance.
"I have a chance to be with my kids and my husband; we love going biking around Chicago," said Aidana. "I get to host different events with the Kyrgyzstan tech community in Chicago through Muras Club."
Building the Kyrgyz Tech Community in Chicago
Muras Club's mission is to connect, grow, and impact like-minded and highly skilled Kyrgyz IT professionals based in the Chicago area. According to Aidana, the Kyrgyzstan tech industry lags behind the US. Many are unaware of the vast opportunities the global tech industry offers. Muras Club aims to increase knowledge sharing about IT opportunities and build a network in Chicago.
The club convenes on the weekends in Des Plaines. Members' professional roles vary from quality assurance engineers to mobile developers to system engineers. Despite their different niches, they rally together to develop start-ups and learn about the latest and greatest in tech.
In March, Muras Club hosted a tech breakfast geared toward women. It was an opportunity of particular interest for Aidana.
"In my country, we don't have too many people in the tech industry," she said. "We have a stereotype that tech jobs are only for men and women should stay home. I want to change that."
Enacting Change through the Web
Aidana strives to disprove that stereotype. She is reaching women and girls around the globe through her social media. With upwards of 54,500 Instagram followers, Aidana has built a community all over the world. She shares videos on technology, cloud computing, and coding, among a myriad of other topics.
Although Aidana self-describes as a quiet person, she is using her platform to broadcast her message to women and girls who may not know they can pursue careers in technology.
"I want people to know—especially women from my home country—that the world needs IT professionals," she said. "We have a lot of smart women and girls in Kyrgyzstan. I want to inspire them to unlock their potential."
Mary Rechtoris is a senior producer on the Brand team, Relativity's in-house creative team, where she works closely with the multimedia team and the larger marketing department to develop and socialize new ways to tell stories.
Relativity LLC
Below is an article originally written by Alton Zenon III at Built In Chicago, and published on June 3, 2019. This article is about PowerToFly Partner Relativity. Go to Relativity's page on PowerToFly to see their open positions and learn more.
Without the combined efforts of its product and user experience teams, products would be inefficient, unusable or both. And in the legal world, no one can afford to have a product fail or be overly cumbersome. Relativity understands this idea well, and the teams behind the e-discovery platform it's developing are striving to evolve the company's product, how customers interact with it, and how they advance their own professional skills.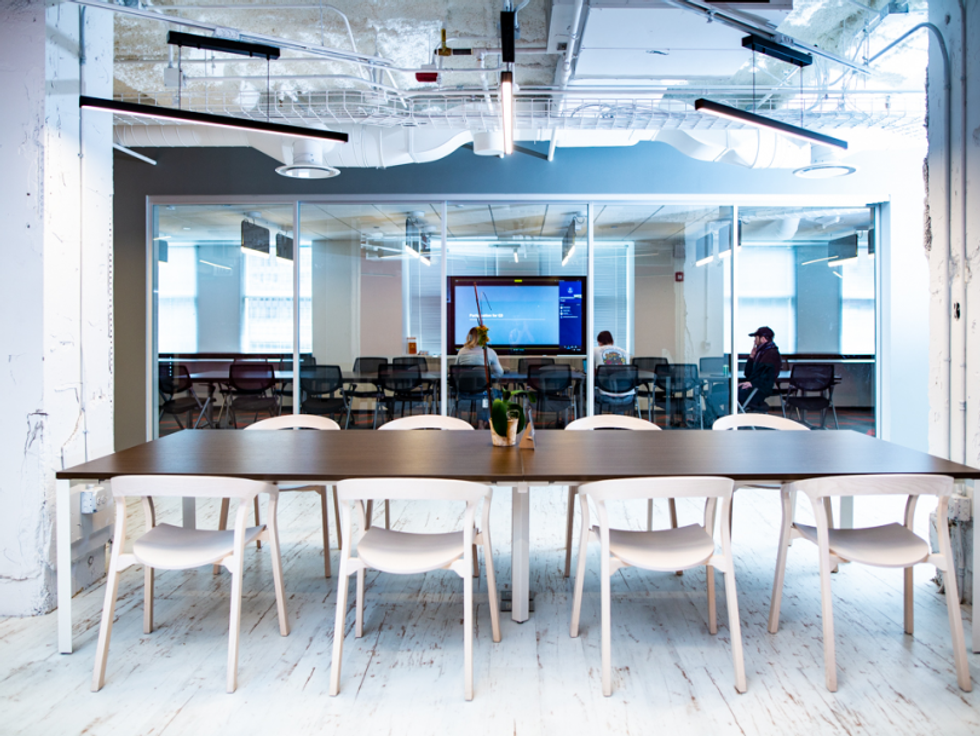 PHOTOGRAPHY BY CHRIS MURPHY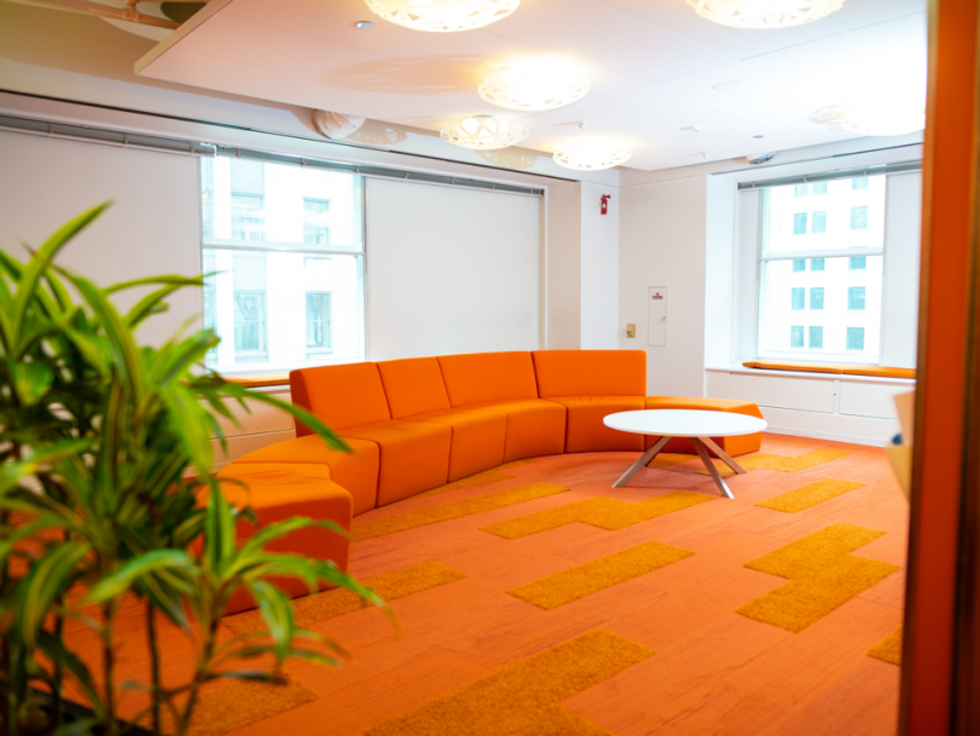 PHOTOGRAPHY BY CHRIS MURPHY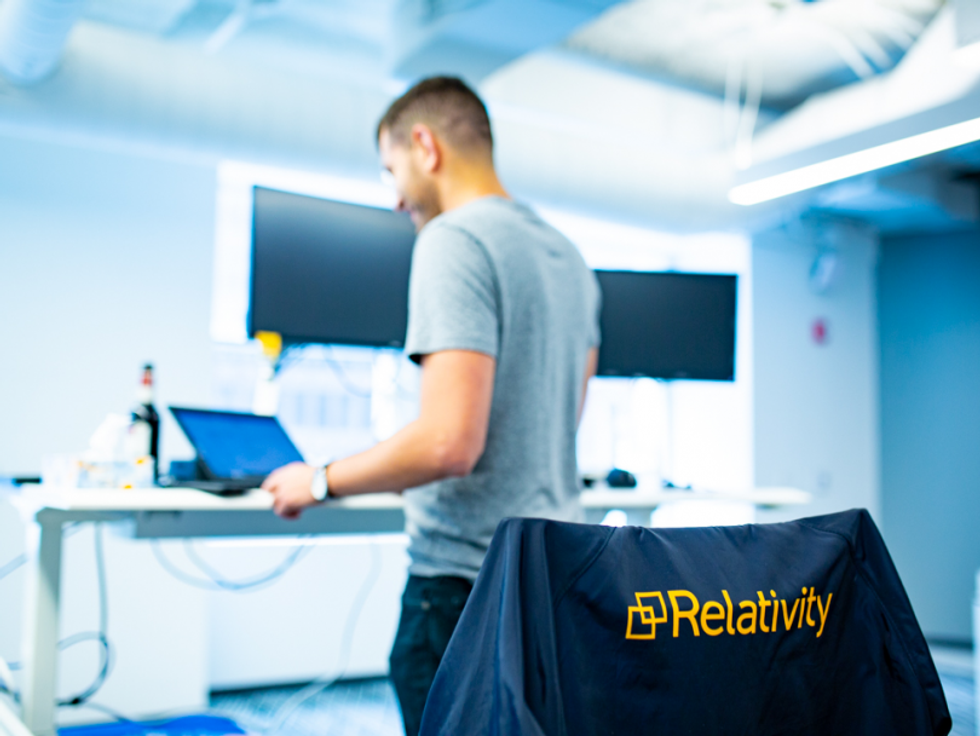 PHOTOGRAPHY BY CHRIS MURPHY
FOUNDED: 2001
EMPLOYEES: 925, around 775 locally
WHAT THEY DO: Relativity provides and maintains a cloud-based solution for storing and analyzing the large volumes of data generated during the discovery processes of litigation, internal investigations and compliance projects.
WHERE THEY DO IT: Chicago
PHILANTHROPIC ARM: Relativity Gives is devoted to giving back to the Chicago community. It donates tens of thousands of dollars to schools each year and offers staff many opportunities to volunteer.
CULTURE IS KEY: From a number of highly varied community resource groups and a dedication to philanthropy to providing opportunities for staff to have some fun, Relativity is adamant about organically strengthening and widening its cultural arms.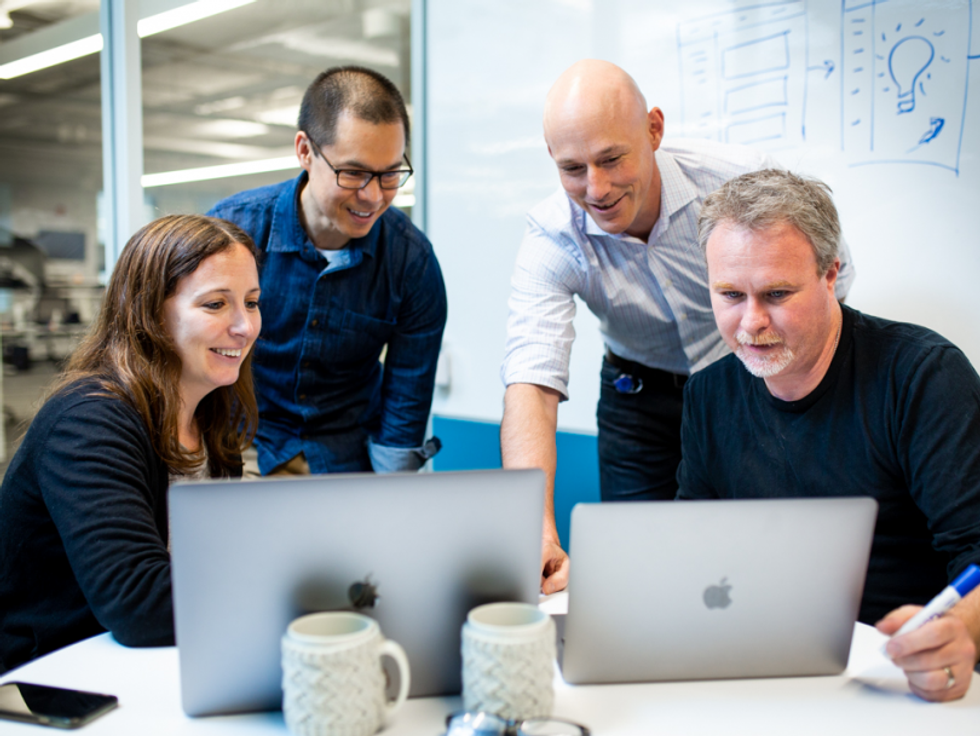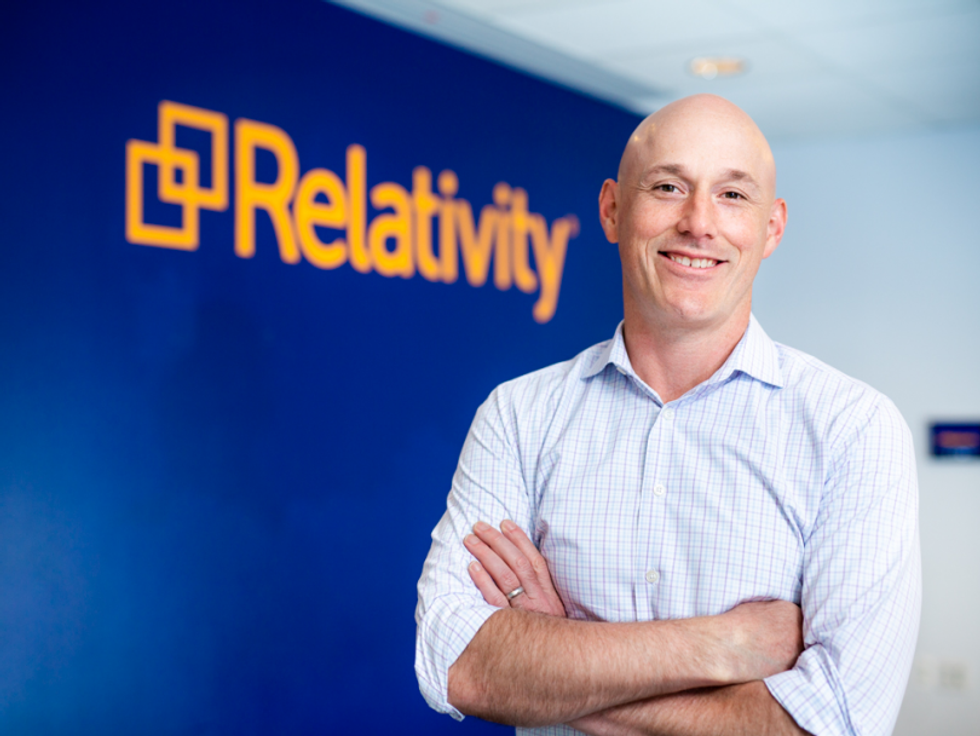 Chris Brown, Chief Product Officer
Chris is responsible for charting the company's overall product vision, strategy and roadmap. He also leads the product and user experience teams, in coordination with the tech division, as they work to reach those future-state destinations.
NO BACKPEDALING: Chris is an outdoor athlete and enjoys snowboarding and biking. He plans to stage his own Tour De Iowa and bike across the state over the summer.
How does Relativity's product fit into the ever-changing tech landscape of today?
Relativity sits at the nexus of the major technology transformations of our time: AI, mobility, IoT, security and the public cloud. As every organization goes through their own transformations in these areas, we are working to build a cloud platform to support them. That amounts to a few key areas for us: improving our user experience, providing the most comprehensive end-to-end e-discovery solution, and increasing our platform extensibility to solve other unstructured data challenges beyond e-discovery.
We use key results across each of our areas that align up to our product strategy and company goals.
How do you facilitate cross-team collaboration to help different teams work towards shared goals?
It starts with building the DNA of great sprint teams, complete with a strong, embedded triad of product, engineering and UX leaders working together. We use key results across each of our areas that align up to our product strategy and company goals and have a mix of ceremonies to keep folks informed and involved in debates around shifting priorities.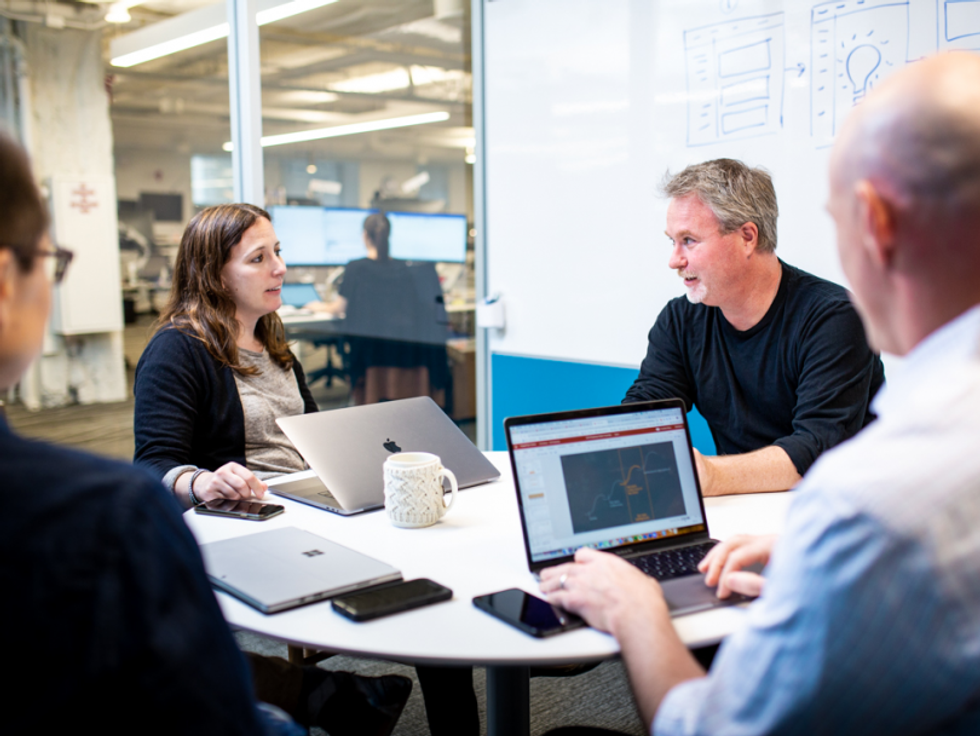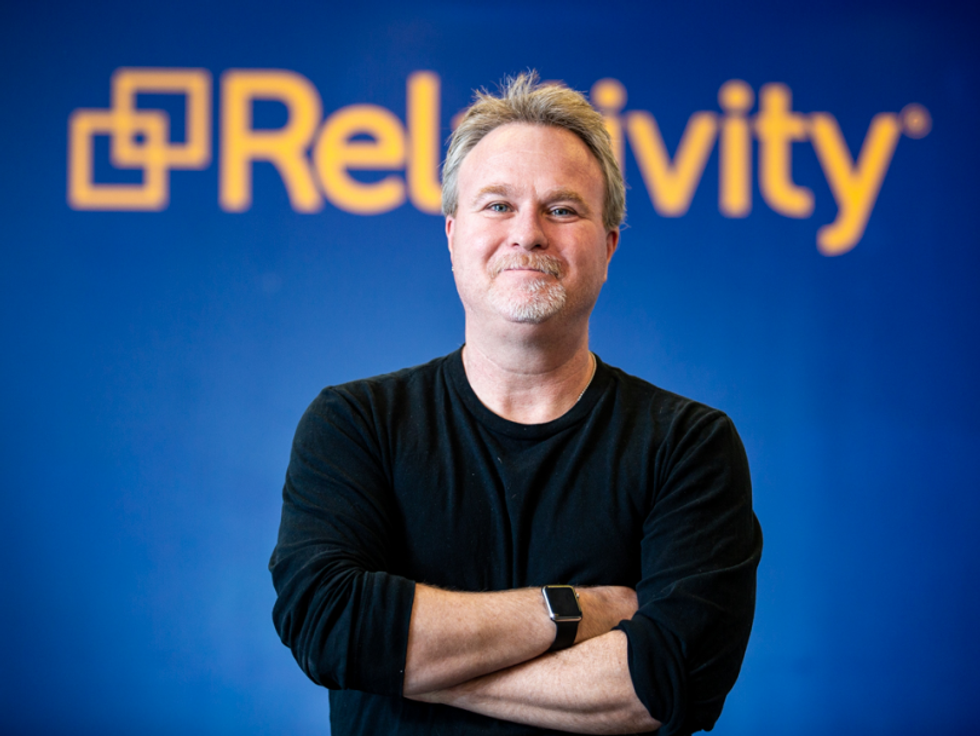 Brian Hunt, Director of User Experience
In his role, Brian is always thinking of the user and is in charge of leading the vision and strategy behind optimizing their experiences in using Relativity's products.
A TRAVELING ARTIST: Brian has been writing, recording and performing music with a group of his friends since he was in the 5th grade. He has gone on many U.S. and European tours with a band, and traveling with bandmates taught him a lot about facing challenges and celebrating wins as part of a team.
What are some of the challenges your team is presently working to solve?
We're working to reduce redundant code and unnecessary variations and inconsistencies in the UI. We're employing a design system to provide an easy way to build features utilizing reusable components. Once adopted, our user experience will have a uniform, consistent and improved look and feel.
What's a major project you will be working on in the coming months?
Defining the next generation interface for Relativity. We are looking to bring fast, meaningful improvements to the platform while also mapping out an entirely new user experience for our customers.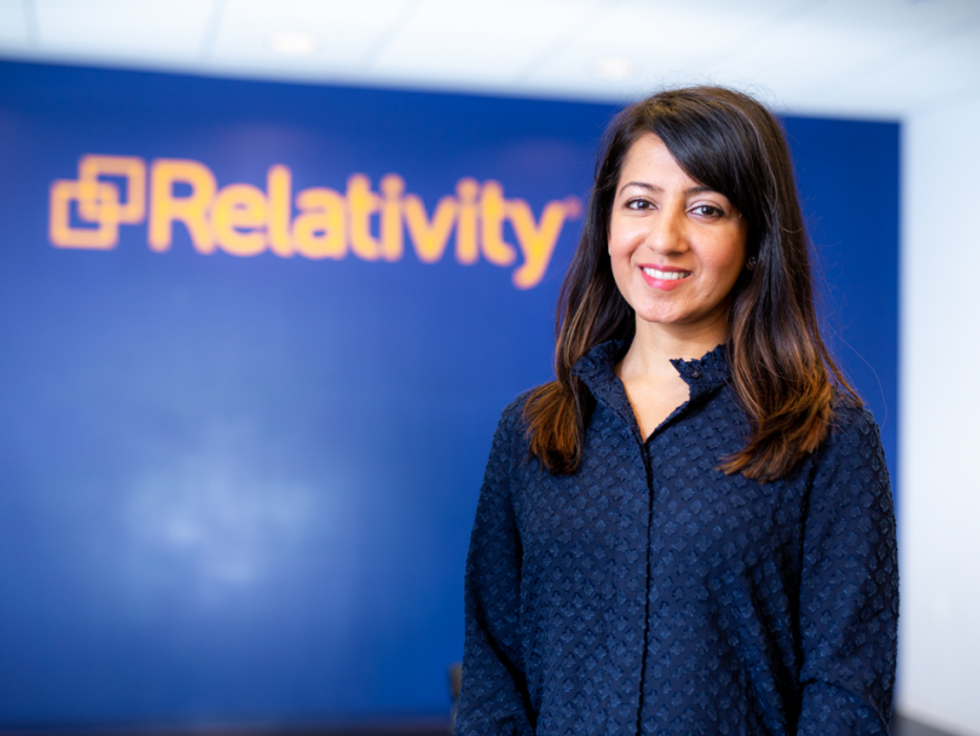 Cherry Mangat, Senior Product Manager
Cherry is the product lead for the company's case strategy product line, for which she gives customers tools that allow them to organize important details about their cases.
STORY TIME: Cherry loves storytelling and has practiced it in many ways: via blogging, authoring a book and performing stand-up comedy. She said the idea of combining numerous elements to make a compelling narrative translates to managing a product.
How do you work to keep yourself sharp and in-the-know regarding tech and industry trends?
One of the easiest ways is the internal weekly digest that highlights what's happening in our industry. I joined Women In Product, which is great for networking and learning more about product management and tech. I recently took a training workshop on how Google runs its design sprints, which was insightful and fun.
What tools does your team currently use, and how do they enable your team to work efficiently and successfully?
We use JIRA for tracking development work, Aha! for roadmaps, Salesforce for customer feedback, Tableau for metrics, Asana for task management, Slack for chat and many other tools. It can be a little overwhelming initially to use so many tools, but over time I've come to value the integrations between many of them. They help us collaborate and prioritize the most important work, then align it to our top-level business goals and track the outcomes.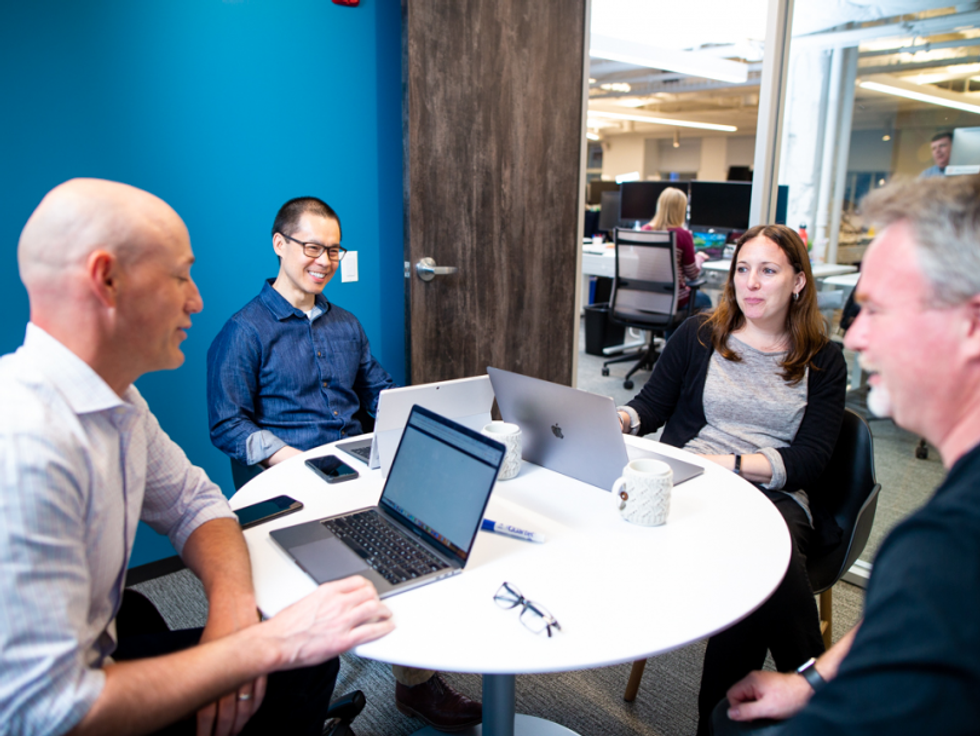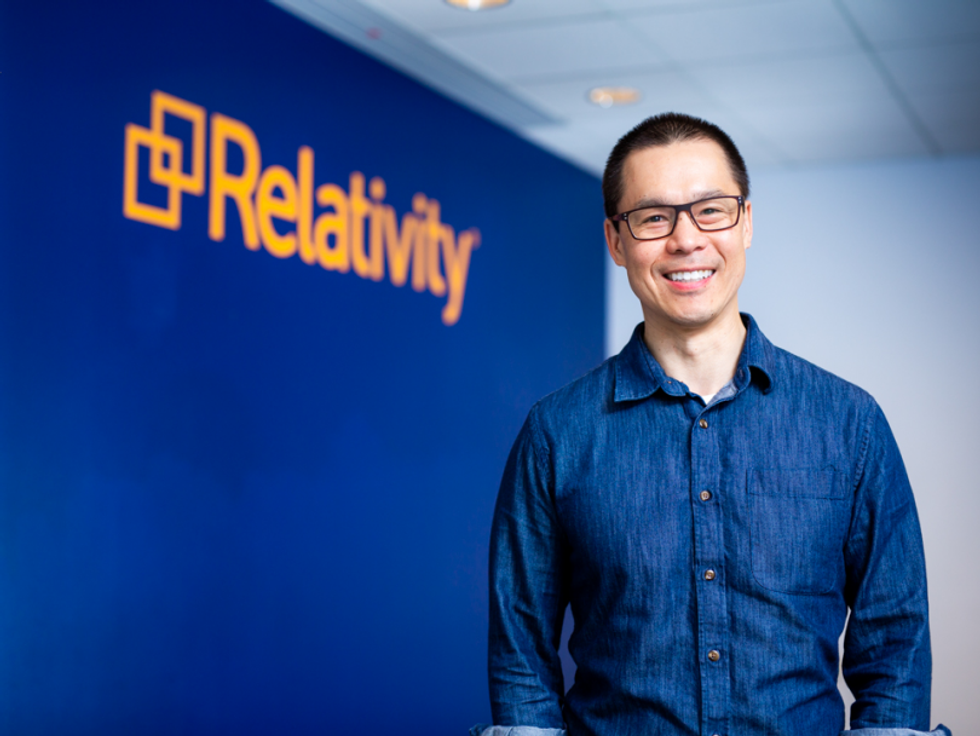 Alex Moy, Director of Product Management
Alex works with product managers, designers and engineers to help give life to Relativity's products, with RelativityOne being the center of attention these days.
CARVING OUT LEADERS: Weather permitting, Alex loves to hit the slopes on his snowboard. The sport demands concentration under pressure, courage and becoming comfortable with the uncomfortable — traits he has taken to his role as a leader and ones he encourages his team members to employ in their own work.
What are some non-technical skills you look for in new hires?
I look for candidates that are naturally user- and value-centric in their thinking. I search for candidates that have T-shape skills when it comes to business, design and technical acumen, as well as individuals with outstanding communication and influence skills. I look for values that I believe are key to the best product managers: courageous with a growth mindset, perseverant attitude in the face of challenges, and putting the team first. And I look for candidates who lead with a servant-leader approach.
Every team member has $3,000 to invest in their professional development each year.
What types of professional or career development resources are available at your company?
Full-time team members have $3,000 to invest in their professional development each year. Last year, we coordinated to level up our product management skills as a team. We all bought copies of Marty Cagan's "INSPIRED: How to Create Tech Products Customers Love" and had a weekly book club to discuss our learnings, thoughts, and actions together. Then, the team capped off that learning by going to one of Marty Cagan's workshops together. It was a great experience to learn with and from each other.
Relativity LLC
At Relativity, they are a team of smart, passionate people solving complex challenges by building great tech.
Interested in being part of their team?
Click here to see all available opportunities at Relativity and don't forget to press 'Follow' to receive custom job matches, event invitations and more!

Loading...