GET EMAIL UPDATES FROM POWERTOFLY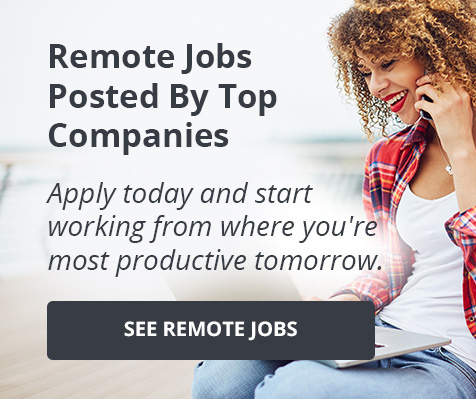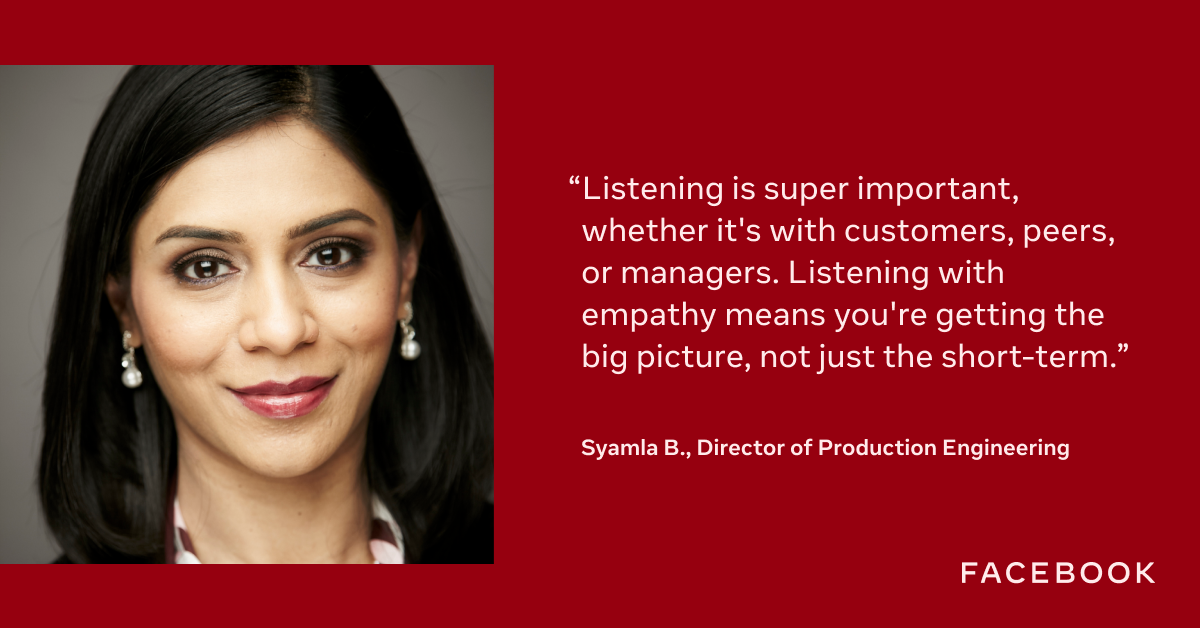 Meta
Most people have one home town. Syamla Bandla has 13.
With a father serving in the Indian army, Syamla got used to adapting to a new environment every time his role changed and her family moved to a new city.
That flexibility served her well as she moved from fintech to insurance to startups and eventually into a role as Facebook's Director of Production Engineering—and as she managed a massive team through the pandemic-induced shift to all-remote work.
We sat down with Syamla, who had already shared part of her career story with PowerToFly, to ask her how she's grown and developed her own career, and how our readers can do the same in their own roles, especially now that remote/hybrid work is here to stay.
Step One: Adopt a Growth Mindset
Syamla's career really began to take off when she took on her first leadership role. The startup she had been working for was acquired by Dell, and she was tasked with integrating it into Dell's SaaS portfolio and taking four different products to market.
Oh, and she was a bit busy having her first child right at the same time.
"The learning curve was very steep!" remembers Syamla. "When I look back, I am really proud of myself for what I accomplished."
She credits one thing with her ability to juggle work and motherhood: her deep belief in a growth mindset.
"When we say 'superwoman, supermom, superhuman,' it's a myth," she says. "Everybody has the same 24 hours. It was a muscle I had to build in both roles–in motherhood and in work–about focusing on the journey."
Here's how Syamla defines a growth mindset: "Believing that talents are not innate and that everything can be developed with sheer dedication and hard work and focus—an absolute obsession and love for learning."
In practice, applying a growth mindset looks like not being afraid to fail. Whether that is Syamla stepping into a leadership role while balancing new motherhood or one of her direct reports taking on hiring responsibilities for the first time, Syamla says that it's all about believing that you can get through something.
"When you think about it, it's not the outcome that you're chasing—but the joy of the process itself," she explains.
And while volunteering for new initiatives or putting your hat in the ring for a promotion may have been easier when we were all in the office and you could grab a senior manager in the hallway, it's certainly easy to broadcast your willingness to take on more learning opportunities, says Syamla.
Step Two: Be Vulnerable
Syamla's current job includes managing all of Facebook's revenue-generating platforms, including Ads and Marketplace. "This role is very, very dear to my heart, and I love doing it at this scale," she says. It's a big remit, and in order to manage well, she needs to keep her team connected.
Her strongest tools for doing that are trust, authenticity, and radical inclusion.
"Listening is super important, whether it's with customers, peers, or managers. Listening with empathy means you're getting the big picture, not just the short-term," she says.
Here are her specific tips:
Put your phone aside while you're on video calls. It shows your team that they have your full attention, says Syamla.
Share personal updates when they feel appropriate. For instance, when Syamla's father-in-law got COVID, she ended up sharing that to the broader Facebook community, prompting dozens of people to reach out to her and share their own experiences.
Show that you understand other people's situations. From being conscious about scheduling calls at times that work for coworkers in other parts of the world to checking in on teammates who are going through life changes, leading with empathy can go a long way, says Syamla.
Step Three: Build a Network of Advocates
"I used to believe my work would speak for itself," Syamla says. She found out that wasn't quite the case. "As a leader and a woman of color, I needed to find my voice, but also to make sure that my allies and sponsors were able to speak on my behalf, so I didn't have the burden of self-promoting all the time."
Syamla thinks that remote work actually provides more opportunities on this front. Not only can you drop humble-brag updates in company chats she says, but you can also more easily branch outside of your own company to connect with industry peers, which is key for upward mobility and recruiting opportunities.
"It's a blessing in disguise, to have so many virtual events," she says. "Being a working mom, I used to refuse events, because they required long travel away from my family. But the top tech conferences are online and they're really quality."
Same goes for learning opportunities. With platforms, including our internal learning resources at Facebook, says Syamla, it's easier than ever to make time for learning, and to share your progress with your managers so that they can see how committed you are to self-improvement.
She also suggests making use of social networks to connect with peers of similar backgrounds. "You will be surprised how many people actually respond back and they want to connect and talk about experiences when they come from similar domains," she says.
Step Four: Don't Forget to Prioritize Yourself
It's easy to let work bleed into your real life when work happens in the same place that you see your family and friends, says Syamla. Career development is important, but not at the cost of your own mental health and enjoyment of life.
"It's hard to draw that line, especially as a working parent," she says. "The key is to pace it out and draw really hard boundaries." For example, Syamla makes sure to take occasional Fridays off where she fully disconnects from work. And on family vacations, she makes sure to take at least an afternoon for "guilt-free mommy time."
"It's important to put on your oxygen mask first, because you can give a lot more when you are in your strongest mental state and physical state," she explains. "After I've taken that time, I'm a better person, a better mom, and a better leader."
Personally, Syamla likes to spend her downtime hiking, diamond painting with her daughter, and creating vegan versions of family-favorite recipes like thandai. She's slowly morphed into a morning person, too, going to bed 15 minutes earlier each night until she was able to get up at 5:15 a.m., which gives her much-needed quiet time to walk, do yoga, and get into the right headspace to start her day.
Prioritization needs to happen at work, too, and can sometimes be easier in remote or hybrid workplaces. For example, Syamla is now taking executive coaching sessions, which she says she wouldn't have had time for had she needed to travel to them. "I get good ROI because it's a lunch session, and I don't have to block half an hour before and after to get there," she says.
She's also seen higher participation in Facebook's Coaching Circles—small support groups where participants can learn new skills, network, and help others solve problems in an engaging and confidential environment—now that they've moved online.
Looking to the future
As someone who is personally and professionally passionate about inclusion, Syamla is keeping an eye on what the future of remote and hybrid career development looks like.
"A lot of leaders will be tested on building inclusive environments when some people opt to work full-time remote and some people are coming into the office. I think we have to be super intentional and even more laser-focused on getting the inclusion part right," she says.
READ MORE AND DISCUSS
Show less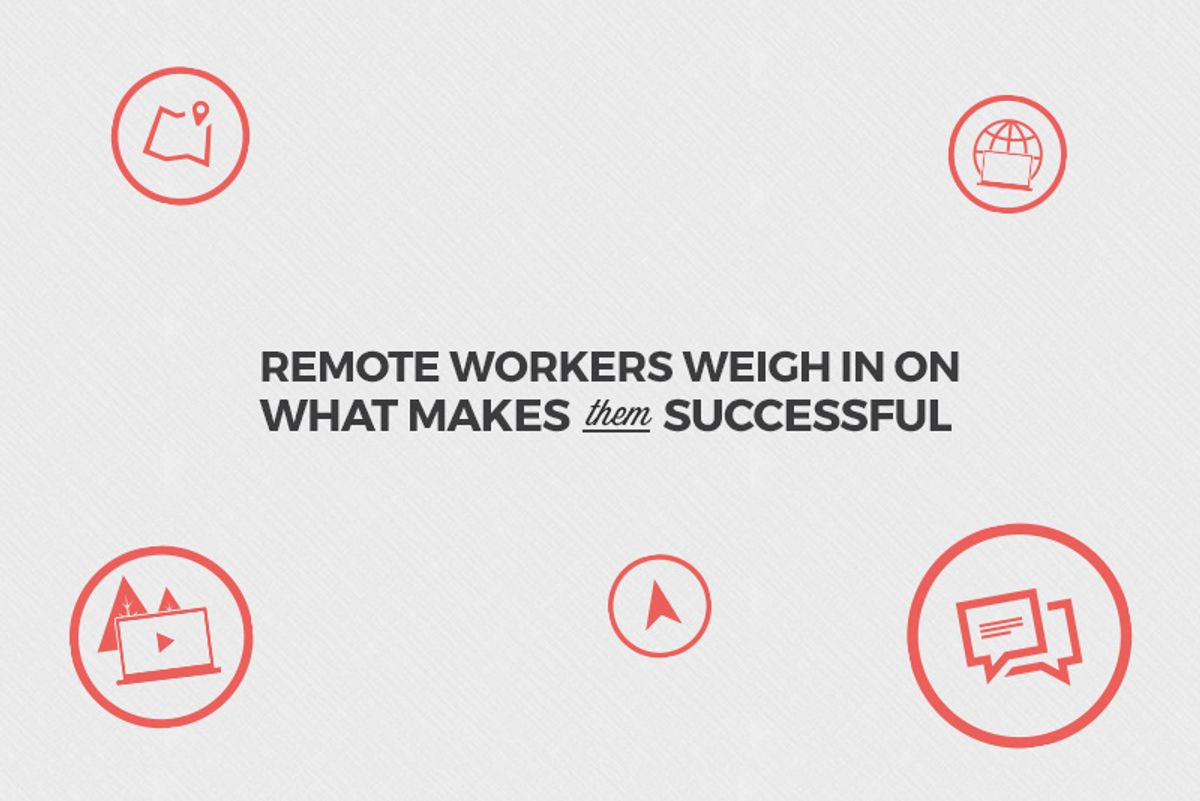 Work-Life Integration
A version of this article previously appeared on Skillcrush, an online education program for creatives, thinkers, and makers that gives total tech newbies the tools to make major career changes.
Cameron Chapman, Skillcrush
With over 40 percent of employees in the U.S. now working remotely according to a Gallup report, the idea of working from home (or a coworking space or favorite coffee shop) feels more tangible than ever. This report shows a definite trend: Remote work is the way of the future, and more and more employees are on the lookout for jobs that give them the option to work off-site full time.
But dreaming of a remote job—with its flexibility and the ability to work in pajamas—and actually being successful in one aren't the same thing. There's a learning curve that goes along with ditching your commute and your boss's watchful eye over your shoulder.
I talked to remote employees to find out what they've found to be the most useful skills, tips, and hacks in their remote jobs. Here's what you really need to know to work remotely, so you can succeed and love your new work life.
Your routines and boundaries are critical.
When you commute to an office every day, you tend to fall into a routine pretty easily: Get up, get dressed, eat breakfast, drink coffee, go to work, etc. But when you work from home, it's tempting to grab your laptop from your bedside table—and not bother to get up until your growling stomach starts to get distracting.
Rachel Sullivan, director of marketing for Metis Communications (and currently on a year-long adventure with Remote Year), says that following a morning routine is vital to her success. "Showering, getting dressed, and walking outside—even if just around the block—makes such a difference in your day and mental state. It's always tempting to roll out of bed and sit with your laptop on your couch, but taking the time to jumpstart your day can help you perk up and get in the zone."
Barb Breeser, digital marketing strategist at Purplegator, agrees: "Even though I may not be in our main office every day, it's important for me to act as though I'm in an office, so I dress professionally every day, and I am at my desk working by 7:30 each morning."
Your routine might not mean getting dressed up—if an anti-routine routine works best for you, embrace it. Jeanne Veillette Bowerman, Editor of ScriptMag.com, says "I love that I can literally roll out of bed and work all day in my pajamas. You'd be surprised the amount of time it saves every day to not shower and put makeup on."
Setting up routines—however you define them—are key to establishing boundaries between your work and personal life. A critical component should be shutting down for the day—whether it's closing the door on your dedicated workspace or, if you're like me and without a separate office, turning off your computer and stepping away from your desk at a set time each day.
You'll need to become a time management pro.
Time management has always been a struggle for me—I'm a born procrastinator. But when I started working remotely, I had to put a stop to that. I had no boss checking in throughout the day to see how I was progressing on things, and sometimes deadlines for big projects were weeks or even months in the future. Virtually every remote worker I talked to for this article mentioned some form of time management as a vital skill for being successful when you're not in the office every day (or ever).
Jyssica Schwartz, director of sales for online publisher Authors Unite, struggled in the beginning, too. "I would work on whatever popped up and kept shifting focus." To solve the problem, Schwartz started to block off time in her calendar for specific tasks and focused on only one thing at a time. It worked. "I was able to get more done and be much more productive!"
Whether blocking out time on your calendar or using something like the Pomodoro method, the Action Method, bullet journaling, or productivity apps, find a system that works for you to manage your to-do list.
You'll also need a system for prioritizing your work. Marija Kovacevic, the PR & media director at Nomad Capitalist, picked up a great technique from her CEO and mentor Andrew Henderson: creating a weekly or monthly "waterfall" where you create a prioritized list of the tasks you need to do, from most important to least important—and then sticking to it. "Often small tasks that are not so relevant or time pressing (example: immediate response to emails) can distract you and you lose your focus from the most important thing and project you should be concentrating on," she says.
Communication skills are totally different when you're remote.
The communication skills you picked up in a regular 9-to-5 might not cut it in the remote world. Katy Tripses, Head of Growth at StudySoup says that she'd considered herself "to be a person with pretty developed communication skills" when she was working in an office setting. But, she learned that "communication in a digital setting is a completely different skillset." Many remote teams communicate asynchronously through chat programs, email, and comments in project management systems—there's no popping by someone's desk to chat, running into someone in the kitchen, or even throwing someone an encouraging look.
Without these in person interactions, Tripses says that "goals, instructions, and deadlines absolutely have to be communicated very clearly and very concisely. The consequences of not doing so are very apparent and immediate."
Providing regular updates to your team is also vital. Jacque Shaffer, the Senior Customer Success Manager at WebLink, says "having daily standup meetings and quick check-ins throughout the day and using an instant messaging program ensures that everyone has what they need to keep things moving effectively."
Get ready to love adaptability.
Remote jobs give you flexibility—but they can require it, too. Laura Spawn, the CEO and Co-Founder of Virtual Vocations, Inc., says that between "learning to work with new remote team members, hiring new geographically dispersed staff, adapting to new software and technologies, or balancing changes in our personal lives with respect to established professional commitments, adaptability is as essential to a remote worker as a computer."
Are you looking for a job you can do while traveling? Kovacevic travels full time, and she's found that it sometimes means unexpected situations and blockers arise: "Time zone differences, deadlines, language barriers, unstable internet connection, delayed flights, and other on-the-road situations can sometimes seem overwhelming." But Kovacevic takes it as an opportunity "to prove to [her]self that she can rise to the challenge and get stuff done at the end of the day."
Not sure you're naturally adaptable? Your personality plays a big part, but so does planning ahead—and you can make up for a lack of natural flexibility with a solid game plan. For one thing, always assume you might need extra time to find good WiFi, make sure you have contingency plans in case things go wrong (delayed flights, slow internet at your Airbnb, etc.), and otherwise keeping Murphy's Law in mind on a day-to-day basis can make your on-the-go remote work a lot smoother.
READ MORE AND DISCUSS
Show less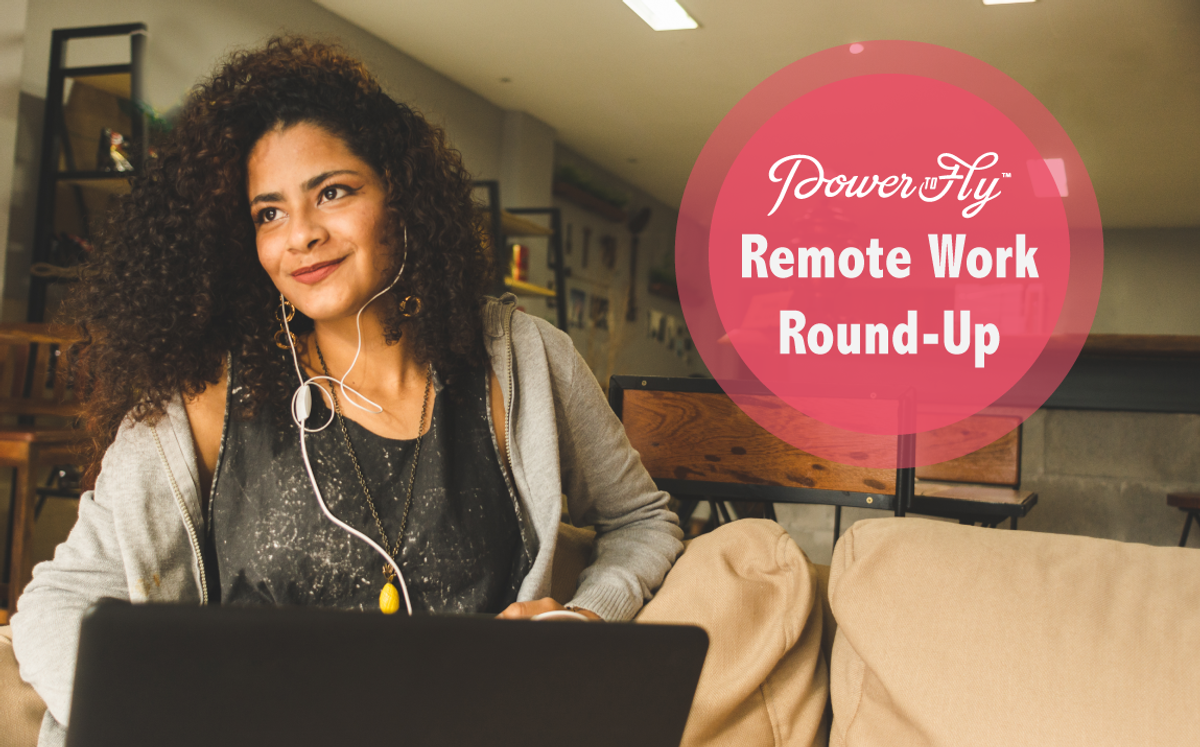 Jobs
These Remote Jobs Are Worth Applying To...
READ MORE AND DISCUSS
Show less
Loading...