GET EMAIL UPDATES FROM POWERTOFLY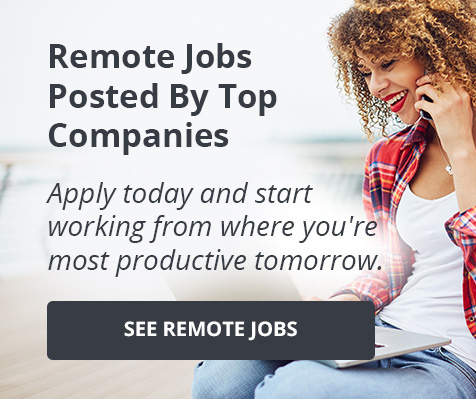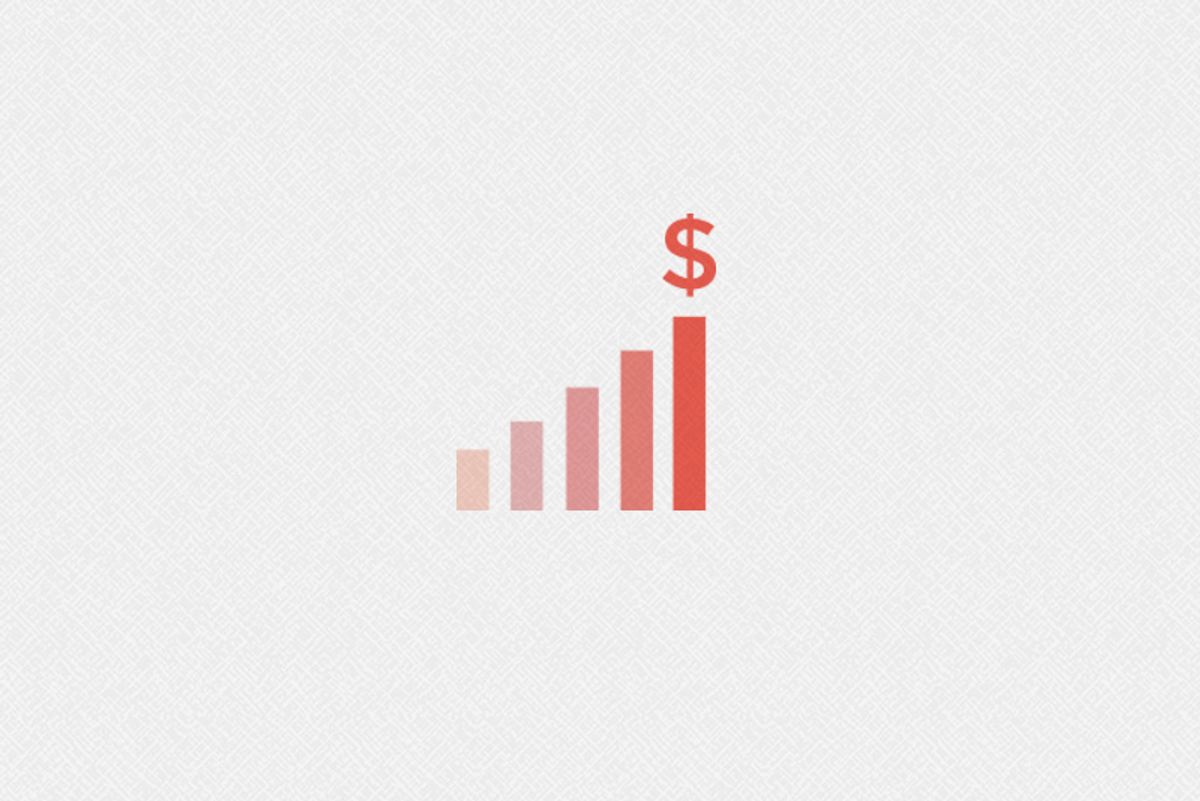 Career and Interview Tips
A version of this article previously appeared on Skillcrush, an online education program for creatives, thinkers, and makers that gives total tech newbies the tools to make major career changes.
Scott Morris, Skillcrush
If you're on the job market, you know you need to make your resume stand out. But beyond your years of work experience, what if there were some extra skills you could easily add to your resume that would increase not just your hireability, but also set you up for a higher starting salary? Time is precious and it might seem impossible, but it's actually completely doable with minimal upfront investment (I'm not talking about going back for another degree here).
So, where should you even begin? To answer this question, I picked the brains of HR and recruiting professionals to learn what kind of skills make a difference to employers—and how much of salary bump you can expect from each.
Coding Languages
Right off the bat, there are the usual suspects—HTML, CSS, JavaScript, and WordPress make a solid foundation for coding languages, and a great example of where up skilling can come into play. Being fluent in these languages maximizes your flexibility, and can provide a compelling case to employers to start you at a higher rate or salary—regardless of industry.
Xavier Parkhouse-Parker, Co-Founder and Director at digital recruiting firm PLATO Intelligence, says that if an applicant can stack a high level of HTML coding knowledge on top of the specialized role they're applying for, it's possible to aim for a 25 percent starting pay bump when negotiating a salary. Jonathan Lau, Founder and CEO of coding school directory SwitchUp, adds that SwitchUp's 2016 job outcome survey for coding bootcamp graduates found that 63 percent of graduates reported increases in salaries after completing a bootcamp program. (Among those graduates, the average gain was $22,700.) With these kind of numbers in mind, it's clear that adding some coding know-how to your toolkit is a wise investment in your career future, whether or not you're specifically interested in developer roles—since having programming skills means you can work in virtually any field.
Go Open-Source
Beyond HTML, CSS, and WordPress, Elizabeth Becker, Client Partner and Tech Recruiter at the software recruiting company PROTECH, suggests going open-source. What does that mean? Open-source software is computer software whose source code (the code that makes it work) is open to the public and the software itself is free to use. Examples of open-source software include web browsers like Firefox, operating systems like Linux, and content management systems like WordPress. Because of its collaborative and free-to-use model, Becker says that an increasing number of employers are adopting open-source software platforms, which means an increased demand for tech professionals with open-source skills. The open-source model also means there's nothing preventing you from picking up these skills on your own—open-source software is free, and is often just a few clicks away via your web browser.
Becker cites knowledge of AngularJS—an open-source JavaScript-based framework (collection of common JavaScript functions) developed by Google—as an example of an in-demand open-source skill to have. "[Even] being able to include a completed training course on AngularJS on your resume [can] validate your skills, especially if you don't yet have job-related experience with it," Becker says. "I often see highly skilled open-source professionals being able to command 10-15 percent higher salaries than other professionals without open-source experience."
It's not a bad idea to start taking a look at what open-source software you're already using and spending some time getting a better understanding of how it works—in the case of Becker's example of AngularJS, you can dive deeper with resources like the AngularJS Google Group, AngularJS questions at Stack Overflow, and W3Schools' AngularJS Tutorial.
Search Engine Marketing
Search Engine Marketing (SEM) is the practice of using techniques like Search Engine Optimization (SEO) and Keyword Research (more on these below) to increase a website's visibility on search engines like Google, Bing, and Yahoo. According to Steve Pritchard, HR Consultant at mobile phone provider giffgaf, it's also a skill that can fire up your resume and lead directly to more money when negotiating for a job. "Knowledge of how to get a business' website to appear higher in Google rankings…is a…skill that every business should be keen to capitalize on. The return on investment [is] well worth [a bump in] salary," Pritchard says. How much of a bump? Pritchard estimates that applicants with a track record of a couple successful SEM campaigns could increase their salaries by as much as 15 percent.
Whether you're learning web development, breaking into digital marketing, or working as a digital designer, two of SEO's main building blocks—SEM and Keyword Research—are skills you can (and should!) start experimenting with on your own. Not only can those skills lead to the kind of salary increase Pritchard describes, but SEO is invaluable in promoting your own brand and presence online: Knowing how to maximize your projects' searchability is crucial for standing out from the pack.
Start by reading through Google's own SEO Guidelines, which should give you a jumping-off point for the next time you're reworking your personal or business website. You can incorporate some SEO best practices easy with small tweaks like creating user-friendly URLs to make a website more searchable (for instance, "www.yourkillerwebsite.com/tips-for-up skilling" instead of "www.yourkillerwebsite.com/qs?/3600") and integrating responsive/mobile-friendly design (Google uses mobile-friendliness as part of its site ranking system). Next, dive into online resources like Moz's Beginner's Guide to SEO, and Webmaster World (an online forum for SEO talk).
Researching web search keywords that can drive traffic to your site or project is another crucial element of SEM—by getting a handle on the keyword demand for your website you'll not only get a better idea of what keywords to incorporate in your site's searchable text and content, you'll also piece together a picture of what your site's potential visitors are looking for. You can try using a tool like Google AdWords Planner (a free program that requires an AdWords account, but doesn't require you to actually create an ad) to research information on the volume of searches your keywords produce and decide which ones should be used prominently on your site.
As you read about, practice, and get a handle on these SEM skills, you'll eventually be able to add SEM literacy to your resume, and—regardless of whether you're looking to work as a web designer or a web developer—boost your value to potential clients and employers.
Microsoft Excel and Microsoft Word (No, Seriously.)
With so much emphasis on advanced coding and design skills, it's easy to overlook basic, old-fashioned computer know-how. While having these skills might seem like a no-brainer, Dawn D. Boyer, Ph.D. and CEO at Boyer Consulting, says otherwise.
"I can't tell you how many high school students in their first year of college taking my IT courses have never opened an Excel spreadsheet," Boyer says. For Boyer, this creates a disconnect when it comes to the practical reality of making things more efficient and easier in the working world. Similarly, Boyer says that database management is another overlooked computing skill that goes a long way in business.
According Boyer, Microsoft Word is the most important office software program to learn, followed by Excel. "Everyone has to write something in their work," Boyer says, "and if you have the ability to use Word paragraph and tabs formatting, as well as spell check, grammar and punctuation check, you are halfway to being more proficient in the software than about 80 percent of the competition for a job. [You'd be surprised] how many…Ph.D. students can't format a document for margins, paragraph indents, and tabs, or even insert a table, [yet] are out on the job market." As for Excel, Boyer says that vital functions to have a handle on are vertical lookup—a function used to lookup and retrieve data from specific columns in a table—and knowing how to create formulas—expressions that calculate the value of a spreadsheet cell.
If you're feeling particularly lost when trying to find your way around routine office software, consider taking an online class to get yourself up to speed. Excel, Access, Powerpoint, and Word might not be as exotic as Ruby on Rails, but they're a solid bump up in well-rounded resume skills. Boyer says that it's difficult to cite specific salary increases due to the amount of other factors involved (education, years of experience, overall skill set, etc,), but to think of these extra skills as a vital way to get yourself to the head of the application process.
Human Resources and Leadership Experience
HR skills give you an excellent chance at getting employers to pay more, says Georgene Huang, CEO and Co-Founder at Fairygodboss, from hiring to leading teams.
According to Huang, management experience is a crucial skill to leverage on a resume. The larger and more diverse teams you've managed, the higher the chance you have at commanding extra pay. Whether it's heading a team of developers, or managing a team of sous chefs, the same basic principles of leadership apply.
Specific experience with hiring, firing, and navigating difficult situations (company pivots, large scale business model changes, or moving from old business systems to building new ones) also builds a strong case for a higher starting salary. Again, think back and think big—it might feel like you don't have this kind of experience, but when you start to drill down you might be surprised at what's applicable. That time you chaired your kids' school's PTO board, helped overhaul the yearly fundraising programs, and participated in revamping the music program? It counts!
Finally, Huang says that abilities that demonstrate leadership like communication and presentation skills can go a long way in upping your value. And if you're petrified by the thought of public speaking—don't panic! Try some mock presentations with family and friends—and if you feel like you still need some work in the public speaking department, think about taking a quick speech class at your local community college or business school. In Huang's experience, the kind of leadership, decision making, and communication skills she's described can result in a 20-30 percent higher starting salary than applicants unable to demonstrate those skills.
Speaking a Second Language
Nora Leary, Co-Founder and Head of Marketing and Business Development at marketing firm Launchway Media, says that—due to her work with an international internship company—she's always looking into the economic impacts of spoken language skills. She cited studies covered by The Economist that demonstrate knowing a second spoken language correlates to about 2 percent more in annual income—which may not sound like much, until you start to crunch the numbers. The Economist extrapolates that even a 2 percent bump on a $45,000 a year salary can lead to as much as an extra $67,000 over the course of a 40-year working career, if you were to set aside your language bump in savings and figure in compound interest.
If you're looking to learn a second language, try classes at your local college, online classes, or even apps like Duolingo.
Show Me the Money
So you're an SEM wizard, you're strapped with a Rolodex of open-source certifications, you have an Excel tattoo, management skills are oozing from your pores, and you just spent the morning coding a Riverdale fan website. How exactly do you put this all together and communicate it to employers, short of an embarrassing, "show me the money" meltdown?
"A resume is the most important vessel in a job search," says Brianna Rooney, Founder and Lead Technical Recruiter at tech recruiting firm Techees. "[That] or a thorough LinkedIn." Rooney warns that an employer will be spending mere seconds looking at your resume, so it's critical you get straight to the point. List your background and skills explicitly and efficiently without a lot of filler. Remember, there's no way for potential employer to know you have these skills unless you tell therm. In Rooney's experience, a qualified resume combined with an array of bonus skills can tack on as much as $20,000-$40,000 more to a starting salary. "That is," Rooney says, "if you interview well."
So there you have it—a robust skillset presented in a crisp, comprehensive resume can be your ticket not only to landing a job, but landing it at above entry-level pay. And while there's no magic combination of skills that guarantees a dream salary, it's clear from talking to these pros that having an array of versatile skills above and beyond the bare minimum—whether it's a combination of coding tools or speaking Mandarin—goes a long way towards improving your chances for a salary that truly reflects all your hard work.
READ MORE AND DISCUSS
Show less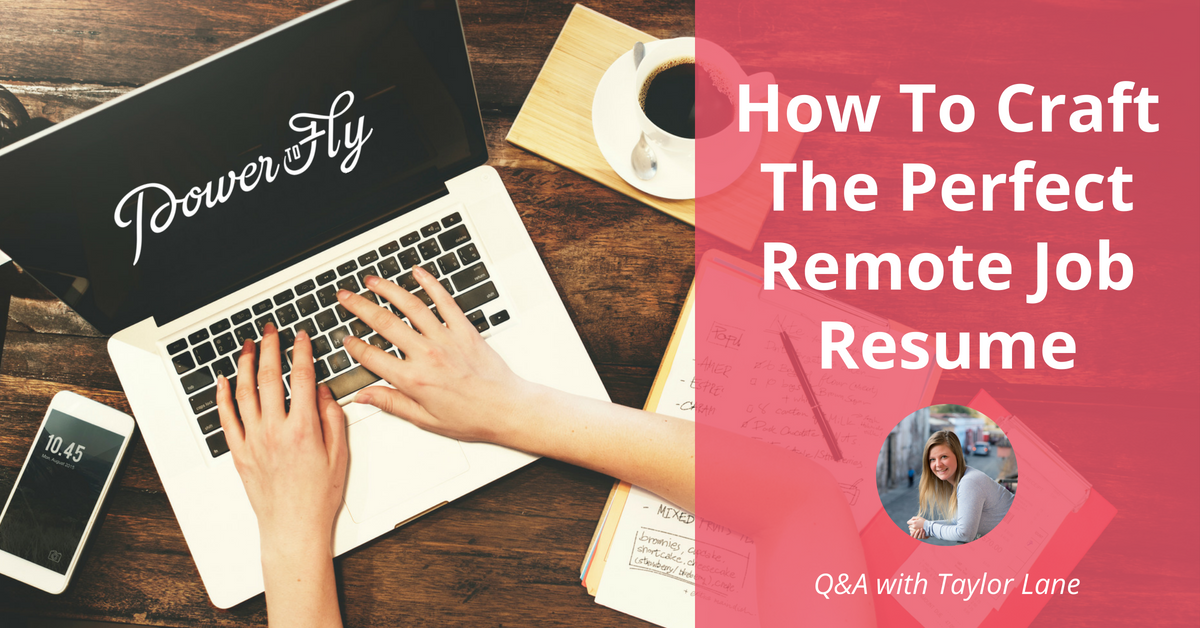 Career and Interview Tips
Secrets to standing out amongst the competition - and landing that job!
Are you interested in finding a remote job but worried about the quality of your resume?
Well, you're in luck - we sat down with Taylor Lane, founder of Remote Like Me, and asked for some tips on crafting the perfect remote job resume. Taylor has helped tons of remote hopefuls turn their virtual career dreams into a reality. With a focus on customizing resumes for remote positions, Taylor teaches people of all ages how to stand out and get more job offers.
Would you like access to exclusive informative chats like this in the future? If yes, then click here to become a PowerToFly VIP and join our community of women here to empower one another.
What are your tips for landing your first remote job?
Taylor Lane: In general, we, as women, have a confidence issue. No matter how confident you are, we have this thing that stops us from saying certain key terms and describing ourselves in certain ways on our resume. My overarching tip is to be genuine, authentic, and confident, because when you're presenting your true self on your resume, you're going to automatically align with companies that will allow you to thrive.
How do remote resumes differ in terms of format from a traditional resume?
TL: This is a great question because I have what some people may call a radical approach to customizing resumes, which is that you should be getting as creative with your resume as the company projects itself to be. I advise all my clients to use a program like Canva, or a design software you're comfortable with, to make a truly unique resume. I've talked with hiring managers as well as other remote employees, and they can't count the number of plain, black and white resumes the get on a daily basis. If you think you're being too creative, you're not there yet. Remote companies like to see that a person is tech savvy even if your job isn't related to design. A creative resume shows that you know what looks good online. My best advice is to go to the company's website, and match their tone. Are they using cartoon icons, colors, floral prints, or really professional lines in specific colors? That's how you know how far you can go.
What are remote companies looking for in a resume? How can I stand out?
TL: This is a good one because the phrase "stand out" is always on people's minds. What's going to make you stand out is your ability to see why the company aligns with you. If you can't pull that out, and you can't show it on your resume, it's like trying to connect the dots on a really disheveled picture. When it comes to your resume, you have to connect the dots for them. What does the company value, what experience do they need, and what personality traits do you bring to the table? Does your resume match their needs? If yes, you're going to stand out. If not, where can you pull from your prior experience to try to connect those dots?
How important is prior remote experience?
TL: It's fair to say that when companies are looking through a pool of applicants, those with prior remote experience definitely stand out - but for those who have't necessarily had a full-time remote job, there are still ways to highlight remote experiences on your resume. If you've ever worked from home for at least a day in your life—you can put it as the first bullet of one of your job descriptions. Bold the word "remote" in the description. If you've never ever worked from home, you can write in a 'Fun Facts About Me', 'Career Development', or 'Professional Development' section that includes your membership in career development groups like PowerToFly VIP where you meet weekly online and use online communication tools like Slack, Zoom Conferencing, or other online programs you would normally use in a remote job.
How do I combine multiple experiences (customer service, project mgt, design) into one resume? What do I do when I don't have enough space?!
TL: Let's talk about space - do not cry crocodile tears if your resume has to be two or three pages. You are not going to get a senior level position with a one page resume. If you're at that level, don't hide from your experience. You can have as much space as your career needs. When you go on to two pages, you get to speak more, and you get to fill the space with fun things that humanize the process. For example, you can include one sentence testimonials from bosses and companies you've worked with or your peers. The only thing you need to make sure of is that the top half of the first page of your resume is fully optimized to the opportunity. That means if you've been a customer service manager, project manager, and a designer, and you're going for a project management role, guess which skills need to be at the top of the resume? It's proven that hiring managers look at resumes for six seconds before they consider reading further, or before they pass you on to a "no-go" pile, either physically or virtually. So you can do as many pages as you want, just make sure that relevant experience is on that first page.
Once your resume makes it to the "in" pile, is there anything I can do to further my chances of being chosen for an interview?
TL: This is something I get the most resistance on. If you've never cold pitched in your life, you're missing out on 50% of the opportunities in the remote world. I want you to research companies based on the values and work styles you want, missions you stand behind, and products you already love to use, and I want you to cold pitch them with your skills. If you've never done that, you're not creating your own opportunities. Guess who is your competition when you cold pitch? Just you! So if you want zero competition, cold pitch. For example, let's say I see that there's a marketing position open, and it doesn't quite fit my experience or what I would like to do with my career; however, I could tell the company that I already have this many ideas on some content creation that I could do for you, and I'm wondering if you have time to talk about how I could impact your company. You can also be your own advocate. People think that networking ends when you land your next role, but guess what? Networking should really be something that never ends. Have you written in Facebook groups, your alumni group, or in some of your social networks? I want you to talk to people. For example, try searching the company in LinkedIn. See if any of their current employees in the department you're going in have mutual contacts with you. Even if they have nothing in common with you, still send an InMail message to them. Find someone that you resonate with and send an InMail message to them. Sure this company may not have the perfect role for you now, but who knows what they'll be hiring for down the line!






---
Ready to build a resume now? Check out these free templates to get started!
READ MORE AND DISCUSS
Show less
Loading...