GET EMAIL UPDATES FROM POWERTOFLY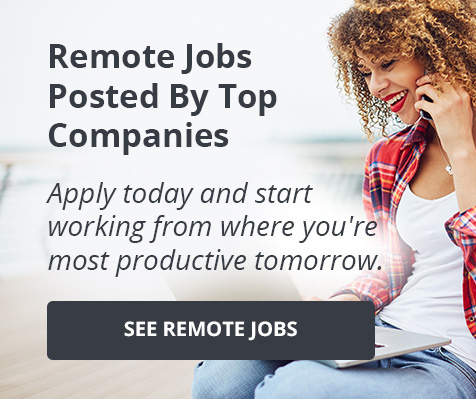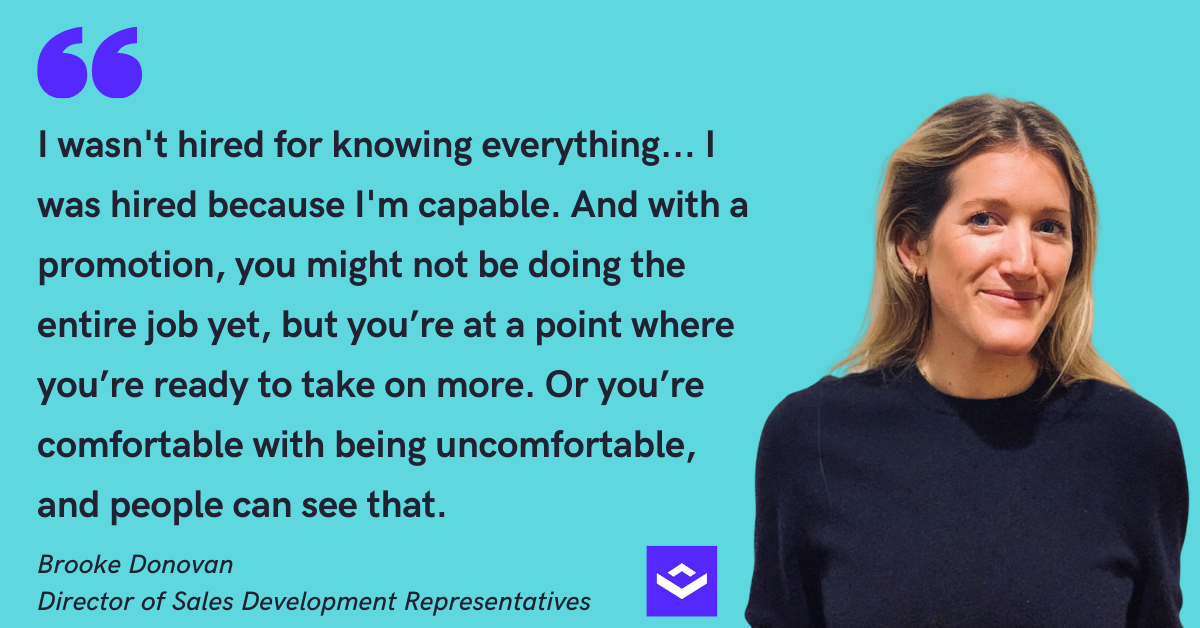 Personal Narratives
VTS' Brooke Donovan Shares Her Top 3 Tips For Growing Your Sales Career
Brooke Donovan is learning to snowboard.
A former skier, the Director of Sales Development Representatives at commercial real estate technology company VTS has been spending her weekends traveling from Boston to Maine and Vermont, where she's working on getting down the mountain with minimal damage to herself and others.
"I'd forgotten what it feels like to just throw yourself in it and fail miserably time and time again," says Brooke. "I love that feeling, actually. You're slowly getting better. You absorb what people are telling you to do and the tips and tricks. You pick it up, you feel really good, and you just want to keep getting better and better."
The last time Brooke felt that way was when she took on a major promotion at work and had to learn to manage people for the first time. Both times, Brooke was well-served by her willingness to be a sponge and lean in to what she didn't know. (Though doing so on the slopes has been a bit of a bumpy ride. "I'm covered in bruises, but other than that, it's great!" says Brooke.)
We sat down with Brooke to talk about how she approaches growing her career in sales, what she loves about the roles she's taken on at VTS, and what she would encourage women looking to get into sales—whether at VTS or elsewhere—to consider as they start their career.
Part detective, part project manager
When Brooke describes her job, she uses a framework that her boss, VTS' CRO, shared with her: sales requires you to be part detective, part project manager.
"The detective work is—how can I find out every little bit of information about a person and organization? How do I unveil their pain? The outcomes that they're looking to deliver? How do I really get to the root of what is going on? And then, how can our software hopefully solve some of those problems?" explains Brooke, who says that once a deal is agreed upon, it's all about shepherding it over the finish line in a project management capacity. "I really like doing both of those things."
Sales builds on her strengths, says Brooke: active listening, curiosity, and empathy on the detective side, and organization, thoughtfulness, and accountability on the project management side.
Brooke started as an account manager at Hightower, a company that later merged with VTS. Her first transition was learning to see her former competition as her teammates. "You realize we're all human beings, and we're all after the same goals," she says of that growth period. She was soon asked to teach other account managers, helping them develop both sides of their roles, too.
Then her next challenge required something new.
Imposter syndrome and leaning in
When Brooke was promoted to a manager of sales development reps (SDRs), she experienced her first bout of imposter syndrome. She charts three things as its causes.
First, she was moving into a management role when she hadn't done the job of the people reporting into her. It wasn't just growing her scope—it was working with a completely different team on day-to-day functions she was unfamiliar with.
Second, she was managing people for the first time.
And third, she was inheriting the role from someone who had, in her words, "crushed it," and is VTS' current VP of Sales.
"That imposter syndrome for me really, really kicked in. It was, 'Oh gosh, how am I ever going to be as good as him in this job? I've never done this before. What am I doing?'" shares Brooke. "And what I slowly realized is that I wasn't hired for knowing everything. In fact, that was intentional. I was hired because I'm capable. And with a promotion, you might not be doing the entire job yet, but you're at a point where you're ready to take on more. Or you're comfortable with being uncomfortable, and people can see that."
As she grew into her role, Brooke decided to lean into her strengths and the things that had shown her bosses she was ready for the next step. That included skills she'd honed in her account management roles, as well as her relationships across the firm.
"Maybe I wasn't incredible at coaching someone on how to do the perfect cold call, but I knew how to teach them to prepare for that call so they'd sound credible, so they'd know what they're talking about, so they could connect dots that would ultimately make that conversation easier," she says.
Brooke also connected her SDRs with other parts of VTS' business, from sales to product to engineering to marketing, so that they could get exposure to how the company works and get a sense of where they'd like to take their own careers.
Then Brooke was ready to level up again, from manager to director, and this time, she was ready for it.
She'd worked with the executive coach that VTS makes available to leaders within the company. "She is absolutely phenomenal," says Brooke. "I had multiple sessions with her thinking through how to advocate for myself." She presented a case to her managers about the promotion, laying out what she wanted to accomplish before becoming a director, and they signed off.
"It was super gratifying," she says. "I didn't have to fight for it. There was no gray. It was very, very black and white."
Now, in her current role as a director, she's focused on the next evolution of VTS' SDRs, supporting the ones on the ground and looking to hire more.
Succeeding as an SDR at VTS
Brooke expects the sales development reps that work for her to really support the success of the company. To make that possible, says Brooke, VTS has invested in a comprehensive program for people in that role. It's a career ladder that goes from onboarding, attending the VTS sales academy to learn key skills, shadowing calls, taking their own calls, and eventually being promoted into more roles within the sales team, or roles on other teams—like implementation, client advisory, and account development—driven by their interests.
That infrastructure has let her employees succeed, and Brooke enjoys celebrating those wins. She's seen her SDRs do everything from closing their first $100,000 deals to winning a department-side sales presentation competition. (The woman who did that was actually interviewing for a promotion the day that we interviewed Brooke!)
Brooke has some advice for people who want to be successful SDRs at VTS, both before and after they're hired.
In the interview stage, she has one key tip:
Be comfortable with vulnerability. "I've seen a ton of candidates who show up just acting like they know all the answers. And I get it," she says. "But showing up very buttoned up, I can't really see what your personality is. I'm not really sure why you actually want to be in sales. I don't get a sense of what you've been through and what has brought you here. When people aren't afraid to get a little vulnerable with me, that just shows that they're human and that's the kind of thing I'm looking for."
And for new hires, she has two more:
Be consistent. New hires will sometimes call Brooke, she says, and tell her that no one's been picking up the phones. "I'll ask, 'How many days have you been calling?' and they'll say, 'Well, four.' I'm like, 'Okay, talk to me when you've been calling for six months.' It's longevity, it's staying to your process, it's staying consistent, and it's knowing that the things that you're doing are right, but that you might not see success on the first try."
Ask for feedback early and often. Brooke says that she always talks about this when she's doing interviews. "You know, we play everyone's calls. We dissect as a group, we give feedback to each other. You can't be embarrassed or think that you did a bad call because I guarantee you that your call is going to help someone else learn. And someone else's call is going to help you learn."
Pushing herself to be better
As Brooke continues to grow her career, she knows that there will be other challenges she'll have to face. The thing that drives her to keep learning and developing her skillset is her belief in the caliber of her team.
"For me, I want to do better because of the people that I hire," she says. "If you start to just continue to hire better and better talent, you have to get better and better and better, because there's that expectation of what they're going to learn, what they're going to absorb, how quickly they're going to grow. And that means I need to keep elevating my game."
READ MORE AND DISCUSS
Show less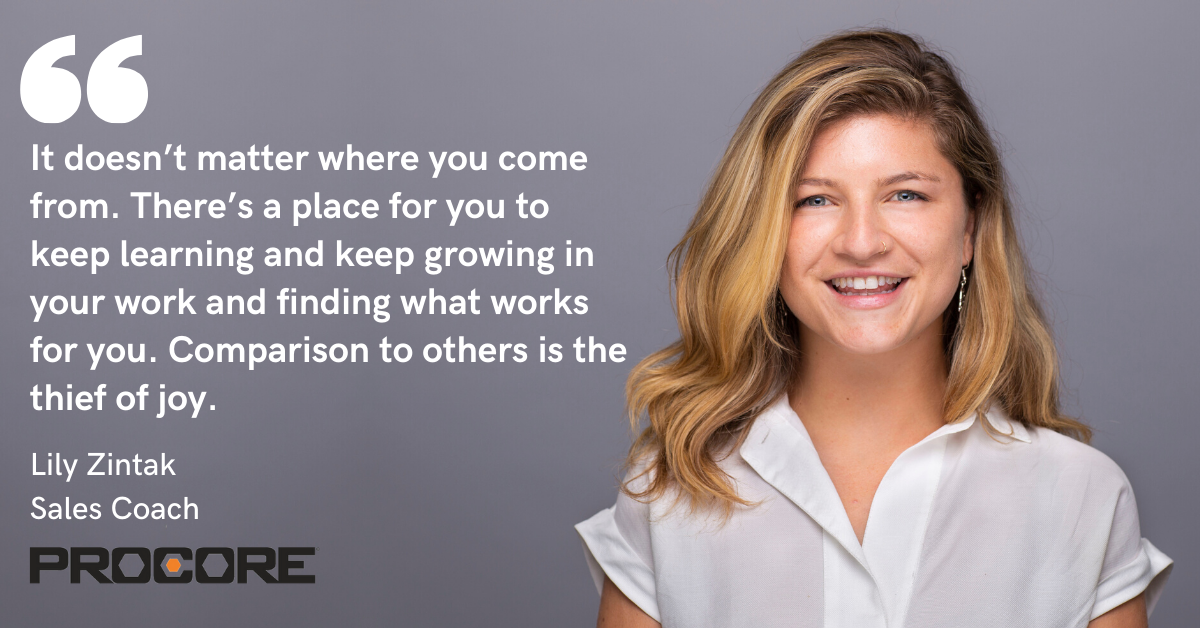 Resources for Women
A few months ago, Lily Zintak found herself at a crossroads.
She'd been working as a Sales Development Representative in construction management software company Procore Technologies' Austin, Texas office for the better part of 18 months. She'd watched the office grow from less than 200 people to more than 400—and even cut the ribbon when they opened a new floor of offices. She'd made 50-plus sales calls a day, honed an approach to prospecting and connecting with clients that worked for her, and found success. It was at this point in her career, where she had to make a tough decision.
Should she continue on the traditional sales path and pursue an Account Executive role, where she'd be running sales cycles and closing deals? Or should she explore a newly-created position, a Sales Coach, where she'd be partnering with entry-level hires to train them and help them develop their techniques?
On one hand, Lily was impressed by the women leaders on the sales team—her boss and her boss's boss, Procore's Director of Business Development, were both women who had advocated for her and supported her in her career—and she wanted to stay on a sales-heavy path to join their ranks. "A huge part of me felt that we didn't have enough women in closing roles, and I wanted to prove that women can do that role just as well," says Lily. She felt pressure to pursue the Account Executive role because it seemed like what she was "supposed" to do.
But the Sales Coach job piqued her interest in a way the Account Executive role didn't. "I felt so drawn to that," she explained. It was her manager, Beth, who Lily view as not only her part-time manager, but close mentor, who encouraged her to explore the Sales Coach role further and pursue whichever job felt like the best fit for her.
So she took Beth's advice and spent time shadowing and coaching new hires. "It felt so organic for me to transition from a sales development role, which very individually-driven work, to a role where I could support, uplift, and train people to help launch them into whatever career they wanted. That's what really spoke to me," explains Lily.
With the guidance and assistance of her leadership team, her peers, and the new hires she'd worked with in her sales development role, she applied for the Sales Coach position—and she got it.
Lily credits her excitement about her career path to Procore's focus on employee development: "I felt so cared about. So empowered to move forward. The care, attention, and resources that were available to me, and the leaders I had access to, were unbelievable."
From Backpacking to Business Development
Two years ago, Lily couldn't have predicted she'd fall in love with Procore's upbeat, fast-paced, always-changing sales environment.
She didn't always know she wanted to be in sales. She's never been very competitive, for one. "I wasn't very good at sports. I was on the ultimate Frisbee team, where there really is no competition," she says, laughing.
And though her dad was a commercial real estate developer who occasionally dragged Lily and her sisters to his construction sites, she didn't think she'd end up in construction. "Some nights he would take us to the top floor of a building that was still being constructed and show us the skyline of the city. And I loved how he was so involved in making the city what it was," she remembers.
Her dad was her first true exposure to sales, too: "Being in commercial real estate, he was also in sales. His whole life was taking phone calls, going to see clients — in essence, relationship building."
She went to college, and then she went backpacking around Asia and South America. After two years, she was ready to slow down and head back to a slightly less nomadic existence, but she wasn't sure where or how. "I worked at a tiki bar in Cambodia and I sold hammocks. But aside from that, throughout college and throughout traveling, the only real skill I came out with was relationship building," she says.
So things came full-circle: she started as a Sales Development Representative at Procore and put her relationship-building skills to the test.
Finding Her Groove in A Male-Dominated World
Lily learned early on that sales isn't all about big wins. Occasionally, she'd get off of a challenging call and get feedback from her male peers about what she could do better next time, recalls Lily.
So she'd turn back to her desk, put on her headset, and try their approach. "But it never felt natural to mimic their tactics. I found my strength was in being uniquely and entirely myself. I like to build rapport with people by getting to understand who they really are," says Lily.
Going her own way ended up working for her, and Lily credits her success in the intersection of sales, construction, and tech—to her novel approach to relationship building.
The majority of her prospects were male construction workers, and some would write her off, assuming that a woman didn't know much about their industry. But Lily was persistent to find a way to connect with her prospects. "I found this great angle," explains Lily. "It gave me credibility and showed that I did have insight into their industry." From there, "I'd use empathy and really get them to explain what was challenging them and I could then leverage that information to partner with our account executives who went on to close the deals," says Lily.
Lily believes having a variety of sales approaches will be vital to Procore's success as the company continues to grow. "If we don't continue to diversify, then we're just missing out on certain markets, because different people connect with different people. But if we have a very diverse makeup within our company, then the sky's the limit as far as the market that we're able to serve," she notes.
Being Empowered—And Now Empowering Others
One of the things Lily's looking forward to most in her new role as Sales Coach is mentoring and coaching new hires who find themselves in the same role she was just two years ago. "I can't wait to help them lay the groundwork for the rest of their careers," she says.
She'll have a chance to pay forward some of the guidance she received from women coaches and mentors. "Procore places a huge emphasis on female leadership, and I like to think it's for people like me, so we can envision ourselves in those positions at some point," says Lily. "W when you see a strong female protagonist on the big screen—you can put yourself in her shoes more easily. Seeing that my direct manager is a woman and her direct manager is a woman shows me that the road is paved for me."
In Lily's new position, she'll help connect new hires with some of the resources that aided her as she grew her career. "We have an entire department at Procore dedicated to learning and development, and their sole purpose is to continually collect and distribute industry knowledge, whether that's through doing job site walkthroughs so we can see what the software that we're slinging all day long is actually used, or organizing fireside chats with current clients and enterprise-level directors at the company."
Above all, she's excited to show new hires that there are a variety of ways to succeed in sales: "It doesn't matter where you come from. There's a place for you to keep learning and growing in your work and finding what works for you. Comparison to others is the thief of joy. You're the only one who can make you successful and you're in control of that—and that's incredibly empowering."
---
Have questions for Lily about starting a career in sales? Let us know in the comments!
And learn more about careers at Procore here.
READ MORE AND DISCUSS
Show less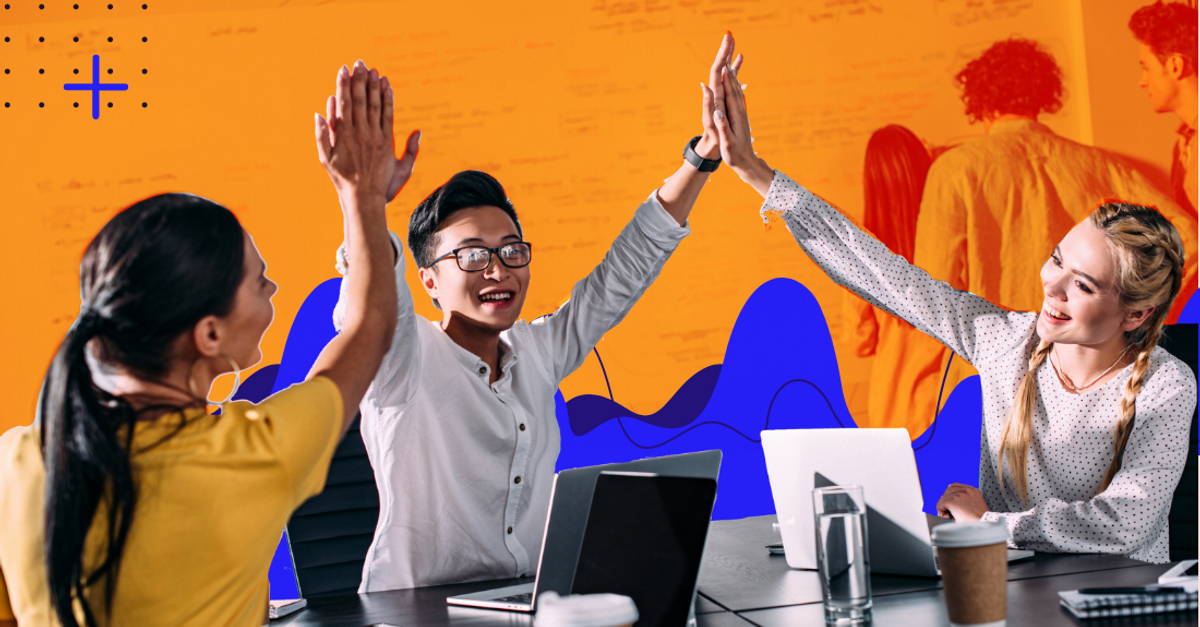 Resources for Employers
All of the comradery and none of the cutthroats.
If I asked you to describe a typical sales culture, what would you picture? Fast-talking men in suits boozing and schmoozing with clients over drinks? Traveling vendors with briefcases upselling their wares? I, for one, would think of that scene in the first episode of Succession, where a bunch of grown-up frat stars drop f-bomb after f-bomb as they hype up the deal they're trying to close.
And I'm not the only one whose mind goes there; a 2006 academic study found that media descriptions of the sales occupation were "overwhelmingly unflattering and negative."
Sales can have a reputation for being a cutthroat, manipulative, greedy, and dishonest boys' clubs with high turnover and lots of stress. Those media portrayals were often based on real-life experiences, were they not?
But sales doesn't have to be like that. Building a healthy sales culture that encourages collaboration while still rewarding performance can help you create a sustainable sales team that lets its members and your business thrive. And a healthy sales culture is one more likely to make women and underrepresented minorities feel comfortable and flourish, bringing much-needed diversity of perspectives and market understanding to your business (and the results to show for it—companies with 45% or more women in their sales teams have higher-than-average profits).
This article will highlight common mistakes found in sales teams and provide advice from seasoned sales managers to help you build a better sales culture.
Common mistake: "You're on your own" mentality where each salesperson is responsible for figuring out best practices.
Why it happens: "Sales is hard and requires more than just product knowledge to be successful. Many companies treat sales as a natural ability and not something you can learn," says John Hill, founder of CRM customization company Adapted Growth and host of the Sales Throwdown podcast.
What you can do about it: Focus on training and mentoring and make those responsibilities an explicit part of your management meetings as well as how you grade and compensate your most senior and successful people.
And in your training sessions, consider a wide range of useful skills beyond the core components of prospecting and closing. "I train only 25% of their time in sales tactics and 75% of their time in self-development, compassion, and empathy," says Abbie Mirata, founder of non-profit Kyndly. "The more a salesperson feels confident and valued and not afraid to make mistakes, the better they will eventually become. They will also build stronger customer relationships and close more deals when they have real care and compassion for what a customer needs."
Chris Mason, senior vice president of sales distribution for HealthMarkets, suggests creating a sales culture of abundance versus scarcity: "One team member having great success doesn't detract from others' opportunity; conversely, it shows what is possible for others, that systems work [and that] products are relevant in the market." Make sales success post-mortems an agenda item on every team meeting, where the salesperson who closed the deal walks the team through what they did, what worked and what didn't, and how others can find similar success.
Common mistake: Measuring results on an individual basis versus a team basis, which leads to risk with top performers and resentment from less-than-stellar performers.
Why it happens: Salespeople are often compensated on whether or not they hit certain targets, so some managers will only measure results on a person-by-person basis, leaving behind the overall synthesis of the team's direction.
What you can do about it: Create team targets and widely publicize them. "Many years ago I worked for one company that would regularly shoot itself in the foot by setting an individual target [where] as soon as you hit it, you [could] go home," says Kim Adele, a leadership coach and former C-suite executive. "I amended it to be a team target. [It was] a small change, but the team spirit it built was amazing and we went on to have double-digit growth and a really engaged team," she says.

As vice president of accounts at youth sports advertising firm LeagueSide, Jason Smith notes the importance of making sure you are capturing and systemizing your top performers' success tactics and publicizing them to the rest of the team. "A lack of managerial leadership to replicate [success] often has led to resentment and jealousy," he says. At team meetings, give updates on overall success and on collective improvement to processes to make everyone feel like they're in it together.
Common mistake: Isolating the sales team from each other and/or from the rest of the company, leaving them feeling less attached to their team and the company's overall mission.
Why it happens: "[People] think about salespeople as lone wolves," says Yuval Shalev, co-founder of enterprise sales platform Hunterz. Because salespeople often work away from the office and may not have many full-team touch-points, fostering connection can be hard.
What to do about it: Invest in team-building within your sales team and between your sales team and the rest of the company can help reduce turnover and motivate employees, says Shalev.
For team-building with your sales group, try these ideas:
Take group personality tests and discuss the results. Try the Myers-Briggs, True Colors, DiSC, or other test options and break up into groups by results, discussing preferences about communication strategies, weaknesses at work, and how to collaborate effectively between different types of people.
Plan (or outsource) a scavenger hunt. If you have the time and the creativity, develop a daylong activity that requires teams to work together to solve puzzles, take pictures, and get to a certain site together (where they'll find food and drinks to celebrate with). If you'd rather have a pro take care of the logistics, look for a scavenger hunt company or book a slot at an escape room.
Volunteer as a team. Remember and reinforce that you're all in this together by pooling your time and skills to help out in your community. Look for a Habitat for Humanity build opportunity, sign up for a shift cooking and serving dinner at a soup kitchen, or volunteer to clean up a park in your neighborhood. If you're an all-remote team, give everyone some time off to complete projects together on volunteer skills-sharing site Catchafire and have a debrief session to talk about what they worked on.
For team-building within your sales team and the rest of your company, try one of these:
Celebrate wins together. Smith shares his team's tradition: "A Slack message [goes] out to the entire company announcing the deal, followed by the team member who closed the deal banging on a big gong in the office. It makes the whole team (not just the sales team) feel involved and pushes everyone to work harder. It's led to great feedback and a feeling of inclusion from the whole team."
Encourage collaboration and connection with inter-departmental competitions. Mirata suggests instituting Random Acts of Kindness weeks, where employees seek to recognize or support their coworkers by cleaning up common areas, sharing unprompted compliments or kudos, or treating someone to coffee or lunch.
Plan a company-wide field day. Invite everyone to a park, break them into 3-4 big teams with lots of mixing between departments, and put them through all the activities of your elementary school days of yore: balancing an egg on a spoon, three-legged races, blind obstacle courses where one person gives directions to someone wearing a blindfold, and as many pie-eating competitions as their stomachs can take.
Building A Healthy Sales Culture Takes Leadership
Overall, remember that a sales team manager's biggest responsibility is to lead their team to success. That means listening well, adjusting plans and processes to fit your team's needs, hiring and compensating your team fairly, and knowing when to hold your team accountable and when to celebrate. It's a tough job, but if it interests you—and you don't already have that responsibility set—check out the 500+ open Sales Manager jobs on PowerToFly.
-----
Want to learn more about how PowerToFly can help you build a diverse and inclusive culture? Contact us here.
READ MORE AND DISCUSS
Show less
Loading...