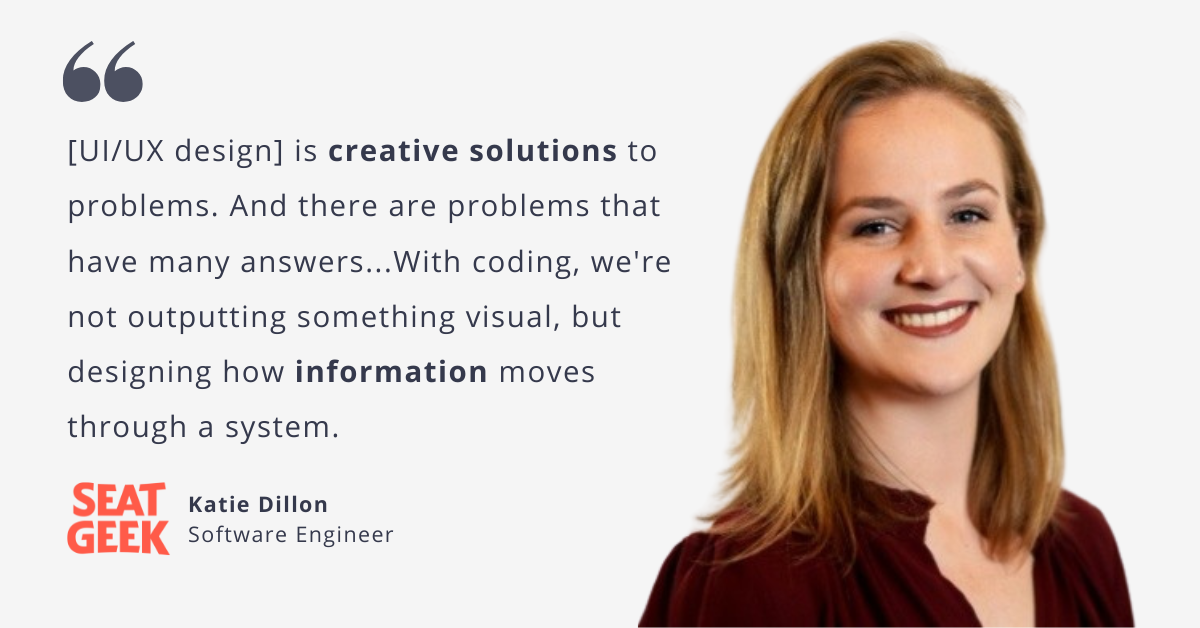 SeatGeek
Katie Dillon has many hobbies. During the pandemic, she picked up candle and jewelry making, opened an Etsy shop, learned new watercolor techniques, and poured hours into maintaining her vegetable garden.
And recently, her interest in the lindy hop community has been resparked. "Swing dancing is something I enjoy doing," she shares. "I used to travel for dance every other weekend. It was a huge part of my life. And I recently got inspired to get back into it."
Whether through crafting or dancing, Katie enjoys harnessing her creativity — a skill she also uses for her work as a Software Engineer at SeatGeek. We sat down with Katie to learn how producing effective code involves creativity and design thinking.
Following Her Interest in Design
Katie grew up within a family of software engineers. "My dad is a software engineer and my younger brother has always wanted to be a software engineer," she shares.
Katie, on the other hand, wanted to carve her own path. "I wanted to do the absolute farthest thing that I could think of from software engineering. There was no way that I was going to code."
In an effort to find her own voice, she joined a filmmaking program in high school. "It was film, design, and English," she explains.
After two years in the program, her mind was set on filmmaking and she applied to several university filmmaking programs. Although she was accepted to some reputable schools, she started having second thoughts.
"I thought I didn't know exactly what I wanted to do, so I wanted to go to a school that allowed me the flexibility to change my mind. I ended up applying to some design schools and then going to the University of Michigan," she says.
There, she pursued an art and design major and started on her career journey.
"I [ended up] doing graphic design, UI/UX stuff," she explains. "I was doing a lot of freelance design work and consulting for small businesses. I was full design and felt pretty good about that for my future."
Katie had regular clients and a full schedule with her design work, however, she felt inclined to take an intro to coding class to stay current—and keep up with her family's dinner table conversations about machine learning.
"[I thought to myself], 'I'd like to understand what this chaos is when my dad talks about it,'" she admits with a smile.
And after that first class, she was hooked.
Merging Creative Design With Coding
"I took one class and I [knew] this was for me," Katie shares.
"It opened my eyes to the fact that engineering can feel like adult Legos, where it's highly creative, but in a way that also tickles my organization brain," she explains.
Because of her newfound interest, Katie decided to finish her design degree with a minor in computer science. While working to achieve this, she got a first glimpse at what a career in tech could look like. This glimpse came from an internship for a company she was previously doing design work for. "It was a local company in Ann Arbor. [I told them] I wanted to code and it worked out great," she shares. She went on to describe the invaluable mentorship and support she received during her transition from design to code. "That internship really helped me envision what it would look like to work as a software engineer," she adds. "Something I'm still grateful for."
Because of her design background, Katie was able to draw similarities between designing and coding. From a design perspective, coding is "designing how a system is going to work or designing the flow of information," she explains.
She has always thought of design as a form of creative problem solving; understanding a problem or a pain point that needs to be solved, ideating different possible solutions, and then realizing those solutions.
Similarly, coding involves designing creative solutions to problems. In both cases, these problems often have many solutions. "With coding, we're not outputting something visual, but designing how information moves through a system," she explains.
The key is being able to design code that helps reach goals; and design thinking plays a crucial role in that. "There are so many different design choices that make good code."
Using Creativity to Code at Seatgeek
After her first experience with coding, Katie decided to expand her career and found SeatGeek through a job search. What caught her attention was the staff.
"Something that resonated with me was that there were these people in all different walks of life who, I felt, SeatGeek honored and encouraged to be their whole [selves] both inside and outside of work," Katie says.
SeatGeek is the live entertainment platform that's rethinking ticketing by caring more about fans, teams, and venues. With their technological savvy and fan-first attitude, they're simplifying and modernizing the ticketing industry.
Now as a Software Engineer, Katie uses creativity and design work in her coding process. "I use creativity more when I'm thinking about and planning code," she adds.
"[On my team] we try to think about these big problems and break down those problems into smaller chunks and that process is so creative to me. We're figuring out what needs to be solved and then designing some sort of solution."
Advice on Using Creativity to Power Your Code
Creativity is a beneficial skill — one that Katie uses on a regular basis.
"In my job, I end up wearing many hats and playing designer when writing frontend code," she explains. "It's always great when I'm able to collaborate with someone and have explicitly asked for design input on bigger projects, but when that's not possible, my design background allows me to still be effective and create user-friendly interfaces through conversations with stakeholders and an iterative design process."
Katie emphasizes that everyone should identify their own creative processes and harness those when designing and writing code, but she offers this advice for those searching to vary that creative spark:
When in doubt, draw it out. "This may not work for everyone but it works for me to have a physical pen to paper and be able to draw my ideas," says Katie. "Whether you're drawing a diagram or a doodle, it doesn't have to be perfect. This process can reveal the weak points and help you focus and iterate on your ideas."
Be open to collaboration. Having open and casual meetings with other engineers can create the space for innovation. "I think that some of the most effective and groundbreaking meetings don't really have a plan other than 'let's talk about this big idea and think about it,'" Katie shares. "Talking to other engineers during that unstructured design time is really helpful."
Do the big design work first. "Doing enough of the planning and design work ahead of time, I feel, lays the base to be more creative with the small things," shares Katie. "Once you have the structural pieces in place, you can utilize creativity by getting feedback and bouncing ideas off of other colleagues to fill in the missing components."
If you're ready to apply creativity and design to solve big problems, check out the open positions at SeatGeek.
READ MORE AND DISCUSS
Show less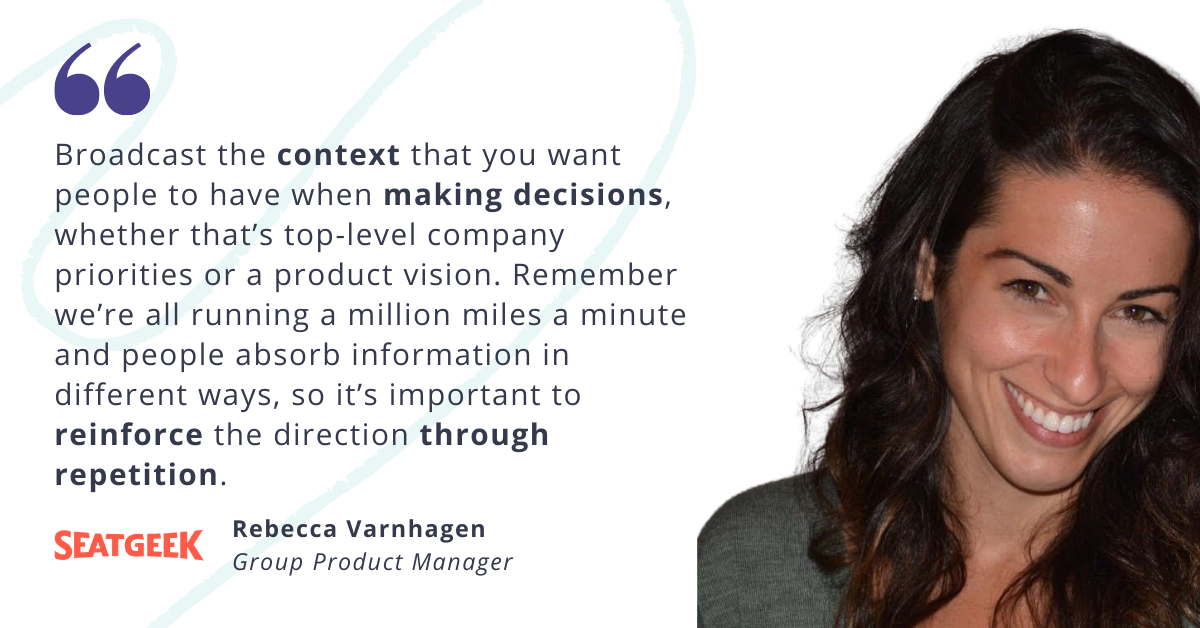 SeatGeek
Rebecca Varnhagen found a career in product management through a windy path.
There was her pre-med major, where she quickly realized she got "really queasy around medical stuff" and switched from biological engineering to operations research.
There was her engineering internship at a large tech company, where she was placed on a data-oriented team, felt lost in a sea of Computer Science majors, vowed that the "big fish, small pond" was the better model for her, and decided to look at smaller startup companies after graduation.
"I cared most about finding a role I could give my all and excel at, on a team I wanted to work with every day, and figured a startup would give me that opportunity."
Rebecca's transition to a smaller tech company started with a role in client solutions, which quickly grew into a product role.
When it came time to switch companies to pursue stronger growth opportunities, she took a role in product management at SeatGeek.
Now, five years later, Rebecca works as the ticketing platform's Group Product Manager. She's taken on people management and strategic product management responsibilities, and is confident she's found a company that will support and enable the next phase of her career growth.
We sat down with Rebecca to hear more about her career journey—especially about how she's found the transition from individual contributor to manager, and what advice she has for other professionals looking to do the same.
The Importance of Translation
Rebecca's first product-adjacent job was when she worked in client solutions. Her role was to understand how clients wanted to use her company's platform, then communicate that to the engineers who worked on it.
"It was part strategy, part technical, where I found myself having to translate between business and technical teams by connecting the business reasoning to the product change," she says. "Like I get that you want that button to be pink—but why?"
A major responsibility of hers was figuring out which changes could or should be "one-offs" and which should be built into the platform as a whole. Demonstrating her capability to make those types of decisions led to Rebeca getting an offer to join the product team, where she found natural affinities with her experience doing operations research as an undergrad.
"I've always loved solving problems," she says. "Switching over to the product side was about solving problems agnostic of any one of our clients, and thinking more broadly about the target market and the addressable client base."
Even now, problem solving is a key part of her job—and one of the skills she is excited to pass on to her direct reports and mentees.
Finding a New Problem Space
When it came time to leave her last company, Rebecca knew she wanted three things:
A new problem to solve and a new product she felt connected to
A larger product management and technology team, so she could learn from others and start teaching them, too
A collaborative, friendly culture
She was connected to a hiring manager at SeatGeek and immediately found all of those things.
"I had a connection with our product, which helps get people off their phones and couches, to experience the magic of live events with other people," she says. "And when I met the people at SeatGeek in interviews, I could tell that it would be really easy to work together, and that I could really learn and grow here."
So that's two of her three criteria met. But as she found out her first week on the job, she was bought in on the SeatGeek community, too.
Rebecca attended what was then the in-person Friday happy hour for the product team. Here's how she remembers it:
"My first time there, the room had people sitting on all of the chairs but also standing up against the walls. It was clear that this team used to be small enough to sit at a single table, yet it had grown to 'standing room' and I loved that. It still felt like everyone knew each other and actually wanted to stick around the office at 5 p.m. on a Friday to have a drink with their team. That was when I knew I could see myself there for a while."
Growing in Scope—And Learning Along the Way
After Rebecca's first few years on the job, she started thinking about how to grow her team to support the increasing scope of the product.
"I had to push myself to think about the longer term. Instead of just planning the next few sprints or the next quarter, how do I think about what I want this product to be in a few years and what kind of team I need to support that growth?" she says.
That was a useful skill to apply in the early days of the pandemic, when the future of a ticketing platform for in-person events was up in the air. Now that we're beginning to imagine a post-COVID—or a coexisting-alongside-COVID world, says Rebecca—those strategic decisions have become even more important.
"For instance, do we build an integration with health pass providers, so you could sign in and link your COVID test results to your profile? Or does that only make sense for the next six months and not long-term?" she asks.
While navigating those changes, Rebecca's team kept growing. She moved from the senior product manager level, where she was mentoring an associate PM (APM), to becoming that APM's official manager. When that went well, and the demands on her team increased, she added more people to the team, and now manages several APMs across her group.
And she's still learning how to do it well, Rebecca says.
"My biggest concern [when I became a manager] was that I would be bad at it, but then I realized a lot of the job is just genuinely caring about your direct reports' growth and development, and putting in the time to help them. Then you're doing everything that you can," she says.
8 Tips for New Managers
Once she overcame the fear of failure as a manager, says Rebecca, she got excited about learning new ways to grow in the position. And for anyone else who finds themselves eager, but unsure how to manage others effectively and with care, she has a few tips to share:
Management doesn't only happen in one-on-ones. "It's time spent outside of one-on-ones where you're thinking about how you can give them opportunities for growth—with guardrails, so that they're failing safely and not impacting the goals for your team—and when you're advocating for them, and making sure their work is well-recognized even when they are not in the room," she explains.
Always consider context. "Broadcast the context that you want people to have when making decisions, whether that's top-level company priorities or a product vision. Remember we're all running a million miles a minute and people absorb information in different ways, so it's important to reinforce the direction through repetition," she says.
Hiring is a complex problem. It's not just knowing when you need to hire someone, says Rebecca. Hiring well also requires team design thinking—identifying what the team needs, matching complementary skill sets, and managing different personalities.
First performance review cycle? Lean on what you learned doing peer reviews. "Recognizing the skillsets of others, what they're doing well and what they need to develop, is a critical skill as a manager," she says. "From day one, you're expected to be giving your direct reports feedback and coaching. Use the time before you hire your first team member to hone this skill through peer reviews."
Be patient! "Managing is an entirely different job, and you're doing it for the first time…while you're probably doing your old job, too!" says Rebecca. "You need to give yourself some time to get used to it, and then be good at it."
When managing your replacement, give them space. "They're not going to necessarily do things the way that you did. Focus on setting expectations for outcomes, then figuring out how that person likes to work and how you can coach them within their own working style," she explains.
If you tend to be hard on yourself, make sure you remember to celebrate your team's accomplishments. "It wasn't natural for me to celebrate my own contributions, so it didn't come naturally to recognize those of my direct reports. But it's incredibly important to do so," she says. "Positive reinforcement shows your team members they're valued and helps them recognize that their work is having an impact."
When managing PMs specifically, it's important to convey that they'll never check every box. "That's just not how product management works," says Rebecca. "You're never going to be great at everything. So you need to help your direct reports get to that realization themselves and hone their superpowers."
Ready to grow your career? Learn more about SeatGeek's open roles here.
READ MORE AND DISCUSS
Show less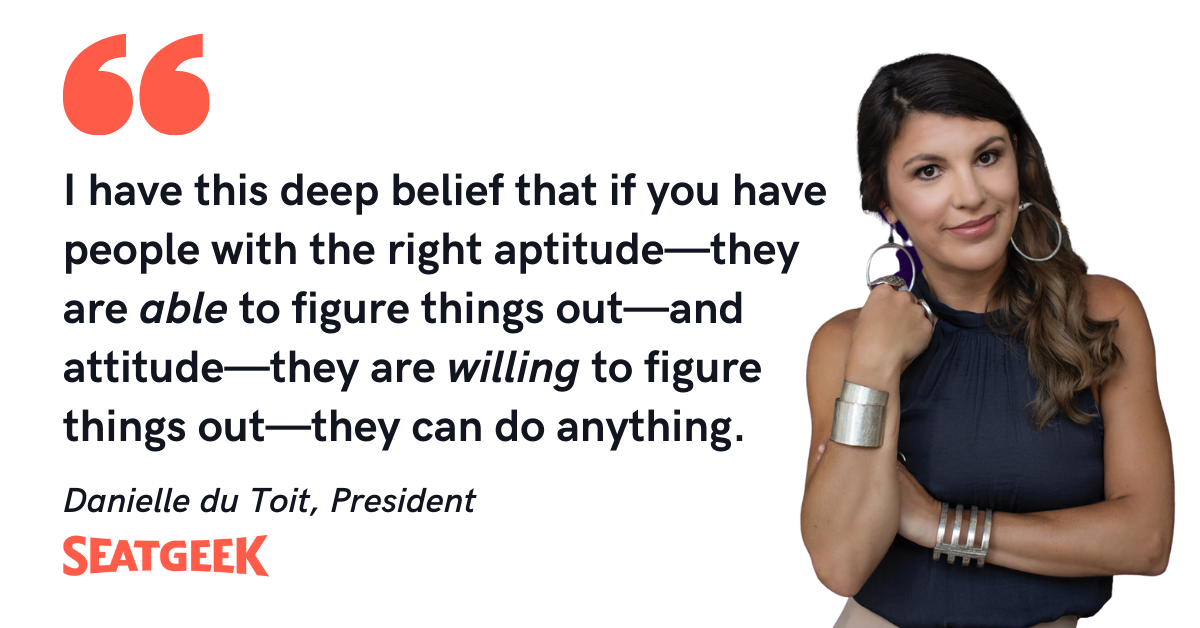 SeatGeek
Something happened to Danielle du Toit when she was 23 that changed the way she worked forever.
She was interviewing for a role as an IT director at a private school. They were looking for someone with 15 years of experience. Danielle had two, but she knew she could do the role.
"I went to see the recruitment agency and when reviewing my resume they remarked that I had 'exactly zero of the things [on the list] needed for the role'. They proceeded to explain that they needed someone who understood how to run a network, and I recall thinking the conversation was ridiculous," remembers Danielle.
"It created a mindset that has been pivotal in my life since then. It's how I hire. I have a deep belief that if you have people with the right aptitude—they are able to figure things out—and attitude—they are willing to figure things out—they can do anything," she explains.
If you had the chance to sit down with Danielle and experience her focused energy and her calm confidence, like we did, it wouldn't surprise you to know that she ended up getting that job.
(She found the head of the school and invited them for coffee; soon after, she was the school's new IT director, managing a team of seven people, some of them in their 50s.)
But since you didn't get a chance to meet Danielle face-to-face—or Zoom-to-Zoom, that is—we've gathered her story and her insight, organized around five of her other deeply-held beliefs that shape the culture she's building at SeatGeek.
Belief 1: The brain is a muscle
Danielle grew up in Zimbabwe and went to university in South Africa. From primary school lessons to college seminars, she had a contrarian attitude to traditional memorization-based learning.
For instance, she once got in trouble for her opinion about long division. She didn't believe in doing it by hand to more than two decimal points.
"What adult is going to sit and try to do long division in their head, versus just getting out their calculator? It made no sense to me," she says. "I also refused to learn anything by heart, and didn't believe in studying. I had this idea that my brain was not a storage device. It was a muscle."
Danielle saw university as another opportunity to be forced to memorize facts, and almost didn't go. "'I don't want to learn things, I want to do things,'" she remembers.
But she got a scholarship (so long as she'd agree to return back to Zimbabwe and teach after—more on that in a minute), so she went to university and studied computer science and physics.
Danielle did end up teaching for two years, though not in her home country, which was suffering from an inflationary crisis. It was the teaching job that prepared her for the IT director role she ended up talking her way into. And that same practice of putting herself up for jobs she wasn't 100% qualified for eventually took her from IT to marketing to sales, and from Cape Town to New York.
Now, Danielle is the Enterprise President of ticketing and live-events experience platform SeatGeek.
But she couldn't have predicted that.
Belief 2: Career ladders are "the worst idea ever"—it's all about "career adventures"
When career advisors asked a teenaged Danielle what she wanted to do for work, she says she'd answer with, "'I have no idea what I want to be when I grow up!'"
An aptitude test didn't help—it told her she was bright enough to do whatever she wanted.
But it did contribute to another one of her career beliefs: there's no such thing as a straightforward career ladder.
"There isn't even a career jungle gym," she explains. "Careers are an adventure: the process of getting closer and closer to what is most valuable to you, then using the clarity of that experience to make your next decision."
Danielle wouldn't have imagined that she'd be living in New York, working in the "high-paced, things-need-to-be-fixed environment" she loves, and constantly learning more about the ticketing industry as she seeks to lead the company out of COVID and into the new market share they gained by being customer-first during the last two years of uncertainty.
Belief 3: No one has all the answers
Danielle had no experience in ticketing before she joined SeatGeek, but that knowledge gap has proved to be an advantage. "Generally, I spend about two years at a company because I start to feel like I'm running out of things I can get excited about from a learning perspective," she says. "I'm three years in at SeatGeek and I'm nowhere close to that feeling."
Embracing a learner's mindset goes beyond making sure your job challenges you, notes Danielle. It's a vital way to stay confident, and it also leads to better problem-solving.
"We have imposter syndrome when we believe we have to have all of the answers and when we believe our value is attached to what we know. That's a problematic belief, because we will never have all of the answers," she says. "There will always be people who have more experience than us. What we do is bring our brains and our perspective, and that is 100% completely unique to you."
As a leader who manages multiple departments, teams, and people, Danielle is building a culture that deeply believes no one person has all the answers, including herself.
"It doesn't bother me if I don't know something. In fact, it can be a delightful place to be. I don't care if people challenge me—I joke with people that I'll fire them if they don't challenge me. I just can't relate to the mindset 'I'm a leader so I have all the answers,'" she says.
Belief 4: Truly honest feedback is a gift
Danielle's favorite part of her job is the opportunity to watch others grow and to help them along the way. She knows that it takes different people with different perspectives to find success.
But that being said, she also knows that she can help people along by giving them the feedback they need to reach the next level. Even if it's not fun to hear.
"I joke with my team that the real secret reason I go to work has nothing to do with work at all—it's because I'm passionate (perhaps a little obsessed) with advancing and supporting people's careers," she says. "The most beautiful things happen when you provide truly honest feedback."
Danielle thinks it's extra important that she, as a woman leader, makes sure her voice is heard in these ways. "A really important aspect of a leader is to have empathy. If you haven't experienced certain biases, how do you have empathy? It's possible, but more difficult," she notes.
Belief 5: Leadership isn't about control
Anyone looking to find their own path to leadership, says Danielle, should be starting today.
"Don't wait for a leadership title to think of yourself as a leader," she says. "The idea that a leader is somebody that gets to control things is not a healthy view. In my mind, a leader is someone who's able to paint a vision, to influence, inspire, and motivate someone. You don't have to wait for a leadership position to do any of those things."
If you're interested in doing that at SeatGeek, check out their open roles!
READ MORE AND DISCUSS
Show less
Loading...