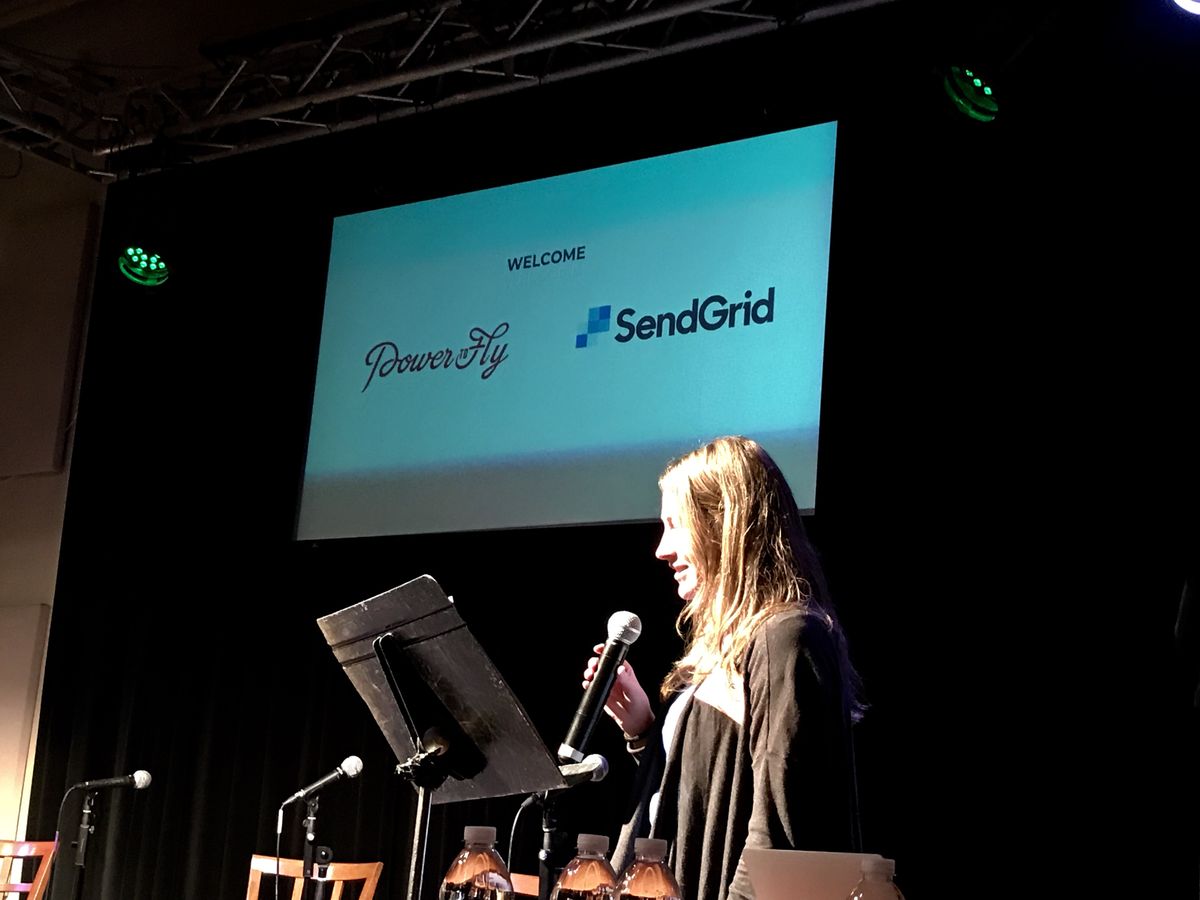 SendGrid
When you bring together leaders from SendGrid, a digital communication platform that delivers more than a billion emails to hundreds of millions of users every single day. to talk to women in tech in the Bay Area, you're going to get a conversation that looks at gender parity from a novel, data-driven perspective.
Check out the highlights from the SendGrid-PowerToFly event held on January 30th. The night in Redwood City was mc-ed by PowerToFly's Chief Talent Officer, Rachel Valdez and featured SendGrid's CEO, Sameer Dholakia, Chief People Officer Pattie Money and a panel of women tech leaders at the organization. Follow SendGrid for more information on the company, including its open jobs.
SendGrid CEO Sameer Dholakia explained how the team breaks down familiar phrases like "diversity" and "inclusion". Dholakia cited the explanation of how "diversity" is like being invited to the party and "inclusion" is about feeling comfortable enough to dance once you're there. Dholakia emphasized that building inclusive environments must be an ongoing effort, embracing different perspectives ultimately result in the best products.
Pattie Money, SendGrid's Chief People Operations Officer, spoke about SendGrid's current efforts to promote diversity by embracing transparency through releasing their gender ratio data. She also shared the measures SendGrid is undertaking to continue to improve the company's stats moving forward.
Engineers and Product Managers from the SendGrid team led an in-depth product demonstration on new tools SendGrid will deploy in 2018 to provide their clients with the best email delivery experience possible.
VP of Software Engineering, Sha Ma, explained how tech has evolved during her 20 year career and the best practices she's seen for leading diverse teams.
Jennifer Kelser and Chiara McPhee, formerly CEO and COO of Bizzy.io, discussed the acquisition of their former company by SendGrid, and their exciting transition to becoming Directors of Product Management. Jennifer attested to the importance of drowning out the noise and listening to your gut when it comes to succeeding as a woman in tech.
As one attendee noted of SendGrid: "I loved the company culture and how they are actually "walking the walk" and not just talking about it all time. I also loved the way the CEO and the execs think about themselves as support systems! Great people, great culture and great company!"
Follow SendGrid on PowerToFly for more info on job openings, events, and more.
READ MORE AND DISCUSS
Show less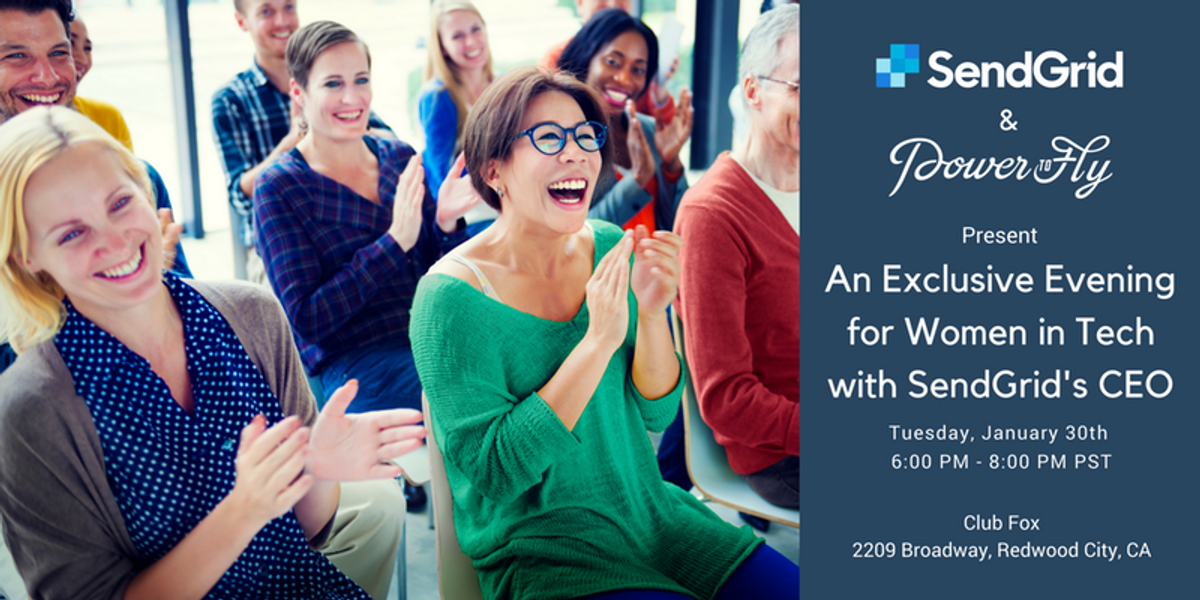 Companies That Care
This is an invite-only event for women in tech. Contact rachelv@powertofly.com for the event password if you think this event would be a good fit for your skill set.
Please join PowerToFly and top women at SendGrid for an invite only evening featuring SendGrid's CEO Sameer Dholakia on Tuesday January 30th.
PowerToFly's Chief Talent Officer, Rachel Valdez will lead a discussion on how SendGrid is building an environment where women can thrive, and not just survive. The agenda also includes networking with top women in your field, and hearing about SendGrid's latest tech builds that enable Airbnb, eBay and other giants to connect to customers via email. Meet the female leaders at SendGrid including the female tech leaders who are revolutionizing the way we think about email.

SendGrid is committed to transparency and inclusiveness. In 2014, SendGrid achieved a 22% increase in female employees. SendGrid's latest numbers show that women hold 32% of all leadership jobs, up from 27% in 2015 and 19% in 2014. And the number of women in technical positions at the company has increased from 12% to 17% over the last year.
To learn more about SendGrid including their open opportunities and benefits, visit their page on PowerToFly.
About our Events: All RSVP'd attendees are welcome, regardless of race, color, religion, national origin, gender identity, pregnancy, physical or mental disability, or age. If you require accommodation to fully participate in this event, please email talentgrowth@powertofly.com, and we will contact you to discuss your specific needs.
READ MORE AND DISCUSS
Show less
Loading...