GET EMAIL UPDATES FROM POWERTOFLY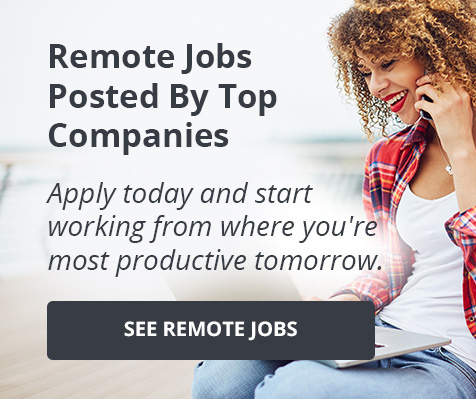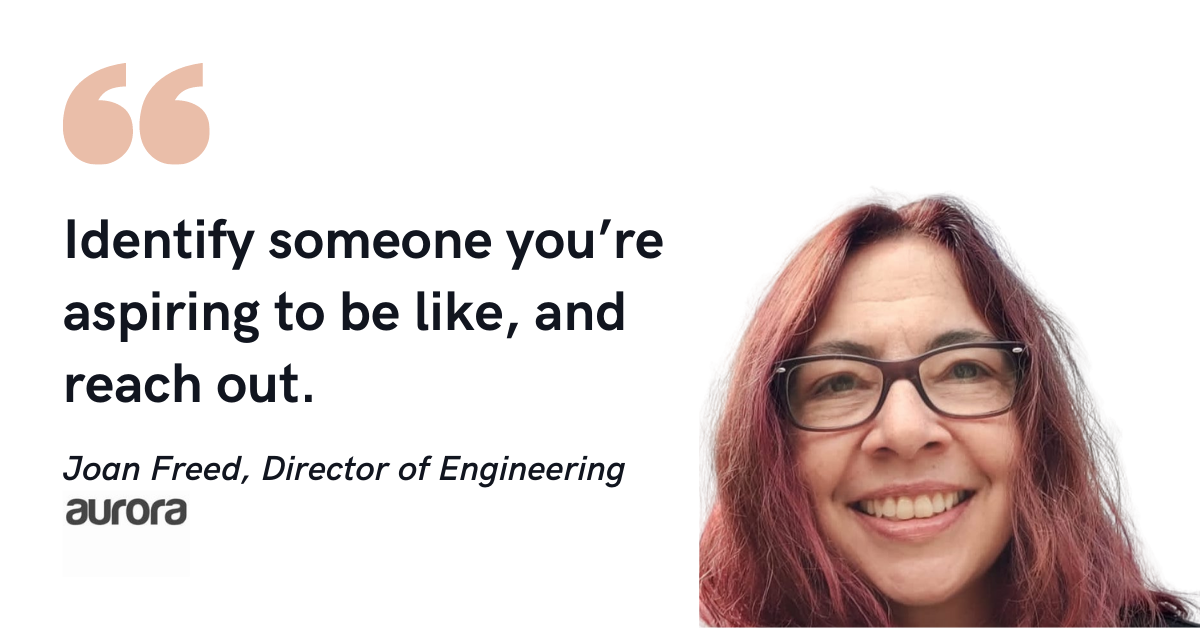 Aurora Solar
Joan Freed used to have one definition of impact: shipping code.
The more software she wrote, and the more technical problems she solved, the greater her contribution to her team was.
But then Joan, who is currently the Director of Engineering at Aurora Solar, was asked to go from a developer role to a management role.
"Like most engineering leaders, I was thrust into it. It was, 'Hey, you're a good engineer; now we want you to lead this team of people you've been working with,'" she says of the transition.
And in excelling in that leadership role, and others to follow, Joan realized that she'd found a way to make even more impact: through mentoring others.
"I could actually have a greater impact and gain the same amount of enjoyment from building a team that is building great software, as I could from building great software myself," she says.
We sat down with Joan to hear more about the transition, including how mentorship smoothed her path into leadership, and about how she pays it forward by being a good mentor to others.
Pushing Buttons, With Others
Joan's path into computer science was set as soon as she got her hands on an early PC. "What drew me to engineering was a love of pushing buttons," she says, referencing calculators and adding machines. Once she first started developing games in her spare time for a Commodore 64, she knew she'd found her career path.
She entered the field by way of tech support, but it was an early mentor who helped her learn how to build great software. She's still in touch with that mentor to this day.
As she solidified her development expertise, Joan expanded her pool of mentors by looking at her peers. "If we had enough of a similarity in the way that we perceived things or viewed software development, it sort of clicked—we became friends, then expanded our knowledge together," she explains.
It was that group of peer-mentors that Joan leaned on when she made her first move into engineering leadership.
"I got great enjoyment out of helping people find their path. I was doing some of the things that folks before me had done, in terms of helping people navigate technical issues or challenges or growing new leaders," she says.
Finding a Culture of Growth
When Joan was ready to move onto a new challenge, she knew she cared most about finding a company whose culture aligned with her values. Her main focus in her previous role was creating a positive, collaborative engineering culture, and she wanted to build on that.
"We'd really fostered an environment where people enjoyed coming to work every day because they worked with good people they actually wanted to spend time with," she says.
In her first interview with the team at energy startup Aurora Solar, Joan immediately recognized a similar environment.
"I could see the commitment to the values—empowering customers and looking for outcomes over egos—in the way people talk and act," she says. "There's the assumption of positive intent, it's very respectful. It's really the culture at Aurora that drew me in and has kept me engaged and motivated."
And now, as Director of Engineering there, Joan is tasked with supporting that culture and creating opportunities for her teams to experience career paths like her own.
To do that, Joan is applying everything she's learned as a mentor and a mentee. She's developed her own approach to what successful mentorship looks like: an even blend of comfort and empowerment.
"It's having someone in your corner that you can talk to, where they have enough context to know you and to know the type of work or challenges you're facing, but they also have that ability to not be in the weeds with you," she says. "They can provide some level of objectivity to help you tease out the biases you may have or to ask probing questions you didn't think to ask yourself."
Good mentorship, not unlike good management, says Joan, is "a way of expanding your own thinking."
3 Tips for Finding a Great Mentor
Whether early career or not, Joan encourages everyone to build their stable of mentors. "A lot of career opportunities, it's not always what you know, but who you know," she says. "Make sure you have a good network of people because you never know when your paths may cross again."
To do that, Joan suggests:
Think of friends and peers as mentors. You don't have to go up into the C-suite to find someone who can provide support and advice. "Start looking at people around you, what they're doing and how they're interacting," she says.
Be aspirational. "Identify someone you're aspiring to be like, and reach out," says Joan. "It can be hard to make that initial contact, but it's very worthwhile." She's still in touch with a mentee who reached out blindly, for instance.
Embrace communities. From LinkedIn groups to MeetUp events to ERGs, Joan suggests expanding your network via built-in gatherings of people like you.
3 Tips for Being a Great Mentor
Over the years, Joan has been a mentor to dozens of developers and aspiring leaders, and plans on continuing the tradition. When she finds herself in that role, she channels the following pieces of advice:
Remember that you're helping people find the path that's best for them. "If that's a path at Aurora, which I hope it is, then that's great. But I've helped coach people out of my organization if it wasn't a fit for them. They were struggling, they weren't happy, and I helped them find some other opportunity where they could shine," explains Joan.
Listen actively. "Make sure that you understand what it is they're saying and that you're engaged in that conversation with them," says Joan.
Be a positive force. "Be their cheerleader when things are going well, or when they've done something that put them outside their comfort zone," says Joan. "Even if they've failed at something, help them understand what they can learn from that failure and how they can bounce back from it."
If Aurora Solar's culture of mentorship and respect sounds like one you want to be a part of, check out their open roles!
READ MORE AND DISCUSS
Show less
Autodesk
💎 When looking ahead in your career, you probably want to acquire new technical knowledge. But what's the best way to train for it and learn new skills? Don't miss these tips on how to improve your tech skills!
📼 Play this video to get three top tips on how to improve your tech skills. You'll hear from Mina Zhou, Lead Application Security Engineer, and Matt Battles, Engineering Lead in the ACS division of Autodesk.
📼 Tip #1: Master the Skill (Don't Rush Through It!). The first tip on how to improve your tech skills goes like this: when you're learning a new skill or technology, it's best to take the time to thoroughly master it. Make sure you truly understand a new term or concept before moving on. Avoid rushing through it. Sometimes people will focus more on the topic they are familiar with and skim through those they aren't. Instead, keep researching and exploring the same issue until you feel like you get it. If you've read through the docs and are still stuck, schedule some time with a colleague or friend to discuss the problem. This will help you improve your communication skills as well, since clearly articulating an issue can be the best way to find a solution quickly and efficiently. And remember: Learning is a marathon, not a sprint.
📼 Tip #2: Learn by Doing. The second tip on how to improve your tech skills centers around this: If there's an area of your code you are unfamiliar with, try picking up a bug in that domain. This will help you to immerse yourself in the code and give you a place to start digging, rather than trying to understand an entire domain at once. Diving in and getting to the core of an issue can be very meaningful, and solving the problem will help cement the knowledge into your mind. When you feel stuck on a project and look for solutions online, try not to copy and paste other people's work line by line without reviewing it. Make sure you understand their approaches and what they did differently to make things work. Then, implement the same idea with different methods and figure out what works best for you. With this, you are not only building one thought process per problem but actually figuring out the best solution and owning it.
Top Tips on How to Improve Your Tech Skills: Last-Minute Tip!
📼 Tip #3: Set Measurable and Useful Goals. When defining goals, focus on things you can measure and start small! Break down your long-term goal into short-term tasks with reasonable deadlines. You would not want to go too fast and burn out or set a date too far away to make you feel motivated. Really focus on the why. Think about what you want to get out of being an engineer and how you'd like your career to progress over the next two or even five years. This will help you set goals that align with your ambitions and derive lots of meaning from them. If you fail to meet a deadline, instead of blaming yourself, adjust your plan and think about what you can do better next time. And do the same thing when you meet a deadline earlier as well! Ask yourself, were you not being ambitious enough? Is it easier than you thought? Or did you find a new technique that works better for you than usual? And most importantly, when you achieve something: Celebrate!
📨 Are you interested in joining Autodesk? They have open positions! To learn more, click here.
More About Autodesk
From the greenest buildings to the cleanest cars, the smartest factories to the biggest stories, amazing things are created every day with Autodesk. Over four decades, they've worked together with customers to transform how things are made and what can be made. A car's performance now inspires the method of its manufacture, a city's infrastructure helps predict the unpredictable, and the creation of ever-bigger universes shapes ever-bigger stories. Today, Autodesk solutions span countless industries empowering innovators everywhere. But they're restless to do more. They don't believe in waiting for progress; they believe in making it. By combining and recombining technologies. By blurring boundaries, reinventing rules, and merging fields. By unleashing talent and unlocking insights across industries. By helping their customers converge on solutions to the challenges we all face today. At Autodesk, they believe that when you have the right tools to work and think flexibly, you have the power to transform what needs making. The ability to design and create a better world for all.
READ MORE AND DISCUSS
Show less
Loading...