GET EMAIL UPDATES FROM POWERTOFLY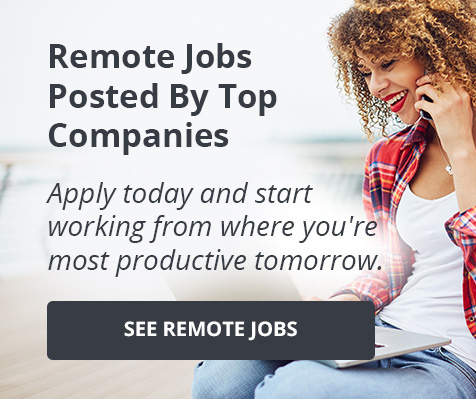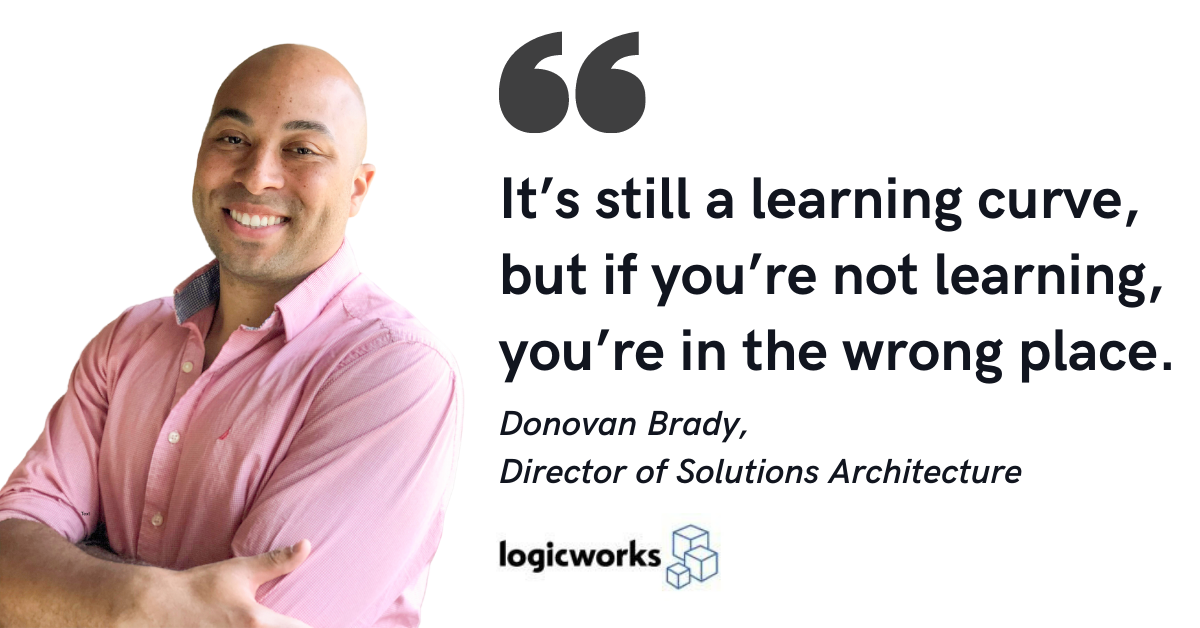 Logicworks
Donovan Brady knew he'd found the company he wanted to work for during the 2014 FIFA World Cup.
He was doing his first internship at cloud services company Logicworks, and his coworkers brought him to the dedicated conference room for watching the games.
"It was playing on a projector all day, everyday. People were getting work done and going to check on the scores in their free time," he says. "I felt like I didn't have to be just a cog. Logicworks truly embodied the value of 'remember to always have fun.' I didn't have to wake up everyday not wanting to go to work. That was really meaningful."
Now, seven years later, Donovan is the Director of Solutions Architecture at Logicworks and sees plenty more growth opportunities in front of him, whether that's evolving the company's diversity and inclusion group (for which he serves as chairman) or enabling his team to be more strategic partners to their customers. Donovan has come a long way from being an intern, and we sat down with him to hear more about his career path at Logicworks and his advice for others looking to make the most of opportunities in front of them.
Helping Technology Drive Business
As a kid, Donovan and his best friend Alan were big into video games. (Donovan still enjoys playing them; his all-time favorite game is Dark Souls, he says, because it's extremely hard to play until you understand how it tries to trick you—just like life.)
Alan taught Donovan to program, and the two launched a business building computers and fixing Xboxes for their classmates. It sparked something in Donovan: "I decided that this is what I'm going to do. I'm going to start a technology conglomerate that's going to combat Apple," he says.
That dream stayed with Donovan until college, where he decided to study computer science and economics to build the core two skills needed for his business, but he quickly realized that other companies had filled that market. (Amazon and Microsoft among them.)
So he decided to pivot and find a role where he could apply his technological skills. His part-time job at his college's career resource center meant he had an up-close view of the latest internships and job postings, and when he saw a role in cloud computing at Logicworks, he decided to apply.
"It sounded like that might be the direction the world was going, with 'that cloud thing,'" he says. "So I applied. I had a giant afro at the time and I showed up in a suit. Everyone made fun of me [for being overdressed]—they were in sweatpants. But I had to look good!"
He got the internship (and wore the suit again for his first day—then put it in the closet until he became a solutions architect, but more on that later). His area of responsibility was network engineering, which he didn't love. When he flagged that to his manager, she invited him back the next summer to try their DevOps and software engineering internship, which he did.
Immediately, Donovan knew he'd found his subject area. "AWS had just come out with Lambda, which was serverless technology and just mindblowing, game-changing stuff," he says. "I was tasked with deploying our first Lambda function, and I felt really proud of myself for being a pioneer in this space."
It was Logicworks' commitment to his growth—listening to his interests and inviting him back for another internship that more closely matched them—that convinced Donovan to join Logicworks full-time after graduation.
In his career there, he's found that commitment to continue.
First, it was with his coworkers and mentors, Dakota and Phil, who introduced him to solutions architecture. The company had just introduced the solutions architect role, and Phil was the first one to fill it. The combination of business strategy and on-the-ground technology fascinated Donovan.
"It seemed really interesting. Just like architects for buildings, cloud solutions architects design the blueprint for what a customer's cloud environment is going to look like—they're the producer and visionary, and the rest of the team carries out that vision," says Donovan.
He couldn't get the idea out of his head, so he talked to a few mentors in sales about transitioning into a sales and delivery role, and eventually to the company's CRO and CEO about the solutions architect skillset.
"That's why I love Logicworks' culture," says Donovan. "Who was this 23 year old kid talking to the CEO about his career plans? But they all made time for me and gave me advice."
Stepping into Leadership
Donovan ended up joining as the company's third sales solution architect. The team's processes were undefined and messy, so Donovan raised his hand to build clear deliverables and processes. That set him up to step into a team lead role about a year and half into his new role, which gave Donovan exposure to cross-functional strategy and prioritization.
Two years into that role, Donovan was asked to take on a director role.
"It's still a learning curve, but if you're not learning, you're in the wrong place," he says. "We worked it out so that it's a player-coach role, so I can still work with customers doing the work I love, but also be intimately involved with my team and their opportunities."
The best parts of each week, says Donovan, are his 1:1s with his team. "I love helping people and solving problems," he says. "I have a great team, and creating opportunities for them and allowing them to succeed is really a highlight."
Now that he's also the chairman of Logicwork's diversity and inclusion group, Donovan is extra motivated to keep making the company's culture one that works for everyone. Current initiatives include running solidarity sessions that take place every other week for underrepresented employees to talk about things that are bothering them or to raise awareness of issues they face, and creating cultural learning opportunities to share cuisines, history, and art from different groups.
"Things happen in the world all the time," says Donovan, referencing the deaths of George Floyd and Ahmaud Arbery last year. "That doesn't mean that the world has to stop, but we should also acknowledge the current political and social climates and how they affect our coworkers with respect to their jobs. I wanted to create space for Logicworks employees to come together and discuss what they're experiencing to raise awareness for those of us who are unaware of these struggles. I am a firm believer that the only way to grow is to grow together, and I wanted to facilitate that growth at Logicworks."
5 Questions to Find a Company Where You Can Grow
Donovan's internship at Logicworks grew into a return offer for another internship, then a full-time job offer, and then several promotions, all the way up to his current role of Director. As he navigated that path, he came up with a few guiding questions for other entry-level or new hires who are evaluating whether or not they see a long-term future at their first company:
Do you like the culture? "Search for culture first. How do you fit in with the people, with the company, and with what they're trying to accomplish?" he asks.
Are they flexible when it comes to transfers and promotions? "Some companies say you have to stay in a role for four years before you can move," says Donovan. "It's very rigid and structured. At Logicworks, I said I wanted to do something else, and they said, 'Great, let's see how that looks.' They've rewarded me for being hungry."
Are they on your side? Donovan was nervous to ask for a raise when he transitioned from software engineering into solutions architecture. "My heart was racing, and I didn't know what to do," he says. "I asked for a number that I thought was in line with the market, and my voice was trembling the whole time." But Donovan's manager took it seriously and told him they'd work it out.
Are there people you'd want to learn from? Donovan has half a dozen mentors at Logicworks alone who have helped him determine his career path, and he encourages people to look for their own. "You need somebody you can turn to for advice when otherwise you'd just be alone in it. Find people in your corner that you can talk to and bounce ideas off of, because they're going to help you go further faster."
Can you envision yourself succeeding at the company? "Don't be afraid to ask the hard questions in interviewing," says Donovan. "You can ask, 'What's it like to be a Black person at this company?'"
Interested in growing your career at Logicworks? Check out their open roles!
READ MORE AND DISCUSS
Show less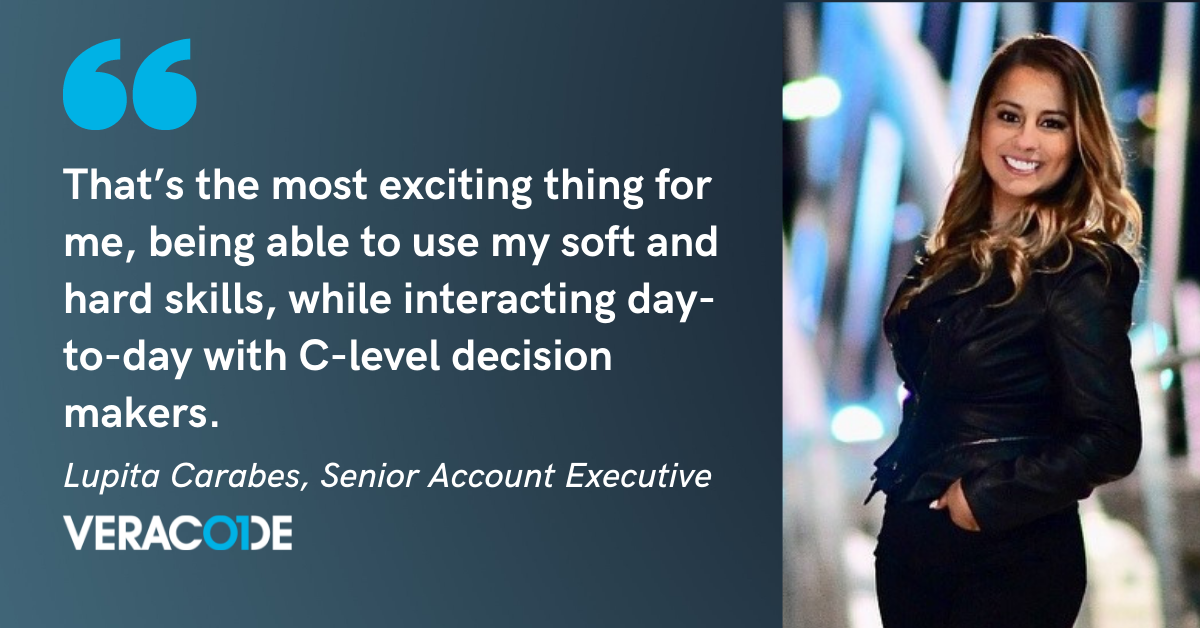 Veracode
Lupita Carabes was interested in understanding why the company she was working for was having a bad quarter.
As a software engineer, her plate had been full for months. She and her coworkers had performed well against their expectations and kept code moving through. So what had happened?
"It piqued my interest. How are we allocating resources? How are decisions being made? How are we producing revenue?" says Lupita, reflecting on what would become a major career shift. "That put me on a path to a customer facing role; what's known as a sales engineer."
She asked her then-manager if she could explore the sales side of the business, but Lupita was told she needed more experience first. A few weeks later, she got a note from a Veracode recruiter—and met a hiring manager who was more than open to helping Lupita transition into tech sales.
We sat down with Lupita, who is now a senior account executive at Veracode, to hear more about her career journey, how she made the transition from engineering to sales, and what advice she has for those who are considering following in her footsteps.
Learning How Businesses Really Work
Growing up, Lupita got her first taste of entrepreneurship when she worked with her family on their business and was inspired to one day launch her own.
"I felt inclined to go the entrepreneurial route because I enjoyed the ability to control my own outcome and make my own way," she says. "I quickly realized I didn't really have the resources to scale."
That realization led Lupita to pursue a career that was in high demand—she had won a full-ride scholarship that would apply to a STEM degree. She majored in electrical engineering, minored in computer science, and completed the university entrepreneurship scholars' program.
During her time as a software engineering intern, Lupita realized the abundance of job opportunities she would have if she went to work as a developer. She also saw it as an opportunity to gain more business experience that would help her later down the line. So, she stayed in engineering roles up until the Veracode opportunity came about.
"The hiring manager asked if I was prepared to be less technical," says Lupita of how the tech sales job was first presented. "But I've actually needed to be more technical. I talk to engineers with various levels of expertise about different technologies, and technology is always changing."
When Lupita joined Veracode, her title was associate solutions architect. She took a pay cut for the role, then spent the next couple of years proving herself earning promotion after promotion.
"In order to keep moving up, I had to build a case, with metrics, and proof points to show my value and contributions I made to help the business," she says. "It's a lot of responsibility—it's your own franchise. I call the shots, and that's been a huge learning curve but extremely rewarding."
Now, as a senior account executive, Lupita regularly talks to engineers and security analysts, and closes deals with CTOs, CISOs, CIOs, and CMOs (say that five times fast!). The exposure to business leaders and technical talent has given Lupita the exposure she was looking for to build her own entrepreneurial toolkit—and has taken full advantage of her background.
3 Key Messages for 3 Key Groups
Reflecting on her career so far, Lupita is happy to have made the shift to sales, where she can continue to bridge gaps between groups and further develop multiple skill sets.
"I was once a girl who didn't know about the engineering role, and now I'm consulting engineers to think about security and their process," says Lupita. "That's the most exciting thing for me, being able to use my soft and hard skills, while interacting day-to-day with C-level decision makers."
Here's the advice she would give based on this experience:
For her engineering peers: consider sales engineering. "If you're looking for more social interactions, having a fundamental understanding of the problems we are trying to solve makes for a much easier conversation with prospects," she says. "You get to talk to tons of like-minded people, and sometimes conversations turn into partnerships. Sometimes they turn into friendships, or even mentorships. I think that's really cool—and I wouldn't have access to that if I was just sitting at my computer coding away."
For her sales peers: be genuine and add value. "Customers sometimes aren't open to sharing a lot of information up front," she says. "So earning their trust and understanding the outcomes they are looking to achieve is really important. I ask open-ended questions and try to understand and not assume exactly what their challenges are. There's a lot of 'debugging' in learning what the business is actually trying to accomplish—leverage your network because the more people you involve, the better chance you'll have of truly solving their business problems."
For her prospects: application security is worth it. Several years into selling Veracode's services, Lupita has learned that a common challenge companies face is fear of slowing down developers, even when there's a lot (read: customer data, regulatory fines, and reputational damage) on the line. She often hears, "'We've always done it this way and we've never had a breach,'" but Lupita is a firm believer that secure code is valuable code.
"More and more companies are using security as a competitive advantage and customers are no longer willing to accept the liability for software that sees security as an afterthought. Application security requires people, process, and tech," she explains. "I enjoy taking the guesswork out of building the right approach."
For now, Lupita knows she has much more to learn at Veracode and is looking forward to doing so. Who knows, though—in a few years, maybe she'll find herself on the other side of the C-suite table!
If learning new skills at Veracode sounds interesting to you, check out their open roles!
READ MORE AND DISCUSS
Show less
Loading...