GET EMAIL UPDATES FROM POWERTOFLY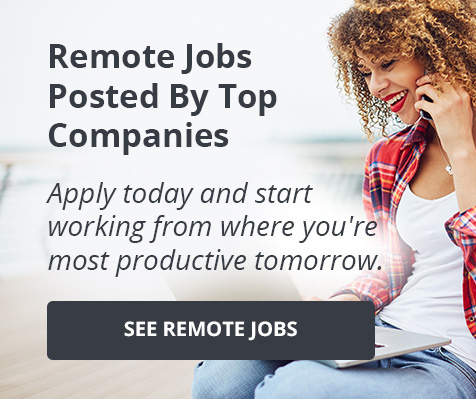 New Videos
💎You don't want to miss these resume hacks from a recruiter at Tackle! They can help you stand out as a candidate when applying for a job opportunity. Watch the video to the end to know more about the company!
📼Get some resume hacks from Michele Webb, Recruiting Specialist at Tackle, who also goes over Tackle's application and interview process.
📼Resume hacks: So, what are recruiters looking for when reviewing resumes? First off, relevant experience. Michele recommends creating a slightly tailored version of your resume for each job profile that you apply for. Secondly, make sure you're offering clear and concise messaging: as Michele puts it, your resume should be easily digestible and well-organized for the reader. Lastly, be creative! Whether by adding your personal interests, a professional photograph, or even a unique resume design. Recruiters want to see who you are.
📼Once you've polished your resume with these great hacks and applied for a position at Tackle, here comes the interview process: For most roles, the typical process includes four steps, including a conversation with the recruiting team, the hiring manager, various stakeholders of the role, as well as leadership within the organization that you'd be reporting into. For technical roles, you will also be asked to complete a technical assessment.
After You've Made Your Resume Shine With These Hacks, Prepare For Your Interview!
Michele talks about some things that can happen during an interview with Tackle. First off, dress: wear something that's comfortable, but also make sure to be putting your best foot forward. Recruiters do see this as a professional interview, so dress accordingly. Secondly, video positioning: make sure that nothing is going on behind you. As an experienced recruiter, Michele recognizes that things can happen, like kids barging into the office, or dogs barking outside. Don't let those things frazzle you! The interviewer will completely understand if something like that happens. But, definitely do your best to minimize those distractions.
🧑💼 Are you interested in joining Tackle? They have open positions! To learn more, click here.
Get to Know Michele
Michele is an experienced recruiter with a demonstrated history of working with a global high-growth Talent Acquisition team. She actively sources, screens, and manages the interview process for candidates within the Marketing, Customer Experience, Business Development, Sales, and People & Culture departments. Michele strives to create and maintain a workplace where all employees are able to utilize their skills and experience to accomplish a common company goal; she does this by ensuring that candidates brought into the work front are a good fit with the company values and feel valued and accomplished in their work. If you are interested in a career at Tackle, you can connect with Michele Webb on LinkedIn. Don't forget to mention this video!
More About Tackle
Tackle enables software companies to accelerate and operationalize the use of Cloud Marketplaces like AWS, Microsoft, Google Cloud, and Red Hat, without the need for significant engineering resources. Their platform and team come together to make it easier for their customers to build, grow, and scale their Marketplace businesses. Tackle works with leading software companies like Auth0, CrowdStrike, HashiCorp, Lacework, New Relic, VMware, and many more at every stage—from startups to enterprises. They recently raised a $100M Series C round and are backed by three of the world's top SaaS investors—Coatue, a16z, and Bessemer Venture Partners—as they continue to execute on our mission to positively transform the way that software is sold.
READ MORE AND DISCUSS
Show less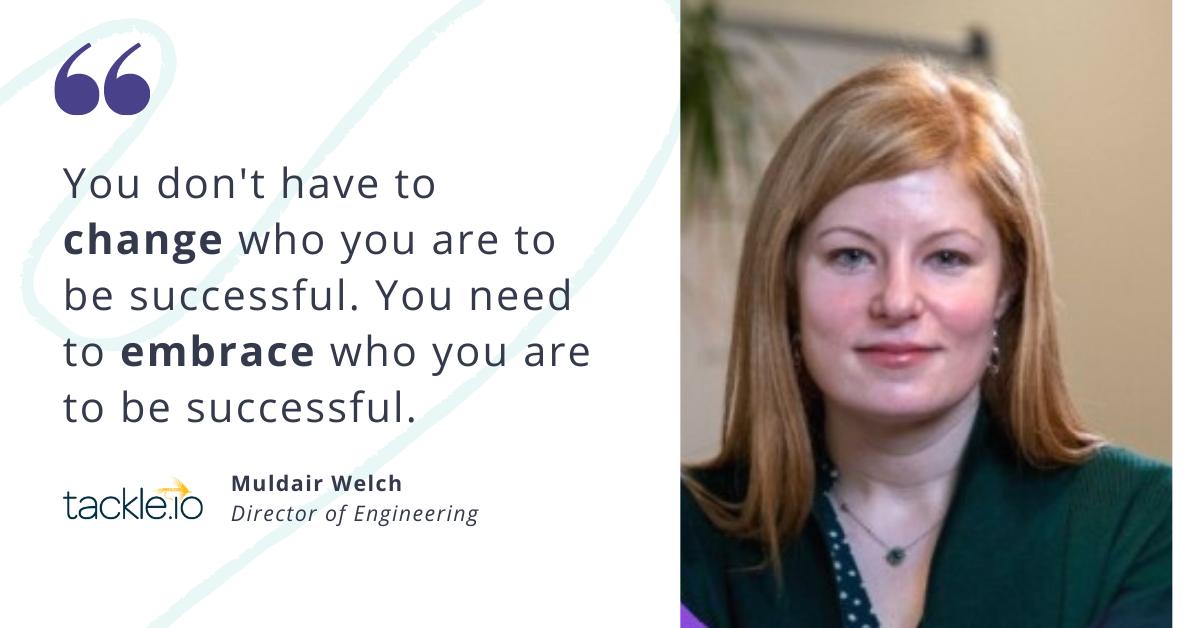 Tackle.io
Muldair Welch wasn't your average 11-year-old. Instead of playing with toys, she was writing code to check her homework.
"I had just gotten a computer and my uncle had shown me some simple QBasic programming," Muldair explains. "I was trying to do my homework and I wasn't sure if I was right, so I used the computer to write a piece of software to check my synthetic division." And it worked!
From then on, Muldair was hooked. "I thought to myself, 'I can get paid to solve puzzles on a computer all day?'" Motivated to keep learning and developing, she worked through the summers to save up for school. She started college at 16 and landed her first job in engineering at 18 while she finished up her undergraduate.
Nowadays, with just as much enthusiasm, you can catch Muldair pushing her team to keep learning and developing as the Director of Engineering at Tackle.io. We sat down with her to discuss her career journey and three pieces of advice for women in engineering who are eager to advance in their careers.
Foundational skills for career growth
Soft skills, or as Muldair prefers to call them, "foundational skills," are not typically associated with becoming a successful engineer. Yet for Muldair, along her 20+ year career journey, skills like intentionality, communication, and emotional intelligence have been key as she's moved up the career ladder.
Her first step was becoming a tech lead—a move she says was "100 percent intentional." But her move to engineering manager came with some hesitation. "I was afraid it was going to be a career block," explains Muldair. She was passionate about coding and worried that she wouldn't be able to solve problems every day like she was used to. "I thought, 'I'm not an engineer anymore. What if I'm a manager for a year and I lose all of my skills and I can never come back?'"
Although she admits these worries were irrational, she was able to push through her fears. As she immersed herself in her new role, she realized that her engineering skills were still being put to good use. "I was so shocked at how much I loved it because I'm still solving problems, but I'm solving what, to me, are so much more meaningful ones," Muldair says cheerfully.
Moving up and giving back
Through the leadership lessons and unique experiences she gained as an engineering manager, Muldair was eager to take on another challenge. "If there's an opportunity, I'm going to take it, I'm going to try it, and I'm going to learn from it," explains Muldair. "I knew that I wanted to take the lessons that I had learned and share them with other managers and help them avoid the pitfalls that I had fallen into."
Enter Tackle.
Muldair joined Tackle last year as an Engineering Director. She was attracted to the technology and intrigued by the company culture and leadership philosophy. "I saw a company that had a really good long-term vision with empathetic, intentional, and focused engineering," says Muldair when talking about her first impressions of the company. She describes Tackle as a software company that, "supports not just the technology and the clients, but supports the people that make the business possible."
As a director, Muldair collaborates with other teams to align on projects, creates sustainable growth strategies, and focuses on optimizing processes. She also meets with managers on her team to assure they're supported in their daily tasks, as well as long-term projects and career development. "When I'm meeting with [my team], we're talking about career growth, we're talking about leadership evolution, dealing with things that are on their mind," Muldair explains.
And she still gets to do some of the engineering work that she's known and loved since she was a child. "I always ask how I can help my team be successful in the endeavors that they're working on at that moment, so I do a lot of hands-on support of engineering managers."
Leading by example
With her intention of supporting other managers, Muldair has learned that, unlike technology, working with people doesn't always render consistent results.
"When it comes to people, you give them tools, you partner with them, you let them go and you see if they're successful–and sometimes they're not. Sometimes they fail and you have to help them deal with that and make it into a learning opportunity," she explains.
Along with supporting her managers through setbacks, she has learned that leading by example is equally as important. She uses time management as an example of this. "If I want someone else to grow and eventually become a director, I cannot establish this role as an 80 hour a week role where you're always on and you never disconnect." She understands that the time she puts into her work is just as important as turning off her laptop at the end of the day or taking time off. "It's a challenging thing for me sometimes, but it's also been hugely impactful to my quality of life," she shares. "It's really important to create an environment where people are successful when they're working their best hours for their best life," Muldair points out.
Three pieces of advice for ambitious engineers
In true Muldair fashion of supporting others, she offers advice for fellow women engineers — especially those who don't have many role models at their companies.
Don't push yourself into a mold that doesn't fit you. "When I first joined leadership, there was no one that shared my demographics. There was no one that acted the way that I acted. No quirky, odd, humorous, empathetic people in positions of leadership," Muldair explains. "I thought if I want to be a leader, I have to be cold, I have to be perfect, I have to be super professional and not connect with anyone. And this was a lie. Success will come when you embrace who you are."
Don't be afraid to show off your work. "Very often, women will not champion themselves, due to societal reasons or the fact that they don't want to appear boastful," Muldair shares. Showing off projects you are working on, achievements, and demos can be the factor that makes future employers want to work with you.
Network and collaborate. Something as simple as joining a niche engineering Slack group can open opportunities for support and collaboration. "You will find people who want to be supportive," Muldair advises. These early collaborations can set the foundation for working in larger teams.
"Failure is not a bad thing, it's a consequence of growth and it's a good thing," Muldair encourages. "You don't have to change who you are to be successful. You need to embrace who you are to be successful."
If you're looking to work in a company whose success is a direct factor of how they invest in their employees, check out the job opportunities at Tackle.io.
READ MORE AND DISCUSS
Show less
Loading...