GET EMAIL UPDATES FROM POWERTOFLY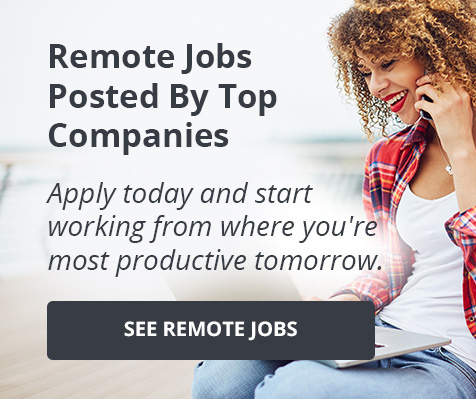 Forward
At Forward, their mission is to combine the best aspects of physicians – judgment, empathy, and experience – with the best aspects of technology – scalability, cost, and convenience – to bring higher quality, lower cost healthcare to as many people as possible.
The very best part? They're hiring right now!
If you're interested in joining the team at Forward, click here to see all of their available opportunities, and don't forget to press "Follow"!
READ MORE AND DISCUSS
Show less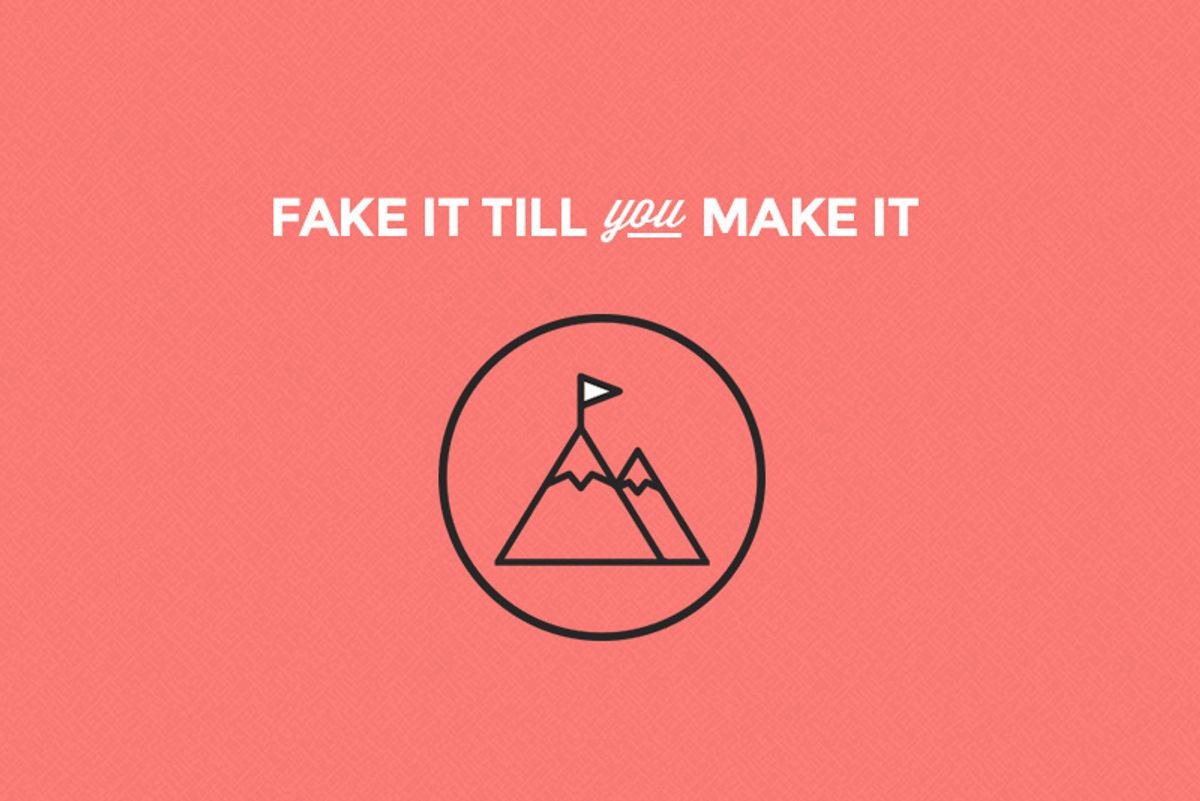 Career and Interview Tips
A version of this article previously appeared on Skillcrush, an online education program for creatives, thinkers, and makers that gives total tech newbies the tools to make major career changes.
Scott Morris, Skillcrush
One minute you're chatting confidently with your coworkers—throwing around jargon left and right—and the next, you feel like you've jumped into the deep end of the proverbial pool. Sheer panic. But don't worry: It's okay not to know everything, and—in fact—knowing what you don't know is crucial for success in a tech career. So how can you navigate conversations about new tech or industry changes without sounding like you're totally out of the loop—or pulling our editor's move of hearing unfamiliar terms in meetings and frantically googling them on her phone?
I asked four tech professionals to weigh in on faking it, making it, and how the two relate in a professional setting—and right from the jump, one thing's clear: whether you're a bootstrapping entrepreneur or working your way up the ranks of an established company, everyone has moments at work when they feel like they're totally pulling things out of thin air. But it turns out, faking it can be traded in for making it with just a little bit of outlook adjustment.
Mark Cook, Director of Marketing at ApplinSkinner, says that some of the most skilled tech professionals he knows still suffer from imposter syndrome. Since tech has so many specialized fields, even if you're an expert in one field (or many), it's a given that you'll find yourself out of your depth at some point, he says. A UX designer doesn't necessarily know the same things a front end developer does, and vice versa.
Cook's advice in these situations is to be proactive and treat them as learning experiences. If you find yourself in a meeting or conversation that's straying into unknown territory, be up front about it and move into question mode. "[People are talking to you] for a reason," says Cook. "You're there…because you [do] know about something." No matter how out of place or unprepared you might feel, you're still being asked to participate in that meeting,. interview, or chat. Lean on your own expertise in the conversation.
One way in is to ask about the comparative pros and cons between the new tech being discussed and the tech you're already comfortable with. That way, you can get information about what they're talking about while still contributing your own knowledge. It's also a way to be honest—asking questions instead of pretending to be an expert avoids the risk of coming off as disingenuous, Cook says.
Ask away, and remember that engaging in these conversations is also a career win. You'll always be learning, especially in the tech industry, and the sooner you become comfortable with that, the more successful you'll be.
Lest you think that this feeling only happens to beginners, Ellen Butler, UX Director at Happy Boards, says that sometimes it's career success itself—and the changes that come with it—that brings on those creeping feelings of faking it. At a past job, Butler found herself moving from Account Manager to a member of the UX team overnight. Because of her sudden position change and feelings of insecurity in a new field, Butler says she found client interactions particularly terrifying—it's hard enough to be in a new environment and feeling like an imposter among colleagues, but those feeling are more magnified and intimidating when you're expected to deliver for a customer.
Eventually, Butler says, being open with her team and trusting them allowed her to realize it was okay to tell clients, "Let me check on that and get back to you." Butler credits her co-workers with accommodating her newness to the field, and says they had no problem jumping in to answer questions until she got her bearings. In fact, Butler says it might be better to skip the notion of faking it all together. "Honesty is refreshing," says Butler. "So many of us in the tech world are entering from all kinds of different places: different backgrounds, different career paths, different educations. To assume we all know the same things is frustrating and short-sighted. The only way we'll all learn from our communal knowledge is by being unafraid to ask questions."
If asking questions doesn't feel like the right fit for you, you can try the approach that Jan Bednar, CEO of ShipMonk, takes. He does what you might call a strategic form of winging it. Take, for example, a moment when a client asked about his company's ability to integrate with the client's platform. "I knew that we could integrate with the platform, but I honestly didn't understand the mechanism that allowed [us to do it]." At a loss, Bednar started drawing a diagram on a whiteboard to walk his client through the process, and by the end, Bednar was able to articulate the mystery integration mechanism. The lesson here, says Bednar, is to recognize and accept those moments when you don't know something, and allow the things you do know to help fill in the gaps. Your path to understanding may be half-built, but it's also all you need.
Fake? You're as real as it gets, so if you're ready to put your hopefully newfound confidence to the test and hit the job search, download our free Ultimate Guide to the Perfect Resume. Just remember: Take a breath, don't be afraid to be honest, ask questions, or rely on the knowledge you already have to wing it.
READ MORE AND DISCUSS
Show less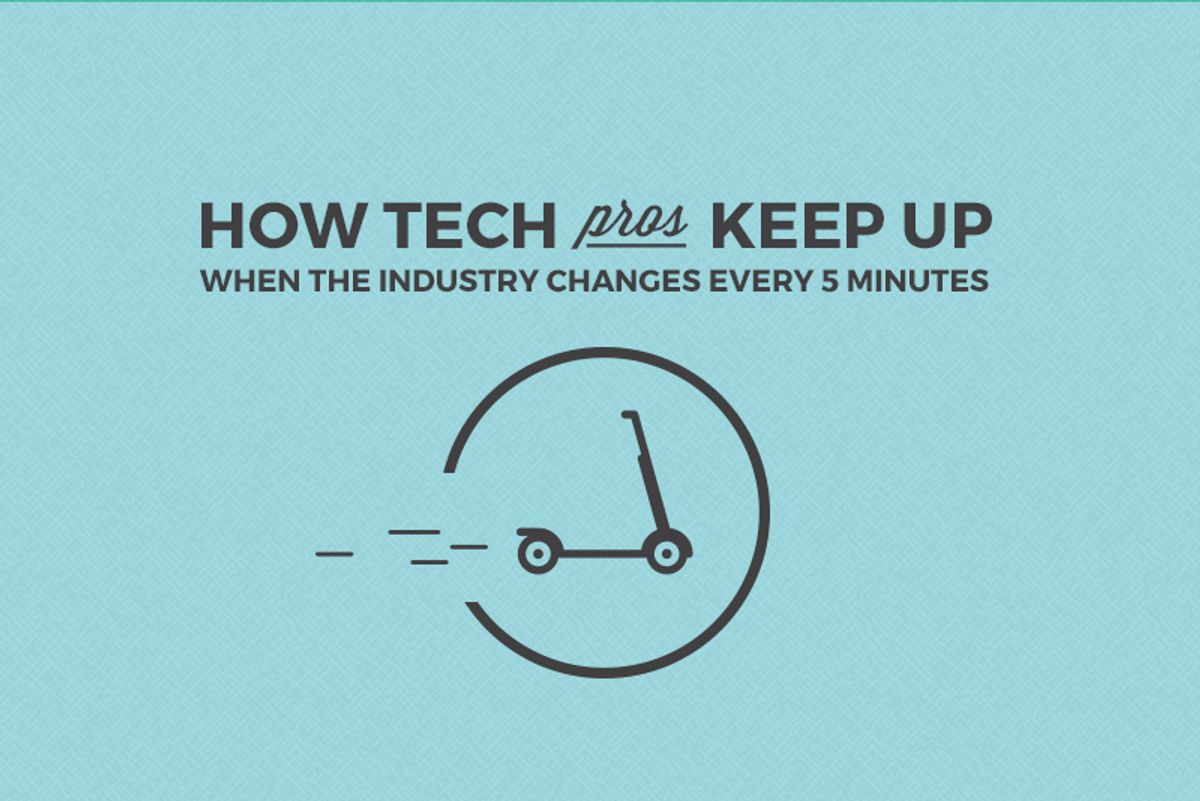 Career and Interview Tips
A version of this article previously appeared on Skillcrush, an online education program for creatives, thinkers, and makers that gives total tech newbies the tools to make major career changes.
Cameron Chapman, Skillcrush
Sometimes it seems like new technologies, techniques, and standards get released on an almost daily basis, making the tech industry dizzyingly fast.
For someone new to the industry, keeping up can feel puzzling—or nearly impossible. How do you stay on top of changes that happen all the time, especially ones that can directly impact the work you do and what your boss (or clients) expect?
I talked to web designers, developers, and other techies to find out what they do to keep up. The answers are more straightforward than you might expect.
Follow Influencers on Social Media
Almost everyone I spoke to said one of the best ways to stay on top of innovations in the industry is by following influencers on social media. Setting up custom lists (or following lists others create) on Twitter can take a lot of the legwork out of finding the news you need to keep up with.
Watching what influencers are doing in their spare time is a great way to know what might be coming next. "Things like 'Initial Coin Offerings' and AI seem like moonshots, but the smartest people I know work on those subjects in their free time. That makes me confident that some big businesses will emerge in these areas," says Philip Thomas, co-founder and engineer at Moonlight. Pay attention to what gets developers excited and you'll know where to look for the next big thing.
If you're looking for whom to follow on Twitter, try Skillcrush's Women in Tech list—our favorite influencers and experts.
Spend Time Reading Every Day
"Read. Read. Read." That's how Kate Chan, a full-stack marketer at BlueFox.io, stays up to date on changes in the industry. She sets aside time daily to read about tech, insuring she won't fall behind. James McCarthy, CEO and lead web developer at Boldtask, is specifically a fan of A List Apart for long-form articles that keep him up to date. We also love:
Staying in the Know Doesn't Mean Falling for Trends
Nathan Kontny, CEO of Highrise (a spin-off of the wildly popular Basecamp project management software), warns against the appeal of quick fads at the expense of staying grounded. "I think keeping up with changes is far overrated. We're better served by studying history and how companies that are decades old, if not older, have made customers happy. It's a fool's game to keep chasing fads and responding with knee-jerk reactions."
It's a fair point and one that's well evidenced. He uses Google Wave as one such example, touted as a revolutionary product that would change how we all work together. Instead, Wave was dead within three years due to lack of interest despite all the hype of its release.
The moral here: Focusing on user needs can allow you to create successful projects without falling for fads.
Skip the Four-Year Degree
As Erik Zuuring, a 10X programmer who dropped out of college, told Mashable, "One of the biggest issues with post-secondary education in the technology industry is its ability to keep a curriculum current and at the cusp of technology…Just in the web-sphere, trends and technology change on a monthly basis."
We see this proven over and over again at Skillcrush: You don't need a four-year degree to find success. What you learn in your first semester might be obsolete by graduation day. Learning in a faster-paced environment sets you up to actually start working in the tech industry in way less than a quarter of the time it would take to get a degree.
Want to get started in the tech industry right away? Check out the Ultimate Guide to Coding for Beginners for a step-by-step plan to launch your tech career.
READ MORE AND DISCUSS
Show less
Loading...