GET EMAIL UPDATES FROM POWERTOFLY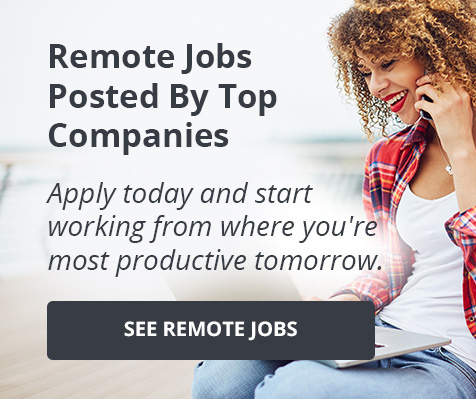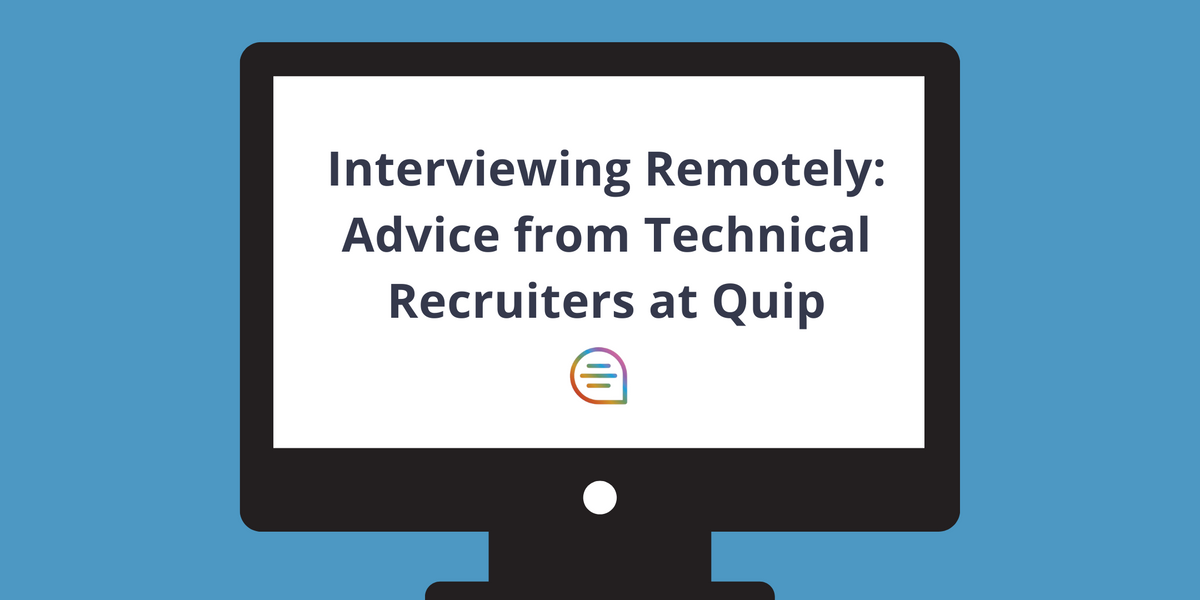 Quip
The pandemic's impact on collaborative software company Quip's technical recruiting team started slowly.
First, their roster of engineering interviewers started to dwindle as rising concerns about COVID-19 led some of them to start working from home in January and February, remembers technical recruiter Grace Kim. "We needed to rethink how we conducted our onsite interviews with a limited pool," she says.
Then, things came to a head in early March, when Quip—and their parent company Salesforce—went fully remote.
Alan Leung, Quip's senior manager of technical recruiting, was in Tahoe with his wife and two friends when he got the news. "We talked through our emotions, how anxious we felt, what we needed to stock up on, and what it would mean to be and feel safe this year," he says. "And then the recruiting team immediately communicated the news to our active candidates."
The rush to move onsite interviews online, cancel travel confirmations, and keep candidates informed throughout the process was a scramble, and Alan credits Quip's dedicated recruiting coordinator for finding a way of making it all happen.
But that was just the start of the challenges and adaptations Alan's team was headed towards.
During these last nine months, Quip's technical recruiting team has had to redesign itself and its workflows over and over again. First, they created an all-remote hiring process. Then, when hiring slowed down as the business determined its changing headcount needs, they figured out how to pause that process while preserving candidate experience. Later, they ramped hiring back up again to meet growing demand. And through it all, they invested in bettering their processes, like by cleaning up their data and stepping up their blog game, and in deepening their bench of skills, going so far as to lend their team members out to other business-critical projects.
Along the way, their recruiting team has figured out how to be an agile, adaptable team—and also gotten an up-close, expert look at what the future of virtual technical recruiting looks like. Here, we've gathered their top tips for technical interviewees so that candidates can benefit from their hard-earned knowledge.
9 tips from Quip's technical recruiters on having a good remote technical interview
1. Use your network. If you're eyeing a role at a specific company, go ahead and see if you know anyone who can help make an introduction, says Quip technical recruiter Stephen Gavney. "Referrals can be such a powerful tool, so if you know someone who knows someone at a company you are interested in...use them!"
Tooba Qadri, a Quip senior technical recruiter, agrees, and notes that it's a good idea to be networking even if your dream company doesn't have any open roles listed. "Even if a company you like isn't hiring right now, still connect with people there—you never know when a position might open up," she says.
2. Ask for what you need. Tooba highlighted the fact that Quip is offering to set up interviews over several days so that candidates can more easily balance the load (and the resultant Zoom fatigue). "We understand that lots of people currently have other things going on in their personal lives so it's hard for them to do back-to-back interviewing," she says, noting that the scheduling process is a good way to see if the company has a flexible approach to work-life balance.
3. Triple-check your setup. Alan suggests making sure your computer is fully updated several days before the interview so that no last-minute software updates derail you on the day of. He also recommends an external camera if you have one, since they provide better image quality, and plugged-in headphones versus wireless ones in case your connection drops.
4. Look sharp. "Even though we might not be in the office, still dress like you are going into the interview," reminds Tooba. Check with your recruiter ahead of time if the company has a specific dress code, and even if they say they're casual, don't show up in a t-shirt. Aim for a nice sweater or blouse instead.
5. Consider your body language. "There's no more firm handshake!" says Tooba. Instead, she recommends conveying confidence through direct eye contact.
6. Continue to ask questions. "Especially about how remote life has been for the people at the company," suggests Tooba. "Seeing what other people have to say will give you an idea into the company life and it will show that you are curious to learn more. Remember, even if we are interviewing you for the role, you should also be interviewing us to make sure it's a good fit!"
Alan notes that interviewees should be especially prepared for virtual interviews and come with meaningful questions. "Show that you have a thorough understanding of the company's mission, values, and culture and be prepared to speak to how your experience aligns with the team's goals," he says.
7. Take advantage of your surroundings. "While virtual interviewing does have its limitations, it also has its unique opportunities!" says Grace. "Feel free to pepper your screen with notes or prompts that you can refer to occasionally when you need a quick reminder, as long as it doesn't look like you're reading verbatim." If you're using your phone as a notes screen or timer, though, make sure you have the sound off, notes Alan.
8. Say thank you. Many candidates will send a thank-you email or card to their interviewers. But Stephen says that a note to your recruiter would be welcome, too! "I have gotten a couple of thank yous and it is really reassuring that the candidate knows and is appreciative of all your work behind the scenes," he says. Grace thinks you can get even more creative: "One of my coworkers received a cute cat photo from a candidate. I will never say no to receiving cute animal pics!"
9. Stay resilient. It's a tough job market, and not every interview will go well. Alan notes how important it is to find a way through it: "During these times, it's even easier to feel discouraged and unmotivated when you get a decline or a reject. Find ways that you can practice staying resilient, whether it be working out, meditating, crafting, or gratitude journaling. Figure out what works for you and stay true towards that purpose."
If you're interested in putting your technical interviewing skills to the test at Quip, check out their open roles and learn more about their company values here.
READ MORE AND DISCUSS
Show less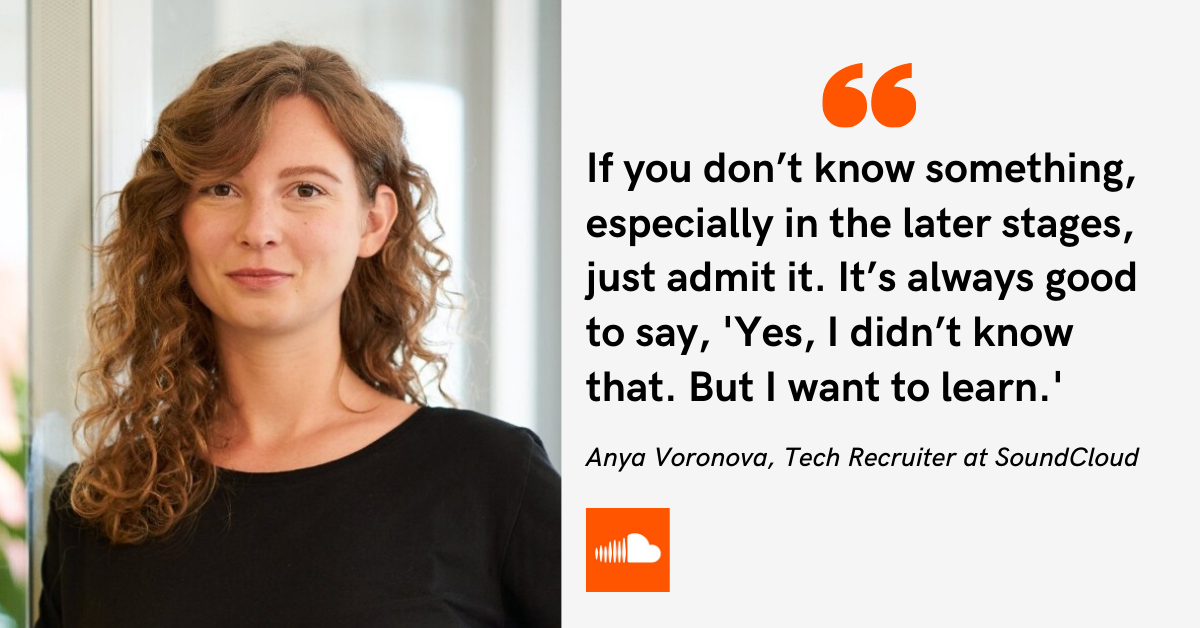 SoundCloud Inc.
Recruiter Spotlight with Anya Voronova
Originally from the Ukraine, Anya Voronova was looking to pick up a new language when she moved to Berlin. Instead, she ended up taking on a much bigger challenge: recruiting for SoundCloud, a company that helps millions of people connect with artists using dozens of languages across the Internet.
Anya has always been drawn to the music world, which was among the reasons she found Berlin so appealing. Years prior to working for SoundCloud, Anya used the platform to find new musicians and DJs. As an employee and tech recruiter, she's discovered that SoundCloud is more than just a great company that discovers musical talent. The cultural experiences and the high-level talent that she's surrounded by on a daily basis at SoundCloud ensure that she never gets bored.
We recently sat down with Anya to learn more about her experiences with SoundCloud, her insights into how to stand out in the application process, and what SoundCloud is doing to promote a more diverse and inclusive workplace. Read on to learn more!
What's it like working for SoundCloud?
It's a great atmosphere. In Berlin, we have a recording studio in the office and a DJ booth in our cafe. On Friday mornings anybody can perform and spin some records.
And now, while working from home, we've learned how to preserve that sense of community virtually—we have lots of Slack channels where people can share music to try to keep their spirits up.
High-level, what qualities are you looking for in candidates?
It derives from our values. We're looking for candidates who are open to feedback and open-minded in general, with a willingness to learn and to grow. We also try to find people who are not ego-driven, and people that just have positive attitudes.
What is one thing you love to see on a resume?
I really love when the applicant mentions specifically what they're looking for somewhere in the header. I also really like a concise CV. One to two pages is great.
Have any candidates pleasantly surprised you in the last few weeks by doing something particularly creative? What made them stand out?
One person recently designed the whole layout of their resume with SoundCloud branding. I liked that. I always like to check out their SoundCloud profiles, too. Sometimes people include them in their applications and you can check out their playlists, or you'll discover they're actually a DJ!
If you could give one piece of advice to someone getting ready for an interview with you, what would it be?
It's probably cliche, but just be yourself. If you don't know something, especially in the later stages, just admit it. It's always good to say, "Yes, I didn't know that. But I want to learn."
What does SoundCloud do to help women and minorities thrive at work?
At SoundCloud, I really appreciate the diversity and inclusion. It's not just something that HR does; it's a business imperative. It comes from the executives. We have an anonymous survey every year. Based on the results, we design a diversity, equity, and inclusion action plan. And leadership commits to taking those actions.
Last time we did the survey we recognized that we needed additional support, so we started hiring D&I consultants as well. Now there are lots of mentorship and coaching programs. Every leader committed to personally mentoring two people from marginalized groups. The company also provides mental health resources, unconscious bias training, and allyship and ally skills training.
One example of this work in action that I find really cool is that you can go on our internal system and add your pronouns to your profile to tell others how you want to be addressed. We also practice using gender neutral pronouns as a team.
I think it's basically just trying to create inclusive environments where everybody can thrive…. We're always trying to get feedback to grow and improve.
Obviously 2020 has been a challenging year on multiple fronts. What's one thing SoundCloud has done in the face of those challenges that's made you particularly proud to work there?
SoundCloud established a community fund with one million in initial investments that they're going to spend on causes like advancing social justice and supporting mental health. We've asked for feedback from employees, so anyone can nominate an organization that they think donations should go towards.
Before we go, tell me a little bit about yourself outside of work. What do you enjoy doing?
I play lots of sports, especially during quarantine. I'm also vegan, and I'm into all kinds of vegan cooking, and discovering vegan restaurants. I'm also a foster mama for cats. While these animals look for a forever home, I foster them. And of course, I live in Berlin, so I also like dancing and partying!
To learn more about SoundCloud and their open roles, check out their company page on the PowerToFly website -- they're hiring!
READ MORE AND DISCUSS
Show less
Loading...