GET EMAIL UPDATES FROM POWERTOFLY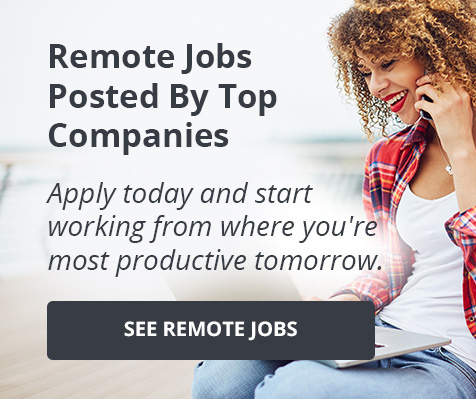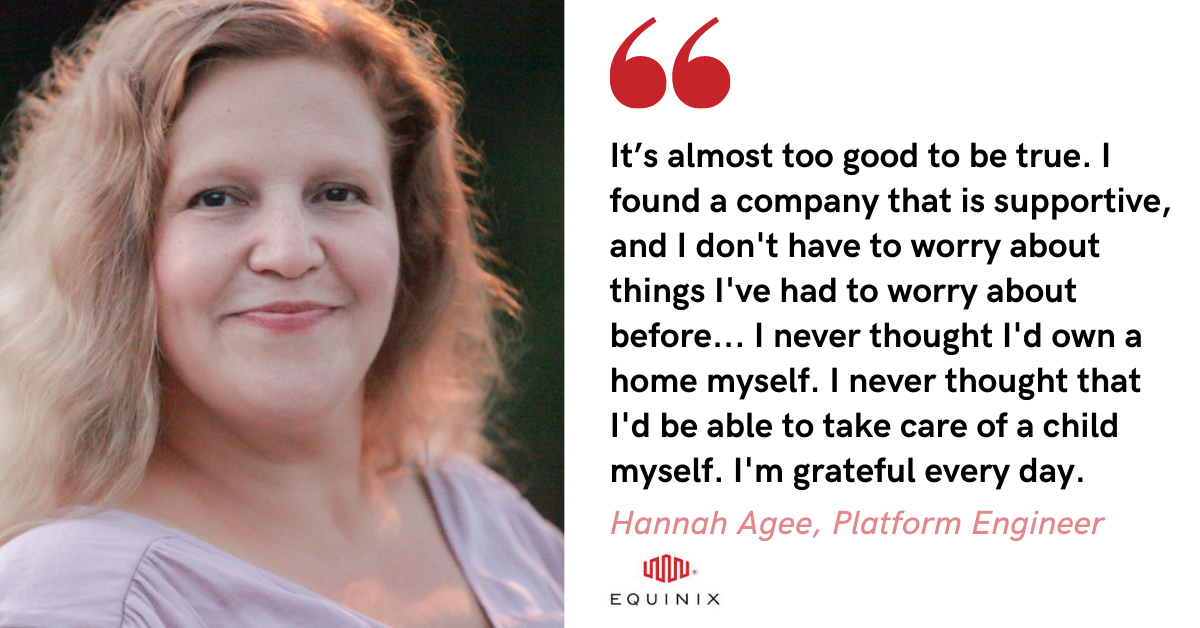 Career Growth and Advice
Insight From Equinix's Hannah Agee
Hannah Agee's life looks a lot different than it did a decade ago.
Sure, that's true for most of us, but it's especially true for Hannah. She went from obtaining her GED, a factory job, and an abusive situation to having two two-year degrees, a career she loves at a company that looks out for her (hi Equinix, we'll come back to you in a bit!), and enough resources to successfully single-parent her seven-year-old son.
We sat down with Hannah, who's currently a platform operations engineer at digital infrastructure company Equinix, to hear how she found her role—and a company that allows her to put her family first, what she's looking forward to in her career now that she's completely redesigned it, and what advice she has for other people looking to do the same.
Recognizing What She's Worth
In 2006, Hannah found herself unemployed from her job at a local factory when it closed. She saw how dangerous this type of job could be when an individual at a different location was seriously injured. "I still have pain in my fingers, wrists, and hands from the repetitive movements. It was hard work that came with no sense of personal accomplishment," remembers Hannah.
She wanted to try a new field—one where she would have the opportunity to solve problems and feel that sense of accomplishment. "I knew if I didn't take the opportunity in front of me to focus on myself I wouldn't do it," says Hannah. "I was 30 years old, and I had never taken the opportunity to go and do something for myself."
A local two-year degree program was the right mix of practical instruction and dedicated mentoring, with instructors who really cared about helping Hannah and other adult learners successfully transition into a new technical field. Later on she attempted to continue her education at a university, but didn't find it to be a nurturing environment that fostered learning.
"The instructors at the community college really wanted us to succeed. They were invested," says Hannah.
One of her professors in her networking and information systems security courses recommended Hannah for an IT internship in a local school system. She loved the work, but it was still a physically demanding job that required her to carry hardware and travel frequently.
She applied for a customer support role at a tech company—a role she never thought she'd land. She got it, though, and the first few years were wonderful. But when Hannah had a baby, and was trying to schedule in pump breaks alongside her work, she realized that while the demands on her physical health were less, the demands on her mental health had ballooned.
"It was disheartening to realize the company wasn't as accommodating as I expected," says Hannah. "It had gotten to the point where I was having anxiety around taking the time to both pump and be available for my child when they needed me. This should not be considered a normal experience. I should feel supported no matter if I'm dealing with postpartum depression, the stress of my child going to daycare for the first time, or needing any other type of support."
Holding Higher Standards
Hannah left that job for her mental health, but she didn't immediately find a better solution. She had trouble finding companies that provided work from home opportunities, and even came across a situation where a manager expressed that they expected her to have her camera on during any of the video meetings. She talked to HR, Hannah adds, but to her knowledge, they did not investigate the situation.
When the pandemic hit, Hannah went on FFCRA leave from that job in order to take care of her son, who has epilepsy and whose asthma put him at high risk for infection. When it came time to interview again, she found she had a new attitude: while she was nervous, and definitely wanted a job, she refused to work somewhere she felt unsafe.
Her first conversation with Equinix's hiring manager was a game changer.
"Sidney changed my world. She made me feel safe and like I had a say, even through the interviews," says Hannah. "She was super accommodating. My son was literally jumping on me through the interview because he was home and she said folks were impressed. 'You know, if you can answer the things you did with a kid jumping all over you…!' I felt empowered and supported."
It also helped that the role Hannah was interviewing for at Equinix offered a new kind of challenge. After years and years in technical support, she realized she wanted to be less customer-facing. Now, as a platform engineer, she troubleshoots hardware, assists with site turn ups, and at times works with less time-sensitive issues.
"If I'm working on a problem or task I can still go prepare and have dinner with my child," says Hannah, who appreciates the community she's found not just with her manager and direct team but also with other Equinix employees.
"It feels too good to be true. I found a company that is supportive, and I don't have to worry about things I've had to worry about before," she says. "I couldn't imagine being able to spend the amount of quality time with my son now possible because of the support that Equinix provides. I'm grateful every day."
"Equinix stands behind their employees and truly exhibits what it means to be family friendly and employee centric," she adds.
How to Advocate for Yourself & What You Deserve at Work
Having successfully navigated a way out of jobs and relationships—personal and professional—that weren't working for her, Hannah has some hard-earned advice to pass on to anyone else looking to change their situation:
A four-year degree isn't the only option. "I've been in this field for 12 years now. People should not be afraid to go to a technical or community college. You can get a great job with a two year degree."
"You are the only person that can change your situation. You can't change other people. But just because something has been done a certain way forever doesn't mean it can't change. If you have something you need and you have an idea to make it happen, take it to the right people and say, 'Hey, here's an idea that would solve my problem.'" (For example, Hannah asked a previous employer if she could work from home half the day after picking up her son. No formal work-from-home program existed, but she was able to get approval.)
Your job can be a means to an end. "There's nothing wrong with going to a successful company that you may not see yourself retiring from, but does get you the network and gets you a paycheck. Don't feel stuck there. You don't have to feel as though, 'Well, I should be grateful to be here.' You can stay and get the experience, the connections, and then move on when you're ready."
Catch burnout early. "Life is too short to be stuck in a place that you're not happy at. Now I know what to look for in regards to burnout. If you're dreading work, literally in the pit of your stomach, every day, it's time to find something else."
Meditate. Hannah swears by Transcendental Meditation. "TM helps me relax and feel more positive. I've been meditating for almost 12 years. The timing was perfect because shortly after I learned in 2010 I relocated away from my hometown and family which could have been very stressful. While I paid for the instruction initially I can meditate every day for the rest of my life and receive support whenever I need it."
Don't sell yourself short. "There's always going to be somebody who knows more about the subject matter than you. That does not mean you are unqualified for the position. Take the chance and when you run across those folks with whom you can learn from, take that opportunity to grow your knowledge."
Interested in joining a company where you can put yourself and your family first? Check out Equinix's open roles!
READ MORE AND DISCUSS
Show less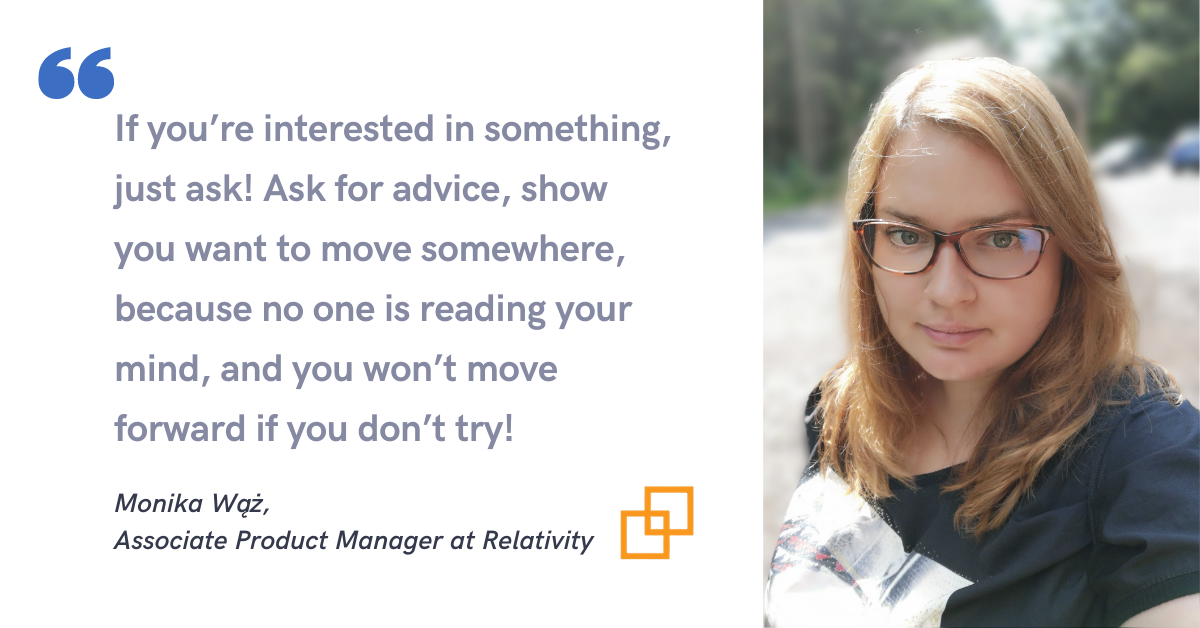 Resources for Women
There's a phrase in her native Polish that Monika Wąż reminds herself of each day: "If you don't learn, you're just going backward."
The Associate Product Manager at legal and compliance technology company Relativity says she would believe in a growth-centered approach to work even if she wasn't in the tech field, but that it's especially important because she is.
"Technology is changing all the time; there are more and more people learning new skills each day, and you need to keep up," she says.
Yes, that can sound overwhelming. But if you're Monika, it also sounds incredibly motivating.
"Continuing to learn at work is important to me because my job is something I really enjoy and I don't feel that my work is just about finishing tasks in a day," she says. "I don't want to spend eight, nine hours a day doing something I don't like and that's never been the case while I've worked at Relativity."
We sat down with Monika to hear more about how she built her confidence, how that confidence helped her find her dream career, and how she's paying it forward now.
Getting comfortable being uncomfortable
Monika's first role at Relativity was in technical support.
She'd come into tech indirectly, having completed a master's in economics and working in a few administrative roles where she interfaced with tech companies when licensing their software. Early in her career, she says she was always the "Go-to IT person who helped with Outlook or Word" and that it was those earlier experiences that showed her she was really interested in how technology worked.
So, after doing some postgrad studies in SQL and database management, she took a job in technical support at Relativity because she thought they had the best product and culture of all the companies that had extended offers to her. "I felt that they really cared, I wasn't just another resume to them," she says. "Even in the interview, they took the time to show me how they worked, and I quickly felt like part of the company."
But even though she was qualified for the role, Monika initially struggled with her confidence.
"When I joined, I had a lot of doubts about myself, my knowledge, if I was the right person," she says. "At first, I wasn't confident taking customer calls. I wanted to provide the best support possible to clients, but I worried that I may not have all the right answers. Thanks to my awesome manager back then, I realized that I had time and space to learn, and that Relativity would support me."
That support included English lessons and trips to Relativity's Chicago headquarters for in-depth training and teambuilding. "At the beginning, it was really hard for me to speak up, especially in bigger meetings when you have a lot of people, mostly who were native English speakers," she says.
That changed as she started taking the language lessons and saw how her coworkers embraced everything she brought to the table. She focused on one thing at a time, and eventually grew comfortable taking phone calls with customers and talking in big meetings.
"At Relativity, I found that if they didn't understand something I said, they always asked and tried to make sure that I felt comfortable, that I know my English is not a problem here, that we are all here to serve our clients and try to do everything to support everyone," says Monika.
"No one is reading your mind"
A couple years into her Relativity career, Monika had a realization.
Her favorite part of her support role was problem-solving. But all of the fixes she was creating for clients were short-term – she wanted to create a lasting impact and solve longer-term problems.
"I started thinking, 'How can we continue to make improvements to make the product the best it can be?'" she says.
Initially, she felt a bit of fear come back when thinking about taking on a new challenge, but Monika squashed it and decided to talk to her manager and to Relativity's product team about roles in product. She also took online courses on product management.
A few months after she'd started talking to the product team—with the approval of her then-manager, who fully supported her transition to a new role—Monika interviewed for a job as an Associate Product Manager, which she got. "They saw potential in me, and they saw that my knowledge from support about the product would be really useful on the product team as well," she says.
Now, Monika speaks with customers regularly, but on more strategic product improvements to make Relativity's offerings more intuitive, more relevant and more helpful to their needs.
"I'm an example of how Relativity gives you space to grow in your career," reflects Monika, who hopes other people will follow suit. "If you're interested in something, just ask! Ask for advice, show you want to move somewhere, because no one is reading your mind, and you won't move forward if you don't try!"
One golden rule for your career
Monika's advice for people considering big career changes is fairly straightforward: don't be afraid to ask, don't be afraid to try, and make sure you listen, not just talk, as you navigate your different options.
All of that boils down to her own golden rule: be the type of coworker that you'd like to have.
Whether that means answering questions from a coworker who's curious about your team, volunteering on a new project to help someone out, or giving advice to new hires, Monika stresses how a good company culture that supports growth and learning requires each individual to make time to help others, even when they don't feel like experts themselves.
And solidifying her own confidence in her work has allowed Monika to reach out to help others, too, whether in support, product, or other parts of the company.
"In general, people want to help," she says. "Sometimes people think they can be mentors to others only when they know everything. But there's always someone with less experience, someone younger, someone newer on the job, and we can teach them how to do their job better or give them advice! Pay forward your knowledge to help others succeed and achieve their career goals."
If you're ready to do that at Relativity, check out their open roles!
READ MORE AND DISCUSS
Show less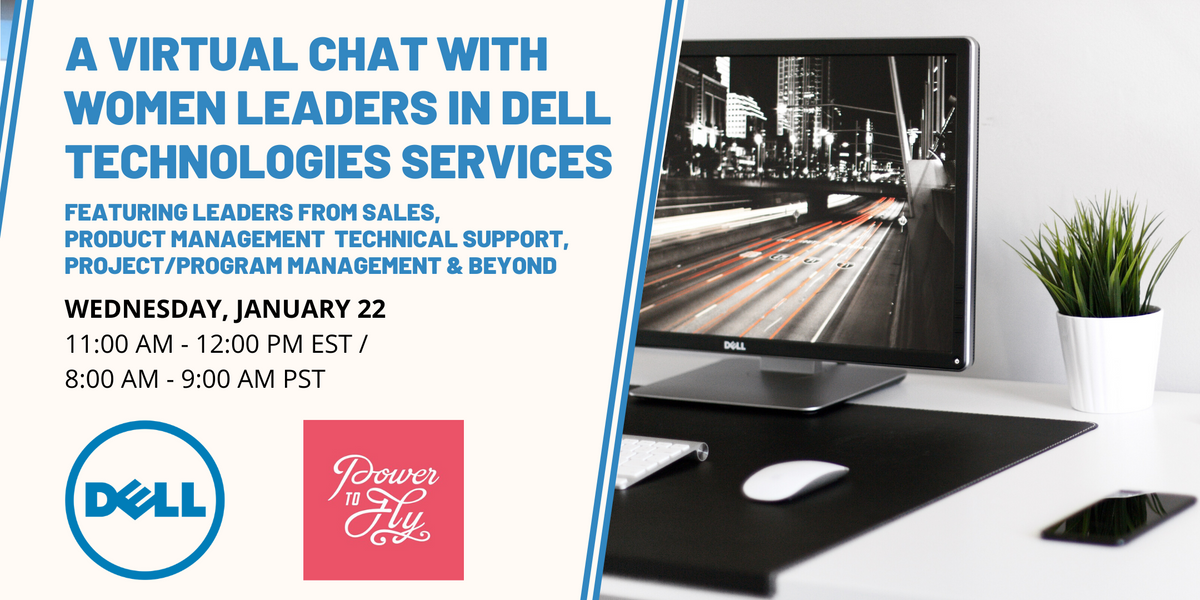 Dell Technologies
Start your 2020 (and Q1!) off right by joining PowerToFly's virtual seminar with some of Dell Technologies Services team's women leaders in sales, product management, technical support, project/program management and more. Our diverse panel will discuss their work at Dell, dive deeper into current industry trends, share their career journeys and, most of all, answer your questions!
The invite-only virtual seminar will take place on Wednesday, January 22nd from 11:00 AM to 12:00 PM EST (8:00 AM to 9:00 AM PST). We'll send you a GoToWebinar link after you register.
Speakers from Dell Technologies Services will include:
PowerToFly is working closely with Dell Services to put together an accomplished panel of industry leaders across multiple fields who are looking forward to sharing their current projects and personal stories with you. Best of all, we'll be dedicating the entire second half of the chat to answering audience questions so please feel free to send us a question or topic when you register or you can ask your questions live on 1/22.
While you don't need to be looking for new opportunities in order to attend this virtual seminar, Dell Technologies Services team is hiring for a large number of roles. Their competitive benefits include their 'Women in Action' Employee Resource Group that focuses on empowering women globally, dependent care backup, caregiver support, adoption assistance and remote opportunities.
About Dell Technologies: Dell Technologies is a collective of customer-obsessed, industry-leading visionaries. At Dell Technologies's core is a commitment to diversity, sustainability and our communities. Dell Technologies believes that technology is essential for driving human progress, and they're committed to providing that technology to people and organizations everywhere, so they can transform the way they work and live.
About PowerToFly's events:
All RSVP'd attendees are welcome, regardless of race, color, religion, national origin, gender identity, pregnancy, physical or mental disability, or age. If you require assistance to fully participate in this event, please email hi@powertofly.com, and we will contact you to discuss your specific needs.
READ MORE AND DISCUSS
Show less
Loading...