GET EMAIL UPDATES FROM POWERTOFLY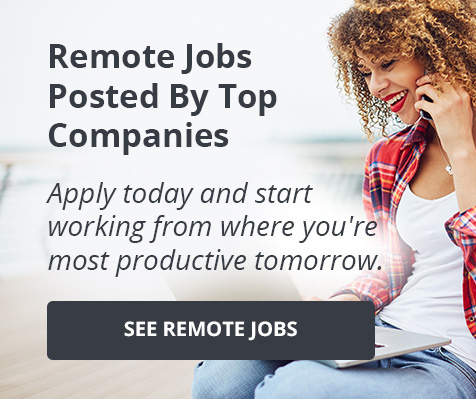 Companies That Care
What advice would you give other women interested in working remotely?
This is no job for procrastinators or idlers. You need to be able to keep track of your work and actually do it, but also know when to stop. It can become lonely, so keep up hobbies and try to take advantage every benefit of working remotely.
Do you have any strategies for staying efficient outside of an office? What tools do you use?
I try to keep my work completely separated from my private life on my PC so that I won't get distracted. I try to keep a steady rhythm of when I work and during that time work is my number one priority. Multitasking is a fine thing, but not if it reduces your productivity. At the start of the day, I get everything ready that I'll need while working (like drinks, snacks), and then I don't stop working until I reached my goal.
How would you describe a typical work day?
My typical workday starts early, where I catch up on everything I missed overnight (because the time zone difference). I take a lunch break, where I cook, walk with my dog and have a bit of free-time where I can work in the garden or in the house, depending on the weather. At around 3 p.m. I go back to work and finish my day by talking with everyone I need to talk to and work until around 6 p.m.
What are the biggest challenges about working remotely? How have you overcome them?
Working remotely, you have to master managing yourself and your time. If you are hired for a certain amount of time or project, you have to deliver. At home, everything can turn into a distraction — dirty dishes, laundry or my dog — but it is important to stay focused. I have been working from home for several years and even before that, I had to manage my own work in an office. I think always keeping an eye on what has to be done prepared me well for remote work at home.
Tell us a little more about your home life and how you spend your free time.
I am German, 26-years-old and live in Denmark. Some of my free time is used up by going to language-school, which I will finish in November. My husband and I have a 2-year-old Bernese Mountain dog with whom I go to dog-training, teach her tricks, and take daily walks in the forest. The house that we are renovating together is keeping me entertained throughout the week and weekends. There is a little time for volleyball or beach visits, which I try to squeeze in as much as I can.
What did you like best about working with PowerToFly?
Well, I like that I am not alone. If I am unhappy or have questions, I have my PowerToFly talent manager who always responds quickly to my questions. Not to mention that I joined Power to Fly and got a job within the first few weeks!
READ MORE AND DISCUSS
Show less

Companies That Care
What is your current position?
I am a front end developer for The Washington Post. I am responsible for the feature development and planning, code re-factoring, etc.
How would you describe a typical work day?
My work day starts with reading and answering my emails, if necessary, and checking the current statuses of the tasks and features, which I am responsible for. After working for a couple of hours, I go to the gym, or meet my friends at lunch time. Then, I go to home and continue my work where the rest of the team is joining. My catchup meetings start at 6 p.m. for me because of the time zone difference.
What advice would you give other women interested in working remotely?
If you can organize your time efficiently, working remotely is a great opportunity to do the job required and have a lot of time for your self development and for doing the things you like. It's a great way not to spend your hours at the office because you have to be there.
Do you have any strategies for staying efficient outside of an office? What tools do you use?
My strategies for being efficient are planning, planning and more planning. I plan my day and I know what I will be doing each hour.
What are the biggest challenges about working remotely? How have you overcome them?
The biggest challenges for me were when I was starting the project, and I needed a lot of information. Since I am not in the same time zone as the rest of the team, I had to find a lot of things myself.
What did you like best about working with PowerToFly?
I am very happy with my PowerToFly team and my talent managers. They are always with you and welcome to help if you need anything.
READ MORE AND DISCUSS
Show less

Talent Sourcing Trends
Jarrod Dicker is the Director of Ad Product and Engineering at The Washington Post. Dicker has been a leader in technology, product and advertising at the Huffington Post, Time Inc. and most recently RebelMouse. He spoke to PowerToFly about his new role, The Washington Post's recent traffic milestones and why he believes that hiring and managing remote teams is a great way to scale your business in this global economy.
Tell us about your new role at The Washington Post.
I joined The Washington Post to lead ad product and engineering in September of this year. It's been a couple months, but we've already made major strides creating new core product offerings for our clients. It is a newly created role, focused on innovating our ad products across all platforms and devices. As a major media and technology company, ad tech is also at the forefront of our development. The Post's core engineering team is incredible, and we want to leverage what's being done across the entire organization for the benefit of our advertisers. This space is wide open, and we have the talent and resources to pave the way for the next frontier of advertising, whether it's video, native, VR, or display and beyond. The team we're building out allows for experimentation and innovation. We can fail, we can learn, and by doing that be responsible for the next big things in the technology space.
Before The Washington Post, you ran a fully distributed team at RebelMouse. Tell us how you set that up and how that worked. What was your role there?
I led commercial product and operations at RebelMouse. My team was responsible for the client builds, support and integrations on the platform. I was lucky to work twice with Paul Berry, most recently at RebelMouse and also the Huffington Post, where he was at the forefront of the distributed team mentality. I learned and appreciated the benefits of remote working at both companies. At RebelMouse, my team spanned the globe from Buenos Aires, Mumbai, and Bangladesh to Ukraine, Serbia, and Chile. And the perspectives on development, life and balance I gained wouldn't have been possible without collaborating with brilliant minds across the world. You also open up your talent pool, and shed any restrictions. If the mentality is "someone must be here", then you're limiting yourself to the talent available out there. Of course, for some positions it's important to have the person in office, but for others it's actually more beneficial to build remotely. At RebelMouse, we structured mainly around the latter on the design and development side.
Can you share your top 5 best practices for managing a distributed team based on your experiences at RM?
Collaboration over Dictation: Work together. Amazing ideas come from everywhere and that's how successful products come to fruition. Don't spend time dictating tasks you think are right, spend time discussing ideas and coming up with a solution together.

Communicate Openly: Give credit where credit is due, and don't be afraid to give feedback. Also, talk about how long things will take, best practices, and other efficiency measurements.

Keep it Familiar: Try hard to include remote teams in office culture, whether it's a Slack group sharing GIFs or connecting through social networks. No one wants to or should feel like an outsider.

Learn Together: Making mistakes is the greatest thing for product innovation and development. We learn from those mistakes and build a stronger, more sustainable solution because of it. Welcome experimentation, making mistakes, and learn together as a group.

Embrace Technology: There are so many tools (Slack, Skype, Gchat) that allow us to communicate remotely. It's affordable and very effective.
What are some of your best practices for on-boarding and training remote workers?
First, I love to introduce the new hire to the entire team. It's hard for anyone to work at a company if they feel like an outsider. So, it's important to acclimate everyone immediately and make it a comfortable and fun working environment. And from there, the training begins. I think it's best for the team to train one another so they learn from each other and know who to contact when they have questions. Rather than training from your boss or a direct report, there's a lot of lateral learning, training and co-development that helps build community and team unity.
The Washington Post is a huge organization which has recently hit some incredible traffic milestones. How does a remote team help scale a large scale business like this?
The Washington Post has become the new paper of record. This comes as a result of hard work across the board, from editorial to tech to advertising. On the ad product side, we're looking to bring in the best product and development minds to help push our product forward and build the most optimal experiences for our clients — that means not limiting ourselves to people who can be in the office in DC, NYC, California, etc. And it involves knowing how to build and create for the industry at large, not just our site and apps. As a major media and technology company, we want to set the stage for engineering and development while identifying how we can offer software as a service.
What advice would you give other hiring managers who want to grow their departments by hiring remotely?
Embrace it. Technology allows us to communicate in so many different ways and work with brilliant minds across the globe. The idea of having to be in the office for development is no longer mandatory, it's a choice. People will be the most effective in the environment they feel most comfortable with. For some, that's being remote. Hiring managers shouldn't limit their talent pool because some employees are more comfortable working a certain way.
Do you have advice for writing a job description that attracts good remote workers?
Yes, you need to be open to flexible work hours and you should show that in your job description. The best part about remote working is being able to work on your time. I think a lot of hesitancy for some companies to opt into remote is the idea that they have to work the same hours everyone else is working and be "here". When actually, people will be exponentially more productive if they work the hours that align best with their lifestyle. We've been told that 9–5 is the "norm", but that limits the creative mindset of others that may work better at night or early morning. Remote working is open to this, and with this mindset you will see a tremendous growth in productivity and creativity on your teams.
Why do you believe in hiring remote workers? Why does it make good business sense for you at a business like the The Washington Post?
In a constantly evolving media space, embracing new ideas is mandatory in order to stay ahead of the curve. Having employees from all over the world, or those who choose to work remote, enables different perspectives and ideas that can be the catalyst to take a company to the next level. Companies shouldn't limit themselves. Process and ideas evolve, and to be ahead in this space companies must evolve with them.
The Washington Post is in DC and you are based in New York City. How do you divide your time?
I travel to DC to collaborate and meet with the team there. I enjoy working across the organization and that means spending time with a lot of different departments. I aim to go to DC weekly but sometimes I'll stay in NYC for two weeks or more. The Washington Post culture is familiar with remote working, and has the right mentality and technology set up to support this way of work.
Can you point to a specific project that the PowerToFly hires on your team helped to execute? Either at RM or WP?
We recently hired Virginia Ortiz to help build out our WP BrandStudio native campaigns. She is an amazing front end developer, and her talent — along with the rest of our amazing team — will help take our executions to the next level. I also loved working with PowerToFly at RebelMouse — all of the client campaigns that were built were from the core distributed team.
And finally what do you like to do in your free time? (If you have any?!)
I have two rescue dogs that my wife and I enjoy spending a lot of our free time with. We take them everywhere: mountains, beach, suburbs, city. They have the life. I'm also very into live music. I started my career as a freelance writer for Stay Thirsty, Relix and Jambase.com, and continue to see about one live show a week. Then there's Soulcycle, which recharges the brain. All of these things are important to remain clear and focused. Balance is important.
READ MORE AND DISCUSS
Show less
Loading...