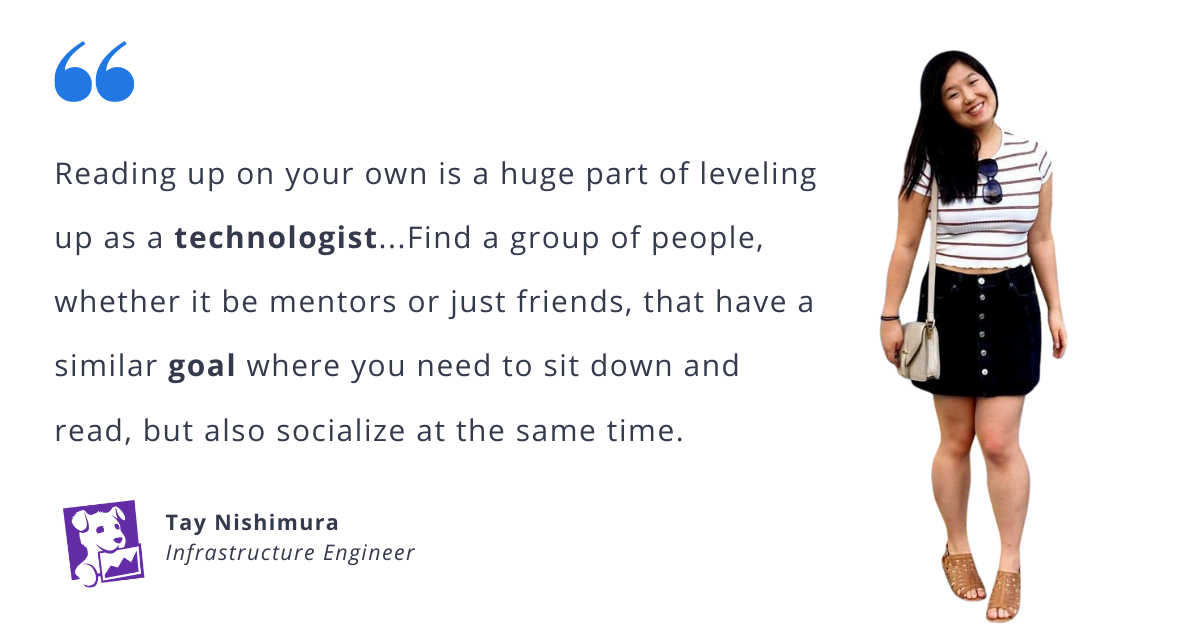 Datadog
Tay Nishimura describes herself as an artist, philanthropist, and technologist. "When I meet people, they often only know my tech side. I've been trying to change that by presenting all aspects of myself," she explains.
She achieves this by combining technology with philanthropic work. "I'm the Chief Technology Officer of a non-profit that helps bring technology education into prisons," she says. "We're in the early phases of developing a curriculum on our learning platform where people can learn about computer networking."
As for her artistic side, that's what helps her get into the zone when she's completely emerged in the tech world. "Painting has been really good for me," she notes. "I was never trained in that type of visual art, but it comes naturally. I've been doing it a lot to get into a flow state and separate my brain from technology."
We sat down with Tay to learn how she bridges all sides of her personality into a career as an infrastructure engineer. We also discussed both her career journey and how mentorship and a supportive work environment have helped her succeed.
Entering the Tech World Unexpectedly
Throughout Tay's childhood, math played an important role.
"Math is a very serious subject in Japan," she shares. "My mother taught me when I was younger. She gave me a lot of visual frameworks so I had a good foundation."
Her dedication to math continued to blossom when she went to a math and science summer camp. "There I met my fellow math lovers who I became close with and we grew up together," she says. "I went to that camp for five years and it set me up to love abstract mathematics."
Coming from a childhood filled with equations and dividing fractions, studying mathematics in college seemed like an obvious choice. However, Tay's first interest was in architecture. "I was always building houses as a kid," she explains. "But when I got older I didn't make a portfolio to apply to college and so my default was math."
Once she started taking math courses at her university, she was slowly introduced to the world of computer science and the job opportunities that came with it. "I was always interested in the math side of everything, but when it came time to apply for jobs, everything was programming," Tay says. "So I took more classes, double majored, and landed in the tech world unexpectedly."
Growing Within and Out of the Computer Science World
Tay began her career as a software engineer and was surprised to learn how flexible the work day can be. "If you need to have a later meeting or work odd hours, as long as you're getting your work done, you can be you," she highlights.
This new environment has provided her with the space to grow into her own. "It's allowed me to be myself and communicate with people in the way I need to," she explains.
Over time she started to understand the different communication styles. "You could be the person who's talking to everybody, you could be the person who only messages on Slack," she says. "People are looking at what you are thinking about and how you present that."
Tay notes that in other fields, lacking certain soft skills such as public speaking might negatively impact your performance. However, in the computer science world, it tends to be different. "People are trying to understand what you like, what you like to do, and how to find projects that work for you," she explains.
And what Tay really liked to do was in another corner of the engineering world. "I don't think people realize that when they come into the field, there are so many different corners," she explains. "It's been fun that every year I'm in a different area of tech."
Transitioning to Infrastructure Engineering
Infrastructure engineering was the next phase of Tay's career trajectory, yet she didn't know if it was the best move. "I was terrified I would not be able to learn enough about networking or virtualization to meet expectations when I started," she admits. "I had always been more on the application side of things."
When her friends presented her with the idea of switching fields, she wasn't sure that her experience would provide her with the foundation to make this career change.
"I'm visual and a lot of infrastructure content is not. It's very much paragraphs and I'm a terrible reader,'' she admits. "I didn't know how computer networking works. I didn't know how my program runs or where it runs in the cloud. I didn't know any of that stuff. And when I tried to learn about it, I got lost in the jargon."
However, all the self-doubt ceased when her friends asked her one crucial question: Have you tried? "That was such an eye-opening question," she recalls. "You don't know until you try."
Tay put in the effort, but the road wasn't easy. "It took me about a year or two before I felt like I understood what infrastructure was," she confesses.
While studying, she used her artistic side to understand the complex material better. "Because I was reading this jargon that I didn't understand, I drew everything out for myself and that solidified it in my head," she explains. "It imprints it in my head, like a blueprint, and I can recall it at any time."
After putting in the time and effort, her hard work paid off. "Once you build it up, operating Kubernetes and working on a platform engineering team are both really cool. Now I think this is the right place for me, and I never got this excited as an application developer."
Coming into Her Own as an Infrastructure Engineer
Infrastructure platform engineering focuses on the tools that allow tech companies to deliver their products to customers. "If I were to cook, I would need an oven, a fridge, food, and other tools,'' she explains. "The more well-designed they are, the faster dishes can be produced."
Part of Tay's work is providing those tools that help companies do their work. "As an infrastructure engineer, usually what you're building is an enhancement on something already being used by people in your company," she explains. "Thus, it's very important to be precise the first time. If a tool breaks, you slow them down — just like if your stove doesn't work, you can't cook anymore."
This is why Tay spends a good portion of her time designing. "A lot of what we build can't be checked or tested immediately," she points out. "We need to design all of those situations up front. I would say I spend about 20 to 30% of my time communicating designs."
A greater part of her time is dedicated to implementation. "I spend another 50 to 60% of my time implementing code or tuning live systems."
The rest of the time, she solves problems and puts out fires. "Which means we made something, we changed it, it broke and we're fixing it so that other people can continue working," she explains. "I also spend time talking to people, getting to know what kinds of problems they're solving. Ironically, I feel like a part of my job description is to socialize technical ideas whereas I had the impression that I'd get to socialize less in infrastructure teams than in application teams."
A Supportive Work Environment at Datadog
When Tay started working at Datadog, she noticed something that set them apart from other start-ups. "Work-life balance is this unicorn word that's thrown around at any booth you go to at a career fair," Tay says. But at Datadog, these words have meaning.
"I come from a burnout culture. To show to myself and others that I am productive, I've spent a lot of hours working," Tay admits. However, at Datadog they encourage her to do the opposite. "One of the top pieces of feedback that I get is to take more time off."
Datadog is the SaaS-based monitoring and security platform for cloud-scale infrastructure, applications, logs, and more. They have created a work environment where giving and receiving feedback is part of the company culture.
Tay has received feedback not only on her ability to complete certain projects but also on being more confident. "At first I thought they were messing with me," she recalls. "They weren't giving me feedback on my unit test [at performance reviews], or the way I communicate information. At Datadog, it's consistently been: be more confident."
This type of feedback comes from a more constructive style of leadership and guidance. "In our culture, we don't force anything," Tay explains. "I'm used to the more rigid style of beginning a quarter: here are all the ways you need to improve by the end of the quarter, otherwise you're behind."
However, Datadog's structure supports its employees by using additive thinking sometimes known as a snowflake evaluation. "This is where you take the attributes of yourself you enjoy, you sum that up, and that's your evaluation," Tay explains.
Tay feels that this more additive style of leadership will help her become a senior engineer one day. "As a senior, you have to persuade other people of what you believe in. And a lot of that comes down to confidence," she says. "This means that confidence becomes part of the job and stops being optional. The way you carry yourself, the way you argue your point, all that matters."
Advice on Seeking a Mentor and Breaking into the Tech World
Along with having a positive work environment at Datadog, another component of Tay's success and growth is having mentors. "I've been lucky in finding mentors because I am willing to be vulnerable," she says. Although she admits that being vulnerable is not easy. "If you walk into a room where they are talking about databases and you say, 'Hello everyone, I know nothing about databases,' it does compromise you."
Fortunately, she had a group of supportive women mentors that guided her when she first entered the field. "They understood when I expressed a problem," she points out. "I describe experiences as 'I feel this,' rather than 'I think this.' Saying 'I feel' is often seen as a weaker assertion, but my mentors perceived my feelings as significant, and always offered time to discuss and address those situations."
For those looking to advance in other areas of the tech field, Tay offers this advice:
1. Find study partners. "Reading up on your own is a huge part of leveling up as a technologist," Tay explains. Although extra study time outside of work is needed to get ahead, spending that time alone or not socializing because you're studying can be difficult. "Find a group of people, whether it be mentors or just friends, that have a similar goal where you need to sit down and work, but also socialize at the same time."

2. Don't be discouraged by rejection. "Tech is hard. But getting into tech is its own difficult problem," Tay admits. While breaking into the world can be hard, she highlights the importance of not giving up. She has seen many people giving up 80% of the way there. "That's so sad because it's just gritting through the last 20% that will get you there. And the thing that helps in those last moments is to realize that you are ready."
Tay reflects on moments in her career when she struggled to find the role that was right for her. "At that point, I thought I couldn't do this because if this company rejected me, who would ever take me," she admits. "However, there's going to be something other than your lack of work experience in tech that makes them say yes. Finding that one company is your goal, and if you apply enough, you will find it. Don't give up."

3. Build trust with a mentor that is in your desired career. If you have a certain career goal in mind, find someone in that place. "It's worth it to take the extra step, to look for people you want to emulate, and to build a relationship with them. A lot of what mentors have helped me with is telling me I'm supposed to be here and not to give up. But, if you haven't built up trust with your mentor, then you won't be convinced by those encouraging conversations." Finally, if you find an incredible person like that, "action their feedback even if you are busy. Nothing makes a mentor want to invest more like seeing their positive impact on your career… that starts with you doing your homework."
Want to join Datadog's supportive team? Check out their openings!
READ MORE AND DISCUSS
Show less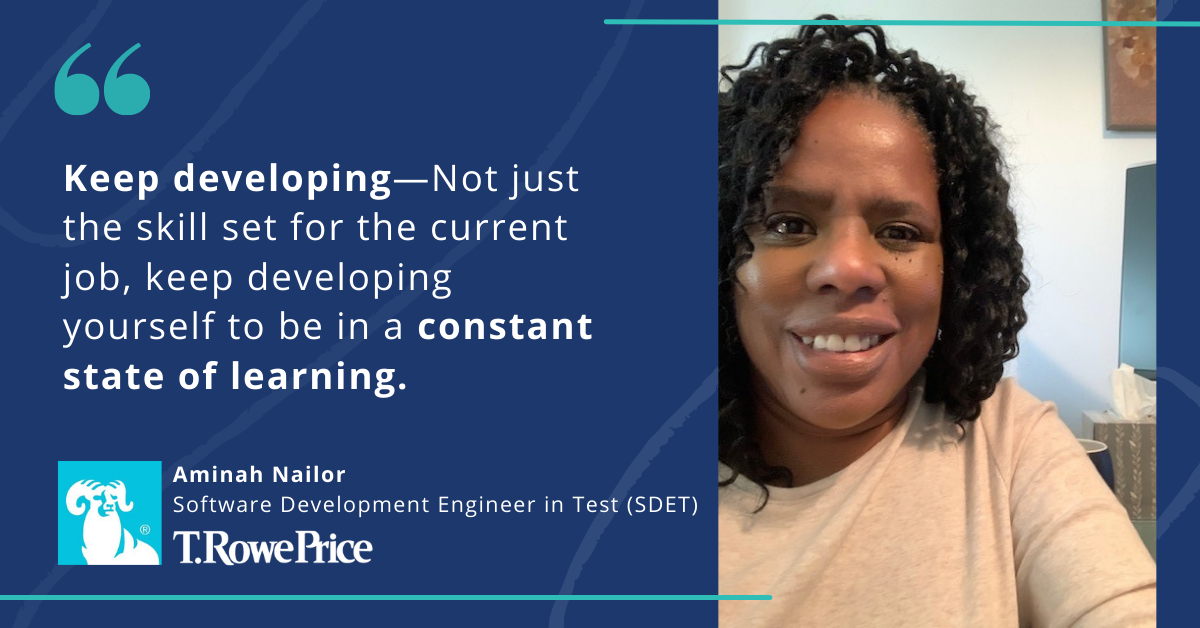 T Rowe Price Group Inc
Aminah Nailor is not the kind of person that backs away from a challenge.
Whether it's learning a new coding language over one weekend or teaching herself a new application for a role, Aminah sticks to one motto: "Keep developing—Not just the skill set for the current job, keep developing yourself and be in a constant state of learning."
After joining T. Rowe Price almost 4 years ago as a Business Systems Analyst, Aminah used her philosophy of constant learning to step into a new role as a Software Development Engineer in Test for the GBS-Distribution and Marketing Services - Individual Investor org.
Keep reading to hear more about Aminah's experience embracing new professional opportunities and her advice for professionals transitioning into a new role.
Tip 1: Set clear goals and go after them
Before coming to T. Rowe Price, Aminah worked as a Business Systems Analyst for major companies in the telecommunications, finance, and broadcast media industries. In those roles she wrote requirements, identified risks, conducted application testing, gained big picture vision prowess, and project managed solution phases of software development projects.
Although all these roles had different scopes and demands, she used one strategy to excel: set clear goals. Setting goals and making a strategic plan for how to reach them can help you stay focused and excel in your career.
When talking specifically about engineering, she encourages people to "know what you want to do in the engineering job family. The options are plentiful, so know the skill set you want to have and master it." Here, she highlights the importance of being in a constant state of learning. Paired with the next two tips, you can open up many professional opportunities.
Tip 2: Align with the company's goals
After 20+ years of experience in Business Systems Analysis, Aminah began to seek new opportunities in a company that shared a similar vision of professional and personal development. This led her to take an opportunity at T. Rowe Price— a move that would offer her the opportunity to learn new coding languages, earn certifications, and pivot into a new role. Outside of her BSA role, Aminah spent many hours engaged in community volunteer activities, taking on elected and appointed leadership opportunities along the way.
As a global investment management firm, T. Rowe Price is focused on helping clients achieve their long-term financial goals by strategic investing, an active management approach. Besides their rigorous field research and careful risk management, the firm credits the long-term success of their clients to the diversity of their employees. In 1937, the firm was founded by Thomas Rowe Price Jr. and four associates, two women and two men. This set the stage to continue growing their teams from all backgrounds, perspectives, talents, and experiences.
T. Rowe Price believes its success is linked to the success of the communities they reside in. Their community-based efforts come to life through financial support and associate volunteerism. T. Rowe Price wants to support people beyond the company and into the community, no matter who they are. This support to grow is what keeps her coming to work every day.
Tip 3: Be willing to learn
Transitioning from Business Analysis into Software Engineering is a major feat for anyone, but in true Aminah fashion, she didn't back down from the challenge. With her eyes set on the opportunity, and the support of the firm, she picked up additional coding skills she would need to start test automation over a weekend. She also completed training in Selenium, which she paired with Python (another language that she learned at T. Rowe Price). Aminah's tenacity and constant willingness to learn equipped her with the tools she needed to thrive in her new role.
Her responsibilities now include testing automation, writing scripts, working with developers, and supporting the 18 tools and applications that drive success to the company's customer experience. One specific application Aminah supported was SureTrack (now Asset Transfer), which converts clients from other financial service companies and facilitates the transition of accounts and fund transfers.
Apart from this major project, T. Rowe Price is continually investing in Digital Excellence and Data Programs that help meet the clients' objectives. As of 2022, 60% of their technology budget is set aside for this purpose. The six major programs for this year boast the latest technology and are specific to digital excellence, advisory services, data activation, associate platforms, a new tiered benefits program, and growth enablement.
Paired with the excellent research and performance of T. Rowe associates, each of these programs support clients as they navigate investment options. Aminah further reiterates this as she was selected to be part of a team put together to work on the implementation of an internal asset allocation tool, initially rolled out in Q4 of 2021. This tool is planned to expand and become an external facing tool later this year.
T. Rowe Price is committed to finding the best talent from all backgrounds. If you want to know more about how you could fit in at T. Rowe Price, check out their tech event "
Engage, Enable & Elevate
", fully led by technologists like Aminah.
READ MORE AND DISCUSS
Show less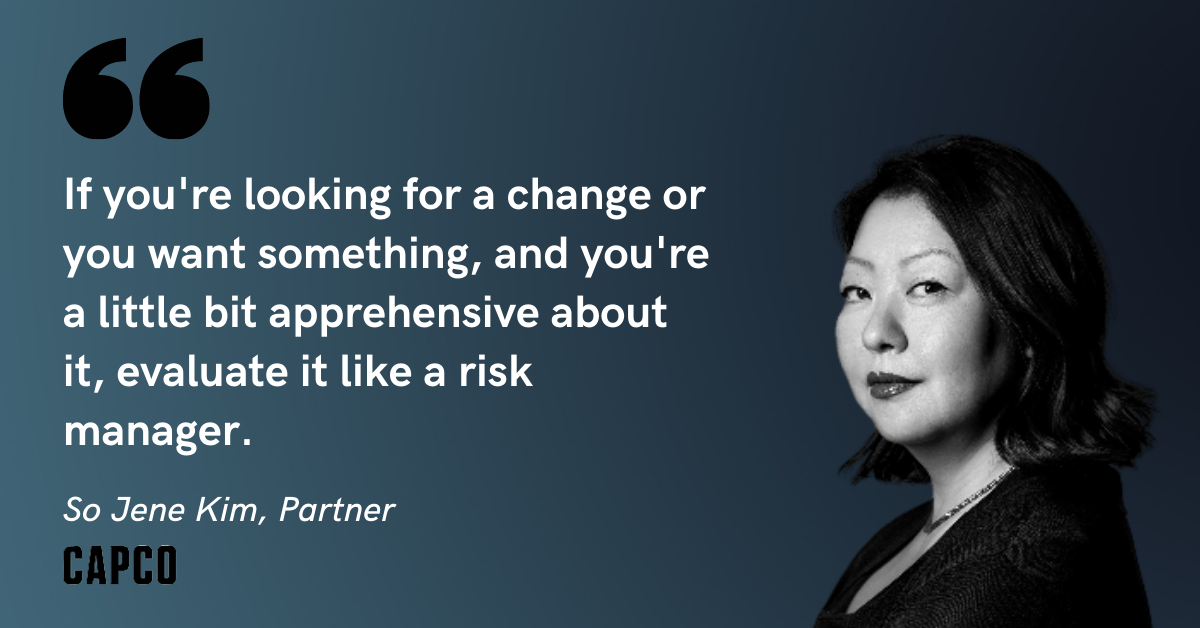 Capco
So Jene Kim isn't afraid of change.
Some of the shifts she's made in her life have been major ones: English major to Wall Streeter. New York to Hong Kong. Banking to consulting.
Others have been more gradual, like the pre-COVID nights that saw So Jene picking up a microphone at a work karaoke event and, with the help of Sia's "Chandelier" or Berlin's "Take My Breath Away," turning from a financial services professional to a bonafide rockstar for a few minutes.
"I didn't say I was a good singer!" clarifies So Jene. "I just love singing. And given the formal nature of your relationship with someone in a workplace, it can change quite dramatically for the better after having some laughs and being silly together at karaoke."
Over her career, So Jene has embraced changes both big and small, even when they came with big risks. We sat down with the Capco partner and risk management professional to hear more about her career story, including what it's been like to be a free thinker in a very regulated industry, and what advice she has for other people considering a change—particularly one that sees them going from industry to consulting.
Choosing Independence
So Jene moved to the U.S. from South Korea when she was four years old. Growing up with strict parents, she knew early on that she wanted to build her personal and financial independence.
That's how she ended up working at Morgan Stanley.
A big reader, she studied English at college, but knew a $18,000-a-year publishing salary wasn't going to last long in New York. Her college job in the career development office gave her access to the starting salaries of students who got offers in finance, and she decided she needed one of them. A recruiting season later, she had an offer from the bank in hand.
So Jene's can-do attitude, honed from years of helping out at her mother's dry cleaner and running a construction import business with her dad, served her well when she started her career in financial services. No job was too small for her to learn from.
Until an acquisition happened and So Jene found herself working for Chase Manhattan Bank.
Her approach to problem-solving wasn't as welcomed there, remembers So Jene, who tells the story of a time that a senior person on her team asked her to look over a currency out of balance report.
"She said, 'I got you your own pack of colored pencils. You can use the different colors to mark the different currencies,'" says So Jene, who immediately balked and offered to put the information in a database, write some queries, and create an automated way to review the report both then and in the future.
A meeting with her manager and her manager's manager later, and So Jene had one thing clear: "They moved at a certain pace, and I thought, 'I've got to get the heck out of here,'" she says.
So once again, So Jene prioritized her independent viewpoint and left that role. She tried project management in silicon valley briefly, but realized she was a New Yorker at heart, and eventually went back to Morgan Stanley for a different job, this time as a project manager on a global team working to build and implement new processes and technology.
Her success on that team set her up to be a strong candidate for an internal transfer to work in derivative operations in Hong Kong, which lined up with So Jene and her husband's desire to try something new.
They loved the experience, but So Jene struggled with having to be on call almost 24 hours a day, between the local and home office, and when she got pregnant, she did what was right for her and her family and left that job.
Making a Sustainable Change
But all roads—at least back then, and at least for So Jene—led back to Morgan Stanley, because after a year-long sabbatical, she took a job offer that once again came from her old employer, this time in operational risk.
"My values were quite different that time, though," says So Jene. "It was like I had been in a long relationship and broken up with the organization once and I had different priorities going back into it. Because even though I had married young and my husband was always there, my number one priority for so long had been Morgan Stanley. And that's so backwards, because I was never Morgan Stanley's number-one priority. I wasn't even a 1000th priority."
When she realized that she was falling back into old habits and wasn't going to be recognized for her contributions in a way that was acceptable to her, So Jene decided to leave, this time for good, and launched her own consulting business.
She started working with Capco, who she'd used as her primary consultants on the industry side, and realized that there was a lot of opportunity there—and maybe even a full-time role.
After six months, Capco asked her to join as a partner, and So Jene felt like she'd found a job where she could make the most of her experience but also maintain her independence and priorities in life. So she took it.
"The transition into consulting worked for me because I was able to say [to the client], 'I truly understand the position that you're in. I know what it feels like when your job is on the line,'" reflects So Jene, on a key element of her successful move.
"I enjoy this role so much more than my previous one," she says. "It's the flexibility that comes with it. I wouldn't say I'm working less, but it allows me to work smarter."
She found that her industry skill set served her well in consulting, especially when it came to having that client empathy and deep subject matter expertise. She had to come up to speed on commercial propositions, selling services, and the unique communication principles of making proposal decks, but a few months of practice got her there, and now So Jene is ready to encourage other longtime financial services folks to follow her example and consider a career in consulting.
4 Tips for Transitioning from Industry to Consulting
Be entrepreneurial. "If you don't have entrepreneurial interest or spirit, you're just not going to make it," says So Jene of the different motivations in consulting. "It has nothing to do with being dedicated or being smart. There are times when you don't have something that you have to do, and you are expected to make the most of that time to get sales or improve a relationship with a client."
Develop your networks. This is especially true within a consultancy, says So Jene. "You want to build your brand so that you have an opportunity to work on other things and with other people," she adds.
Pursue what interests you. Self-learning goes a long way, explains So Jene, giving the example of a group of Capco employees who were interested in the legalization of marijuana and who looked into the business opportunities that came with changing cannabis laws. "Having that kind of curiosity, being focused on self-learning, and then being able to bring that back to the organization is just terrific," says So Jene.
At the end of the day, think about the change with a risk management framework. "If you're looking for a change or you want something, and you're a little bit apprehensive about it, evaluate it like a risk manager," says So Jene. "What kind of risk are you dealing with, how do you measure that risk, and what controls are in place to help you succeed? Also, get some outside perspective."
If making the switch to consulting feels like a good risk-adjusted decision, check out Capco's open roles!
READ MORE AND DISCUSS
Show less
Loading...