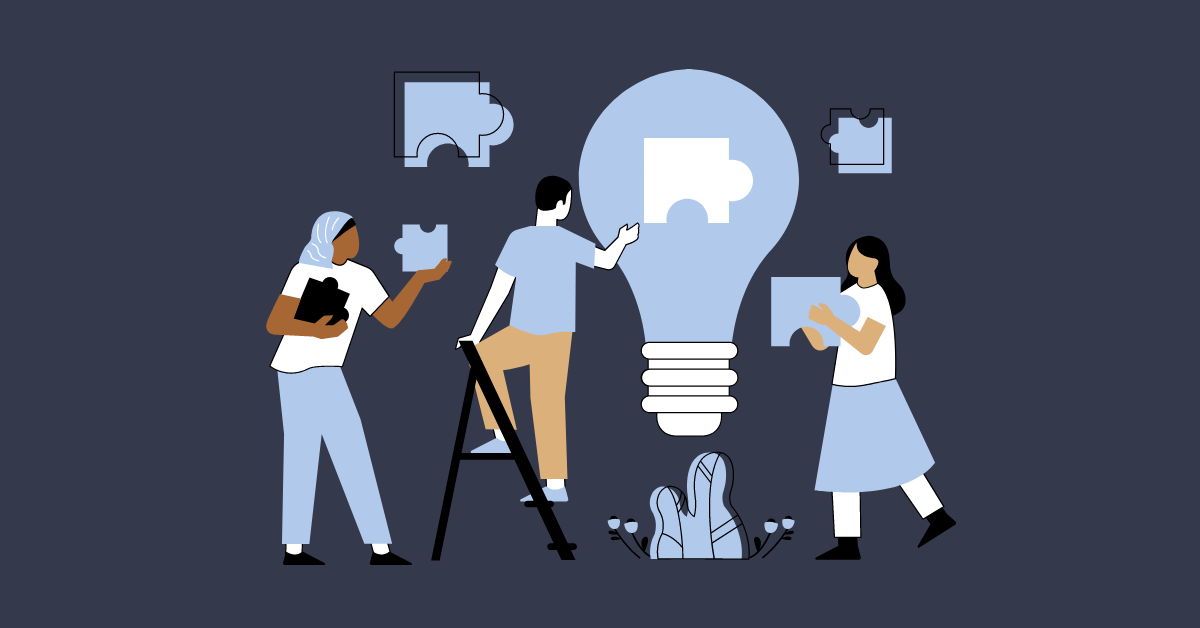 Landing a New Job
It's almost become cliche by this point — you need a job to get experience, but you can't get a job without experience. I discovered that first-hand myself this year as I was wrapping up my freshman year of college. I struggled to find an internship because of my limited coursework and experience in my fields of interest — computer science.
Even though I successfully leveraged my transferable skills such as leadership and problem solving to land a marketing internship at PowerToFly this summer, not all of my friends have been so lucky.
My friend Annabel French also just finished her freshman year of college, and was having difficulty figuring out how to get an internship with no experience.
Annabel has been interested in engineering ever since she started spending time in her father's office as a kid. She would watch his colleagues go back and forth as they designed models of wheelchairs that could be used in cities. Often, she felt an urge to interrupt and express her opinion. She loved the problem-solving process of her father's job as an engineer.
She wanted to get an internship in engineering this summer, but didn't think she was qualified because she has, in her words, "no relevant experience." To earn money growing up, Annabel raked neighbors' leaves in the fall, shoveled snow in the winter, and mowed lawns in the spring. She also spent time working at a restaurant. These jobs taught her a lot about responsibility, teamwork, and communication, but she's convinced they won't help her achieve her goal of trying out engineering. Not so fast, Annabel.
So how can she get an internship with no experience?
Read on for five key steps that Annabel – and you! – can follow to land your dream internship with no experience.
Key One: Think about what interests you.
Annabel has always loved her logic classes, so she wants to find an internship that exercises the same parts of her brain. Even though she hasn't completed the coursework needed to become an engineer, she can still apply for jobs that are focused on problem solving, such as a worker at an IT help desk, events planner, or operations assistant.
To identify what internships might interest you, consider the following:
Which classes do you like most at school?
What would you like to learn more about?
What are things you can't stand?
What companies intrigue you?
Exercise: You can set a timer for 2 minutes and make a T chart with companies you would and wouldn't like to work for. Categorize each company you think of on one side of the chart or the other. Afterwards, review the chart. What do the companies you would like to work for have in common? What about those you wouldn't?
Key Two: Build a strong resume.
Identifying and amplifying transferable skills is an essential part of getting an internship with no experience. Annabel worked as a hostess at a restaurant, so on her resume she chose to highlight her leadership skills that would be beneficial as an engineer.
Consider this if you have ever worked as a:
"Successfully arranged private parties to give members exceptional experiences"
"Designed creative games for the children to have fun while learning"
Exercise: Both these examples follow the APR (Action, Project, Result)
Action: Arranged
Project: Private Parties
Result: to give members exceptional experiences
Think of a list of relevant action words and give the APR solution a try!
Key Three: Network!
Annabel told EVERYONE she knew that she was looking for work. She spoke to her neighbors from the dog park, told her parents' friends, and mentioned it to professors and classmates. In addition to that, asking to shadow people is a great way to understand what it's like to work in a certain field, and most people are more than happy to talk about their work. Annabel could, for instance, ask her dad's colleagues if she can work alongside them for a day.
To recap, here are three effective ways to network:
Tell teachers, friends, your parents' friends, your neighbors, etc., that you're looking for work
Post on LinkedIn
Ask to shadow
Exercise: Create and practice a 30-second elevator pitch that you would say to other people to help them understand who you are, what you like doing, how you do it, and how the results of your work make you unique. Don't undersell yourself!
Key Four: Apply.
After networking, Annabel heard about a job in a furniture showroom from a family member and decided to apply. Though the application said "Cover Letter Optional," she decided to write one to elaborate on the skills highlighted on her resume and demonstrate why she would be a great addition to their team. This also gave her a leg up from the other applicants who did not write one.
Key Five: Practice for the interview.
Once Annabel got an offer for an interview, she prepared by practicing questions with her friends. While answering questions, it is important to use specifics and provide interviewers with detailed situations that you dealt with. You can use the STAR method to assist you with this. Remember that though you are new to the workforce, employers wouldn't have invited you to the interview if they didn't think you could potentially be good for the job. That said, be confident!
After the interview, always remember to send a thank you note, and you can even highlight specific parts of the conversation that stuck with you.
Though Annabel had no experience in the workforce, going through the five steps for how to get an internship with no experience helped her get one at the furniture showroom. If you are still struggling with how to get an internship with no experience, you can explore great resources that PowerToFly offers, like the Early Career Connections September Summit or a Virtual Job Fair.
READ MORE AND DISCUSS
Show less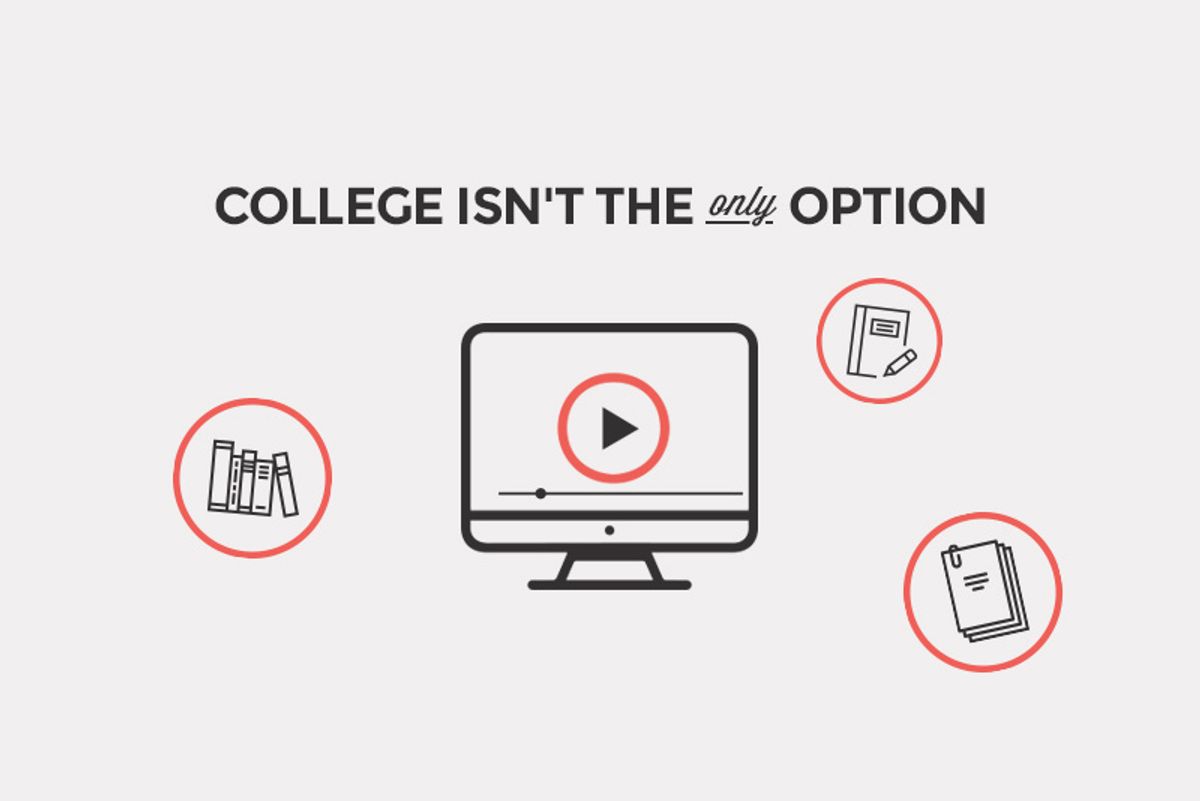 Career and Interview Tips
A version of this article previously appeared on Skillcrush, an online education program for creatives, thinkers, and makers that gives total tech newbies the tools to make major career changes.
Julia Sonenshein, Skillcrush
College is an integral portion of the American Dream: It's theoretically what propels you forward into the middle class existence we were all promised. The reality is that that dream isn't attainable for all of us, especially not in a system that rewards the inherited privilege of some—accidents of birth, instead of merit. "Where did you go to college" seems like a standard—albeit boring—dinner party question, and assumes that college is a universal experience for all of us.
The truth is that it's not, and that assumption is a harmful one that rests on issues of race and class. Anecdotally, friends tell me that because they didn't go to or finish college, their experiences are frequently invalidated or looked at with scorn. Here's what they're tired of hearing, along with some real answers to common misconceptions.
1. Why did you drop out of/not go to college?
People drop out of college or don't attend in the first place for infinite reasons, but to name a few: the staggering cost, the need to take care of a family member, illness, pregnancy, they didn't want to. In short: not a one of these are anyone else's business.
Asking this question also assumes that going to college is the norm, and that to deviate from that path is therefore abnormal. In reality, this isn't the case. According to a 2015 US Census report, only about 1 in 3 American adults have a Bachelor's degree. College certainly isn't the only path to adult life—nor is it even the most common.
2. The college years were the best years of my life. You missed out.
While it's fantastic that you enjoyed college so much, those four years aren't necessarily a positive experience for many people. Marginalized people (especially multiply marginalized people, like, for example, women of color)—face significant challenges in college. Rape culture is real (says statistics, not this special snowflake; see the multiple federal investigations into the crisis facing campuses), and it impacts people of all genders. Racism is rampant in academia, and especially impacts Black students' mental health, according to a study by the JED Foundation and the Steve Fund. And college is often not accessible for people with disabilities. For example, my friend Andrew Fisher is Deaf, and he told me that as an undergraduate at Brooklyn College, he constantly struggled with the interpreters assigned to him by the school, who often weren't even certified in American Sign Language. "They would basically get people off the street," and he could miss weeks of information because of bad interpreting. "It was incredibly frustrating."
Even for those of us without marginalizations, college can still be a minefield. Roughly one-third of U.S. college students reported depression that impacted their ability to function in a 2013 study by the National College Health Assessment. And it's no surprise: My colleague Lauren Lang, a former college professor, says that in her experience, the enormity of the adjustment to college life, "academically, socially or romantically, and emotionally, can trigger depression and anxiety in anyone."
Maybe college was amazing for you, but it's likely it wasn't for everyone you know. What did they miss out on? Your experience—which, unless they look exactly like you, come from the same exact background as you, and have the exact same opportunities you've had in life, will look nothing like their experience.
3. How can you expect to have a career?
Here's the thing: You actually don't need college to have a full career. In fact, some economists are encouraging millennials to consider trade schools instead of a four year college, according to an NPR report. Plumbers, pipefitters, and steamfitters, for example, have a median pay of $51,450 per year, according to 2016 data from the Bureau of Labor Statistics, with the highest 10 percent earning more than $90,530.
And if you're looking to enter a booming industry with wild opportunity , online coding schools make it easier than ever to enter the tech workforce without a college degree, and at a fraction of the cost and time commitment. According to a LinkedIn report, 2017's top 10 most in-demand job skills are all tech-related. Tech salaries are serious—and don't require a four-year degree (especially if you're working as a freelancer).
4. When are you going back?
Like all of these questions, this one is rude and not your business—and assumes that not finishing college is some inherent failure that has to be corrected. A college degree simply isn't a measure of someone's worth, ability, or potential.
Aside from all that, there's one hell of an argument to be made that college might no longer be worth it. Consider that at the end of 2016, 44.2 million Americans owe a total of $1.31 trillion in student loan debt, according to the New York Federal Reserve—what Forbes calls a "crisis." Multiple major publications and institutions have run the numbers on college and found that for a staggering number of degrees awarded, the price tag is oftentimes just too high.
Is this post advocating against going to college? Absolutely not. If college is a goal for you and is financially feasible, then by all means: Go for it. This is only meant to make clear that college isn't the only option—and there's no shame in not having gone.
Interested in a career that doesn't require a college degree? Download the free Ultimate Guide to Coding for Beginners. This 60+ page ebook will show you how—with only a personal computer and an Internet connection—you already have the tools you'll need to learn coding and design skills.
READ MORE AND DISCUSS
Show less
Loading...