GET EMAIL UPDATES FROM POWERTOFLY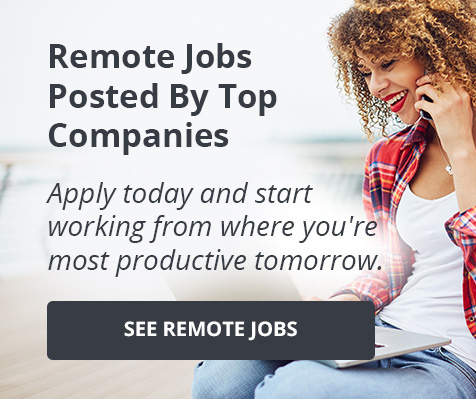 Unstoppable Domains
💎 Get some tips for your interview with Unstoppable Domains! Listen to these recruiters for advice and prepare for the next step in your career.
📼 Watch this video to prepare for your interview with Unstoppable Domains. In this video, you'll meet Boji Lazov, Recruiter, and Oksana Holubets, Senior Technical Recruiter at Unstoppable Domains, who will share why Unstoppable Domains is such a unique place to work and give you some insider tips to prepare for the application process.
📼 To ace your interview with Unstoppable Domains, one of the first things to do is research the company. Start with social media, where the company promotes its products. Also, check some of the interviews and content they've posted on their YouTube channel. Be sure not to miss their amazing Unstoppable Domains Podcast! And when reviewing the job posting you're applying for, briefly highlight the main requirements to keep them in mind during the interview.

📼 It's not just one interview at Unstoppable Domains, but a whole hiring process. It starts with an HR interview, then an online code assessment, a hiring manager interview, a global technical assessment in real-time, a cultural interview with the Head of People, and finally, the hiring offer and reference checks. General advice from Oksana: Be yourself! And trust your abilities. Good luck!
Before your interview with Unstoppable Domains - Learn About Their Mission
Unstoppable Domains has a unique mission of bringing the power of the Internet back to the people. And they work together as a team towards that goal! Something important to know about their culture is that they are a remote company, have always been remote, and will always be remote. So, everyone has access to the same database, knowledge, and resources, no matter when they started or where they work! In Boji's words, "This is very empowering; it allows you to try new things, to experiment, to take risks, to innovate, to brainstorm, to come up with new ideas."
🧑💼 Are you interested in joining Unstoppable Domains? They have open positions! To learn more, click here.
Get To Know Boji and Oksana
At Unstoppable Domains, they're solving "The Social Dilemma" by bringing 3 billion+ internet users to the decentralized web. They're growing exponentially and hiring across all departments. Reach out to them if you are looking for opportunities in BD/Partnerships, Marketing, Tech Support, Product, Community, or HR.
More About Unstoppable Domains
Unstoppable Domains is bringing user-controlled identity to 3 billion+ internet users by issuing domain names on the blockchain. These domains allow users to replace cryptocurrency addresses with human-readable names, host decentralized websites, and much more. By selling these domains directly to consumers for a one-time fee, they are making a product that will change cryptocurrency and shape the future of the decentralized web by providing users control over their identity and data. Their mission is to accelerate the world's transition to a more decentralized internet!
READ MORE AND DISCUSS
Show less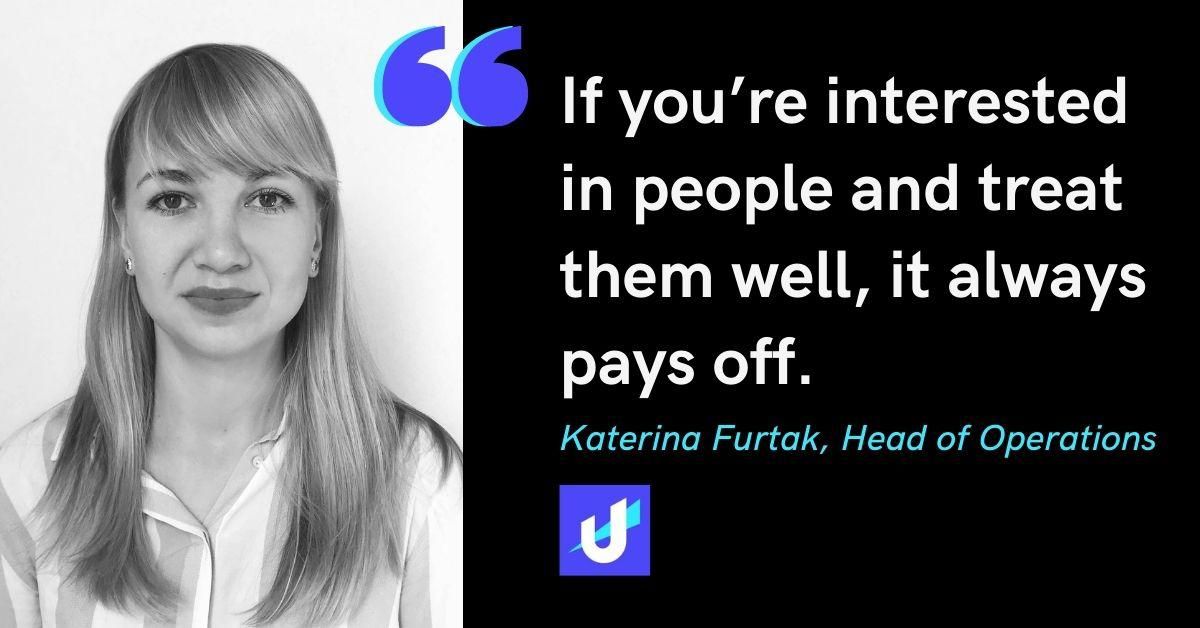 Personal Narratives
Katerina Furtak has held leadership roles across a truly expansive range of industries: she has been the Head of Administration of one of the largest construction projects in Ukraine, the founder of a fashion company, the CEO of a travel and retail startup, and now she's the Head of Operations at Unstoppable Domains.
She's working on Unstoppable Domain's mission to accelerate the world's transition to a more decentralized internet by issuing domain names on the blockchain. Although she's focused on one industry, she's still working with team members from an expansive range of backgrounds: the growing startup employs people in fifteen countries around the world—and counting.
"It's a great opportunity to learn, because even if you're doing things you've done previously, it influences the company in a different way when it is global and has so many people," she says. "The processes are much bigger, much more active, and you really learn a lot each day."
We sat down with Katerina, who's based in Kiev, Ukraine, to hear more about her career journey, how she worked her way into a leadership role at Unstoppable Domains, and what advice she has for her peers leading global teams.
From Startups to IT
Katerina first got into startups by founding one of her own: a platform that allowed people to swap clothes.
"I started with this idea to create something useful, something people would like," she says. "My goal wasn't to make money, and I didn't know how to do that."
That didn't matter, in the beginning. Katerina's enthusiasm made up for her lack of experience—"It was all about dresses, bags, and clothes, something that is familiar to me," she explains, smiling. She then started going to tech meetups in Kiev, finding mentors and investors in Ukraine's brand-new startup ecosystem.
"Even though I'm not a technical person, I learned a lot," she says. "Now, I'd say I really know a lot about IT, about different roles."
When that company eventually closed, she transitioned into being the co-founder of a platform that helped shoppers buy duty-free purchases.
That company was a success, and still exists, but after a few years, Katerina knew she was ready for a change.
She took three months off to recharge, and then started looking for jobs. She came across a job posting for Unstoppable Domains early in her search process. "I had a recommendation from people I knew, and I respected them a lot; their recommendation was meaningful to me," she explains. "Then everything in the job description matched my skills, and it was an American company that wanted to open an office in Ukraine and hire people. I felt it would be an ideal match for me."
As good as the role looked on paper, it was really Katerina's exposure to one of the company's founders that sold her on it. After being the CEO at two companies she'd founded, the opportunity to learn from a seasoned peer was too good to pass up. "When you're in that [founder] role, you don't have so many people that are more senior than you and can lead you elsewhere," Katerina says. "I felt like I could learn a lot from the Unstoppable Domains founders: they were smart, clever, and progressive, and I felt they could lead me further."
A Wide Remit
As Head of Operations, Katerina plays a key role in Unstoppable Domains' growth. She's helped grow the company from the 12 employees it had when she started to the 70+ it has now. Her current major responsibilities include hiring developers, working on business development, and overseeing Brand and PR in Ukraine.
"I would say that my work is mostly about processes. If there is no process for something and you need to figure out how to build that process and how to scale it, usually such requests come to me," she says.
Across her set of responsibilities, there are a few hard-won lessons Katerina always seeks to apply:
"The business model comes first." Having learned this with her first failed startup, Katerina now keeps a laser focus on the bottom line. "Only when the company is sustainable and making money can you create a great place to work at. Only then can you create a great product, because you can invest in it. Only then can you create the company of your dreams," she says.
"Be honest and fair." This goes for work as well as for general life, says Katerina. "Being honest helps you today, and being fair helps in the future."
"Treat people with the future in mind." Related to the above, Katerina believes in paying kindness forward and thinking of work relationships in the long term. "If you're interested in people and treat them well, it always pays off," she says. "Maybe they can't contribute right now, but if you show your interest, they will remember you, and maybe later you can help each other."
3 Pieces of Advice for Global Leaders
As Katerina continues to scale Unstoppable Domains, she's learning that the techniques that worked for a team of 10 or 20 don't quite work for a team of 70—and certainly won't work for a team of 500 or 1,000. That's especially true when that growing team is distributed across the world.
"It's totally different dealing with that many people, seeing how they can work together," Katerina says. "It's interesting now because we have so many people joining from other big companies, bigger than our company, like from unicorns, and they bring their experience with them, and you're sitting in a lecture room and these very experienced people can share their knowledge with you."
Here's what Katerina recommends for the making of a growing team like hers and all the disparate knowledge they bring to the table:
Organize effective communication. For Katerina, this means meeting in person when there's a good opportunity to do it, embracing asynchronous communication, and having clearly communicated processes for sharing information.
Find tools that work for your business processes. "Tools are important because with good tools, you can scale yourself, and don't need to hire three people to manage the same thing," she says.
Be positive. "Smiling really opens doors," says Katerina, who says she loves the work culture she's found at Unstoppable Domains. "And you'd never believe that there can be so much fun around blockchain debates!"
If Unstoppable Domains sounds like a place you'd love to work, check out their open roles!
READ MORE AND DISCUSS
Show less
Loading...