GET EMAIL UPDATES FROM POWERTOFLY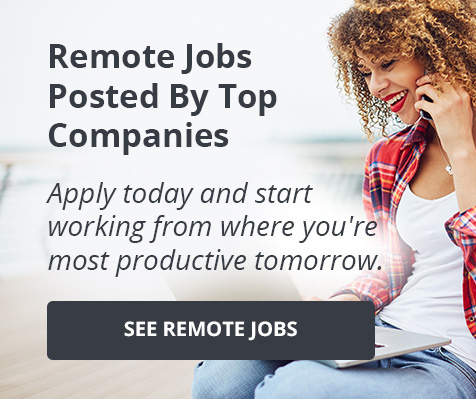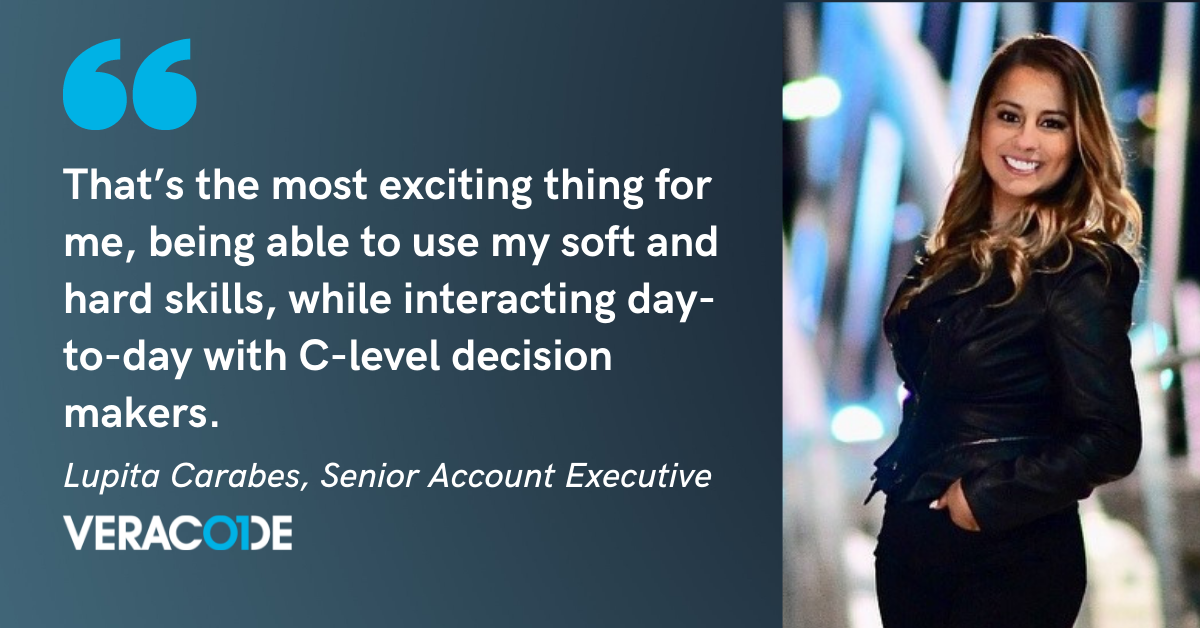 Veracode
Lupita Carabes was interested in understanding why the company she was working for was having a bad quarter.
As a software engineer, her plate had been full for months. She and her coworkers had performed well against their expectations and kept code moving through. So what had happened?
"It piqued my interest. How are we allocating resources? How are decisions being made? How are we producing revenue?" says Lupita, reflecting on what would become a major career shift. "That put me on a path to a customer facing role; what's known as a sales engineer."
She asked her then-manager if she could explore the sales side of the business, but Lupita was told she needed more experience first. A few weeks later, she got a note from a Veracode recruiter—and met a hiring manager who was more than open to helping Lupita transition into tech sales.
We sat down with Lupita, who is now a senior account executive at Veracode, to hear more about her career journey, how she made the transition from engineering to sales, and what advice she has for those who are considering following in her footsteps.
Learning How Businesses Really Work
Growing up, Lupita got her first taste of entrepreneurship when she worked with her family on their business and was inspired to one day launch her own.
"I felt inclined to go the entrepreneurial route because I enjoyed the ability to control my own outcome and make my own way," she says. "I quickly realized I didn't really have the resources to scale."
That realization led Lupita to pursue a career that was in high demand—she had won a full-ride scholarship that would apply to a STEM degree. She majored in electrical engineering, minored in computer science, and completed the university entrepreneurship scholars' program.
During her time as a software engineering intern, Lupita realized the abundance of job opportunities she would have if she went to work as a developer. She also saw it as an opportunity to gain more business experience that would help her later down the line. So, she stayed in engineering roles up until the Veracode opportunity came about.
"The hiring manager asked if I was prepared to be less technical," says Lupita of how the tech sales job was first presented. "But I've actually needed to be more technical. I talk to engineers with various levels of expertise about different technologies, and technology is always changing."
When Lupita joined Veracode, her title was associate solutions architect. She took a pay cut for the role, then spent the next couple of years proving herself earning promotion after promotion.
"In order to keep moving up, I had to build a case, with metrics, and proof points to show my value and contributions I made to help the business," she says. "It's a lot of responsibility—it's your own franchise. I call the shots, and that's been a huge learning curve but extremely rewarding."
Now, as a senior account executive, Lupita regularly talks to engineers and security analysts, and closes deals with CTOs, CISOs, CIOs, and CMOs (say that five times fast!). The exposure to business leaders and technical talent has given Lupita the exposure she was looking for to build her own entrepreneurial toolkit—and has taken full advantage of her background.
3 Key Messages for 3 Key Groups
Reflecting on her career so far, Lupita is happy to have made the shift to sales, where she can continue to bridge gaps between groups and further develop multiple skill sets.
"I was once a girl who didn't know about the engineering role, and now I'm consulting engineers to think about security and their process," says Lupita. "That's the most exciting thing for me, being able to use my soft and hard skills, while interacting day-to-day with C-level decision makers."
Here's the advice she would give based on this experience:
For her engineering peers: consider sales engineering. "If you're looking for more social interactions, having a fundamental understanding of the problems we are trying to solve makes for a much easier conversation with prospects," she says. "You get to talk to tons of like-minded people, and sometimes conversations turn into partnerships. Sometimes they turn into friendships, or even mentorships. I think that's really cool—and I wouldn't have access to that if I was just sitting at my computer coding away."
For her sales peers: be genuine and add value. "Customers sometimes aren't open to sharing a lot of information up front," she says. "So earning their trust and understanding the outcomes they are looking to achieve is really important. I ask open-ended questions and try to understand and not assume exactly what their challenges are. There's a lot of 'debugging' in learning what the business is actually trying to accomplish—leverage your network because the more people you involve, the better chance you'll have of truly solving their business problems."
For her prospects: application security is worth it. Several years into selling Veracode's services, Lupita has learned that a common challenge companies face is fear of slowing down developers, even when there's a lot (read: customer data, regulatory fines, and reputational damage) on the line. She often hears, "'We've always done it this way and we've never had a breach,'" but Lupita is a firm believer that secure code is valuable code.
"More and more companies are using security as a competitive advantage and customers are no longer willing to accept the liability for software that sees security as an afterthought. Application security requires people, process, and tech," she explains. "I enjoy taking the guesswork out of building the right approach."
For now, Lupita knows she has much more to learn at Veracode and is looking forward to doing so. Who knows, though—in a few years, maybe she'll find herself on the other side of the C-suite table!
If learning new skills at Veracode sounds interesting to you, check out their open roles!
READ MORE AND DISCUSS
Show less
Landing a New Job
Is This Company Right For Me? 3 Must-haves When Choosing Where to Work


💎 So you've come to the final stages of the interview process, but you're still wondering: Is this company right for me? Learn three must-haves that will help you choose the best place to work!
📼 If you find yourself in front of a job offer thinking, "Is this company right for me?" play this video to get three top must-haves from Dionabel Espinola, Customer Success Manager at Veracode.
👉Want to work at Veracode? They're hiring! Check out the company's open jobs:
Solutions Architect, Channel (remote!) https://bit.ly/VeracodeSolutionsArchitectPTF
Senior Software Engineer (remote!) https://bit.ly/VeracodeSrSoftwareEngineerPTF
Principal Customer Success Manager (remote!) https://bit.ly/VeracodePrincipalCustomerSuccessManagerPTF
📼 Tip #1: Look For Work-life Balance. The first tip that will help you answer "Is this company right for me?" is finding an organization that has a true work-life balance. And what Dionabel means by that is a place that encourages employees to take time off, decompress, disconnect, and do the things they love, whether that's spending time with family or reading a book.
📼 Tip #2: Look For Career Growth. The next tip that will help you answer "Is this company right for me?" is making sure you apply to an organization where you will have career growth. Picture yourself there already. "If I work there, what's my next step? What do I want to do? What do I want to be?" And align yourself with that. And it's totally okay to reach out on LinkedIn to current individuals who have that role and ask, "Hey, what does the career path look like for this specific role?" As Dionabel recalls, it can get a little boring when you have a role that changes over time by title and not responsibility. So for her, it was crucial to continue being challenged, hence the huge career switch she made at Veracode.
Is This Company Right For Me? Last But Not Least Must-Have
The third must-have is diversity and inclusion. Dionabel says, "As a person that identifies as a person of color, I am Dominican, I'm very proud of my roots. I wanted to make sure that where I was going, things like this were being celebrated because I think this is what brings us even closer to each other."
Dionabel knows her must-haves may not be the same for everyone. So she highly encourages you to grab a pen and paper, jot down the top three things you must have at work, and at the end of the day, don't forget that you are your best advocate. Advocate for yourself and the things you want because no one else will do it better than you!
📨 Are you interested in joining Veracode? They have open positions! To learn more, click here: https://bit.ly/VeracodePTF
More About Veracode
Veracode delivers the application security solutions and services today's software-driven world requires. Veracode's unified platform assesses and improves the security of applications from inception through production so that businesses can confidently innovate with the web and mobile applications they build, buy, and assemble as well as the components they integrate into their environments.
Veracode's powerful cloud-based platform, deep security expertise, and systematic, policy-based approach provide enterprises with simpler and more scalable ways to reduce application-layer risk across their software infrastructures. Veracode serves hundreds of customers across various industries, including nearly one-third of the Fortune 100, three of the top 4 U.S. commercial banks, and more than 20 of Forbes' 100 Most Valuable Brands.
0:00 The Perfect Work-life Balance
0:09 Introducing Veracode
0:26 Tip 1: Work-life Balance
1:21 Tip 2: Career Growth
2:11 Tip 3: Diversity and Inclusion
2:51 Tip Summary
3:34 Share Your Own Tips!
#Veracode #jobmusthaves #TopTips #workatVeracode #PowerToFly #careeradvice
READ MORE AND DISCUSS
Show less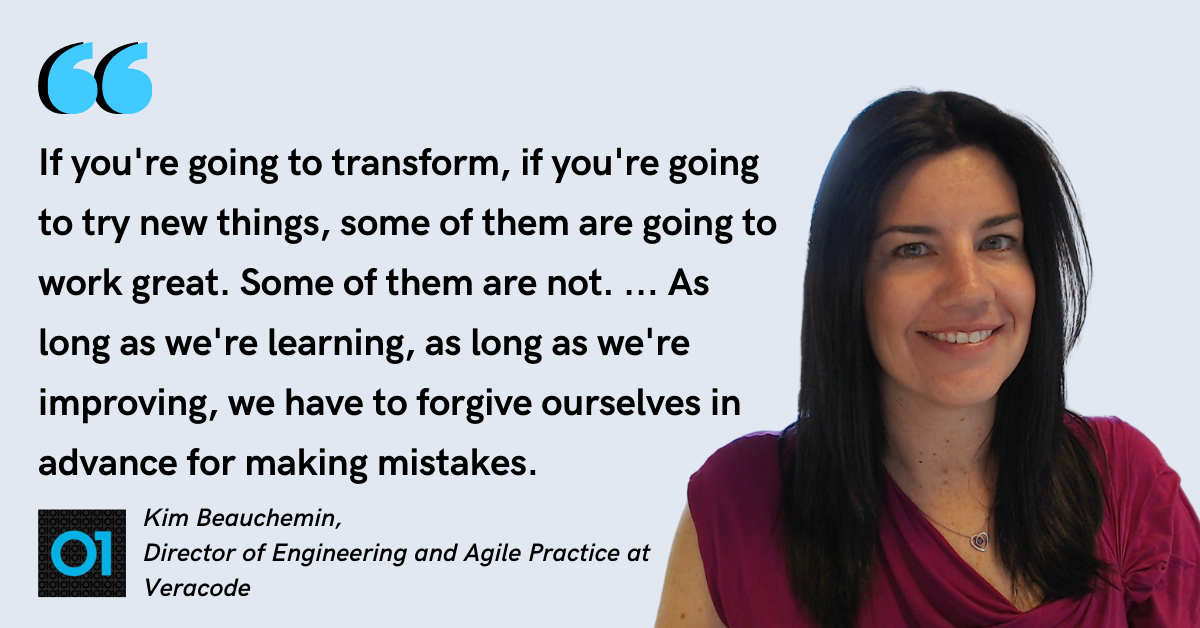 Veracode
When Kim Beauchemin is leading new backpackers on a hike, there are certain rules she always follows.
"We go in groups, and every group I lead is a team. We hike together, we stay together, and if the weather's bad, we all don't go to the summit, we turn around and go back down because we're a team," says Kim, who lives in Massachusetts and is a leader with the Appalachian Mountain Club.
Those are the same principles, more or less, that Kim, the Director of Engineering and Agile Practice at application security company Veracode, has used to manage herself and her team at work through several company transformations.
We sat down with the engineering leader to talk about how she approaches leading through change, how she invites change into her own career and development, and what tips she has for others who are finding themselves facing change at work.
Staying Agile through pivots
Kim was at CA Technologies for 12 years before they were bought by Veracode. She'd been through rounds of internal change and growth, but integrating into a completely new company was hard.
"Change brings challenge, but some people are motivated by change," says Kim. "I'm one of those people."
Kim started off as a technical writer and learned about agile practices when she was managing a team of other technical writers. She took on a program manager role where she leaned on Agile methodologies, including scrum and kanban, to drive her team towards results.
"I had to step away from being the domain expert or the person that's the expert in the content, but rather try to invite people into their own leadership and ask good questions so people could work better and collaborate better," she says.
That same skill set served her when Broadcom bought Veracode several years after the CA Technologies changeover—and then again when Broadcom later sold Veracode.
"[Veracode] went from being its own entity to being acquired by CA to being acquired by Broadcom and then sold again as its own entity under private equity," summarizes Kim. "My awareness of how change impacts people, both positively and negatively, helped," she says. "So did being able to work with and collaborate with different personalities to understand what individuals and teams need to be successful, and, especially during times of change, how to support them."
The top skill she relied on? Communication. "I'm a true believer in transparency—maybe too much sometimes," says Kim. "You do what you can to assure your team and make the transition as un-scary as it can be."
Learning to think strategically, with institutional support
Through those transitions, Veracode went from a startup to part of a 10,000-person company and then back to its own entity again. Along the way, leaders like Kim had to step up and think strategically at a different scale. She welcomed the chance to change the way she led her team.
"A new SVP wanted to create an Agile PMO for the whole organization," she says. "I had to be more strategic in order to define an organization, then build it and hire for it and lead it."
Becoming the director of that organization stretched Kim beyond what she'd done before. "I was so tactical before that, great at getting my tasks done," she says. "The ability to understand the bigger picture, develop a long-term vision and figure out what the strategic roadmap is to get there was a completely foreign thing to me."
She reached out to Veracode's VP of Corporate Development, Pete Ellis, for coaching. "He immediately responded with, 'Absolutely, let's set up a six-month thing,'" says Kim. "And he led me through six months of some great exploratory thinking around strategy and how to think about things in a different way and at a strategic level."
A particularly memorable lesson was around the idea of zooming out. You could look at a car accident and see a person who wasn't paying attention, or you step back and see the road conditions, the disruptions to a morning routine, and the other factors that could have contributed to what happened, Kim explained. "Having more than one lens to examine challenging situations through provides more perspective that can inform better decision-making and strategy," says Kim.
Her mentorship relationship with an executive isn't unique to her, says Kim. "Veracode is big on supporting its employees, especially if an employee shows initiative. Veracode often does anything they can to support them growing professionally."
3 ways to adapt to changes that are outside of your control
Kim's tips for adjusting to organizational change include:
Don't panic. Take a breath. "People can get so worked up even before anything actually happens. I encourage people to take a step back, take a breath, and know that we'll get through it."
Know that it will be uncomfortable. "You will be pushed out of your comfort zone, and while change and transformation are difficult, that's how we learn and grow as individuals, as an organization, as a company. There's a lot of potential and possibility that comes out of uncomfortableness."
Realize that it won't be right the first time. "If you're going to transform, if you're going to try new things, some of them are going to work great. Some of them are not. You'll have to adapt, and that's okay. As long as we're learning, as long as we're improving, or trying to improve, we have to forgive ourselves in advance for making mistakes."
And remember the Appalachian Mountain Club's top recommendation—never hike alone—and stick together, says Kim. "The more you have, the better."
READ MORE AND DISCUSS
Show less
Loading...