GET EMAIL UPDATES FROM POWERTOFLY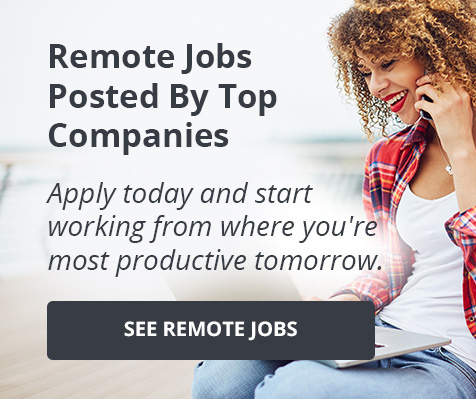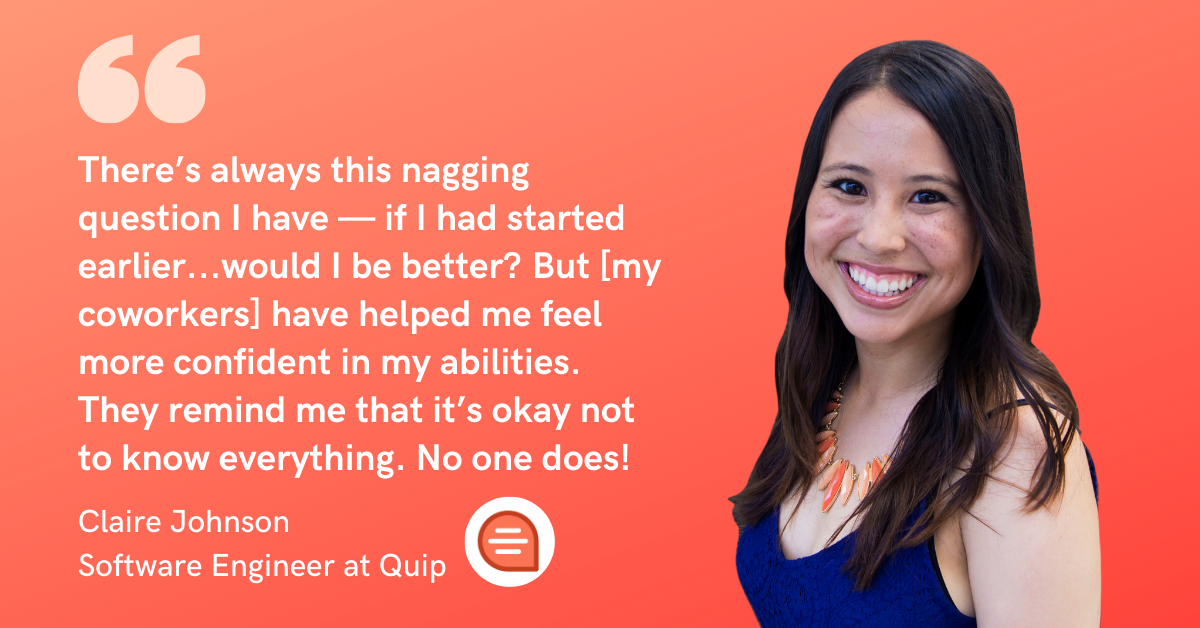 Quip
How She Overcame Self-Doubt & Became a Full-Time Software Engineer at Quip
Have you ever dreamed of pivoting into the world of software engineering? Claire Johnson, a self-proclaimed chemistry nerd who landed a chemical engineering job straight out of college, certainly hadn't… that is, until she took her first programming class online at Stanford. Now she's a full-time software engineer at Quip, Salesforce's productivity platform. "I never would've thought that I would do this when I graduated college," she explains, laughing.

Even when she took her first programming class (ironically, one sponsored by her employer at the time), she didn't expect it would lead to a career change: "It was just something fun. I enjoyed doing it and was pleasantly surprised when I realized I wasn't horrible at it."
That realization blossomed into something more when her job as a chemical engineer was no longer offering her the kinds of technical challenges she craved. "I thought software engineering might be more technical and problem-solving focused," she says.
But even though she was already an engineer by trade, the idea of transitioning into software engineering scared her. Her family and friends helped her overcome the insecurities she felt ("will this work?" "am I good enough?") and with their support, she decided to go all in: she quit her job to attend coding bootcamp full-time. Not long afterwards, in 2018, she landed her job at Quip. According to Claire, looking back on the transition now, "It was the best decision I've ever made."
To learn more about why she's so glad she made the switch to software engineering, I chatted with Claire about the challenges she faced as a bootcamp grad and the ways the Quip team supported her during her transition. Read on for her answers!
----
What was the interview experience like as a bootcamp grad — were you ever nervous about not having much experience?
Oh yeah. I really felt like I had to prove myself. None of my interviewers were ever rude or dismissive, but I always had this voice in my head saying, "I don't think I'm actually qualified for this. I don't think I actually can do this. I don't know if I deserve this job."
The more I interviewed and the more I heard interviewers say they were impressed by what I'd done, the more I realized it was all in my own head.
How did you end up finding (and accepting) your role at Quip?
Online! I didn't know much about Quip, but I saw the application and figured it wouldn't hurt to apply. I had no idea it would be such a great fit — it was a very pleasant surprise.
What made you decide to accept your role at Quip?
The people. Every single person that I met here was incredibly impressive in terms of what they'd accomplished as a software engineer. At the same time, they were also incredibly humble.
It felt like a really great place to start my career because I'd be surrounded by people who were willing to help and mentor me, and that's held true.
How has it felt to be a new software engineer, but not quite so new to the workforce?
When I started, I came in as a "new grad" alongside people who were straight out of college, even though I had a couple of years of work experience, so I did notice that I had certain communication and professional skills that they hadn't developed yet. Those skills have really helped me at Quip.
Another thing that helped with the transition is that Quip doesn't have super formal levels or titles, so as a software engineer, you have a lot of input in deciding what you work on and what you try. It's been really good for me because I've been able to say, "I'm not sure if I'm qualified for this, but it sounds really interesting," and team members have encouraged me to try new things and supported me along the way.
What's been your biggest challenge since starting at Quip?
I think it's something that a lot of people, especially women engineers, deal with: insecurity. I've questioned my own technical ability because I see so many extremely proficient and talented people at Quip, from those who are early in their careers to those who've been in the industry for quite some time.
There's always this nagging question I have — if I had started earlier, if I'd studied CS, would I be better?
But it's actually those same talented coworkers who've helped me feel more confident in my abilities. They remind me that it's okay not to know everything (because no one does) and that programming is always evolving: you only know what you've encountered and learned on the job.
Speaking of challenges that are sometimes more common for women engineers, how does Quip approach talking about these kinds of issues and making sure every team member — regardless of their background — feels welcome and like they deserve to be there?
We're very open about it, and the leadership team in particular encourages transparent conversations: we'll never pretend that problems related to diversity in tech just don't exist, which means that we can spend more time actually solving them. We have D&I task force that works on things company-wide and another one that's focused on engineering recruiting.
I've been really happy with how open the conversation is and especially people how willing people are — especially some of the white men in engineering — to defer to other people's opinions. I've had coworkers say things like, "I think your input here would be more valuable than mine." No one's getting defensive or trying to say things like, "I'm not part of the problem." We're making space for more diverse viewpoints.
And last but not least, what's one of the most fun things you did at Quip last year?
My friend here and I are super into baked goods, so we organized a best of San Francisco croissant competition for the company and had people bring in croissants from their favorite bakeries. We had a whole systematic voting process… it got really intense. Our CEO was there and had some very strong opinions. It was really fun to do something that brought the whole company together.
----
So take it from Claire: don't let self-doubt get in the way of what could be the best decision of your life.
If you want to know more about why Quip is a great place for bootcamp grads (or where to get the best croissant in San Francisco!), be sure to let Claire know in the comments below!
READ MORE AND DISCUSS
Show less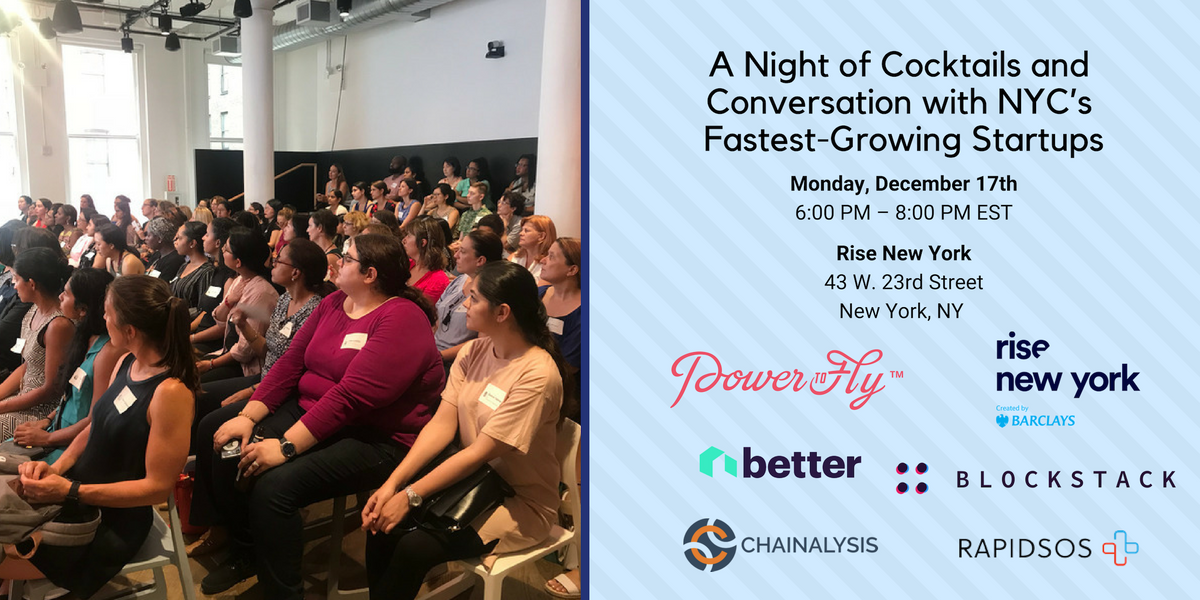 In Person Events
If you are interested in attending this event, please email us at hi@powertofly.com to be considered for a reservation.
PowerToFly is kicking off this holiday season with a free evening of cocktails and conversation featuring women leaders from some of New York's fastest-growing startups. The night will include product demos, a panel discussion, an audience Q&A, and of course plenty of time to network with your peers over drinks and light food.
The event will take place on Monday December 17th from 6pm to 8pm at Rise New York, located at 43 W. 23rd Street, New York, NY 10010.
Featured startups include:
Better Mortgage, a direct lender dedicated to providing a fast, transparent, and online mortgage experience backed by superior customer support. From their offices in New York City, they're using technology to change the way people finance their homes, for the better. Since their founding, Better Mortgage has funded $1.8 billion of loans
Blockstack, a new internet for decentralized apps that you access through the Blockstack Browser. With Blockstack, there is a new world of apps that let you own your data and maintain your privacy, security and freedom. Blockstack is a rapidly growing open source community with over 15,584 developers globally. It was co-founded by Ryan Shea and Muneeb Ali in 2013 at Princeton and the core team is distributed across the United States and globally.
Chainalysis, builds trust in blockchains between people, businesses and governments. Their Blockchain Intelligence Platform powers compliance and investigation software for the world's top institutions. Their cryptocurrency investigation software helps law enforcement and financial institutions identify and stop bad actors who are using cryptocurrencies for illicit activity such as fraud, extortion, and money laundering. With an intuitive graphical interface, Chainalysis Reactor enables users to easily conduct in-depth investigations into the source and provenance of cryptocurrency transactions.
RapidSOS, a multi-million dollar technology company developing transformative technology that saves lives. Their emergency technology platform links life-saving data from connected devices to 9-1-1 and first responders. RapidSOS' technology helps predict emergencies before they occur while also providing accurate locations and data to first responders.
Agenda (Subject to Change)
6:00pm - Check-In & Networking over Cocktails & Light Food
6:30pm - Event Kickoff with Rise New York (The NYC chapter of a global network that brings together the best and brightest startups and experts to create the future of financial services)
6:35pm - Introductory Remarks by PowerToFly
6:40pm - Product Demos, a Panel Discussion and an Audience Q&A featuring women tech leaders from Better Mortgage, Blockstack, Chainalysis, and RapidSOS
7:20pm - Networking over Cocktails & Light Food
About our Events: All attendees who RSVP are welcome, regardless of race, color, religion, national origin, gender identity, pregnancy, physical or mental disability, or age. If you require accommodation to fully participate in this event, please email hi@powertofly.com, and we will contact you to discuss your specific needs.
Unfortunately, PowerToFly and its Partners cannot admit outside recruiters to this particular event. Please email hi@powertofly.com if you have any questions about this policy.
READ MORE AND DISCUSS
Show less
Loading...