GET EMAIL UPDATES FROM POWERTOFLY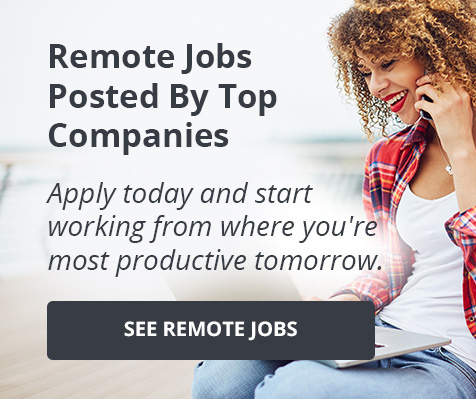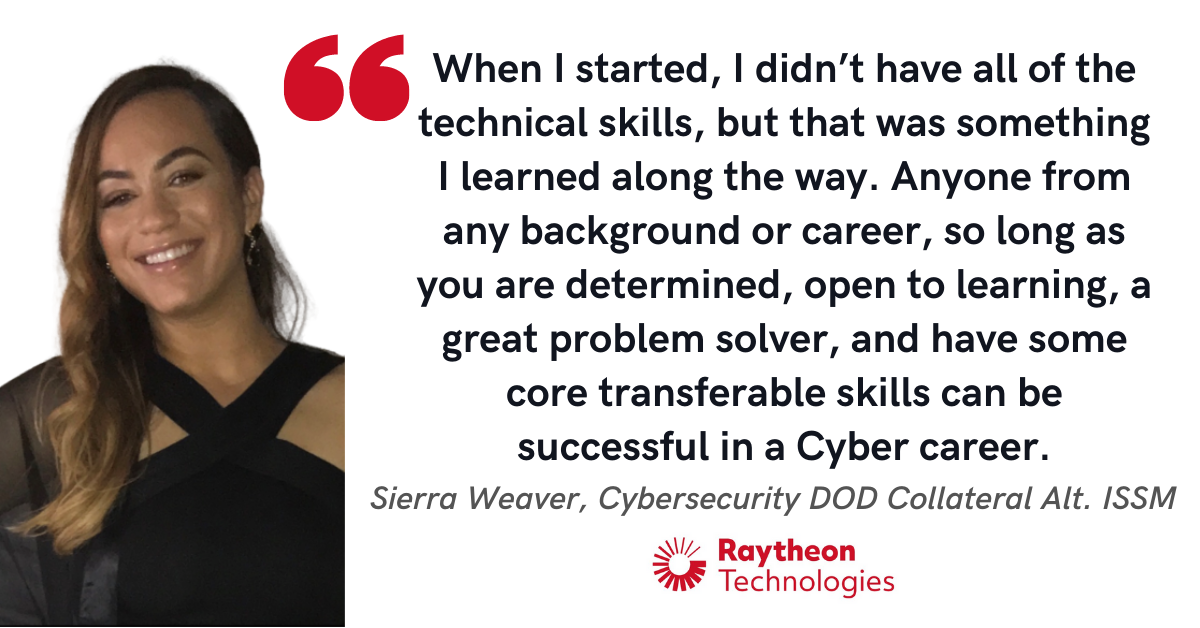 Raytheon Technologies
As a Cybersecurity DOD Collateral Alt. Information Systems Security Manager (ISSM), it's easy for Sierra to lose track of time at work because she loves learning, and her field is constantly refreshing itself with new tools, technology, and processes to stay up-to-date on.
Sierra Weaver's boss at Raytheon Technologies keeps a good eye on the entire team to ensure no one is overworking themselves.
"He'll jokingly say, 'I've seen you online at this hour!' and consistently reminds me of work-life balance," she says. "He's very supportive—we honestly have an amazing team."
But ask her five years ago whether she thought she'd be in cybersecurity, and you would have gotten a resounding "no."
Sierra planned to work in broadcast journalism, but after being exposed to cybersecurity while working in a contract position at a different aerospace company, she realized she wanted to transition into that industry.
"When I started, I didn't have all of the technical skills, but that was something I learned along the way. Anyone from any background or career, so long as you are determined, open to learning, a great problem solver, and have some core transferable skills can be successful in a Cyber career," she says.
We sat down with Sierra to learn more about what exactly those skills were, how she uses them on a daily basis, and what the future of cybersecurity looks like from her perspective.
Core Skill: Determination
Sierra studied communication and Pan-African studies at Cal State while working full-time—and she credits a lot of her success in cybersecurity to her ability to work hard.
Even her first experience with the industry required determination. As a contractor, she was involved with different departments and processes, from purchasing to contracting to licensing.
"With all of the hats I wore, I was doing quite a bit, but cybersecurity is what interested me the most," she says. After getting hired at Raytheon, Sierra applied her work ethic to deepening her expertise in the field through certifications, including the Security Plus certification.
"As long as you are willing and open to the training process, I feel like anyone can make the pivot, just by being determined," she says.
Core Skill: Communication
Though she loves her job, Sierra is a lot more than just her work. For one thing, she's one of 15 siblings. Growing up in LA with that many family members, Sierra learned how to communicate with different kinds of people with various backgrounds, needs, and styles of interaction.
"With cyber, you're communicating and collaborating with many stakeholders most of your all day," she says, citing everyone from the IT department to program managers, and our customers.
Sierra calls her Raytheon coworkers her work family, and says that at the end of the day, "we all get along so well, communicate effectively with one another, and ultimately they help make work so much more worthwhile."
"We spend so much time at our jobs. You always want to be in an environment you feel comfortable in, one you can flourish in. I'm lucky in the sense that the folks I work with are extremely supportive. I can leverage their knowledge. I can lean on them if I need anything. And I'm just so appreciative of that. That's what keeps me at Raytheon Technologies," she says.
Core Skill: Problem-Solving
Sierra's team ensures that Raytheon's clients, particularly those with classified contracts, have their systems set up in a way that ensures no classified information is compromised. They work with the Defensive Counterintelligence Security Agency to keep things up to snuff, which includes maintaining the systems for the life of the technology.
It requires a nimble approach to problem-solving—and a hands-on one, too.
Even though she's now a manager of a team of six, Sierra still does some of that work herself.
"I want my team to know that anything that I ask them to do, I'm willing to do," she says, referencing site visits and tough systems. "I want to give my team the tools to be able to fish on their own, and to feel comfortable and confident, but I also want to be just hands-on enough for them to know that if they need my support, I'm there and available to help them."
Building the Next Wave of Women in Cybersecurity
When Sierra looks around her industry, she doesn't see many people who look like her.
"I would love to see more women within cybersecurity. And I am absolutely doing my best and doing my part to encourage women, and women of color as well, to join cybersecurity," she says. "For us to continue to be successful, we need diversity on all fronts."
Part of Sierra doing her best is sharing her story, like she's done with us here. Another part of it is offering herself up as a resource for women looking to break into the field.
"I hear from folks that they look at job requisites for cybersecurity, or research all of what the field entails, and get intimidated and discouraged because they feel like they have to have all these certifications or several years of experience just to get their foot in the door at a company like Raytheon Technologies. But honestly, we truly need individuals who are passionate about cybersecurity and willing to learn; you don't need to be a technical expert to get started," Sierra says.

And if you want to work at Raytheon with Sierra, check out their open roles! Sierra says that she hires for "passion, not technical skills," so if you're interested, make sure to apply!

READ MORE AND DISCUSS
Show less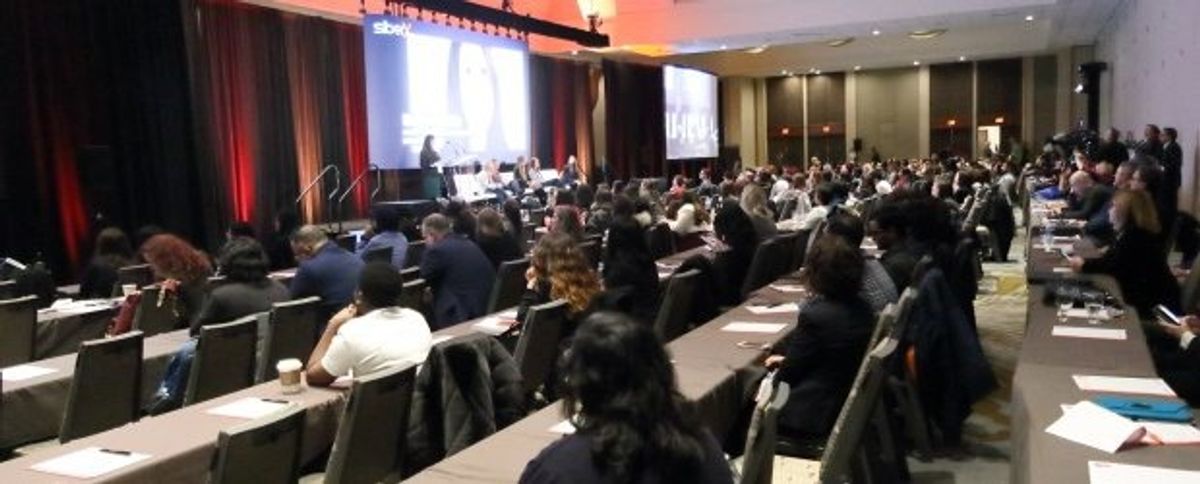 The Canadian Women in Cybersecurity conference attracted some 500 attendees. Howard Solomon photos
Juniper Networks, Inc.
Below is an article originally written by Howard Solomon, a Freelance Writer for IT World Canada, and published on March 11, 2020. This article is about PowerToFly Partner Juniper Networks. Go to Juniper Networks' page on PowerToFly to see their open positions and learn more.
Samantha Madrid's path to becoming vice-president of Juniper Networks' security business began in high school when she was told, 'no'.
It's not uncommon for women to be told no, particularly those trying to build a career in IT and cybersecurity.
Samantha Madrid, Juniper Networks
She told several hundred at the Canadian Women In Cybersecurity conference Tuesday in Toronto that over the years, "there were a lot of 'nos' that I learned to navigate."

But this particular one galled her. It came from her high school guidance counsellor.
Coming from a poor home in the U.S. and raised by a single mother, Madrid had told the advisor she planned to go to college. Among her dreams were becoming a business executive, a trial lawyer or a lobbyist arguing for people who didn't have a voice.
"You may want to take a different path," the counsellor responded. "Not everybody is meant for college."
Madrid refused to accept that.
"I remember thinking I wasn't a bad student, but I was a decent student. I was varsity on the debate team, I was co-captain of the swim team. I was very competitive.
"I was shell-shocked. I was devastated. I went home and cried all night long.
"And then I got angry. And this was the point that defined who I am. Because I got so angry at her I said, 'I'm going to show her that she is wrong.'"
These kinds of experiences aren't unusual for women, or some men, Madrid said. "You can either let it define you or let it motivate you."
It's easier to be a woman in cybersecurity today than it was 30 or 40 years ago, the conference heard. The profession and related roles, like risk managers — are still overwhelmingly male. Women still account for only 10 per cent of those in cybersecurity jobs in Canada.
But there are some bright spots. One speaker noted a recent global report last year by the International Information System Security Certification Consortium, (ISC)², a non-profit which specializes in training and certifications for cybersecurity professionals, found women in cybersecurity are younger, boast more education and are moving into senior leadership roles at higher rates than men. And while they are paid less than men, the gap is less in younger age groups and for women in senior positions.
Millenial-aged women making more than US$100,000 have overtaken their male counterparts.
The conference featured a number of Canadian women who hold titles like vice-president or team leader in IT or risk management. Many recalled being the only woman in a networking class or on their first IT team. Most said their managers were supportive.
But they also talked about the need for women in IT to find a mentor, be more assertive in their careers, to look for opportunities for promotion. To say yes.
Madrid's message was that obstacles — you need a certification, you can't do that job — can be part of a career path.
She offered these five tips:
Be introspective. Be honest with yourself: Have you put in the effort, or is there a way to get around that obstacle? Didn't get a promotion? Did you really deserve it? It's easy to blame people for things that don't go your way? Ask what you really want, be it in career or marriage. "Once you figure it out you do everything you can to make that happen." In fact, when she interviews candidates for jobs she asks, 'What are your blind spots?' I don't like writing so I partner with people to give me the confidence so I can write."
Everything is a choice. Everything in your life is the result of the choices you made. You may not have chosen the situation, but how you react is within your control. And choice that allows you to overcome that obstacle. "Often when we hear no … we think there is no path."
It's not always about you. In a poor performance review, or someone was disrespectful, whatever, there may be more at play. Try to understand the other person's point of view. "Early in my career, I was on a successful team … I wanted to make sure I was best on the team … It was always about 'me,' And she was bounced from the team for not being a team player. I realized that was 100 per cent my own doing. And I never made that mistake again."
Be adaptable. You will never be able to predict happens tomorrow but if you have the ability to adapt you are invaluable. "If someone says 'no' you have to be able to pivot around that. It does not mean you're goal wrong and you're not going to reach your end destination. But you may have to bob and weave, you may have to take an alternative path. Have your goal, but be flexible on your method."
Trust your gut. That's the number one thing that derails people from achieving their goals. It's why people who hear no step back. It's why she didn't step back when the counsellor suggested she shouldn't think about going to college. Or when people suggested going to a company whose reputation had fallen wasn't a good career move.
By the way, after graduating from college Madrid worked for a U.S. state senator and didn't like it. Along the way she picked up some aptitude for computers, so when a friend told her Cisco Systems was hiring, she read books about networking so was prepared and applied. And once she was hired took some certification courses.
"You have to believe in yourself. It doesn't matter the obstacle … At the end of the day, you are your only cheerleader and you are the only person who will make it or break it."
The conference was organized by SiberX, a Toronto-based training and skills development platform.
READ MORE AND DISCUSS
Show less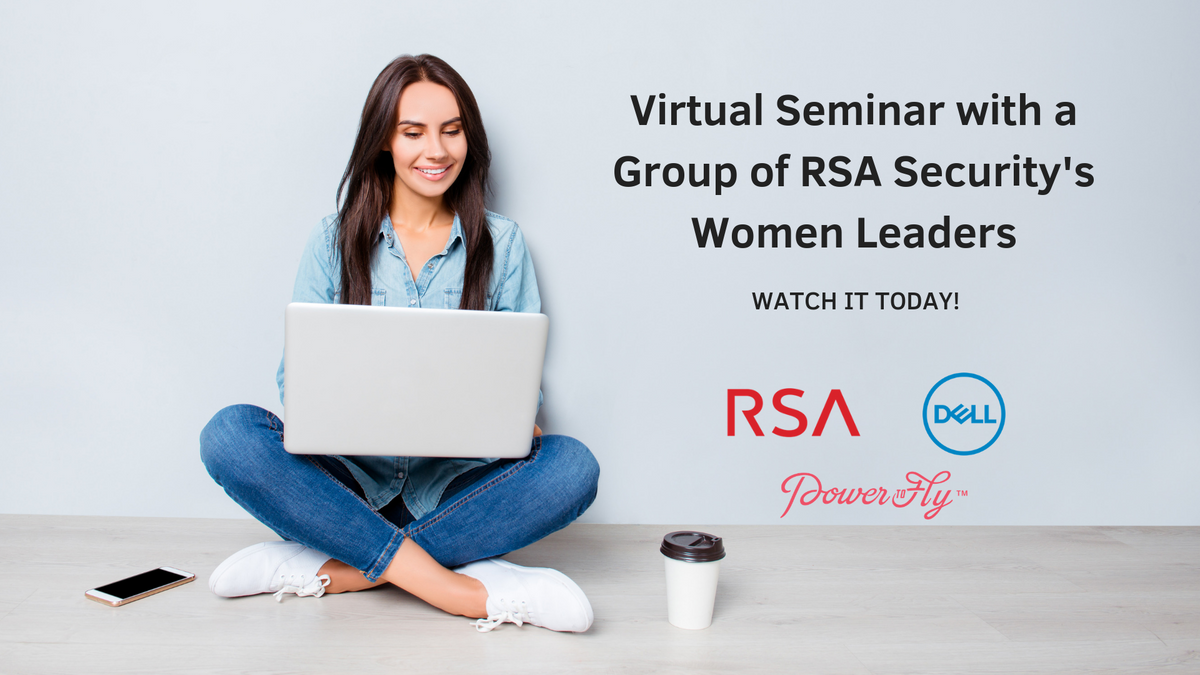 Dell Technologies
PowerToFly was thrilled to partner with RSA (the security division of Dell Technologies) to present a virtual seminar for women in cybersecurity, tech sales and marketing on October 18th. Over a hundred women were able to watch the seminar live and share real time questions for our amazing panelists.
The panel of RSA leaders, which was moderated by PowerToFly's CoFounder Katharine Zaleski, included:
Nicole Kenny, Director of Inside Sales
Amy Blackshaw, Director of Product Marketing
Rashmi Vikram, Global Alliances Executive
Mita Majethia, RSA Advisory Sales Engineer
Both RSA and Dell are hiring. Check out their page on PowerToFly to learn more about their open roles.
READ MORE AND DISCUSS
Show less
Loading...