GET EMAIL UPDATES FROM POWERTOFLY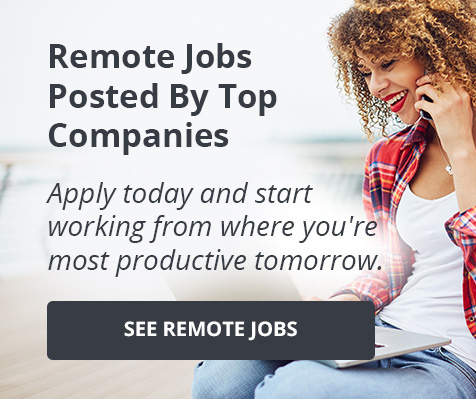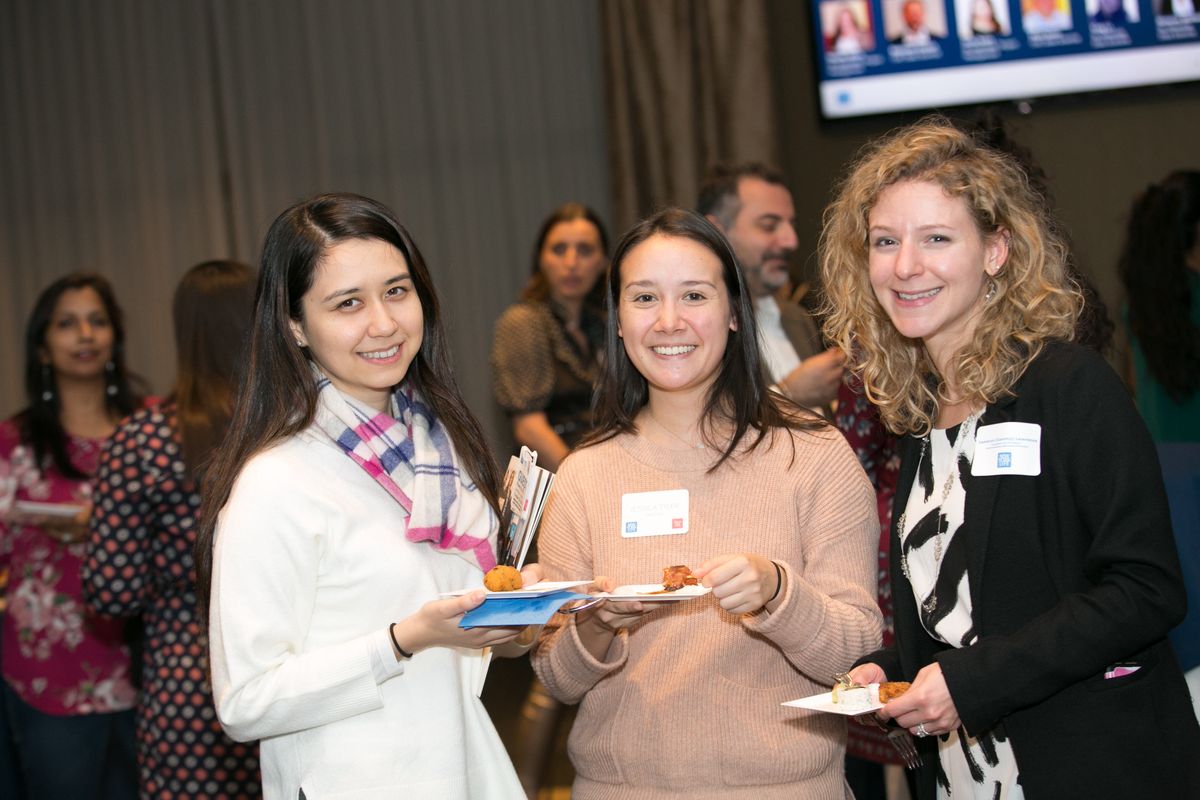 New York Life Insurance Company
New York Life's headquarters is a gorgeous, gothic National Historic Landmark, located adjacent to the Flatiron District's scenic Madison Square Park. After over a decade of living in NYC, I was thrilled that my first time inside this legendary building would be for a PowerToFly event highlighting New York Life's data science and analytics leaders.
PowerToFly's event with New York Life was held on Thursday, October 25th, inside New York Life's Ben Feldman Auditorium. After guests navigated the ornate lobby, they were welcomed with delicious food and drinks and had the chance to network with both members of the New York Life data and hiring teams as well as their peers.
PowerToFly's CoFounder and President Katharine Zaleski started the night off by introducing New York Life's SVP/Head of Retail Life Alex Cook. "We are always finding ways to be collaborative because we know a diverse culture leads to innovative and new ways of thinking, which are critical to the future success of the company. I'm impressed that a company like ours that's been around since 1845 and is as large as we are, how quickly we're moving on multiple fronts. For example, in just the last two to three years we've built a 50-person Data Science Team We're also making a lot of investments in our infrastructure and our technology capabilities. We're now at a point where everywhere you look in the company, we're transforming something," explained Cook.
Alex went on to speak about how New York Life uses data in assessing mortality risk and the inherent challenges involved. "You don't know whether your calculations are accurate for 10, 30, even 70 years. It's a very difficult problem to solve and very intriguing from a data science perspective."
As Alex concluded, he introduced CVP, Advanced Analytics Rita Fuller who discussed New York Life's Data Science Academy which, as Rita describes it, "is a program with two educational tracks designed to increase knowledge of Data Science and Analytics for our employees.." The Data Science Academy is part of a cultural shift to generate greater understanding of data science and to create an environment in which New York Life data scientists can thrive. The program features two educational tracks. The technical track is for those who want to gain or improve your skillset in statistical modeling and machine learning. The business track introduces you to case studies involving analytic solutions to foster an analytical mindset. Rita then introduced an insightful short video that provided a better glimpse into a "day in the life" of the data team.
Next up, Katharine introduced our amazing panel of New York Life leaders which included Michelle Bottomley, SVP & Chief Marketing Officer; Glenn Hofmann, VP & Chief Analytics Officer; Mary Louie, CVP & Lead Data Scientist and Beth Schumacher, CVP Human Resources/Training. Our experienced panel discussed their latest projects, how they keep current on the latest tech trends and dove a bit deeper into their individual career journeys. The formal programming for the evening ended by opening up the floor to questions from the audience.
But the night wasn't over yet! Our attendees had plenty of opportunities to network with the panel, members of the New York Life team and each other before the evening eventually drew to a close. As they exited, our guests were greeted with a complimentary copy of a book to remember the evening by. All in all, this was a fabulous New York evening with an iconic New York company.
Follow New York Life on PowerToFly to learn more about their open roles.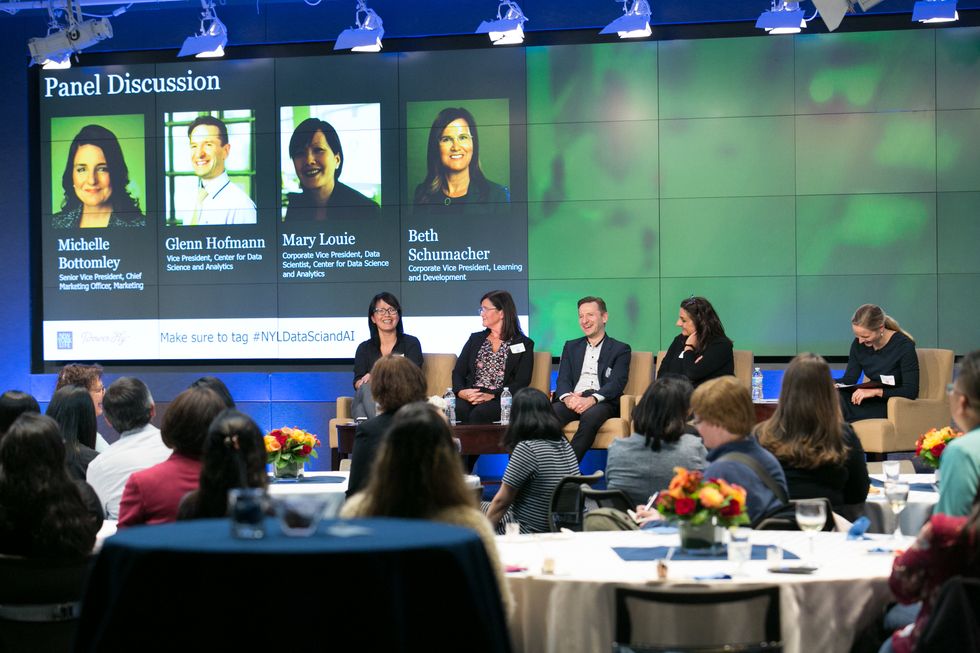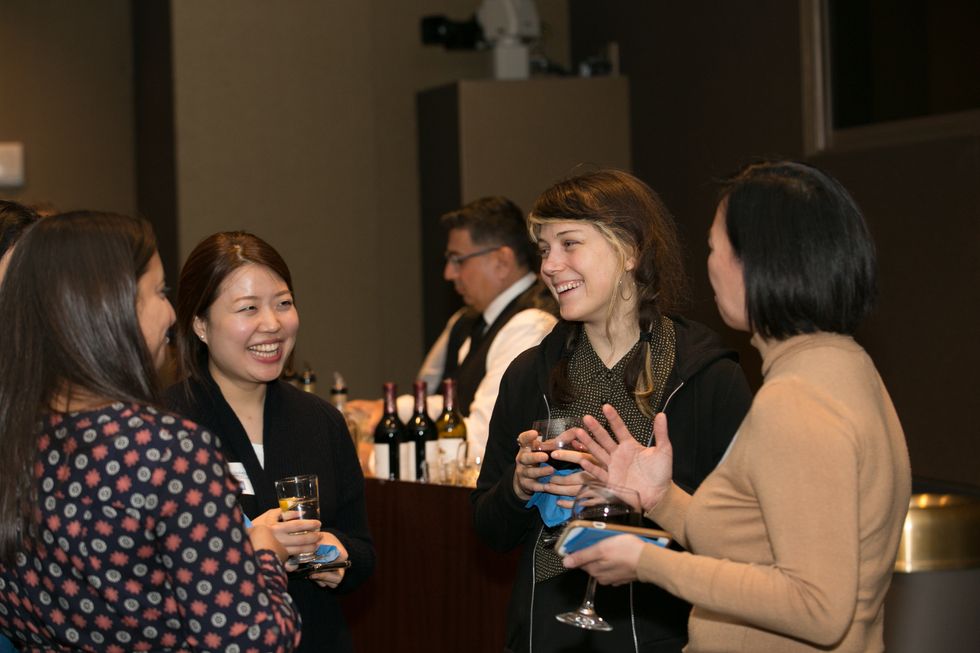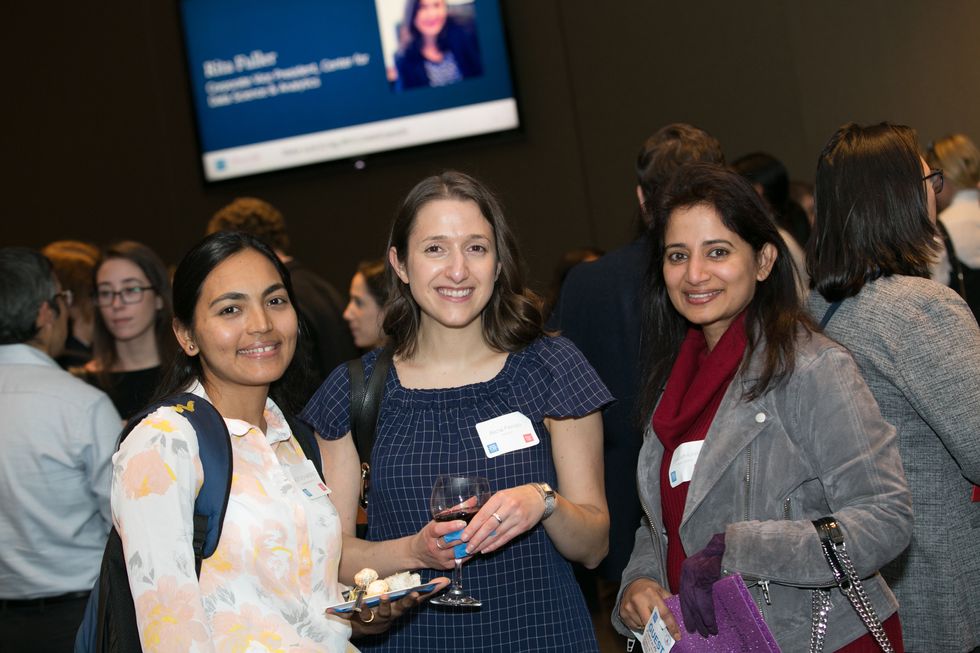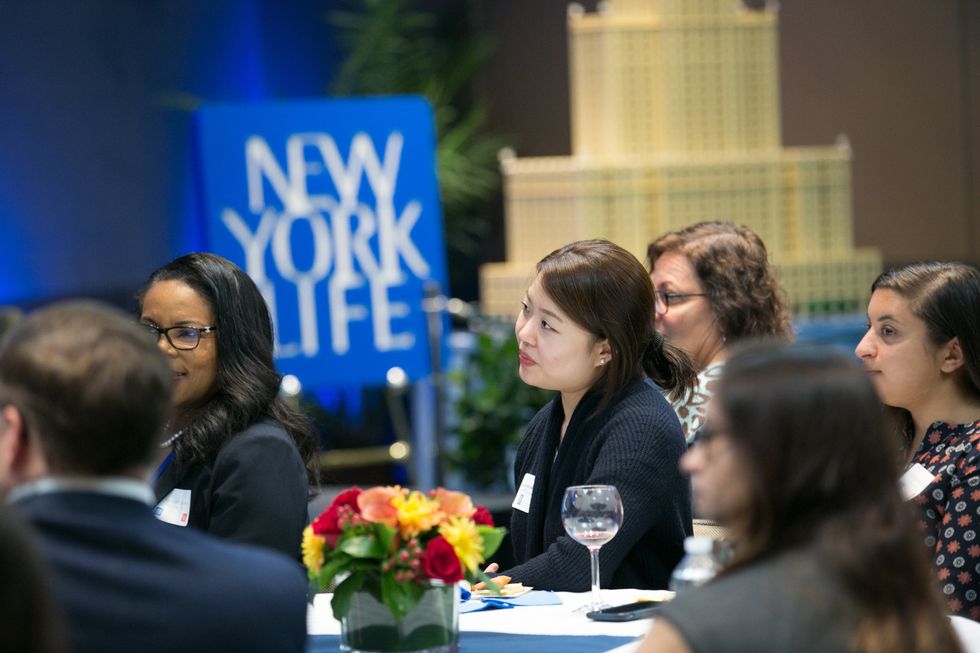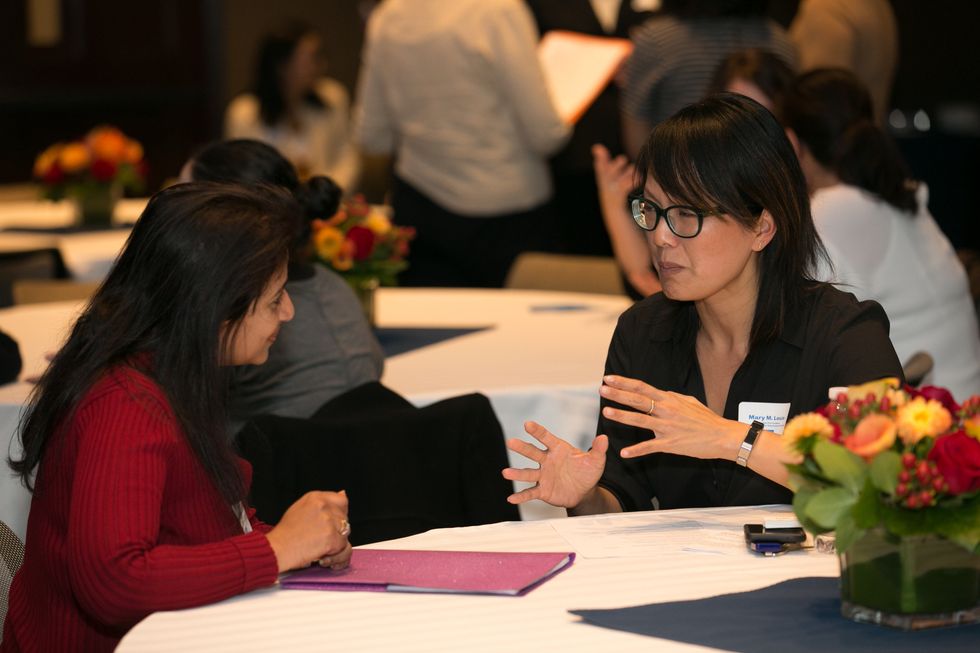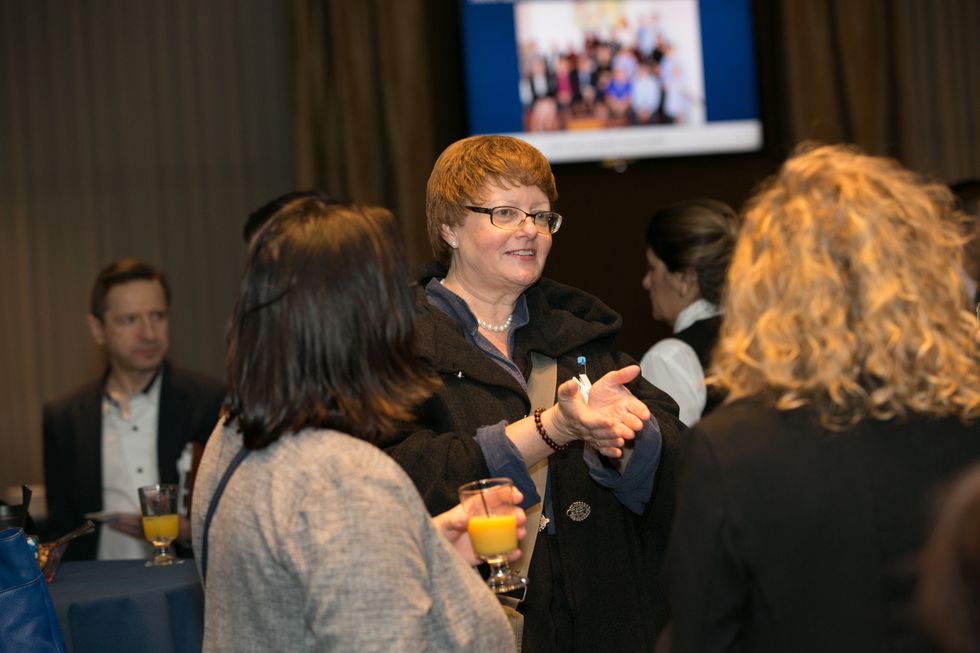 READ MORE AND DISCUSS
Show less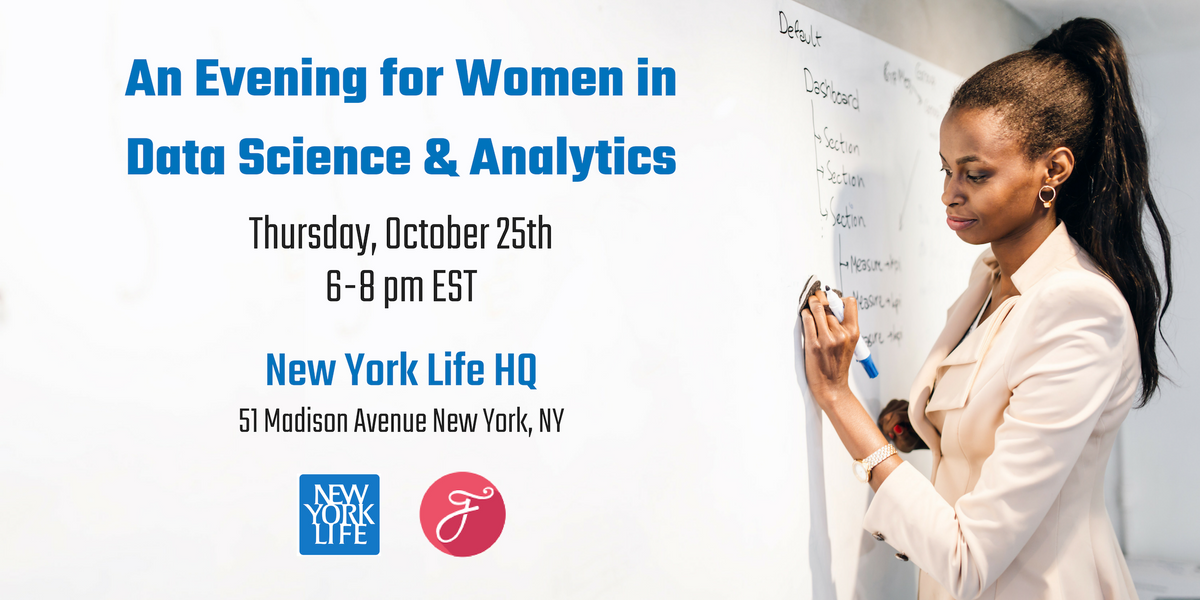 New York Life Insurance Company
This event is intended for women working in data science & analytics. If you would like to be considered for an invitation, please email hi@powertofly.com

Are you working in data science or data analytics? Then please join New York Life and PowerToFly for this exclusive evening of panels and networking featuring women leaders from New York Life's data teams.
The event will take place on October 25th from 6pm to 8pm at the New York Life Insurance Company's HQ, located at 51 Madison Avenue New York, New York 10010 (Ben Feldman Auditorium, 13th Floor).
Agenda (Subject to Change):
6:00pm - Check-In & Networking over Cocktails & Light Food
6:30pm - Kick-Off from PowerToFly's CoFounder & CEO Katharine Zaleski
6:35pm - Welcome & Introduction by New York Life's Alex Cook, SVP/Head of Retail Life Department
6:40pm - Panel Discussion featuring from New York Life

Michelle Bottomley, SVP & Chief Marketing Officer
Glenn Hofmann, VP & Chief Analytics Officer
Beth Schumacher, CVP Human Resources/Training
Mary Louie, CVP & Lead Data Scientist

7:05pm - Audience Q&A
This is an excellent opportunity to meet and network with New York Life's data and hiring leaders and to of course network with your fellow women in tech over food and drinks. New York Life is hiring but you don't need to be looking for a new opportunity to attend - if you'd just like to come to network, that's great too.
About our Events: All RSVP'd attendees are welcome, regardless of race, color, religion, national origin, gender identity, pregnancy, physical or mental disability, or age. If you require accommodation to fully participate in this event, please email hi@powertofly.com, and we will contact you to discuss your specific needs.
Unfortunately, PowerToFly and the company it is holding an event on behalf of cannot admit outside recruiters to that particular event. Please email hi@powertofly.com if you have any questions about this policy.
About New York Life Insurance Company: New York Life Insurance Company is the largest mutual life insurance company in the United States. Founded in 1845, New York Life is headquartered in New York City, maintains offices in all fifty states, and owns Seguros Monterrey New York Life in Mexico. New York Life is one of the most financially strong and highly capitalized insurers in the business. New York Life have steadfastly refused to ask agents and employees to conform themselves to a single way of doing business. Instead, everyone is expected to bring his or her own cultural and intellectual perspectives to the table.
READ MORE AND DISCUSS
Show less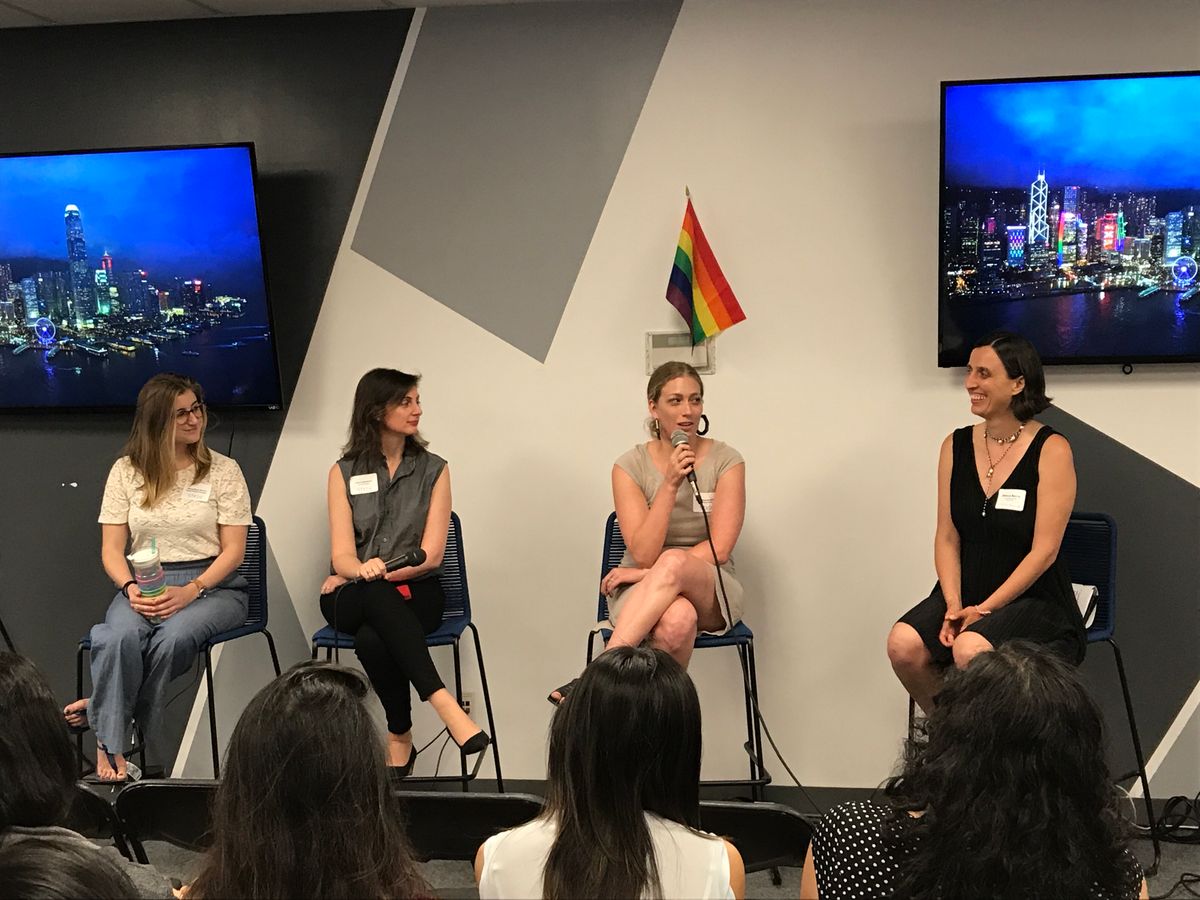 Stash
PowerToFly was thrilled to partner with Stash for our second event last week. Held at Stash's headquarters in the Flatiron District, the event focused on women in data science. Moderated by PowerToFly CoFounder Milena Berry, the panel from Stash included:
Claire Goldwitz, Stash's VP of Product
MaryAlexa Divver, Senior Product Manager
Christine Hurtubise, VP of Data Science
Stash is hiring and they are dedicated to increasing the number of women on their team by over 40% through 2018.
FOLLOW Stash
for updates on more events and open roles.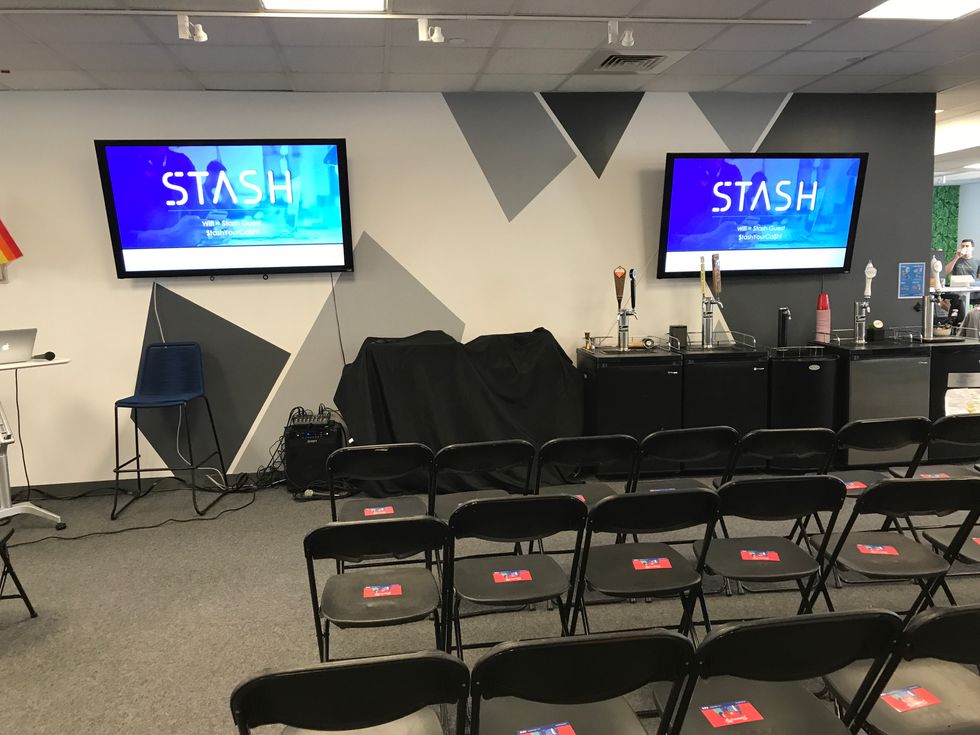 Stash's wonderful office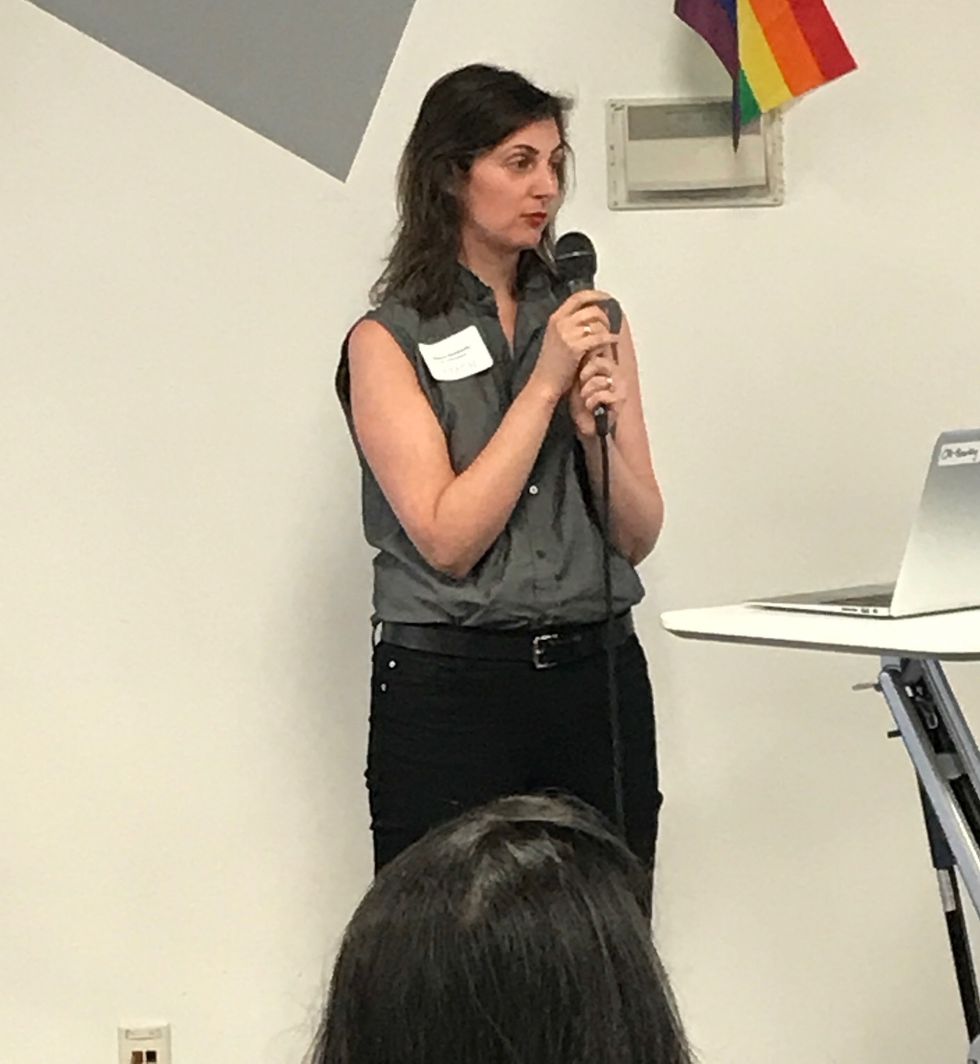 Stash's VP of Product Claire Goldwitz kicked off the evening.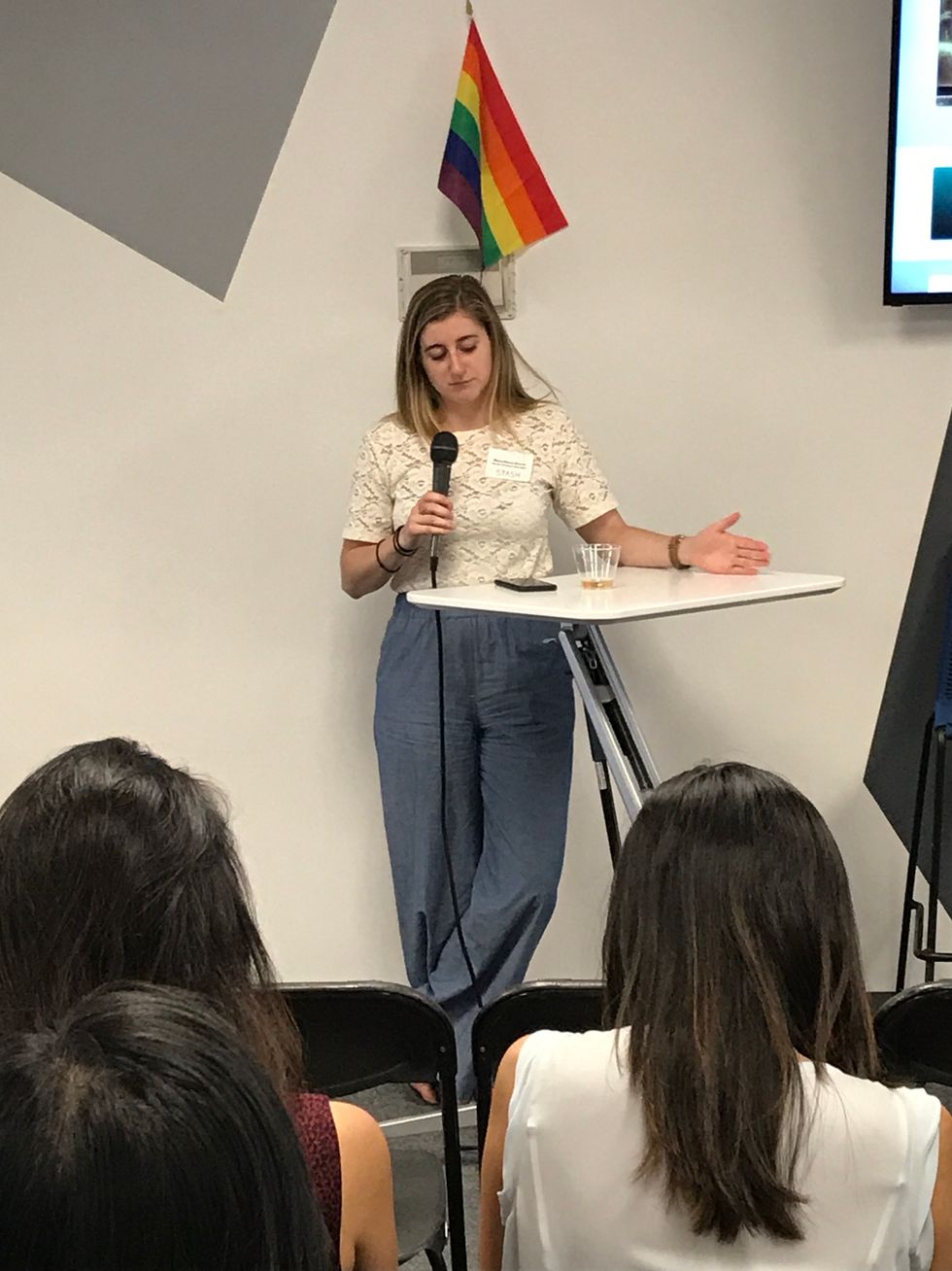 MaryAlexxa Diver, Stash's Senior Product Manager provided a deeper dive into Stash's product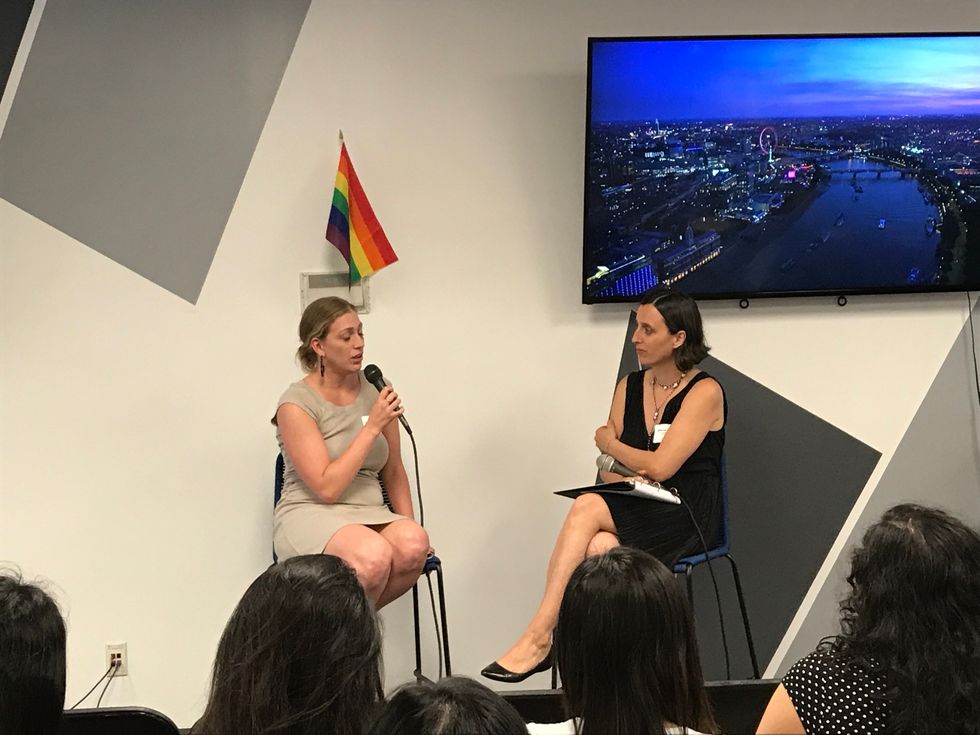 PowerToFly's CoFounder Milena Berry conducted a fireside chat with Stash VP of Data Science Christine Hurtubise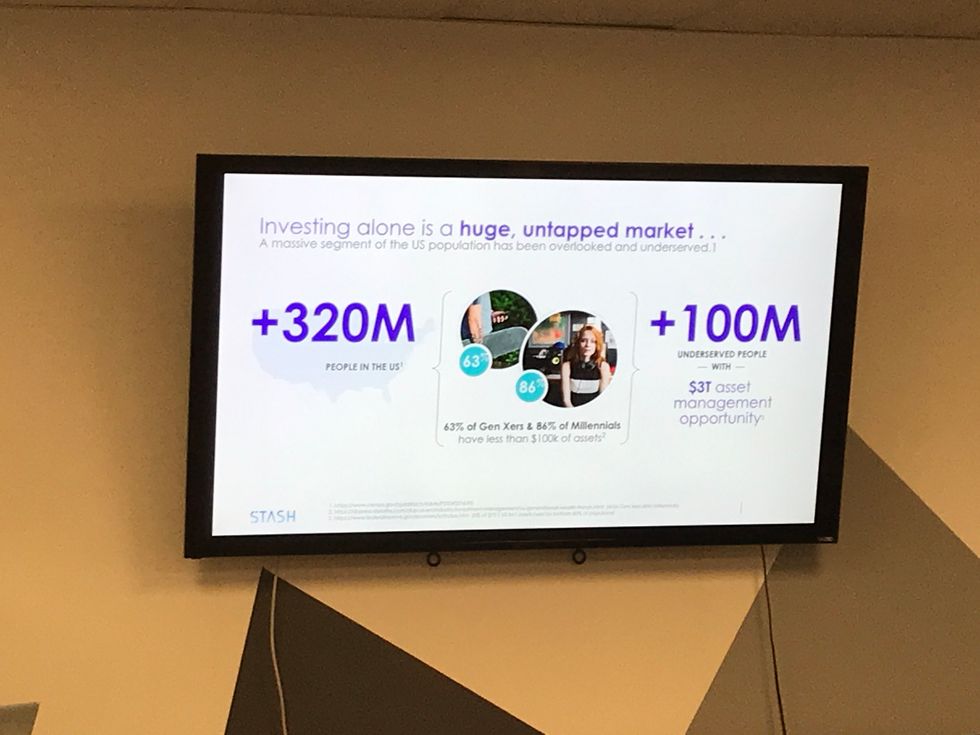 A look at Stash's product
READ MORE AND DISCUSS
Show less
Loading...