GET EMAIL UPDATES FROM POWERTOFLY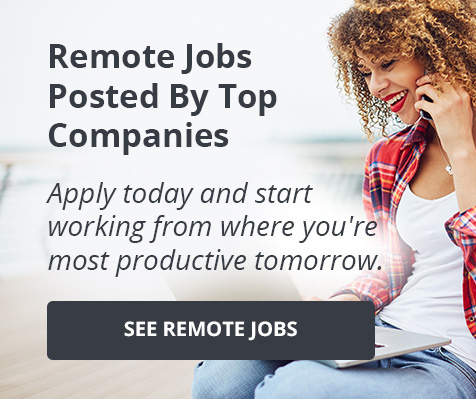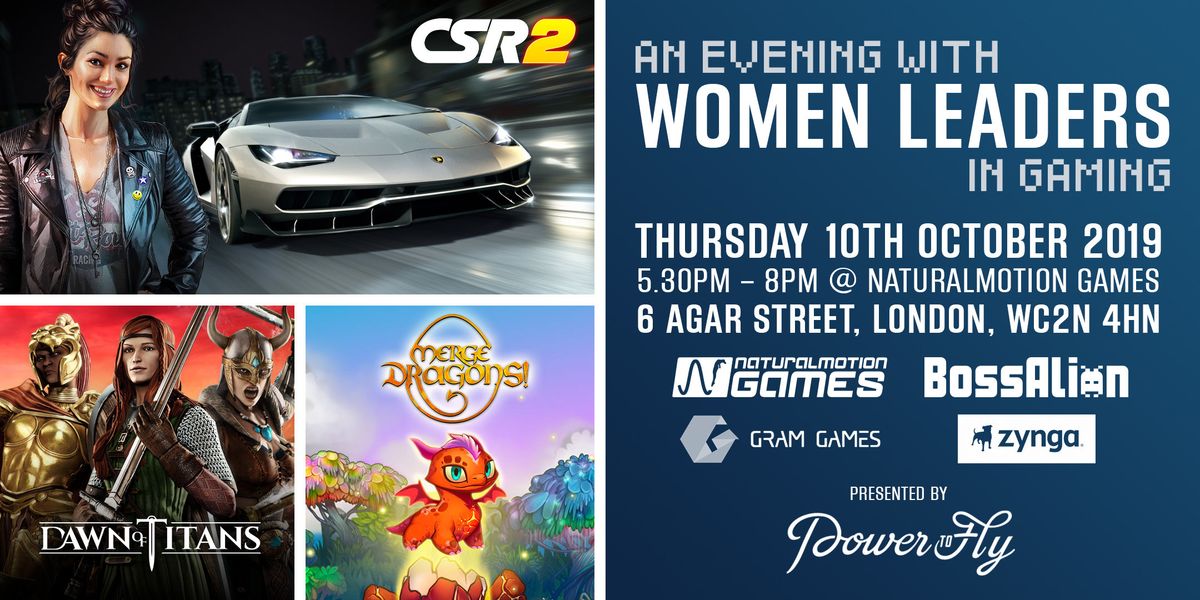 Zynga
If you are a London-based tech or gaming professional and you are interested in attending this event, please email events@powertofly.com to be considered for an invite.
Hello gaming and tech professionals! NaturalMotion in partnership with PowerToFly is thrilled to present an evening of networking and tech talks, hosted by women leaders, working in gaming and interactive entertainment.
The evening will include speakers from the Zynga family, including NaturalMotion, BossAlien and Gram Games. This is a great opportunity to Learn, Debate and Network with some of the talent behind such games as CSR Racing 2 , Star Wars™: Commander, 1010!, Merge Dragons!, Dawn of Titans and many more.
The event will be held on Thursday 10 October 2019 from 17:30 to 20:00 at NaturalMotion Games, located at 6 Agar Street, London, WC2N 4HN. As an inclusive event, our objective is to connect those who currently work in games, and therefore welcome everyone at our events. Please note, you will be required to sign a Non-Disclosure Agreement (NDA) in order to attend the event.
17:30 - Check-in & networking
18:20 - Introduction from PowerToFly
18:25 - Keynote address by Julian Widdows, Vice President, NaturalMotion
18:35 - Tech talks and informational presentations by
18:50 - Panel discussion featuring
19:05 - Audience Q&A
19:20 onwards - Networking with food and refreshments
Zynga Studios actively cultivate a culture of diversity, creativity, and growth in the pursuit of their core mission: Connecting the World Through Games. Named the #1 Mobile Games Company by PocketGamer in 2019.
About NaturalMotion & BossAlien: Our goal is to wow people with creativity and technology. We take pride in making titles that reach a large audience and in creating communities that last. In 2018, Zynga announced a multi-year licensing agreement with Disney to develop and publish new mobile games in the Star Wars™ universe. We're very proud and excited that our teams at our London and Brighton studios will help lead that charge. Winners of one of the Best Places To Work in the UK video games industry, at the Gamesindustry.biz Awards.
Find out more about us here https://www.naturalmotion.com & https://www.bossalien.com
About Gram Games: We have one goal, and one passion: to have fun, and to turn that fun into top-notch games played by hundreds of millions of players around the world. Since our founding in 2012, we have worked to take that passion and build a company culture around it. With studios in both London and Istanbul, we joined the Zynga family in June 2018.
Find out more about us here http://gram.gs/
About PowerToFly's Events: All RSVP'd attendees are welcome, regardless of race, color, religion, national origin, gender identity, pregnancy, physical or mental disability, or age. If you require accommodation to fully participate in this event, please email hi@powertofly.com, and we will contact you to discuss your specific needs.
Find out more about us here http://powertofly.com
Unfortunately, PowerToFly and it's partners cannot admit outside recruiters to this particular event. Please email hi@powertofly.com if you have any questions about this policy.
Privacy Policy: PowerToFly Inc. ("PowerToFly," "we," "us" or "our") values your privacy. This Privacy Policy ("Privacy Policy") describes the types of personal information we obtain through our website at www.powertofly.com (the "Site") and in connection with our related events and services, how we use the personal information we obtain and with whom we may share it. We will refer to our Site and related events and services together as the "Services."
READ MORE AND DISCUSS
Show less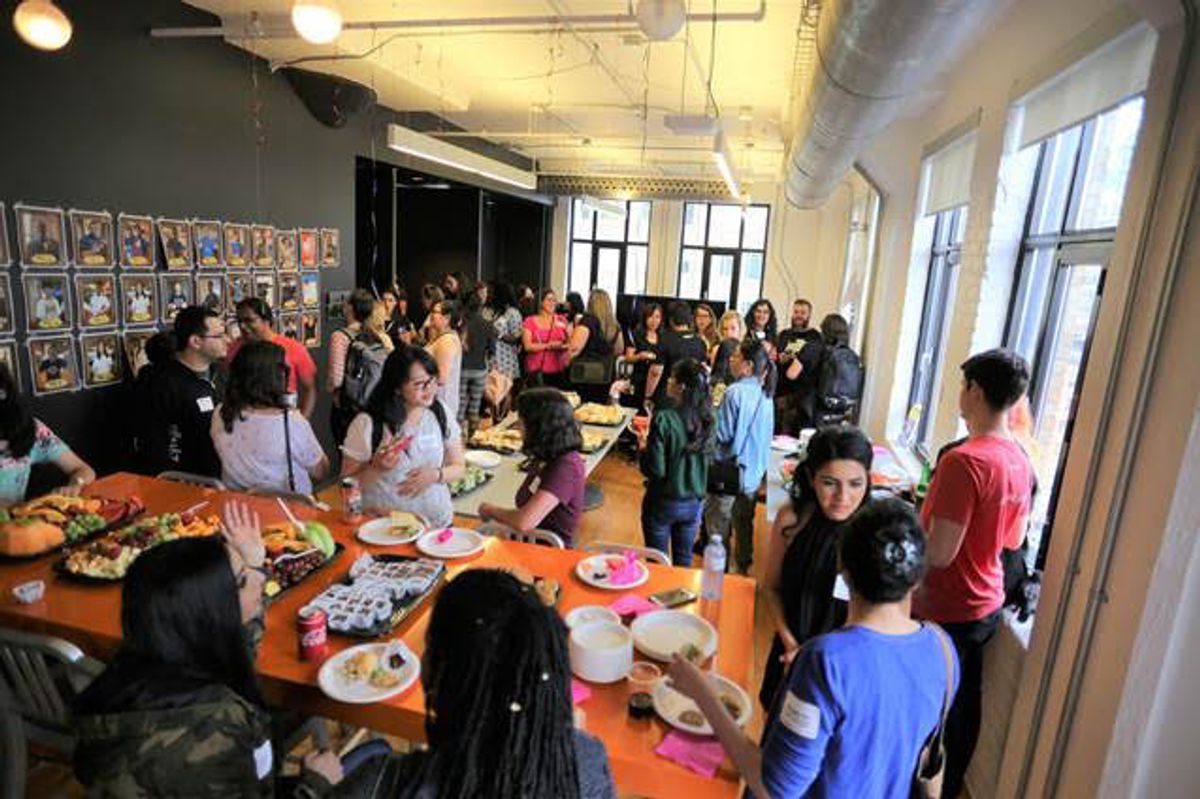 Zynga
PowerToFly headed back to Toronto on July 17th to learn about gaming from some of the leaders in the industry. We were thrilled to partner with Zynga on our second (sold out!) event together in an evening of networking and tech talks highlighting their women tech leaders.
Hosted by PowerToFly CEO Milena Berry, the night kicked off with networking before Zynga's Martin Edelman, Senior Director, Toronto Development Services officially began the night with a brief keynote address.
Next up, we dove deeper into some of Zynga's well known products, which include Words With Friends™ and Zynga Poker™, via a series of tech talks and product demos hosted by Di Chang, Senior Director, Engineering; Whitney Mak, Engineering Manager and Jackie Fong, Sr User Experience Designer.
Di, Whitney and Jackie stuck around for an open panel discussion, where they were joined by Rebecca Robinson, Sr HR Business Partner. Our panelists discussed their careers in gaming, dove into what Zynga is looking for in new team members and, of course, answered questions from our eager audience.
This very special gathering closed out with plenty of more opportunities to network over food and drinks before we had to say goodnight.
Zynga actively cultivates a culture of diversity, creativity, and growth in the pursuit of their core mission: Connecting the World Through Games. Zynga offers competitive pay, industry leading perks and benefits, and an environment committed to success for all. Plus, Zynga has 50% female representation on their Board of Directors and was recognized by Comparably for "Best CEO for Women" and "Best Company for Diversity".
Zynga is hiring! Visit their page on PowerToFly to learn more about their open roles.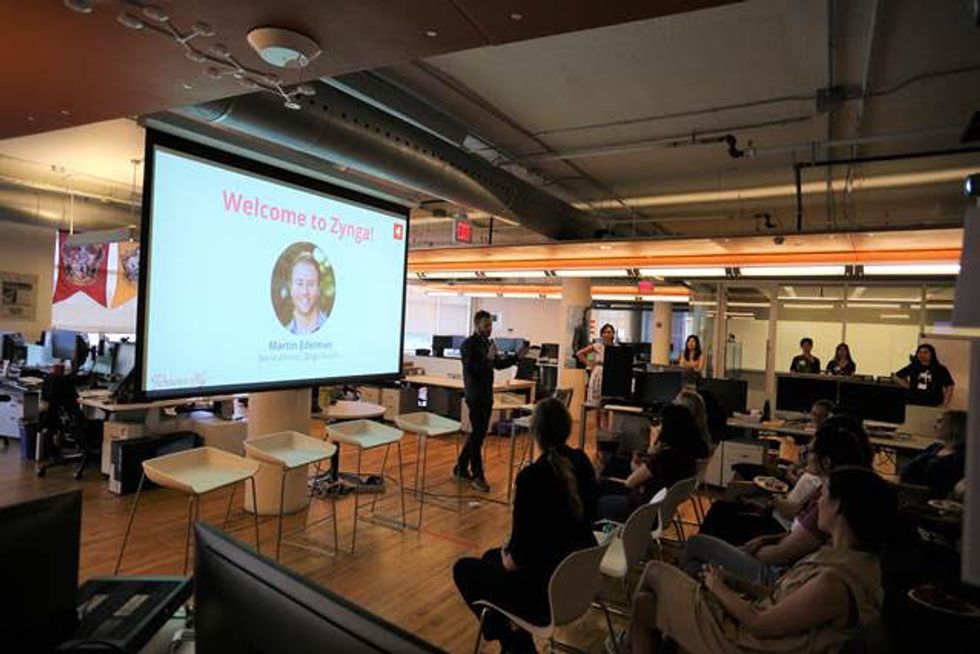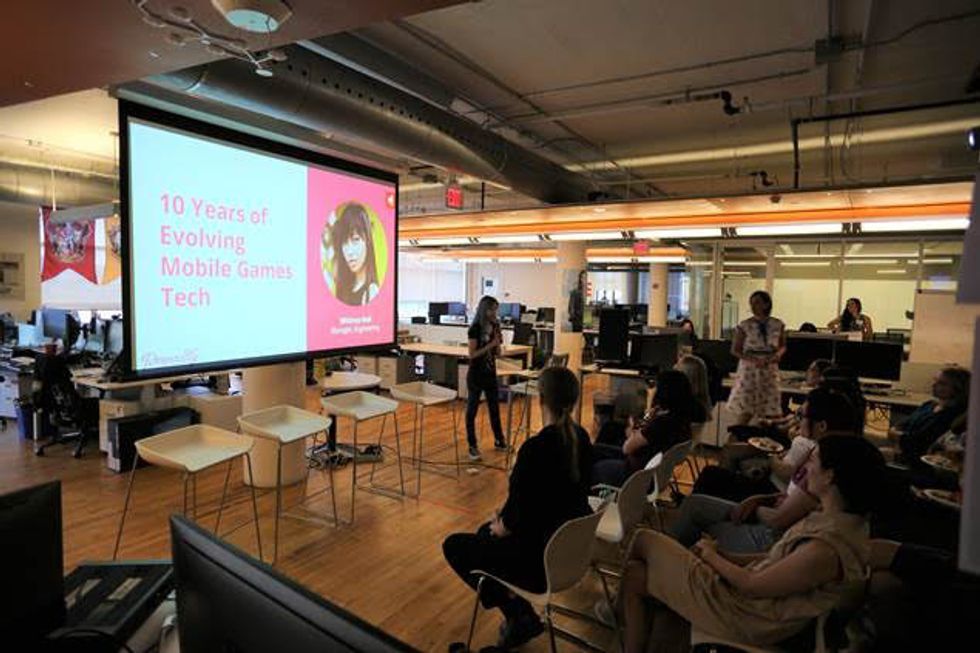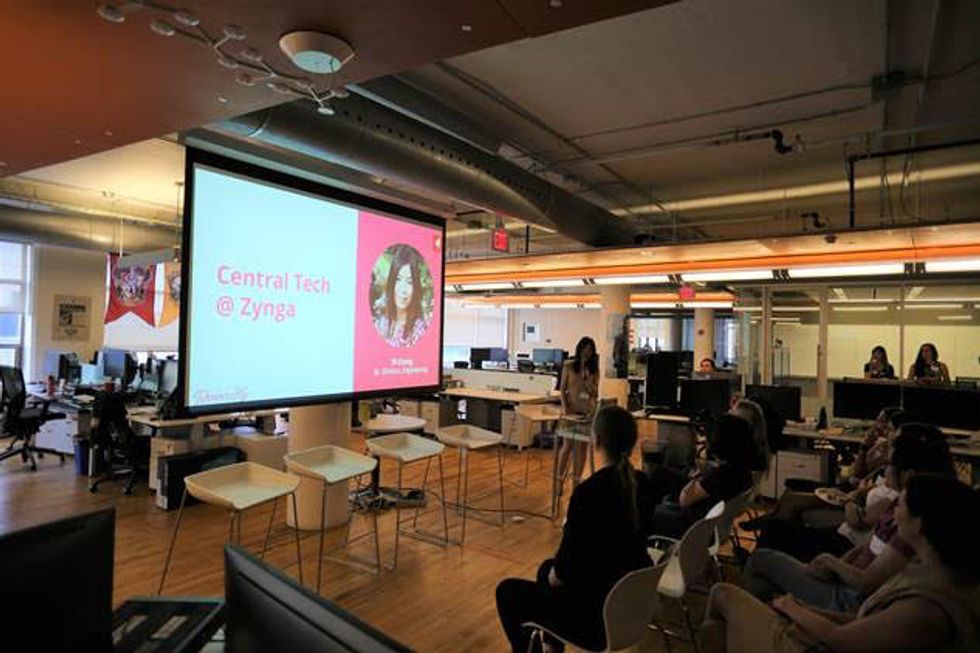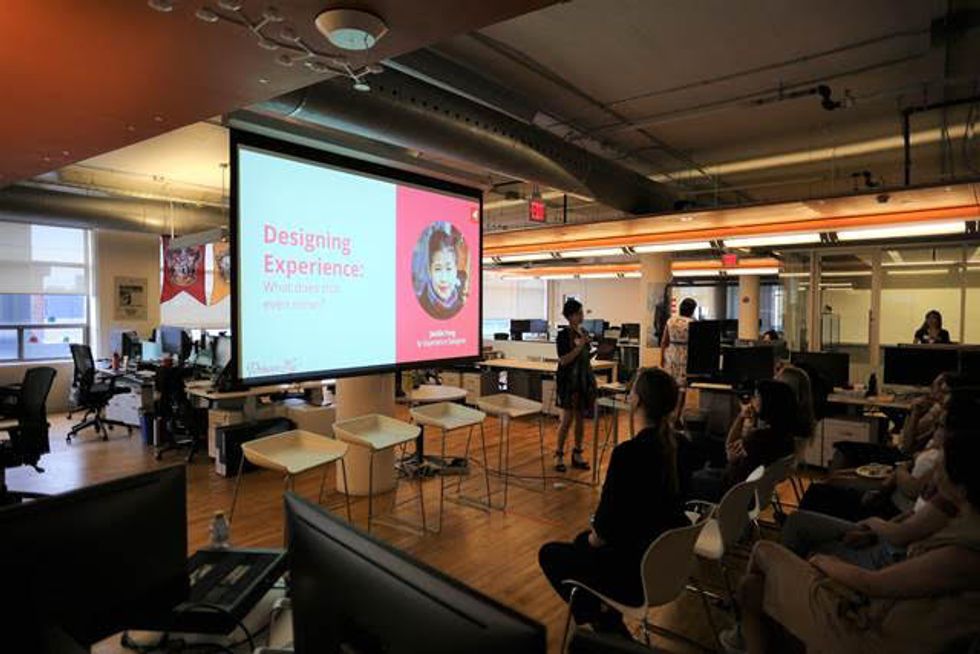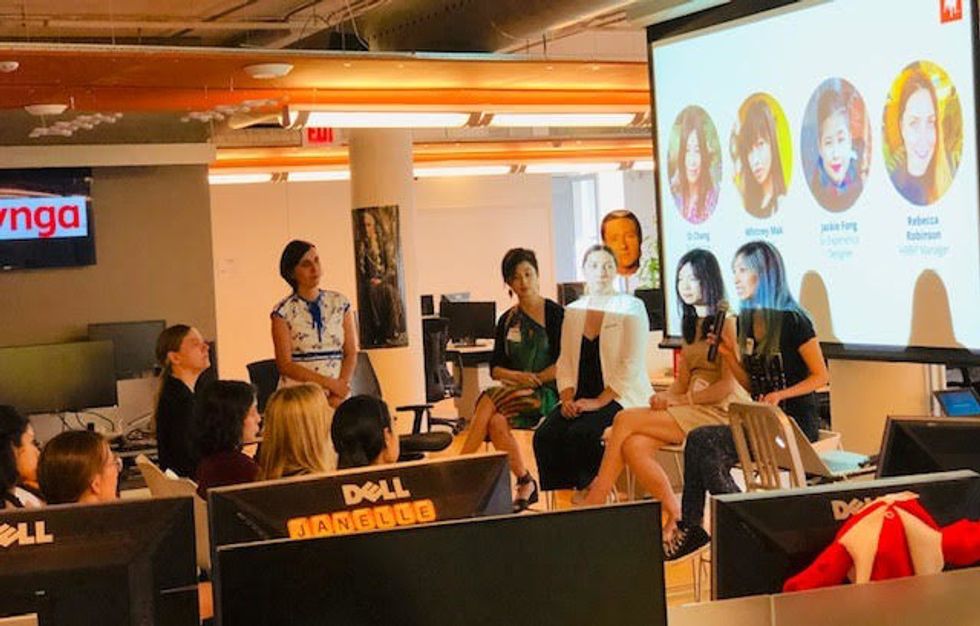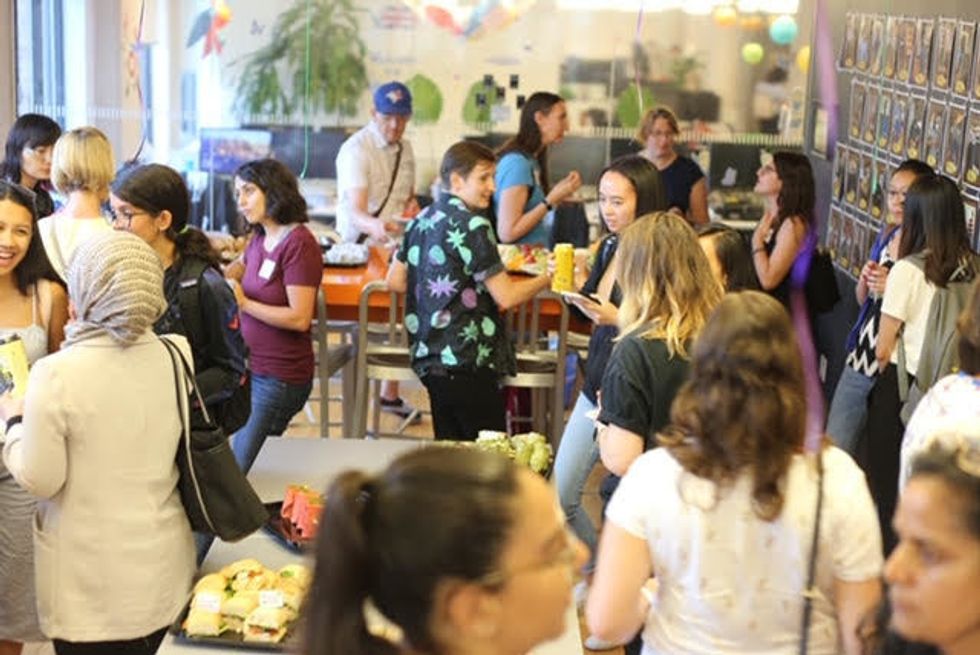 READ MORE AND DISCUSS
Show less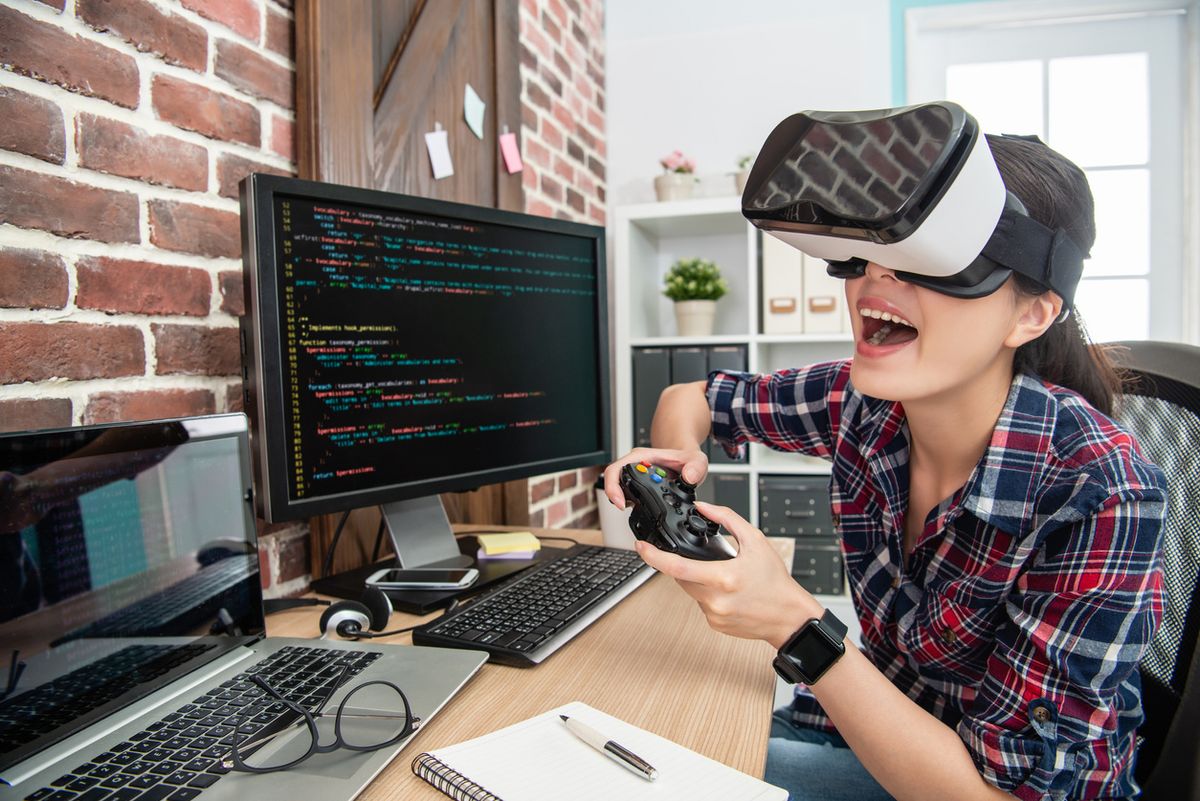 Career Growth and Advice
Computer Scientist & Video Game Entrepreneur Ursula Wolz Shares Tips for Women Game Developers
A few weeks ago, we kicked off a new chat-and-learn series: Debunking the Myths of Code, led by Ursula Wolz, a video game entrepreneur and academic with over 40 years of experience.
In the first part of this series, Ursula tackled the myths and misconceptions that abound around the topics of coding video games, the video game industry, and the roles of women game developers.

Ursula delves into the myths and truths of coding video games, and shares advice for women game developers and those aspiring to make their way into the industry.
1. Who can make games
Everyone can make games. AAA companies usually employ hundreds of people in productions that take several years to complete, but there's indie developers of all sizes. You can even make a game all by yourself, and be hugely successful.
Ursula broke her advice down for us by categories in handy if-then statements:
As Ursule explains, getting coding skills is a sound investment: "For every person with solid coding skills, there are 10 jobs out there, and that's just the game industry."
2. Coding Skills
So if you're interested in coding video games, where should you start? And which language should you focus on? Ursula recommends the following:
3. Programming Languages
So if you know you want to get into game development, which coding language should you focus on?
Each language has its particular uses, so you should choose based on what you're most interested in.
Ultimately, what you want to have is flexibility in your skills, not just one thing that you're locked into.
Ursula's verdict, though, goes to Java: "The safest place to start is with Java simply because it'll give you the foundations of coding."
4. Your Portfolio
To break into the industry, you need a portfolio. You really need to show future employers what you have done; it's not the same to say that you've mastered a set of skills as it is to show how you've put them into practice. If you say "I have been doing Java for five years," but you have no code to show, people are going to look at you funny. Portfolio development is absolutely critical!
5. Game Engines
To make your first few video games, a good place to start is to explore the free game engines that are out there like Unity or GameMaker. Even though academic programmers may frown upon GameMaker for not being a "real" game engine, there are still people making commercial 2D games on it, so it might be worth a shot.
6. The Challenges Women Often Face
Even though there are more women game developers every day, representation is still a big problem. There's not enough women at the higher levels of decision making within the game industry, which results in games--and work environments--that are sometimes not respectful towards women.
Creating women-oriented games would require women game developers, writers, and artists to be present, advocating for roles for women that aren't mere objects, roles that are respectful and interesting, and that speak to the things that women are interested in.
If you found this recap useful, don't miss out on the full video of the chat! There were many more topics covered, and Ursula goes through them expertly and inspiringly.
READ MORE AND DISCUSS
Show less
Loading...