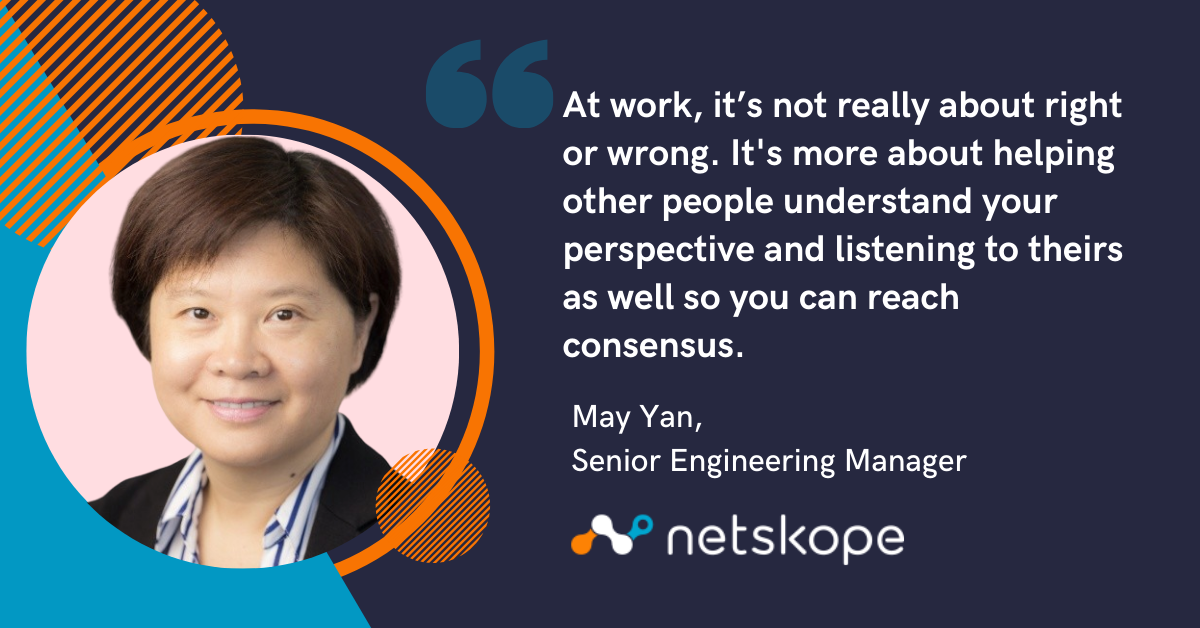 Netskope
A Q&A with Netskope's Senior Engineering Manager May Yan
May Yan has spent most of her impressive decades-long engineering career in California, but I asked her to take me back to the beginning — to when she first moved to the Golden State from China to get her Master's Degree in Computer Engineering at Santa Clara University. Were there any challenges, I wondered, as she adjusted to life and corporate culture in the U.S.?
"There's a very famous Chinese saying," she said, "Think before you act." In her experience, for herself and many other Chinese people, this can translate to a fear of being wrong and waiting to do something until you know it will be perfect. But what she learned as her career progressed is that, "At work, it's not really about right or wrong. It's more about helping other people understand your perspective and listening to theirs as well so you can reach consensus."
I couldn't help but nod along fervently as she said this; I realized she wasn't just describing a cultural barrier, but a very universal fear of failure that can hold us all back (I can't count the number of times I've bit my tongue in a meeting out of fear of sounding stupid). Given the frequency with which women (and men) in tech report dealing with imposter syndrome, it's clear that far too many talented professionals hesitate to make their voice heard for fear that they'll be told they're wrong.
But what if we all were less worried about being right and more concerned with building consensus, as May proposed? We'd probably share our opinions a lot more frequently and help our teams reach better solutions.
As a Senior Engineering Manager at cloud security leader Netskope, this is exactly what May helps her team do. In coaching and giving feedback to her team, she's able to bring Netskope's belief in collaboration and transparency to life, creating an environment where everyone feels comfortable speaking their mind.
Sounds pretty refreshing, right? I recently sat down with May to learn more about the collaborative culture at Netskope and to get her tips for joining the Netskope team:
I saw that one of Netskope's cultural principles is "Always have fun." What does this look like day-to-day?
On an average day, we enjoy lots of perks that make it easy to spend time together as a team and have fun — like free, catered lunch onsite, free coffee and snacks. We also have a free gym on campus. But higher level, we have really good office managers and they do a great job of helping us have fun as a team. They plan in-office parties and offsites so we can all spend time together. We have a pink day in the office for breast cancer awareness, a Halloween party, and each year we celebrate Netskope's birthday!
What's something interesting about Netskope that people might not know?
Our office setting is really open. Our CEO and executives don't have offices — they sit among us. It's pretty cool that as an engineer you might be sitting next to one of the founders of the company.
What do you like the most about working at Netskope?
For me, it's the size — there are about 900+ of us right now. I've worked in big and small companies, and for me, a medium-sized company like Netskope offers the best of both worlds: stability and the ability to make significant contributions to important projects. I also like that there are no politics here — it's very easy to get to know everyone and make your voice be heard.
What are some tips you'd give to someone interested in joining your team?
There are a few steps in our hiring process: a resume screening, phone screening, and onsite interview. For the phone screening, you should be ready to answer technical questions, most of which have clearly right or wrong answers. We want to hear your reasoning, but it should be relatively short — we prefer someone who speaks directly and to the point.
Onsite we ask more complex questions that don't have clear-cut right or wrong answers. We want to see whether you can carry a conversation. It's more than just coding. We're looking to see if you have the potential to grow from an individual contributor to a senior IC to a lead, and so forth. How you communicate plays a big factor in the final decision.
Just be natural and speak your mind, in terms of what you do and don't know. The key thing is that you be able to articulate your reasoning, whether the interviewer agrees or disagrees with you. That's because that's very important on the job as well: everyone has different opinions and we want everyone to share and explain them so that we can all reach an agreement. We try to simulate that on a smaller scale during the interview.
And finally, what would you say to a woman who's on the fence about joining the Netskope team?
No matter what stage of your career you're at, you can do big things at Netskope. We have a wonderful intern program, with training and support to make you feel like you've learned and achieved a lot in just two months. If you're at the early stages of your career, then Netskope will give you the chance to take on real responsibility — you're not just doing one little thing, you're doing something much bigger than you think.
And finally, for someone more senior, you'll have the opportunity to interface with so many different people — from the backend to UI — and really get to take ownership of important features.
---
Interested in joining a team where you're encouraged to speak your mind and share your opinions? Check out Netskope's open roles here (including this software engineering role on the QE team)!
READ MORE AND DISCUSS
Show less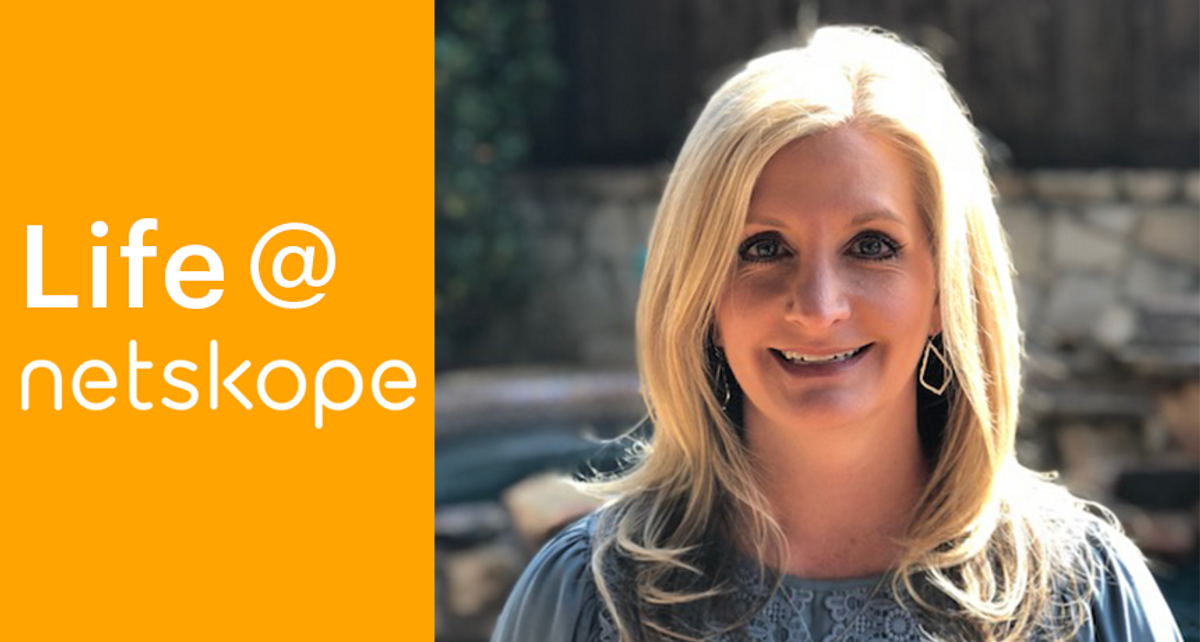 Netskope
Below is an article originally written by Zoe Revis at PowerToFly Partner Netskope, and published on September 13, 2018. Go to Netskope's page on PowerToFly to see their open positions and learn more.
In this Life @ Netskope, we talk to Andrea Schreiner our Central Channel Sales Director out of Frisco, Texas. In her two years at Netskope, Andrea has made a huge impact with the Netskope field and channel teams covering the Central US area. Outside of Netskope, Andrea spends her weekends between the softball field cheering on her oldest daughter and her youngest at the horse barn. If you have spent much time with Andrea on the phone, you have probably heard her four-legged child Sprocket in the background.
What made you choose Netskope?
I have a funny hiring story. Mike Burnett, who was a Regional Sales Manager at the time, had talked to me a few times about coming to Netskope and timing was never right. A few months later, I met Gary Ochs, VP of Channel Sales at the time, at the OH airport, we started connecting the dots on Netskope, his open position and it being the company Mike Burnett had been calling me about, the timing was perfect! Gary and I both boarded our separate planes texting Mike and two weeks later I had an offer letter. It was a right place, at the right time situation. Once I started the interview process and learning about Netskope, the product, the people, and the culture, I knew Netskope was the place for me.
What's your favorite thing about Netskope and why?
My favorite thing is the culture, the people and how everybody works well together as a team. Whenever I interview people for potential jobs at Netskope, I don't want to sound cheesy and oversell it, but I talk a lot about how amazing the culture is here. Everybody at Netskope collaborates and helps each other in order to accomplish our main goal, which is to see Netskope become the next iconic security company.
Working from home, how do you stay connected to HQ and your team in the region?
As someone who works remotely, Netskope makes it so easy to stay connected through Slack, (which I am still learning). Everyone is so receptive, you never have to worry about being stranded on an island. I really enjoy Chris Andrews, our SVP of Sales bi-weekly calls with the worldwide sales team. It's a great way to keep up with what is happening at HQ and learn about our newest products. Our Central US team also has a call every Monday where we share updates in the territory, and best practices.
What advice would you give to someone starting a remote position at Netskope?
My advice would be to learn your resources at corporate, do a good job of getting them out in the field and make lasting connections with the members of your team. I support eight different sales/sales engineering teams so I make sure that I am communicating with them almost every day. In a company where most everyone is remote, it takes work to keep a great culture and I feel like Netskope has done a great job in this area.
If you could only watch one TV show for the rest of your life what would it be and why?
Oh, that's a hard one, I'd have to go with This Is Us. It's a great storyline and it seems as if it is a real family going through heartache and happiness and working together. It's a rollercoaster of emotions but it also has some great lessons.
READ MORE AND DISCUSS
Show less
Loading...